Are you looking for cheap flights from Dubai to Bangladesh? We have a few tips to help you get the best deals on tickets.
We all love a good bargain, and getting a great deal can make or break your travel plans when it comes to airfare.
There is plenty of money to be saved if you know how to find cheap flights from Dubai to Dhaka, Bangladesh.
But that is not as easy as it seems. A simple Google search won't give you the most effective results.
There are many things to be considered. We will tell you exactly how to find cheap flights from Dubai to Bangladesh. Keep reading!
Here is how to find cheap flights from Dubai to Bangladesh
There are many ways to get affordable flight tickets to Bangladesh. A few of them are relatively common knowledge, but many of them are technical.
Let's go through 10 ways to find cheap flights from Dubai to Bangladesh.
1.

Book a flight from Dubai to Bangladesh in advance

Flights from Dubai to Bangladesh are relatively cheaper when booked in advance.

If you want to find one of the cheapest possible deals, booking your tickets around three weeks or a few months before departure is best.

Airlines usually release their flight schedules several months in advance. So if you know exactly when you want to travel, you can often get a good deal by booking early.

Don't wait until the last minute to book tickets. You can find flights at a fraction of the peak-time cost by booking in advance.

The demand for flights is usually high in the last few weeks, and you may not be able to find a seat without paying extra money. So start planning your trip long ahead and take advantage of the savings.
2.

Find cheap flights from Dubai to Bangladesh by avoiding peak times

One of the best ways to find cheap flights is to avoid peak travel times. These are times in a year when more people are traveling than on any typical day.

Thousands of people travel during high seasons and months when festivals are held in Bangladesh.

Airlines will take advantage of the high ticket demands during such times of the year, and ticket prices can soar.

Fares tend to be higher during busy periods, such as holidays or weekends. Instead of these times, try booking flights during less popular days when fewer people are traveling.

Especially during the Eid holidays, the fares from Dubai to Bangladesh go up significantly. So if you want to save money on your flight tickets, try to avoid or book before those days.

See also: Check out this Dbd travel guide on – How to find cheap flights, if you would like to book your next trip anywhere in the world and anytime soon. Whether it's international or domestic, last minute or well in advance, we got you covered.
3.

Be flexible with your travel dates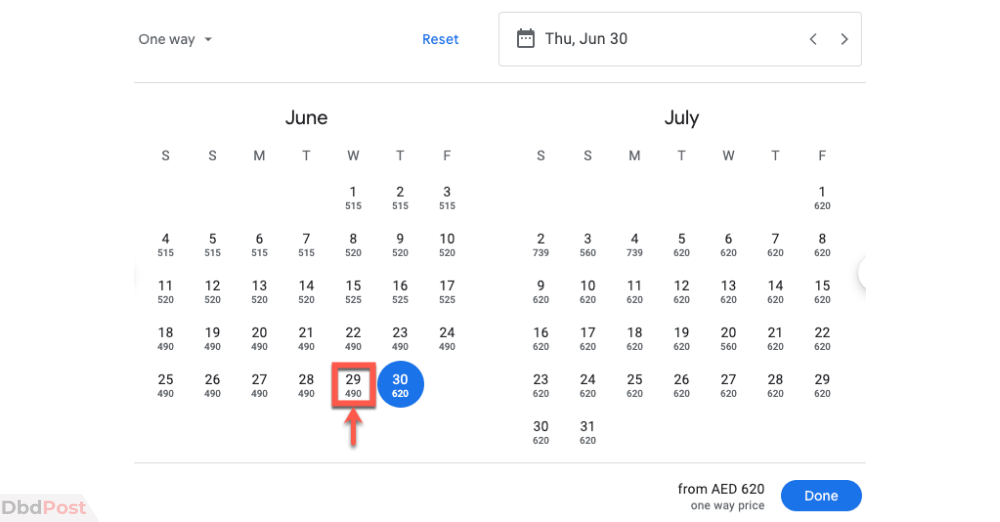 Being flexible is always a good idea when looking for cheap flights from Dubai to Bangladesh.
You may find that you can save a significant amount of money by changing your travel dates by just a day or two.
Check out last-minute flight deals frequently. It can help you save money, as airlines often slash prices on tickets that haven't been sold. Of course, this isn't always possible, but if you're willing to take a flight on short notice, it's worth looking into.
4.

Use incognito mode to get cheap flights from Dubai to Bangladesh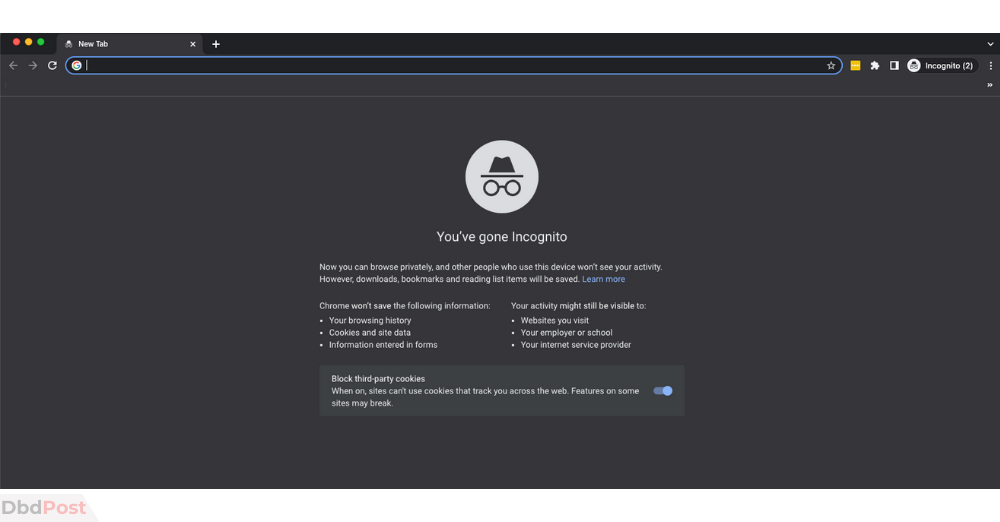 Several flight booking websites allow you to compare prices and find the best deals. However, it's important to remember that some airlines may display different prices depending on your browsing history.
You can use incognito mode when searching for flights to get around this.
It will prevent your browser from storing cookies and ensures that you always see the lowest possible price.
Cookies are tiny files that websites store on your browser. Those files will track your search history and preferences.
If you visit a flight booking website often, the website may track your activities. It will know that you are looking for tickets to fly somewhere. The ticket selling websites may increase their prices because they know that you are very likely to buy tickets from them.
So if you're looking for cheap tickets from Dubai to Bangladesh, be sure to search in incognito mode.
You can do it by right-clicking your browser icon and clicking "New incognito window" or "New private window."
5.

Compare flights using various search engines to find cheap flights from Dubai to Bangladesh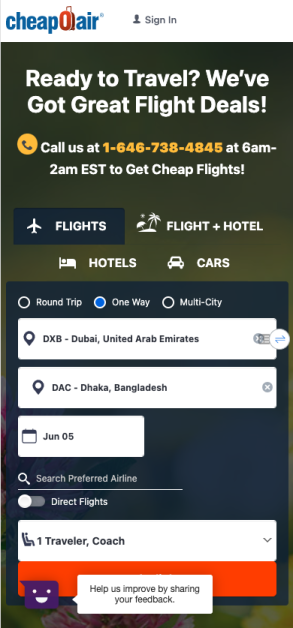 Use a flight search engine whenever you need to find the cheapest possible flight. There are a lot of websites that will compare different airlines and prices for you.
You can use any browser to use these websites but make sure you are in incognito mode.
There are a number of websites that allow you to search for flights from Dubai to Bangladesh and compare prices across different airlines.
These are our top recommendations while comparing the flight price:
Broad search with many results
Comprehensive, advanced search options
Best international flight search engine overall
Great customer support
It shows the best flight prices on the calendar itself
Fastest results
The most effective aggregator of many diverse airlines to get the greatest price
It shows airlines not listed on most other websites
Easy ticket booking with quick links to airlines
Low-cost prices from lesser-known airlines are shown
Broad search engine
Effective search results
Great customer services
Real-time flight info updates
Broad flight search engine
Fast at retrieving flight information
For receiving price drops, subscribe to CheapOair. We found that they are one of the quickest at updating their prices. It's also advised to sign up for fare alerts so you can be kept informed when fares go down.
6.

Use a travel reward program if you travel a lot
Many airlines provide discounts as rewards when you have enough credits and loyalty scores.
You should join an airline loyalty program if you frequently fly with a particular airline. You will be able to get discounts or other perks by joining their loyalty program.
Air miles credit cards are another way to get cheaper flights to Dhaka or other Bangladesh airports. If you have accumulated air miles or credit card points, you will be able to use them to book flights from Dubai to Bangladesh at a reduced rate.
Some great air miles credit cards are:
Citibank – Emirates-Citibank Ultimate
Best overall for frequent UAE travelers
Get AED 800 as a joining bonus
Up to 1.25 Skywards Miles can be earned for every dollar spent
Mashreq – Platinum Elite Credit Card
Receive AED 1000 when you join
Get 5 Salam points for each AED spent
Free access to airport lounges
Works with 300+ Airlines globally
Up to 2.25 EI SmartMiles per AED 1 spent
HSBC – Platinum Select Credit Card
1 air mile for every AED 4 spent
No annual fees required
7.

Budget airlines may provide cheap flights from Dubai to Bangladesh – Get the deal!

If you are willing to fly with a budget airline, you can find very cheap flights to Dhaka and other airports in Bangladesh.

These airlines provide fewer services for the passengers but are the most popular among travelers flying to Bangladesh.

Here are some of the most affordable budget airlines with cheap flight tickets from Dubai to Bangladesh:
Comparatively cheaper than other airlines to fly from Dubai to Bangladesh
Frequent flight schedules
Offers low-cost flight
Flight is Dhaka and many other airports in Bangladesh
It offers a low-cost flying experience
Variety of flight times
Inexpensive airline
You can find a flight to Bangladesh almost every day
You may find low-cost airlines by checking whether any flights are landing in other airports. Because it is less expensive, many budget carriers fly to smaller airports.
Furthermore, these premium airlines sometimes have lower promotional fares than those of the budget airlines. So check for these special discounts regularly.
8.

Mix and match airlines to find affordable flights from Dubai to Bangladesh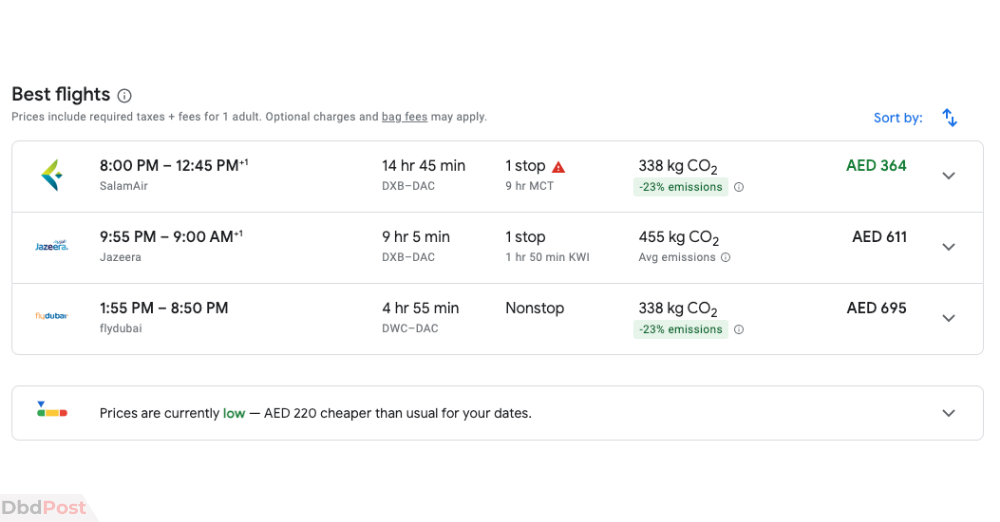 You can take advantage of multiple operating airlines to switch airways in airports.
Shorter flights can have lower rates than longer direct flights.
To explain it – You will book a flight to travel from UAE and land in New Delhi. Then you will book another ticket to fly from New Delhi to Dhaka.
Its downside is that if your plane from UAE gets delayed, you may not land on time to catch your next flight. Consider this risk if you decide to take this travel route.
Also, check if you can book low-cost flights from Dubai to Bangladesh from another airport near you. For example, you might find it cheaper to fly into Dhaka than Sylhet Airport.
When searching for flights, try different combinations to see if you can find a cheaper journey.
You can use these websites to make such comparisons:
Select the "Stops" option on the left menu to discover a one-stop flight to Bangladesh.
To discover airlines with cheaper fares, use the "1 stop," and "2 stop" filters on the left side menu to narrow down your search.
The nicest thing about Kiwi is that it finds you the best deal by comparing prices from various airlines and combining them all. If you can fly with more than one airline, Kiwi will highlight this choice.
Remember that this approach may not work in every situation. So, it is essential to research all of the methods above before booking your flight to Bangladesh.
9.

Look for flight pricing mistakes

Sometimes, low prices are listed when airline price adjusters make a mistake when setting the fares. If you are lucky enough, you can get these tickets before they realize the error and fix it.

These are the cheapest possible tickets you can buy, but they are extremely hard to find on your own.

These mistakes usually happen due to currency conversion errors or human input errors.

It is important to buy these tickets quickly, as there are almost no minutes to purchase these mistaken tickets.

Airlines will often correct pricing errors within a matter of minutes.

But if you sign up for services that alert you when prices drop, you may get the notification quickly.

You can sign up for fare alerts on the following websites:

You must also enable notifications to get alerts once you sign up.

This way, you'll be notified whenever there's a special price reduction on tickets from Dubai or other airports in the United Arab Emirates.

More Related Stories
---
10.

Find the cheapest day to fly from Dubai to Bangladesh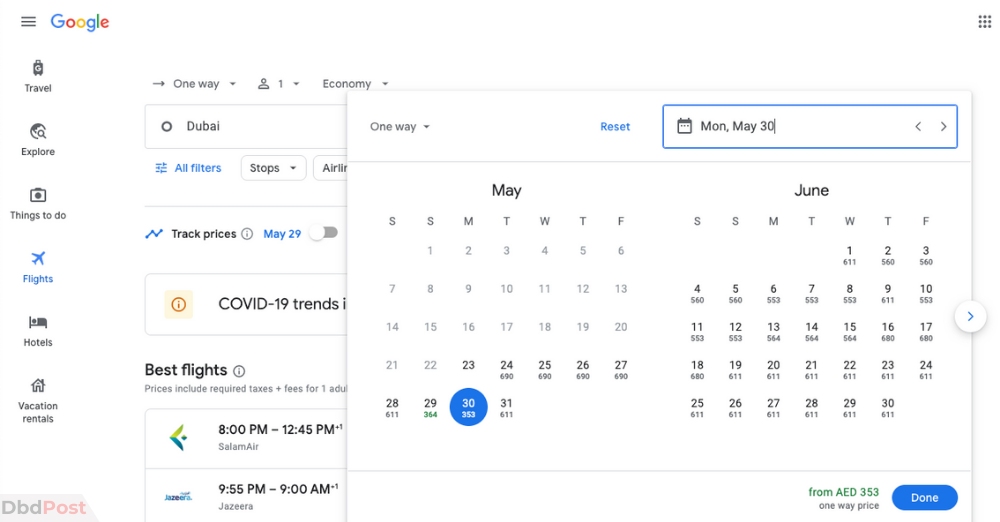 Do you know that you can see the flight price trends for your route by using Google Flights or CheapOair?
You can also use this tip to find the cheapest day to fly.
If your dates are flexible, you can choose the cheapest day to travel from Dubai to Bangladesh.
Follow these simple steps to find the best deals on CheapOair:
Go to CheapOair.com
On the homepage of their website, you'll find search fields labeled "From where" and "To where." On 'From where,' type Dubai and select an airport when it comes up.
On 'To where,' type Bangladesh and select an airport.
On the calendar box, select a date you want to travel on.
Click the search button.
Click on the departure date again once you've gotten to the flight results page. A calendar will appear with the pricing for that day. The arrival date is also handled similarly. Do the same for the arrival date as well.
Doing it in Google flights is a similar process. Just enter your destinations and see the results.
Google flights also have a calendar that shows the cheapest deals of each day for almost an entire upcoming year.
See also: Check out this Dbd travel guide on – cheap flights from Dubai to Manila; if you are looking to travel to Nepal from Dubai.
FAQs about cheap flights from Dubai to Bangladesh
What is the cheapest month to fly from Dubai to Bangladesh?
October and November are the cheapest months to fly from Dubai to Bangladesh. July, August, and September are when flights are the most expensive.
How much does it cost to fly from Dubai to Bangladesh?
A one-way trip can cost anywhere between AED 350 to AED 8,000, depending on which class you choose. You can find tickets for around AED 500 on a normal day.
What airlines fly to Bangladesh from Dubai?
Emirates, Gulf Air, Jazeera, and Biman Bangladesh Airlines are some of the most popular airlines that fly to Bangladesh from Dubai.
How long does a flight from Dubai to Bangladesh take?
A flight from Dubai to Bangladesh takes between 4 to 6 hours. It can take over 14 hours if there is a stop.
How many flights are there between Dubai and Bangladesh?
Dozens of flights take place every day from different airlines to Bangladesh from Dubai. There are around 41 flights between Dhaka and Dubai each week.
Similarly, there are 34 flights from Abu Dhabi to Dhaka every week.
Emirates alone has 21 weekly flights to Dhaka.
Final thoughts
From having adjustable travel dates to comparing flights, there are many things you can do to find cheap flights from Dubai to Bangladesh.
By doing some research and signing up to receive alerts, you can increase your chances of finding great deals on airfare to Bangladesh.
Also, follow the airlines that travel to Bangladesh on their social media and check for offers daily.
Following these tips can help you save money and book the cheapest flight from Dubai to Bangladesh. Get started on your research now!
We hope you found our Dbd travel guide helpful. If you did, feel free to share it. We always appreciate your support.