It can be a challenging task to find the right school for your children among the schools in Ajman. With so many schools, it takes time to figure out where to start.
The standard of education in Ajman varies significantly from one school to the next. Keeping track of all of them might take much work.
The schools in Ajman on this list have excellent accreditation and provide high-quality education. When putting together this list, we considered the tuition rates, the location, and the curriculum.
This Dbd guide lists the best schools in Ajman with all the research done for you. So, let's get started without any further delays.
Compare the best schools in Ajman
| School | Curriculum | Tuition fees (Annual) | Founded on |
| --- | --- | --- | --- |
| Wise Indian Academy | CBSE | 7,000 to 10,000 AED | 2016 |
| Global Indian School | CBSE | 5,450 to 8,200 AED | 1988 |
| The Royal Academy | CBSE | 4,320 to 9,000 AED | 1985 |
| Woodlem Park School | CBSE | 5,850 to 10,850 AED | 2017 |
| Ajman American Private School | US | 21,000 to 36,000 AED | 2018 |
| Frontline International Private School | UK | 25,000 to 30,150 AED | 2017 |
| Crown Private School | UK | 5,525 to 10,465 AED | 2005 |
| International Indian School | CBSE | 4,800 to 8,300 AED | 2002 |
| Habitat School | CBSE | 5,300 to 8,300 AED | 2014 |
| Ajman Academy | IB | 24,000 to 66,350 AED | 2012 |
| Pakistani School Ajman | Pakistani | 6,228 to 10,860 AED | 1979 |
11 best schools in Ajman
1.

Wise Indian Academy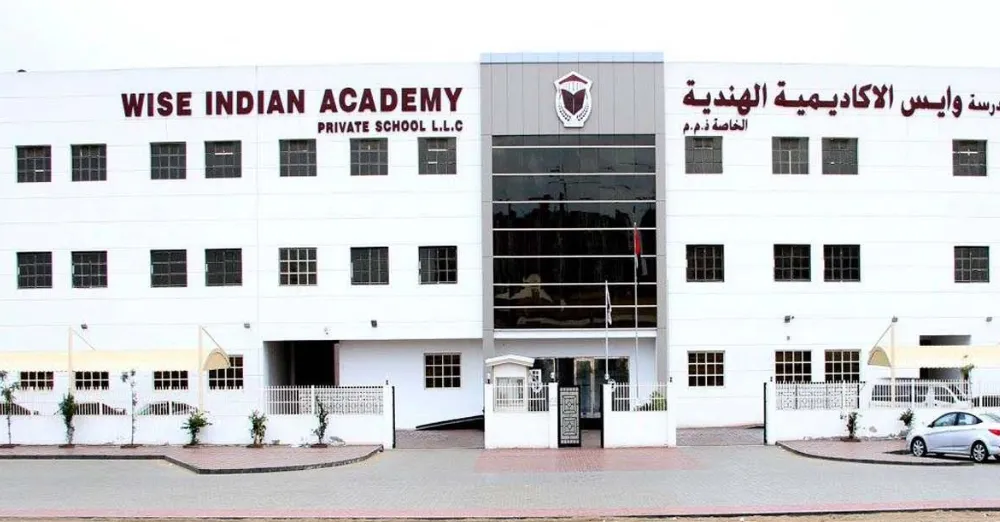 The Wise Indian Academy School in Ajman is part of the Bharatiya Vidya Bhavan, a well-known education institution in India. This school indeed follows Indian culture and tradition.
The Bharatiya Vidya Bhavans have over 400 schools in India and ten international centers in countries such as the UK, USA, Singapore, Australia, South Africa, and Portugal. In UAE alone, there are three schools, including Wise Indian Academy. [1]Official, "Wise, https://wiseajman.ae/#:~:text=WISE%20Indian%20Academy%20School,to%20the%20CBSE%2C%20Delhi."
The faculty comprises well-qualified, enthusiastic individuals who share the foundation's vision. The staffs are from many different parts of India, which gives a good overview of the diverse population in India.
2.

Global Indian School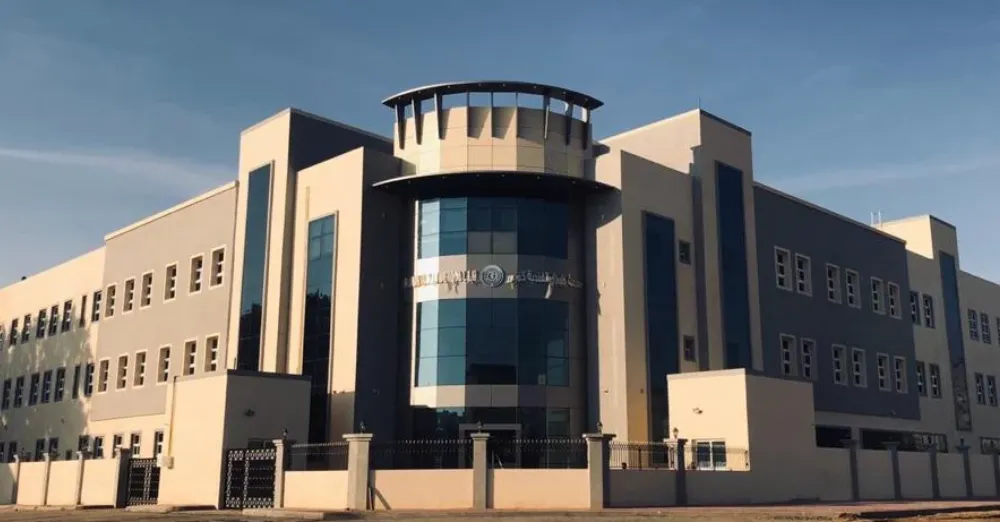 Global Indian School in Ajman was established in 1988. It started with a small number of students but quickly established itself as a leading educational institution in the UAE.
The school focuses on academic excellence and provides emotional, moral, physical, and creative growth opportunities. Similarly, many events and extra-curricular activities are organized to give students a platform to build confidence and explore interests.
Likewise, counseling is provided to students and parents, and teachers' training is regularly conducted. The school has a strong alumni network that supports current students.
3.

The Royal Academy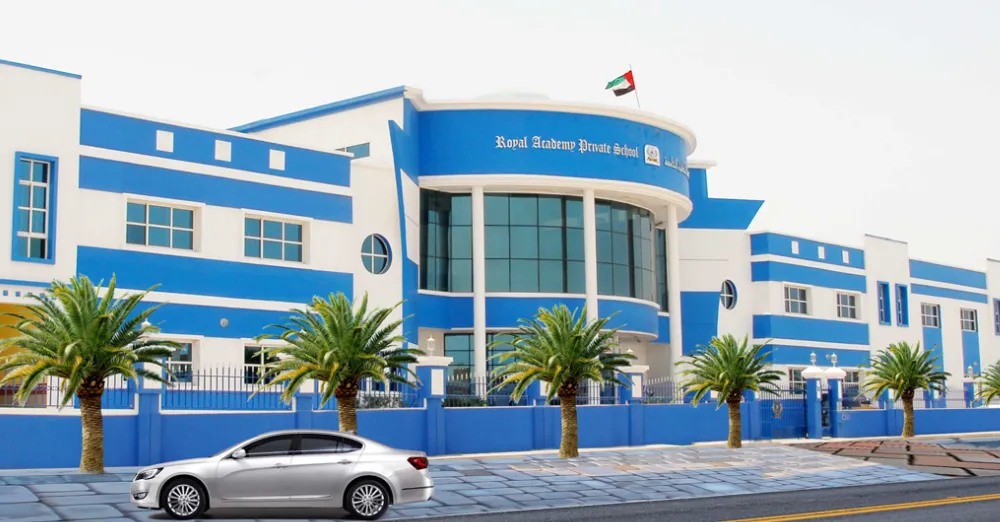 The Royal Academy is affiliated with the Central Board of Secondary Education (CBSE), a well-respected board in India. The school offers an Indian curriculum from Kindergarten to Grade XII.
The school offers high-quality education at a low price. Moreover, the staff are highly qualified, experienced, and committed to providing a good education.
Furthermore, the international community of students at the school, from more than 36 different countries, celebrates diverse cultural habits. The school's excellence in teaching and research provides students with the skills they need to compete globally. [2]The Royal Academy, "About Us, https://www.royalacademyajman.com/about-us"
4.

Woodlem Park School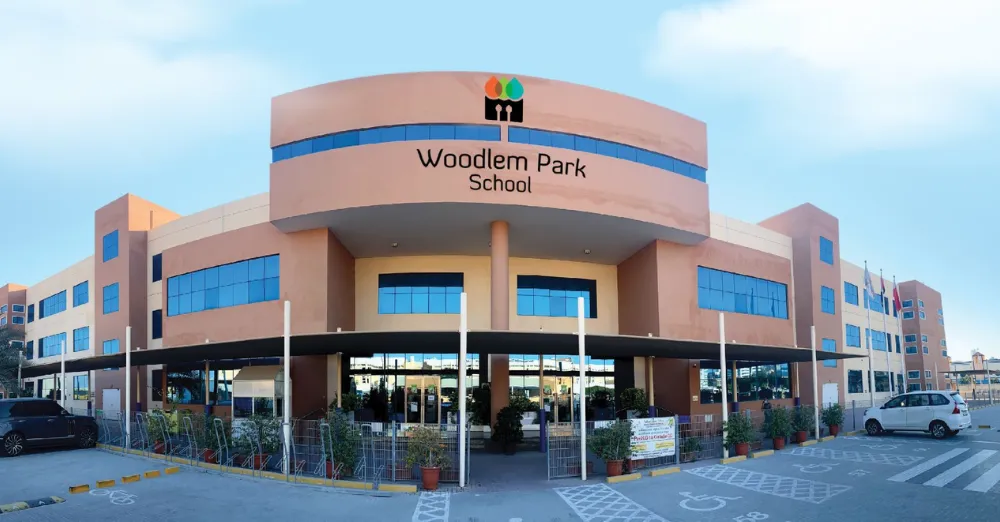 Woodlem Park School (WPS) is a top-rated international school for kids from Kindergarten to Grade 10. They concentrate on each student's unique talents and help them achieve their full potential through individualized education.
There are more than ten foreign embassies, mobile expatriate families, and local families seeking a kind and creative education. They implement the CBSE (India) system of education that supports inquiry-based, student-centered learning.
WPS has an excellent technology program that is integrated with the curriculum. It helps students develop holistically and work on skills they will need for the future.
5.

Ajman American Private School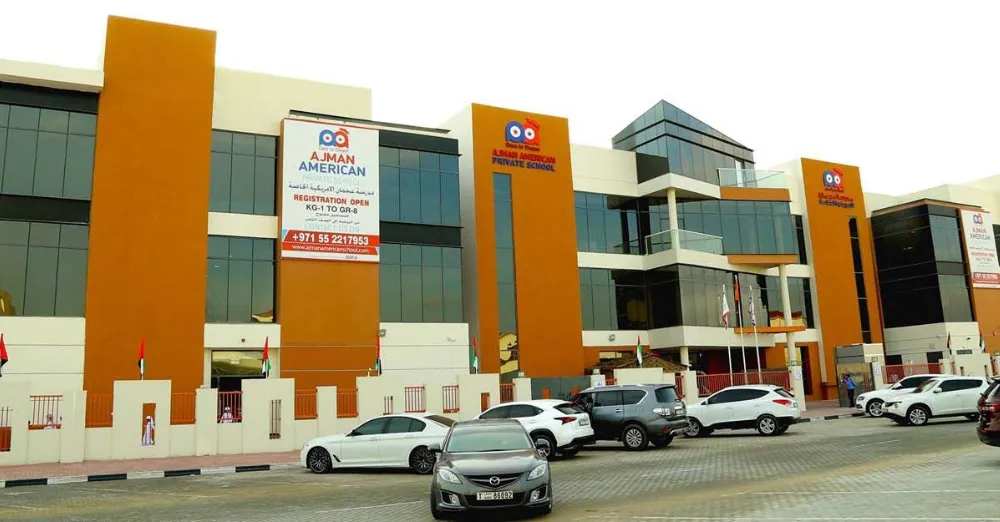 AAPS is a private school in the UAE that follows the US Curriculum. The school Focus is on communication between teachers, parents, and administrators. Similarly, parents have access to an interactive website that provides detailed information about their children's academic achievements.
In addition, AAPS aims to educate children so they can participate as leaders in society. The school is partially owned by Sheikh Sultan Saqer Al Nuaimi from the ruling family of Ajman.
The school is administered through a partnership with Paradigm Pioneers Group and is ISO 9001:2015 certified. By providing parents with information and transparency, AAPS sets itself apart as a top institution in the Emirates. [3]Official, "History, https://www.ajmanamericanschool.com/#:~:text=We%20are%20a,certified%20last%20year."
6.

Frontline International Private School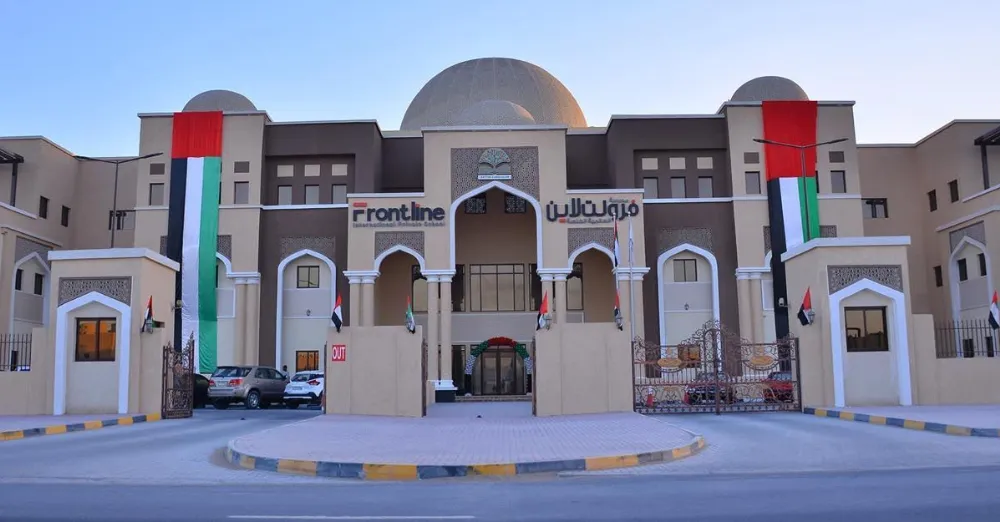 Frontline International School is located on a large campus in Ajman-Tallah-2. They have outstanding academic and sports facilities and a great atmosphere. Also, they offer a variety of classes that will help students learn in a safe and comfortable environment.
Students and faculty from around the world come together to learn at this school. The faculty, teaching style, and facilities are excellent and help the students learn about other cultures and be responsible members of society. [4]Official, "Aim of School, https://www.frontlineschool.ae/aim-of-our-school/#:~:text=Spread%20over%20a,among%20the%20students."
7.

Crown Private School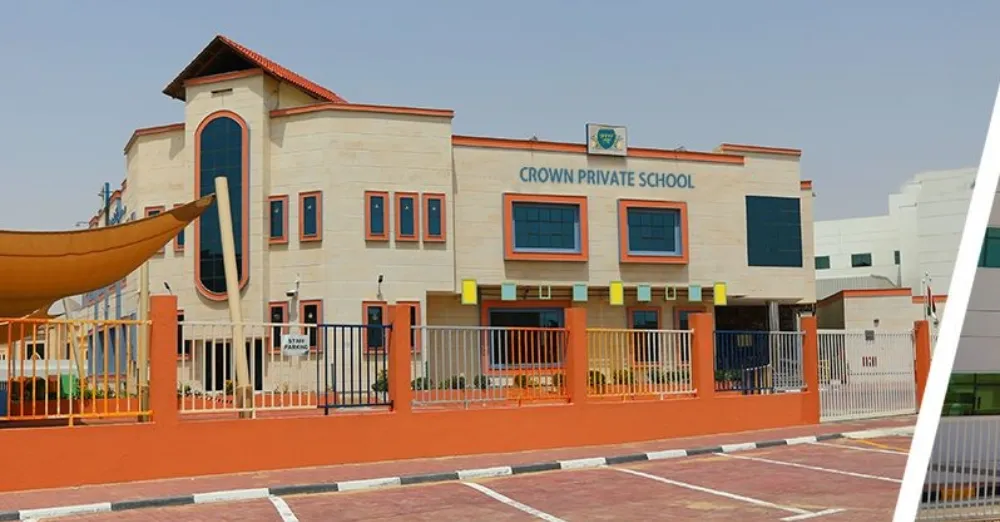 Crown Private School offers an excellent education that follows the National Curriculum for England. The school is also registered with Cambridge Assessment International, ensuring students receive a well-rounded and globally recognized education.
In addition, their syllabus prepares school students for life after graduation. It helps them develop an interest in learning and keeps them curious. The school provides a safe and secure place for students to learn skills they need for their lives. [5]Crown Private School, "About, https://www.cpschool.uk/pedagogy.html#:~:text=Crown%20Private%20School%20provides,of%20the%20wider%20community."
8.

International Indian School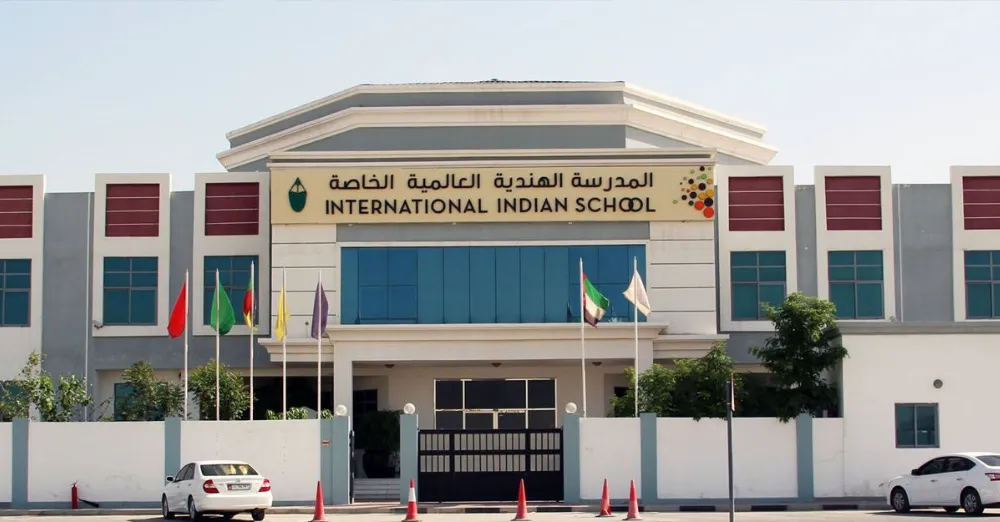 The International Indian School was founded in 2002 with the recognition of the Ministry of Education, UAE. The school promotes a learning environment based on the motto, "Sharing and Caring for humanity." This allows students to become more empathic towards others, regardless of nationality, religion, or language.
Similarly, the school aspires to give all students an excellent education, which in turn helps to promote diversity among children. To help with this goal, the school has implemented a self-study system that allows students to do their homework in school. This reduces parents' stress and encourages students to be more responsible for their work.
9.

Habitat School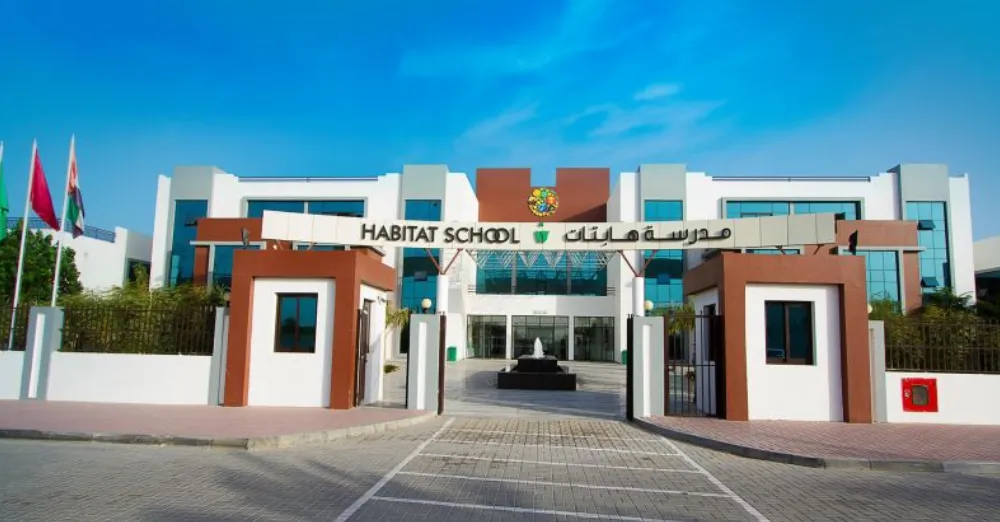 Habitat school has a well-designed curriculum to develop and shape the students' personalities. Also, they have top-rated qualified staff in respective fields.
The school is the winner of the Sharjah Sustanibilty Award (SSA), 2022. Furthermore, Habitat school was awarded the "Best Outstanding School" in the category "The Green School."
The school has an anti-bullying policy to protect students from discrimination. Teachers and staff members are trained to look for signs of bullying and its effects and reach out to any probable victims. Also, the school awareness programs to teachers, staff members, parents, and students on bullying and its effects.
10.

Ajman Academy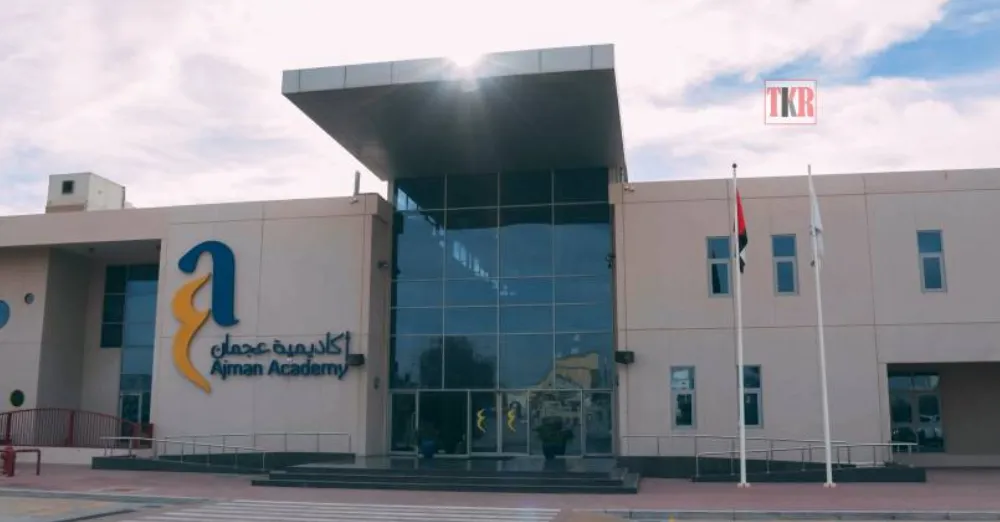 The UAE's first international school, Ajman Academy, is an International Baccalaureate (IB) World School that offers the Primary and Middle Years Program. It is also officially accredited by the British Schools Overseas (BSO) and the Council of International Schools (CIS).
The school has well-equipped libraries, music rooms, art and design tech rooms, science labs, food, and IT laboratories. Additionally, the school has a 25m indoor swimming pool. Moreover, technology is integrated into the curriculum in all areas of the school. It's built for a purpose and has a high-quality equipment.
11.

Pakistani School Ajman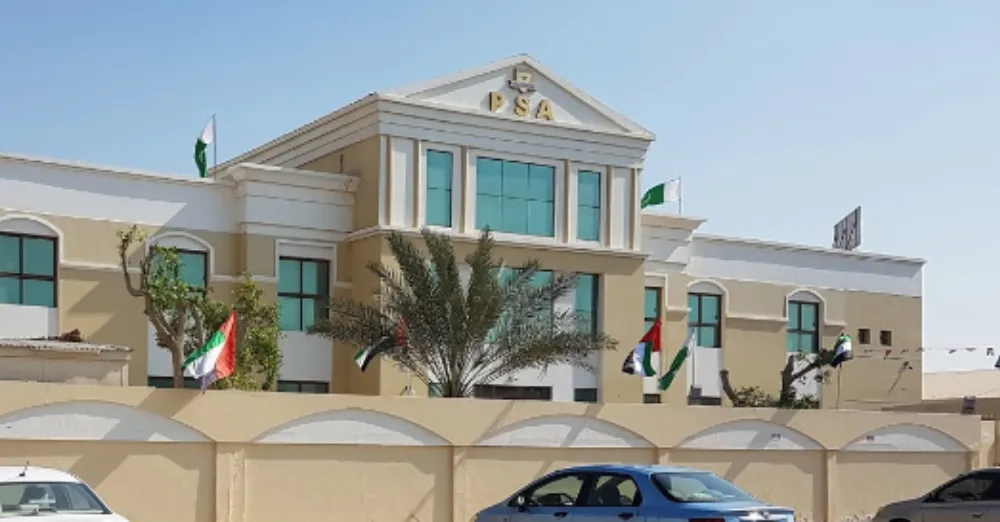 The Pakistani School Ajman (PSA) offers a curriculum based on the syllabus of the federal Board of Intermediate and Secondary Education, Islamabad.
The school focuses on ensuring that each student can learn from skilled and dedicated faculty members. The school provides a supportive and encouraging environment where students can explore many different opportunities for learning.
Their goal is to educate and inspire students to acquire the information they need to explore, attain, and excel in the particular subject of their interest. Similarly, they aim to enhance lives by designing a learning environment that prioritizes innovation, collaboration, results, and ethics.
Related Info
If you are looking for overall best schools for your children in Dubai, check this guide – Schools in Dubai.
Similarly, check this guide, British schools in Dubai, if you are looking for the best English schools providing a British curriculum.
If you are looking for Indian schools for your children, check this guide – Indian schools in Dubai.
---
How expensive are schools in Ajman?
The Ajman schools are affordable compared to other cities in the UAE. There are some cheap schools in Ajman. In addition, there are other costs associated with schooling, like books, transportation, and extra-curricular activities.
The tuition fee ranges from 5,000 to 50,000 AED (Annually) in schools in Ajman. The Royal Academy has the lowest fees of 4,320 to 9,000 AED on our list. At the same time, Ajman Academy has the highest annual fee of 24,000 to 66,350 AED.
Also, the board of education the school follows determines the tuition fees. Schools with IB, UK, and US boards are expensive. On the other hand, schools following Indian and Pakistani boards are cheaper.
Quality of education in Ajman
The UAE's Ministry of Education is working on a strategy to improve the country's education quality. The Mohammed Bin RashidSmart Learning Program is fundamental to this initiative. This includes assuring that youngsters are capable of competing in a global market.
Some of the main things the ministry is focusing on are new learning programs, codes for new teachers, changes in licensing and evaluation systems, and changes in the curriculum. The government is committed to ensuring that kids are prepared for college and the workforce.[6]UAE Official, "Education, … Continue reading
FAQs
What is the best school in Ajman?
Ajman American Private School is one of the best schools in Ajman. They have excellent infrastructure and reasonable tuition fees for an American school.
How much do schools in Ajman cost?
The average tuition fee in Ajman starts from 15,000 to 30,000 AED. This is a relatively affordable price compared to other cities in the UAE.
Are the schools in Ajman free?
Only state-approved schools in Ajman are free for UAE nationals. You must pay tuition fees if you are a nonnational or study in a private school. .[7]Official government site, " School fees, … Continue reading
Is it expensive to school in Ajman?
Schools in Ajman are relatively inexpensive. There are several inexpensive institutions in the area. The average tuition fee in Ajman starts from 15,000 to 30,000 AED. This is a relatively affordable price compared to other cities in the UAE.
Final thoughts
These lists of schools in Ajman provide a well-rounded education for students of all ages. These schools offer a variety of courses and programs that cater to the needs of each student.
In addition, the top schools in Ajman also have a solid commitment to helping their students succeed after graduation. Whichever one you choose, you can be confident that your child will receive a top-quality education.
Also, share this guide on the list of schools in Ajman with others. And be sure to check back for more content like this.


Arijit Negi is an expatriate living in Dubai for 18 years. He completed his degree in Master of Arts in Journalism from the University of Mumbai. Arijit focuses on providing helpful guides and information for ex-pats living in UAE and visitors to the UAE.