Dubai and Abu Dhabi are two significant cities in the UAE and offer various attractions for visitors. Many people prefer Dubai to Abu Dhabi taxis as traveling options for business purposes, seeing friends and family, or leisure.
To book a taxi from Dubai to Abu Dhabi, first, choose a taxi booking platform that operates in both cities. Next, provide your pick-up location and destination. Once you've confirmed the booking details and made the payment, you'll receive message with the driver's contact information and other relevant details.
Our Dbd team took a comprehensive approach to gathering information for traveling between Dubai and Abu Dhabi.
We utilized online resources, obtained insights from local drivers, analyzed government websites, and reviewed online comments about taxi services.
Furthermore, the team personally tried different routes and taxi options during their journey to provide a first-hand account.
The extensive research results from this Dbd guide offer a clear and informed overview of the travel options between these Emirates.
How to book Dubai to Abu Dhabi taxi?
There are several methods that you can use. You can download the official app from the government, or you could use a third-party app.
Additionally, you can call the hotline number or hail one off the street. Lastly, you could book one at the airport before your departure.
All these options make getting a taxi simple and stress-free.
Method 1.

Using government or state-owned apps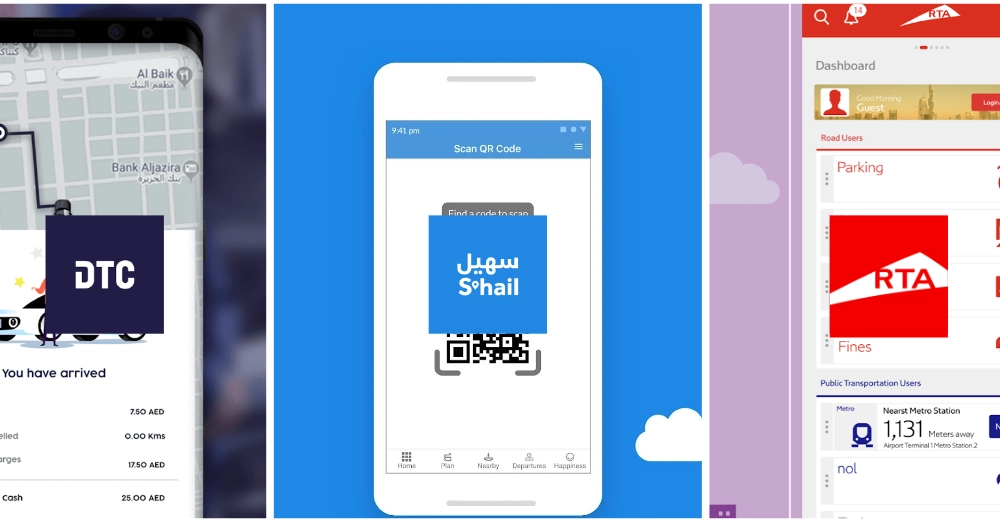 Booking a taxi from Dubai to Abu Dhabi is convenient and reliable through the use of government-managed apps like the RTA Dubai app and S'hail.
Both apps are owned by the Road Transport Authority Dubai and provide reliable service at government rates. Moreover, the quality of the taxi service is exceptional and has been recognized for its excellence with multiple awards.
With a range of taxi options, including airport, hatta, special needs, and more, you'll be able to find the best fit for your needs. Additionally, taxis are available 24/7, so you never have to worry about availability. [1]RTA, "Dubai taxi, https://www.rta.ae/wps/portal/rta/ae/public-transport/taxi/dubaitaxi"
Method 2.

Using third-party apps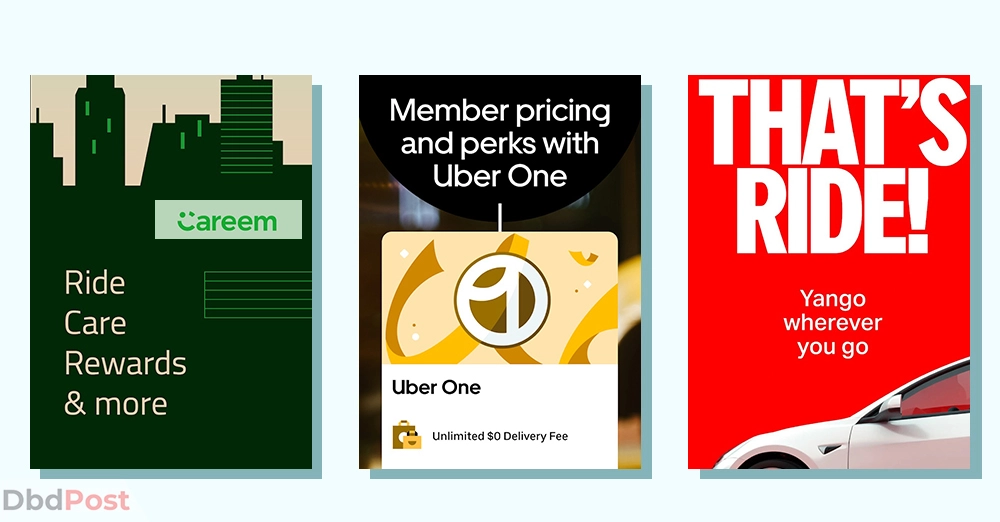 You can also book a taxi using a third-party app like Careem, Uber, and Yango. With these apps, you can get competitive prices, features, and excellent services.
You also get reward points and referral bonuses when you book with them. Not only that, but they are also easy to use and provide added safety features too.[2]Uber, "Uber Dubai, https://www.uber.com/global/en/cities/dubai/"
Download the Dubai and Abu Dhabi taxi app on your Apple or Android devices today and let them take you safely to your destination.
Method 3.

Using websites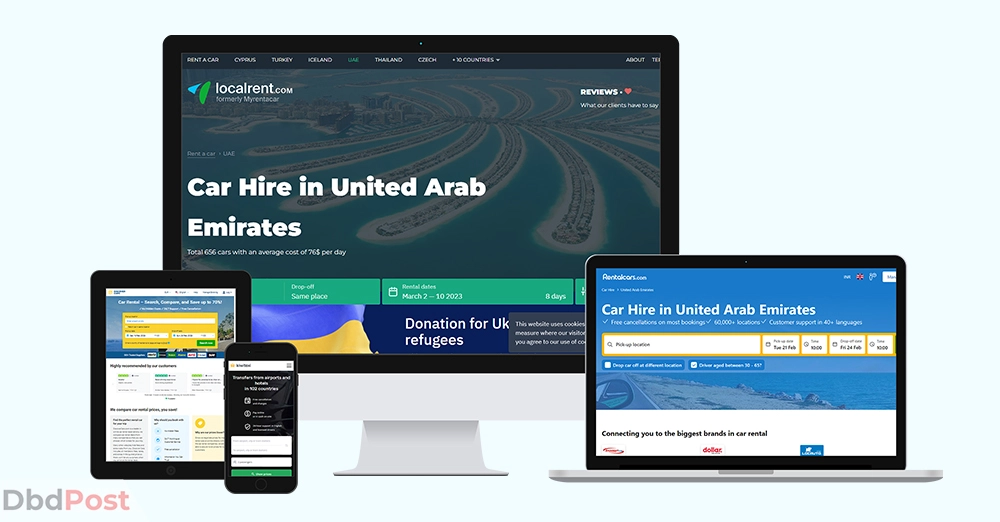 You can find many taxi companies that simplify Dubai to Abu Dhabi taxi booking. You can even make a booking for a stress-free travel plan.
All you have to do is enter your pick-up and drop-off points.
Also, by booking through the website, you can know the exact price you're paying, so there are no surprises in taxi fares.
Many of these booking websites are highly rated by customers and offer competitive prices.
Furthermore, there are plenty of cabs to choose from. Popular booking websites include Rentalcars, Kiwi, and Discover Cars.
Websites:
Method 4.

Using the hotline number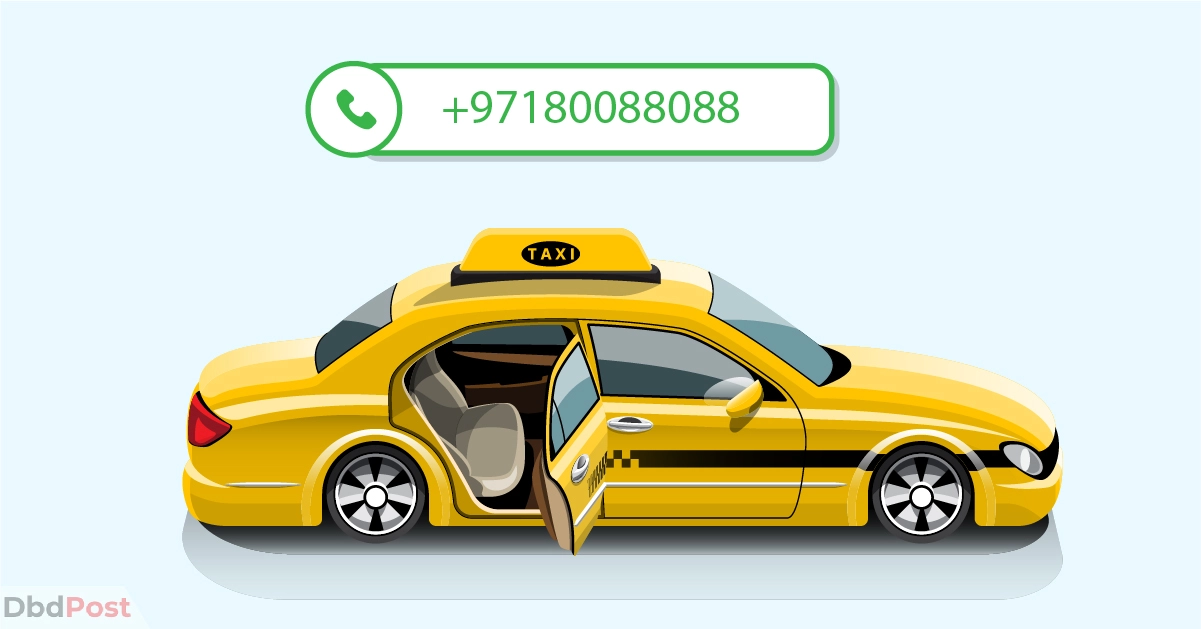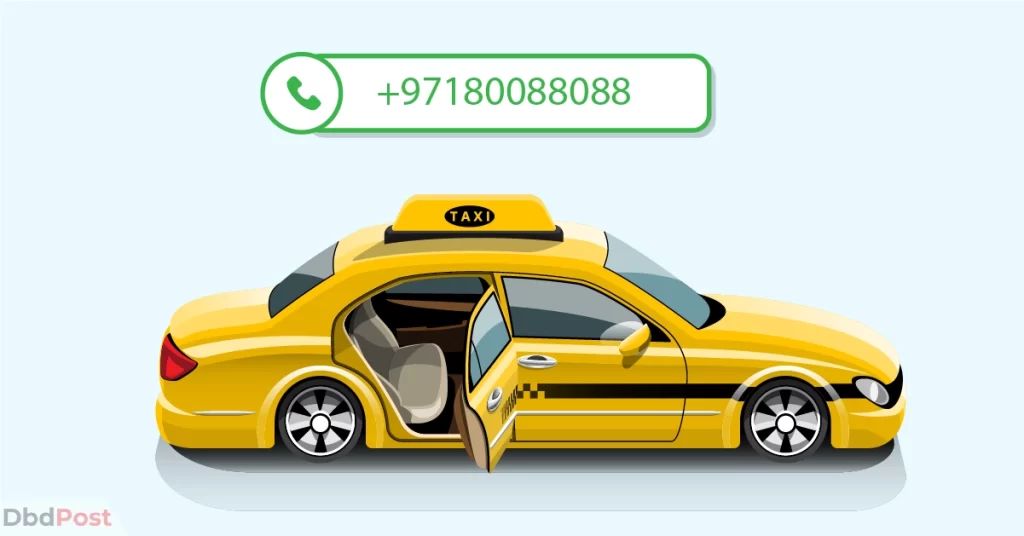 Booking a Dubai to Abu Dhabi taxi is easy with the hotline when you do not have internet access. All you have to do is call the number +97180088088 for booking.
This number is available 24/7, and it's free to call. Tell them your pick-up and drop-off locations and time, and then a taxi will arrive on time. You can pay in cash, with a card, or online transfer.
And if you have any special instructions for the driver, you can inform them ahead of time.
Method 5.

Go to a taxi stand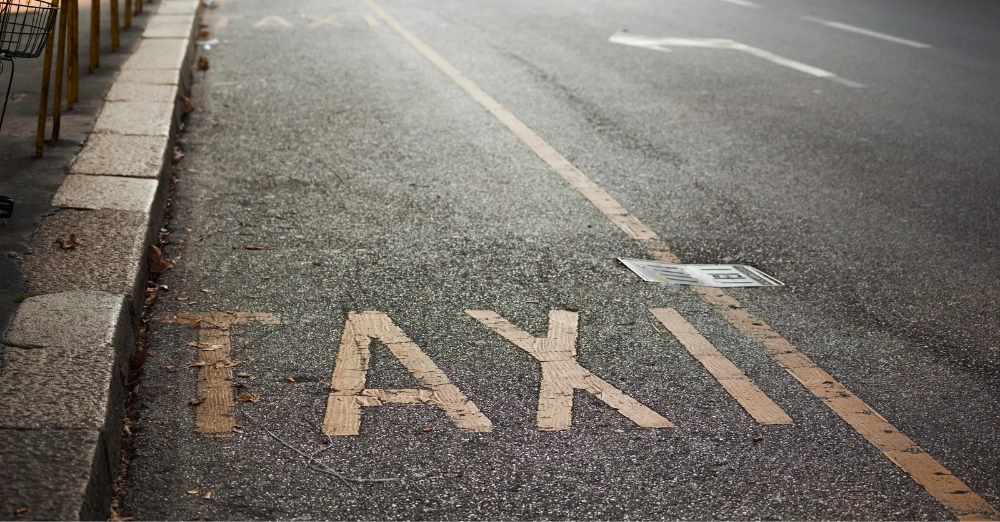 There are tons of private taxi stands across Dubai. You can go to a nearby taxi stand and find a driver who will take you there.
You must tell them your destination and then pay for the trip with cash, a card, or an online payment method.
City Guide Luxury Transport UAE
Location: Umm Ramool, Warehouse S7 Near RTA Customer Service Office, Dubai
Contact: +97142673222
Website: City Guide Luxury Transport
Map: Get direction
Penguin Luxury Passenger Transport LLC
Location: JLT CLUSTER X, X2 tower 3503, Dubai
Contact: +977504281612
Website: Penguin Luxury Passenger Transport LLC
Map: Get direction
Metro Taxi Company LLC
Location: Al Qusais Industrial Area, Al Qusais Industrial Area 1, Dubai
Contact: +97142673222
Website: Metro Taxi Company
Map: Get direction
Arabia Taxi
Location: Al Rebat Street, Umm Ramool Area, Dubai
Contact: +97142855111
Website: Arabia Taxi
Map: Get direction
Method 6.

Hail from the street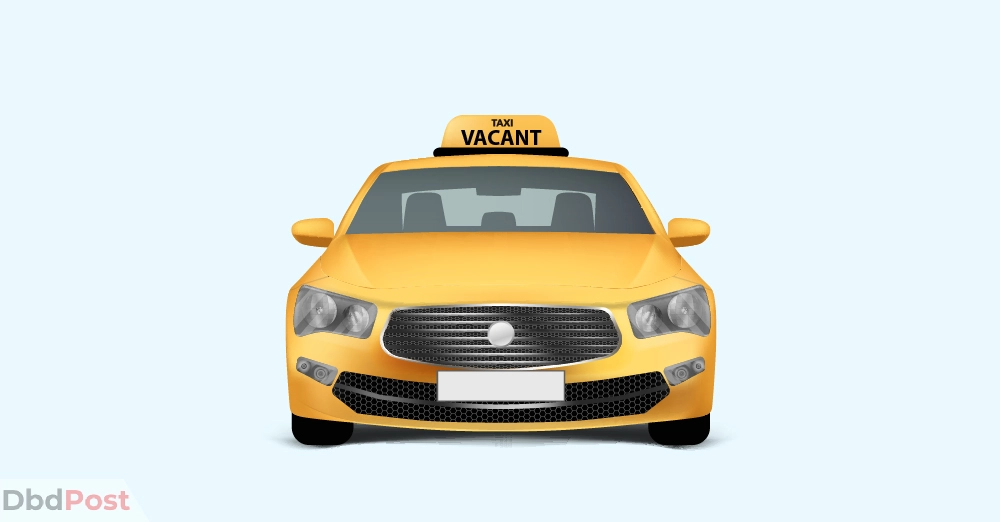 Hail a taxi directly from the street by identifying a cab with a "vacant" sign. When you find the taxi, approach the driver and negotiate the fare for your ride.
This option offers a flexible and spontaneous solution for your transportation needs.
The taxi ride cost from Dubai to Abu Dhabi can vary based on your taxi type.
How much does Dubai to Abu Dhabi taxi cost?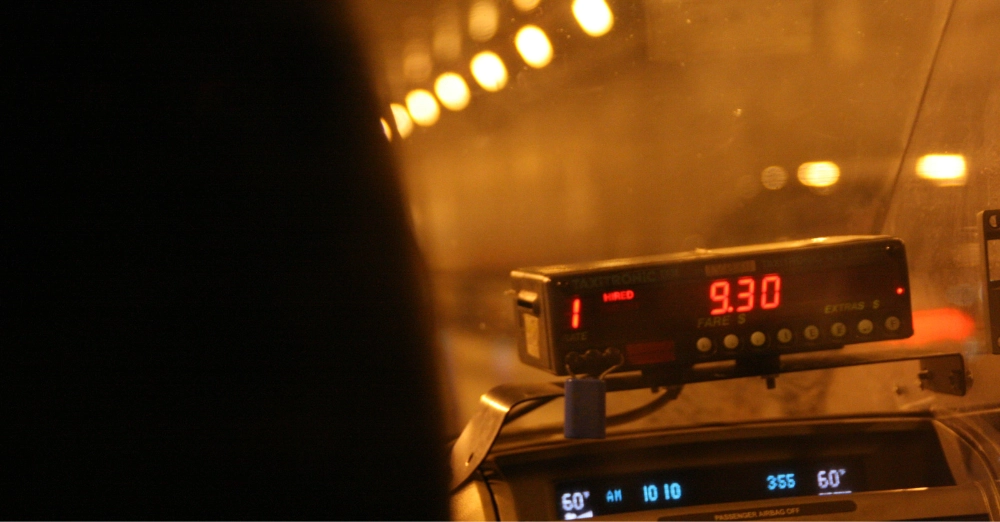 Ordinary cabs
This general service cab does not have a fixed starting fare, and the cost will depend on the location and distance.
Generally cost ranges from 1.5 AED to 2.5 AED per kilometer.[3]The National News, "Dubai taxi fares, … Continue reading
Airport taxi
The Dubai International Airport taxi service has a starting fare of 25 AED with a 1.75 AED per kilometer charge.[4]RTA, "Taxi fares, … Continue reading
Ladies taxi
For women and children, Dubai provides a dedicated Ladies' taxi.
The opening fare is 6 AED till 10 pm and 7 AED after 10 PM.[5]RTA, "Taxi fares, … Continue reading
Special needs taxi
Finally, the special needs taxi service is for customers who need special help.
The starting fare for this service varies based on the location and time of the journey.[6]RTA, "Taxi fares, … Continue reading
Now, let's look into fares between some popular destinations between Dubai and Abu Dhabi:
| From | To | Distance (Kilometers) | Estimated price (AED) |
| --- | --- | --- | --- |
| Burj Khalifa | Warner Bros World Abu Dhabi | 115 km | 223 AED |
| Burj Al Arab | Zayed Sports City Ice Rink | 119 km | 230 AED |
| Aquaventure Waterpark | Emirates Palace | 139 km | 267 AED |
| Mall of the Emirates | Ferrari World Abu Dhabi | 102 km | 200 AED |
| The Dubai Frame | Sheikh Zayed Grand Mosque | 134 km | 258 AED |
| Palm Jumeriah | Marina Mall Abu Dhabi | 140 km | 268 AED |
| Dubai Aquarium & Underwater Zoo | Louvre Abu Dhabi | 125 km | 241 AED |
Payment methods for Dubai to Abu Dhabi taxi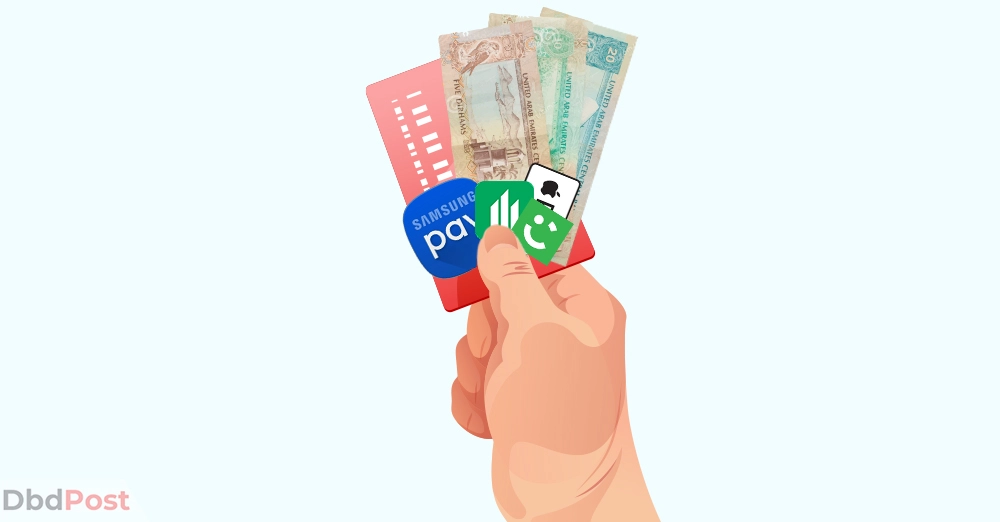 The Road Transport Authority (RTA) of Dubai oversees the management of Dubai taxis, Abu Dhabi bus services, and other public transportation within the Emirate.
By regulating the fares for taxis and other forms of public transport, the RTA ensures that you have access to reliable and affordable transportation options.
Cash payment
Most taxis in this region accept cash payments if you want to use something other than your credit card.
But, you'll need to have local currency on hand, so ensure you have exchanged Dirhams before taking the trip.
Credit card
Also, taxis in Dubai accept credit card payments via card scanners. This is handy when you have no time to visit a money exchange.
Apple Pay
Paying for your taxi rides in Dubai has become much easier with Apple Pay.
With Apple Pay, you can wave your phone or watch over the reader and use your fingerprint as authentication. You don't even need an internet connection because it uses NFC.[7]Apple, "Apple Pay without internet, https://discussions.apple.com/thread/8204935#:~:text=You%20do%20not,internet%20connection%20required."
Samsung Pay
Samsung Pay is another handy payment method you can use in Dubai taxis. It only works with Samsung devices, so if you have the latest Samsung phone, you're all set.
With Samsung Pay, you won't ever have to worry about not having enough cash for your ride. All you have to do is add your card to the app and hold it up to the taxi fare reader to process your payment.
PayBy
Download links:iOS, Android, and AppGallery(Huawei)
PayBy makes taking a taxi from Dubai to Abu Dhabi faster and more convenient than ever. With PayBy, there's no need to worry about carrying cash or physically handling credit cards.
Simply scan the code in the taxi, and your payment will be processed quickly and securely. Enjoy a hassle-free ride with the peace of mind that your payment is taken care of through PayBy.
Careem Pay
Careem Pay has made paying your taxi fare from Dubai to Abu Dhabi simple vand convenient. The UAE central bank approves it, so you know it's trustworthy.
To get started, all you have to do is top up your Careem wallet and then scan the QR code. You can even get rewards to use for future rides with Careem Pay!
Dubai to Abu Dhabi taxi toll charges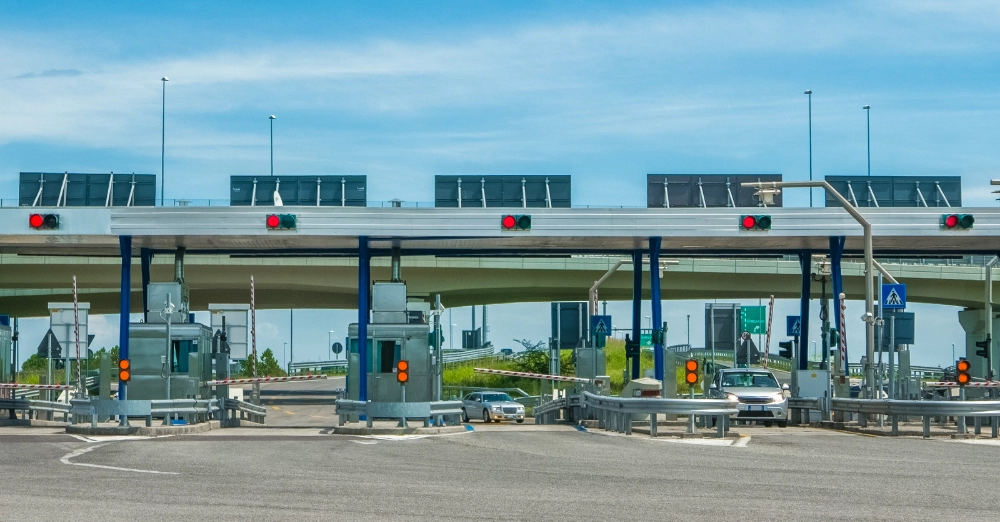 Taking a taxi from Abu Dhabi to Dubai is a great way to get around, but you need to remember about toll charges.
You'll have to pay the Salik toll charge every time the taxi passes through the gates.There is a total of 8 Salik tolls all over the UAE.
The gate will use a Radio Frequency Identification (RFID) scanner to detect the Salik sticker tag on the car.
The cost of each toll is AED 4, which is automatically deducted while passing from a gate. You must pay three times as you travel between Abu Dhabi and Dubai.[8]Salik, "Toll gates, https://www.salik.ae/en/toll-gates?csrt=639167767566046525″
Where to find Dubai to Abu Dhabi taxis?
Getting from Dubai to Abu Dhabi can be easy as long as you know where to find a taxi. Now, we'll look into places where you can find a cab.
1.

Airport

The taxis at Dubai International Airport in Terminals 1, 2, and 3 offer spacious and regularly maintained vehicles at competitive rates. Professional drivers are available 24/7 to assist with luggage.

The best thing is you can book one before landing at the airport. Also, they are available at Abu Dhabi airport.
2.

DTC

You can find taxis between Dubai and Abu Dhabi through the Dubai Taxi Corporation (DTC). The DTC is part of the Public Transport Agency of the Roads and Road Transport Authority (RTA).[9]Dubai Taxi, "About DTC, https://www.dubaitaxi.ae/#:~:text=The%20smart%20application,experience%20in%20Dubai."

The DTC makes it easy to reserve a taxi or limousine. They provide a smooth and innovative way to get around.
3.

Taxi stands

Luckily, several convenient taxis stand throughout the two emirates where you can easily find your ride. Many travelers find dedicated taxi stands operated by various operators at airports, shopping malls, and other popular destinations.

Prices are usually very reasonable, and fares will easily get you anywhere in either city.

Map:
4.

Streets

Finding a street taxi in Dubai or Abu Dhabi is simple. Taxis often operate on specific streets and are easily recognizable as parked or waiting for passengers. If you need a ride urgently, simply flag one down.

With abundant taxis available, you're sure to find an affordable and safe ride from Dubai to Abu Dhabi.
Can all taxis go from Dubai to Abu Dhabi?
Taxis in Dubai can easily take you to Abu Dhabi with the proper planning. Choose from various options like regular taxis, women's pink taxis, special needs taxis, airport taxis, or rental cars.
Book your taxi through an app, call a hotline number, or hail one from the street. Communicate your needs to the driver, such as the number of passengers, stops, and any special requirements.
Remember to pay toll fees when traveling from Dubai to Abu Dhabi, and note that discounts with the driver may only sometimes be possible. However, proper trip planning can ensure a smooth and enjoyable ride.
Things to consider while booking Dubai to Abu Dhabi taxi
Riding a taxi in the UAE is an easy and cost-effective transportation option. Taxis are well-maintained and feature clean interiors, and fares are calculated using a metered system.
Let's look into some rules and regulations to follow inside the cabs
When searching for a taxi, look for one with a green "vacant" sign on the roof and flag it down.
Taxis are available 24/7, and there are designated pink taxis for female passengers.
For the comfort and safety of all riders, pets and sharing taxis with strangers are not allowed.
All taxis have CCTV cameras for added security.
You'll need a UAE mobile number to book a taxi in advance or use a taxi app.
If you forget something in the taxi, the driver is required to report it to the dispatch.
You are not allowed to eat, drink, or smoke in the Dubai Abu Dhabi transport taxi.
Related Info
---
FAQs
How many tolls are there for Dubai to Abu Dhabi cabs?
If you're traveling from Dubai to Abu Dhabi in a cab, you'll have to go through 3 Salik tolls.
The cost for each toll is 4 AED, and so while traveling from Dubai to Abu Dhabi, it'll cost 12 AED.[10]Salik, "Toll gates, https://www.salik.ae/en/toll-gates?csrt=639167767566046525″
What is the per-kilometer charge for a taxi from Dubai to Abu Dhabi?
Generally, the rate per kilometer is 1.5 AED to 2.5 AED. While taking a taxi, always double-check the fare with the driver before they start the journey.[11]The National News, "Dubai taxi fares,  … Continue reading
How long does it take to get from Dubai to Abu Dhabi?
Dubai to Abu Dhabi taxi time is around one and a half hours, depending on traffic conditions. This makes it easy to spend the day sightseeing in Abu Dhabi.
How much is the taxi from Dubai to Abu Dhabi?
Dubai to Abu Dhabi taxi fare ranges from 200 to 250 AED. This amount varies depending on the destination you wish to reach in Abu Dhabi. 
Final thoughts
Getting a taxi from Dubai to Abu Dhabi is a simple and budget-friendly option.
Several choices are available, like using app-based services or websites or calling a hotline to book.
We hope this Dbd guide on Dubai to Abu Dhabi taxis was helpful. Overall, booking a Dubai to Abu Dhabi taxi is a straightforward process.
It's crucial to research and compare the various options to get the best deal.