Father's day is a special day of the year to show appreciation to our fathers. Fathers day in UAE is celebrated with excitement and enthusiasm by exchanging gifts and dining out.
UAE fathers day is always celebrated on the 21st of June. You can celebrate this special occasion by giving gifts to your father, taking him to amazing restaurants, or organizing a family get-together. This day is celebrated to show your love and respect to your father or father figure.
The biggest motive behind fathers day is to show gratitude towards your father for all his sacrifices and struggles. Many people take this day as an opportunity to reunite with their fathers to spend time together and show respect & admiration.
It's celebration is not limited to just family get-togethers and gifts. There are various other ways this occasion can be celebrated, which we will explain in this Dbd guide.
When is fathers day in UAE celebrated in 2023?
Fathers day in UAE is celebrated every year on June 21, no matter which day of the week it falls on.
In several other countries, fathers day is celebrated on the third Sunday of June. This is because the day always falls on a holiday.
However, fathers day is not an official holiday in the UAE. So the occasion can fall on any day of the week.
How to celebrate father's day in UAE?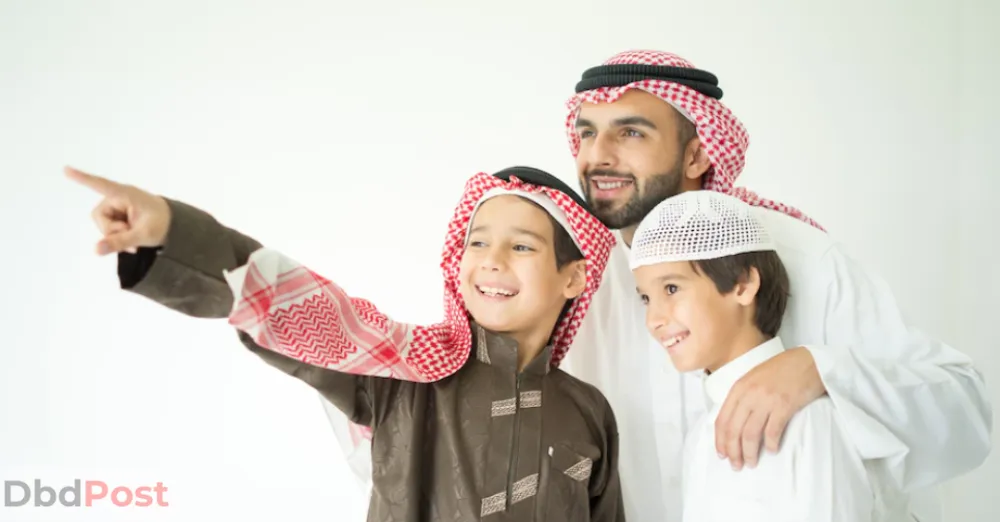 The best way to show your father that you care about him is to simply spend time with him. Giving him a thoughtful present is yet another way to make him pleased. Whatever you do, you must let your father know how special he is to you.
If you are looking for more ideas on how to celebrate father's day, here are a few suggestions:
Make breakfast
A lot of fathers are very busy with their work and often skip breakfasts. So surprising him with a hearty breakfast is an ideal way to start father's day.
Moreover, you can serve him breakfast in bed as it is a fun and simple way to express your love and care.
You can make his favorite breakfast or try something new. But whatever you choose to do, make sure it is delicious.
If you don't know how to cook or what your father likes, why don't you ask your mother to help you out? After all, no one knows what your father likes better than your mother.
Additionally, you can also go through numerous recipes available online. If you need some ideas, you can always check them out.
This is a very endearing and personal way to start off the fathers day celebration.
Dine with him
Dining together at home or in a fancy restaurant is another way to make your father happy.
Fathers typically go to work in the early hours and come home late. They don't get to spend a lot of time with their families, so sitting together for a meal can be a memorable moment of the day for them.
It will be even better if you invite all of your family members. The more the merrier! But be sure to reserve the tales early, because this is one of the busiest days of the year.
Dining together is a great way to show your dad how much you appreciate everything he does for you. Additionally, it's a great chance to catch up on each other's lives and forge new memories.
These are some restaurants and cafes that have some great deals on fathers day:
LDC Kitchen+Coffee
Location: Dubai International Financial Centre, Building 4, Level – 2 Sheikh Zayed Rd, Dubai
Map: Get directions
Contact: +971 43597334
Father's day is the perfect day to go out and enjoy a delicious meal at LDC Kitchen+Coffee. They have a great selection of burgers, french fries, and amazing desserts that are sure to satisfy everyone in your group.
If you're looking for something a bit lighter, they also have some great snacks available. No matter what you choose, you're sure to have a great time. They have some special offers each year during UAE fathers day as well!
Isola Ristorante Dubai
Location: Jumeirah Islands, Dubai
Map: Get directions
This Italian restaurant offers amazing deals on fathers day, so you can enjoy a wonderful European cuisine experience without breaking the bank. Plus, the pool and outdoor eating experience available at Isola Ristorante make it the perfect place to celebrate fathers day.
So make sure to head down to this Dubai restaurant on June 21st and enjoy an unforgettable meal with your dad.
India Palace Restaurant
Location: Adnoc Distribution Head Office, Opposite Al Salam Street, TCA, Abu Dhabi
Map: Get directions
The authentic Indian dishes here will please any palate, and the ambiance of this place is simply amazing. This is one of the best places for Indian foods like chicken curry, samosa, butter naan, biryani, etc.
If your father enjoys spicy food, you can make his day extra special by visiting India Palace Restaurant on UAE fathers day.
Buy him a gift
Fathers, in general, are very selfless. They place their families' needs before their own by working hard to support them.
Even on important occasions like father's day, they hardly ever ask for anything. Consider purchasing your father a particular gift if you want to tell him how much you value him.
You can find out what he's been eyeing and purchase it from the malls and shopping areas with special deals and coupons for him. In either case, your dad will undoubtedly value the thoughtfulness of your action.
Look at some of our gift ideas for fathers day in UAE:
Box of chocolates and cookies
Books and pens
A watch or a smartphone
Toolkits
"World's best dad" cake, cushions, and mugs
Personalized gift cards
Clothes, shoes, and bags
Have a picnic
A picnic is a beautiful way to spend time with your family, and father's day is the perfect opportunity to host one.
Planning a picnic is easy – you need good food, a few games, and something cozy to sit on. If you're unsure what to pack, a simple sandwich and some fruits will do the trick. You can bring a frisbee or a deck of cards for entertainment.
Here are some of the best picnic spots in the UAE:
Mushrif Park
Location: Al Khawaneej St, Mushrif, Dubai
Map: Get directions
Mushrif Park is a great picnic spot for father's day. The open area is perfect for spreading out a blanket and enjoying a meal outdoors. The beautiful old architecture provides a picturesque backdrop, and the green areas offer plenty of shade.
Umm Al Emarat Park
Location: 15th Street, Mushrif Area, Abu Dhabi
Map: Get directions
It is the perfect place for father's day picnic in Abu Dhabi. The park is filled with beautiful botanical gardens and has plenty of space to relax & enjoy the company of your family. Plus, it's always vibrant and lively, making it a great spot to spend some time outdoors.
Zabeel Park
Location: Zabeel Area, Near Al Jafiliya Metro Station, Dubai
Map: Get directions
Zabeel Park is a great picnic spot for UAE fathers day. It is large and scenic, with plenty of greenery and unique architecture to enjoy. There's plenty of space to spread out a blanket and relax, and the park's restaurants make it easy to grab a bite without having to leave the park.
Jebel Hafeet Park
Location: Jebel Hafeet Park, Mbazzarah Al Khadra, Abu Dhabi
Map: Get directions
Jebel Hafeet Park's beautiful desert atmosphere and some greenery make for a great backdrop. The great view at night is sure to amaze everyone. This hilly area provides plenty of interesting terrains to explore, making it a perfect spot for a nature hike and picnic.
What is the history of father's day?
Sonora Smart Dodd is widely recognized as the founder of father's day. Sonora was the daughter of a war veteran named William Jackson Smart.
Sonora was very fond of her father. He had raised her along with her five brothers after their mother died when she was only 16.
When Sonara learned about the existence of mothers day, she advocated for a father's day to be created in appreciation of fatherhood.
Afterward, the local pastors of Spokane, Washington announced the third Sunday of June as fathers day. June 19, 1910, was the first time fathers day was ever celebrated.
When Sonora Dodd died, her gravestone was carved with the words "Founder of Father's Day." Her legacy continues as we celebrate father's day every year to show our gratitude and love toward our fathers.
History of father's day in UAE
Father's day in UAE is always celebrated on 21 June.
In the United Arab Emirates, father's day dates back to the 1900s. There was no official father's day celebration before the 20th century in the UAE.
Sonora Smart Dodd of the USA founded fathers day, which was first celebrated on June 19, 1910. Many countries liked the idea and started to celebrate fathers day on the same day or a different one. UAE was also one of the countries that decided to adopt the idea and celebrate the occasion.
Despite its significance and the numerous celebrations all around UAE, father's day is not a public holiday. However, the day is filled with various activities and events being organized nationwide.
Related Stories
Check out our Dbd guide on Public holidays in UAE, where we have listed all the holidays this year.
Mothers play an equally important role in our lives. Know when and how to celebrate Mothers day in UAE.
Eid is a time of great joy and celebration. Find out more in our guide – Eid holidays in UAE.
---
FAQs
Is fathers day a national holiday in UA
No, father's day is not an official national holiday in the United Arab Emirates. Unlike many countries that celebrate it on Sunday, UAE celebrates it on whichever day June 21 is on.
When did fathers day start in UAE?
People have celebrated father's day in the UAE since the 20th century. However, it took a long time for the celebration to become formal.
Which day is considered fathers day in UAE?
The 21st of June is considered fathers day in UAE. Regardless of the year, father's day will be celebrated on the same date every time.
Why is father's day on June 21?
It is tradition to celebrate father's day in the third week of June around the world. Similarly, UAE fathers day was first announced to be celebrated on the last day of the third week, which was June 21. Since then, it has been celebrated on the same day
Final thoughts
Fathers day in UAE is a special day to celebrate and honor fathers for their efforts and struggles. Emirati fathers are highly respected and play an essential role in their families.
They play a vital role in their children's lives, teaching them traditional values and how to be good members of society. Moreover, father's day is a time to show appreciation for everything our fathers do for our families.
Emirati families celebrate father's day with special meals or get-togethers. It is a valued tradition in the UAE and an excellent opportunity to express love and gratitude for fathers.
We hope you liked our ideas for UAE fathers day celebration. If you did, feel free to share our Dbd guide with your family and friends.


Arijit Negi is an expatriate living in Dubai for 18 years. He completed his degree in Master of Arts in Journalism from the University of Mumbai. Arijit focuses on providing helpful guides and information for ex-pats living in UAE and visitors to the UAE.