Martyrs' Day in UAE is a national holiday. On this day, Emirati citizens commemorate the martyrs who fought in the UAE's war of independence.
Martyrs' Day in UAE is a day to remember the soldiers and brave fighters who gave up their lives for the independence of the UAE. In 2015, this day was officially announced to be celebrated on 30th November of each year. But its holiday is only given on 1st December.
People celebrate it every year on November 30, and a public holiday is given to all UAE residents on the day after. This day is also known as the UAE Commemoration Day.
In this Dbd guide, you will learn about the history of Martyrs' Day and how you can celebrate it with your friends and family.
We will also let you know all the events and programs that the government of UAE has planned and announced for the tribute of the martyrs.
So if you are excited to learn about Martyr's Day in UAE then keep reading till the end.
When is Martyrs Day in UAE celebrated in 2023?
Martyrs' Day in UAE is celebrated every year on November 30th. However, the public gets a holiday on December 1 instead. This holiday is conveniently placed right before the UAE National Day which falls on December 2.
On this day, ceremonies are held to remember the bravery and sacrifice of martyrs. Martyrs' Day has been celebrated in UAE since 2015.
Previously, the sacrifice of martyrs was respected informally. However, in 2015 the government announced that it would formally showcase the respect and honor given to martyrs to all UAE citizens.
After such a gesture, the government also announced public and national holidays on the occasion of UAE Martyrs' Day.
Now let's take a look at some of the programs and activities that you can indulge in to celebrate Martyrs' Day.
How to celebrate Martyr's Day in UAE?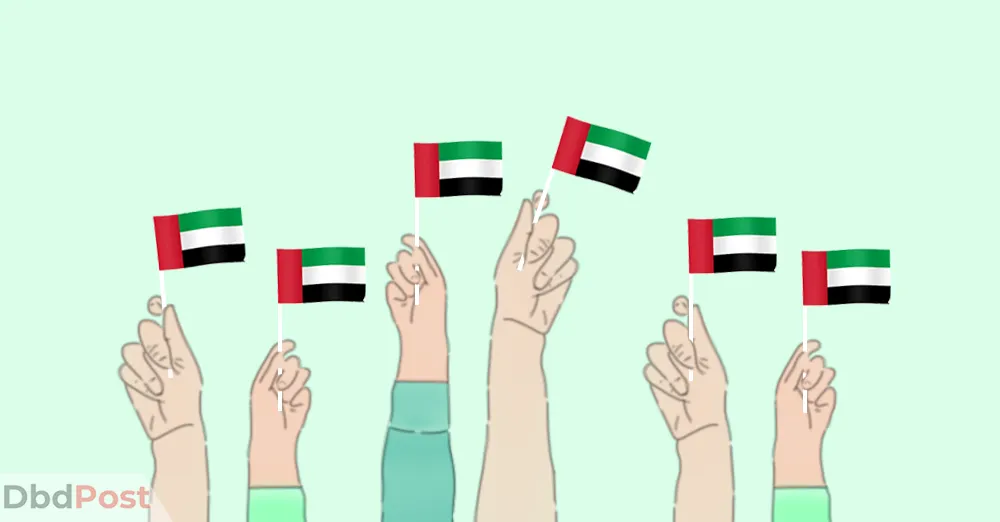 On this day, families of the martyrs come together to pay their respects and share memories of their loved ones. Other citizens also show great respect for their sacrifices.
The day is very special for the UAE citizens because UAE wouldn't be as developed and prosperous as it is today without the martyrs' sacrifices. All the soldiers who lost their lives while battling for independence are also shown great respect and admiration.
The UAE Martyrs' Day is also known as Commemoration day.
There are several ways to celebrate Martyrs' Day in UAE. Let's take a look at some of the ways you can celebrate Martyrs day in UAE.
Social media events
In 2020, the United Arab Emirates launched a massive social media program with the hashtag #UAEisproudofyou.
The campaign was first introduced by the Martyrs' Family Affairs Office (MFAO) and was fully supported by the UAE government.
Students were encouraged to draw pictures of martyrs and write poems about them. The best ones were rewarded with various prizes. The campaign was a great success.
Many people share their stories and messages of support for the families of martyrs on social media each year. Various government officials such as Sheikh Mohammed bin Rashid Al Maktoum also shared messages of support on social media.
This is the best way to celebrate Martyrs' Day in UAE if you cannot be physically present in the UAE.
One minute silence
On this day, people in the UAE take part in a one-minute silence to pay respects to the fallen martyrs. In 2021, a one-minute silence took place all over the UAE at 11:30 AM.
One minute of silence is a period of time in which a group or individual commemorates a person or event by abstaining from speaking. In this case, they silently remember the martyrs and thank the soldiers for everything they did for the United Arab Emirates.
Tribute campaigns and assistance for martyrs' families
In the past, the UAE government has announced support programs for the families of martyrs.
These welfare programs include education programs for their children and free healthcare facilities. Safe housing and skills enhancement programs for the family members of the fallen martyrs are also prioritized.
These strategies help the family members live well-respected & dignified lives. These also make it possible for family members to learn the skills they need to earn a living and improve their lives.
In addition, scholarships, financial aid, and discounted travel rates are also given to relatives of the martyrs.
A Martyrs Museum has been established where all the records of each martyr are kept individually.
Rallies and Parades
Martyrs' Day in UAE is also celebrated by participating in various rallies and parades. Rallies are held in different cities to show support for the families of the fallen soldiers.
Various parades and events are organized in all emirates of UAE. In Dubai and Abu Dhabi, you will find the biggest celebrations, rallies, and parades where people cheer for the martyrs and also raise the flag of the UAE.
In Dubai, a live show is organized by various political parties in Hatta where many rallies and parades eventually meet for the tribute show.
You can also organize your own tribute program in your locality to raise awareness.
What is the history of Martyrs' Day in UAE?
Martyr's Day in UAE was first introduced by president Sheikh Mohamed bin Zayed Al Nahyan in 2015. He announced the idea to celebrate the achievement of martyrs for their sacrifices to make the UAE an independent nation.
The history of Martyrs' Day started when a missile from Houthi struck in the Yemen province taking the life of 45 soldiers of the Emirates.
Salim Suhail bin Khamis, who died aged 20, is officially recognized as the first Martyr of the UAE.
Salim was a police officer on duty who was killed by the invading Iran forces after he refused to lower the flag of Ras Al Khaimah. This event took place before UAE gained its independence on December 2, 1971.
His Highness Sheikh Khalifa Bin Zayed named the land where the martyrs fought and sacrificed their life "Wahat Al Karama". It means "Oasis of Dignity".
Related Stories
---
FAQs
Is Martyrs' Day a public holiday in UAE?
Yes, Martyr's Day or Commemoration Day is a public holiday in UAE. Every year since 2015, UAE has announced a public holiday on the 1st of December on the occasion of Martyrs' Day. [1]UAE government portal, "Public holidays, … Continue reading
When was Martyrs' Day first celebrated in UAE?
The first Martyr's Day was celebrated on November 30, 2015, in UAE. Then President of UAE His Highness Sheikh Khalifa Bin Zayed Al Nahyan announced every year UAE will celebrate Martyrs' Day on November 30.
Which day is considered Martyrs' Day in UAE?
30th November is considered Martyrs' Day in UAE. But the government has announced a public holiday on 1st December instead.
Who is the first martyr of the UAE?
Salim Suhail bin Khamis is the first Martyr of the UAE. He died along with six other Emirati soldiers in the province of Yemen.
Final thoughts
Martyrs' Day in UAE is a day to remember and honor the sacrifices of the UAE armed forces who died while serving their country. Emirati soldiers have made many sacrifices over the years, and Martyrs' Day is a time to honor them all.
The day is also a time for reflection, and to think about the importance of bravery and patriotism. After all, where would UAE residents be today if these brave soldiers didn't fight so bravely?
We hope you got all the necessary information on Martyrs' Day in UAE from our Dbd guide. You can freely share our guide with others if you want to.


Arijit Negi is an expatriate living in Dubai for 18 years. He completed his degree in Master of Arts in Journalism from the University of Mumbai. Arijit focuses on providing helpful guides and information for ex-pats living in UAE and visitors to the UAE.