The UAE PASS or UAE smart pass is an essential national digital identity document for all UAE residents. It was launched by the government for the first time in 2018. It was a collaboration of the leading digital service providers in the UAE.
This app's main purpose is to bring a digital transformation to UAE by eliminating paper transactions.
The UAE government introduced the UAE PASS as a means to get easy government services access. This app is a necessary and helpful tool for people living in the UAE to verify their identity as well.
If you're looking for comprehensive information about the UAE PASS, this Dbd guide is for you.
What is UAE PASS?
The UAE PASS is a national digital ID for UAE citizens and residents. It gives you access to various government services online. [1]UAE PASS, "UAE PASS home, https://selfcare.uaepass.ae"
A UAE PASS account lets you sign documents to verify and perform transactions. You can receive copies of your official documents and use them for different government services too.
It is available to all UAE citizens and residents with valid Emirates IDs. It is a secure and convenient way to access online services.
This helps to protect your data and ensures that only you can access your accounts and transactions. It is an important step in the UAE's journey towards becoming a fully digital society.
The UAE PASS download is available on the Apple App Store and Google Play.
How to register for UAE PASS?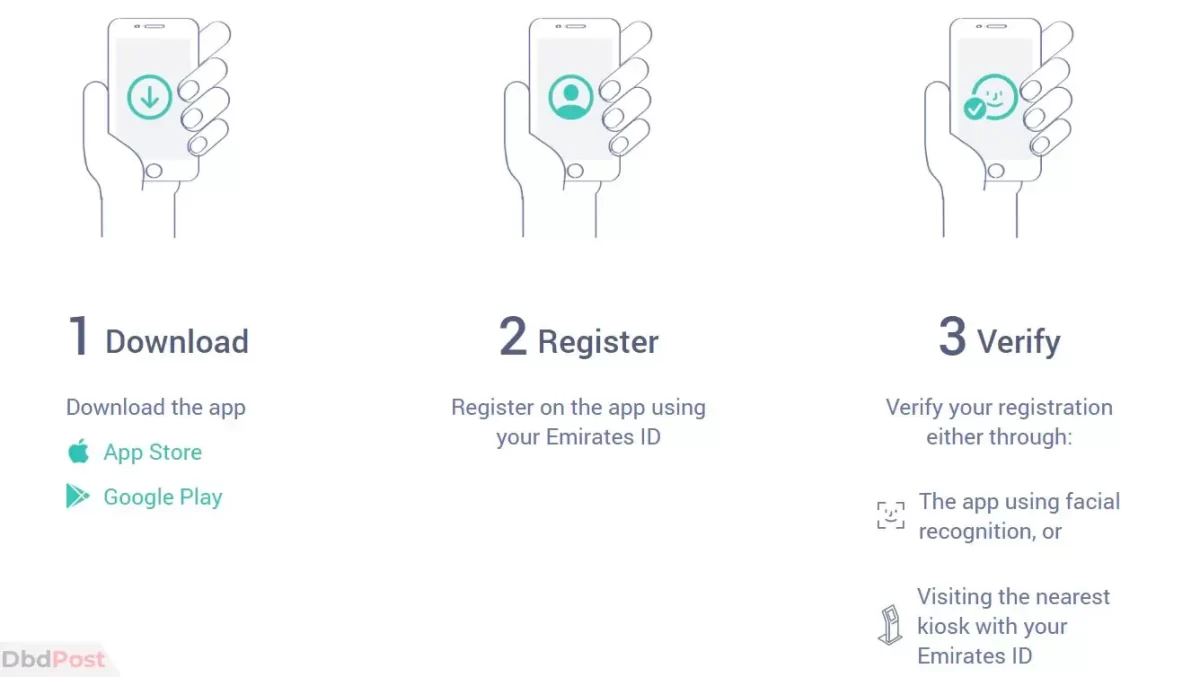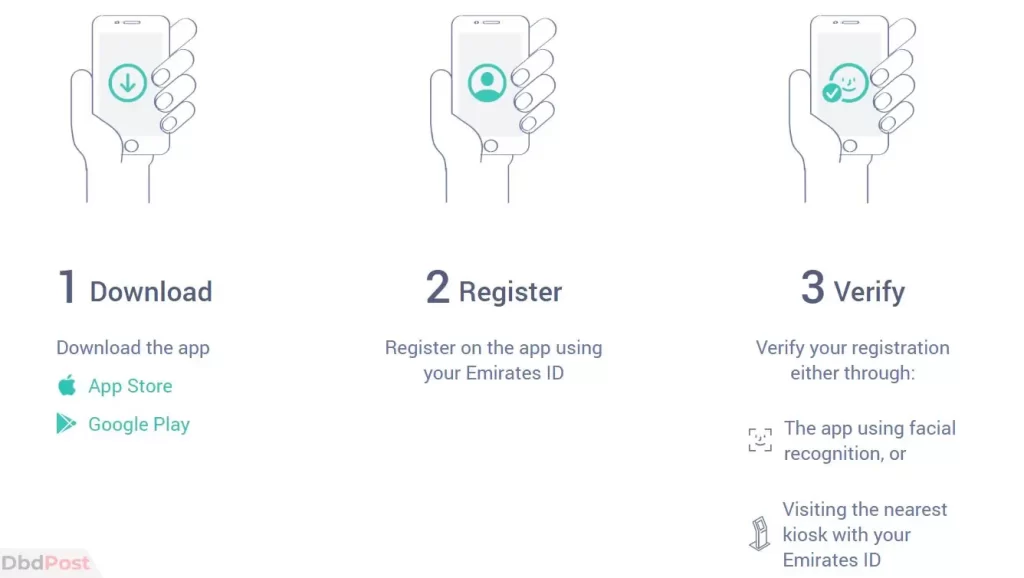 Before registering for a new UAE PASS account, you must have a phone with a working camera. If you do not, remember to visit the nearest kiosk.
Here is how you can register for it:
Download the UAE PASS app from Google Play or Apple App store.
Open the app and scan your Emirates ID card.
Enter your email address as well as your phone number.
Set a PIN code to secure access to your account. At this point, you have a basic UAE PASS account, but you must verify your identity to use its services. [2]UAE PASS, "UAE PASS FAQs,

https://selfcare.uaepass.ae/faq"

Verify your account with face recognition using your phone camera. You can also visit the UAE PASS kiosk with your Emirates ID and register using your fingerprint.
You need to verify your digital signature with an Emirates ID so that it can be used to access all services.
Contact the UAE PASS help desk if there is an issue with the verification process.
After this, use your login ID and password to sign in and use the national services.
What are the benefits of UAE PASS?
The UAE PASS offers a number of benefits to its users, including:
1. Have a secure digital ID
You will be able to verify yourself on an official service platform without hassle with UAE PASS. You no longer need to bring your ID card to apply for anything. Just have the digital ID on one of your mobile devices, and you are good to go.
2.Convenient access to online government services
With this app, you can easily access various online government services. This includes signing applications, sharing documents, updating personal info, etc. [3]u.ae, "The UAE PASS app, … Continue reading
3.A secure way to store your data
The UAE PASS will protect and store your data in one place so that you don't ever lose your documents. The fingerprint and facial recognition features will keep your account secure and private.
4.A faster way to get things done
With this app, you can save time with self-service without the need to do paperwork. You no longer need to visit a single government institution to use their services.
5.A way to save money
The UAE PASS can help you save money on printing and travel costs. You can access your documents electronically anywhere in Dubai, Abu Dhabi, or other emirates.
6.Sign in to multiple websites and apps with one account
The app allows you to log in to multiple websites and apps with one account. This means that you do not need to remember the usernames and passwords.
Digital services that your UAE PASS will access
A lot of service providers have linked more than 6,000 services to the UAE PASS. You can use their services across the country after you create an account. [4]u.ae, "The UAE PASS app, … Continue reading
Using the UAE PASS, you can access the following services:
Open bank accounts online
Pay water, electricity, and phone bills conveniently from home
Payment of insurance premium and other insurance services
Renew your passport or apply for visas using UAE PASS login details online
Use visa services from the Federal Authority For Identity and Citizenship
Residents and citizens can rent, buy and sell properties
Access hospital and ambulance services
Log in to all UAE Ministry websites
Access to these services is a compelling reason to create a UAE PASS account. Besides these, there are other endless services to take advantage of.
However, you should know that the services cannot be accessed from within the mobile app itself. You will need to sign in to your user account on your service provider's website. [5]UAE PASS, "UAE PASS FAQs, https://selfcare.uaepass.ae/faq"
More Related Stories
---
FAQs
Do I need UAE PASS?
Yes, you need a UAE PASS to access various government services. It offers a ton of time and cost-effective services, so it is worth checking out.
How can I get UAE PASS?
You can get UAE PASS by signing up through the official website or the app. You need your Emirates ID to verify your identity.
Can we register UAE PASS without Emirates ID?
Yes, you can register for a basic UAE PASS account without verifying with an Emirates ID. But you will be unable to access the services digitally if you don't complete verification.
What is the difference between UAE PASS and Emirates ID?
The UAE PASS is a national digital identity to access government services online. The Emirates ID is a physical card with your information required for identity verification, border control, etc.
What is UAE PASS used for?
The UAE PASS can be used for a variety of purposes. It is used to access many government entities' services, perform transactions, pay bills, etc.
Is UAE smart pass secure?
Yes, UAE PASS is completely secure and convenient. Its security features protect your data and ensure that only you can access your account.
Is UAE PASS registration free?
The UAE PASS, also known as the UAE smart pass, is free. There are no subscription fees or hidden costs to register your account.
Final thoughts
The UAE PASS, or UAE smart pass, is an essential tool for residents and citizens in the UAE. It allows you to access a range of services from the comfort of your home.
The best part is that the UAE smart pass is free to register for an account. So, go ahead and sign up for an account with the Emirates ID in the UAE today!


Arijit Negi is an expatriate living in Dubai for 18 years. He completed his degree in Master of Arts in Journalism from the University of Mumbai. Arijit focuses on providing helpful guides and information for ex-pats living in UAE and visitors to the UAE.