Knowing how to download Emirates ID online is necessary if you don't have the card with you.
Especially if you are waiting for the new Emirates ID card to be delivered, it is a good idea to have a digital version. Similarly, if your ID card is lost or damaged, you can also take advantage of their Emirates ID download feature.
Getting an electronic Emirates ID is not a difficult process at all. You need to follow some simple steps, and we will guide you through all of them.
With the help of this Dbd guide, you will know how to get Emirates ID copy online.
How to Download Emirates ID Online?
You must go through a few steps to get an Emirates ID copy online until the physical card is available.
Here is how to get a copy of your Emirates ID online.
Download the ICA UAE smart app from Google Play or Apple App Store. This is the official app of the Federal Authority for Identity and Citizenship for UAE citizens and residents.
Sign in or register for a new Emirates ID card by providing all required documents. You can also log in to the app using the UAE PASS credentials if you have them.
Click on the Emirates ID section.
Find the QR code. It lets you create a digital Emirates ID card in the app's "documents wallet section."
After you complete the above steps, you will have an electronic version of your Emirates ID. Alternatively, you can generate a QR code from the ICA's official website.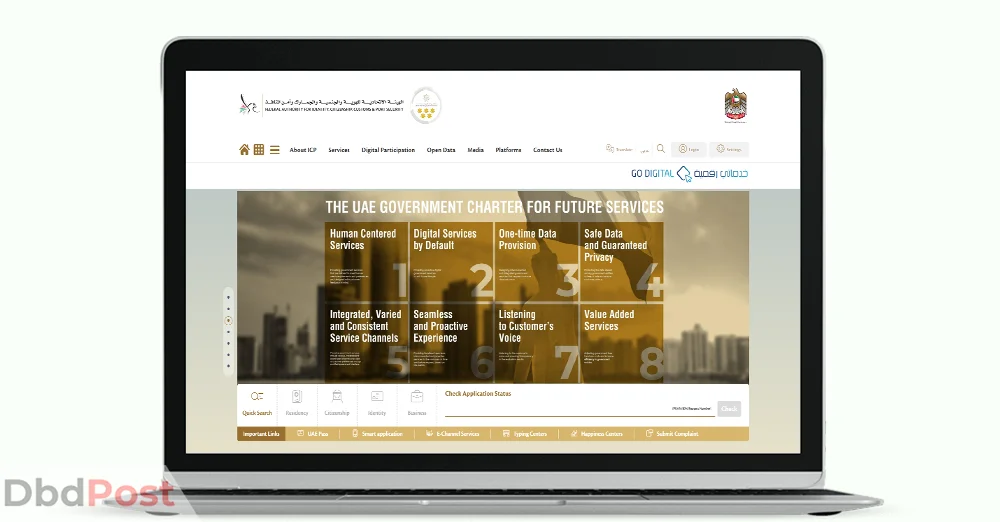 Follow these steps to obtain the QR code:
Visit the official ICA website. Change the language from the navigation bar if you have to.
Under the "Services" option in the navigation bar, select "Services for individuals."
Find "Apply for a new ID card" and click on "Start services" inside that section.
Look for the "Emirates ID QR Code" section and click "Start service."
Choose how you want to verify and enter the accurate information.
Once you complete these steps, you will be given your QR code. You can take a screenshot of it for later use as well.
What can I do with an electronic Emirates ID?
Electronic Emirates ID, or an e-ID, grants access to the services that the physical Emirates ID does. Although a physical card is more convenient for some services, an e-ID will greatly help until you get your card.
You can get your ID number after submitting the application for e-ID. This number will be a valid way to verify your identity for various purposes.
An e-ID has the same functions as a physical card. The e-ID can be used for many purposes, some of which are mentioned below:
You can use an e-Emirates ID to clear immigration and customs at any UAE airport.
You can open a bank account in the UAE if you have an e-ID.
Applying for a job is also possible. Many employers in the UAE accept e-IDs as a valid form of identification.
An e-ID can be used to apply for a visa.
You can use your e-ID to get a prepaid or postpaid mobile SIM card in the UAE.
If you have to complete various transactions with government entities in the UAE, you can use your e-ID card for verification.
You can also use your digital EID to apply for a driving license in the UAE.
These are just a few examples of what you can do after issuing an e-card. An e-ID also allows you to update your personal information and make changes to your account.
Related Stories
---
FAQs
How can I download my Emirates ID soft copy?
You can use the ICA smart app to download your Emirates ID soft copy. The ICA app is available for download on both Google Play and Apple App Store.
How do I get a QR code for Emirates ID?
You can get a QR code for your Emirates ID by logging into the ICA smart app. After you log in, click on the Emirates ID section and find the QR code from there.
How can I get Emirates ID fast?
You can get your Emirates ID in 24 hours if you use the express service and pay an additional fee. This service is available for UAE and GCC nationals officially residing in UAE. [1]UAE Government, "Emirates ID, … Continue reading
Final thoughts
An Emirates ID is a must for all residents in the UAE. The process of applying can take some time, so if you know how to download Emirates ID online, you will have an advantage.
If your e-ID card has been damaged or lost, you can get an Emirates ID copy online and use it temporarily. Emirates ID download takes minutes and works perfectly as the physical card's substitute.
So whether you haven't obtained the card or lost it, get an Emirates ID copy online for convenience!