If you have applied for a new Emirates ID, you can check your Emirates ID status to know what processing stage it is in.
The government has made the Emirates ID mandatory for all residents of the United Arab Emirates. This ID is the primary identity verification tool for most government services.
The card is used for residency registration, social security, identity verification, and many other things. For these reasons, the Emirates ID has become essential to every Emirati.
Once you have applied, you can check your Emirates ID application status online. You will then be able to see if it has been approved or not.
In this Dbd guide, we will show you how you can check the Emirates ID status. Keep reading more to find out.
What is Emirates ID?
Emirates ID is the identification card issued by the UAE government. All UAE citizens and residents must have an Emirates ID card.
The Emirates ID card contains the holder's personal information such as name, date of birth, gender, photo, and fingerprints. This information is contained in a secure electronic chip and can only be read by authentic purpose-built machines.
The front of the card also has the holder's ID number. The 15-digit ID number is different for each individual and is the unique identification code to recognize someone.
You need to apply for an Emirates ID for various purposes. Most importantly, the Emirates ID card is used to verify identity, age, and nationality.
It is also used for border control purposes and e-government services. Emirates ID is mandatory for renewing your passport or driving license of UAE. [1]UAE Government, "Emirates ID, https://u.ae/en/information-and-services/visa-and-emirates-id/emirates-id"
Emirates ID status – check online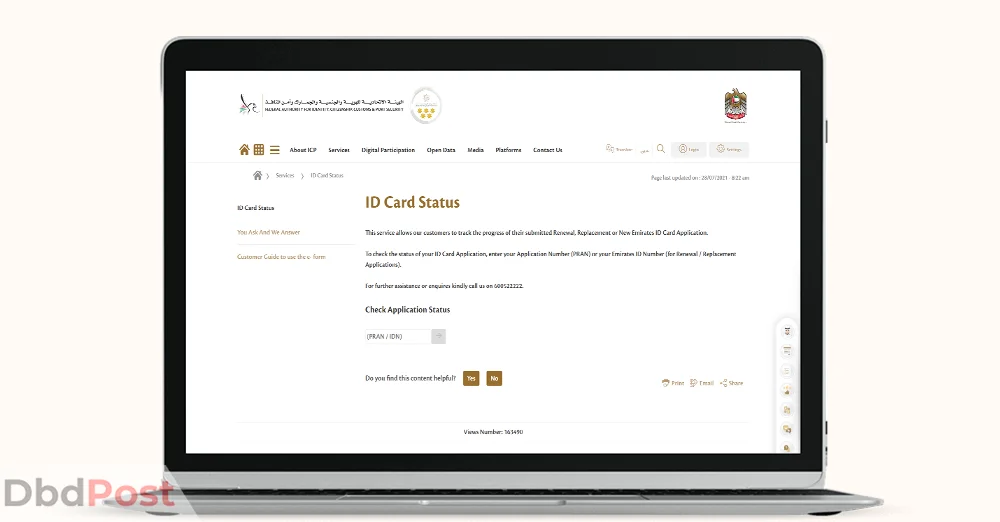 If you have already applied for the Emirates ID and wondering how to check Emirates ID – you can easily check its status from the ICA page. Before you begin the process on the ICA website, make sure that you have the application number.
You have to follow these steps to check the status of your Emirates ID:
Step 1: Go to the Federal Authority for Identity and Citizenship website's Emirates ID status check online page.

Step 2: You can use your mobile or laptop to access the website.
Step 3: Find the "Check Application Status" input box. In it, enter your application number.
Step 4: Press the Arrow button.
Then the website will show you the status of your online application for Emirates ID.
If it has been approved by the Federal Authority for Identity and Citizenship, you will see that information here.
If you need any assistance from the authority regarding the status of your ID, feel free to call 600-522222. They will help you solve any Emirates ID status check issue online. [2]Federal Authority for Identity and Citizenship, "ID Card Status, https://icp.gov.ae/en/services/priority-services/id-card-status/"
What are the benefits of Emirates ID?
There are a lot of benefits of Emirates ID. With your EID, you can profit from many services that would take a lot of time to do without the card.
Take a look at all the benefits of the Emirates ID card in the UAE:
Get government services
The Emirates ID is linked to your residency status, which you can use to use government e-services. You can also use it to register for social security, driving license, or passport in the UAE.
Vote in the elections if you are a citizen
If you are a UAE citizen, you can use your Emirates ID card to vote in the Federal National Council (FNC) elections. Voting is the right of every UAE citizen, but you will need a valid EID for that.
Travel with ease
The Emirates ID also serves as a travel document in GCC (Gulf Cooperation Council) countries. This means you can travel to many countries without a visa.
UAE citizens can use their Emirates ID to travel to Qatar, Oman, Kuwait, Bahrain, and Saudi Arabia without a visa.
Pass immigration at airports
You will also be able to use your EID at the airport to pass through immigration quickly. There are various eGates and smart gates at UAE airports that you can use with your Emirates ID.
Sign up for UAE PASS
Residents can access even more government services using their EID to register for a UAE PASS. With the EID, you will be able to sign up for UAE PASS to use government services, make transactions directly, and more.
Paperless government services
In late 2021, Dubai became the first government in the world to go completely paperless with its digital services. This is a great step toward a more sustainable future, and the EID further supports it.
More Related Stories
---
FAQs on Emirates ID status
How can I check my Emirates ID status?
To check the emirates ID status, you can visit the status enquiry page of the ICA website. You must enter the application number in order to see its status.
Is Emirates ID application status check free?
Yes, checking Emirates ID card status can be done for free. You don't have to pay any fees.
Can I check Emirates ID status without a passport number?
Yes, you can check the EID status without a passport number. However, you do need your application number for a status check.
How many days is the processing of Emirates ID?
It can take up to five days to get the Emirates ID. However, you can also apply for a "Fawri" service which will let you obtain an Emirates ID within 24 hours of applying. [3]UAE Government, "Emirates ID, … Continue reading
Final thoughts
Emirates ID is essential for all UAE residents. The application can be tracked using the Emirates ID card status tracking tool on ICP's website.
You may want to know the Emirates ID status for various reasons.
Maybe you've applied for a new EID and are curious about the ID processing time. Or, you might need to travel urgently, and you want to make sure your EID is ready.
Whatever the reason, checking the Emirates ID application status is easy and can be done for free.

Omar Saeed is a Senior Contributor at DbdPost based in Dubai. He earned his degree in Master of Media and Communication from the University of Wollongong in Dubai and covers news, info guides, reviews, and opinion pieces on various topics related to the UAE.