If you are looking for a free VPN service that gives you all the essential VPN functions, you should consider iTop VPN. It is a good choice if you need to access geo-restricted content, play games online, or wish to encrypt your traffic and protect your privacy online.
In this iTop VPN review, we will take an in-depth look at the wide range of features and benefits offered by this provider and its shortcomings to see whether it is the right fit for your needs.
iTop VPN review – Quick Summary
Here's a quick look at the basic specifications of iTop VPN
| | |
| --- | --- |
| Price | Free |
| Servers | 1800 + |
| Number of devices | 5 per account |
| Bandwidth | Unlimited for premium, 700 MB/day for free |
| Encryption | Military Grade |
| Network Protocol | TCP, UDP & HTTPS |
| Average Speed | 100 Mbps |
| Platforms | Android, iOS, macOS, and Windows |
| Browser Extension | Available for Chrome |
| Kill switch | Yes |
| Split tunneling | Yes |
| Dynamic IP addresses | Yes |
| No-log policy | Debatable |
| DNS leak protection | Yes |
| Torrenting | Yes |
| Streaming services | Netflix, Hulu, BBC iPlayer, Disney+, HBO |
| Money-back guarantee | 30 days |
| Free VPN trial | Available |
| Based on | Hong Kong |
| Customer Support | 24/7 tech support |
iTop VPN Pricing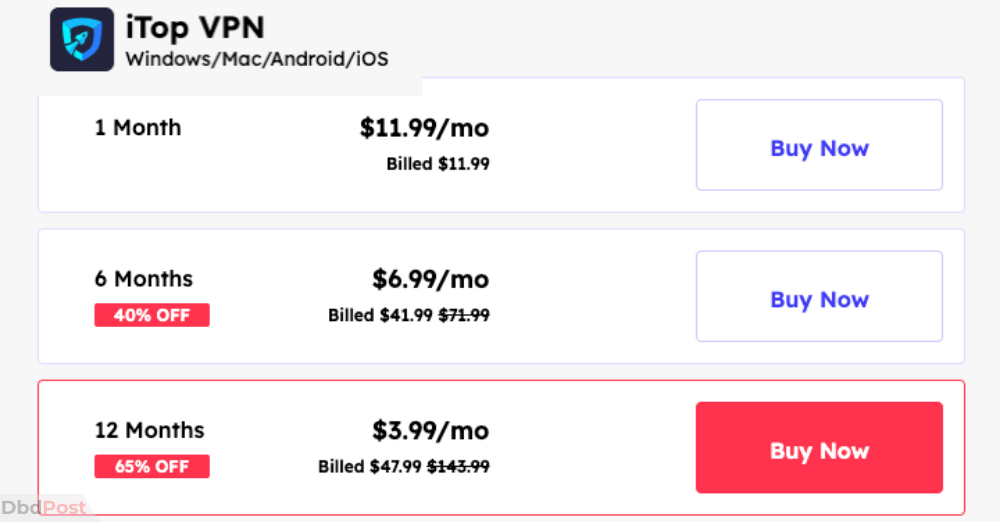 iTop VPN offers free and paid subscription plans.
The free plan is limited, offering only 700 MB of data per day and access to only a few dozen servers. If you need more data or want to connect to servers in other countries, you will need to upgrade to a paid plan.
iTop normally offers a yearly plan at $3.99 per month billed as $47.99. However, it now gives extra 12 months of service with 95% discount to anyone who purchases the yearly plan.
That means they have a starting price of $2.31 per month for a 12-month + 12 extra months (24 months) plan billed as one payment of $55.44.
The monthly plan costs $11.99 per month and the 6-months plan costs $6.99 per month billed at $41.99 every 6 months.
All plans come with unlimited data, access to all server locations, and support for 5 devices simultaneously.
Payment methods for iTop VPN
You can pay for your VPN subscription using a credit card or PayPal. There is no cryptocurrency or anonymous payment option available.
Free trial – Does iTop VPN offer a free trial?
You will receive a 30-day money-back guarantee with all premium plans. You can purchase any premium plan and request a refund if you dislike it.
Related info: Check out – this page to find the best VPN services available in 2023.
iTop VPN features
Following are the detailed description of the crucial features that iTop VPN offers to its users.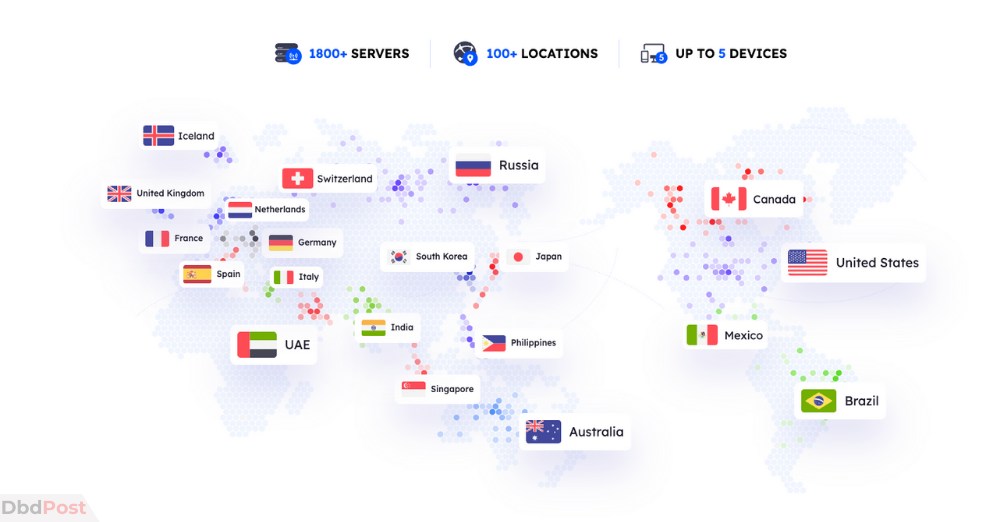 1.

Free VPN connection

iTop offers a free version of the VPN on multiple platforms. The free plan limits the daily bandwidth usage to just 700 MB which is quite low.
2.

Unlimited bandwidth

iTop users can enjoy unlimited bandwidth on multiple devices. It grants unlimited and unrestricted private internet access to all its premium users.
3.

Speed – How fast is iTop VPN?

In our testing, we have measured the average speed of iTop VPN as 84.6 Mbps from the US region.
However, iTop VPN offers an average speed of 100 Mbps with unlimited bandwidth on its paid plans. If you need a VPN that will allow you to stream video and other content fast, paid plan is for you.
4.

No-log policy

The premium plans of iTop assure to not track or store any logging data of user activity for selling to unauthorized parties. However, their privacy policy states that they store your cookies and personal information to improve customer service.

The company also uses a third party to complete your purchase and handle mailing, which means they can access your emails. Although it sates that the third parties will not share the data with anyone, it raises some security concerns. [1]iTop VPN, "Privacy Policy, https://www.itopvpn.com/privacy"
5.

Ad-blocker

iTop has an inbuilt ad-blocker that eliminates ads, pop-ups, and malware while browsing the internet. This isn't fully available if you do not have a premium account.

Free iTop VPN works by selling some data and displaying ads so that it can generate revenue and continue to offer a free service.
6.

P2P file-sharing

iTop allows users to engage in P2P file-sharing activities without any restrictions. You can connect to any of the P2P-optimized servers and download or upload files with unthrottled download speed.
7.

Supported platforms – Which platform does iTop VPN supports?

iTop is compatible with popular platforms like Windows, Mac, Android, iOS, and Linux. Every platform has a free app that you can download from its respective app store. You can also download Mac and windows app from its official website.
8.

Kill switch

iTop's kill switch immediately shuts down your internet connection if the VPN connection unexpectedly drops. This prevents your real IP address from being exposed to your ISP or anyone else. Browser privacy is at its best with this feature enabled.
9.

DNS protection

The DNS settings in iTop automatically encrypt all your DNS traffic and route it through secure VPN servers. It also prevents DNS leaks and secures your online privacy.
10.

Dedicated servers

iTop offers its users a wide range of dedicated streaming servers, P2P, and gaming servers that are located in different parts of the world. You can connect to any of these servers and enjoy a fast and secure connection for streaming, gaming, or torrenting specifically.
11.

Split tunneling

iTop's Split tunneling feature allows you to choose the network for your online activities. This feature determines whether the corresponding app or site should utilize a VPN or regular internet connection.

This feature secures your browser privacy while enabling you to enjoy a fast connection using non-restricted applications or sites.
12.

Auto-start function

The auto-start function in iTop automatically starts the VPN service when you turn on your computer or mobile device. This is useful when you want to always have a VPN proxy running in the background.
13.

Servers and locations – How many servers does iTop VPN have?

At present, it has servers in more than 100 locations around the world with every server IP address being available to all its premium users. The total number of servers is at over 1800 right now and it is continually expanding.
14.

Torrenting – How good is iTop VPN for torrenting?

iTop VPN is an excellent choice for those who want to torrent as it offers high-speed servers specifically optimized for P2P file sharing. Connect to a dedicated P2P VPN server and download files at high speed.
15.

Customer support

iTop VPN offers 24/7 tech support through their website. You can also submit a ticket by clicking on the "Submit a ticket" button. Unfortunately, it does not have a live chat feature.

Related info: Check out this – best Android VPNs, where we have listed expert-tested best VPN providers for Android devices.
Pros and cons of iTop VPN
There are several pros and cons to using iTop VPN.
Pros
Free VPN service
DNS protection
100 free VPN servers
Free access without logging in
Automatic kill switch
Cons
Not the best encryption protocol
Limited platforms support
Free VPN services store logs and sell your data
Fewer servers than similarly priced VPN services
Unstable connections in free iTop servers
Related info: Check out this – best iPhone VPNs, where we have listed expert-tested best VPN providers for iOS devices.
iTop VPN download – How to download iTop VPN?
You can download iTop VPN from their official website, Google Play Store, or App Store.
For mobile devices
Step 1: Visit App Store for iOS devices or Google Play Store for Android.
Step 2: Search for iTop VPN.
Step 3: Download and install it on your device.
Download iTop VPN on Windows PC or Mac
Step 1: Go to iTop VPN's official website (itopvpn.com).
Step 2: Click on the "Free Download" button. You may have to scroll down once to find this button.
Step 3: After the file is downloaded, click on it.
Step 4: Click "Yes" if a pop-up appears asking if you want to install this application.
Step 5: Follow installation instructions on the screen. It is quite easy. You only need to click on the "Next" button most of the time.
You can upgrade to its premium account within the app.
How to set up or use iTop VPN?
Once you have downloaded and installed the VPN software, open the app and sign in with your account. Choose a server location and click on the "Connect" button.
Once the connection is established, you can start browsing the internet privately and securely.
iTop VPN refund policy
iTop VPN offers a 30-day money-back guarantee for all new customers. This means that if you are not satisfied with the service, you can cancel within the first 30 days and get a full refund. The refund is available on all plans.
Moreover, it also offers a partial refund. For example- if you have used the VPN for 3 months out of a one-year plan, then you can get a refund for the remaining 9 months.
If you use iOS software, the VPN company doesn't guarantee a refund. You must contact apple through the App Store and they will begin further processing. [2]iTop VPN, "Refund Policy, https://www.itopvpn.com/refundpolicy"
To request a refund, you need to contact customer support and provide them with your order number and reason for cancellation.
iTop VPN alternatives
Many VPNs provide better encryption and security features than iTop does at competitive prices. Here are a few:
1. NordVPN
NordVPN is a leading VPN provider with over 5,400 servers. It offers military-grade encryption and a strict no-logs policy that iTop doesn't.
Its least expensive plan starts at $3.99 per month which is a bit pricey but worth it due to its superior speed and security.
2. ExpressVPN
ExpressVPN also provides better security features than iTop. It has servers in 94 countries and is supported on more platforms.
Its only downside is that it is a very expensive alternative, with prices starting at $6.67 per month. If you are willing to pay more for desirable online safety, ExpressVPN will suit you better.
Surfshark is a big name in the VPN industry. It puts no limits on how many devices can use the same account and provides military-grade protection to all.
If you own more than five devices that need a VPN, Surfshark is the best option. Its prices start from $2.49 per month.
FAQs about iTop VPN
Is iTop VPN legit?
Yes, iTop VPN is a legitimate VPN service. It is a free VPN service with over 100 servers in more than 100 countries.
Is iTop VPN free?
Yes, iTop VPN is a legitimate VPN service. It has a free plan with a 700 Mbps per day data cap. However, you can purchase a premium version to enjoy unlimited bandwidth.
Is free iTop VPN safe?
iTop offers basic encryption and keeps logs on free plan online activities. However, its no-log policy and military-grade encryption technique make the premium plan safer.
How good is iTop VPN?
iTop does a decent job of protecting your online privacy. However, it lacks features that are offered by other VPNs, such as reliable military-grade encryption, a strict no-logs policy, etc. You might want to use some other alternatives if you do not want to compromise safety.
Is iTop VPN good for streaming?
It is decent for streaming. However, it might not work flawlessly with some geo-restricted content and lag a little due to few servers and lack of the best encryption technology.
Is iTop VPN good for torrenting?
Yes, iTop VPN is good for torrenting. It offers P2P-optimized servers in more than 60 countries. You can also use the free plan for torrenting.
Does iTop VPN work in China?
Yes, iTop VPN works in China. You can access region-blocked content from China and other countries that restrict or censor a lot of content. Countries like Russia, China, Iraq, Belarus, Turkey, UAE can access social media, streaming sites, and blocked content by using iTop.
Does iTop VPN unblock Netflix?
Yes, iTop VPN unblocks Netflix. It can unblock Netflix US, BBC iPlayer, and other major international libraries. You can also use the free plan to stream your favorite shows and movies.
Does iTop VPN make internet speed slow?
All VPNs slow down internet speeds by a certain margin. The same can be said for iTop as well. It encrypts your data and reroutes it through multiple servers and dedicated IP addresses which takes more time.
Does iTop collect data on VPN?
iTop keeps logs of your cookies, google analytics data, etc despite stating to have a no-logs policy. However, it claims to use the data strictly to improve user experience and customer service.
How to cancel iTop VPN subscription?
You can cancel your iTop VPN subscription at any time by logging into your account and clicking on the "Cancel Subscription" button. You will be given the option to cancel immediately or at the end of your current billing cycle.
How to contact iTop VPN customer support?
You can contact iTop VPN customer support by submitting a ticket through their website or by clicking on the "24/7 Tech Support" button.
Final thoughts
If you're looking for a free VPN service, iTop VPN is one of the best options. With over 1800 servers in 100+ locations, unlimited data, and support for 5 devices, it's one of the most comprehensive VPN services on the market. And at just $2.31 per month for a premium plan, it is affordable as well.
The privacy policy may seem confusing, but if you believe their promise of not selling your data to third parties, you should go for it. The traffic encryption and security protocols leave a lot to be desired, but it has some perks such as the entirely free VPN.
Additionally, iTop VPN also has a detailed FAQ section on its website where you can find answers to common questions about the service.
If you found our iTop VPN review useful and informative, please help us spread the word. We greatly appreciate the continuous support from our readers.