If you are looking for an affordable and secure VPN to access geo-restricted content, PureVPN can be your best choice.
PureVPN offers a reliable and affordable VPN service with decent speed for all your devices. With over 6500 VPN servers in 78 countries, it provides good speed and global coverage at low prices.
This PureVPN review will go over its features, performance, price, and more to see if this is the right VPN for you.
PureVPN review – Quick summary
| | |
| --- | --- |
| Price | Starts from $1.99 per month |
| Servers | 6500 + |
| Number of devices | 10 |
| Bandwidth | Unlimited |
| Encryption | AES 256-bit |
| Server speed | 10 Gbit connection speeds |
| Platforms | Windows, macOS, iOS, Android, Firefox, Chrome, Smart TVs, Gaming consoles |
| Kill switch | Yes |
| Split tunneling | Yes |
| Dedicated IP addresses | Yes |
| No-log policy | Yes |
| DNS leak protection | Yes |
| Torrenting | Yes |
| Streaming services | Netflix, BBC iPlayer, Amazon Prime Video, Hulu, HBO Go, Hotstar, etc |
| Money-back guarantee | 31 days |
| Free VPN trial | No, only 7-day trial for $0.99 |
| Based on | Hong Kong |
| Customer Support | 24/7 live chat |
Pros and cons of PureVPN
Pros
One of the lowest premium prices
Diverse server locations
6500+ servers
It supports all major platforms
High upload speeds
Anonymous purchase
Cons
Dedicated IP costs extra
Free version unavailable
The iOS app lacks a kill switch and split tunneling
Features of PureVPN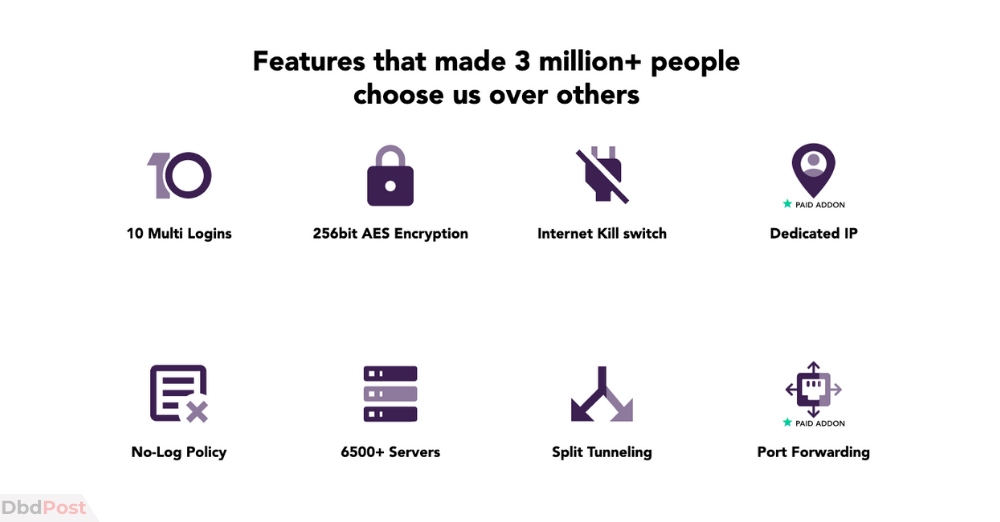 1.

Security, encryption, and DNS leak protection

Purevpn uses AES-256 bit encryption to protect your data from hackers and snoopers. This military-grade encryption hides all IP addresses with the same level of protection used by governments and agencies.

DNS requests are automatically routed through PureVPN's secure DNS servers to protect against DNS leaks and unblock geo-restricted content.

A kill switch is included on all apps except the iOS app. If the VPN connection drops, a kill switch will automatically disconnect you from the internet, which prevents your actual IP address from being exposed.

It also features split tunneling, which allows you to route some of your traffic through the VPN while other traffic bypasses the VPN entirely.

Overall, every VPN protocol provided by PureVPN is useful and has many advantages.

Related info: Check out this Dbd post – best VPN Services, where we have listed expert-reviewed most secure and trustworthy VPN providers.
2.

Servers and locations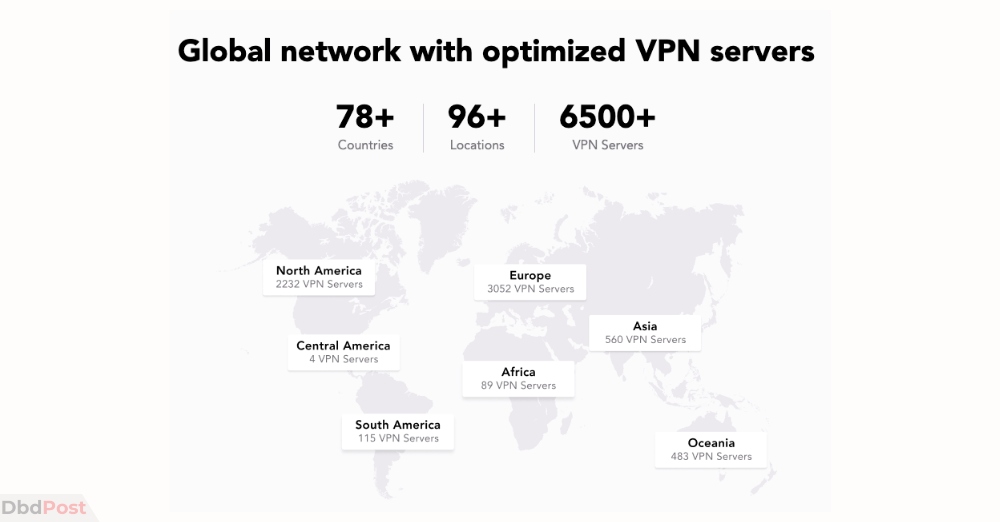 PureVPN service offers over 6500 servers in 78 countries across 96 locations worldwide. It has 2232 servers in North America, 3052 servers in Europe, 560 in Asia, 4 in Central America, 115 in South America, and 89 in Africa. [1]PureVPN, "PureVPN's Server Locations List, https://www.purevpn.com/servers"
PureVPN offers a wide range of server locations to choose from, so you can find a server close to your physical location for faster speeds.
3.

Speed – How fast is PureVPN?

PureVPN has decent speeds and reliable performance.
In our testing from the US region, the average maximum speed of PureVPN is around 36 Mbps. This makes it a good choice for streaming HD content or playing online games.
In addition, in our testing, we found that this VPN service has one of the better upload speeds among VPNs. This makes it one of the best choices for those who need to upload large files regularly. Despite these strengths, PureVPN may not be ideal for torrent downloading due to its relatively low P2P capabilities and download speeds.
Regardless of this limitation, PureVPN remains a well-rounded and user-friendly VPN that can meet the needs of most online users.
4.

Supported platforms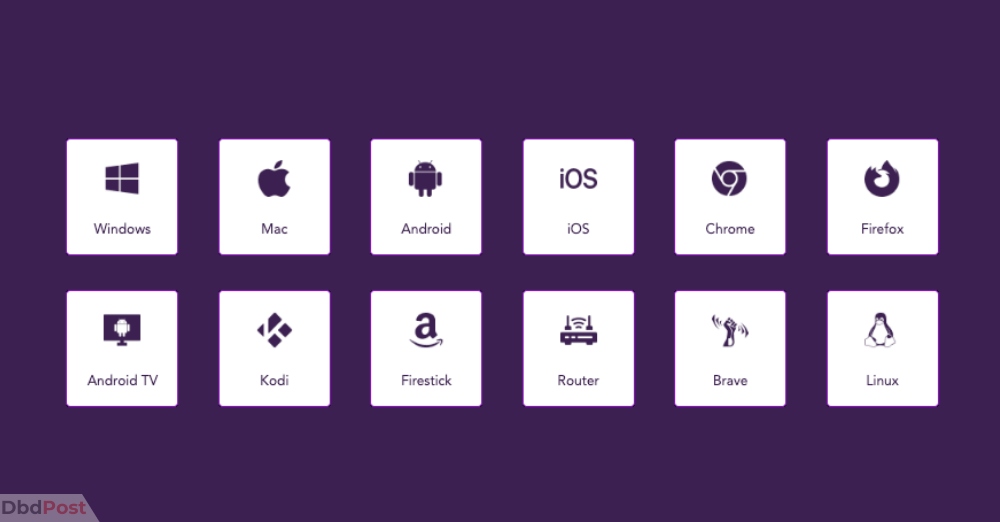 PureVPN supports a wide range of platforms. You can get Pure VPN for Windows, macOS, iOS, Android, and various other devices, including smart TVs and gaming consoles.
PureVPN is also compatible with popular web browsers like Firefox and Chrome. So download the windows app on your PC or the android app on your phone, or even on your Android TV and get busy browsing with a private internet connection.
5.

P2P sharing

For users looking for a fast and secure way to share files and download content via peer-to-peer (P2P) networks, PureVPN can be an acceptable solution.

It has a network of dedicated P2P servers in multiple countries worldwide. That allows hassle-free, reliable sharing with other peers globally.

This VPN service offers optimal protection against P2P hackers and other cyber threats because of the state-of-the-art encryption and built-in security features.

The big downside is that the P2P servers are located in a few countries. They don't allow P2P/filesharing where it is illegal by law – United Kingdom, United States, Canada, Australia, etc. They have blocked P2P on some of their servers.
6.

Optimized streaming servers

As anyone who has tried to stream video from a foreign country knows, geo-restrictions can be a huge pain.

PureVPN offers a solution in the form of a vast network of 6500+ servers scattered across 78 countries. With such a vast network, you can easily bypass geo-restrictions and access your favorite streaming content anywhere.

In addition, PureVPN's server locations are placed in a strategic way for optimal streaming performance.

So whether you're trying to stream Netflix from Japan or BBC iPlayer from the United Kingdom, PureVPN has you covered.
7.

Multiple devices login

PureVPN is ideal for families and individuals who regularly use multiple devices. With a single account, users can enjoy secure, fast, and reliable access to the internet on up to 10 different devices simultaneously.

Whether you need to connect your laptop, phone, tablet, or gaming console, PureVPN makes it easy and convenient. Get PureVPN for Android or iOS, as they are the most convenient and quick to use.
8.

Unlimited bandwidth

PureVPN's high-speed VPN network offers unlimited bandwidth in all ten simultaneously connected devices.

This means you never have to worry about your data speeds being throttled or limited while browsing the web.

With speed and reliability, you will get the most out of your internet connection for streaming, gaming, or sharing files.
9.

Port Forwarding

It is a technique that allows you to forward traffic from one port on your device to another port on a remote server. It can be useful if you want to access a service on a remote server that is not normally accessible from your location.

PureVPN's port forwarding feature makes it easy to open or forward any UDP or TCP ports from any device. It allows you to access your PC or laptop anywhere and boost P2P download speeds.

This tool is well suited for online gaming, allowing you to open specific ports to ensure optimal gameplay.

You can browse, stream movies and TV shows, or engage in intense multiplayer matches with ease. PureVPN has covered you with all the tools and features you need for a seamless experience.
10.

31-day money-back guarantee

If you're not satisfied with PureVPN for any reason, you can get your money back within 31 days of purchase. This refund policy is available for all plans, including the monthly plan.

You can also try it for seven days with the $0.99 trial.

This is a great way to test out the service to see if it's right for you.

Whether you're looking for a long-term VPN solution or just need a short-term option, PureVPN has you covered.
11.

Customer Service

PureVPN's customer service is excellent.

To start, their website has a detailed setup guide on all devices, so you can always get your VPN up and running on all types of devices.

If you ever run into any problems, it's 24/7 live chat feature will help you out.

They also have a very efficient ticketing system. So you can always report an issue and get it resolved quickly. Overall, PureVPN's customer service is quite good.
12.

Restricted countries accessibility

Using PureVPN, you can access the internet from anywhere in the world. That includes countries that have restricted internet access. Using this VPN service, you can access blocked streaming sites and social media in the UAE, China, Russia, Turkey, Iran, Saudi Arabia, etc.

It supports all major security protocols, including PPTP, OpenVPN, L2TP/IPSec, IKEv2, WireGuard, etc. Its IP addresses are constantly changing to provide you with fresh, anonymous connections every time you connect from a restricted area.

You can bypass website restrictions or protect your online activity from government surveillance with PureVPN. It has everything you need for safe and secure browsing.
PureVPN Pricing – How much does PureVPN cost?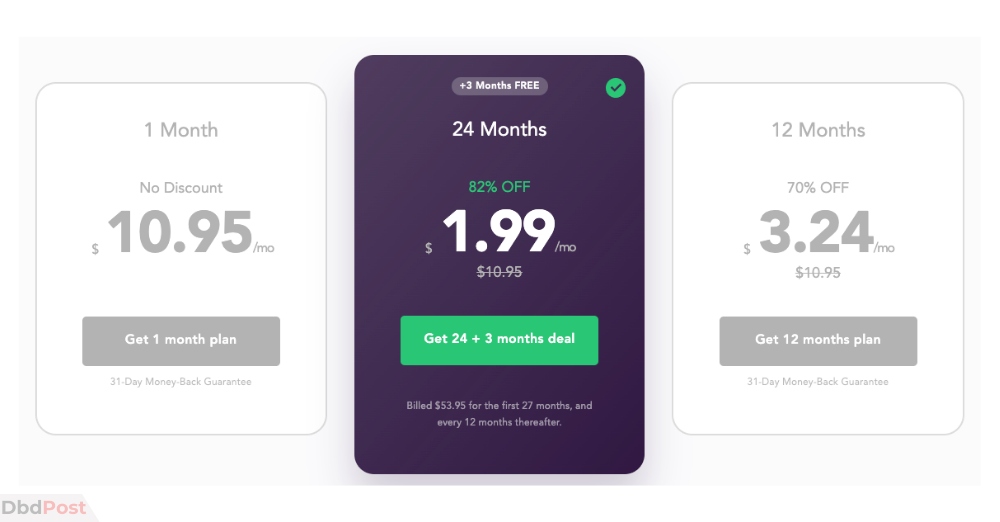 With three different premium subscription plans, you can find the plan that best meets your needs and budget.
Payment plan
Monthly plan: It costs $10.95 per month.
12-month plan: It offers excellent value at just $3.24 per month, billed at $38.88 every year.
24-month plan: It is an unbeatable choice at only $1.99 per month. It is billed at $53.95 over the first 27 months. Subsequent renewals are billed annually after that.
All plans come with the standard PureVPN refund policy of 31 days refund guarantee.
Payment methods
There are different payment methods available for those looking to purchase a subscription with PureVPN. You can use traditional payment methods like PayPal and credit cards. You can also take advantage of cryptocurrencies like bitcoin and Ethereum.
Of course, whichever payment method you choose, your transaction will be secure and your personal information protected.
Related info: Check out this – best Android VPNs, where we have listed expert-tested best VPN providers for Android devices.
Is PureVPN good for businesses?
PureVPN's PureDome is a business VPN trusted by over 600 companies globally. It is a leading VPN provider that has been protecting businesses since 2012.
With a simple and easy dashboard, it offers a dedicated team IP address to secure the connection of remote teams. Encrypting internet traffic and routing it through its high-speed servers ensures that businesses are protected from online threats.
Puredome business VPN service is designed specifically for companies and organizations.
It provides a high level of security and privacy through encrypted tunneling protocols and data access control features.
You can establish site-to-site VPN connections between different locations or ensure secure data access from remote users.
It's experts can help you choose the right solution to meet your needs and protect your valuable data.
So if you're looking for a reliable business VPN provider that delivers top-notch security, look no further. They have the expertise and technology to keep your information safe, no matter what challenges come your way.
Related info: Check out this – best iPhone VPNs, where we have listed expert-tested best VPN providers for iOS devices.
Is PureVPN good for streaming?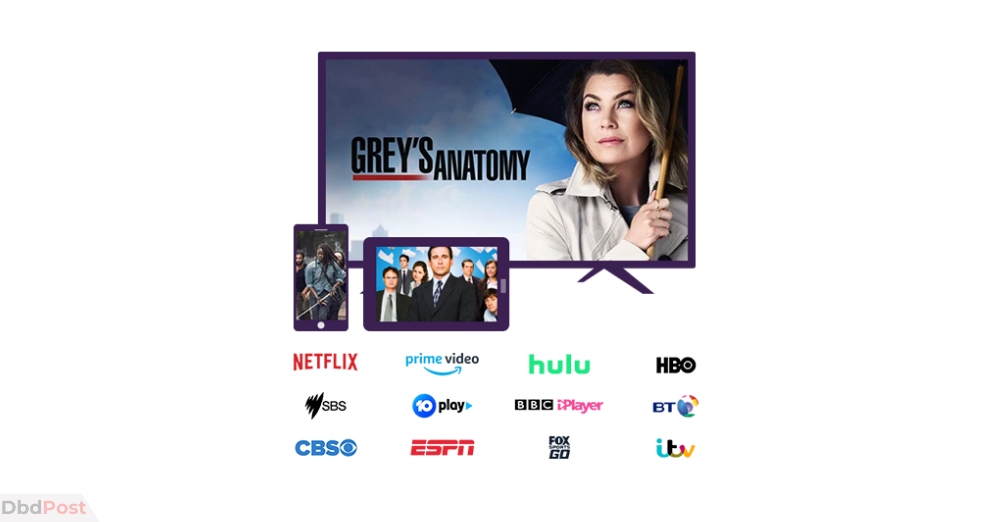 Nothing beats the flexibility and convenience of a good VPN for streaming. PureVPN successfully unblocks a wide range of geo-restricted content from popular streaming services.
Netflix, HBO Go, Hulu, Amazon Prime Video, BBC iPlayer, Hulu, and many others can be accessed easily with PureVPN.
Its speeds rival those of a dedicated cable or satellite connection. That means you can stream sports from over 30 channels, including ESPN, Fubo TV, Sony Live, etc.
So if you're looking to enjoy all the entertainment you love without the hassle of traditional cable subscriptions, look no further. PureVPN is the ultimate solution for unlocking all your favorite shows no matter where you are!
Is PureVPN good for torrenting?
PureVPN does a decent job of torrenting. But it is not as good as some of the other VPNs on the market.
The speed is good enough to torrent with, but the number of P2P servers is limited.
Additionally, P2P file sharing is not allowed in all locations. As a result, it is essential to check with It's support team to see if P2P file sharing is available in your region.
How to download PureVPN?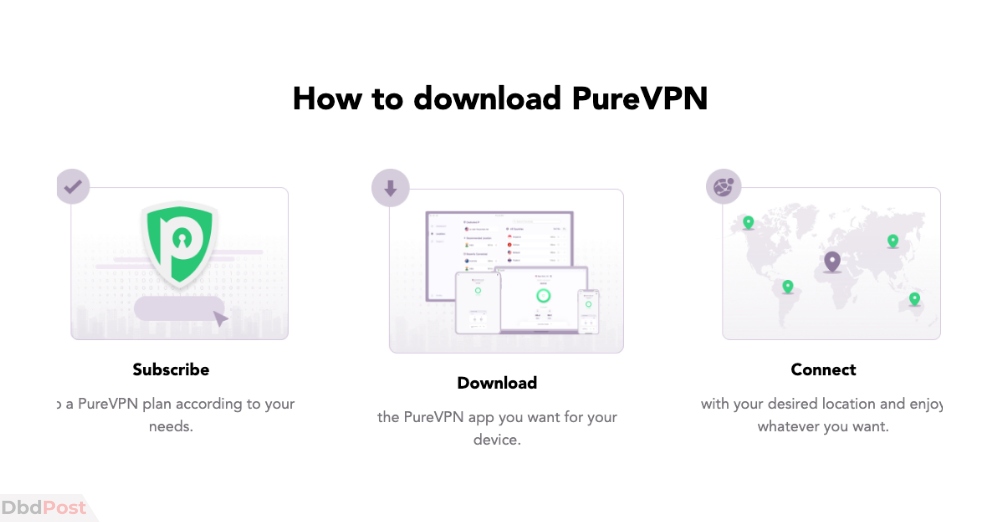 It only takes a few minutes to download and install PureVPN on your computer. Follow these steps to install the windows app on your desktop and create an account:
Step 1: Visit the PureVPN website (purevpn.com/download).
Step 2: Click "Download Now."
Step 3: Locate the file after it has been downloaded and open it.
Step 4: Click "Yes" on the pop-up if it appears.
Step 5: When the installation window opens, click "I agree".
Step 6: The app will automatically install and open a few seconds after installation. When the app opens, click on "Create an account."
Step 7: A page will open on your default browser. Scroll down and choose a plan.
Step 8: Fill up the required information and choose the payment method.
Step 9: Fill in your payment information and click "Pay."
After you have completed your payment, go back to the app and log in using the email you used to create the account. You can now install the VPN app on mobile devices, consoles, or other supported devices and log in using the same credentials on up to 10 devices.
To download the iOS or Android app, go to the Google Play Store or App Store and install them. You can log in or create an account from within the app itself.
PureVPN alternatives
Different VPN providers are available on the market today, and choosing the right one can be overwhelming. Some have similar or better features and provide excellent VPN services, while others pose a serious security threat. Here are a few VPNs that we recommend:
With its robust and secure VPN protocols, quick connection times, and easy-to-use browser extensions, CyberGhost is a top choice for VPN users. CyberGhost VPN is a quick solution for accessing restricted content or protecting your sensitive data from prying eyes.
CyberGhost has one of the largest server infrastructures out of many VPN providers. It is also very affordable, with prices starting from just $2.29 per month.
CyberGhost did not boast a strong track record of user privacy due to its parent company's shady history in the past. But it has improved and come out on top as one of the best VPN companies.
See more: CyberGhost VPN Review 2023 – How Good & Safe is it?
2) NordVPN
NordVPN is one of the fastest and most popular VPN providers. It offers exceptional security and privacy protections through advanced protocols and 5500 physical servers in 60 countries. It is available for all major platforms and offers excellent customer support, and a variety of advanced add-on features.
Nord has also undergone third-party audits to verify its security standards. This makes it an ideal choice for anyone looking for top-notch VPN security. NordVPN offers online security and privacy to a casual web user or even a tech-savvy professional. The prices start from $3.99 per month.
See more: NordVPN Review 2023 – Who is this VPN Best For, is it Worth?
Surfshark VPN is a major player in the highly competitive VPN industry. It boasts unlimited simultaneous connections and some of the most advanced security features.
With a starting price of just $2.49 per month, Surfshark is also one of the more affordable options. Not only does Surfshark offer a wide selection of encryption protocols, but it can also bypass China's Great Firewall. So if you're looking for fast, reliable protection from digital threats, Surfshark VPN is worth checking out.
See more: Surfshark VPN Review 2023 – How Good and Safe is Surfshark?
Is PureVPN right for you?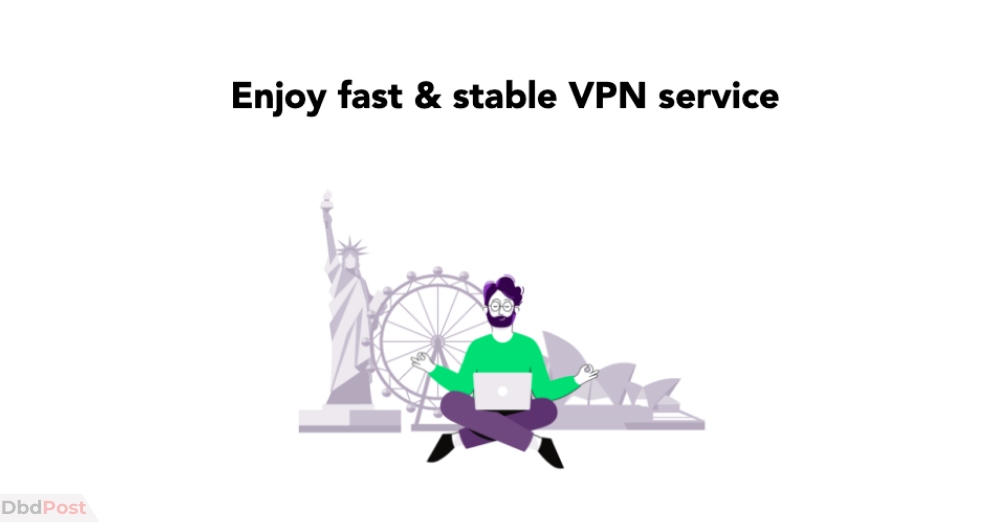 Recommended for:
Personal use
Businesses
Streaming
Gamers who need port forwarding
Family
PureVPN will fulfill the personal needs of individuals, families, and business professionals, thanks to its business plan. It has excellent features that hold up very well on all occasions.
Not recommended for:
Torrenting can be an issue if not done carefully, as your original IP address can be exposed. PureVPN does not have the best P2P servers, and torrenting can be very slow.
If you consider this as an option, we urge you to use a different provider that is more geared for this activity.
How to cancel PureVPN subscription?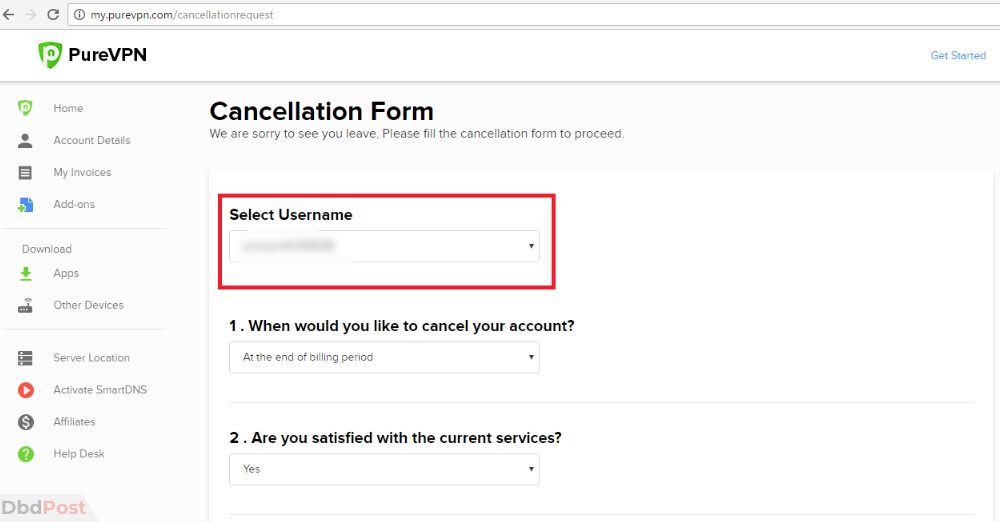 Canceling a PureVPN subscription is easy. Just follow these steps:
Step 1: Go to their cancellation request page (https://my.purevpn.com/cancellationrequest).
Step 2: Select your username.
Step 3: Answer some questions on why you are canceling.
Step 4: Submit form.
FAQs about PureVPN
Is PureVPN legit?
Yes, PureVPN is a legitimate VPN provider. It is a VPN service owned by GZ Systems Ltd., based in Hong Kong.
It has been in operation worldwide since 2009 and has millions of users. Some had raised questions about its logging policy in the past, which stated that it keeps logs of user activity.
However, the company clarified that these logs are only used for troubleshooting purposes and are not shared with any third party. It is fully legal and legitimate, and its user base trusts it for its anonymous surfing capabilities.
Overall, PureVPN is a reliable VPN service that is well-suited for those who value privacy and security online.
Is PureVPN safe and good?
Yes, PureVPN is a safe and good VPN service. It uses the most up-to-date security protocols, AES 256-bit encryption with 2048-bit key, and provides a strict no-logs policy.
It uses a variety of protocols for security, such as IPsec, SSTP, PPTP, L2TP, OpenVPN, IKEV2, and Wireguard. So no matter what device you're using, you can rest assured that your connection will be secure.
Plus, it has a strict no-logs policy, so you can browse with peace of mind knowing that your activities are private.
Its safety features make it a good choice for those who value their online privacy and security.
Is PureVPN free?
No, PureVPN is not free.
However, the price you pay is well worth the security features you get.
All of PureVPN's plans come with a generous 31-day money-back policy. That makes it easy for customers to try out the service without risk.
It also offers a 7-day trial for new users for just $0.99, so you can try out the service for a small price before committing to a long-term subscription.
There are many free VPNs out there, but they are not loaded with as many features as PureVPN. If you would like to get the best free VPNs, check this list.
How many servers does PureVPN have?
Their virtual private network service has over 6500 servers in 78 countries and 96 locations. It also uses a few virtual servers to meet the growing demand for fast and reliable VPN access.
With so many virtual locations available, users have the flexibility to access content around the world with ease.
Whether you want to stream movies or TV shows in another country, connect to an office server while traveling on business, or simply browse censored content without being tracked, PureVPN has you covered.
Does PureVPN support P2P?
PureVPN is one of the few VPN providers that support P2P file sharing in many countries worldwide.
However, it is important to remember that P2P file sharing is illegal in some countries, and PureVPN may be blocked in these countries.
It is important to check the laws in your country before using it's for P2P file sharing.
For example, P2P file sharing is disabled in the United Kingdom, Australia, United States and Canada because it is illegal in these countries.
So, it is important to check with PureVPN's support team to see if P2P file sharing is available in your location before using the service. [2]PureVPN, "P2P/File sharing, https://support.purevpn.com/p2p-file-sharing"
Does PureVPN keep logs?
No, PureVPN doesn't keep logs of user activity.
All of your data is protected by it's strict no-logs policy. Your activities are private and will not be shared with any third party.
Your online activity, browsing history, and traffic destination remain confidential. It provides a complete suite of security features to keep you safe and anonymous online.
Does PureVPN work in China?
Yes, PureVPN works in China. It has been tested and proven to bypass the Great Firewall of China.
With PureVPN, you can access blocked websites and apps, including Google, Facebook, and WhatsApp from UAE, China, Russia, Turkey, Iran, etc.
Additionally, it encrypts your traffic with AES 256-bit encryption, which makes it almost impossible for the Chinese government to track your online activity.
If the VPN connection fails, its kill switch will prevent your traffic from being exposed.
What is PureVPN's refund policy?
PureVPN offers a 31-day money-back guarantee so that you can try the service risk-free. If you're not satisfied with the service, you can cancel within the first 31 days and receive a full refund.
Additionally, PureVPN offers a 7-day trial for just $0.99. This is a great way to try out the service before committing to a long-term subscription.
Is PureVPN good for streaming?
Yes, PureVPN is a good choice for streaming. It has high-speed servers in 96 different locations, so you can easily access content from around the world.
You can even access streaming platforms from restricted countries.
Does PureVPN unblock Netflix?
Yes, PureVPN unblocks Netflix. You can easily access the US, UK, Canada, and other Netflix libraries.
Does PureVPN unblock Hulu?
Yes, PureVPN unblocks Hulu. You can access the US library from any country. But it may detect that you are using a VPN and block you. In that case, just connect to another US server and continue streaming.
What add-ons does PureVPN offer?
PureVPN offers several add-ons to improve your VPN experience. These add-ons include:
Dedicated IP: A dedicated IP address is assigned to only one account and can be used to bypass VPN blocks. It costs an additional $2.99 per month.
Port Forwarding: It allows you to redirect incoming traffic from one port to another. It can be used to bypass firewalls or improve streaming speeds. It costs an additional $0.99 per month.
DDoS Protection: DDoS protection protects your device from being overloaded with traffic from multiple sources. It helps to prevent attacks or improve gaming speeds. It costs an additional $3.99 per month.
Dedicated IP with port forwarding: You can get a dedicated IP address with port forwarding for $3.49 per month.
Final thoughts
PureVPN is a good VPN service with an excellent 31- day money-back guarantee. It has high-speed servers in 96 different locations and can unblock Netflix, Hulu, and other streaming platforms. However, it is not the best VPN for torrenting or gaming.
PureVPN encrypts your traffic with AES 256-bit encryption, making it almost impossible for anyone to track your online activity.
If you need a VPN for streaming PureVPN is a good choice. But if you're looking for the fastest possible speeds and torrenting capabilities, you may want to consider one of the other VPN services like NordVPN, ExpressVPN or Surfshark VPN.
Did you find this PureVPN review helpful? If you did, please share it with your friends. We greatly appreciate your continuous support.