Dubai is known for its luxurious experiences, and one of the most popular tourist activities in the city is the dhow cruise Dubai. A wooden boat called a dhow was used for centuries by Arab merchants and fishermen.
Today, the dhow cruise in Dubai allows tourists to experience the city's stunning skyline with great food. Some popular dhow cruises are Arabian Safari, Al Wasl Dhow, and more.
Our team examined the different types of dhow cruises and visited them. During the visits, we talked with fellow participants about their experiences.
Finally, we compiled all the data to create this comprehensive Dbd guide on the best dhow cruise in Dubai.
Dhow cruise dinner Dubai overview
A dhow cruise dinner in Dubai is a popular activity that offers a unique way to experience the city's stunning skyline and tradition.
Average activity duration: A dhow cruise tour lasts for about 2 hours.
Pick-up timings: The pick-up timings are 7:00 AM to 8:00 AM.
Departure timings: The departure time of the cruise is usually between 10:00 AM to 8:00 PM on an hourly interval.
Popular routes and attractions: Dubai Creek, the luxurious Dubai Marina, Palm Jumeirah, and more.
Top 5 dhow cruises in Dubai
We have compiled the list of the 5 best dhow cruises in Dubai in detail. Here we'll look into open hours, average price, and location of the service providers.
1.

Arabian Safari: Dhow Cruise Dubai Marina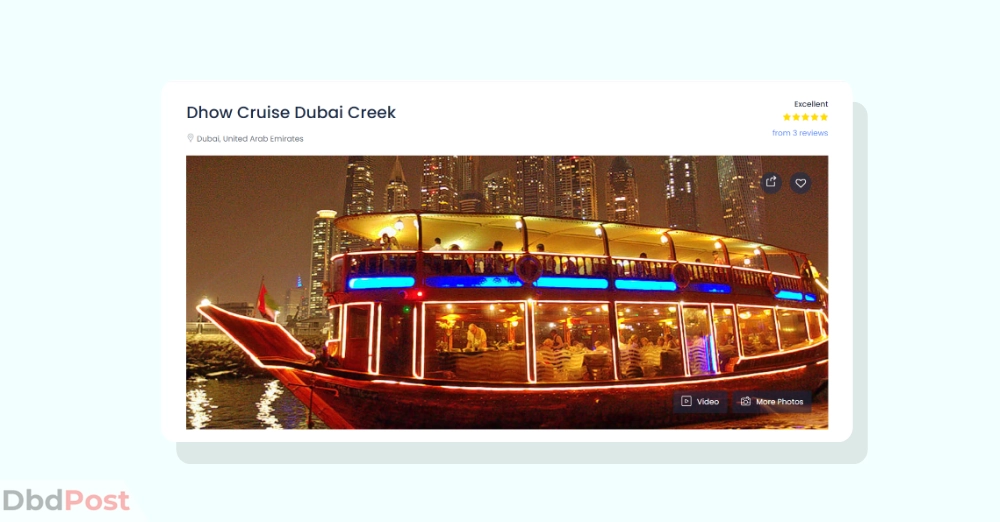 Arabian Safari Dubai provides an air-conditioned 2-hour dhow cruise.
With a stunning view of the Dubai Marina, this two-tiered dhow cruise provides a red-carpet arrival. Besides, the hospitality starts with a non-alcoholic welcome drink to start your evening off right.
Once you settle in, you can enjoy the entertainment show and the soothing Arabic, Hindi, and English music.
If you want a breath of fresh air, you can head to the open-air upper deck to enjoy the cool breeze and spectacular view.
Moreover, their buffet dinner offers a wide range of vegetarian and non-vegetarian dishes, making it an ideal choice.
2.

Al Wasl Dhow: Cheap dhow cruise deals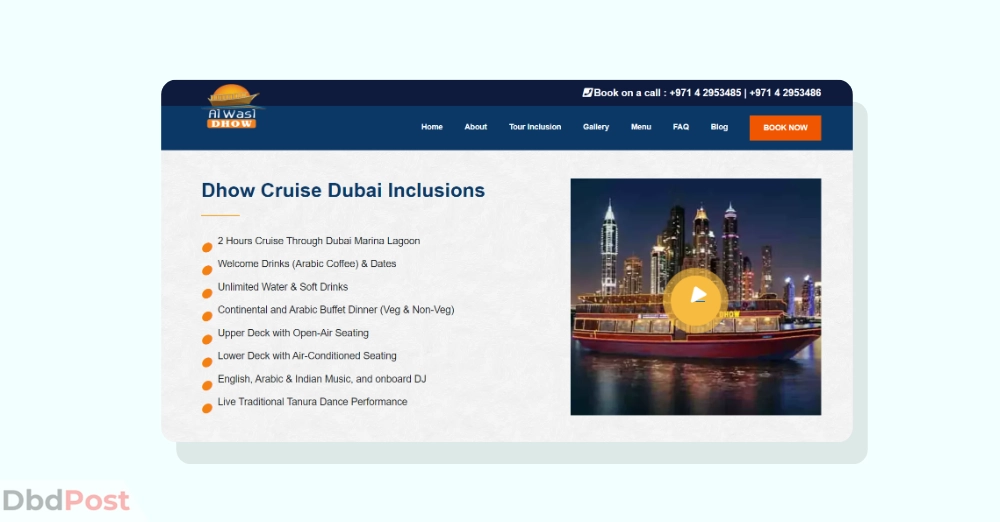 This two-hour cruise takes you through iconic landmarks such as JBR, Cayan Tower, and Ain Dubai.
Upon arrival, you'll be greeted with a warm welcome and served Arabic coffee and dates.
As you settle in, you can enjoy unlimited water and soft drinks while listening to various music.
For music, you can choose from including English, Arabic, and Indian hits. An onboard DJ and a live traditional Tanura dance performance keep the atmosphere lively.
Moreover, Al Wasl Dhow offers both upper and lower decks for comfort, with open-air seating. In addition to the buffet, a BBQ dinner and salad bar are also available. And with a seasonal promotional offer, you get a 50% discount with families and groups.
3.

Rayna Tours: Dhow dinner cruise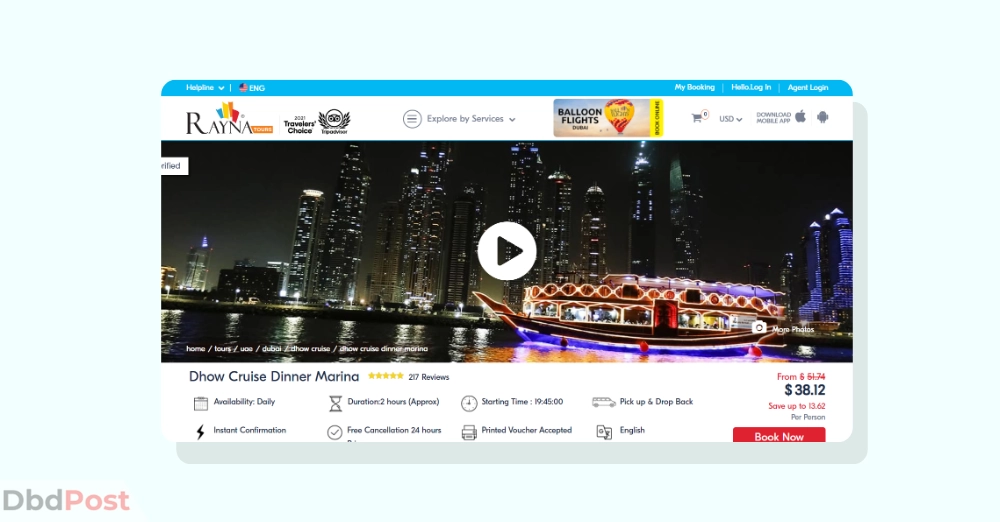 Rayna Tours offers an unforgettable dhow cruise experience in Dubai.
You can enjoy opulent yachts, breathtaking waterfront, and glorious views of lavish architecture. Moreover, the cruise lasts approximately two hours, including pick-up and drop-back services.
The traditional wooden dhow takes you on a journey through Dubai Marina. As you enjoy the magnificent views, you'll enjoy an international 4-star buffet with vegetarian and non-vegetarian options.
Additionally, the soft background music sets the mood, and a Tanura show adds to the entertainment.
Rayna Tours takes pride in its safety measures, with a 5 million USD insurance policy and Dubai Tourism (DTCM) approval.
4.

Alishba Dhow Cruise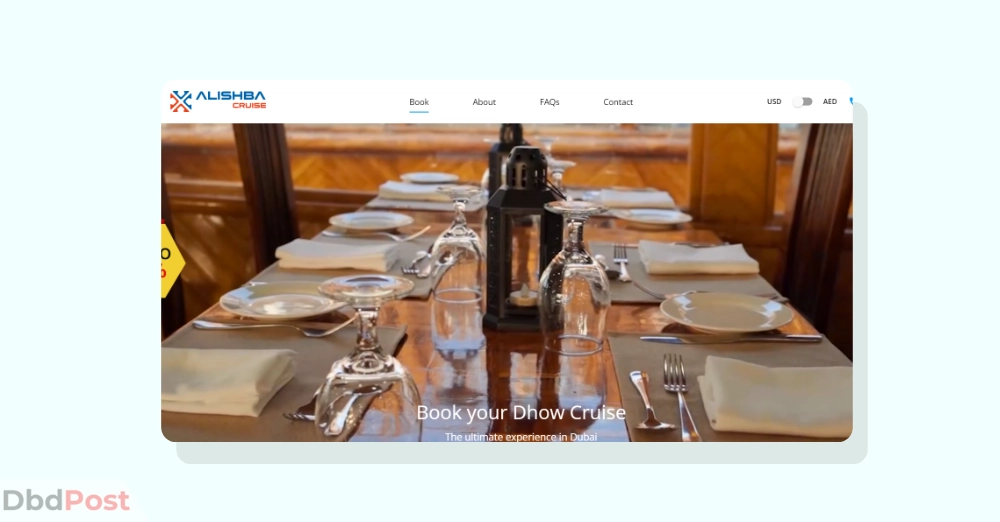 Alishba Dhow Cruise will take you on a 2-hour cruise through the Dubai Marina Canal.
Additionally, you can enjoy a variety of vegetarian and non-vegetarian dishes from the international buffet dinner.
The cruise can accommodate up to 250 passengers and provides a Wi-Fi connection and unlimited refreshments on deck.
Moreover, Alishba also offers its services for special events such as annual functions, anniversary celebrations, and birthday parties.
5.

Tour Dubai: Luxury dhow cruise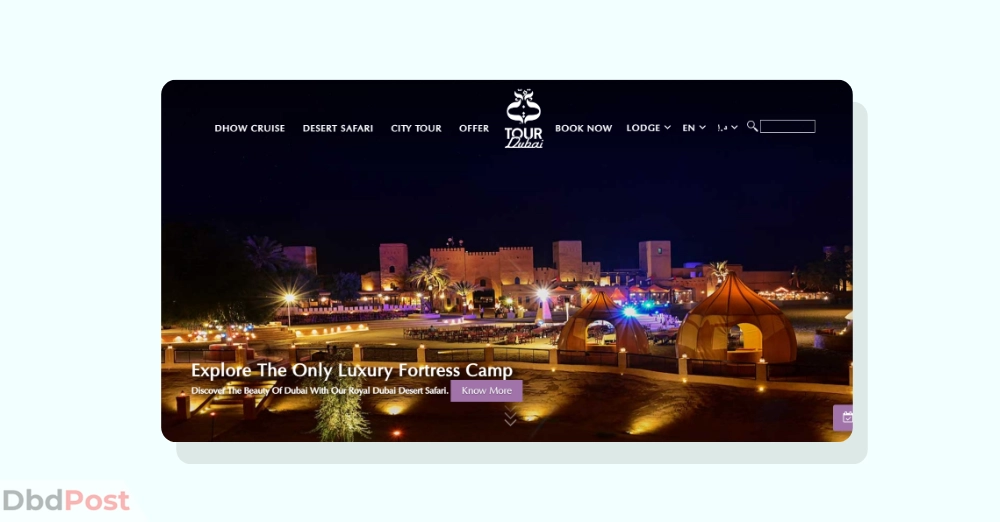 | | |
| --- | --- |
| Hours | 9:00 AM – 6:00 PM (Saturday to Thursday) and 8:00 AM – 11:00 PM on Fridays |
| Contact | +97143368407 |
| Specialties | Dhow cruise with royal dinner |
| Marina dhow cruise price | 600 AED for two people |
| Map | Get direction |
| Website | Tour Dubai |
Touring Dubai offers a traditional wooden dhow in a fantastic way to experience the beauty and history of this incredible city. Nine dhow cruises are available in this VIP dhow cruise, including a one-hour sightseeing tour and two-hour dinner cruise tours.
Moreover, during the sightseeing tour, you can see some of Dubai's most iconic landmarks. This includes Dubai Creek, the Dubai Museum, and the Heritage Village.
In addition, you'll also get to see the bustling activity of the city's old trading port, where traditional wooden dhows are still used for trade.
Types of Dhow Cruises
The dhows originally had pointed at both ends when used by Arab and Indian merchants in ancient times. [1]Marinemuseum, "About dhow, https://exploration.marinersmuseum.org/watercraft/dhow/#:~:text=Arab%20merchants%20and%20Indian%20traders" Several types of dhow cruises are available in Dubai, each offering a unique experience for tourists. Here's a rundown of the most popular ones:
Dinner Cruise
A dinner cruise is a perfect way to enjoy a romantic evening while enjoying the stunning views of Dubai's skyline. You can enjoy a buffet dinner while cruising along Dubai Creek on a traditional wooden dhow.
Sunset Cruise
A sunset cruise offers the beauty of Dubai's skyline as the sun sets. You'll be able to take in the breathtaking views of the city while relaxing on the dhow and enjoying light refreshments.
Dhow cruise Marina
A Marina dhow cruise takes you through the stunning man-made marina filled with luxurious yachts and skyscrapers. You'll see the iconic Atlantis Hotel and the Burj Al Arab from a unique perspective.
Dhow Cruise with Shows
A dhow cruise with shows is a great way to experience Dubai's traditions and cultures. You can enjoy live entertainment, including Tanoura dancing and other cultural performances while dining on delicious Arabic cuisine.
Luxury Cruise
A private luxury cruise is a way to go if you want a more upscale experience. You can enjoy a personalized experience with your private dhow and private service.
Buffet BBQ Cruise
A buffet BBQ cruise is perfect for food lovers who want to enjoy a delicious buffet. You can indulge in grilled meats, salads, and other delicacies while enjoying the stunning views.
Event Special Cruise
A dhow cruise can be customized to cater to specific events. You can customize the show for birthdays, weddings, anniversaries, or corporate events.
All the aforementioned dhow cruise options provide the authentic local flavor of Dubai while taking in the stunning views of the city from the water.
Popular Routes and Attractions
Here are some of the popular routes for dhow cruises in Dubai. We have also mentioned the top attractions and landmarks that can be seen from each one.
Dubai dhow cruise Creek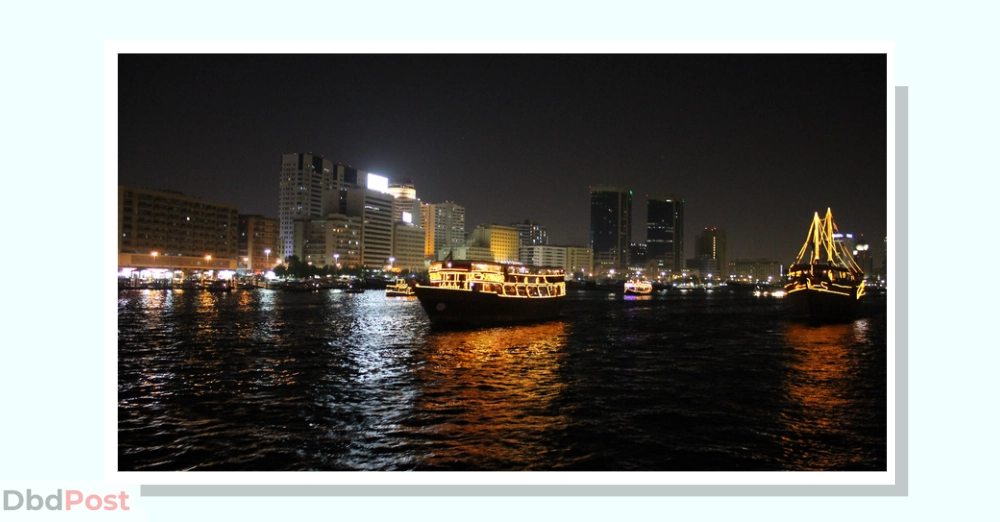 The dhow cruise dubai creek travels through the heart of Dubai's trading history.
This route offers a glimpse into the city's past. You'll see the traditional dhow boat ferrying passengers across the creek.
Moreover, you can enjoy the views of the city's historic buildings, like the Dubai Museum and the Heritage Village.
Top attractions and landmarks on the route: Dubai Museum, Gold Souk, Spice Souk, and the Heritage Village.
Dubai Marina dhow cruise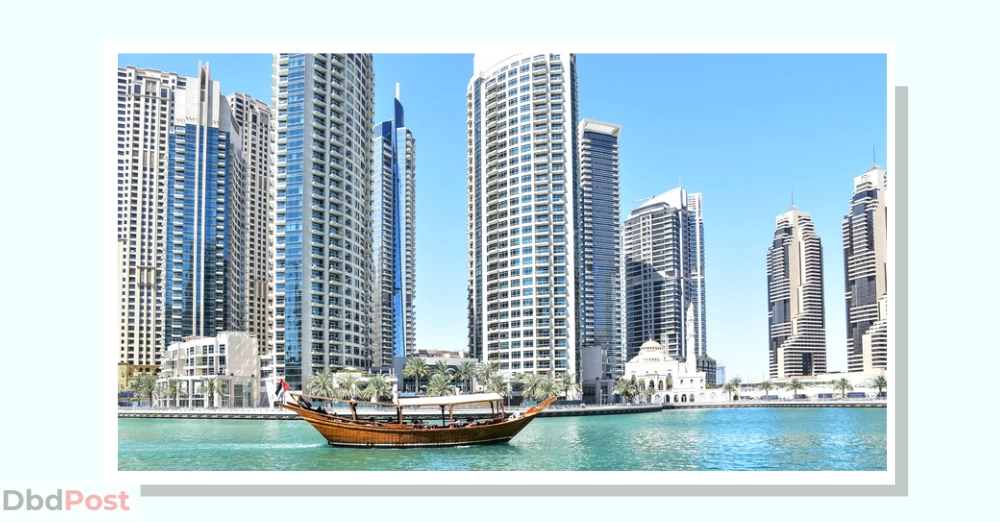 The Dubai Marina is an artificial canal surrounded by luxurious residences and restaurants. This route provides a glimpse of the outstanding modernity of Dubai.
Top attractions and landmarks on the route: Dubai Marina Mall, Radisson Blur residence, Madame Tussauds, and the Marina Walk.
Dubai water canal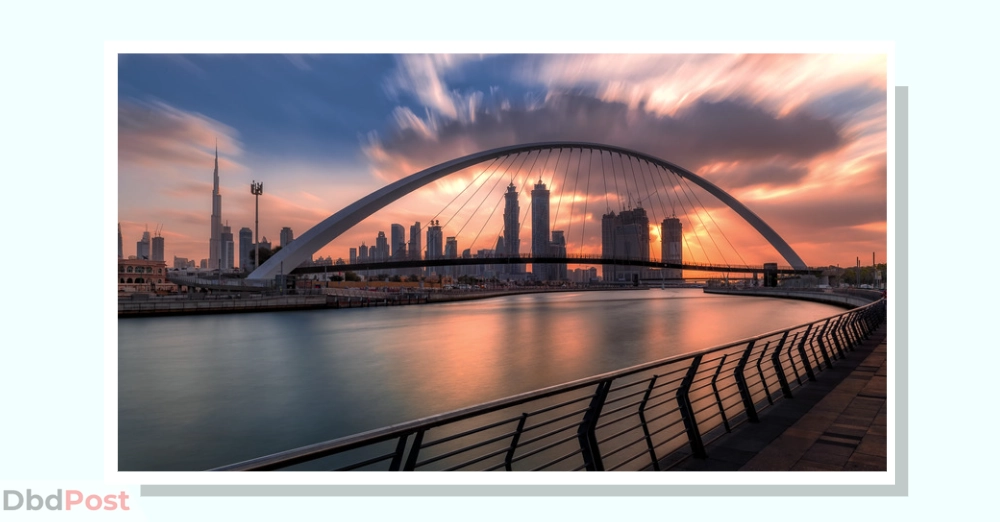 The Dubai Canal is a relatively new addition to the city's waterways.
The route offers stunning views of the city's iconic landmarks like Safa park and Dubai Mall.
Top attractions and landmarks on the route: Burj Khalifa, Dubai Fountain, Creek Park, and the Dubai Water Canal Bridge.
Palm Jumeirah cruise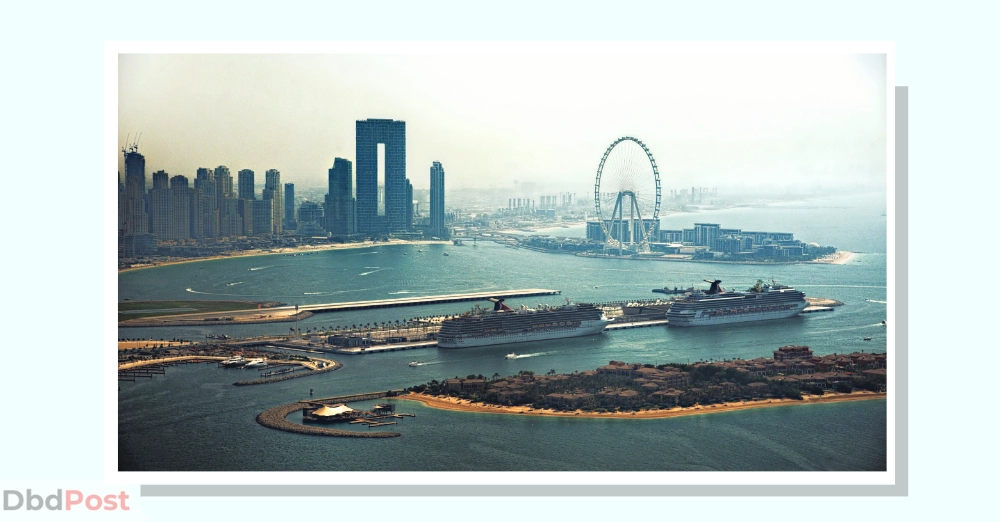 The Palm Jumeirah is one of the most iconic landmarks in Dubai. This artificial island is home to some of the city's most luxurious hotels and resorts.
A dhow cruise around Palm Jumeirah is a great way to take in the views of the man-made island and its stunning coastline.
Top attractions and landmarks on the route: Atlantis, The Palm, Burj Al Arab, Palm Jumeirah Beach, and the Dubai Marina.
All the routes provide an opportunity to enjoy the stunning beauty of Dubai. From modern skyscrapers to traditional culture, you can experience everything on the go.
Related Stories
---
FAQs
How much is dhow cruise marina ticket price?
The cost of a dhow cruise in Dubai varies depending on the type of cruise, the duration, and the inclusions. Prices can range from AED 100 to AED 300 per person, with private luxury cruises costing more. It's always best to check with the cruise operator for the latest prices and any promotional offers.
How long is the dhow cruise Dubai?
A typical dinner or sunset cruise lasts around two hours. At the same time, some sightseeing tours can last only for 60 minutes. Private luxury cruises can be customized to the client's requirements and can last longer.
Is the Dubai dhow cruise worth it?
Yes, the dhow cruise in Dubai is worth it, as it offers a unique and memorable way to experience the city. You can enjoy a delicious dinner, relax, and enjoy the stunning views while cruising. Also, the live entertainment and cultural shows on some cruises add to the experience.
Is alcohol served on the dhow cruise?
Yes, alcohol is served on some dhow cruises in Dubai, but it is not available on all cruises. It is advisable to check with the cruise operator before booking your tickets.
How many types of dhow cruises are there in Dubai?
Several types of dhow cruises are available in Dubai, including dinner cruises, sunset cruises, and Dubai Marina cruises. Also, some service providers offer custom dhow cruises for weddings, events, and more.
Final thoughts
In summary, experiencing a dhow cruise, Dubai is an amazing way to witness the city's beautiful skyline. You can experience the rich culture and indulge in mouthwatering cuisine.
You have plenty of options with various dhow cruises available in Dubai. Our selection ensures an enjoyable and unforgettable experience through this Dbd guide.