You can find the best biryani in Dubai at several restaurants, each offering its twist on the rice and meat dish. There's something for every budget, from upscale eateries to street corner cafes.
The biryani restaurant in Dubai are affordable, and the restaurants are located in the accessible downtown region. Some of the best biriyani restaurants in Dubai are Sthan, Jaffer Bhai's, Desi Village Restaurant, Pak Liyari, Biriyani Pot and more.
Our team conducted thorough research and consideration to select the spots for the best biryani in Dubai. This included reviewing online reviews and respected food blogs to gather information on various restaurants' reputations and menu options. We also visited and tried the food at highly-rated establishments to form opinions.
In making our final decisions, we considered factors such as atmosphere, pricing, service, and location. Through this process, we created a comprehensive guide to the best biryani restaurants in Dubai that offer a full dining experience.
11 best biryani restaurants in Dubai
Dubai is home to some of the best biryani restaurants in the world, each serving different recipes. From traditional dishes like Chicken Biryani and Mutton Biryani to other recipes like Prawn Biryani or Veg Biryani, there's something for everyone.
1.

Jaffer Bhai's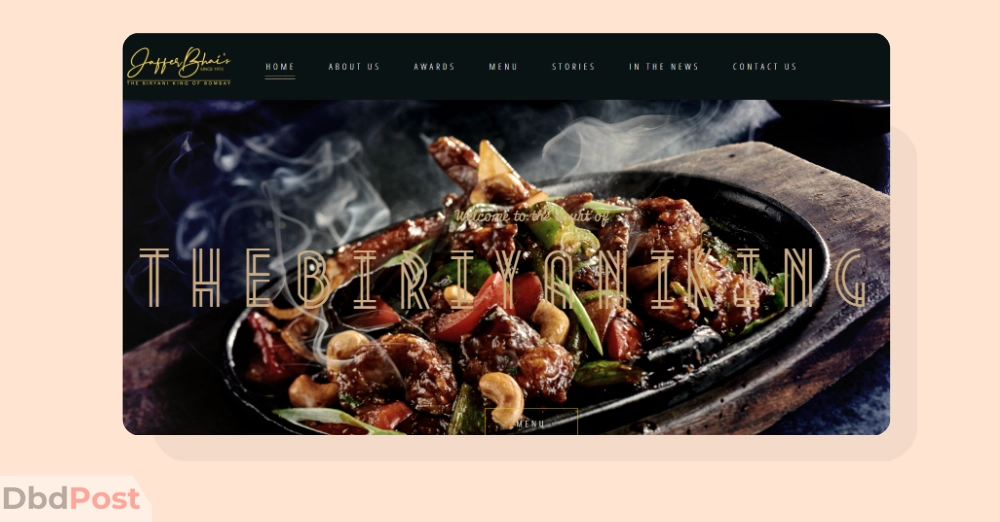 Voted "The best Biryani in UAE," Jaffer Bhai's The Biryani King of Bombay is quickly becoming the nation's favorite. The restaurant uses only the freshest ingredients, following 100% Halal norms, so you can be sure you are getting a high-quality meal.
With its delicious flavors and fantastic ambiance, Jaffer Bhai's is a great choice for your next biryani experience. Their most famous dishes include the 1952 Gosht Biryani, Mutton Hyderabadi Biryani, Chicken Tikka Biryani, and the Prawn Biryani. In addition, Jaffer Bhai's also offers private events and weddings services.
2.

Desi Village Restaurant and Lounge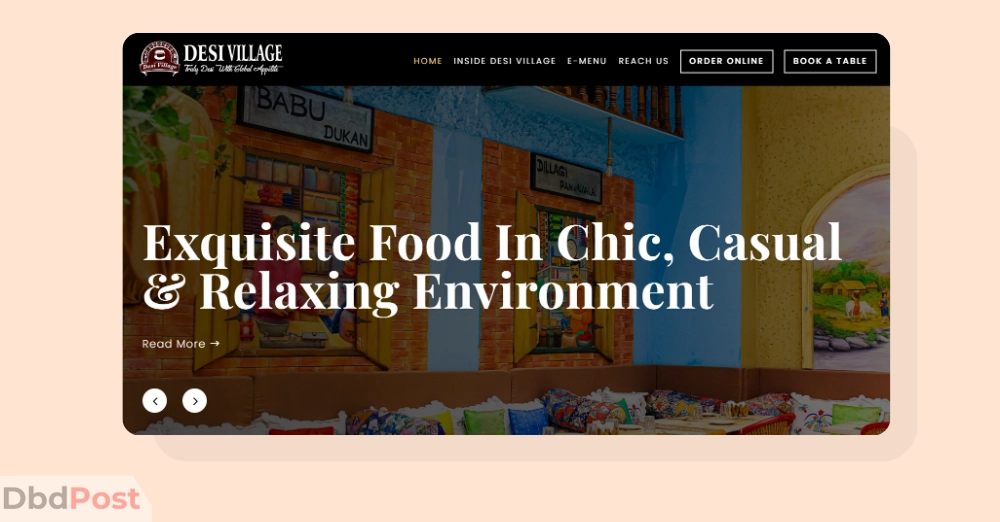 Desi Village Restaurant and Lounge is one of the best that serves the famous biryani in Dubai. Since 2019, this restaurant has incorporated different flavors from the northwest region of Peshawar to India's food capital, Delhi.
The whole ambiance of the restaurant gives you a feeling of being in a village while enjoying the food. Moreover, every dish has an authentic flavor, from Paneer Tikka Biryani to Gosht Seekh Kabab Biryani. So if you're looking for somewhere to indulge yourself with an Indian feast, this eatery is a place to be.
3.

Sthan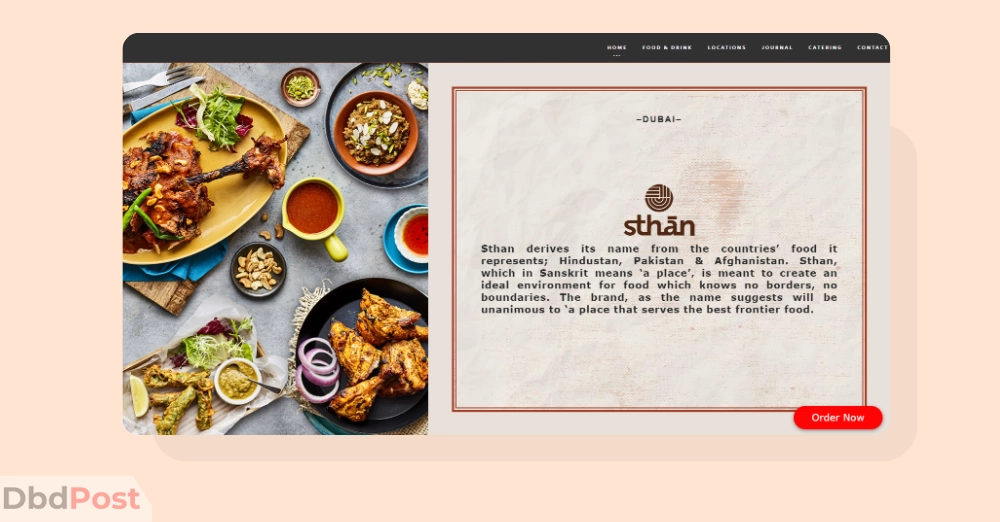 Sthan brings street eats from India, Pakistan, and Afghanistan together in their cozy atmosphere. From delicious small plates to sides tawa dishes – it has everything. Plus, their special biryani dishes; they're worth trying.
Their specialty includes Raan Irani, freshly baked naan and roti, Chai ki Dukan, and Bhatti Ka Murg. Sthan also offers catering services for large groups, but you need to pre-book for the best experience.
4.

Pak Liyari Restaurant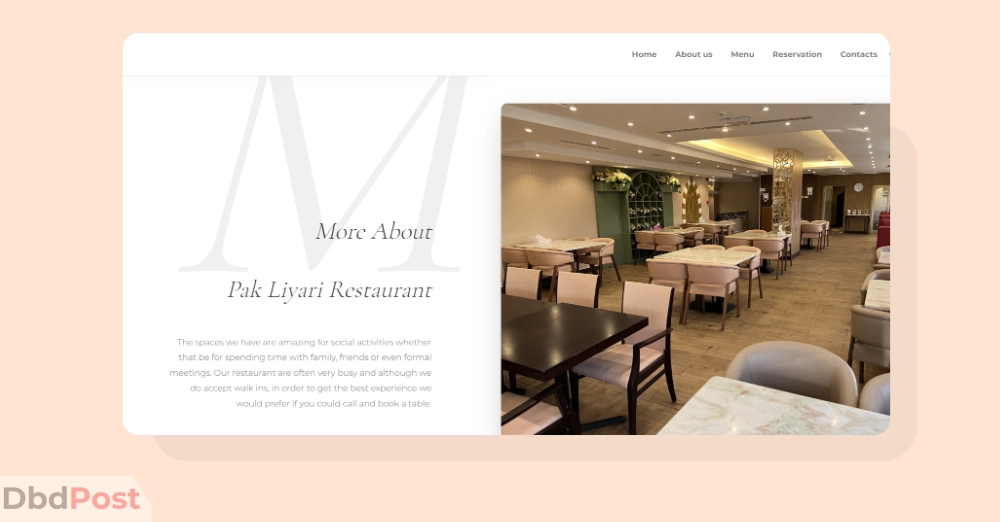 If you're in the mood for some authentic Pakistani cuisine, then Pak Liyari is the place to go. It is a family-friendly restaurant and has an array of delicious dishes to choose from.
From the savory Lamb Biryani to the aromatic Chicken Karahi, there's something for everyone. And be sure to leave some room for dessert – the Zafrani kheer is a must-try.
Furthermore, this places is a great spot for social activities, but it's best to book in advance to ensure a smooth dining experience.
5.

Biryani Pot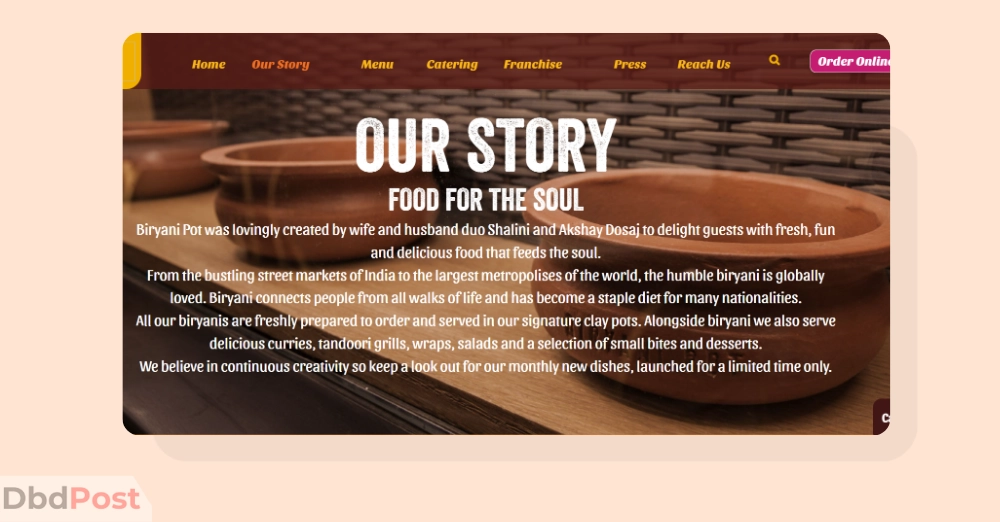 The Biriyani Pot restaurant is formed by the husband-and-wife duo Akshay and Shalini Dosaj. This restaurant in Dubai serves up biryani in signature clay pots, with their signature dish being the butter chicken biryani. But that's not all – The Biryani Pot is also known for its curries, tandoori grills, wraps, salads, and other small bites and desserts.
Besides, the Biryani Pot doesn't just stick to the same old dishes – they're constantly coming up with new and creative dishes, with a new dish being launched each month for a limited time. So, stop by The Biryani Pot to try something new and exciting as they serve the best Indian biryani in Dubai.
6.

Deccan Biryani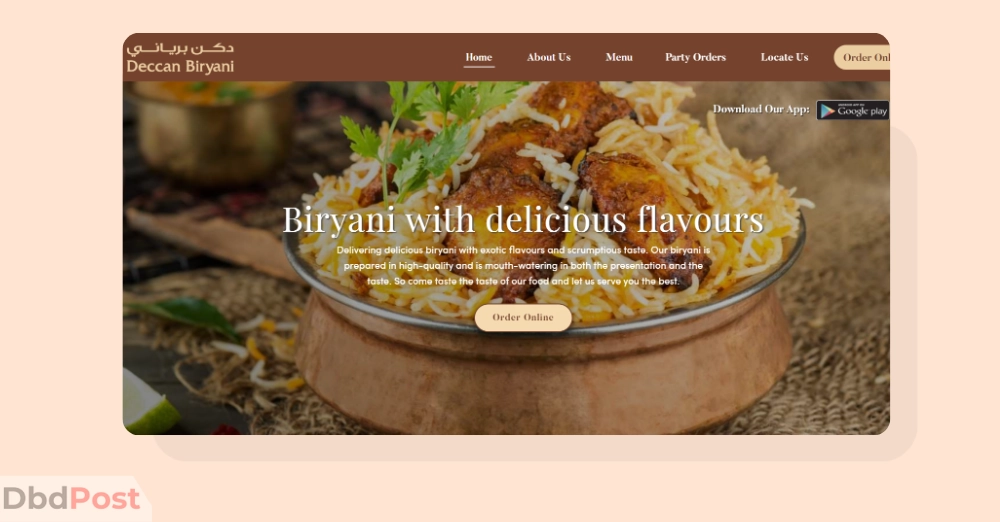 Since its opening in 2015, Deccan Biryani has been a favorite go-to spot for those craving authentic Hyderabadi flavors. The restaurant serves Chicken 65 Biryani, Mutton Biryani with raita, and Vegetable Biryani, perfect for meat lovers and vegetarians alike.
This Hyderabadi restaurant in Dubai also offers classic desserts like Qubaani Ka Meetha and Gulab Jamun that can't be missed. Whether you prefer a full-course meal or just some delicious snacks, everything at the restaurant will tingle your taste buds.
To top that, Deccan Biryani also offers two types of party orders, the Main Course and the Designed Menu Package. Depending on how many people are coming to the party, you can order for 15, 25, 40, or 60 guests. The Designed Menu package will look after everything for those who don't have time to pick every detail for their event.
7.

Saif Restaurant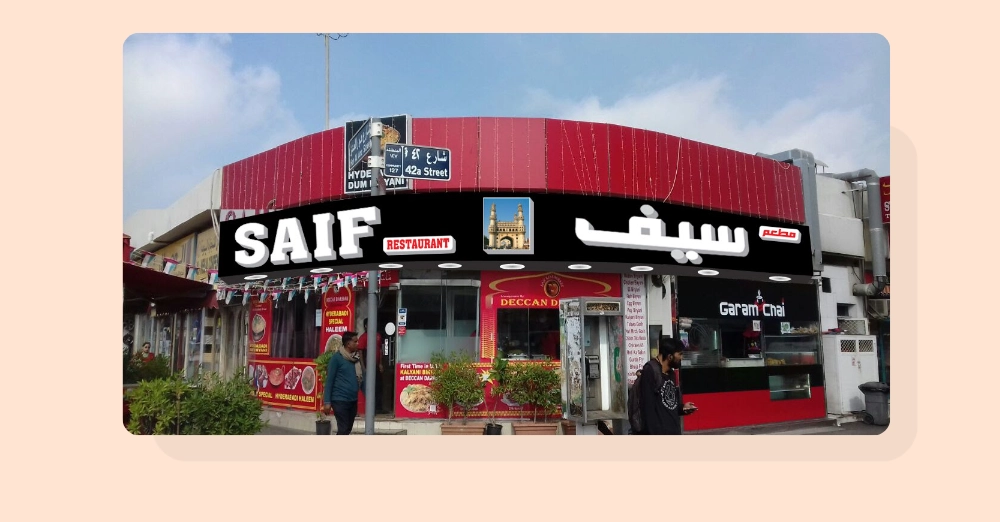 Saif Restaurant is the perfect place to go if you're in the mood for some classic Hyderabadi Biryani. The restaurant's specialty is Mutton Biryani, but they also have a variety of other dishes to choose from, including Chicken 65, Dum Biryani, and Chicken Tikka Biryani. And when you visit, make sure to try their popular dessert, Double Ka Meetha.
But the food isn't the only thing that makes Saif Restaurant great. The atmosphere is relaxed and calm, with just the right touch of elegance, making it suitable for any occasion. And with prices that won't break the bank, it's an excellent value for money.
8.

Tayeb Kitchen and Restaurant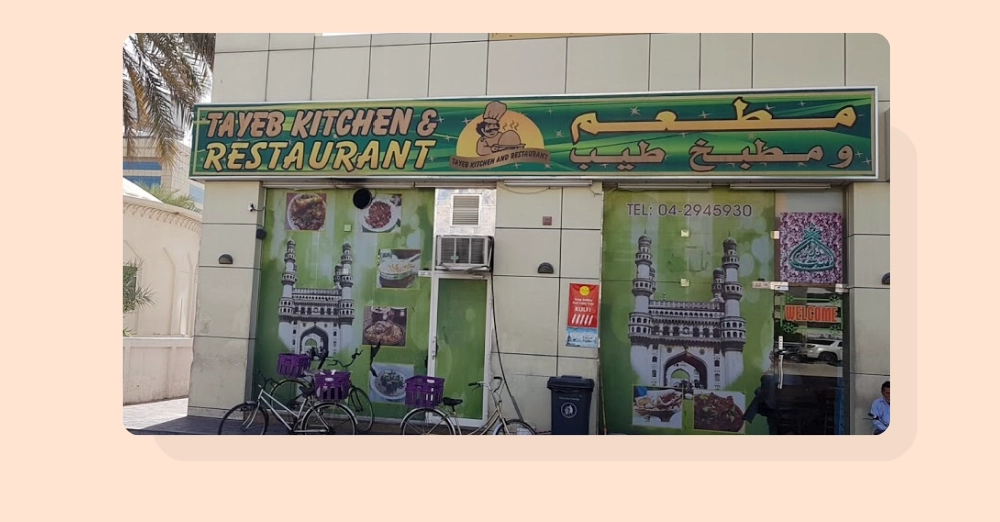 Tayeb Kitchen and Restaurant is the place to go for authentic Hyderabadi food. With a cozy space and great prices, you can enjoy delicious dishes like mutton, chicken 65 biryani, and fish biryani.
Whether for dining in or taking out, Tayeb Kitchen has everything you want. They have everything from starters like Chicken Tikka Masala to mains like Paneer 65 Biryani. Get ready for an incredible experience and some flavorsome delights at this biriyani restaurant in Dubai.
9.

Grub Shack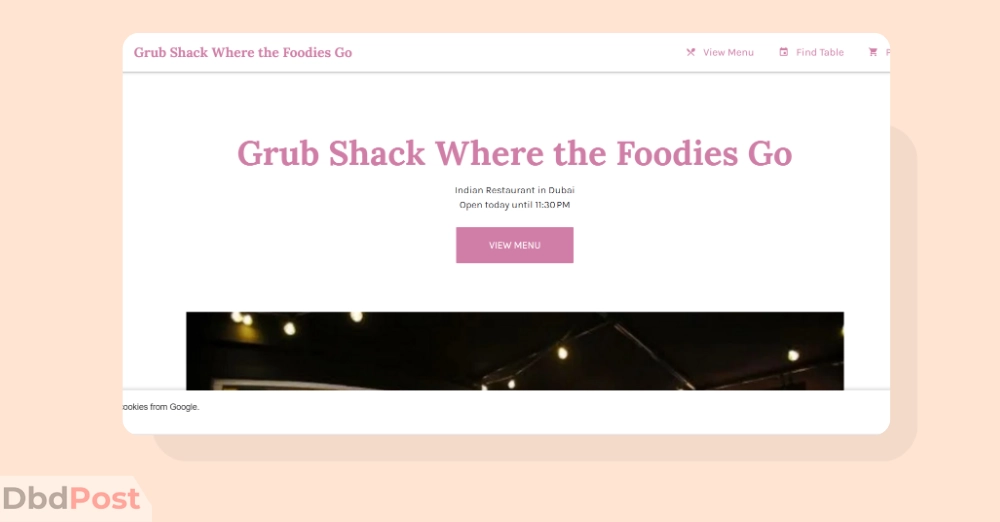 Grub Shack is a restaurant located in Dubai that serves delicious food from Mumbai. Its famous biryani in Dubai, includes the GS Special Chicken Biryani and Munna Bhai Mutton Rogan Josh, are particularly popular. In addition to these main dishes, Grub Shack also offers a variety of small bites like Potato Chops and Fish Cutlets.
For dessert, Grub Shack serves creamy Coconut Halwa and Qubaani Ka Meetha. In addition to the great food, Grub Shack also offers live music and a local Mumbai ambiance, making it an excellent choice for social gatherings.
10.

Memsaab Curry & Tandoor Restaurant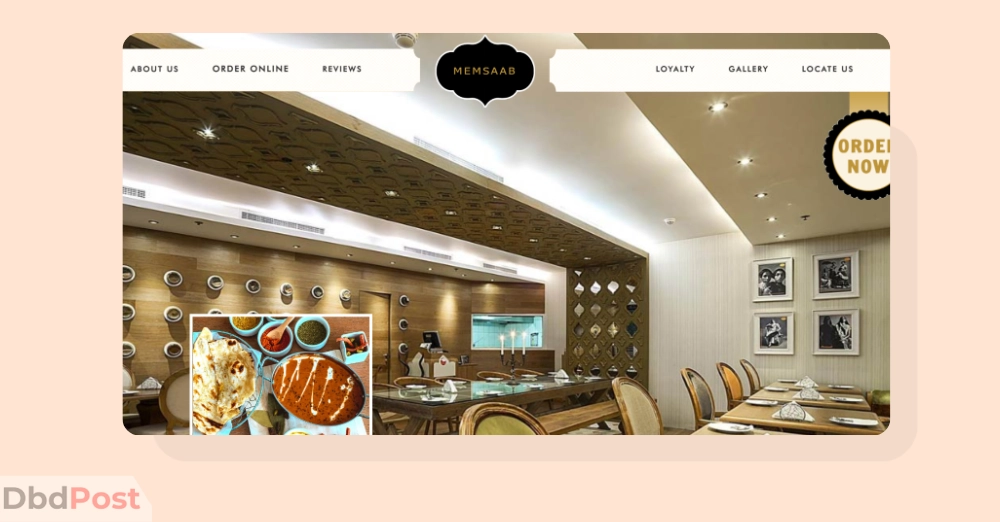 Memsaab Curry and Tandoor is a restaurant that serves Indian cuisine with influences from South Asia's diverse tastes and culture. On their menu, you can find traditional dishes like Paneer Tikka and Tandoori Chicken and various types of Biryanis like traditional chicken and mutton biryani. Their specialty, however, is Biryani combos served with raita, papad, and gulab jamun.
For hassle-free seating, we recommend you book the table before arriving at the restaurant. So, if you're looking for a relaxed and sophisticated dining experience, Memsaab is the place to be which has the best biriyani in Dubai.
11.

Amritsr Restaurant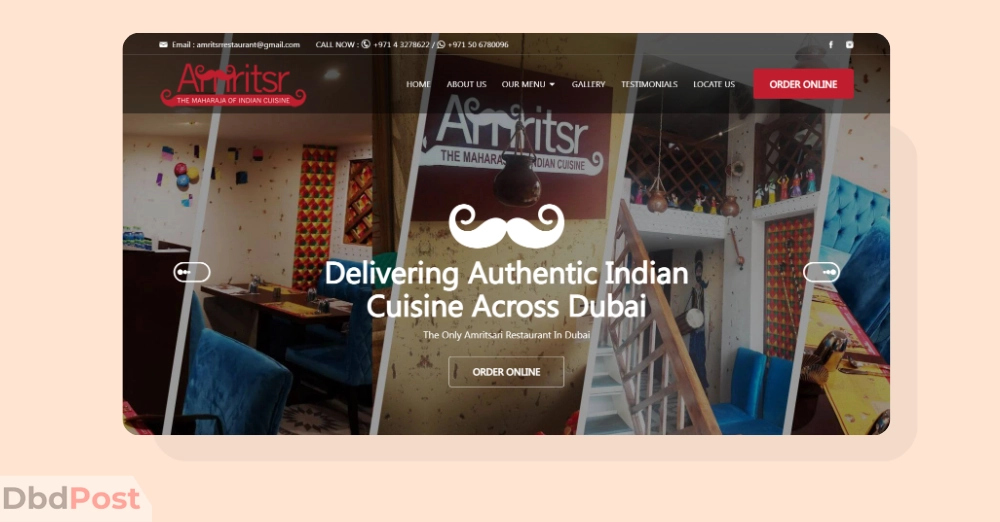 Amritsr Restaurant is a non-stop biryani place that has been around for twenty years. They offer a variety of special biryanis, including veg biryani, chicken biryani, and mutton biryani, which are available any time of the day. The food at Amritsr Restaurant is tasty, and the ambiance is reminiscent of Punjab, with bright colors on the walls, bamboo-furnished seating, and soothing music creating a feeling of warmth and comfort.
However, you need to book your tables in advance to ensure the best experience at Amritsr Restaurant. In addition to regular dining, the restaurant is also available for private events, business lunches and dinners, and cocktail parties. With such an affordable price tag, the experience will be worth it.
How much does a Biryani cost in restaurants in Dubai?
The cost of biryani in Dubai can vary greatly depending on factors such as the type of biryani, the location, and the restaurant. Prices for a single plate of biryani can range from 30 to 150 Dirhams at most restaurants.
Some biryani restaurants in Dubai offer more basic, inexpensive versions of the dish, while others provide more decorative and costly options. For example, a plate of chicken biryani from a street food vendor may cost around 20 AED, while a more upscale version at a fancy restaurant could cost 50 AED or more.
However, plenty of affordable options are available, mainly if you want to try street food or visit local, family-owned restaurants. Ultimately, the cost of biryani in Dubai can vary from very affordable to relatively expensive, depending on your preferences and budget.
Origin of Biriyani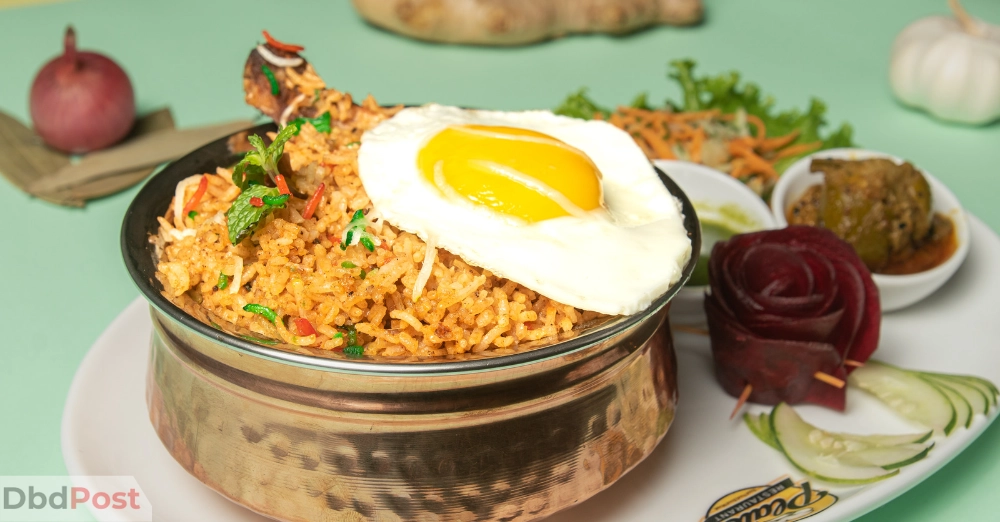 Biriyani is a popular dish believed to have originated in Persia, modern-day Iran, in the Middle East. Its name is derived from the Persian words "birinj biriyan," meaning fried rice. Over time, biriyani has become very popular in India and other parts, like Dubai, with Indian cooks adding their unique flavors and preparation styles to create various variations of the dish. [1] BBC, "From Iran to India: The journey and evolution of biriyani, Today, https://www.bbc.com/news/world-asia-india-36423412″
There are two main categories of biryanis: Pakki Biryani and Katchi Biryani. In Pakki Biryani, the meat is cooked before being combined with half-cooked rice and then cooked further. Whereas in Katchi Biryani, raw mutton is marinated in yogurt and spices and cooked with uncooked rice. [2]NDTV, "21 Best Biryani Recipes | Easy Biryani Recipes, … Continue reading
Moreover, chicken and mutton are the most popular meats used in biryani, and many people prefer to prepare it with Basmati rice for an authentic flavor.
Related Stories
---
FAQs
Final thoughts
In conclusion, biryani is a much-loved dish among Emiratis and tourists in the UAE, and there are many best biryani restaurants in Dubai to choose from.
These restaurants offer a wide range of options, from budget-friendly options to fine dining establishments, and they serve a variety of types of biryanis, including spicy, traditional, and fusion.
No matter your preferences, you can count on these biryani restaurants in Dubai to satisfy your cravings for delicious biryani.