Dubai, a popular tourist destination, is known for its thriving coffee culture. From traditional Arabic coffee to specialty blends, the best coffee shops in Dubai offer it all.
With its multicultural and cosmopolitan vibe, Dubai boasts a vibrant coffee culture. The coffee shops cater to the tastes and preferences of coffee lovers from around the globe. Some of the best coffee places in Dubai are Stomping Grounds, Caribou Coffee, Arto Coffee Shop, and more.
This Dbd guide analyzed factors like coffee items, other menu varieties, and atmosphere. We visited and tried their offerings. Besides personal visits, we also looked at customer reviews and reputed food blogs.
Furthermore, we talked to coffee lovers, tourists, and locals for genuine feedback. The result is a comprehensive Dbd guide on the best buffet in Dubai.
11 best Coffee shops in Dubai
Several traditional and new coffee places in Dubai provide high-quality services to customers.
We have compiled a list of the best coffee shops in Dubai for you to make an informed choice.
1.

Stomping Grounds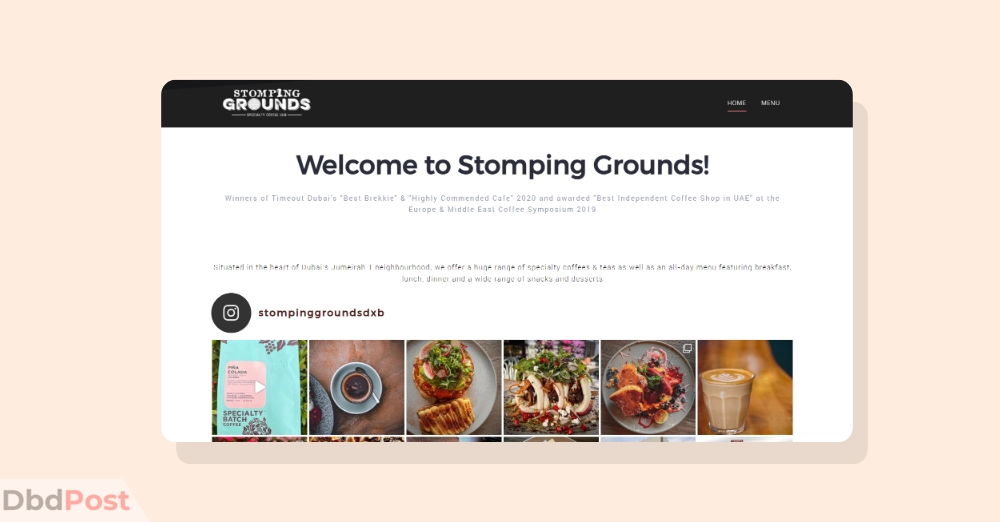 Stomping Grounds, located in Jumeirah 1, Dubai, is a highly acclaimed café. It won the "Best Brekkie" award and "Highly Commended Cafe" by Time's Out in 2020.
They offer a wide range of specialty coffees and teas, with an all-day breakfast, lunch, and dinner menu. Their menu includes signature coffees like Espresso Tonic, Lotus Dalgona, tea options like Green Tea, Dirty Chai Latte, and more.
In addition to its regular menu, Stomping Grounds offers all-day dining specials like Shakusha, Steak, Eggs, and more.
The café is reasonably priced, and the average meal cost is affordable. If you are looking for aesthetic cafes to enjoy a great breakfast or lunch, Stomping Grounds is worth a visit.
2.

The Espresso Lab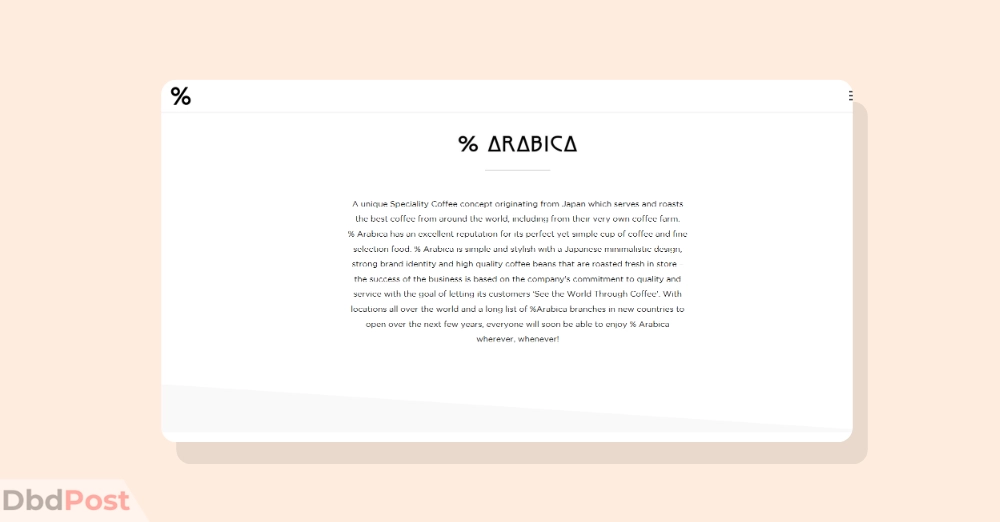 Espresso Lab coffee is a brand that takes immense pride in its pursuit of perfection. It is evident in their cultivation and sourcing of beans and aromatic coffee and the technical knowledge of their baristas.
The Espresso Lab coffee is a brand and a team of skilled masters in their field and craft. This team has curated some of the best coffees in Dubai. Their menu features Espresso, Affogato, three ways, and more.
Besides coffee to drink, you can buy their coffee, merch, and coffee makers. With a good environment and food, this is one of the best coffee places to work. [1]The Espresso Lab, "Coffees, https://theespressolab.com/collections/speciality-coffee"
3.

Arabica Dubai Mall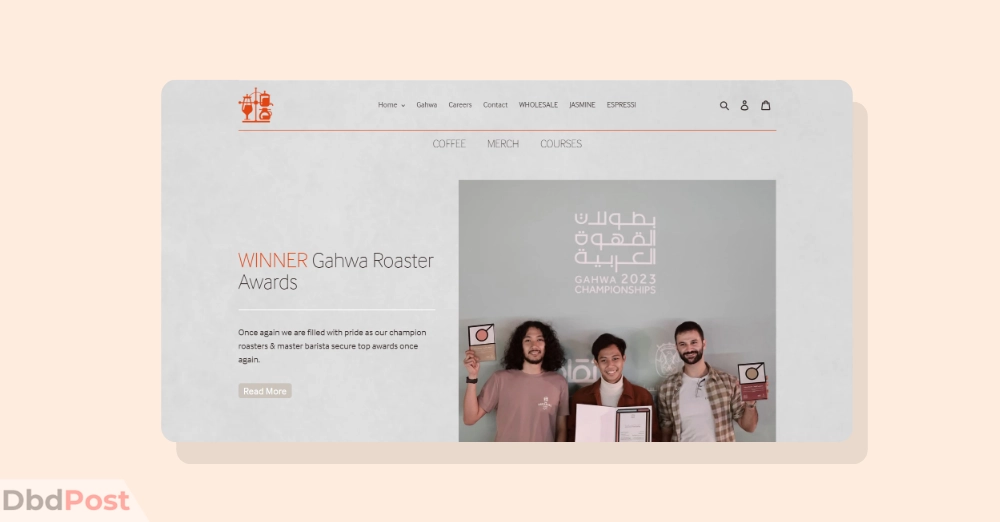 Arabica is a unique Specialty Coffee that originated in Japan and has expanded to locations worldwide. 
The brand has built an excellent reputation for its perfect yet simple cup of coffee and a fine selection of healthy food.
With a Japanese minimalistic design and strong brand identity, Arabica's locations offer a stylish and straightforward aesthetic. Their dedication to quality is evident not only in their coffee but also in their food selection. 
Their menu features Espresso, Cafe Latte, Americano, and more. You can also try their Baguettes and Soft Cream.
With new branches set to open in various countries over the next few years, Arabica is well on its way to becoming a global phenomenon.
4.

Rx Coffee Apothecary & Kitchen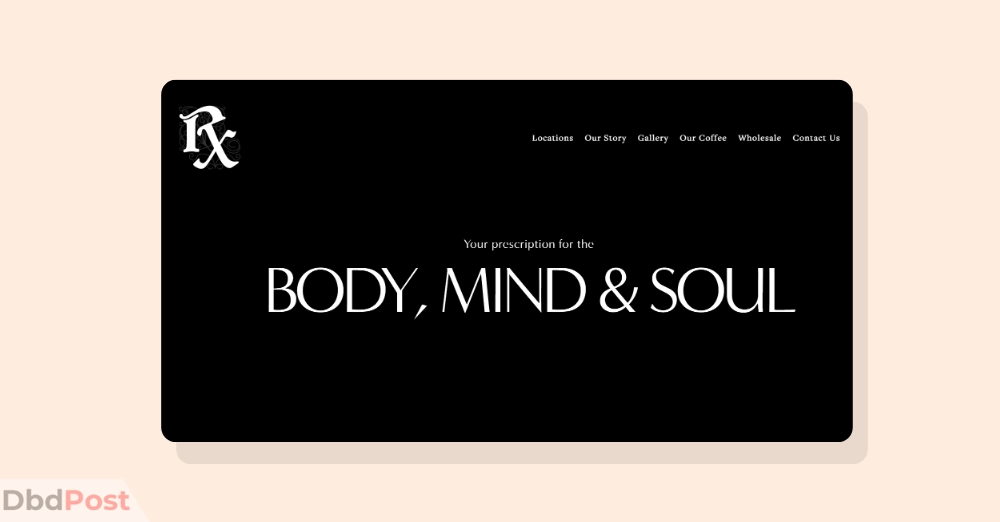 Rx is a café with a unique vision of bringing people together through the power of a single cup of coffee
. Rx aims to be a local gathering place and a creative hub for coffee lovers worldwide. Their atmosphere infuses modern café elements with traditional apothecary design. 
At Rx, customers can enjoy special Fulgan coffee, a unique and exclusive blend that will delight coffee enthusiasts. The café's shelves feature glass bottles with inspiring quotes from over 30 languages.
Rx promotes imagination and creativity with an upper floor designed as a modern workspace and networking hub.
It is one of the best cafes to study. The café radiates positivity, gratitude, and motivation, evident in their takeaway cups and exuberant staff.
5.

Caribou Coffee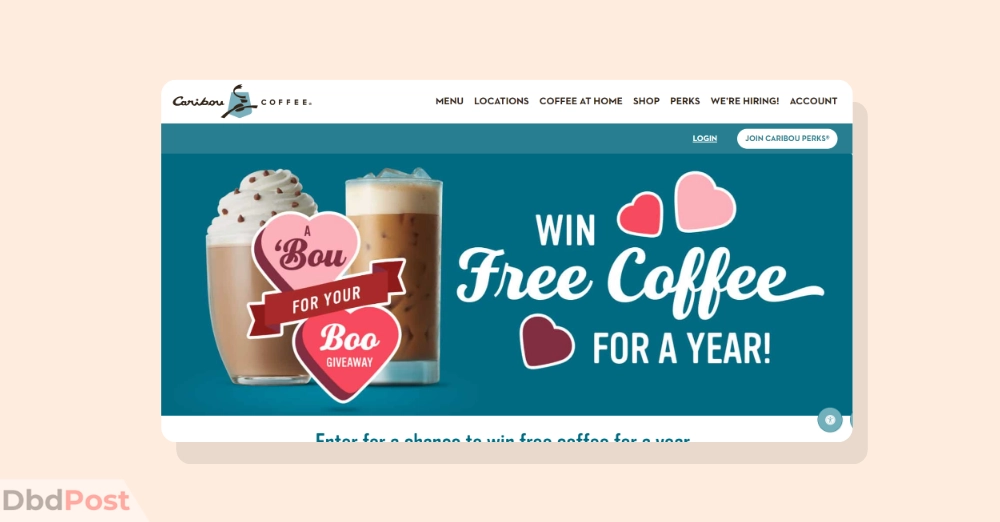 Caribou Coffee was founded in 1992 in Minneapolis. It has grown to become a global brand with over 700 coffeehouses worldwide.
The company's mission to provide personal and friendly service to guests remains at the heart of its purpose.
Caribou Coffee's commitment to responsible sourcing and quality ingredients can be tasted in every sip.
From drinks like the Spicy Mocha to breakfast dishes like the Maple Waffle Sandwich, Caribou Coffee has something for every taste bud.
6.

RAW Coffee Company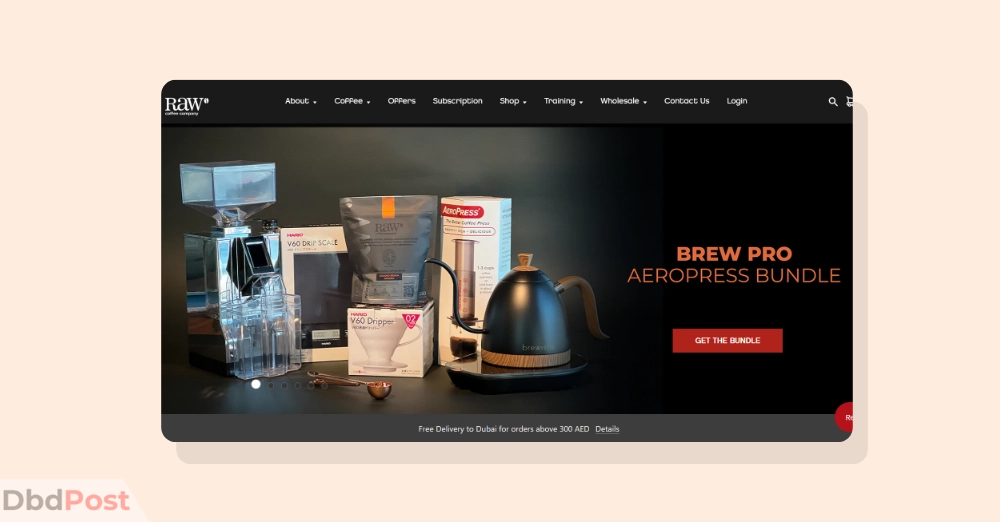 RAW is a specialty coffee roastery that sources premium green beans worldwide. It focuses on quality and sustainability. Their commitment to ethically sourced beans and fair treatment for farmers and their families is reflected in their menus.
In addition to its exceptional coffee, RAW also offers expertise in water quality, training, and equipment selection. Their 13 years of local knowledge ensures customers enjoy the best coffee experience.
The menu at RAW includes a range of coffee and non-coffee drinks. Their French Press, Espresso, Frappes, and smoothies, ensure that there's something for everyone.
With great coffee and an amazing atmosphere, this is one of the best places to drink coffee.
7.

Caffeine and Culture Cafe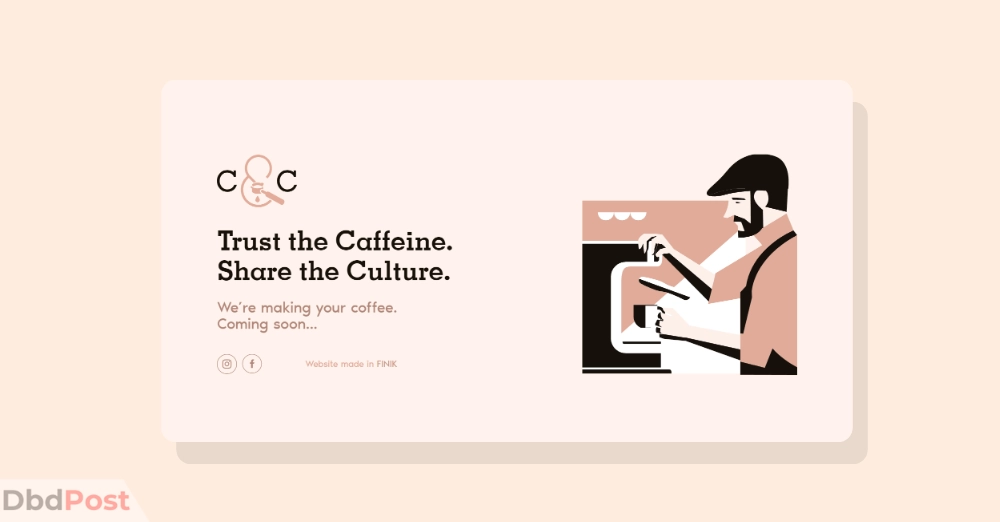 At Caffeine and Culture Cafe, you can enjoy a comfortable atmosphere while savoring delicious cheesecakes and great coffee. This cafe is ideal for starting your day or taking a break from your busy schedule.
Their menu features a range of black and white coffee options and iced coffee choices. Try their Filter Brew and infusion iced coffee.
In addition to their coffee, they also offer a breakfast menu featuring dishes such as french toast and eggs. It is a great place to start your day with a satisfying meal and coffee.
8.

Arto Coffee Shop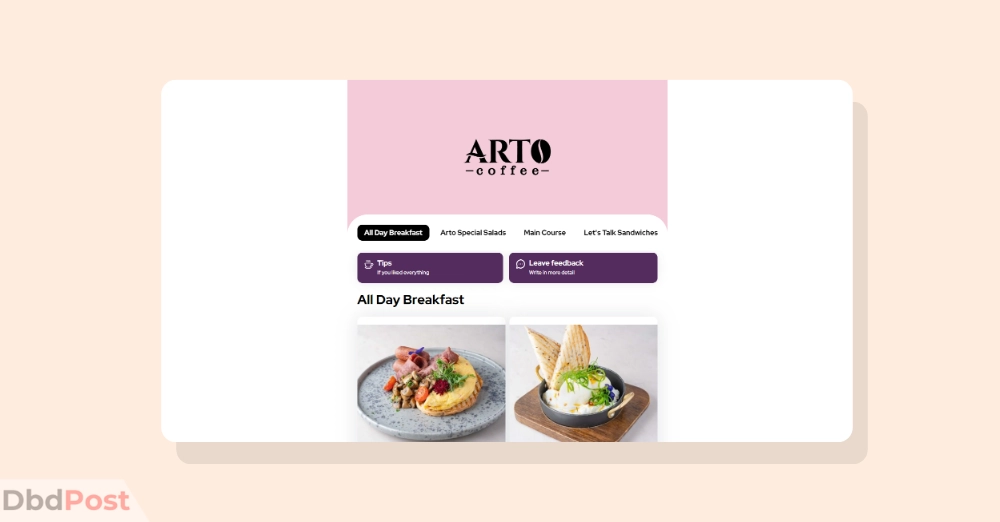 | | |
| --- | --- |
| Location | Shop 010, Dubai Mall, Financial Center Rd, Dubai |
| Hours | Sunday – Wednesday (10:00 AM – 12:00 AM) Thursday – Saturday (10:00 AM – 1:00 AM) |
| Contact | +97143339236 |
| Average cost | 140 AED for two people |
| Map | Get direction |
| Website | Arto Coffee Shop |
Arto Coffee Shop offers specialty coffee and pastries with a global flair in the heart of Dubai Mall.
They have it all, whether you're looking for a quick energy boost or a satisfying meal. Their signature breakfast and brunch options menu includes freshly baked cakes, salads, sandwiches, pasta, and desserts.
Arto Coffee Shop is located in one of the world's largest shopping centers and offers a cozy and welcoming atmosphere.
From warm cups of coffee to pastries, the café's focus on high-quality and unique dishes will surely delight your senses.
With a commitment to quality and uniqueness, this cafe in UAE aims to provide a memorable coffee experience for all its customers.
9.

Alchemy Coffee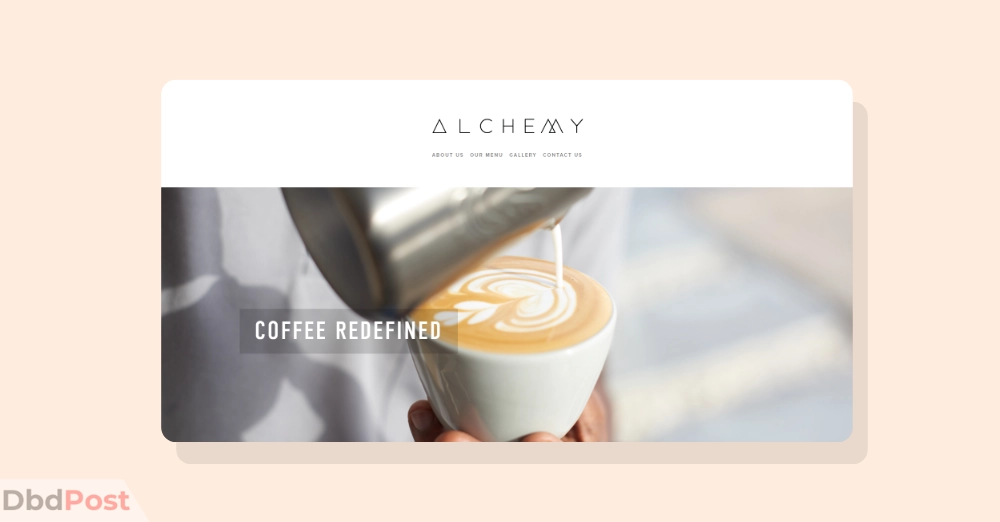 Alchemy is a specialty coffee shop that sources ethical single-farm coffees and roasts them to perfection.
Whether you prefer a bold espresso or a smooth macchiato, their menu satisfies your coffee cravings.
At Alchemy cafeteria, they believe in creating a warm and welcoming space. It is a perfect place to gather with loved ones and enjoy their expertly crafted coffee.
10.

Black Coffee by Cafe Younes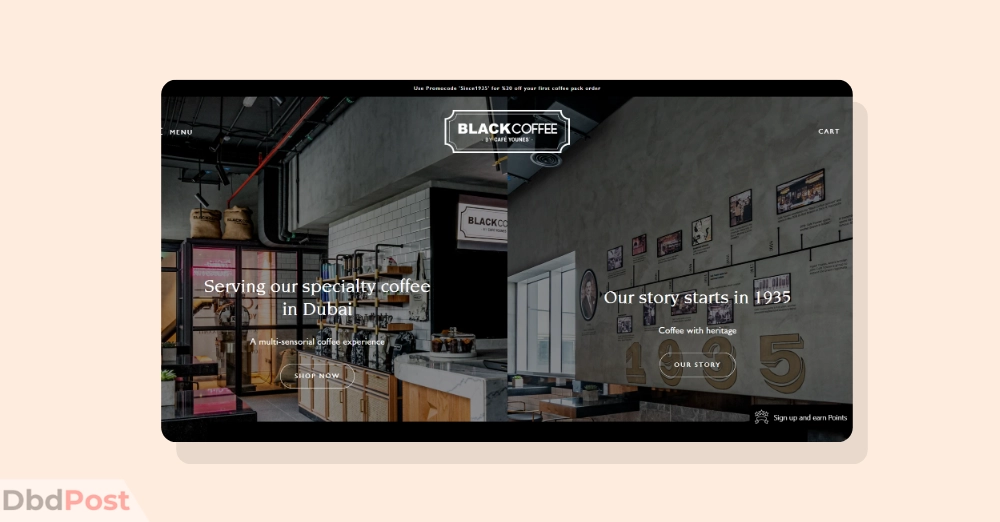 Black Coffee by Café Younes is a coffee lover's haven that offers an elevated coffee experience. They focus on sourcing premium coffee beans from around the world.
Their roasting methods and advanced coffee selections provide a multi-sensorial experience that sets them apart.
In addition to its coffee options, this coffee house also offers delicious ice cream flavors like The Classic and The Lebanese. Other options like Steak Sandwiches and Grilled Chicken Wrap are also available.
Their signature coffee blends, like the Twilight Blend and Mocha Java, offer a unique flavor to people. Whether you prefer hot or cold coffee, they have French Pass and Cold Brew to suit your taste.
11.

Nightjar Coffee Roasters
Nightjar is a coffee company founded by passionate and diverse coffee lovers in 2017. Their Flagship Warehouse has become the go-to place for artisanal coffee roasting, cold brew production, and great times.
At Nightjar, they prioritize ethical sourcing of their coffee beans and often travel to the source to meet farmers.
If you're looking for delicious coffee while supporting ethical and sustainable practices, Nightjar is worth a visit.
Coffee trend in Dubai
Dubai has become a hub for coffee culture in recent years. Various specialty coffee shops and roasters are popping up all over the city.
According to a report by World Coffee Portal in 2018, 88% believe that the trend of coffee is increasing in Dubai. [2]World Coffee Portal, "UAE Coffee Trend, … Continue reading
One of the driving forces behind this growth is the younger generation's increasing interest in specialty coffee, leading to a rise in demand for high-quality coffee beans and brewing methods.
As the coffee scene in Dubai continues to grow, so do the trends. Cold brew and nitro coffee have also become increasingly popular. It has been a refreshing alternative to traditional hot coffee.
New coffee trends have led to Dubai's exciting and dynamic coffee culture. With a variety of unique and innovative coffee shops and roasters, there is something for everyone.
Dubai's thriving coffee scene is worth exploring, from classic espresso drinks to experimental brews.
How much does coffee cost in Dubai?
The coffee pricing in Dubai highly depends on the location and type of coffee shop.
Popular chain coffee shops generally charge 15 to 25 AED for a basic coffee drink. On the other hand, specialty coffee shops may charge more, starting at 20 AED and going up to 50 AED or more for a single cup of coffee.
The cost of rent and overhead for the coffee shop and location also significantly determine the price. However, budget-conscious coffee drinkers can still find affordable options at supermarkets and convenience stores, such as instant or pre-packaged coffee drinks.
Ultimately, Dubai has a wide range of coffee pricing options to suit every budget and taste preference.
Related Info
---
FAQs
Which coffee is famous in Dubai?
In Dubai, Arabic coffee is a popular and traditional coffee typically served in small cups with dates on the side. 
Additionally, due to the city's multicultural nature, many other types of coffee are also widely available. The famous drinks are espresso-based, Turkish coffee, and specialty blends worldwide.
Where can I find Arabic coffee in Dubai?
You can find Arabic coffee in Caffeine and Culture and The Espresso Lab in Dubai. They also offer other international choices for their guests.
Final thoughts
In conclusion, Dubai is home to some of the best coffee shops in the world.
From traditional Arabic coffee to artisanal blends, there is no shortage of options for coffee lovers in this vibrant and cosmopolitan city.
We hope our Dbd guide helped you find some of the best coffee shops in Dubai. Visit one of the top cafes in Dubai for the best coffee experience.


Adi Abbas is a travel enthusiast based in Dubai who has explored more than 15 countries in the Middle East and South Asia. He loves discovering different cultures, trying local food, and seeking out exciting things to do. His passion for travel has taken him to many places, where he's made unforgettable memories that will stay with him forever. Adi loves documenting his trips through photography and writing about his experiences.