Dubai is home to some of the best cake shops in the world. Dubai has everything from classic vanilla and chocolate cakes to unique and artistic designs.
Dubai hosts several cake shops offering its services to residents and visitors. Some of the best cake shops in UAE are Sweet Celebrationz, Magnolia Bakery, Cake Away, and more. This article will explore the best cake shops in Dubai, their specialties, and what makes them stand out.
Our team conducted thorough research on the cake scene in Dubai to compile a list of the best cake shops in the city.
We visited multiple bakeries and tasted their cakes to evaluate them based on several factors, such as the quality of the cakes, the bakery's reputation, delivery service, ambiance, pricing, and location.
By considering these factors, we have curated a list of the top cake shops in Dubai that offer delicious cakes and exceptional customer service.
11 places for the best cake in Dubai
Dubai is a paradise for those who have a sweet tooth. Here, we have compiled a list of some of the best cake shops in Dubai.
1.

Sweet Celebrationz LLC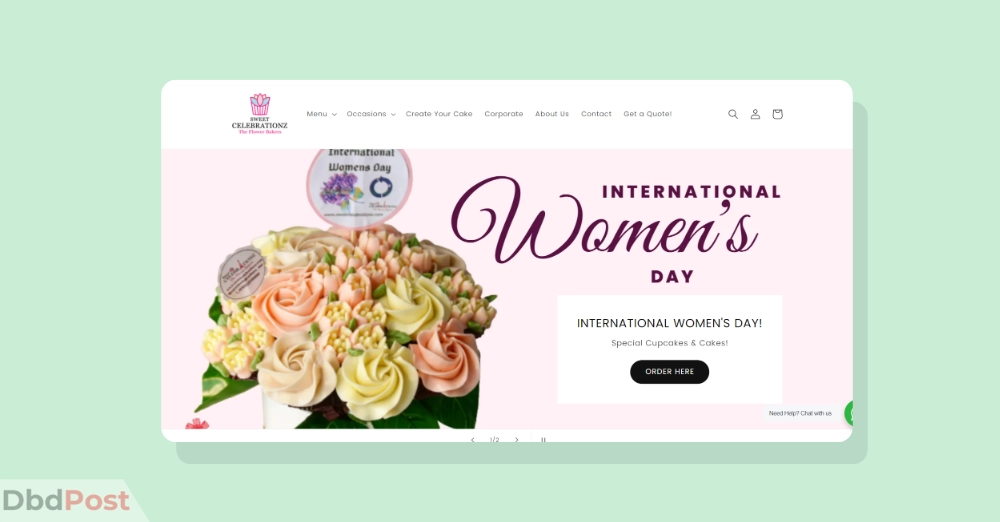 Sweet Celebrationz stands out as one of the top cake shops in Dubai due to their commitment to creating exceptional desserts that are not only delicious but also artistic and unique.
Similarly, their beautiful and delectable treats are expertly crafted with edible flower arrangements, cupcake bouquets, and elegant cakes designed to mimic nature. This makes them an ideal gift for any milestone event, be it a birthday, anniversary, or other special occasions.
Their menu offers a variety of options, including the Aster Romance, Charming Cupcake Bouquet, and English Rose Fantasy, ensuring that there is something for everyone.
Moreover, Sweet Celebrationz understands that some individuals have dietary restrictions, which is why they also offer eggless and gluten-free cake options.
In addition to their impressive menu, Sweet Celebrationz provides exceptional service and cake accessories that add a touch of sophistication to their treats.
2.

Occasions Cake shop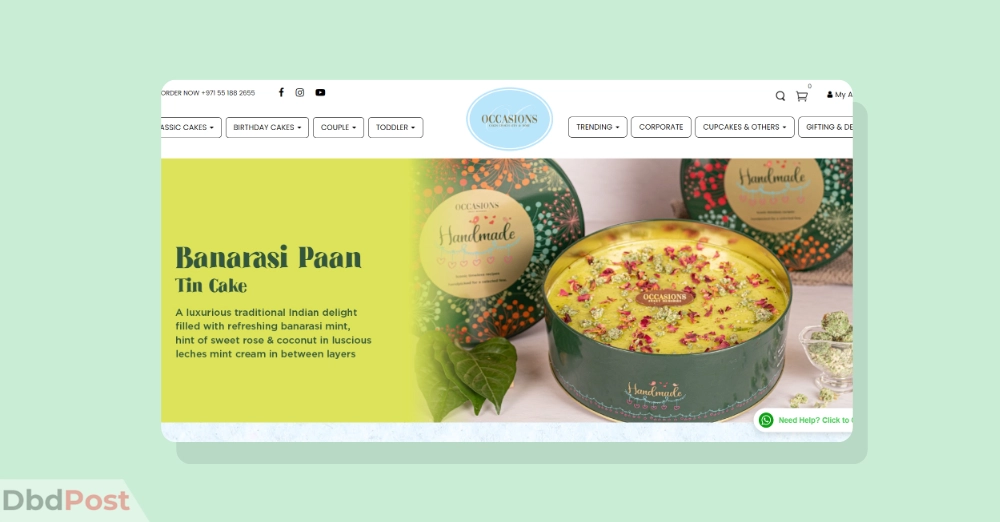 Occasions Confectionary LLC offers delicious cakes and pastries that are customizable and personalized for all occasions.
Whether you prefer egg or eggless cakes, they use only the finest and freshest ingredients to bake their cakes.
Their collection of modern and contemporary cake designs is truly exceptional. They ensure that their contemporary cakes are timeless and will never go out of style. They follow all the latest cake decorating trends while baking them.
The menu features best-sellers like Bounty Chocolate Cake, Sacher Cake, Chocolate Truffle, and Rasmalai cake. With various choices, Occasions is one of Dubai's best birthday cake shops.
3.

Magnolia Bakery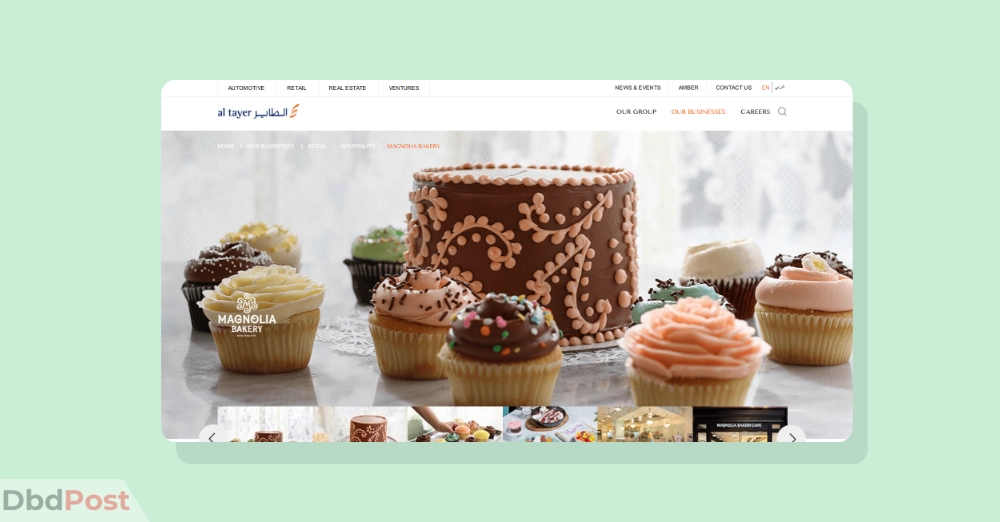 Magnolia Bakery, located in New York City's West Village, is a beloved landmark that has gained worldwide fame for its vintage decor and delicious cupcakes.
Since its first international location in Dubai in 2010, this iconic bakery has become a favorite among Emiratis.
Magnolia Bakery offers something for everyone, whether you're in the mood for a classic buttercream-frosted cupcake or a special-themed cake.
The bakery takes pride in using the finest ingredients to prepare freshly baked cakes made from scratch on-premises. Their menu specials include a variety of flavors such as Red Velvet, Chocolate Peppermint, Blueberry, and more.
Moreover, Magnolia Bakery's charming vintage decor and friendly staff make it an amazing cake choice. The bakery's welcoming ambiance and delectable treats create an unforgettable customer experience.
4.

The Hummingbird Bakery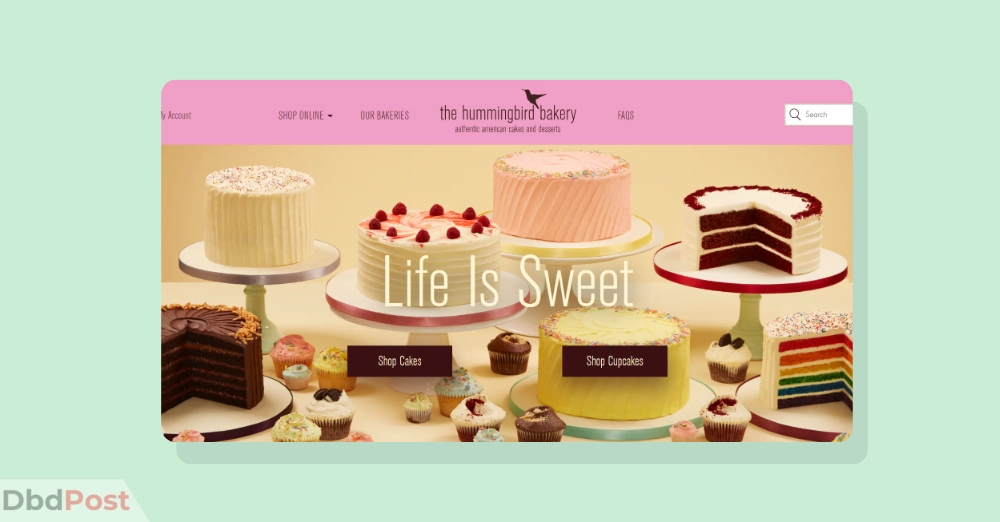 | | |
| --- | --- |
| Location | LG 106, Financial Center Rd, Downtown Dubai, Dubai |
| Hours | Sunday – Wednesday (10:00 AM – 11:00 PM) Thursday – Saturday (10:00 AM – 12:00 AM) |
| Contact | +97143882025 |
| Delivery | Yes |
| Must try | Rainbow Piñata Cake |
| Map | Get direction |
| Website | The Hummingbird Bakery |
The Hummingbird Bakery is the ideal destination for anyone seeking an American-style bakery that exudes a warm, homey vibe.
The bakery's success is attributed to its unwavering commitment to using only the freshest and highest quality ingredients to create delicious baked goods.
Each branch has its own kitchen and team of expert bakers and cake decorators. This ensures every cake is baked to order and served fresh to customers.
The bakery offers a wide variety of cupcakes, layer cakes, brownies, pies, and cheesecakes. We recommend trying the Cake, Snickers Cheesecake, and Red Velvet Mini Cupcakes.
From the cozy ambiance to the irresistible baked treats, the bakery offers a unique experience you cannot find anywhere else.
So, if you're in the mood for some delectable desserts, head on over to the Hummingbird Bakery and indulge in their mouth-watering treats.
5.

Cake Away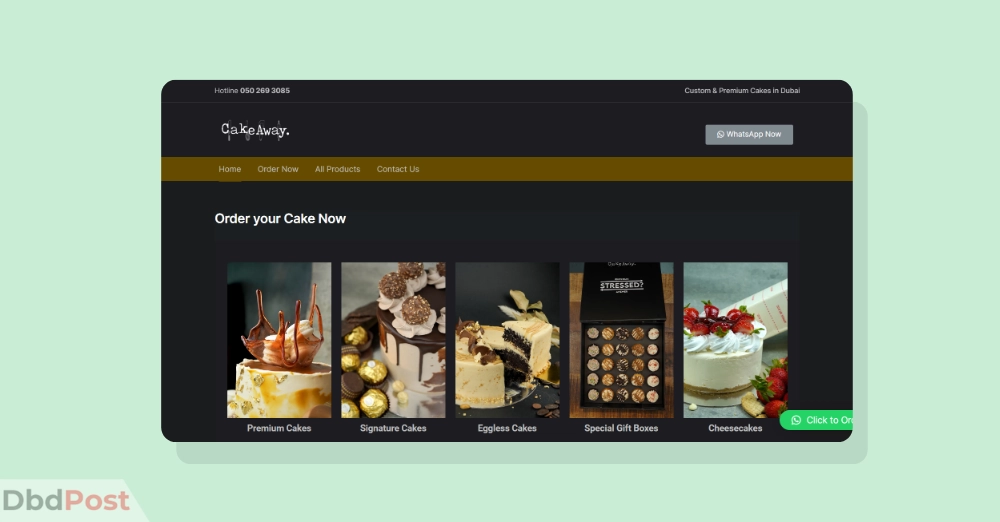 | | |
| --- | --- |
| Location | Le Solarium Tower, Dubai Silicon Oasis, Dubai |
| Hours | Everyday (9:00 AM – 11:45 PM) |
| Contact | +97145915691 |
| Delivery | Yes |
| Must try | Chocolate Mousse Cake |
| Map | Get direction |
| Website | Cake Away |
Cake Away is a top-tier cake shop in Dubai offering delicious cakes for all occasions. Whether you're celebrating a birthday or any other event, their custom cakes can be tailored to your specific needs.
At Cake Away, they use only the freshest and highest quality ingredients. Their menu offers everyone everything from classic cheesecakes to delectable Black Forest cakes.
They take pride in their commitment to using traditional baking techniques. They create cakes that taste just as good as they look.
Overall, if you're looking for exceptional quality and a variety of options, Cake Away is worth a visit.
6.

Cream and Butter Cake Shop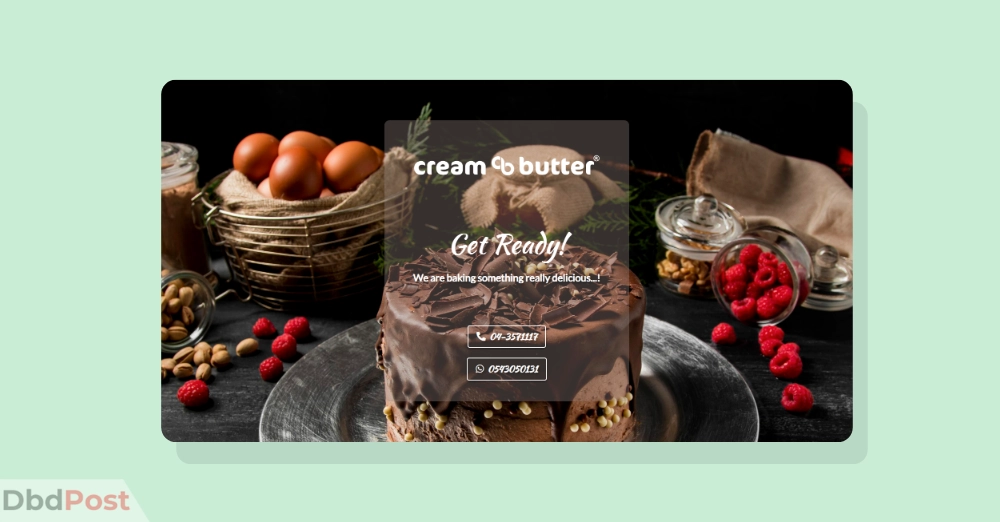 Cream and Butter Cake Shop is a must-visit destination for cake lovers in Dubai. This bakery offers a wide selection of cakes and cupcakes, including customized cakes.
One of the standout items on the menu at Cream and Butter Cake Shop is the Pistachio Cake. This delicious cake is a must-try for anyone visiting the bakery.
Additionally, the shop offers Fondant cakes, Black Forest cake, cupcakes, and other treats that are sure to satisfy your sweet tooth.
With delivery available and a convenient location, Cream and Butter Cake Shop is the perfect choice for special occasions.
7.

French Bakery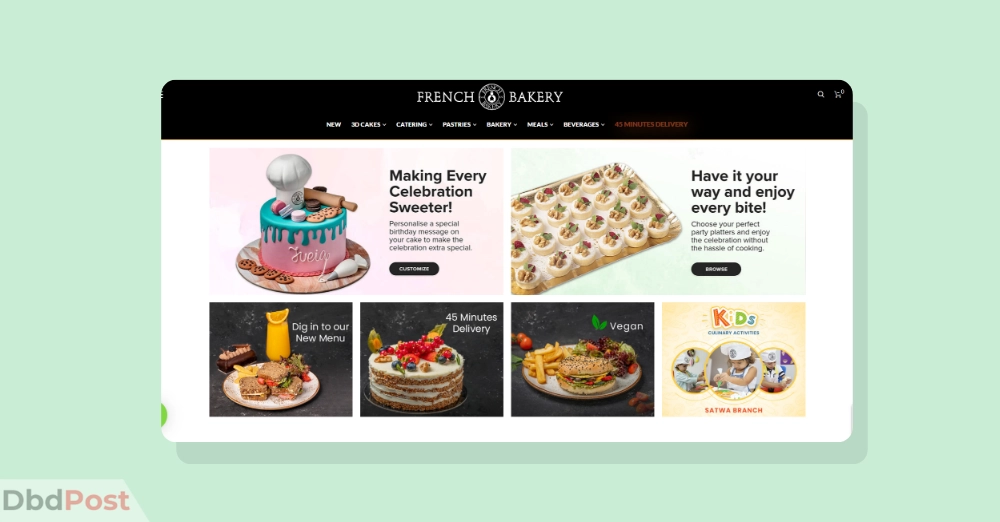 French Bakery is a one-stop-shop for anyone looking for a delicious cake in Dubai.
This pastry shop offers an extensive range of cakes, desserts, and meals to satisfy all your cravings. With their easy online delivery option, you can enjoy freshly baked goods in the comfort of your own home.
One of the highlights of French Bakery is its commitment to using only the finest and freshest ingredients in the cakes and pastries. Some of its signature dishes include Black forest cake, Divine Dark, and Sebastian Cheesecake.
At French Bakery every bite will be a delight to your taste buds.
8.

Papillon Cake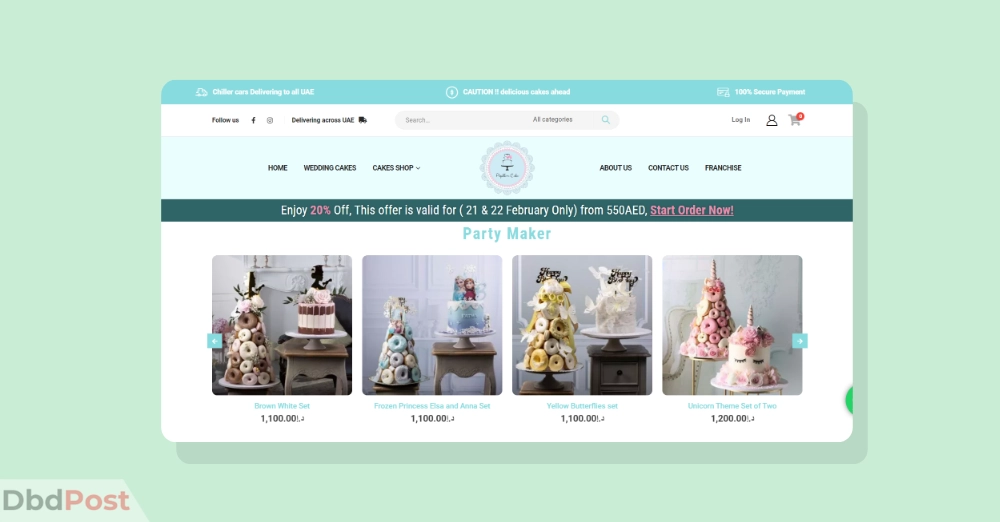 Papillon Cake prides itself on delivering unique, high-quality cakes made to German standards.
With a team of passionate and skilled bakers and cake designers, they have grown from a small home-based business to a specialized factory.
Their focus on quality ingredients, execution, and decoration ensures that each cake is an art. Whether you're looking for cakes, cupcakes, donuts, or macaroons, Papillon Cake offers a variety of sweet treats to satisfy your cravings.
They also specialize in creating custom cakes for special occasions such as birthdays, Valentine's Day, graduation, and more.
With a commitment to delivering happiness, Papillon Cake is the perfect choice for anyone looking for high-quality cakes in Dubai.
9.

Katrina Sweets & Confectionery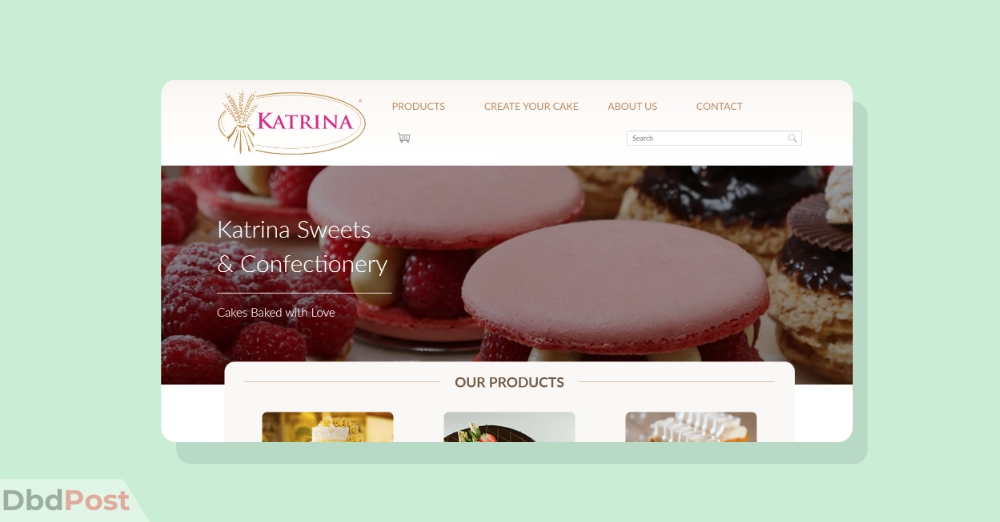 Katrina Sweets & Confectionery provides customers with online and offline services in Dubai.
Their amazing cake collection is freshly baked and available for customers. With a strong reputation in Dubai, you can trust Katrina Bakery to provide you with high-quality baked goods.
Katrina Sweets' signature menu includes Honey Cake, Honey Chocolate Cake, Truffle Chocolate cake, and Strawberry Vanilla Cake.
These cakes will satisfy your sweet tooth and leave you wanting more. Whether you order online or visit the bakery, this bakery cake shop is a great choice for those looking for sweet treats.
10.

Artisan Bakers
Artisan Bakers is a contemporary and cozy restaurant and bakery that serves a range of fresh, high-quality food and beverages throughout the day.
At Artisan Bakers, you can enjoy a quick coffee with friends, a leisurely breakfast, or a business lunch in a comfortable and intimate setting.
Their menu features an extensive range of sweet and savory dishes made with the freshest ingredients.
Similarly, the bakery also boasts an exciting coffee selection, gourmet chocolates, desserts, and artisanal baked goods that are sure to please your palate.
For breakfast, Artisan Bakers offers classic dishes like Eggs Benedict and indulgent French toast that are perfect for a hearty morning meal.
And for those with a sweet tooth, their dessert menu includes an array of delicious pastries, cakes, and ice cream.
Moreover, their cakes stand out, with options like ice cream cakes, chocolate chip cakes, and more to satisfy any craving.
11.

The House of Cakes Bakery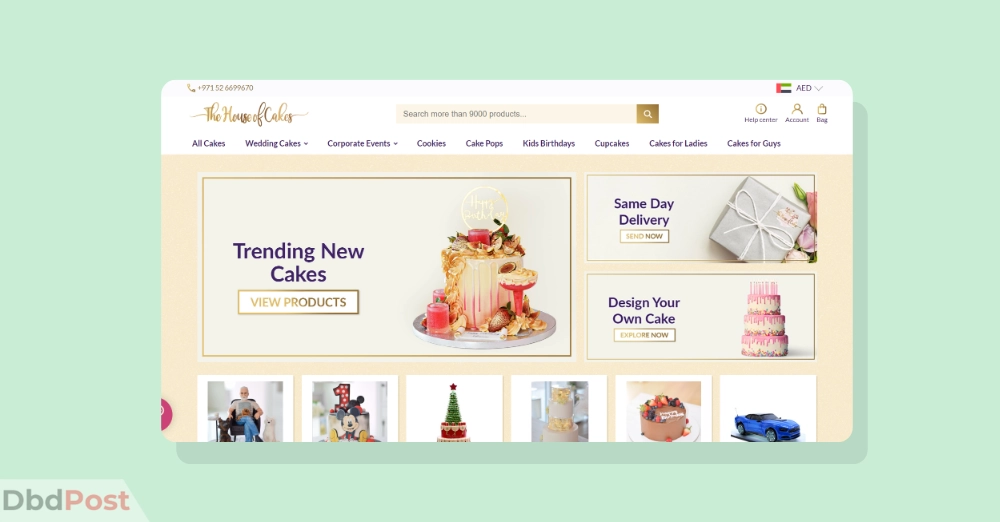 House of Cakes Dubai is a family-owned online cake shop established in 2006. It specializes in custom-designed cakes.
Their innovative and ground-breaking online cakes have simplified the custom cake ordering process.
Similarly, customers can easily search for and view birthday cakes for people of any age or interest.
They offer various cakes, from milestone birthdays to baby's first birthday cakes. Their cakes are described as "edible art."
How much does a cake cost in Dubai?
Cake prices in Dubai can vary based on several factors, such as the bakery, size, type, design, and ingredients used.
For a basic cake, the cost can be anywhere between AED 50 to AED 150 on average. On the other hand, if you opt for a custom-designed cake, the price can range from AED 250 to AED 2,000, depending on the size and intricacy of the design.
For a simple chocolate or vanilla cake with buttercream frosting, you can expect to pay around AED 50 to AED 100. However, if you want to include additional flavors or decorations, the price can go up accordingly.
In terms of custom-designed cakes, the final cost depends on the design's complexity, the cake's size, and the ingredients used.
Intricate fondant work, sugar flowers, or other special requests can result in a higher price tag, ranging from AED 500 to AED 2,000 or more.
Is cake popular in Dubai?
Dubai has a strong fondness for cakes, with a broad selection of options available to cater to various tastes and preferences. Honey cake is especially well-liked during Ramadan when Muslims fast from sunrise to sunset.
In fact, the Khaleej Times reports that honey cake consumption spiked by 250% during this period. [1]Khaleej Times, "Cake Consumption during Ramadan, https://www.khaleejtimes.com/article/honey-cake-consumption-increases-by-250-during-ramadan"
From classic Arabic sweets to Western-style cakes, there's a demand for a diverse range of cakes in Dubai.
It includes customized cakes for events like birthdays, weddings, and graduations, which can vary in price based on size, design, and ingredients.
With numerous bakeries and cafes specializing in different styles and flavors, it's clear that cake is a favored dessert option in Dubai, and the popularity of honey cake during Ramadan is a testament to this.
Related Stories
---
FAQs
What is the most popular birthday cake?
The Black Forest is the most popular birthday cake in Dubai. The outlets in Dubai provide several cake options for your different special occasions.
Can you order the cake over the phone in Dubai?
Yes, you can order the cake over the phone in Dubai. Many outlets offer delivery of cakes to your home over call.
What are some of the best cake flavors in Dubai?
Chocolate, Strawberry, and Vanilla are some of the best cake flavors in Dubai. Some Dubai cake shops offer their own unique flavors as well.
What are some of the most popular cake shops in Dubai?
There are several popular cake shops in Dubai, including Sweet Celebrationz, Magnolia Bakery, and Hummingbird Bakery.
These shops offer a wide variety of cakes and desserts, including customized cakes for special occasions.
Final thoughts
In conclusion, Dubai has a thriving cake industry with numerous options for cake lovers.
From small artisanal bakeries to high-end cake shops, the city has something to offer everyone.
The best cake shops in Dubai stand out for their quality ingredients, innovative designs, and exceptional customer service.
We hope our Dbd guide helped you find the best cake bakery in Dubai.


Imran Hassan is an experienced Travel Specialist for UAE and the Middle East. He is based in Dubai and specializes in creating unique itineraries to ensure his customers have the best possible experience during their stay. From selecting the right hotel to recommending must-see attractions, Imran's expertise ensures that all vacations are unforgettable.