Dubai is known for its rich food culture, and desserts are no exception. With the rising dessert market, deciding the best desserts in Dubai can be overwhelming.
The top dessert cafe in Dubai offers traditional Arabic sweets to international confectionery. You can find the best sweets in Dubai at Two at Symphony, London Dairy, and more.
To create this Dbd guide, we conducted extensive research on popular dessert spots. We went through various online reviews and social media.
We also interviewed locals and tourists to gather information. Also, our Dbd team personally visited each dessert spot to taste and evaluate the quality.
11 places for the best desserts in Dubai
The city has much to explore, from traditional Middle Eastern sweets to international dessert chains.
Now, let's look into 11 top dessert cafes in Dubai with a dedicated dessert menu.
1.

Ladurée: French desserts in Dubai Mall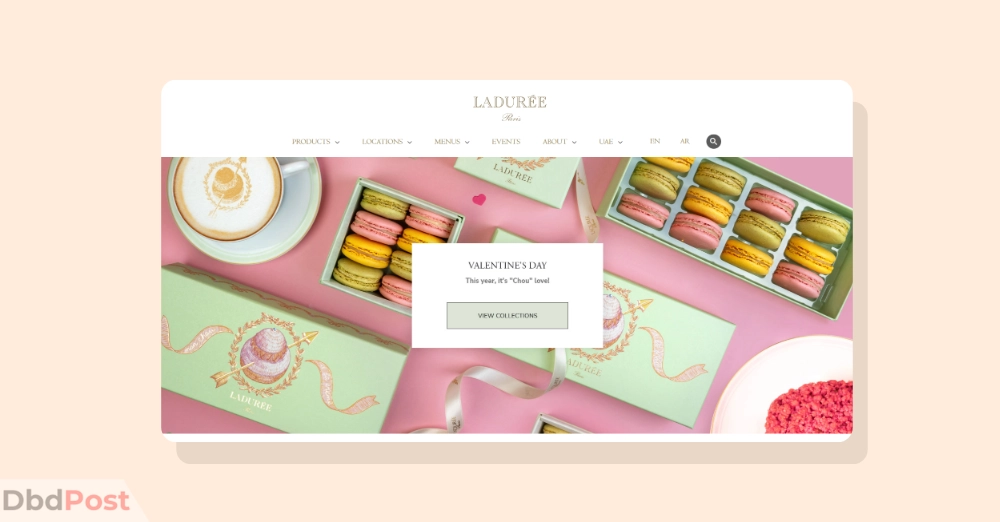 | | |
| --- | --- |
| Location | Ground Floor Fashion Avenue Extention, Dubai Mall, Laduree, Dubai |
| Hours | 10:00 AM – 12:00 AM daily |
| Contact | +97143213929 |
| Must try | Pastries |
| Map | Get direction |
| Website | Ladurée |
Ladurée is a French dessert chain with ten locations in the UAE, including a small and cozy spot in the Dubai Mall.
Their menu features pastries, macarons, sweets, and dry items complimenting coffee. Some of their signature desserts include lemon and milk cake, raspberry passion tart, and fleur noire.
Additionally, Ladurée has locations across Kuwait, Egypt, and Oman. The chain's popularity stems from authentic French desserts perfectly blending taste and aesthetics.
2.

Two at Symphony: Emirati dessert brand in Dubai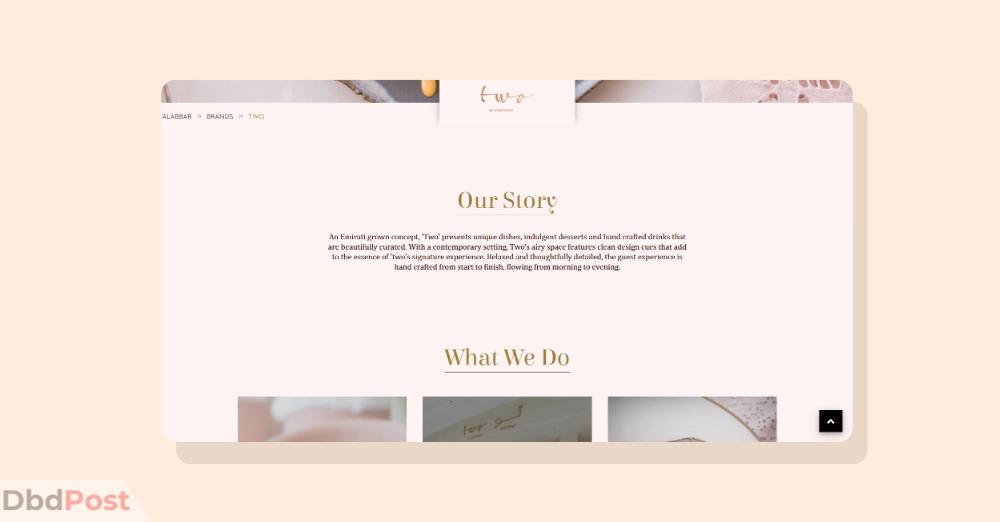 | | |
| --- | --- |
| Location | Financial Center Rd, Downtown Dubai, Dubai |
| Hours | 9:00 AM – 1:00 AM daily |
| Contact | +97148748672 |
| Must try | Honey pudding |
| Map | Get direction |
| Website | Two |
Two at Symphony is an Emirati dessert brand managed by Alabbar Enterprise. They also oversee sister brands such as Angelina, Caya, Made by Two, and Candylicious.
Their menu offers unique dishes, and hand-crafted drinks, accompanied by delivery and catering services. Their signature dish, honey pudding, is a must-try for dessert lovers.
In addition, Symphony has received recognition for its design and hospitality. They have won the F&B/Hospitality Design Award and the Design of the Year Award in 2018 from IDentity Magazine.
3.

The Cheesecake Factory: Best cheesecake in Dubai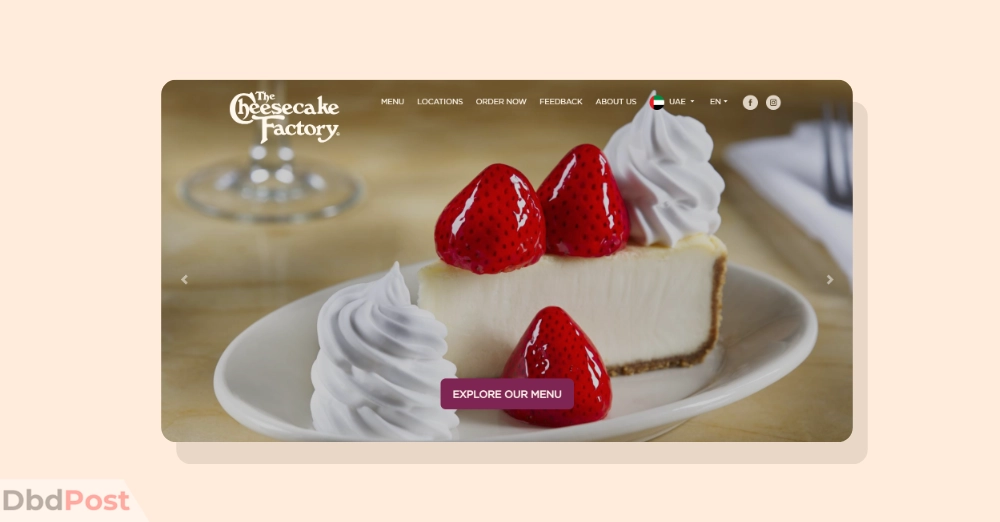 The Cheesecake Factory originated in Los Angeles in 1972. Since then, they have expanded to various locations worldwide.
They are located in six locations across the UAE, including Yas Mall and Dubai Festival City Mall. Their signature cheesecake is world-renowned and also popular in the Emirate.
You can enjoy a variety of other menu items, such as chocolate cheesecake, oreo dream extreme cheesecake, fudge cake, and more. One of the highlights of The Cheesecake Factory is the big portion size, providing value for money.
In addition, they offer various food and beverage options, making it a great choice for dining.
4.

London Dairy: British dessert in Dubai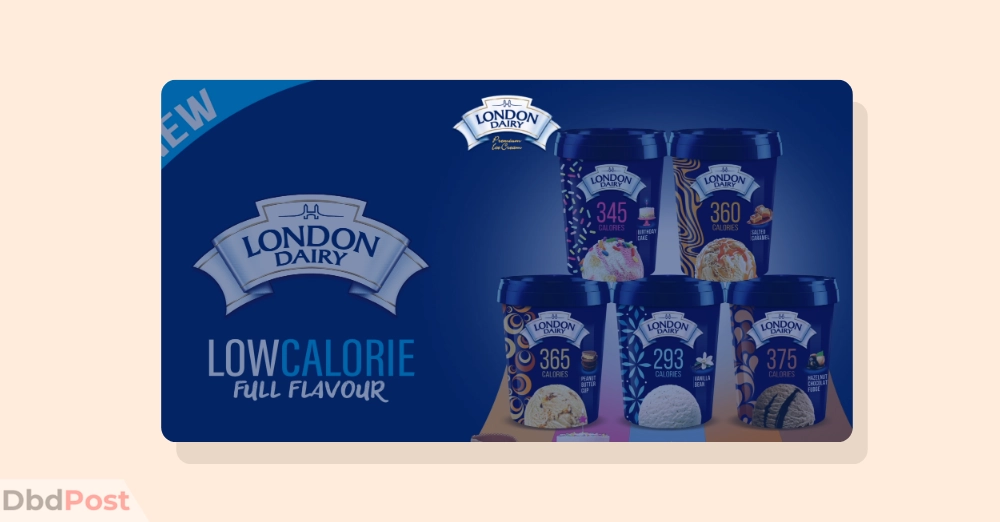 | | |
| --- | --- |
| Location | Aspin Commercial Tower, Sheikh Zayed Rd, Trade Centre, Dubai |
| Hours | 7:00 AM – 1:00 AM (Sunday to Thursday) and 7:00 AM – 2:00 AM (Friday and Saturday) |
| Contact | +97143525473 |
| Must try | Ice cream |
| Map | Get direction |
| Website | London Dairy |
London Dairy is a British sweet shop popular across GCC, South Asia, and North Africa. They use Belgian chocolate, creamy milk from Australia and Europe, cocoa beans from Africa, and fresh strawberries from Poland.
They also offer some of the world's best ice creams. We recommend trying their low-fat ice cream, brownies, kulfi, pecans, and more.
As a testament to their excellence, the chocolate hazelnut tub and stick were awarded "Product of the Year" in 2013 and 2012.
5.

Katrina Sweets & Confectionery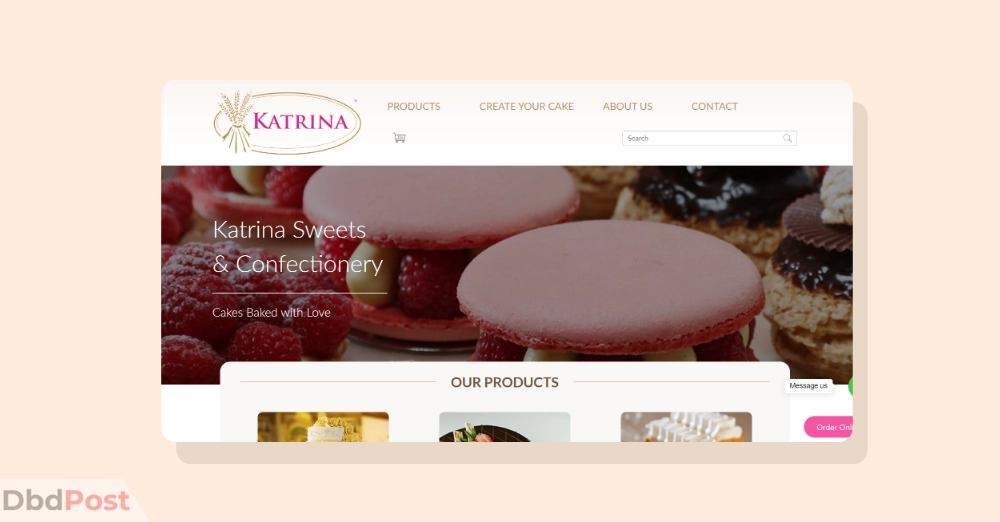 Founded in 2007, Katrina Sweets & Confectionery is a popular dessert chain in Dubai.
Katrina Bakery specializes in customized cakes with smooth online delivery. Their menu includes various popular items, such as honey cake, pastries, rolls, muffins, and more.
They have served various clients, including the Ministry of Education, Dubai Municipality, Dubai Police, Mercedes Benz, and more.
Moreover, the quality is well-assured at Katrina with accreditations such as HACCP and ISO 22000:2005 certifications.
6.

Gelato Divino – The Dubai Mall: Gelato chain in Dubai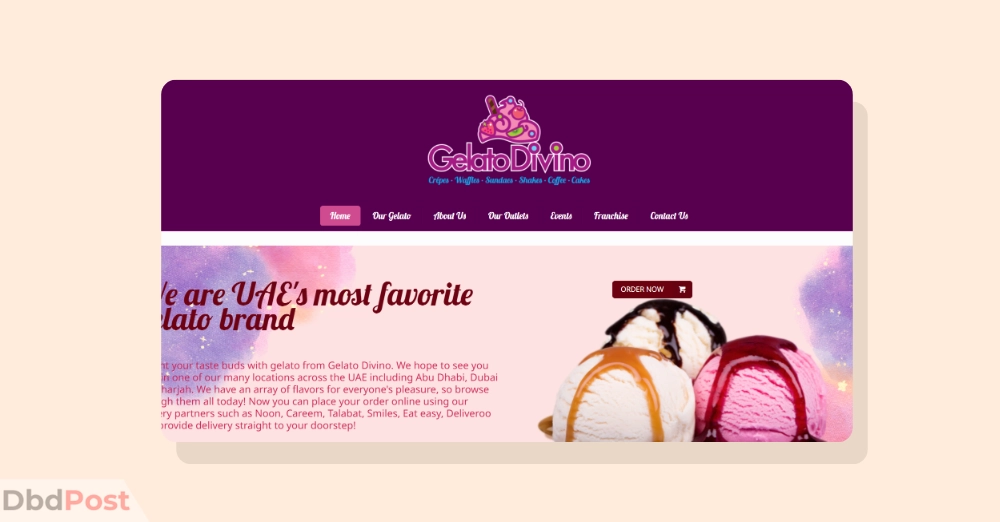 Gelato Divino is a popular gelato brand with chains across Abu Dhabi, Dubai, and Sharjah.
Originating in Italy, the brand started in the UAE in 2009 and has since expanded to forty locations. Also, they have expanded over Oman, Qatar, Bahrain, Palestine, and more.
Divino's products are 100% vegetarian and halal, with low-fat fresh milk and no added fat. Their menu features desserts like signature gelato, cheesecake, mango sorbet, and more.
With delivery partners like Noon and Careem, you can enjoy treats from the comfort of your home.
7.

The Choco Monarch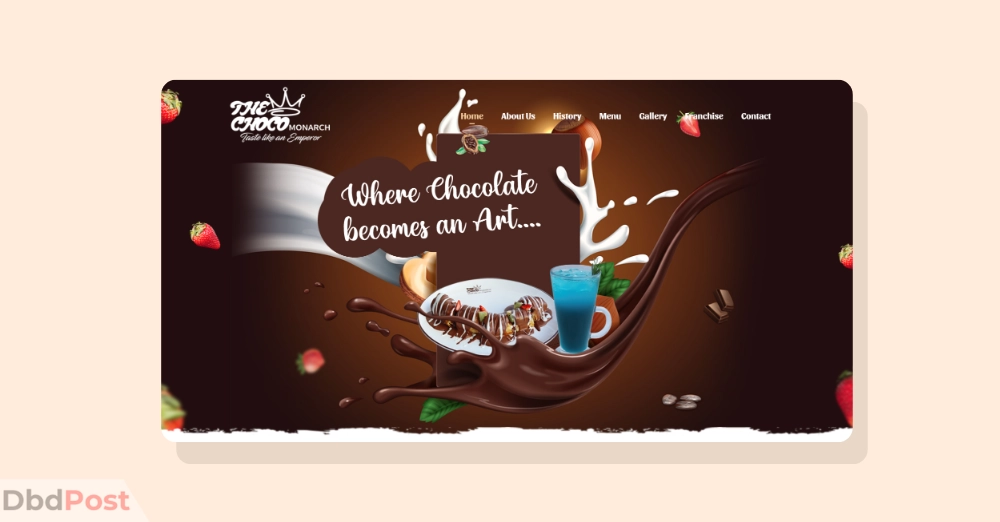 The Choco Monarch is a dessert chain with locations in Dubai, Sharjah, and Abu Dhabi, established in 2017.
They create their items in-house to maintain quality. We recommend you try their French crepes, waffles, pancakes, and freshly baked cakes. Choco Monarch's best sellers include choco lava, waffles, brownies, and fettuccine.
The restaurant is child-friendly and is perfect for families and groups. Additionally, they are wheelchair accessible, making it easy for all customers.
8.

L'ETO: Al Safa dessert shop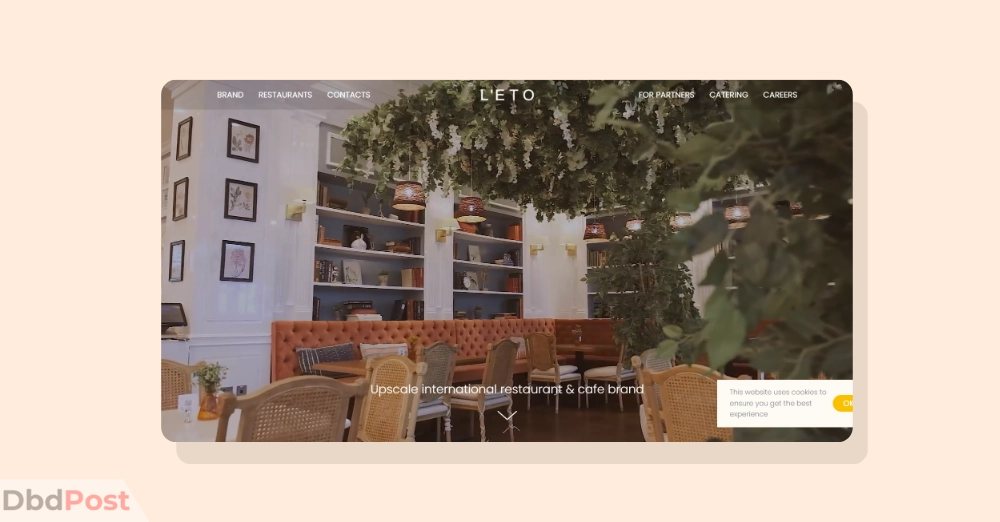 | | |
| --- | --- |
| Location | City Walk Mall, 16 Dubai Al Safa Road, Al Wasl, Dubai |
| Hours | 9:00 AM -12:00 AM daily |
| Contact | +97143452209 |
| Must try | Honey cakes |
| Map | Get direction |
| Website | L'ETO |
L'ETO is a dessert chain that began in London and has expanded to 7 countries with 38 locations worldwide.
You can sit inside L'ETO and interact with friendly staff during your dessert hunt. The popular menu items are Spanish latte, Arabic coffee, honey cakes, and tiramisu.
Besides the locals, their clientele includes high-end brands such as Dior, Chanel, and Louis Vuitton.
With a focus on quality and taste, L'ETO has become a popular destination for dessert lovers.
9.

Hafiz Mustafa 1864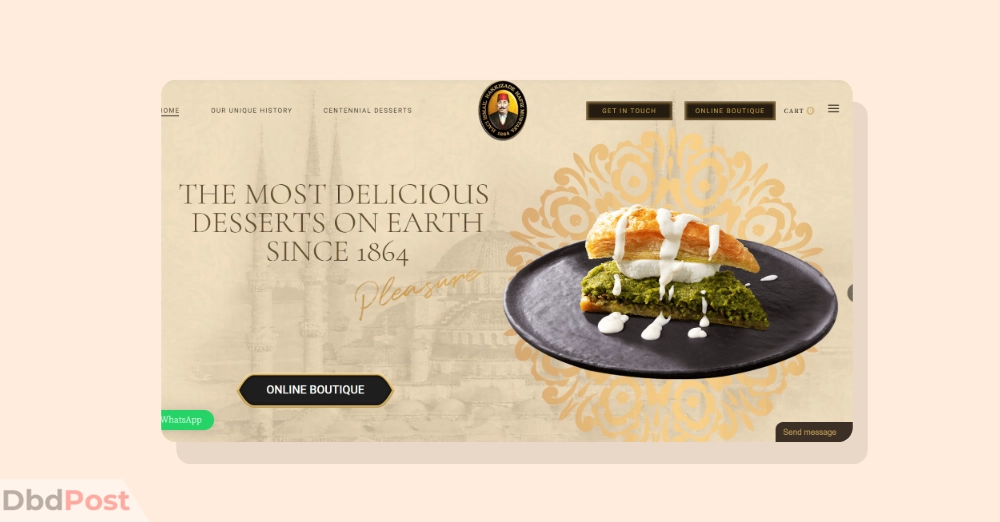 | | |
| --- | --- |
| Location | The Dubai Mall, Fountain Level, Dubai |
| Hours | 8:00 AM – 1:00 AM (Friday to Sunday), 8:00 AM – 11:45 PM (Monday to Thursday) |
| Contact | +97145844694 |
| Must try | Turkish delight |
| Map | Get direction |
| Website | Hafiz Mustafa |
Hafiz Mustafa has a rich history that dates back to 1864 in Istanbul. Hadji İsmail Hakkı Bey founded it during the reign of Sultan Abdulaziz Khan.
The brand is renowned as a pioneer of sugar candy. It won 12 medals in bakery and confectionery in Europe between 1926 and 1938.
In 2019, the brand received the Superior Taste Award among 470 participants, a testament to the quality of its products. Popular items include Baklava, Kadayif, Turkish delight, and Dragee.
Their rich history, pioneering spirit, and delicious products have made them a favorite among locals and tourists.
10.

The Hummingbird Bakery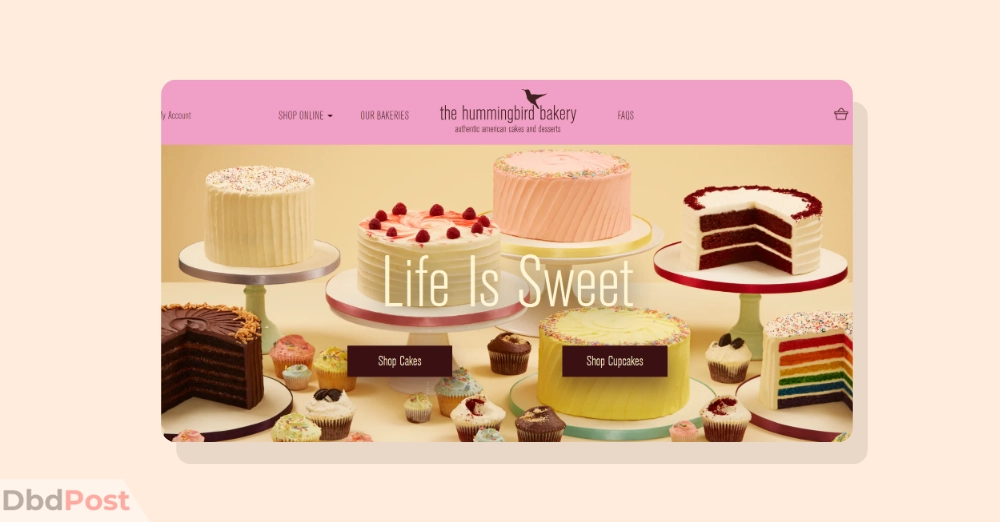 | | |
| --- | --- |
| Location | LG 106, Financial Center Rd, Downtown Dubai, Dubai |
| Hours | 10:00 AM – 11:00 PM (Sunday to Wednesday) and 10:00 AM – 12:00 AM (Thursday to Saturday) |
| Contact | +97143882025 |
| Must try | Red velvet cake |
| Map | Get direction |
| Website | The Hummingbird Bakery |
The Hummingbird Bakery is a London-based bakery chain that specializes in American-style desserts.
Since its founding in 2004, it has opened seven branches in London and four in Dubai. Also, they have published recipe books such as The Hummingbird Bakery Cookbook and Cake Days.
Hummingbird's signature is the Red Velvet cake and sweets with "Monthly specials." Also, they offer desserts like cupcakes, brownies, pies, tray bakes, and whoopie pies.
Known for its indulgent desserts and sweet treats, the restaurant is the go-to destination for sweet cravers.
11.

Shree Gangour Sweets and Restaurant: Affordable dessert in Dubai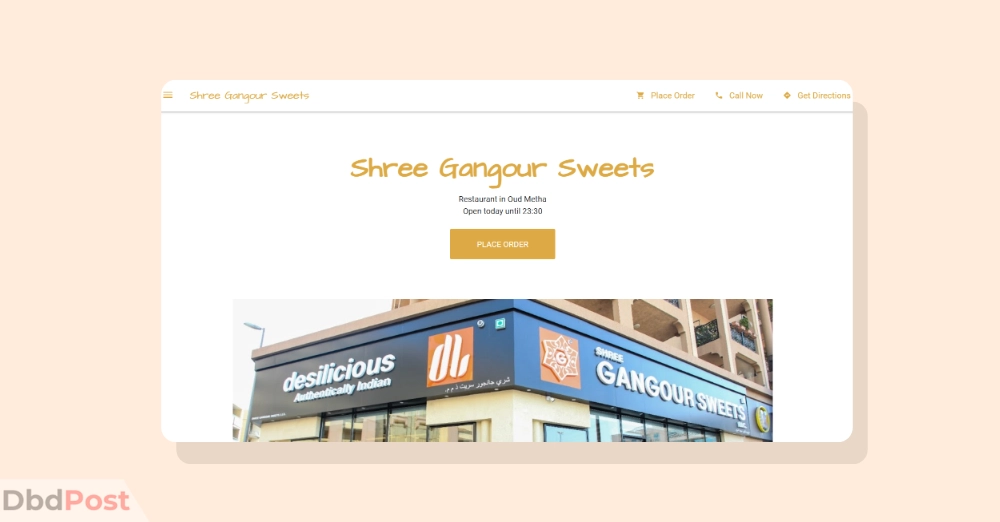 Shree Gangour Sweets in Dubai is a popular Indian sweet shop with a range of authentic sweets.
Their menu boasts popular Indian sweets like jalebi Rabri, Mishti doi, Bengali sweets, and Ras malai. The restaurant also provides catering and packing services for up to 300 people.
With clean and quick service, the restaurant is wheelchair-friendly and provides parking facilities. In addition, Shree Gangour also has event specials like Diwali sweets.
It is a perfect place for families looking to indulge in authentic Indian desserts and enjoy a sweet experience.
What do people in Dubai love eating for desserts?
Desserts bring people together and create a feeling of togetherness. The sweet meal to end your feast can also provide comfort and enjoyment to everyone.
People in Dubai have a diverse range of dessert preferences. Popular desserts include traditional Arabic sweets such as Baklava, Kunafa, and Halva. Also, some international favorites are Vanilla ice cream, cupcakes, and cheesecake.
Also, Indian and Pakistani desserts like Gulab Jamun and Ras Malai are popular in Dubai. The market for desserts in Dubai is estimated to be worth around 26 billion AED and is growing in the coming years. [1]Statista, "UAE confectionery, … Continue reading
Related Stories
---
FAQs
Where to eat the best desserts in Dubai?
The Cheesecake Factory and Ladurée are two recommended places to enjoy the best desserts in Dubai. Both offer a variety of sweet treats that are sure to satisfy any sweet tooth.
What are the famous dessert options in Dubai?
There are many famous dessert options in Dubai, ranging from traditional to international favorites. Some most in-demand recipes are Cheesecake, Baklava, chocolate ice cream, etc.
What is the average price of dessert in Dubai?
In Dubai, the average price of cupcakes and pastries is around 20 AED. However, cakes typically cost between 150 to 200 AED with extras for delivery.
Final thoughts
Dubai offers a wide range of dessert options that cater to different tastes and preferences. From traditional Arabic sweets to Western-style cakes and pastries, there is something for everyone.
With our Dbd guide on the best desserts in Dubai, you'll be able to discover new flavors and indulge in sweet treats.
So, go ahead and explore the best dessert places in Dubai and experience the joy of sugary goodness.