Dubai is home to many vegan-friendly restaurants, catering to the increasing demand for plant-based options. For a quick snack or a dining experience, the vegan restaurants in Dubai are sure to satisfy you.
Dubai offers various vegan options, ranging from upscale dining to casual eateries. Vegan options include a variety of international cuisines such as sushi, pizza, burgers, and other vegan fast food. Some notable top vegan restaurants in Dubai include Just Vegan, Vibe Cafe, and Wild & The Moon.
Our Dbd guide offers an informative and comprehensive overview of some of the top vegan eateries in Dubai. We also researched, visited, and evaluated various vegan diners in the city.
We considered factors such as food quality, atmosphere, pricing, service, and location. Additionally, we looked into reputed online blogs and customer reviews online for genuine feedback.
11 best Vegan restaurants in Dubai
The vegan lifestyle is gaining popularity worldwide, and Dubai is no exception.
Whether you're a long-time vegan or just looking to try something new, the Emirate has something for everyone.
1.

Just Vegan Jumeriah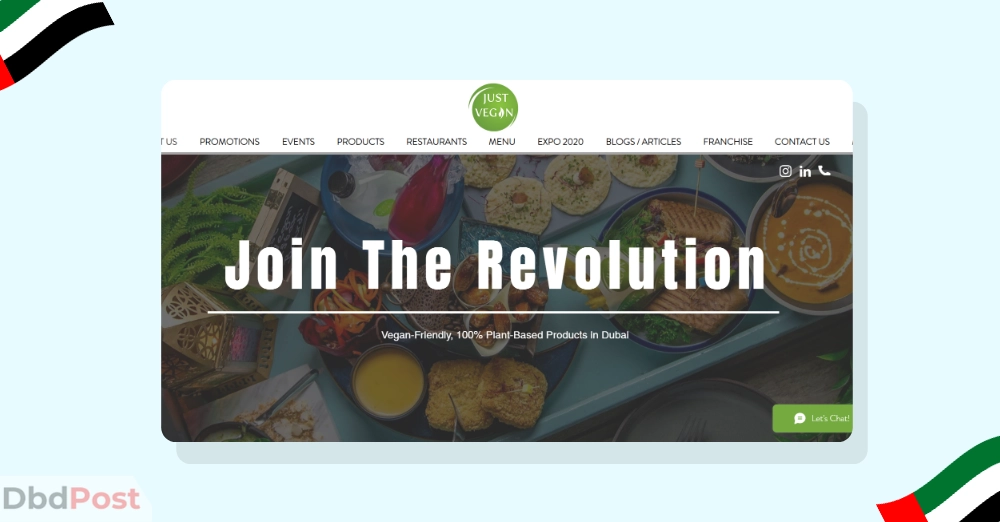 If you're looking for a 100% vegan dining experience in Dubai, look no further than Just Vegan. This plant-based café has some fantastic dishes, like the 'Just Breathe Benedict', to start your day with a plant-based alternative.
You'll also love the 'Pink Pitaya Pancakes,' topped with generous amounts of coconut cream and berry compote. Their sweet potato fries can never go wrong.
Just Vegan is one of the most talked about vegan restaurants around. They were awarded 2022 Best Plant-Based Restaurant by the Deliveroo Restaurant Awards and 2022 Best Sustainable Restaurant by the Lux Awards.
Their culinary offerings didn't appear overnight, though. They started back in 2017 in the US, expanding to more countries over time.
2.

Vibe Café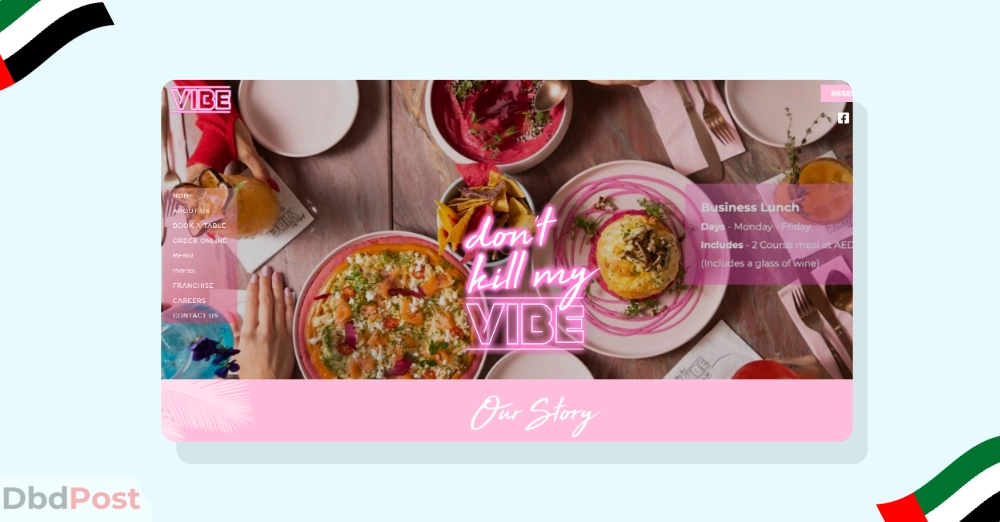 | | |
| --- | --- |
| Location | Lamar Building, Unit #30, Al Wasl Rd, Dubai |
| Hours | Everyday (9:00 AM – 10:00 PM) |
| Contact | +9718008423 |
| Average cost | 170 AED for two people |
| Map | Get direction |
| Website | Vibe Café |
Vibe Cafe, owned by Noora Salem, offers a unique dining experience inspired by her world travels.
The menu features dishes that focus on mindful and healthy eating, such as the I'm Bennedicted to You, Is sal-mon excited, and Nut'in in my bowl.
Vibe has a vibrant and funky atmosphere, perfect for socializing with friends or enjoying a nutritious meal. The bright fluorescent ambiance makes it an excellent spot for capturing Instagram-worthy moments.
Whether looking for a Sunday brunch or a Friday night hangout, Vibe Cafe is a must-visit spot in Dubai.
3.

Wabi Sabi Restaurant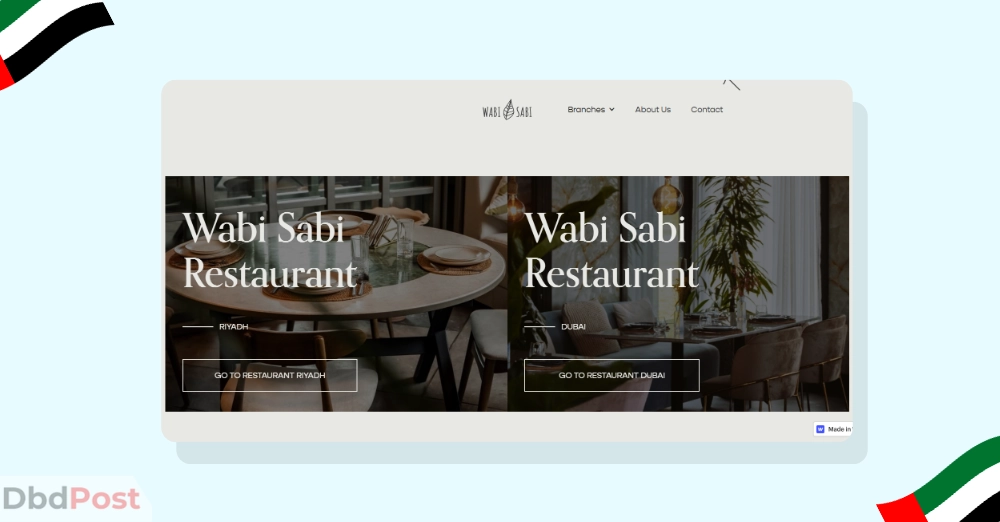 Wabi Sabi, established in Saudi Arabia as the first vegan restaurant in the Kingdom, now operates in Dubai.
The restaurant offers a high-end casual dining experience featuring fresh ingredients and creative casual cuisine with outstanding cocktails.
The menu has various options, including unique pizza, pasta, burger, and salad combinations, with almond milk in their cheese.
Some must-try dishes include the Feta & Apple Panini Sandwich and Kubbah Bil Laban, considered the pinnacle of vegan cuisine.
Wabi's atmosphere is relaxed and welcoming, and the food is always freshly made. Wabi Sabi will meet your expectations for a satisfying vegan dining experience.
4.

MyGovinda's Restaurant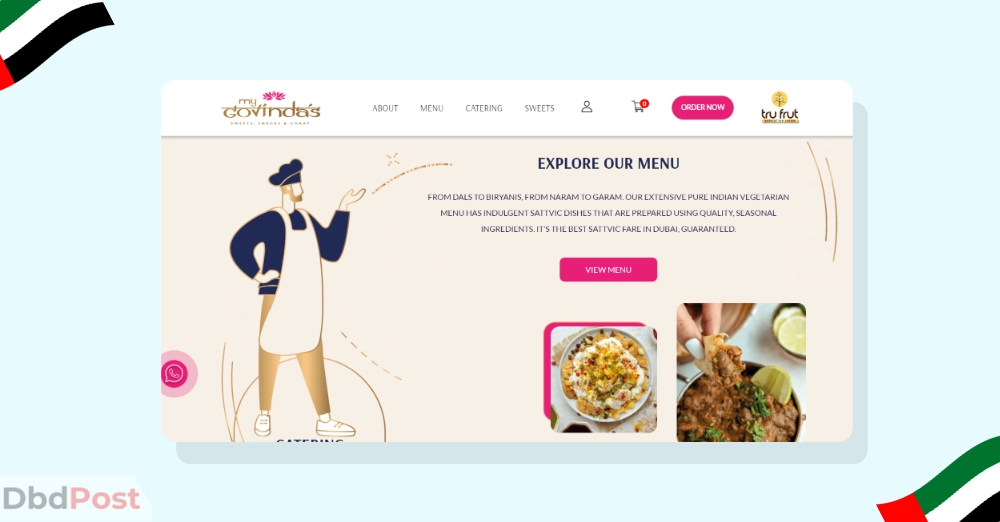 MyGovinda's Restaurant, located in Dubai, has been a staple in the community for over 20 years. They offer various Indian Sattvic diet cuisine, including delicious vegan and vegetarian options.
The menu features dishes such as vada pav, idli sambar, masala dosa, and Tomato Uttapam. The dishes are made with fresh, seasonal ingredients and cooked with minimal oil.
The restaurant prides itself on not using preservatives, ensuring that every meal is healthy for the body and mind.
The relaxed atmosphere adds to the overall dining experience and a established as one of prominent pure vegetarian restaurants in Dubai.
5.

Wild & The Moon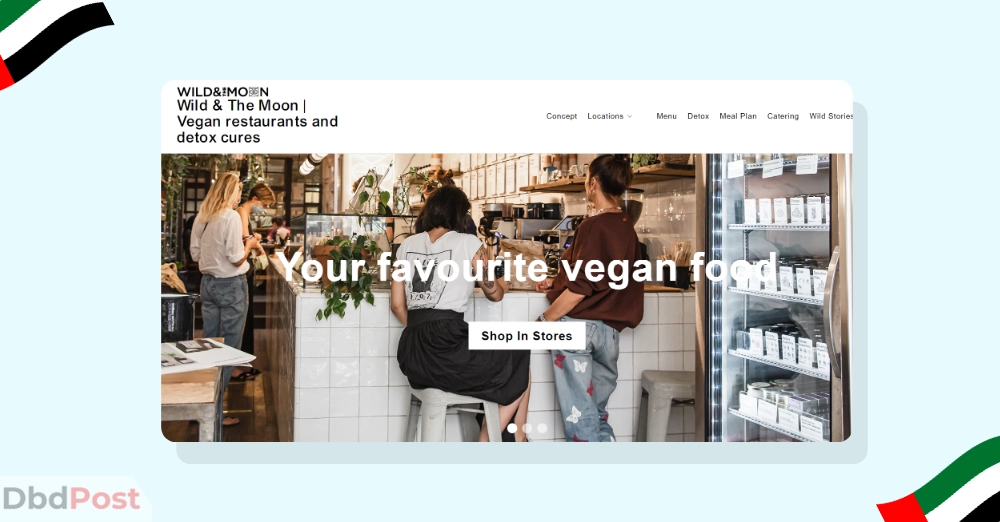 Wild & the Moon is an excellent choice for those seeking healthy and wholesome plant-based meals.
The menu is free of additives, chemicals, soy, and gluten, offering a variety of options such as salads, sandwiches, and all-day breakfasts.
The desserts, in particular, are noteworthy, with highlights including doughnuts, choco chip cookies, and banana bread.
Wild & the Moon should be your top destination if you are looking for vegan protein bites.
6.

Soul Sante Cafe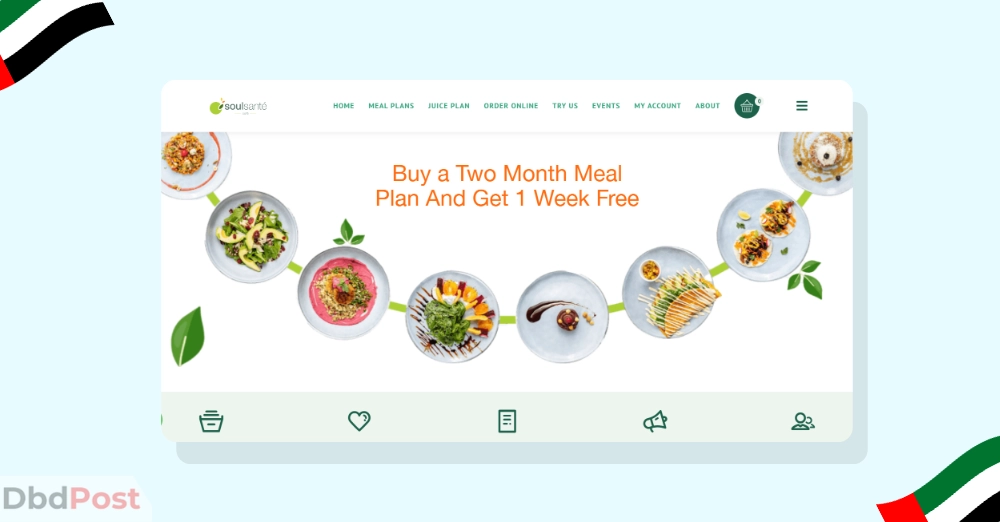 At Soul Santé, you'll find all the plant-based basics done well. From shroom sliders to breakfast burritos, there's plenty to choose from.
If diving into a fully vegan lifestyle interest you, then look no further. A dietician is available for session bookings to make the transition seamless for your specific meal plans.
But if you're just after a quick bite, give their best sellers a try: quesadilla, Acai bowl, carrot cake, special vanilla butter cake, and gardenia pizza.
There's something delicious in store at Soul Santé, no matter what you crave.
7.

SEVA Table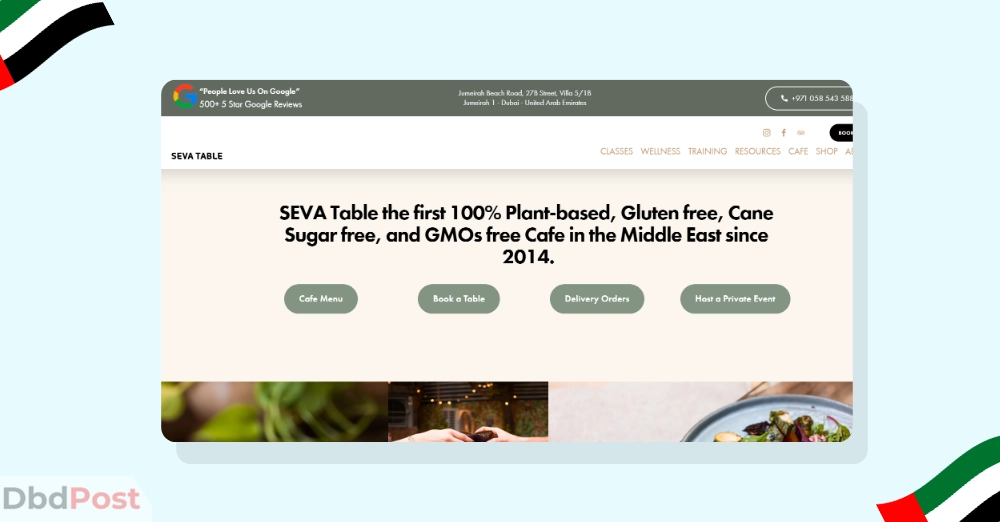 Enjoy your delicious greens in a green setting at SEVA Table. You'll surely have a tasty and healthy meal with seasonal, ethically sourced ingredients and no GMOs or MSG.
While you're there, you can explore the array of wellness classes and treatments available.
And if you are looking for plant-based, gluten-free, and cane sugar-free foods with plenty of flavors, they have you covered.
Chunky Monkey Pancakes with Lucuma, Acai Bowl with Vanilla, Guacamole, and Hummus are popular menu options. Even better, you can also host your private event at the restaurant.
8.

Green Earth Cafe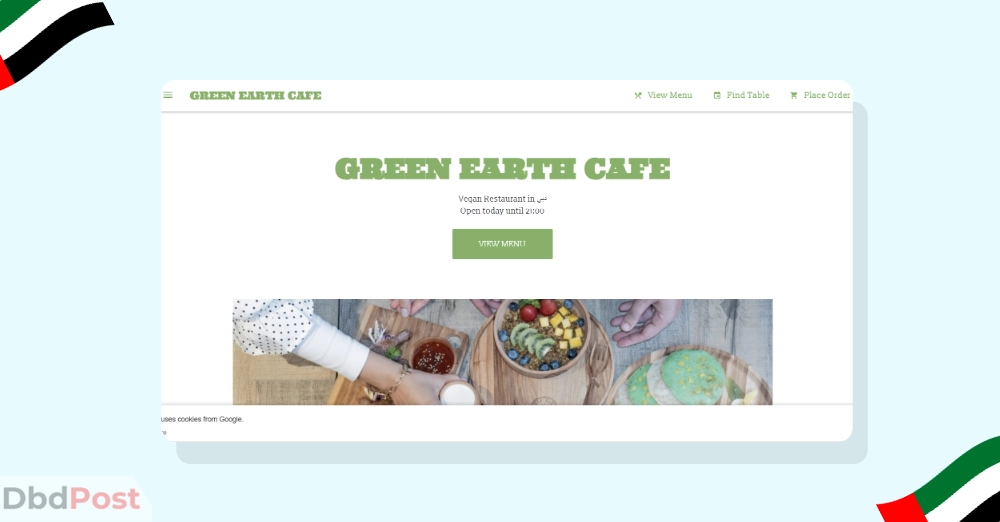 | | |
| --- | --- |
| Location | Wasl 51 Mall, Al Wasl Rd, Dubai |
| Hours | 9:00 AM – 9:00 PM (Sunday to Thursday), 10:00 AM – 10:00 PM (Friday and Saturday) |
| Contact | +971567108707 |
| Average cost | 145 AED for two people |
| Map | Get direction |
| Website | Green Earth Cafe |
Green Earth Cafe is great for enjoying some delicious vegan Asian cuisine. The food is 100 percent vegan, sugar-free, peanut-free, and gluten-free.
There is a wide range of dishes on offer, including sushi, noodle bowls, salads, rice dishes, vegan breakfast items, boba tea, and sweets.
Green Earth has both outdoor and indoor seating to enjoy your delicious food with a view or in an intimate setting.
Also, the staff are friendly and provide excellent service, so you can relax and enjoy your meal.
9.

Planet Terra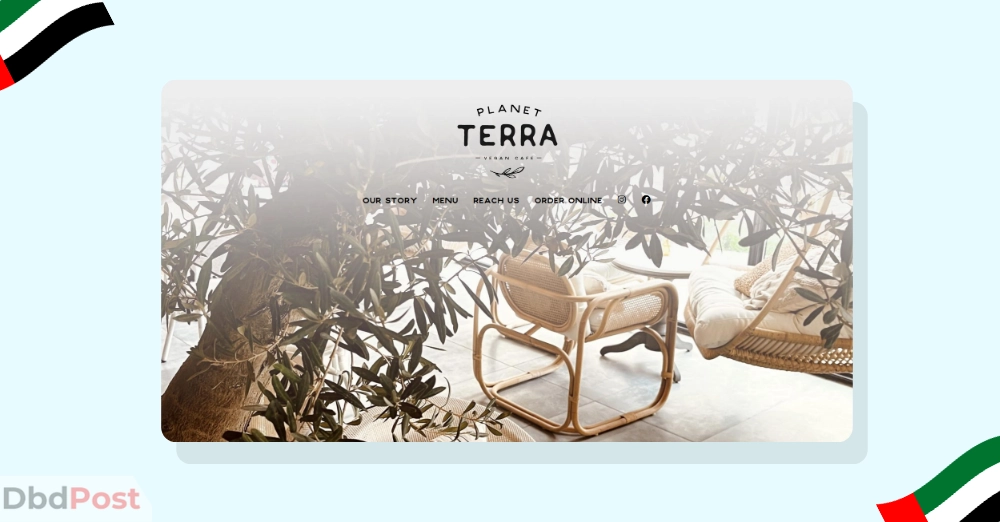 Planet Terra brings unique flavors from around the world to Dubai.
The menu of this earth-friendly neighborhood café includes delicious meals like veggie burgers, shawarmas, and 'fish'-and-chips, which are 100% organic and vegan.
All of their foods are free from artificial sweeteners and made in-house. All of their ingredients are locally sourced and produced using ethical suppliers.
And to top it off, all of Planet Terra's products are non-GMO with no added refined sugar. Come over for a mindful and healthy dinner at Planet Terra.
10.

Little Erth by NABZ&G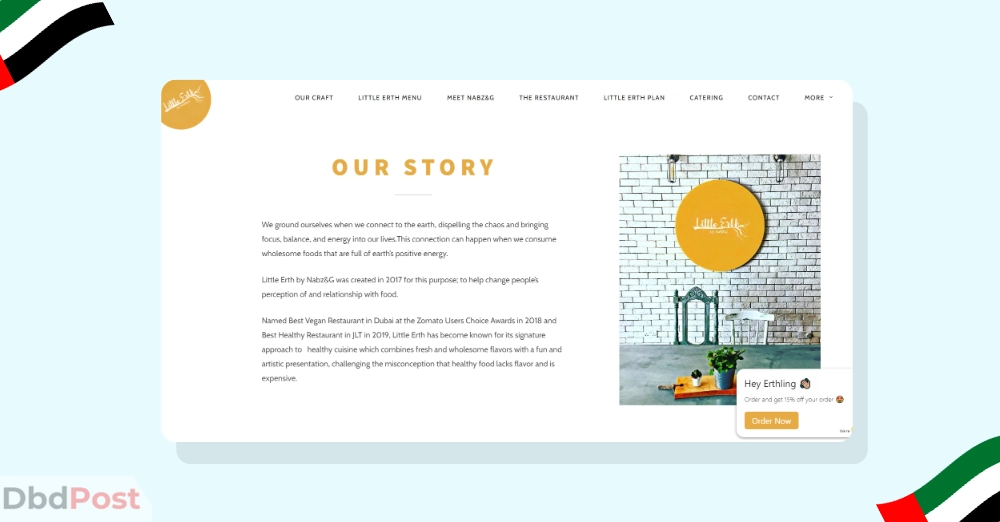 Little Erth is renowned for serving delicious vegan food with colorful hues, interesting textures, and incredible flavors.
They were also awarded the Best Vegan Restaurant in Dubai at the Zomato Users Choice Awards 2018 and Best Healthy Restaurant in JLT 2019.
Their specialty includes the Buddha Burger, Vegan Mac n Cheese, and Vegan Shawarma. These dishes are made with fresh ingredients and no preservatives to create a healthy eating experience.
In addition, they also offer catering services for your private events. This vegan cafe in Dubai is a must-visit for a premium plant-based eating experience in a minimalistic atmosphere.
11.

Bounty Beets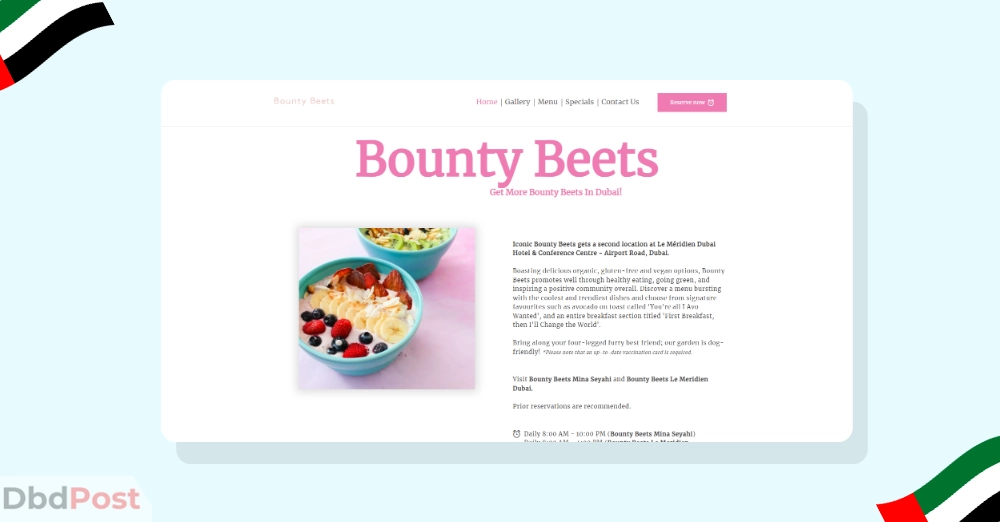 Bounty Beets has an array of organic, gluten-free, and vegan dishes. From plant-based scrambles to choco pancakes, your taste buds will be delighted.
And don't forget about the stylish al fresco setting with beautiful palm trees that create a perfect atmosphere for hanging out.
Going Bananas, Drive Me Nuts, and Bravocado are just some of their specials you can try. Pair them with their excellent drinks and cocktails menu to have the best Bounty Beets experience.
Veganism in Dubai
Dubai is seeing a growing trend of veganism among its residents and visitors, as more and more people choose to adopt a plant-based diet for reasons including health, environmental concerns, and animal welfare. [1]Khaleej Times, "Going Vegan, https://www.khaleejtimes.com/lifestyle/going-vegan-all-you-need-to-know-about-becoming-one-in-uae#:~:text=Veganism%20is%20not,in%20the%20UAE."
The city offers a wide range of vegan options, from restaurants and cafes specializing in vegan food to supermarkets stocking a variety of vegan products.
AMany well-known international fast-food chains, such as Subway, McDonald's, and KFC, also offer vegan options on their menus.
In addition to the many vegan-friendly dining options, the city also hosts several vegan events and festivals, such as the Dubai Vegan Festival. The festival showcases a wide variety of vegan products and services. [2]Forbes, "Middle East's first vegan festival, … Continue reading
There are many restaurants with vegan options in Dubai. As the number of vegans in the UAE continues to rise, we will likely see even more vegan-friendly options in Dubai in the future.
How much does a Vegan meal cost in restaurants in Dubai?
The cost of a vegan meal in restaurants in Dubai varies on restaurant type and location. Generally, vegan food at casual dining restaurants tends to be less expensive than at fine dining establishments.
A vegan wrap or salad at a casual restaurant may cost around 25 AED, while a multi-course option at a fine dining restaurant may cost upwards of 100 AED.
The cost of vegan meals can also vary based on location. Restaurants in tourist areas, such as Dubai Mall or the Burj Khalifa, have higher prices than those in less touristy areas.
Additionally, restaurants in luxury hotels also have higher prices than independent establishments.
It's worth noting that vegan foods are widely available in Dubai, and there are many affordable options to choose from. Some vegan and veg restaurants offer buffet-style meals that are often very affordable and delicious.
You can also find good deals or discounts on vegan meals at certain times of the day or week.
Related Stories
---
FAQs
What are some of the most popular vegan dishes in Dubai?
Some popular vegan dishes in Dubai include vegan sushi, burgers, pizzas, and pasta.
Popular Arabic dishes like Falafel, hummus, tabbouleh, Shawarma, and Kofta can also be made vegan. Vegan food is even popular among many meat eaters.
Are vegan restaurants expensive in Dubai?
No, not all vegan restaurants in Dubai are expensive. Some high-end vegan restaurants may be on the pricey side, but casual and affordable vegan eateries are also available.
It's possible to find a wide range of prices for vegan food in Dubai.
How do I know if a restaurant is vegan-friendly?
Many vegan-friendly restaurants in Dubai will have "vegan" or "plant-based" options marked on their menu.
Some restaurants also have a dedicated vegan menu. It's also possible to ask the server or staff if the restaurant has vegan options.
What do vegan restaurants serve in Dubai?
Vegan Restaurants in Dubai typically serve various plant-based dishes, such as salads, sandwiches, wraps, bowls, pasta, pizzas, and burgers. Dessert options such as cakes, ice cream, and smoothies are also often available. 
Fresh juices are also available in many healthy vegan restaurants. The diners also offer a variety of cuisines such as Middle Eastern, European, Asian, Indian, and Italian.
Final thoughts
All in all, the demand for vegan food in Dubai is constantly growing. With its many vegan-friendly restaurants, events, and products, the Emirate is becoming an increasingly popular destination for vegans.
We hope our Dbd guide helped you make an informed choice in finding the best vegan restaurants in Dubai.
We hope you have a good dining experience in one of the many top vegan food places in Dubai.


Imran Hassan is an experienced Travel Specialist for UAE and the Middle East. He is based in Dubai and specializes in creating unique itineraries to ensure his customers have the best possible experience during their stay. From selecting the right hotel to recommending must-see attractions, Imran's expertise ensures that all vacations are unforgettable.