Enjoy authentic and flavorful Filipino dishes at some of the best Filipino restaurant in Dubai. The Emirates offers luxurious high-end eateries and also affordable restaurants.
Dubai boasts some of the best Filipino dishes in the world, with plenty of options available throughout the Emirate. From traditional family recipes to creative takes on familiar flavors, you're up for an experience. Some of the most famous Philippines restaurants in Dubai are Max's Restaurant, Dampa Seafood Grill, etc.
To prepare this guide, our team conducted extensive research alongside personal visits to every restaurant. We also factored in customer reviews and advice from travelers and locals regarding the food, atmosphere, cost, and more.
11 best Filipino restaurant in Dubai
Dubai has a fantastic food culture, and Filipino food is at the heart of it. Whether you are looking for crispy fried chicken, Kare-Kare, or Sinisang the island has something for everyone.
1.

Max's Restaurant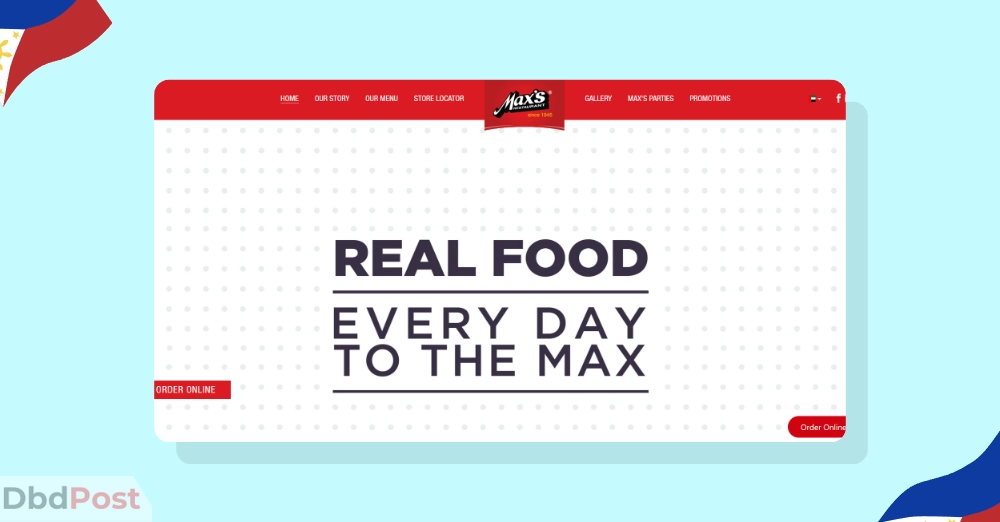 Max's Restaurant is a long-standing establishment, beginning in 1945, just after World War II. Known for its signature dish, Max's Fried Chicken, which is tender and juicy on the inside and crispy and crunchy on the outside, the restaurant has expanded globally.
Their chain has 170 restaurants across the Philippines, North America, Canada, and the Middle East.
Max's menu comprises classic Filipino dishes such as Tinolang Manok, seasonal specials, and their famous Max's Fried Chicken.
Recognized by the What's On Award as Favorite Pan-Asian cuisine, it's no surprise that Max's has become a go-to spot for Filipino cuisine in Dubai.
2.

La Mesa Restaurant & Cafe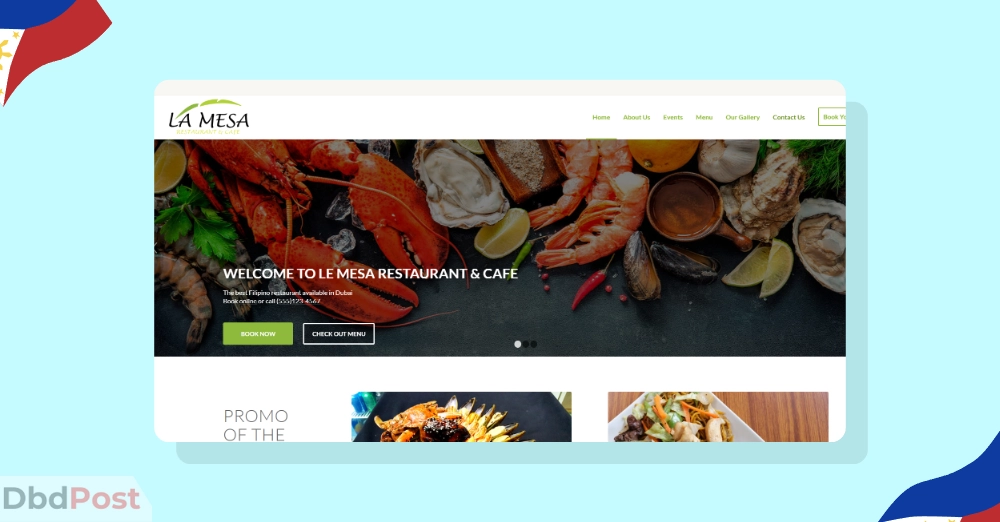 La Mesa is a top destination for authentic Filipino cuisine. The restaurant uses only fresh, natural ingredients in its dishes, ensuring a unique and genuine taste.
Start your day with a delicious Japsilog or Hotsilog and other classic breakfast options. Seafood lovers can indulge in the fresh seafood boodle options.
Popular dishes such as Tinolang Manok and Pinakbet are also available. And for special events, La Mesa offers party packages to make your celebration even more special.
3.

Pancake House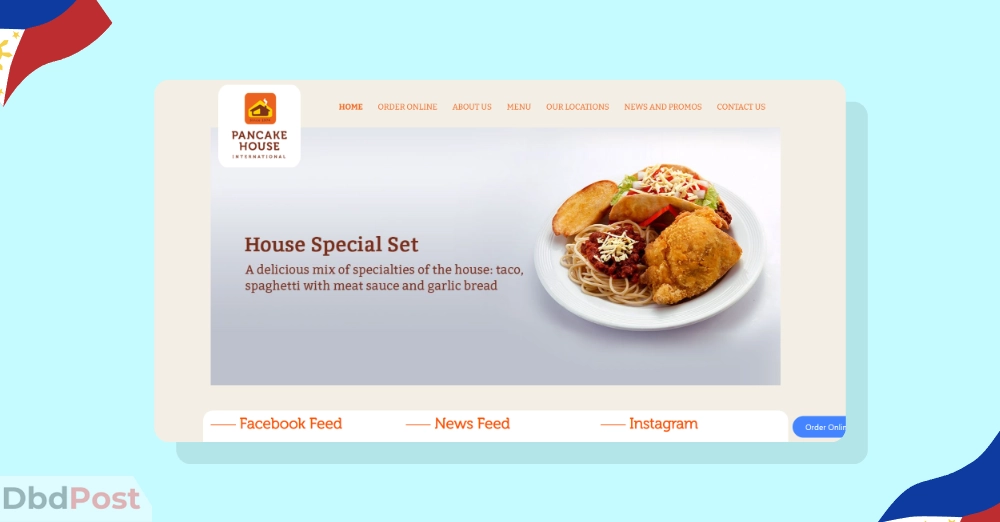 Pancake House, started in Magallanes, Philippines in the 1970s, is now a well-known chain with over 100 franchises across the Philippines and around the world.
As the name suggests, Pancake House specializes in pancakes, not just ordinary ones. They offer a wide variety of pancakes, including their famous banana pancake and the unique peach waffle.
For Filipino food lovers, Pancake House also offers traditional dishes such as Tokwat Baka, Chicken Sisig, Beef Sisig, Beef Bulalo, and Beef Caldereta.
They also have fusion items like Roast beef waffles and fire noodle cheese Pancake that are among their best sellers.
4.

Dampa Seafood Grill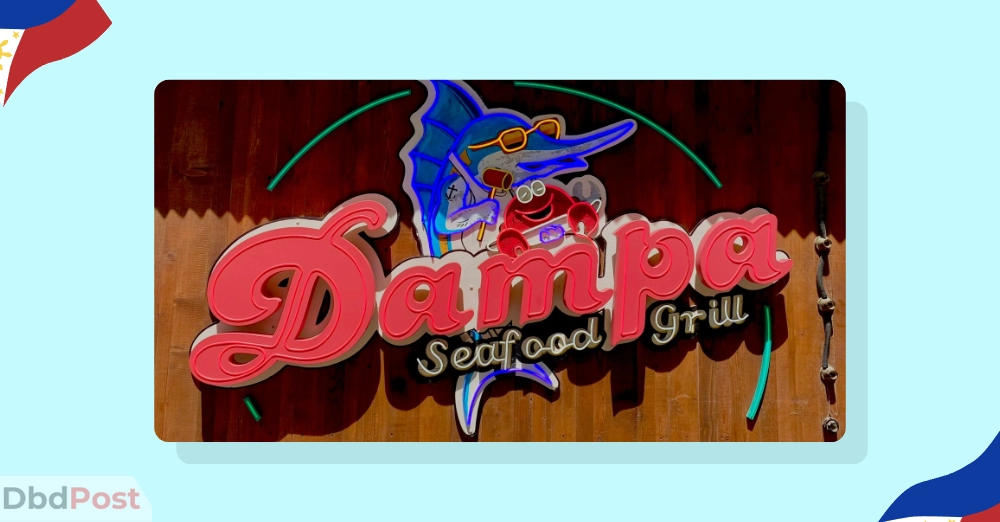 Dampa Seafood Grill is a budget-friendly option for Filipino seafood enthusiasts looking for delicious food.
This restaurant offers a variety of tasty Filipino dishes, including their signature 'seafood dump' dish, which will satisfy any seafood lover.
The menu offers a wide range of fish dishes, including stuffed squid, baked mussels, and various options that can be cooked to your liking, such as fried, steamed, or grilled.
The restaurant's lively atmosphere adds to the overall appeal of Dampa Seafood Grill, and it's no surprise that it's such a popular choice among seafood lovers.
Its delicious food and bustling atmosphere make it the perfect spot for a casual Filipino meal.
5.

Kitakits Kafe & Klubb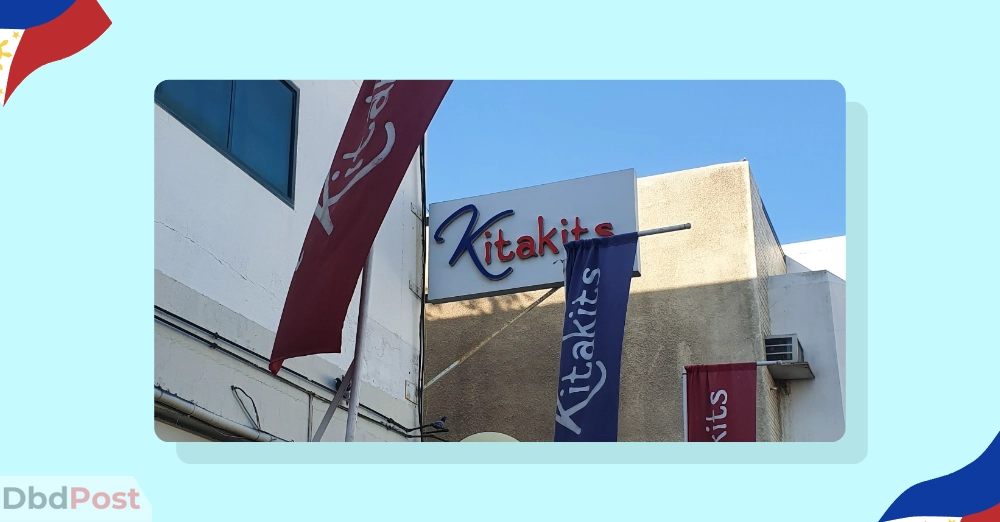 Kitakits Kafe & Klubb is a fantastic Filipino club in Dubai that offers an experience not to be missed.
With its outstanding live music performances by the resident band "Fenzy" and DJ Ken, you can enjoy the best of Filipino and other Pan-Asian flavors.
The menu is diverse and delicious, featuring a mix of Filipino cuisines and other Pan-Asian flavors, like grilled specialties and especially tasty food combos.
Drinks are also available to enhance your night. If you're looking for an awesome night out, Kita kits Kafe & Klubb is the place to go.
6.

Halo Halo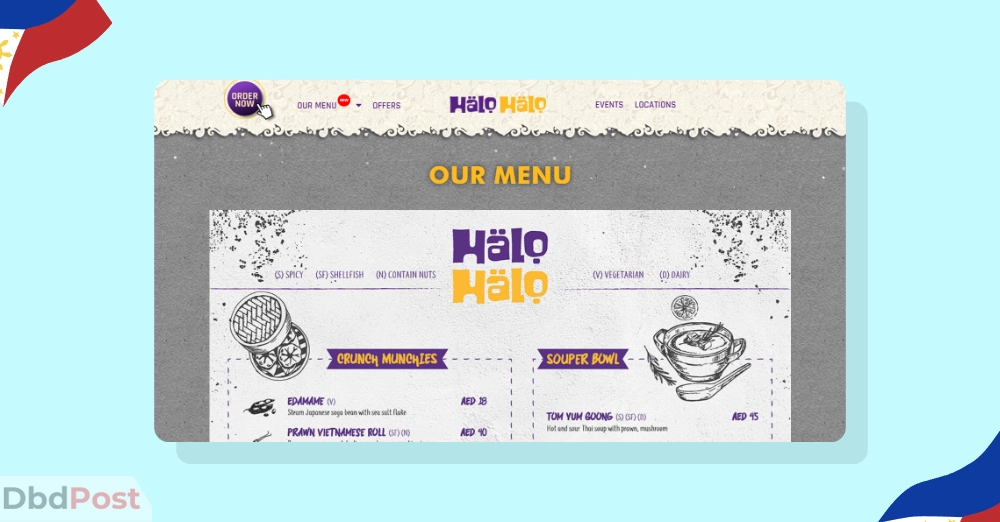 Halo Halo is a restaurant that offers a fusion of flavors from various Asian cultures, including the Philippines, India, Thailand, and more.
It's the perfect spot for culinary adventure, with a menu combining different flavors from around the continent.
You'll find Filipino favorites like Lechon manok and beef sinigang, Indian dishes like Butter Chicken, Vietnamese Pho, Chinese Dim sum, and many other delicious options.
At Halo Halo, you can expect a unique and exciting culinary experience with a mix of sweet, salty, and sour flavors. It's a great place to try something new and taste diverse Asian cuisine.
7.

Cuisinerong Pinoy Restaurant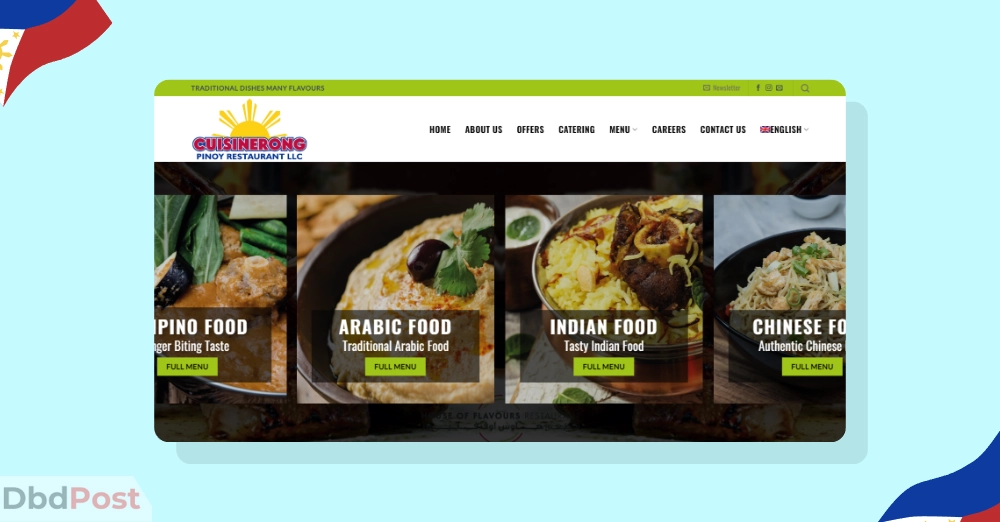 Cuisinerong Pinoy Restaurant is the place to go if you're looking for delicious, fresh Pinoy food at affordable prices and a comfortable atmosphere.
All their dishes are prepared with natural and healthy ingredients and a traditional touch. Their Filipino food menu offers something for everyone.
Vegetarians can go for Gising Gising or Tortang Talong, while meat-eaters will love the Beef Kare Kare and Beef Tagalog. And their Chicken Tocino, marinated chicken in a sweet sauce, and Chicken BBQ are among their bestsellers.
If you're in the mood for seafood dishes, try the Sinigang Na Bangus or Sinigang Na Hapon. Whatever your preference, you're sure to find something at the best pinoy restaurant in Dubai.
8.

Hot Palayok Restaurant & Grill Dubai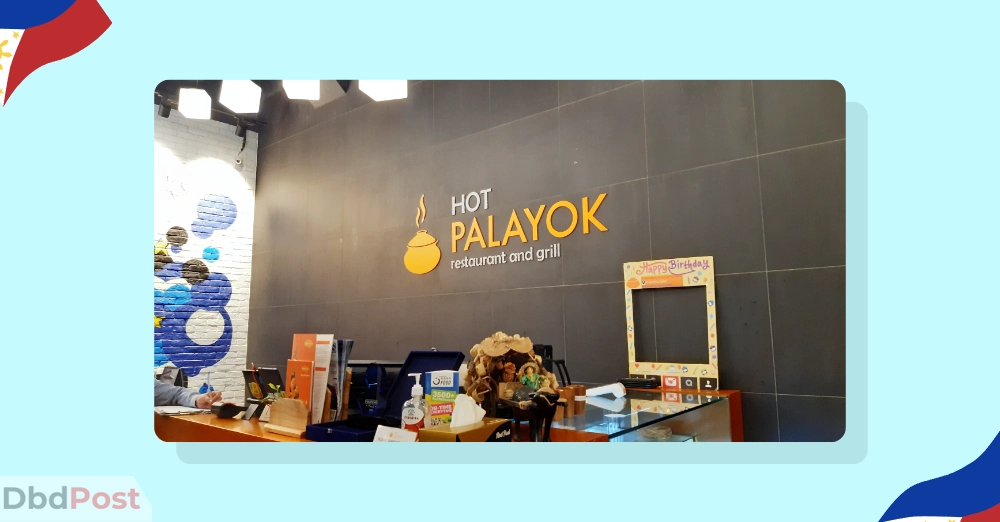 Hot Palayok Restaurant & Grill in Dubai is an excellent choice for celebrating special occasions or enjoying a delicious Filipino meal.
Customers will surely leave the restaurant satisfied with its skilled staff, top-notch service, and affordable prices.
The menu features a variety of dishes that are sure to please, such as kos, salads, and Kare Kare. The halo-halo, asida, and ice cream are must-tries for dessert. Don't forget to sample their iced tea as well, it's a real crowd-pleaser.
The restaurant's peaceful atmosphere and visually pleasing decor create a truly memorable dining experience.
Whether you're celebrating a special occasion or just looking for a delicious meal, Hot Palayok Restaurant & Grill is a perfect choice.
9.

Lamesa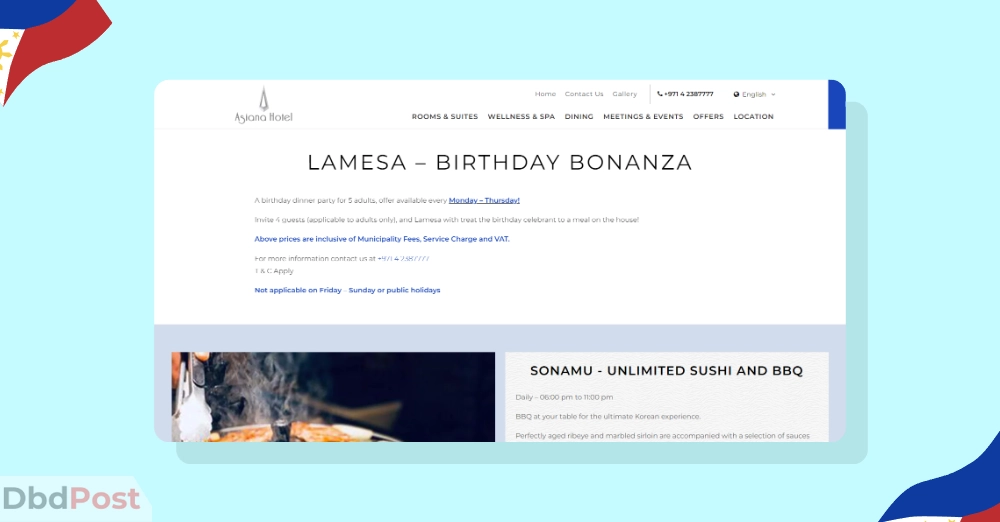 Lamesa offers an array of Asian dishes that satisfy any palate. You can start the Philippines buffet with classic dishes like Kare Kare and enjoy the high-quality meats available.
A bonus is the selection of pork specialties, like the ever-popular Lechon belly and crunchy pata. For dessert, sample their homemade treats for a perfect way to finish your meal.
As if delicious food isn't enough, Lamesa has delicious beer and good wine collection available as well.
The complete authentic experience makes Lamesa one of the top Filipino buffet restaurants in Dubai.
10.

Paluto Restaurant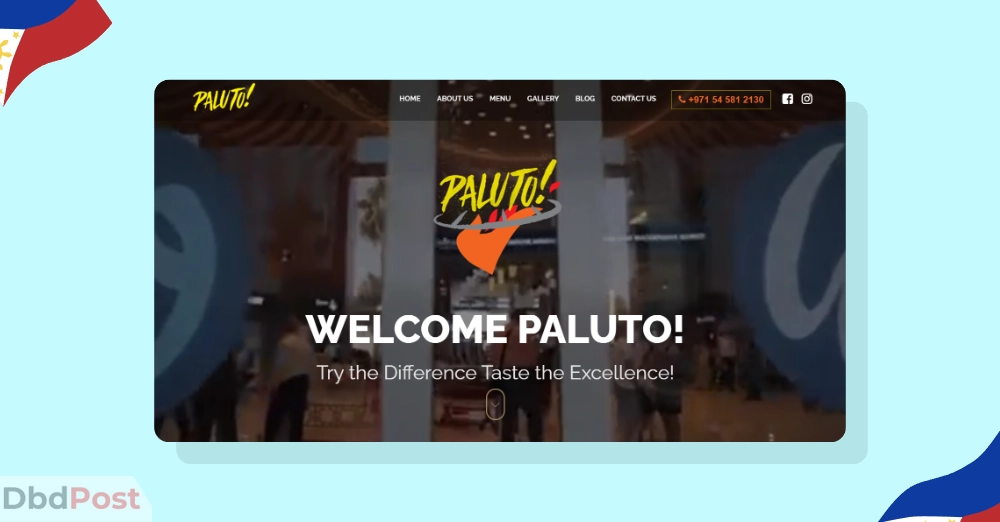 Paluto restaurant is a great place to enjoy a casual dining experience while taking in the beautiful waterfront views of the Marina.
One of its unique features is the "cook your catch" option, where customers can bring their fresh seafood to cook. In addition to this, they offer a wide range of dishes.
From Sinigang Na Hipon to Inasal chicken served with sticky rice, the menu will satisfy Filipino food cravings.
With its delicious food, waterfront views, and unique "cook your catch" option, Paluto offers a truly memorable dining experience.
11.

Jolliebee
Jollibee is a well-known Filipino restaurant chain in seven different locations throughout Dubai.
From the Dubai Mall to the Mall of Emirates and Ibn Battuta, Jollibee is hard to miss. Often known as a tasty alternative to KFC, Jollibee is famous for its crispy fried chicken.
However, the menu offers a variety of options like spaghetti, burgers with steak, strips, wraps, and rice bowls.
The restaurant also caters to families dining with children by providing special meals specifically for them. If you're looking for unique and delicious Filipino cuisine in Dubai, Jollibee is a must-visit.
What are some of the most popular dishes served at Filipino restaurants in Dubai?
Filipino restaurants in Dubai offer diverse dishes inspired by traditional Filipino recipes and flavors.
Some popular dishes include Adobo, Sinigang, Fried Chicken, and Kare-Kare.
Adobo is a savory meat dish, typically made with chicken or pork, cooked in a marinade of soy sauce, vinegar, garlic, and other spices.
Sinigang is a tangy soup that typically features meat, such as pork or shrimp, and vegetables, like tomatoes and okra.
Whereas, Kare-Kare is a hearty stew made with meat, such as beef or oxtail, and vegetables, like eggplant and bok choy.
With its delicious and culturally rich dishes, Filipino cuisine is becoming increasingly popular in Dubai.
How much does a Filipino meal cost in restaurants in Dubai?
The cost of a Filipino meal in restaurants in Dubai can vary, but on average, a basic meal consisting of a main dish and a side of rice costs around 20-70 Dirhams.
Prices also depend on the type of meat used in the dish, with seafood and premium cuts of meat generally costing more. Similarly, it can also vary depending on the restaurant's location and if it's a fine dining or casual dining place.
Generally, fine dining places are more expensive, but they also offer a wide variety of dishes and a great atmosphere. Filipino restaurants in Dubai offer a unique and exciting dining experience with a wide range of delicious options.
It's important to note that prices may also vary depending on the time of day and if there is any special promotion or discount.
Also, It's always a good idea to check the menu and prices before visiting a restaurant to get an idea of what to expect. Another great way of getting the most out of your budget is finding a eat all you can Filipino restaurants in Dubai.
Related Stories
---
FAQs
Final thoughts
With its variety of dishes, the people in Dubai consider Filipino food an excellent option. The Emirate has everything from upscale fine-dining restaurants to affordable traditional eateries.
When looking for the best Filipino restaurant in Dubai, you should consider their location, authenticity, prices, and atmosphere.
We hope our Dbd guide helps you find the best Philippines restaurants in Dubai.