Ibn Battuta metro station is a convenient option if you want a metro station located near a shopping center and a residential area. Likewise, Ibn Battuta Mall is within walking distance of the metro station.
The Ibn metro station is a remarkable transit station in Dubai situated between industrial zones and residential neighborhoods. It is located in fare zone 2 and is on the red line of the Dubai metro.
This Dbd guide provides information about the Ibn metro station, including metro timetables, the station location, and nearby attractions. Plus, we have also included the schematic map of the metro station for ease.
Overview of Ibn Battuta metro station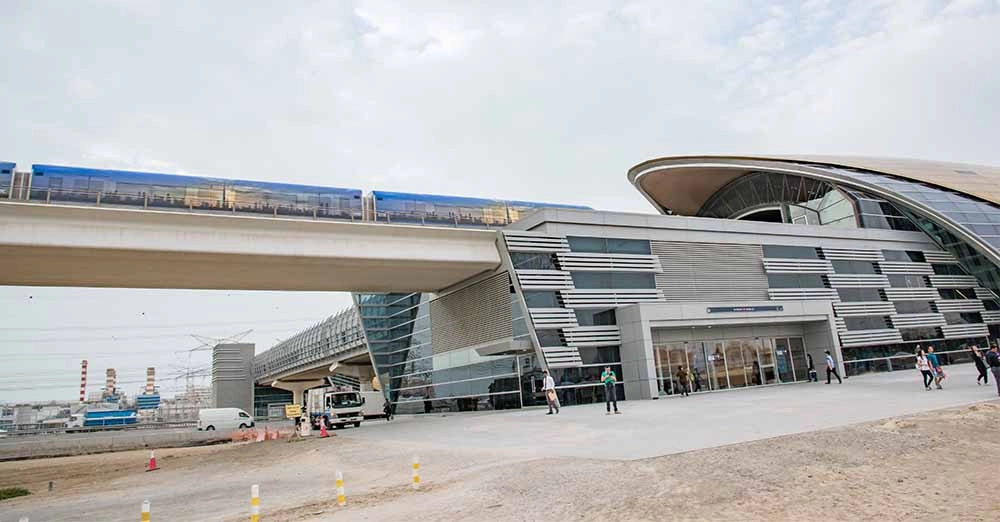 Ibn metro station first began operating on April 30, 2010. Since then, it has served travelers, locals living in The Gardens and Discovery gardens, and those who work in the industrial region nearby. Additionally, Ibn Battuta mall is conveniently located near this metro stop, making it a convenient stop for shoppers.
| | |
| --- | --- |
| Location | Sheikh Zayed Road, Dubai |
| Line | Red line |
| Station code | R39 |
| Fare zone | 2 |
| Preceding station | R39 |
| Following station | Jabal Ali metro station |
| Transfer station | No |
| Dubai Tram connection | No |
| Previous name | NA |
See also: Dubai Metro map: Everything you need to know
Location of Ibn Battuta metro station
Ibn battuta metro station is an important transit hub in the southern part of Dubai, located on Sheikh Zayed road and close to the ibn battuta mall and premier inn hotel. In addition, this station is a link between a metro line. It connects daily bus services within Dubai and other emirates, such as Abu Dhabi. Feeder buses also arrive at regular intervals outside the station to make it more convenient for commuters.
Location: Sheikh Zayed Road, Dubai
Ibn battuta metro station schematic map
A well-labeled metro station map will make travelers' lives much more convenient. The Ibn Battuta metro station map provides an essential roadmap for navigating the transportation infrastructure in Dubai.
The Ibn Battuta station is highlighted noticeably on this schematic map, and there are a few nearby stations. Here is the map: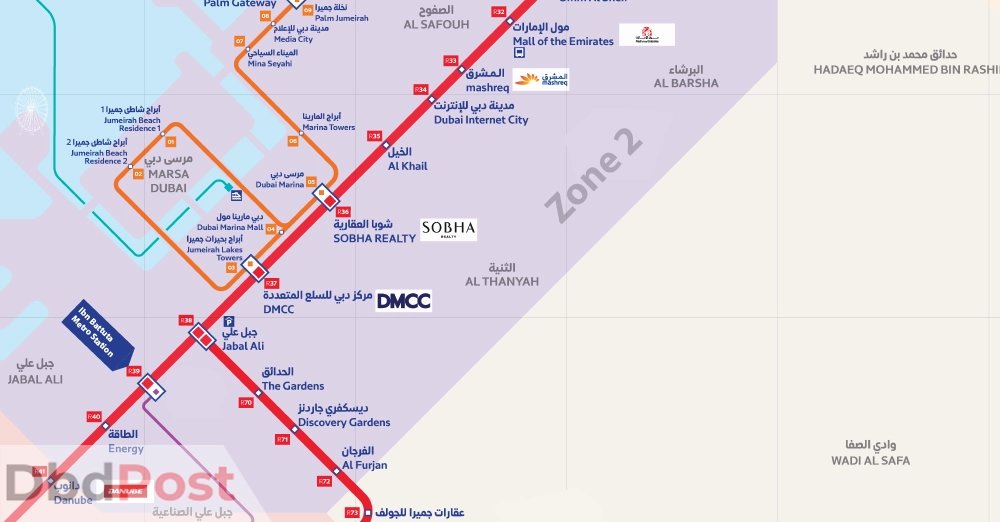 Ibn Battuta metro station timings
The Ibn Battuta metro station operates under the red line of Dubai's metro service. Generally, the timing of all metro stations on the red line remains constant. However, time may vary slightly for special occasions or events.
The exact timings of the first and last metro can differ, but these can easily be checked with the RTA Dubai app or S'hail app, which provides this specific information. Here is the detailed timetable for this metro station: [1] Government of Dubai, "Metro station opening hour, https://www.rta.ae/wps/portal/rta/ae/public-transport/timetable#DubaiMetro:~:text=Metro%20stations%20opening%20hours(for%20All%20lines)"
| Days | Time |
| --- | --- |
| Monday to Thursday | 05:00 AM – 12:00 AM (Midnight) |
| Friday | 05:00 AM – 01:00 AM (Next day) |
| Saturday | 05:00 AM – 12:00 AM (Midnight) |
| Sunday | 08:00 AM -12:00 AM (Midnight) |
Services and facilities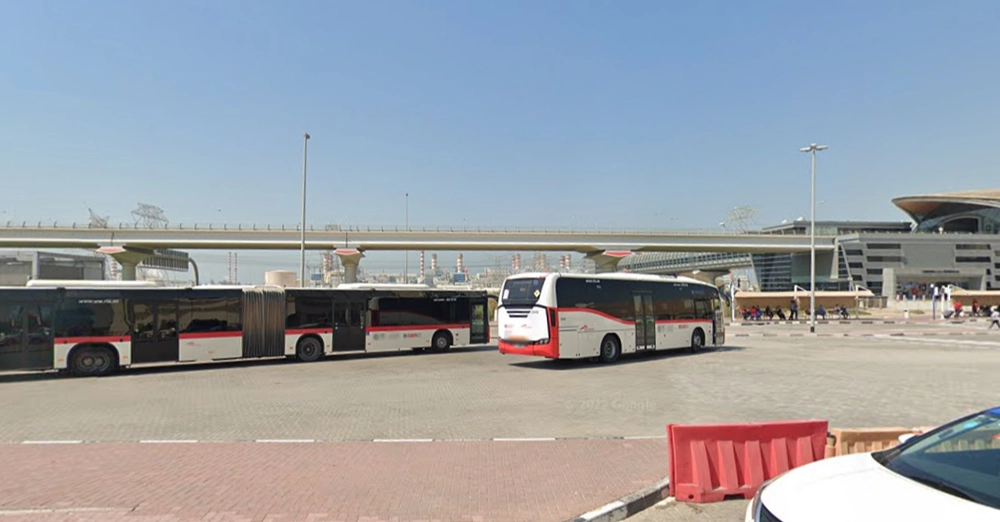 Ibn Battuta metro station provides several facilities to make travelers' journeys more enjoyable, safe, and convenient. These services allow travelers to have a smooth trip with a good experience.
The station offers a well-maintained atmosphere with free public Wi-Fi, well-furnished waiting areas, and clean washroom facilities. Plus, there are lifts and escalators for the convenience of travelers and people with special abilities.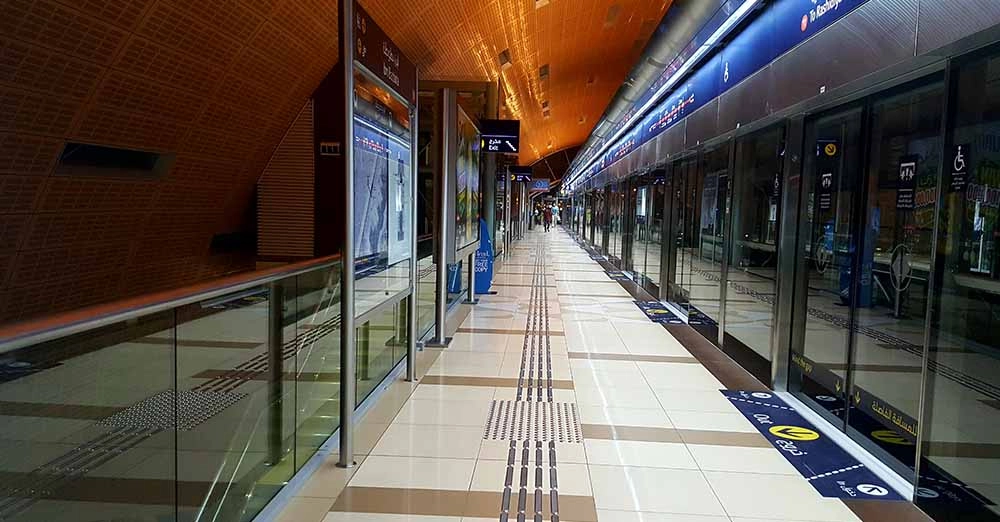 Additionally, ticket offices and information display systems make it easier for passengers to get information and navigate their journey. Passengers can also purchase and recharge nol cards in this station. Also, the staff in the station is always willing to help out customers, and they are happy to assist if needed.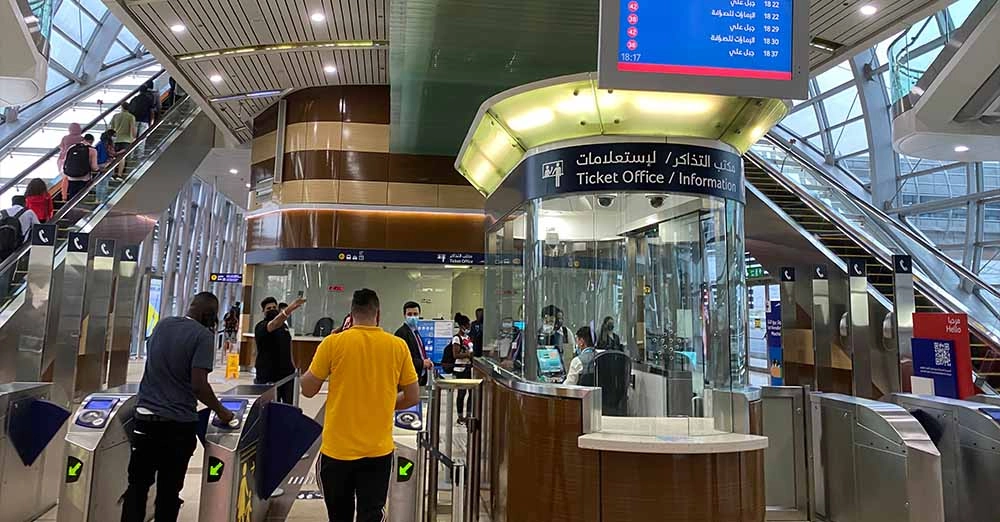 Attractions near Ibn Battuta metro station
Many attractions are around the Ibn Battuta station, from restaurants and cafes to the largest shopping mall in the area. There's something to keep everyone engaged. And if you are at the metro station, you can also visit the garden near the mall. It is a great place to spend some time outdoors.
Here are some places to visit near the metro station:
1.

Ibn battuta mall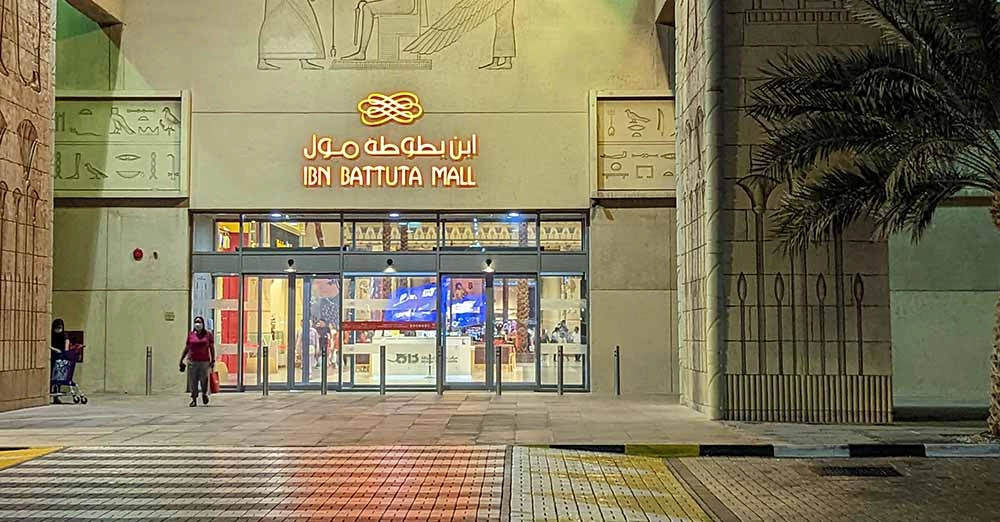 Location: Sheikh Zayed Rd, Jebel Ali Village, Dubai
Website: Ibn Battuta mall
Contact: +9718006254335
Map: Get direction
Ibn Battuta mall is the world's largest themed shopping mall, with its interior showcasing a mix of ancient and modern designs. It houses 500 outlets, cafes, restaurants, and entertainment outlets.
In addition to providing ample space for walking around, there are tons of activities to spend your time with. There are 7000 parking spaces in the multistorey parking lot. You can also find a cinema hall and a dining complex inside.
2.

Novo cinemas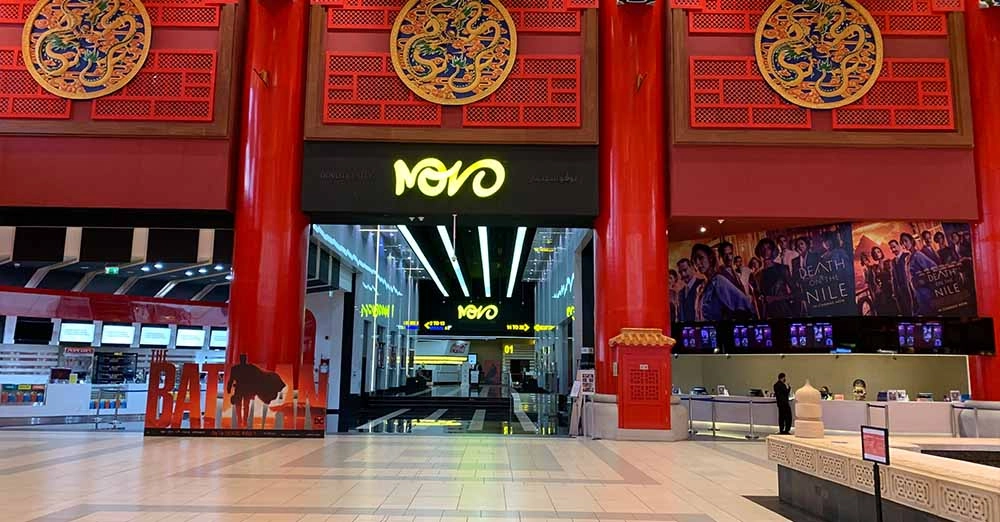 Location: Sheikh Zayed Road near China Court, Dubai
Website: Novo cimenas
Contact: +971600503328
Map: Get direction
Since its launch in 2014, Novo cinemas has quickly grown to be one of the largest cinema chains in the middle east. From a cozy small theatre to a buzzing cinematic experience hub, all of Novo's facilities are designed for excellence and entertainment. Guests can choose from 2D, 3D, IMAX with laser, MX4D, and even luxury 7-star VIP suites.
Additionally, for the little ones, Novo has Novo Kidz, a fun theatre environment where children can celebrate their birthdays surrounded by excitement. Originally established in UAE, Novo has extended its services to Qatar, Oman, and Bahrain with 224 screens across 18 locations.[2]NOVO Cinemas, "About Novo, https://uae.novocinemas.com/Page?pagename=About-us"
Related Info
---
FAQs
Which is the nearest tram station to the Ibn battuta metro station?
The nearest tram station to Ibn metro station is Jumeirah lakes towers tram station. It is around 5.7 km from this station which takes 7-9 minutes, depending on your route.
Which bus station is near the Ibn battuta metro station Dubai?
The bus station close to Ibn battuta station is Ibn battuta bus station and Jebel ali metro bus stops. These bus stations are within a minute of away from the metro station.
How do I get to the Ibn Battuta metro Dubai?
You can get there by the RTA bus service or the red line metro. You can also book a taxi to get to the station.
Which is the nearest metro station to the Ibn battuta metro station?
The Jabal Ali metro station and the Energy metro station are the two stations nearby the Ibn metro station. Also, the nearest tram line is in the DMCC metro station, following Jabal Ali station.
Which bus lines stop near Ibn Battuta station?
The bus lines near Ibn Battuta station are 8, F43, F44, N55, DPR1, F46, 95, and 95A. With these bus lines, there are always public vehicles nearby the station.
Final thoughts
If you find yourself in Dubai, you should travel to the Ibn Battuta metro station. Being close to Dubai's largest shopping mall, cinema, and other industrial areas, it is the perfect place to start a journey to and from while traveling.
In addition, the RTA bus services and the metro are both great options to arrive at the station. In addition, the various services make traveling smooth and hassle-free.


Arijit Negi is an expatriate living in Dubai for 18 years. He completed his degree in Master of Arts in Journalism from the University of Mumbai. Arijit focuses on providing helpful guides and information for ex-pats living in UAE and visitors to the UAE.