Experience some of the most authentic Thai food in the best Thai Restaurants in Dubai. With a diverse population and a love for international cuisine, it's no surprise that the city has plenty of options for those seeking a taste of Thailand.
Dubai is a paradise for those looking for delicious and authentic Thai cuisine. From the bustling streets of Chinatown to the upscale beachfront restaurants, there is a Thai cuisine in Dubai for every budget. Some of the best Thai restaurants in Dubai are Wok Boyz, Woks Den, Sukhothai, Charm Thai, The Royal Budha, Little Bangkok, and more.
To decide on the best Thai restaurants in Dubai, our team researched by reading reviews and visiting restaurants to try the food and assess the atmosphere, pricing, service, and location.
Based on these considerations, we created this Dbd guide of the top Thai restaurants in Dubai that offer a great dining experience overall.
11 best Thai restaurants in Dubai
Dubai is home to a wide range of Thai restaurants, each offering its unique cuisine. From traditional foods like tom yum soup and green curry to more modern fusion creations, Thai food is loved by everyone.
1.

Wok Boyz Asian Street Food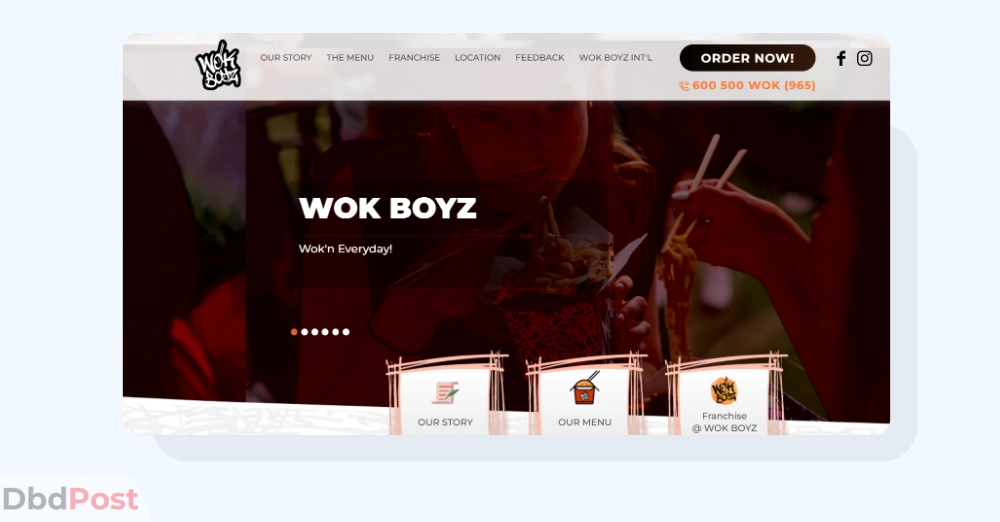 Wok Boyz brings the authentic flavors of the Far East to you. Not only do they serve classic Thai cuisine in Dubai, such as pad Thai, tom yum chicken soup, and fresh Thai coconut water, but they also offer customization options for their dishes.
When ordering, you can choose from different bases like brown rice, noodles, or beans and select from various vegetables and toppings to create your ideal meal.
In addition to Thai food, Wok Boyz serves a range of other Asian cuisines, such as Nasi Goreng and Hakka Noodles. The restaurant's atmosphere is lively and vibrant, with colorful graffiti murals and upbeat music playing in the background. Overall, Wok Boyz is a unique and enjoyable dining experience.
2.

Benjarong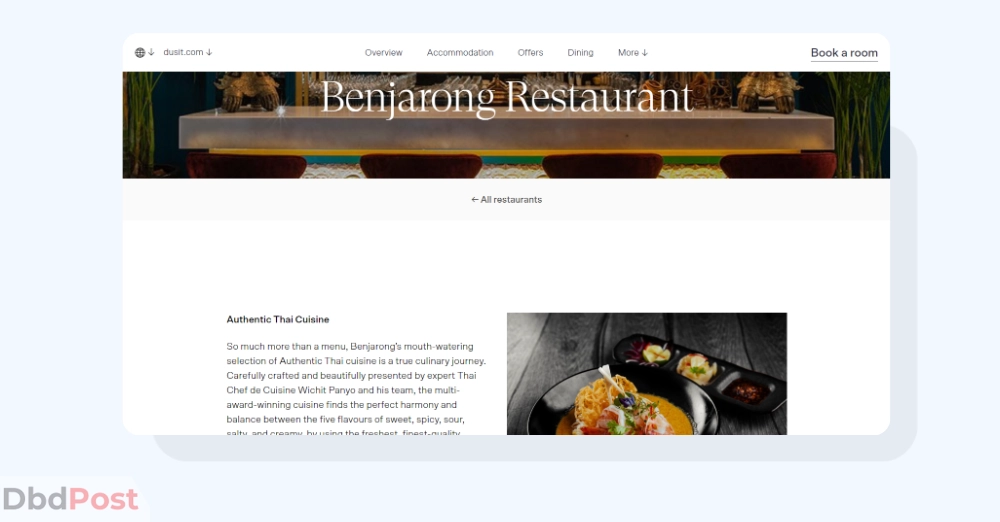 | | |
| --- | --- |
| Location | Dusit Thani Dubai, Sheikh Zayed Rd, Trade Centre, DIFC, Dubai |
| Hours | Sunday to Friday (12:00 PM – 3:00 PM & 7:00 PM- 11:30 PM), Saturday (12:30 PM – 4:00 PM) |
| Contact | +971549908007 |
| Average cost | 380 AED for 2 person |
| Map | Get direction |
| Website | Benjarong |
Benjarong is a restaurant that serves expertly crafted Thai cuisine in Dubai by Chef de Cuisine Wichit Panyo and his talented team. The menu features a range of appetizers, soups, and main courses that perfectly balance sweet, spicy, sour, salty, and creamy flavors. The ingredients used in each dish are fresh and of high quality.
In addition to the delicious food, Benjarong also boasts a stunning atmosphere with European motifs combined with intriguing Thai elements. The restaurant also offers breathtaking views of Dubai through its white frames. All in all, Benjarong offers diners an unforgettable experience.
3.

The Thai Kitchen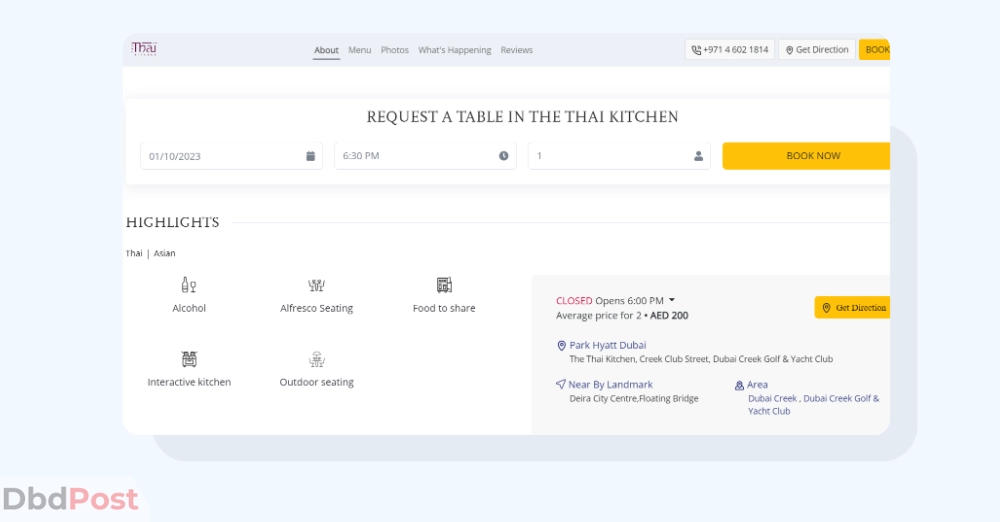 The Thai Kitchen is an award-winning restaurant that is a must-visit for anyone who loves authentic Thai food. The restaurant has been recognized with the Time Out Dubai Restaurant Awards 2020 – Highly Commended Best Thai award, and its decor is designed to transport diners to the streets of Thailand. [1]The Thai Kitchen, "Thai Kitchen Awards, … Continue reading
The menu features a variety of seafood options such as Goong Yang Grilled Tiger Prawn and Pad Cha Talay Stir-fry, as well as delicious soups like Tom Yum Goong Spicy Prawn Soup and Tom Kha Gai Chicken Coconut Soup.
Besides, vegetarians will also be pleased to find that there are vegetarian options available. To complete your authentic Thai dining experience, don't forget to try their I-Tim Kati Coconut Ice Cream for dessert.
4.

Sticky Rice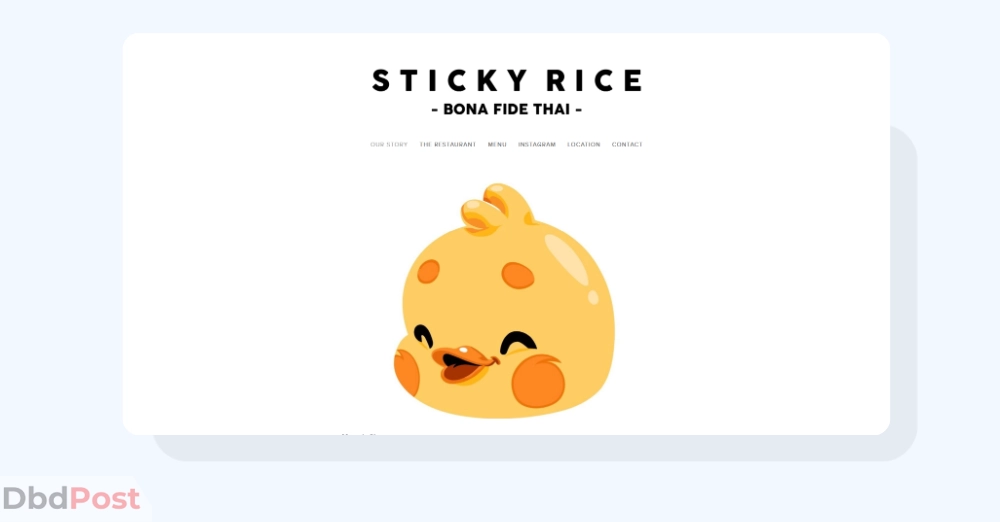 Sticky Rice is an authentic Thai family-run restaurant inspired by the owner's mother and her special recipes. Their entire kitchen staff comes from Thailand, so they know how to make the best traditional food. A cute mascot comes along with the restaurant, and it's a little duck called Kew.
You must try the Khao Mun Kai, Hainanese style Chicken, and rice, and wash it down with the chicken broth soup. There are also plenty of other Thai food options, such as Pad Thai, Tom Yum, etc. If you're vegan, don't worry; there are options for you too.
5.

Wox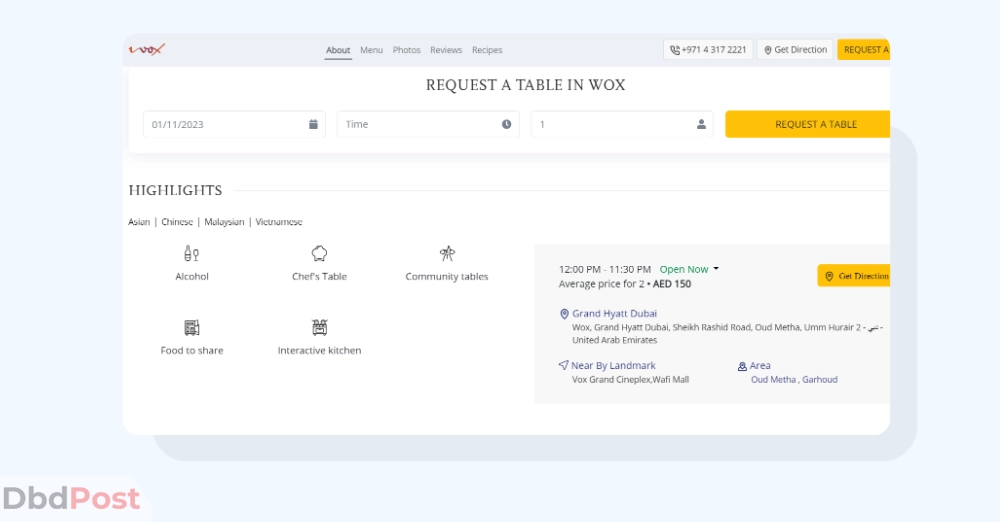 | | |
| --- | --- |
| Location | Grand Hyatt Dubai Convention Centre, Sheikh Rashid Rd, Umm Hurair 2, Dubai |
| Hours | Everyday (12:00 PM – 11:30 PM) |
| Contact | +97143172221 |
| Average cost | 255 AED for 2 person |
| Map | Get direction |
| Website | Wox |
Wox is one of the top-rated Pan Asian restaurants in the luxurious Grand Hyatt Dubai. It won TimeOut's award for Best Pan Asian Cuisine in 2015, and it has become increasingly popular ever since. [2] Wox, "Wox Awards, https://www.hyattrestaurants.com/en/dining/uae/dubai/asian-restaurant-in-garhoud-wox#:~:text=Lunch-,AWARDS,-TimeOut%20Award%20for"
Wox's open kitchen allows diners to watch chefs prepare their meals just centimeters away. Not only will your food be deliciously fresh, but you'll have a fun time watching it come together.
Moreover, their special Thai dishes include Tom Yam Kung soup, Thai Green Curry with steamed rice, and Pad Thai with shrimp. The restaurant also offers a variety of other Asian cuisines to enjoy.
6.

Little Bangkok
Little Bangkok serves authentic Thai dishes in Dubai, using traditional flavors such as chili, garlic, lemongrass, and lime.
They offer a variety of dishes, including curries, noodles, stir-fries, and dim sums, so there is something for everyone, regardless of whether you prefer spicy or savory flavors.
So whatever you're in the mood for, spicy Pad Thai or savory Som Tam, they have something to satisfy your cravings. With six outlets across the city, you can dine in or get your favorite Thai food delivered to your doorstep.
7.

The Royal Budha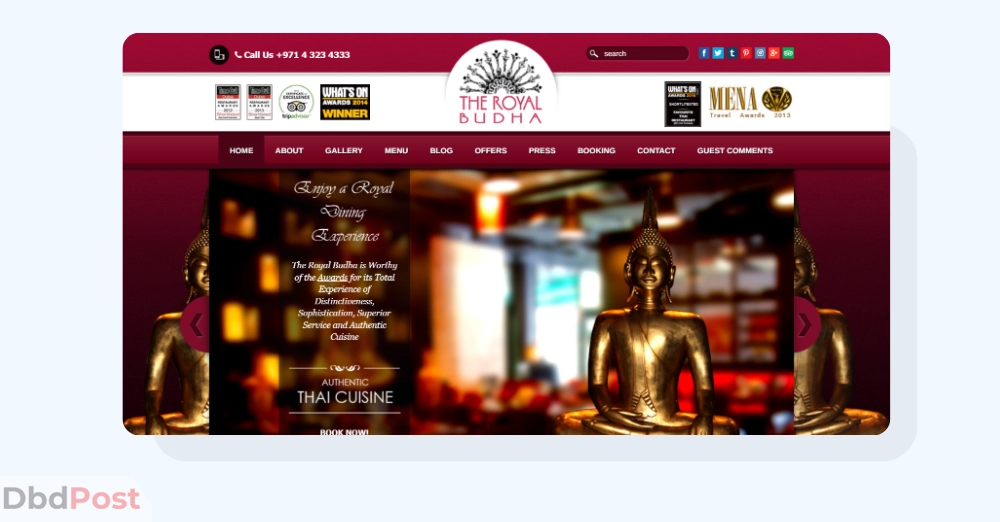 | | |
| --- | --- |
| Location | Holiday Inn Dubai, Sheikh Zayed Road, Al Barsha, Dubai |
| Hours | Monday to Friday (6:00 PM – 11:30 PM), Saturday to Sunday (12:00 PM – 12:00 AM) |
| Contact | +97147040801 |
| Average cost | 340 AED for 2 person |
| Map | Get direction |
| Website | The Royal Budha |
The Royal Budha in Dubai is an amazing fine-dining restaurant that brings out Thai cuisine's unique and authentic flavors. They use a variety of spices and citrus to maintain authenticity for their Thai dishes.
Their signature dishes include Goong, Kana Nuea Nam Man Hoy, and Kanum Tien. You can also find several offers at The Royal Budha, so keep an eye on their socials. With high-quality ingredients, creative recipes, and a welcoming atmosphere, you can't go wrong when dining at The Royal Budha.
8.

Woks Den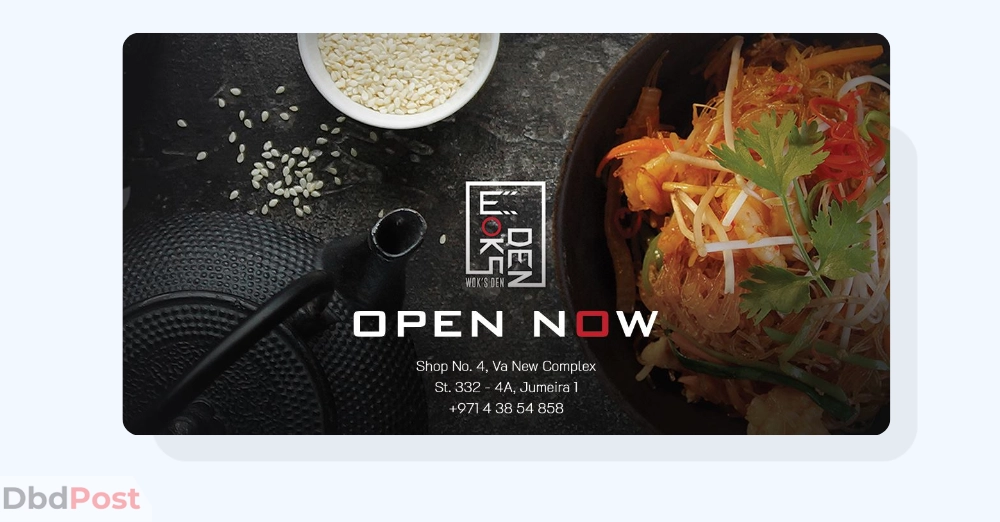 Woks Den is a casual Pan-Asian eatery serving best Thai in Dubai, with other cuisine like Asian, and Chinese food. Its cozy ambiance includes amazing dragon graffiti that will take your breath away.
Their specialty is that you can customize and make your box to get what you crave. Similarly, if you are vegan or vegetarian, there are Thai curry options like veg Thai red curry and veg Thai green curry.
Likewise, other popular Thai options are Pad Thai fried rice, Tom Yum, and Thai brunch. The best part of the restaurant is their food is free from MSG and preservatives, making it a healthy eating option.
9.

Sukhothai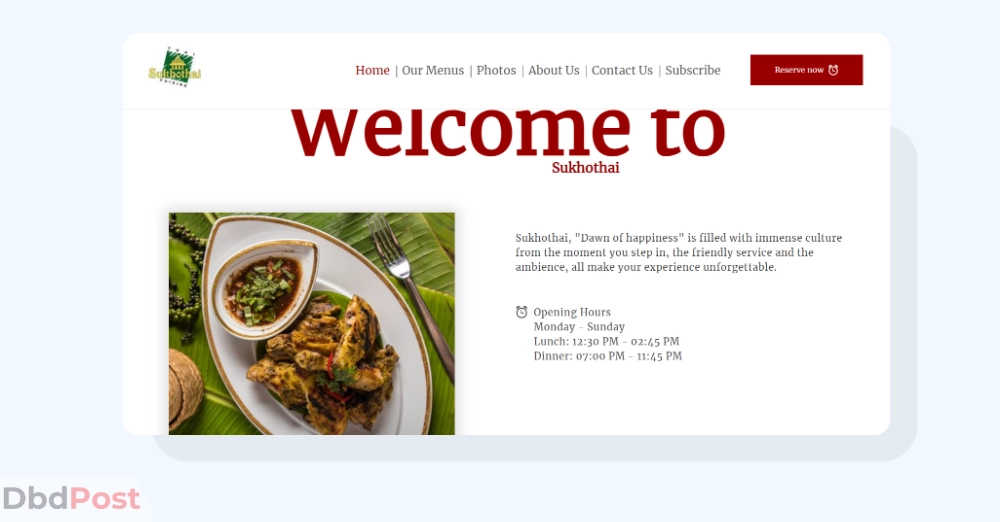 Sukhothai serves the best Thai food in Dubai, that transports you to an emperor's palace with its luxurious decor featuring hand-carved wooden pillars, plush chaise lounges, and orchids. They serve authentic Thai dishes, including curries, rice dishes, noodles, and Satay Gai. Likewise, they also have separate menus for vegetarians and drinks.
No matter what you choose to eat at Sukhothai, you can be sure that it will be a memorable dining experience that allows you to experience authentic Thai culture fully.
10.

Mango Tree Thai Bistro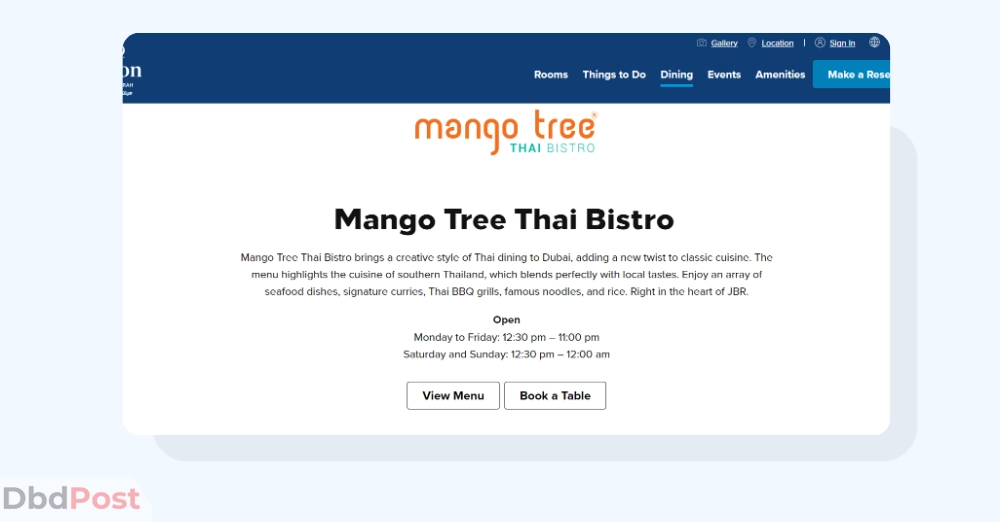 | | |
| --- | --- |
| Location | The Walk, Jumeirah Beach Residence, Dubai |
| Hours | Sunday to Thursday (12:30 PM – 10:30 PM), Friday (12:30 PM – 11:30 PM), Saturday (1:00 PM – 11:30 PM) |
| Contact | +97143747555 |
| Average cost | 280 AED for 2 person |
| Map | Get direction |
| Website | Mango Tree Thai Bistro |
Mango Tree Thai Bistro is an adventure in dining that brings authentic Thai cuisine to Dubai with a twist. The menu features classic dishes from south Thailand, like Fish Wrapped in Banana Leaf and Gai Yang combined with local flavors.
Try some of their signature curries or BBQ grills with noodles and rice. And if you're looking for something sweet, try their Thai Street Ice Cream, Pandan Cream Brulee, and Mango sticky rice.
However, the best part about the restaurant is the staff. The service is quick, and the chef visits your table and ensures you enjoy the food.
11.

Charm Thai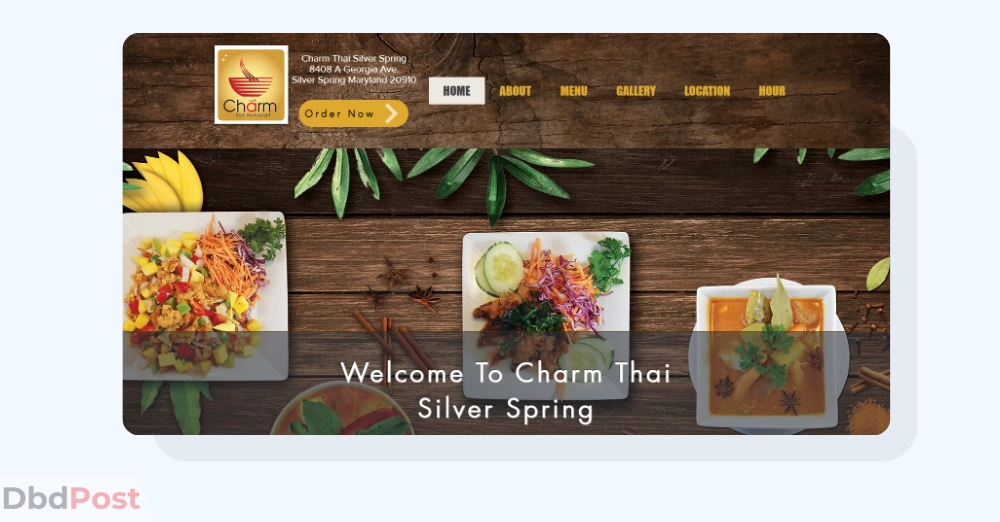 Charm Thai Dubai is a modern Thai restaurant that offers specialty dishes from Northern and Southern Thailand. The head chef's creative menu comprises both authentic and contemporary food, creating a fresh and different concept.
The restaurant offers special dishes such as Larb Gai, Panang Nue, and Gai Yang Charm Thai. Additionally, the live kitchen at the center provides a rich dining experience for you. Combining this with elegant decor and a lively ambiance, Charm Thai provides a holistic Thai experience.
How much does a Thai meal cost in restaurants in Dubai?
The cost of a Thai meal in Dubai can vary significantly, ranging from 30 to 200 Dirhams depending on the type of restaurant you visit. For a more budget-friendly option, you can try street food stalls which often serve a variety of Thai dishes at relatively affordable prices. However, the ambiance and service may not be as upscale as expensive restaurants.
Alternatively, mid-range and upscale Thai restaurants like The Thai Kitchen, Sukho Thai, and Pai Thai offer a more comprehensive range of dishes and a more upscale atmosphere. These restaurants typically charge anywhere from 50 to 200 Dirhams for a meal, with the exact cost depending on the dishes and any additional drinks or desserts you might want to add.
Ultimately, the price of a Thai dinner in Dubai will depend on your personal preferences and budget, with options available for those willing to pay more for a higher-quality dining experience and those looking for more affordable options.
What is the most popular Thai food in Dubai restaurants?
Thai food is increasingly becoming a popular staple among the residents of Dubai. Some of Dubai's most popular Thai foods include Tom Yum Goong, Pad Thai, and Green Curry. [3]Khaleej Times, "Experience Real Thailand in UAE, … Continue reading
The best Thai restaurants in Dubai offer a variety of popular dishes, such as Massaman Curry and Thai Red Curry, in addition to well-known options like Pad Thai and Tom Yum Goong. Thai food is a popular choice among diners in the Emirate, with several Thai buffet restaurants featuring a range of dishes, including spicy soups, curries, stir-fried noodles, and grilled meats.
Moreover, Thai cuisine uses fresh ingredients like lemongrass, chili, and coconut milk, contributing to its unique flavors. Whether you're looking for a casual street meal or a more upscale dining experience, there are plenty of great Thai food options in Dubai.
Related Info
---
FAQs
What are the best Thai food in Dubai?
The best Thai in Dubai are Pad Thai, Tom Yum soup, and Thai Green Curry. There are plenty of other options from many Thai restaurants in Dubai.
How do I know if a Thai restaurant is good?
An excellent Thai restaurant has an authentic menu, including multiple traditional Thai dishes. Similarly, they use fresh ingredients like lemon grass, chili, and coconut milk.
Is Pork available in Dubai Thai restaurants?
Yes, some Thai restaurants serve pork in Dubai. Establishments serving pork must obtain a Non-Halal food activity license from Dubai municipality. [4] Dubai Municipality, "Food related permits, https://www.dm.gov.ae/wp-content/uploads/2020/07/Food-Related-Permits-and-Approvals-Services.pdf"
What is the atmosphere like at Thailand restaurant in Dubai?
The atmosphere at the best Thai restaurants in Dubai can vary depending on the specific restaurant you visit. Some restaurants may have a more casual and laid-back atmosphere, while others may be more upscale and formal. You can expect a welcoming and friendly atmosphere at Thai restaurants in Dubai.
Final thoughts
Thai food is a popular choice among diners in Dubai, with a wide range of dishes available at restaurants throughout the city. From spicy soups and curries to stir-fried noodles and grilled meats, there is something for everyone.
We hope this Dbd guide helps you find the best Thai restaurants in Dubai. So next time you're craving some delicious and authentic Thai cuisine in Dubai, be sure to visit one of the many Thai restaurants in the city.