Iranian food is at the heart of Dubai's vibrant food culture. Experience some of the best Kebabs, Hummus, and Shawarmas at some of the best Iranian restaurant in Dubai.
Dubai is known for its diverse culinary scene, and Iranian cuisine is no exception. From traditional stews and rice dishes to skewers of marinated meats, Dubai offers a delicious taste of Iranian culture. Some of the top Iranian restaurants in Dubai are Iran Zamin, Al Ustad, Farsi Restaurant, and more.
Our team has done extensive research and taste testing to bring you the ultimate guide to the best Persian restaurant, Dubai.
We read online reviews, spoke with locals and visitors, and visited restaurants to evaluate the ambiance, cost, service, and location.
Our list of the best Iranian restaurants in Dubai is designed to provide you with a truly exceptional dining experience.
11 best Iranian restaurants in Dubai
Dubai offers a wide range of Persian restaurants with delicious and authentic dishes. The restaurants are a must-visit to indulge in Iran's rich and flavorful cuisine.
1.

Iran Zamin Restaurant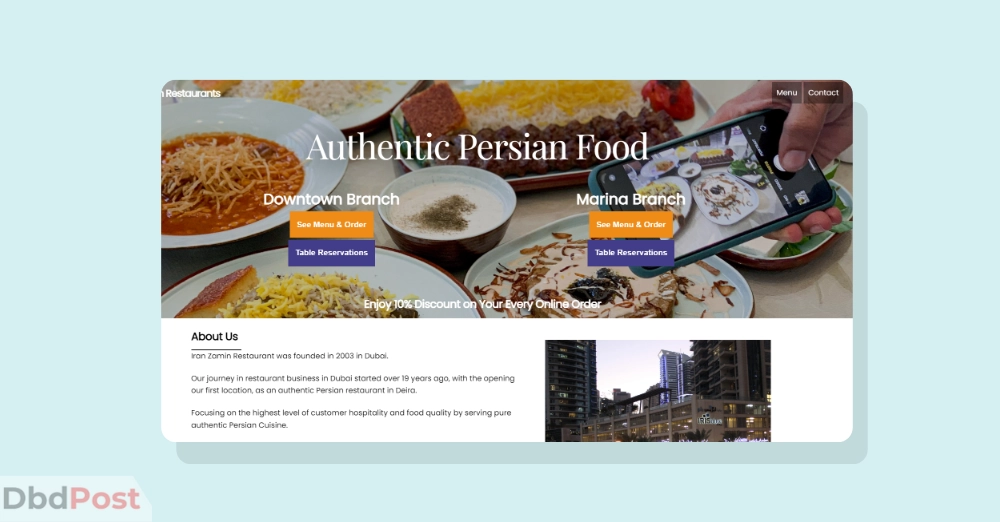 Iran Zamin Restaurant is an authentic Persian restaurant located in Dubai. It was founded in 2003 to provide family-friendly dining experiences with good quality service by its staff.
At Iran Zamin, you can sample some delicious Persian cuisine such as Kebab Ghafghazi, Mix Chicken Beef, and Dizi. It is advisable to reserve a table before your arrival to have a hassle-free food experience.
Hence, if you are looking for the best Iranian food in Dubai, this establishment is the perfect destination.
2.

Al Ustad Special Kebab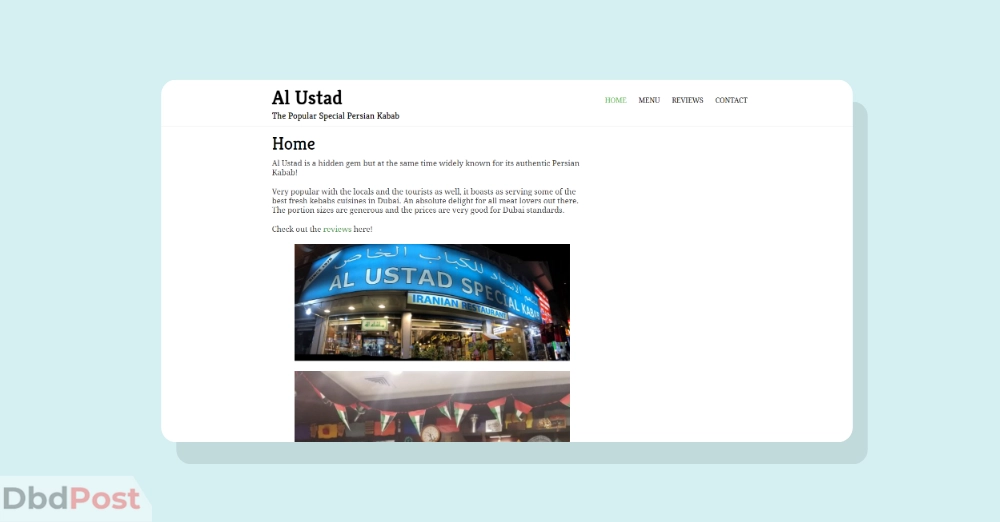 Al Ustad has got you covered if you have a craving for tender and flavorful Persian Kabab. This popular Dubai attraction offers some of the best fresh juicy kebabs in cuisine available.
They've got generous portion sizes that won't break the bank either; they've surprisingly affordable prices. Their menu features dishes like Cholo Khoresht, Cholo Mourgh, Kebab Khas, Cholo Kebab, and Hummus.
With the diverse flavors of authentic Persian food, Al Ustad is one of the best special Kabab Iranian restaurants in Dubai.
3.

Al Fareej Restaurant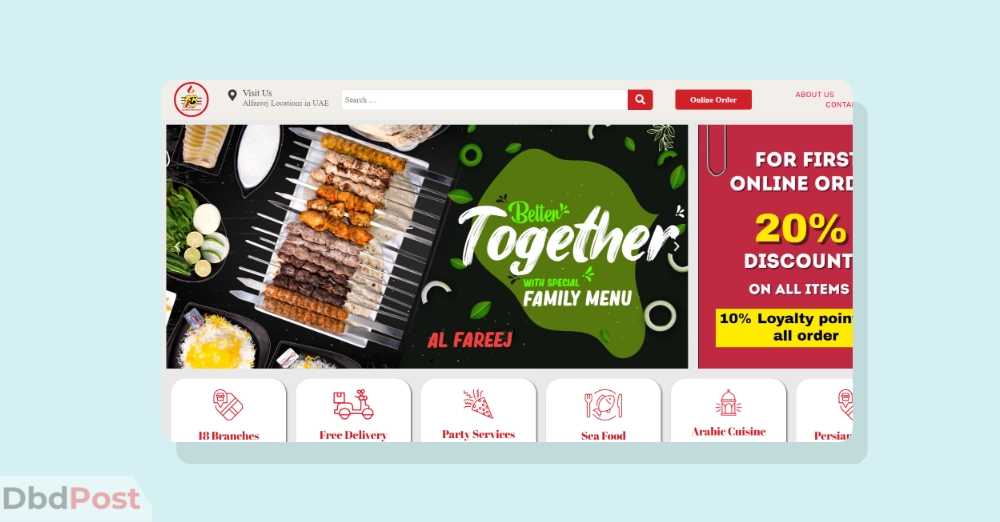 Al Fareej has been around for over three decades, and they offer fantastic food. They have 18 branches across the UAE that offer Iranian and Emirati cuisine.
Their specialty is Kebab, and their best seller is Family Mix For Two. It includes kebab for two persons with 10 Seekh of mixed Grills, Salad, Rice, Breads, Hummus, French Fries, and Yoghurts & Soups.
They also provide party services if you want to throw a party. Their selections include seafood like a fish grill, Chicken Tabrizi Kebab, salads, and soft drinks.
With such a wide variety of choices, Al Fareej provides the best Iranian Kebab in Dubai for Kebab lovers.
4.

Caspian Kabab restaurant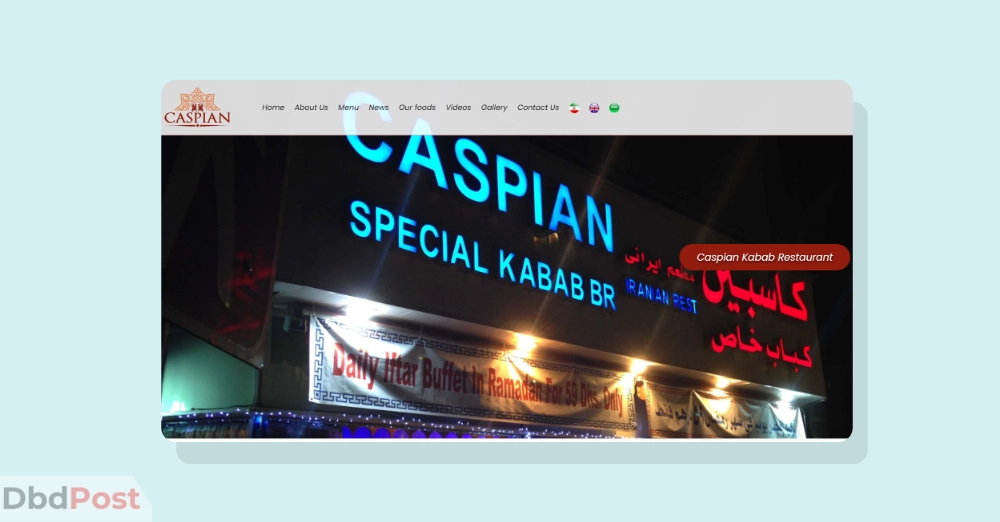 Caspian Kabab Restaurant has been part of the Dubai dining experience for almost four decades. It is a highly recommended, affordable, and authentic spot for Persian food lovers.
The mains on offer include the delightful Caspian Mixed Grill, savory Bulgarian Minced Kebab, and a warm plate of Rice with special steak.
Along with their delicious options, they also provide beverages, including Caspian special buttermilk, fresh fruit juices, and other soft drinks.
All in all, customers can enjoy a great meal in an amazing atmosphere with unbeatable service.
5.

Shabestan Restaurant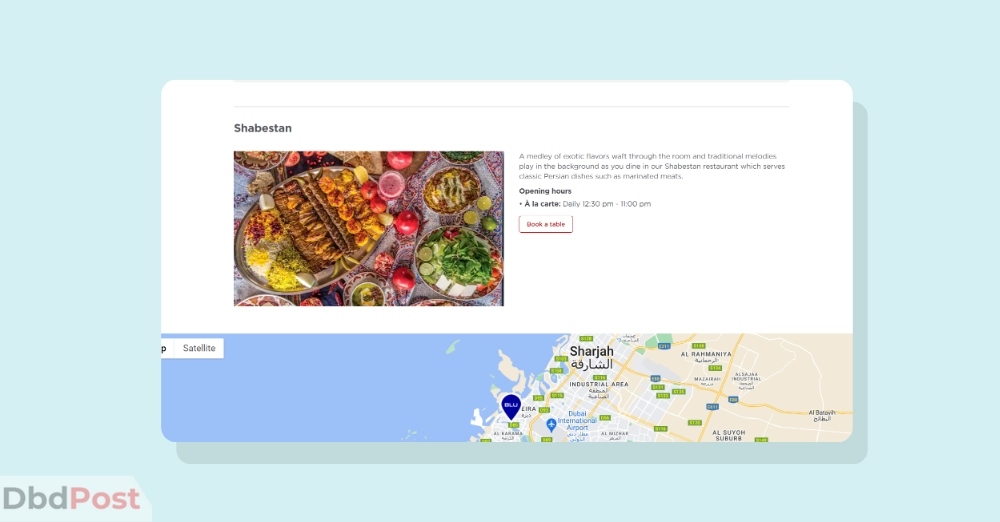 Experience the charm of Shabestan, where traditional melodies and restaurant design set the mood. Savor is the best Persian food made from family recipes passed down for three generations.
Located on the second floor of the Radisson Blu, this unique restaurant pays homage to its heritage.
Indulge in a menu filled with traditional favorites such as Kebab Fillet, Sultani Kebab, Barge Morgh, Lobia Polo, and the Shabestan special platter.
Enjoy stunning views of Dubai Creek and Old Dubai while dining. If you're seeking a unique dining experience or crave Persian dishes, visit Shabestan for a memorable time.
6.

Farsi Restaurant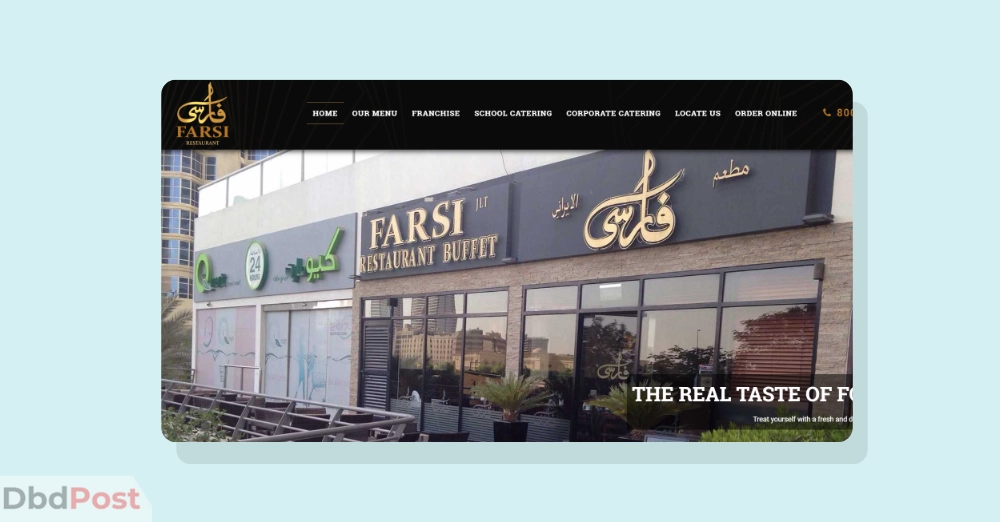 Farsi Restaurant offers a unique dining experience with traditional Persian cuisine and exciting new flavors. They are known for their delicious dishes,, such as Chelo Makhsoos Farsi, Chelo Soltani, and Chelo Barg.
Their Lamb Chops, Seafood, Traditional Persian Daily Stews, and rice meals will satisfy your Iranian craving. They have unique dessert options,, including dates, Halvah, and fruit platters.
They also cater to special occasions like parties, weddings, gatherings, and social events. With great food, a fantastic atmosphere, and an experience of culture, this best Farsi Restaurant in Dubai is a must-try.
7.

ANAR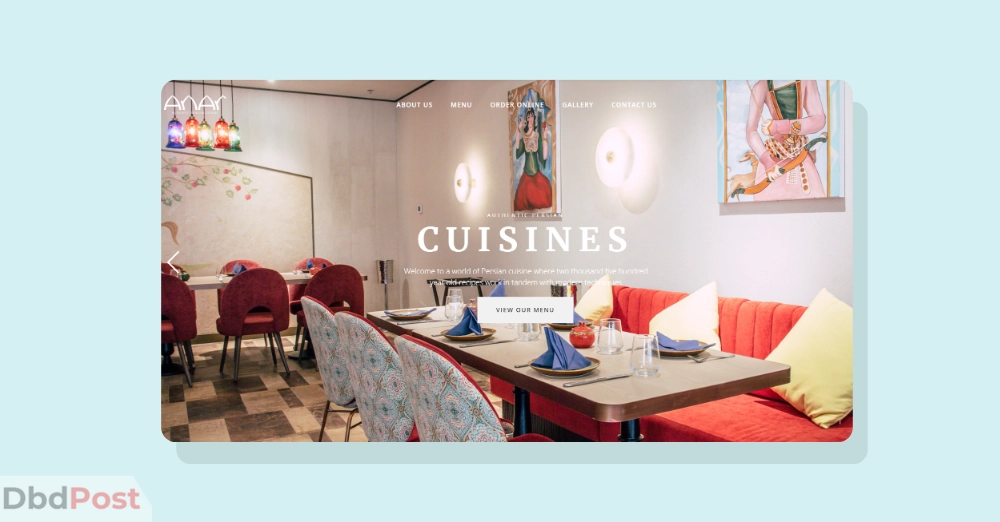 Anar is the perfect destination for ex-pats and Arabs to immerse in Persian culture through food. Enjoy contemporary Persian dishes crafted by resident chefs for an unforgettable dining experience.
Start with Kofta Anar, Mirza Ghasemi, or try vegetarian options like Khoresht Gheymeh and Khoresht Bamiyeh. Savor flavorful and delicious kebabs like Kabab Soltani and Mahi Kabab.
Don't miss Chef's specialty, Gardan, a slow-cooked lamb neck in onion and garlic sauce served with tomato sauce.
Anar also features live Iranian music performances for a complete cultural experience.
8.

Grand Abshar Restaurant & Sweet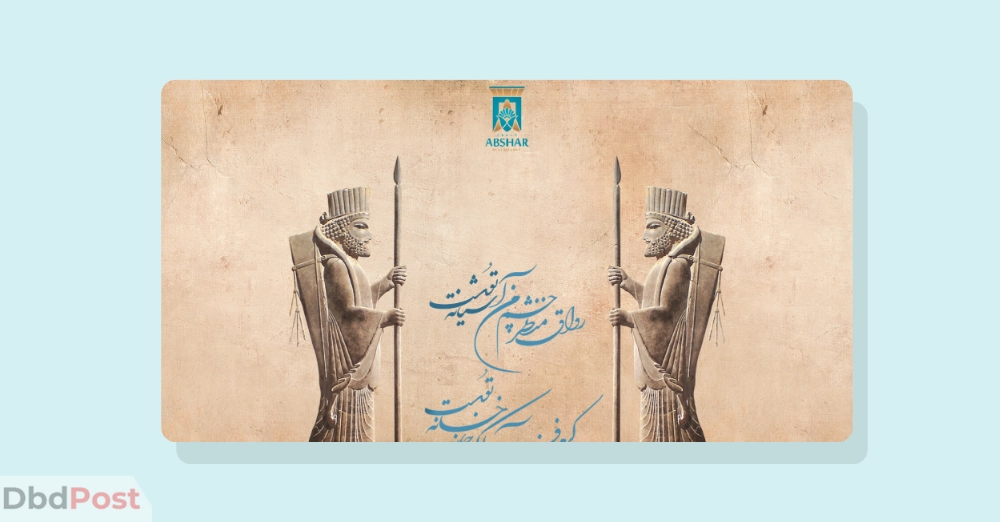 Grand Abshar Restaurant and Sweet is a fantastic place to enjoy delicious Middle Eastern meals. The chefs use fresh ingredients to prepare their traditional Persian recipes with significant oversight, resulting in a beautiful flavor experience.
Not only are the mains great, but they have a wide variety of kababs, from Chelo Kabab to Kabab Tabrizi, and seafood options like fried shrimp or fried fillet fish.
Their desserts, such as Fruity Jello and Fresh Fruit salad, complete the Grand Abshar experience.
And if you're looking for something more unique, a Friday buffet is available. All this in a peaceful and healthy environment that makes it truly enjoyable to spend your time here.
9.

Shiraz Nights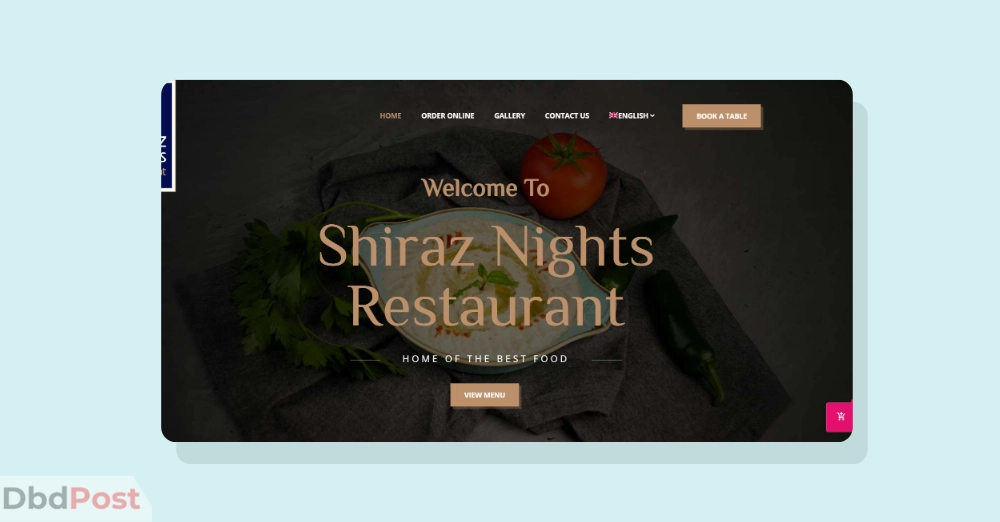 Shiraz Nights is the place to go for a delicious taste of Iranian cuisine. The food is delicious and reasonably priced with fresh ingredients and authentic flavors.
Some of their specialties include Minced Kabab with Rice, Shiraz Nights special kabab, Okra Stew with Rice, and Spicy Beef Shawarma Sandwiches. And don't forget about the dessert, like their sweet Halwa or ice cream.
If you want a satisfying meal of great value, head to Shiraz Nights for your next dining experience.
10.

Danial Restaurant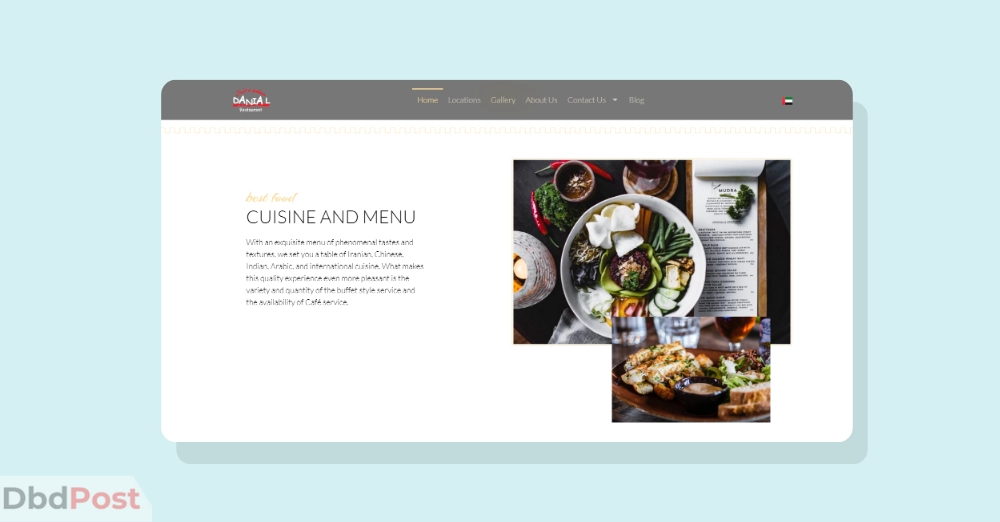 Danial Restaurant is an open buffet restaurant that has been around since 1999. If you want to experience a large selection of food from around the world, this is the spot for you.
At Danial, you can enjoy delicious Iranian foods and Chinese, Indian, Arabic, and even international choices in their wide selection of cuisine. They also offer catering services if you want to host parties or events.
Their specials include Iranian Loghme BBQ with rice, yogurt, salad, hummus, and bread. Their chicken Biryani and Fish fillet are must-try as well.
11.

Pars Iranian Restaurant
Pars Iranian Restaurant is well known for its authentic food and relaxed atmosphere. From unique locations across the city, it offers a taste of traditional Persian dishes crafted to suit Arab cultures.
Pars Iranian Restaurant's menu options are both nutritious and delicious, offering comfort food to people worldwide.
The diner's atmosphere has ancient Persian influences with antique decor and delightful courtyard seating. The restaurant also offers an array of tempting grilled meats, fish, and stews, making it an excellent spot for dinner.
What are some of the most popular dishes served at Iranian restaurants in Dubai?
Iranian cuisine, known for its flavorful herbs and spices, is famous in the UAE. With Iran ranking 10th in Dubai's international visitor market, Persian food has become a favorite among locals and visitors. [1]UAE Government, "Dubai Gastronomy Industry Report, https://www.dubaitourism.gov.ae/en/research-and-insights/-/media/files/faqs/dubai-gastronomy-industry-report.pdf"
Iranian restaurants in Dubai offer a diverse range of dishes, including Kebabs, Ghormeh Sabzi, and Tahchin. Kebabs are skewered meat, typically lamb or chicken, while Ghormeh Sabzi is a hearty stew of herbs, beans, and meat.
Tahchin is a layered rice dish with saffron-infused rice, chicken or beef, and yogurt sauce.
In addition to main dishes, restaurants also offer appetizers like bread and dips and desserts such as Halwa and Faloodah.
With so many options, Iranian restaurants in Dubai are a must-visit for those seeking authentic Persian cuisine.
What is the price range for the best Iranian restaurant in Dubai?
The cost of dining at the best Iranian restaurants in Dubai varies based on the restaurant and selected menu items.
High-end places may charge AED 80-150 per meal for dishes such as kebabs, stews, and rice. On the other hand, budget-friendly options offer meals at AED 30-80. Though less luxurious, these restaurants still serve tasty Iranian cuisine at a lower cost.
Prices may also differ based on location, with restaurants in touristy or upscale areas being more expensive.
Consider checking online reviews or asking locals for recommendations for the best options within your budget.
Related Stories
---
FAQs
Final thoughts
In conclusion, the best Iranian restaurants in Dubai offer various Iranian restaurants that serve delicious and authentic dishes.
These range from high-end restaurants offering a more upscale dining experience to more affordable options offering delicious and traditional Iranian cuisine.
It is important to consider factors such as atmosphere, price, location, and authenticity while choosing a restaurant for Persian food.
We hope our Dbd guide helped you make an informed decision on finding top Iranian restaurants in Dubai.