Restaurants in Abu Dhabi provide diners with exceptional food and amazing hospitality. The city has something for everyone, from high-end French restaurants to affordable Mexican food trucks.
Renowned for its luxurious lifestyle, Abu Dhabi boasts a diverse dining scene that caters to all tastes. From local delicacies to international flavors, the city has it all. Some of the best places for food in Abu Dhabi are Punjab Grill, Coya, Flavors, Ola Brasil, and more.
We have created a list of the best restaurants in Abu Dhabi based on thorough research, which involved visiting and sampling food from various establishments.
We considered various factors such as food quality, atmosphere, pricing, service, and location. In addition, we gathered feedback from customers and surveyed both locals and tourists.
Our final selection consists of restaurants with the highest scores in all categories.
11 best restaurants in Abu Dhabi
Abu Dhabi offers a diverse range of dining experiences. The city has everything from traditional Arabian bites in Khalifa to international cuisine on Yas Island.
1.

Punjab Grill – Best Indian restaurant in Abu Dhabi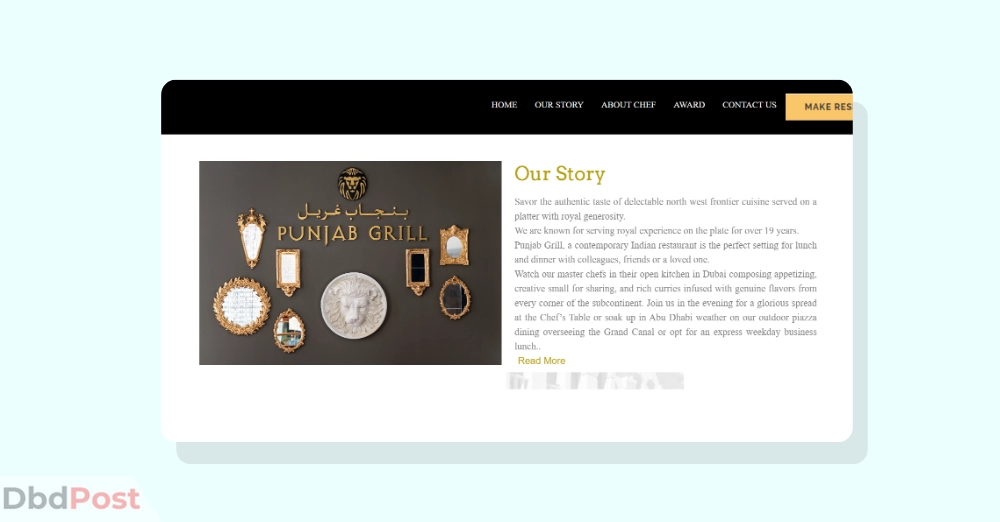 Punjab Grill has been serving excellent Indian food to diners in Abu Dhabi for 19 years, with Chef Sandeep Ail leading the culinary team.
The restaurant offers classic Indian dishes with beautiful indoor and outdoor views. You can even watch the open kitchen while they prepare your meal. If you choose to dine outside, you'll enjoy a stunning view of the Grand Canal.
In addition to Abu Dhabi, Punjab Grill has locations in Bangkok, Singapore, and Washington DC.
Their menu includes a variety of dishes, such as Punjabi favorites like Chicken Ghee Roast Rice and South Indian Fried Idli.
2.

Coya Abu Dhabi – Best fine dining restaurant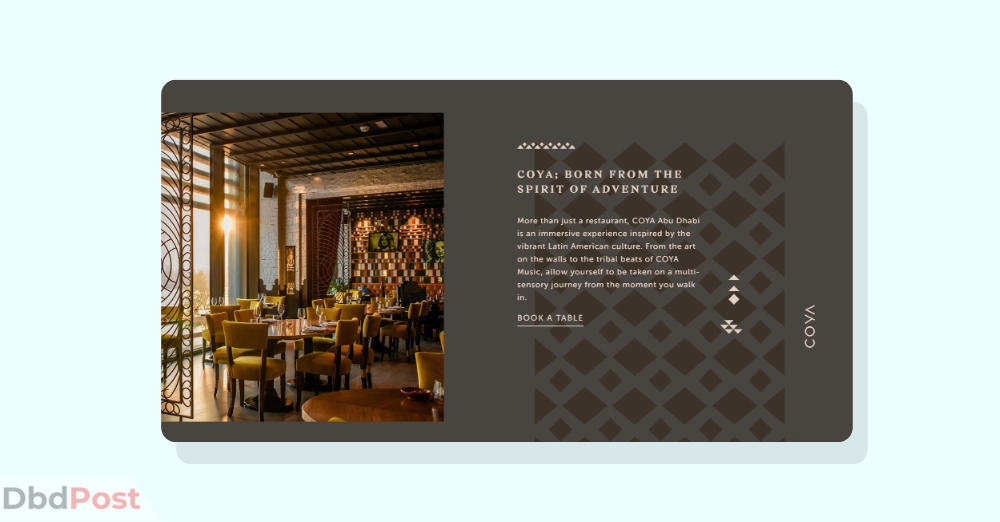 At COYA Abu Dhabi, guests are transported beyond a mere dining experience and fully immersed in vibrant Latin American culture.
Traditional Peruvian art lines the walls while the tribal beats of COYA Music enhance the atmosphere.
The menu caters to all palates, with vegetarian options like guacamole and kale salad and meat dishes such as oxtail empanadas and veal heart skewers with tamarind glaze. 
Moreover, you can end the night with a wide selection of cocktails and wine. COYA is a must-visit and one of the top restaurants in Abu Dhabi for the ultimate culinary experience.
3.

Hakkasan Abu Dhabi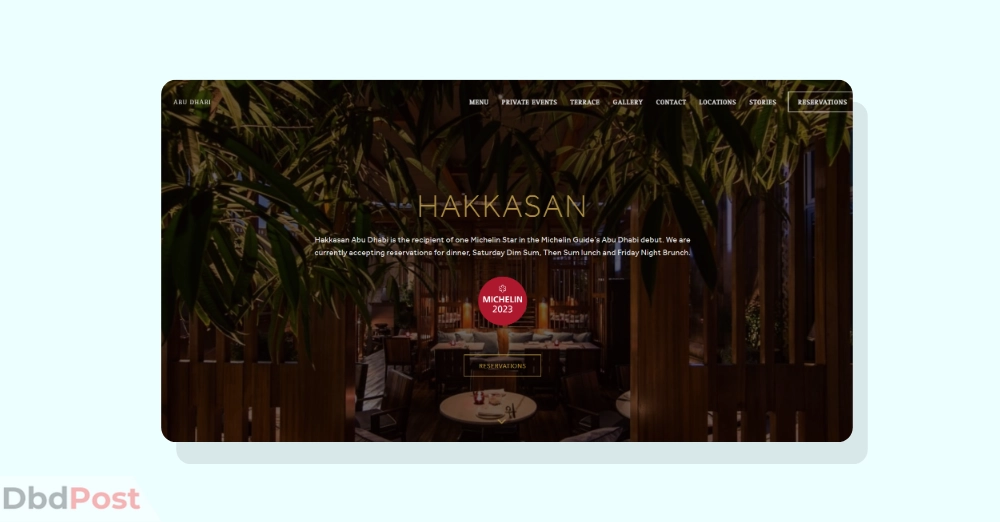 Hakkasan is an award-winning restaurant that has set a new benchmark in modern Chinese cuisine.
Their menu takes inspiration from traditional Chinese recipes and techniques and offers innovative flavors with contemporary influences.
The renowned restaurant uses premium ingredients to create classic dishes such as Dim Sum platters, Peking Ducks, and Hakka noodles. To complete the experience, diners can choose from a range of cocktails to pair with their meal.
For those looking for something special, Hakkasan also features private event spaces.
With a Michelin star under its belt, this classy restaurant will surely please locals and international visitors alike.
4.

Nusr-Et Steakhouse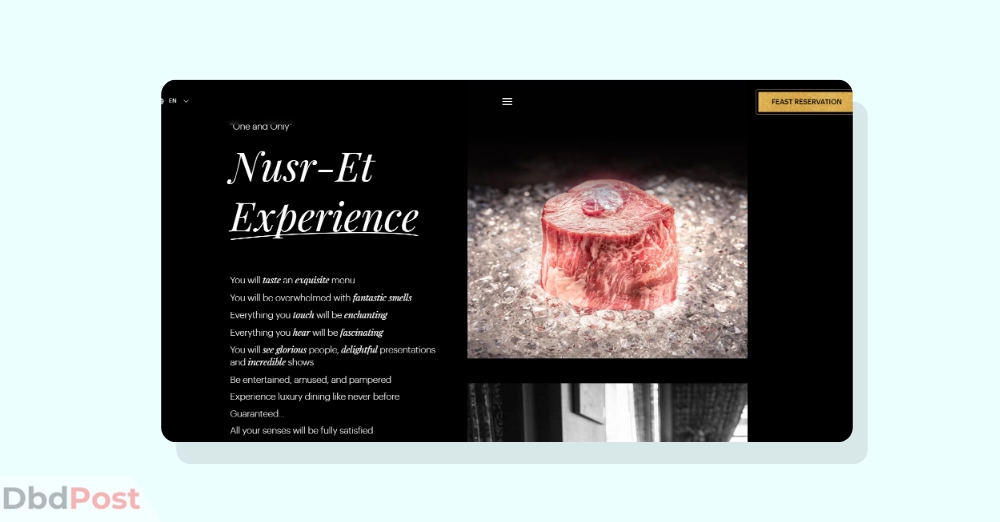 Nusr-Et Steakhouse is renowned for its high-quality, delicious food, such as beef dishes, burger specials, and more. It has several global locations, including Turkey, Qatar, the United States, and UAE.
Nusr-Et Steakhouse is owned by Nusret Gökçe, famously known as the Salt Bae.
The menu offers delectable options like the Golden Steak and Nusr-ET Special and highly rated specialties like New York steaks. It is the ideal destination to revel in a lavish culinary experience.
5.

Bosporus Turkish Cuisine- Best Turkish food in Abu Dhabi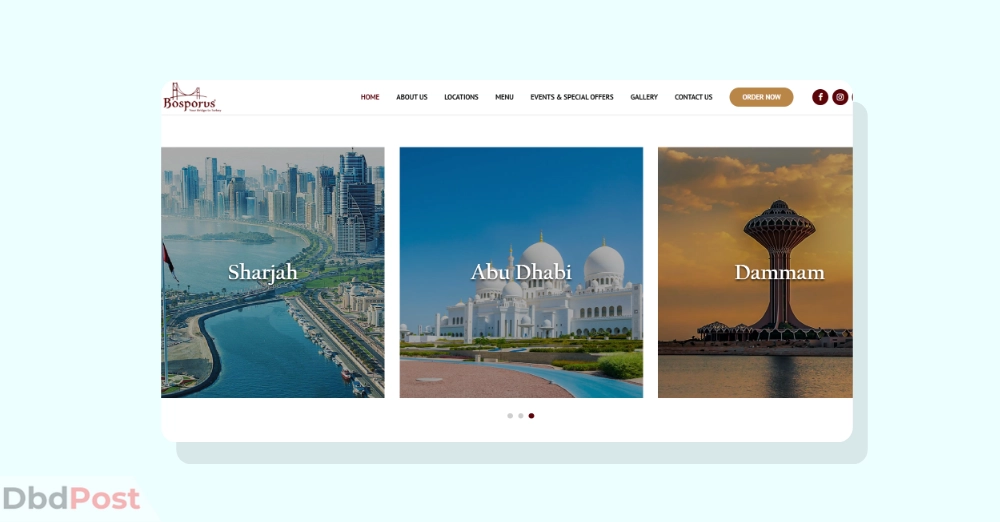 Eating at Bosporus is sure to be an unforgettable experience. Their authentic Turkish cuisine brings the legacy of genuine Turkish traditions to the middle east.
Every dish has been carefully curated to bring out its natural aromas and flavors from centuries of Ottoman cuisine.
Be sure to relish the unique delicacies, such as Lahmacun Regular, Doner Sandwich, or Bosporus Kebab.
For a fully gratifying dining experience, indulge in their delectable main courses like Manti, Et Sote, and Testi Kebab.
Enjoy a refreshing beverage like Orange Juice or Mango Juice to quench your thirst.
6.

Tamil Chat Cafeteria and Restaurants – Affordable South Indian Restaurants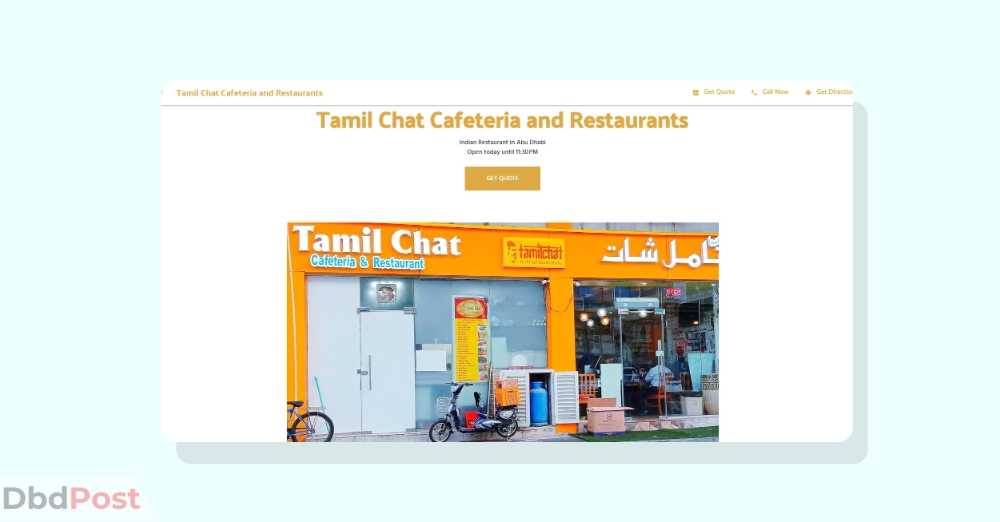 Tamil Chat Cafeteria and Restaurants provide a diverse selection of reasonably priced South Indian delicacies.
Their menu consists of an extensive range of items, from hot idly for breakfast to delectable mutton biryani, with a perfect blend of flavor, freshness, and spiciness.
The hospitable staff ensures a delightful visit, and the economical prices enhance your Tamil food experience.
Whether you prefer traditional or contemporary flavors, Tamil Chat Cafeteria, and Restaurants is an ideal destination.
7.

Zuma Abu Dhabi- Authentic Japanese cuisine in Abu Dhabi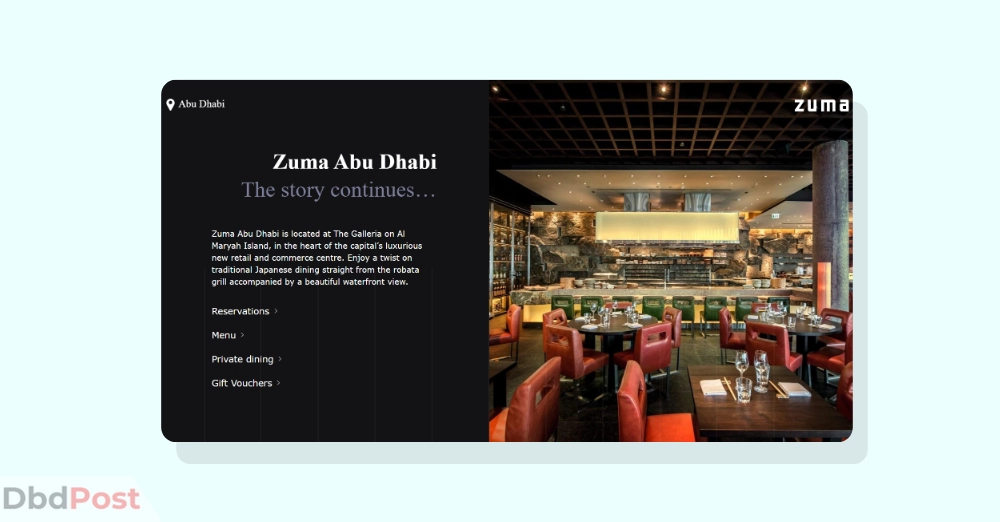 Zuma Abu Dhabi is a perfect spot for traditional Japanese dining in the heart of the capital. Located at The Galleria on Al Maryah Island, it offers a waterfront view and innovative cuisine.
They serve from the robata grill that has bold and intense flavors. The food is offered in izakaya style, and you select dishes to share at the table. Their menu boasts different sushi and maki roll options.
Additionally, we recommend you try wagyu gunkan caviar nose, tori no tebasaki, and nihon kinoko no kamameshi. Zuma is sure to take your dining experience up a notch.
8.

Kurakura Restaurant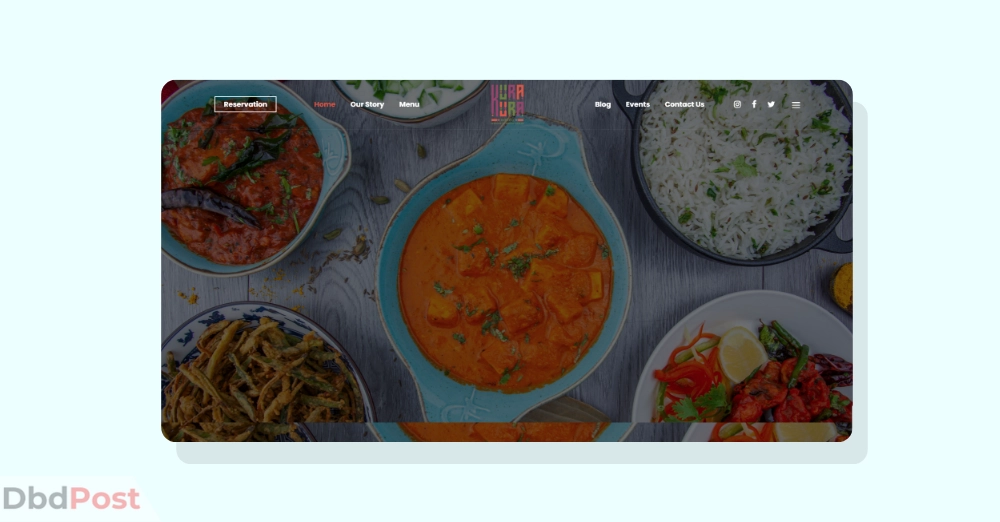 KuraKura brings traditional Indian cuisine with a contemporary twist right to your door. Not only do they offer catering services for all size functions, but they also serve delicious dishes in their restaurant.
To ensure a hassle-free experience, we recommend reserving a table beforehand. Furthermore, everything is prepared fresh using the highest quality ingredients.
With great food for an excellent price, Kurakura is one of the best affordable restaurants.
We recommend you try their famous chicken tikka wrap, egg and cheese paratha, and Kura Kura Granola. End your lunch with Carrot Halwa and their irresistible cheesecake. 
9.

Loca Restaurant & Bar- Authentic Mexican experience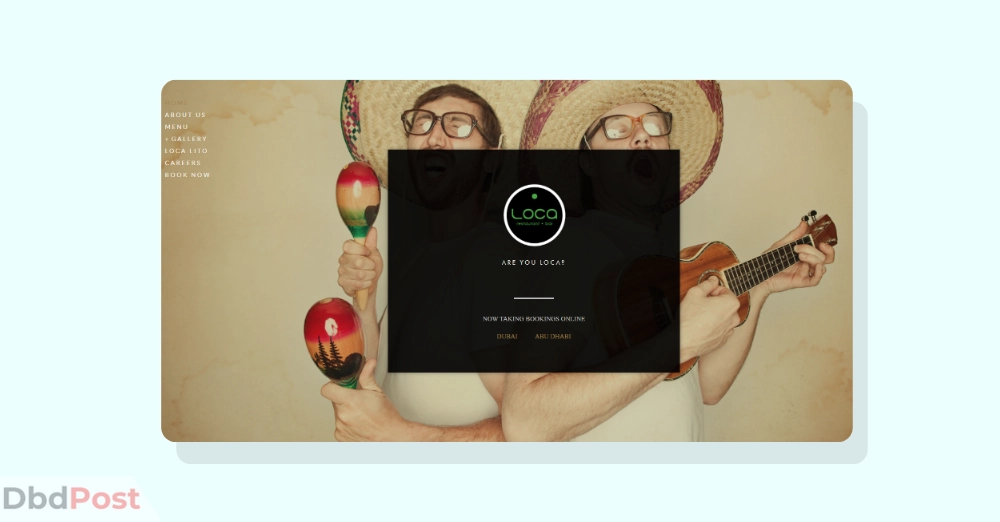 Loca Restaurant and Bar provides the perfect combination of Mexican food and good vibes. Its industrial-chic interiors create an authentic Mexican experience.
With its award-winning resident chef from Mexico City, delicious food is guaranteed.
Some of Mexico's favorite dishes on the menu are Empanada De Mariscos, Tazajo Enchilada, and Cangrejo.
There are also various desserts like Bananas Borracha and Helado Frito to end any meal perfectly.
It's no wonder Loca Restaurant and Bar is one of the best spots for a night out in Abu Dhabi.
10.

Ola Brasil Restaurant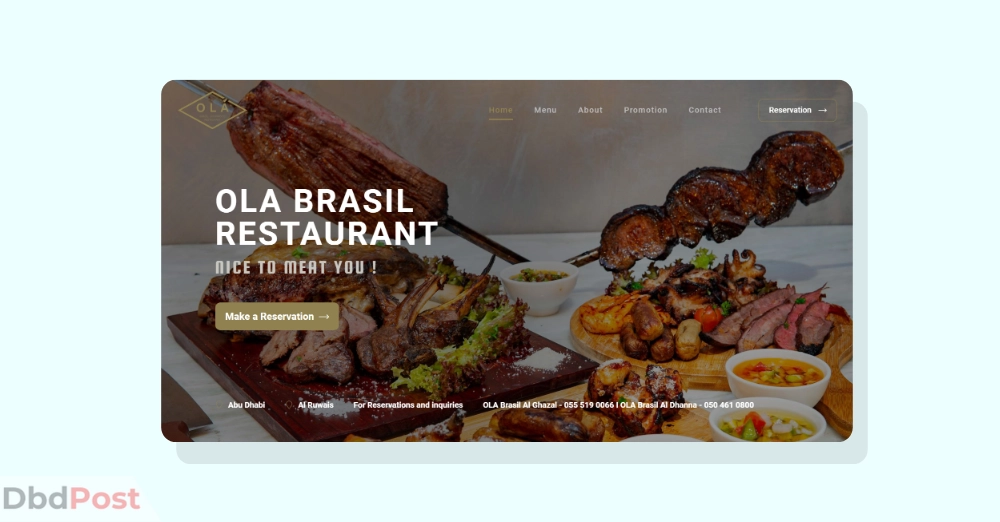 When you visit Ola Brasil Restaurant, you can have a special package with 15 kinds of meat cooked over a fire. Skilled chefs from Brazil will cut the meat right at your table.
You can also go to the buffet to get salads, vegetables, soups, and feijoada. You'll find classic meats like Picanha, Tenderloin, and Flank steak and more unusual choices like Pineapple with cinnamon.
After you finish eating, you can try OLA Beverages for a complete Brazilian experience.
Overall, you can enjoy the full Churrasco experience at Ola Brasil Restaurant.
11.

Flavors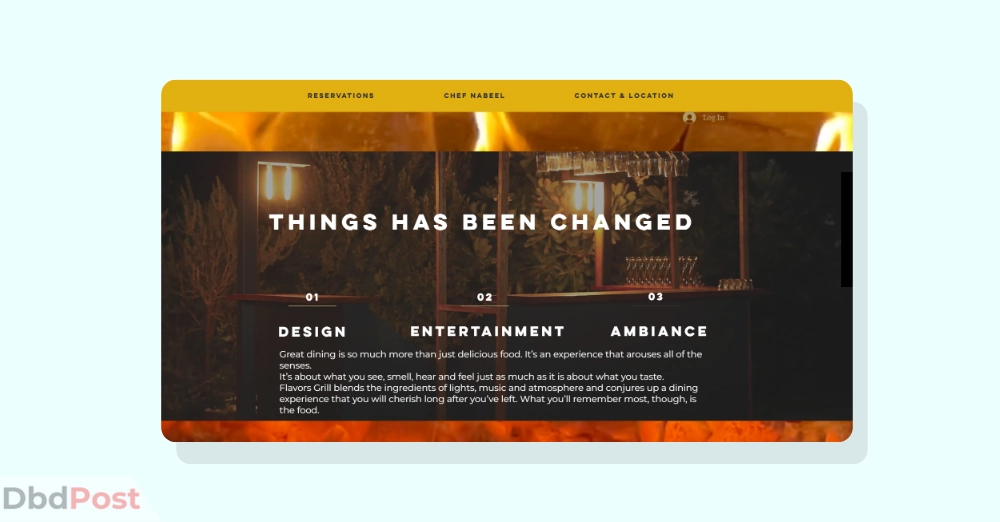 At Flavors, you can enjoy a one-of-a-kind dining experience with a calm atmosphere made up of lights, music, and surroundings.
You can even watch the talented chef Nabeel use old-fashioned cooking methods from the 18th century to make your meal. The food is always fresh and comes from the market daily, so it's super tasty.
The menu includes yummy things like Mina Ribeye and Nabeel's Steak, and you can also try some delicious sweets, including the historical Baklava and Tiramisu dessert.
Don't forget to visit Flavors next time to taste these amazing flavors.
How much does a meal cost in Abu Dhabi restaurants?
The cost of food in Abu Dhabi varies based on the type of restaurant.
A budget restaurant may cost about AED 80-150 for a meal for two people, while a high-end one may cost AED 200-500. If you choose to dine at a Michelin-starred restaurant, you should be prepared to spend AED 500 or more.
Budget-friendly restaurants offer a variety of international cuisines that are filling, with starters, main dishes, desserts, and drinks.
On the other hand, upscale restaurants use premium ingredients to create a more refined menu, presenting the food more elegantly.
Abu Dhabi's Michelin-starred restaurants provide a unique dining experience with the best food made by top chefs and top-quality ingredients. Even though it can be costly, the experience will be unforgettable.
Related Stories
---
FAQs
Final thoughts
In conclusion, Abu Dhabi is a city of endless culinary possibilities. From fine dining experiences to traditional eats, there's something here for everyone.
Whatever type of food you're looking for, there are sure to be restaurants in Abu Dhabi that fit your budget and tastes.
We hope our Dbd guide provides you with information about the best Abu Dhabi restaurants. Have fun dining at the capital.