The best South Indian Restaurant in Dubai offers classics such as Idli and Dosa and lesser-known but equally delicious foods such as Appam and Rasam. South Indian cuisine has become a favorite among foodies in Dubai, as it is known for its fragrant spices, unique flavors, and diverse dishes.
Dubai is a melting pot of different cultures and cuisines; South Indian food has a special place. From popular family-run restaurants to fine dining options, Dubai has something for every price point. Some of the top south Indian restaurants in Dubai are Mamis Illam Pure Veg Restaurant, Calicut Paragon Restaurant, Saravanaa Bhavan Karama, and more.
Our Dbd guide aims to provide an extensive and informative overview of the best south Indian restaurants in Dubai that offer an exceptional dining experience.
The restaurants on our list have been carefully selected based on thorough research and personal visits by our team.
We looked at things like reviews, recommendations, and how the food, atmosphere, prices, service, and location were.
11 best South Indian restaurants in Dubai
Dubai is known for its vibrant food scene, and among the many cuisines available, South Indian food is a popular choice.
Whether you are looking for mouth-watering Dosas, fluffy Idlis, or tangy Sambhar, the island has something for everyone. South Indian restaurants in Dubai offer a range of delicious and authentic dishes.
1.

Mamis Illam Pure Veg Restaurant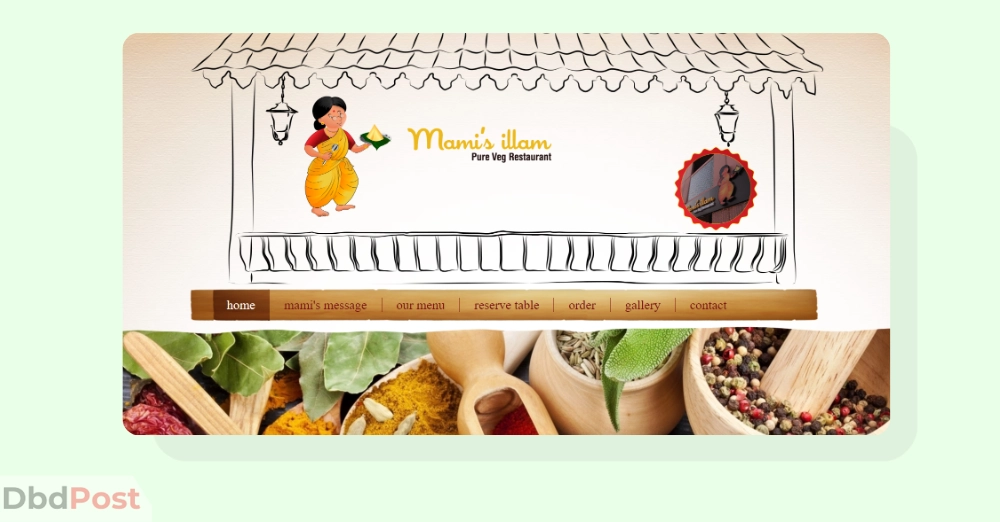 Mamis Illam Pure Veg Restaurant offers a wide variety of authentic South Indian vegetarian cuisine and is the perfect spot for healthy, delicious meals. Everyone here can enjoy a range of tasty dishes using only fresh ingredients with no artificial coloring.
There are plenty of options for breakfast at Mamis Illam Pure Veg Restaurant, from idli and sambar idli to more substantial dosas like plain dosa, rava roast, and ghee roast.
And for those who want to sample several foods at once, there's the Thali platter, an overflowing dish filled with South Indian delicacies.
Plus, all the dishes at Mamis Illam Pure Veg Restaurant follow traditional flavors while still adding modern touches—so you're sure to find something you'll enjoy.
2.

MyGovinda's Restaurant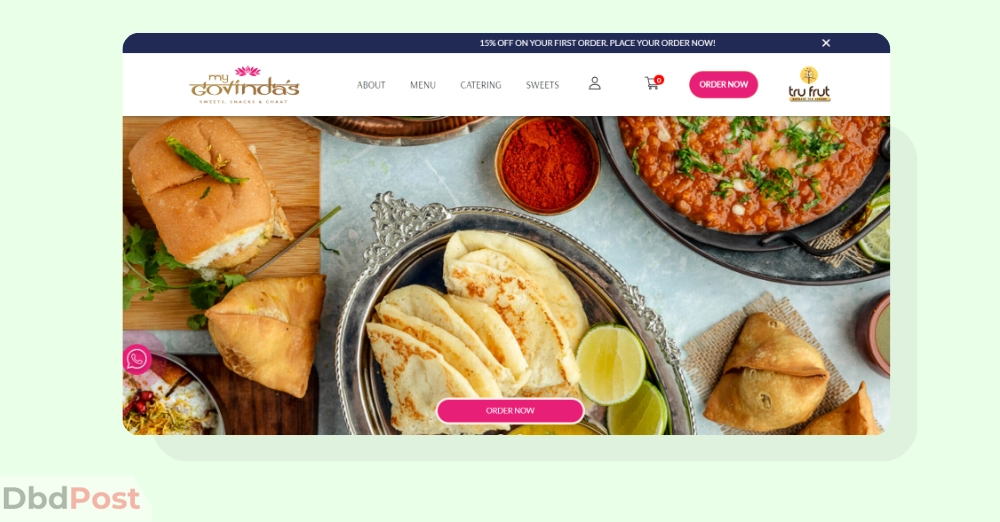 Established by Mahesh Adavni, MyGovinda's Restaurant has been serving Indian Sattvic diet cuisine to people in Dubai for over two decades. You can enjoy delicious Indian vegetarian food at MyGovinda's, made with fresh, seasonal ingredients.
The most popular South Indian menu items are vada pav, idli sambar, masala dosa, and Tomato Uttapam, all cooked to perfection. The dishes are cooked in little oil, and preservatives aren't used. You can be sure that eating at MyGovinda's will always be healthy for your body and mind.
See also: Best Indian Restaurants in Dubai
3.

Calicut Paragon Restaurant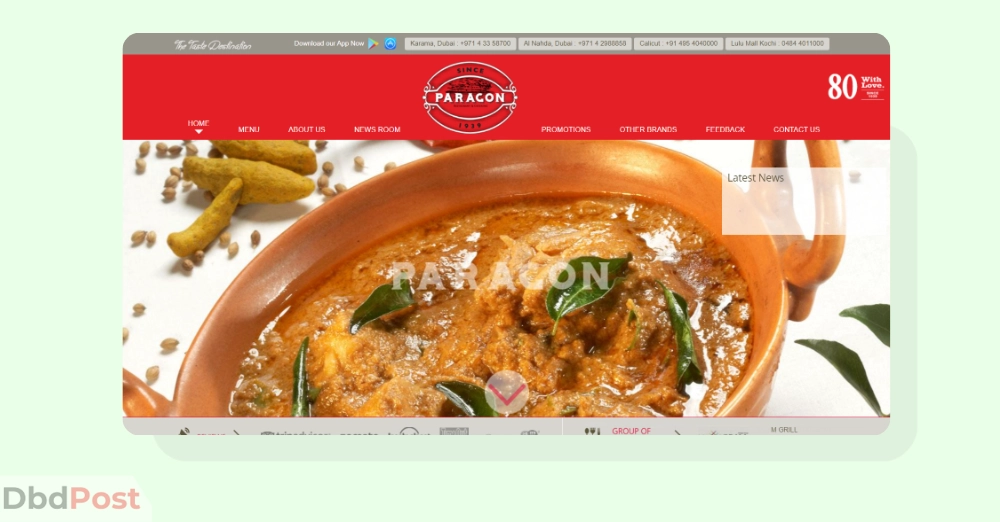 The Calicut Paragon Restaurant opened in 1939 in Kerala, India, and has become one of the best Kerala restaurants in Dubai.
It offers up a unique fusion of Moplah and Thiyya Cuisines from the Malabar region of India.
This diner also offers dishes from around the world while retaining its traditional roots.
Paragon was also awarded India's best restaurant for coastal cuisine by Times Now Foodie Awards. Additionally, it's been consistently ranked among Dubai's best restaurants based on TimeOut Awards and Ahlan Masala Awards.
Food lovers can choose from mains such as Edachal Konju, Kunjulli Thenga Kozhi, and Turmeric Fish with Lentil Rice. With its high-quality food and superb service, Calicut Paragon is sure to keep patrons coming back time and time again.
4.

Saravanaa Bhavan Karama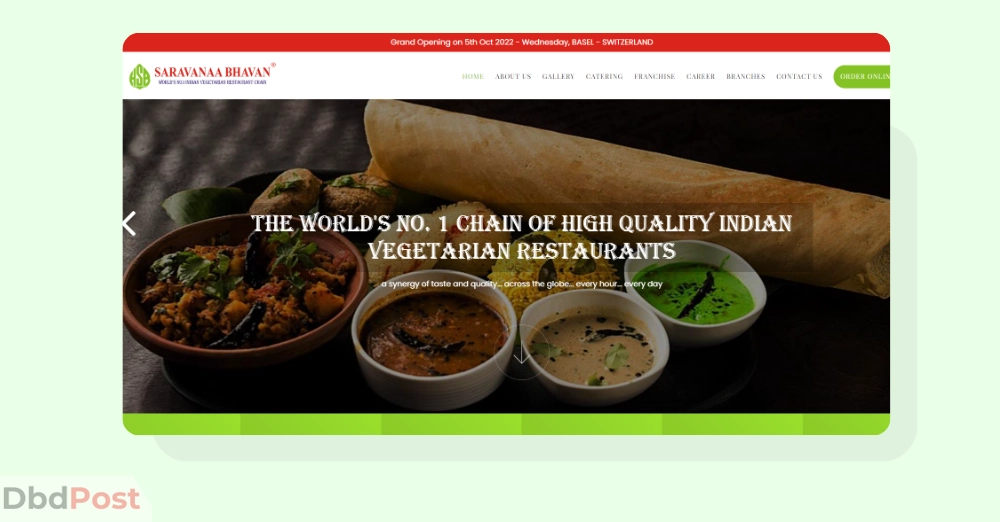 Saravanaa Bhavan Karama is the ultimate go-to for all vegetarians. Featuring 81 outlets worldwide, Saravanaa Bhavan offers a variety of delicious options to satisfy every taste bud.
With a menu filled with over 350 dishes, it's impossible not to find something to enjoy. Plus, dishes like Masala Dosa, Kerala Parotta, Appam, and Hot Idli are sure to please any South Indian craving.
What makes this top south Indian food restaurant in Dubai special is that every bite is prepared in highly hygienic conditions and served in a clean environment.
Saravanaa Bhavan is truly the best Tamil restaurant in Dubai that takes you on tour around South India through its food.
5.

MTR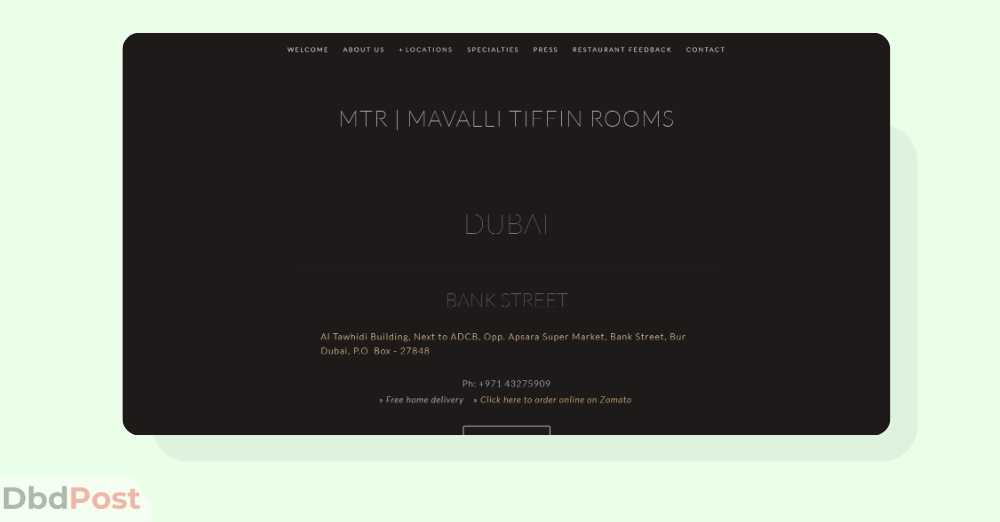 | | |
| --- | --- |
| Location | Bank Street Building, Al Tawhidi Building, Dubai |
| Hours | Everyday (7:30 AM – 11:30 PM) |
| Contact | +97143275909 |
| Average cost | 70 AED for 2 person |
| Map | Get direction |
| Website | MTR |
Visiting MTR, or Mavalli Tiffin Rooms, in Dubai was like taking a ride to South India. It is a South Indian restaurant that started in Bengaluru and has been around for almost 100 years.
We tried the famous Rava Idli, invented by MTR during World War II, and it was delicious; no wonder it is still the most popular item. Masala Dosa and Chandrahara also tasted like they were made with an authentic South Indian recipe.
We tried their Fruit Mixture for dessert, which was the perfect way to end our meal. With the authentic south Indian food experience, it is no surprise that MTR has been such a successful business all these years.
6.

Rasoi Ghar Restaurant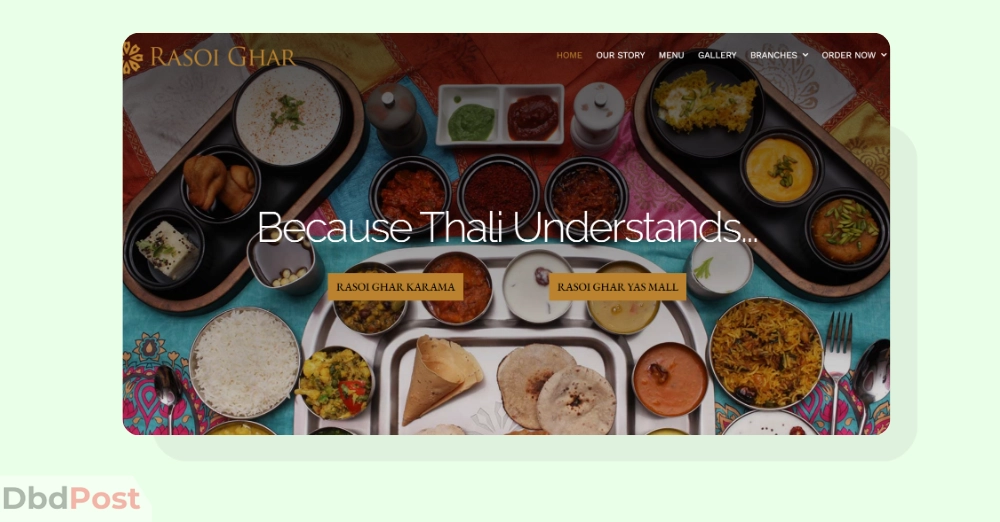 | | |
| --- | --- |
| Location | Opposite BurJuman, CenterPoint, Zainal Mohebi Plaza, Sheikh Khalifa Bin Zayed St, Bur Dubai, Dubai |
| Hours | Everyday (12:00 PM – 3:30 PM, 7:00 PM – 11:30 PM) |
| Contact | +97143885711 |
| Average cost | 100 AED for 2 person |
| Map | Get direction |
| Website | Rasoi Ghar Restaurant |
Rasoi Ghar is a great place to go if you are looking for delicious and nutritious vegetarian food.
Their unlimited vegetarian menu has something for everyone, with many options made with minimal oil and absolutely no baking soda. From their signature Aloo Patal Bhaaji to delicious Sandwich Dhokla, Khichdi, and jalebi, everything is sure to satisfy your taste buds.
If you're looking for an all-inclusive vegetarian experience, then Rasoi Ghar is the place for you to visit next.
7.

Salkara Restaurant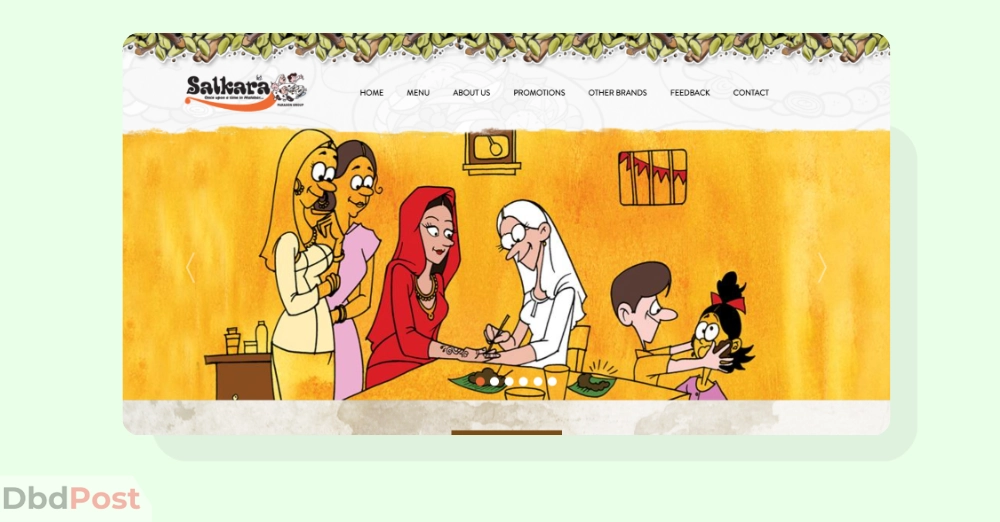 Salkara Restaurant is a fantastic place that serves authentic South Indian cuisine recipes from historically rich Malabar in Southwestern India. The restaurant has vegetarian and non-vegetarian options so that everyone can enjoy the delicious cuisine.
Koonthalum Thengayam and Kozhi Cherulli Thoran are popular starters at Salkara, perfect for those looking for something light and flavorful. With their curry, the Puttu and Idiyappam are great choices for those wanting something more substantial.
For anyone looking for classic North Indian food, Biriyanis are sure to please. To end your meal on a fantastic note, there are also sweet treats like Faluda or Mangalore's famous Gadbad.
8.

Zafran Indian Bistro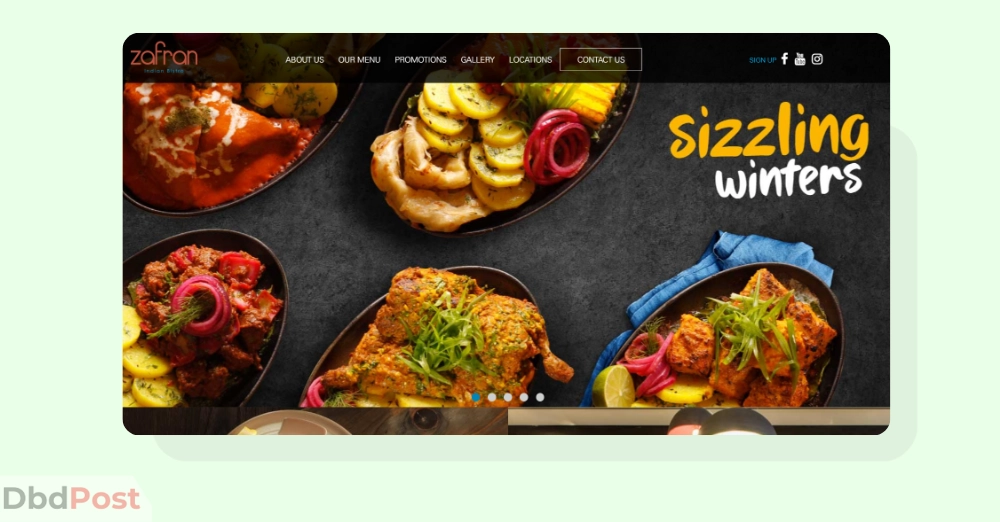 Zafran Indian Bistro is an award-winning restaurant that offers contemporary Indian delights. Featuring vegetarian and non-vegetarian dishes, each dish is made from fresh ingredients and topped with home-ground spices to ensure that the flavors remain authentic.
With its stylish contemporary interiors, comfortable seating, ideal lighting, and committed service, the diner makes for the perfect place to enjoy a unique Indian dining experience.
Their menu includes amazing offerings like the Zafran Feast, Ajwaini Prawns, Vegetarian Kebab, Fish Curry, and Dal Zafran.
Whether it's a business meeting, a family gathering, or a dinner for two, this Indian diner captures everyone's hearts with its friendly ambiance and efficient service.
9.

Dhaba Lane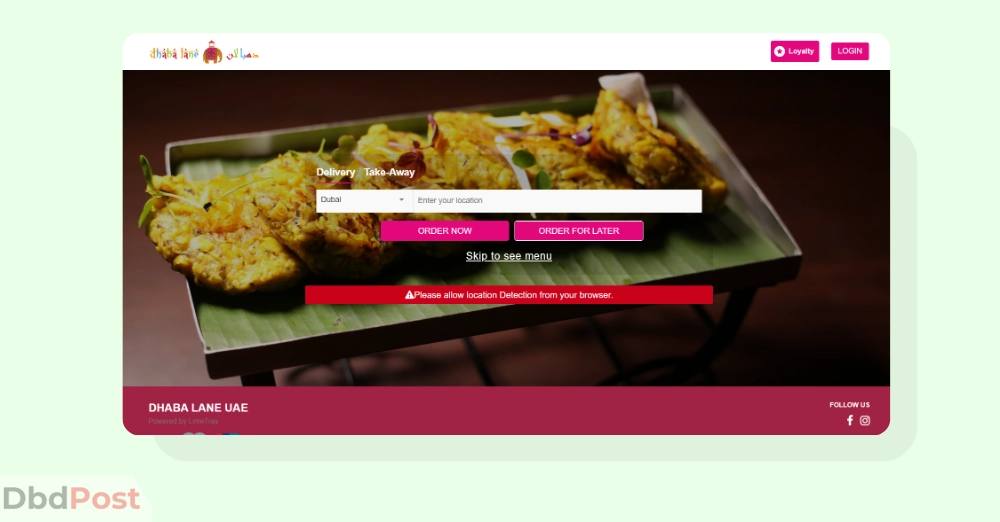 | | |
| --- | --- |
| Location | Opposite Spinneys (Burjuman), Behind Park Regis Hotel, 2 B St, Dubai |
| Hours | 12:00 PM – 3:30 PM, 6:30 PM – 12:00 AM (Sunday to Wednesday), 12:00 PM – 3:30 PM, 6:30 PM – 1:00 AM (Thursday to Saturday) |
| Contact | +971569624611 |
| Average cost | 115 AED for 2 person |
| Map | Get direction |
| Website | Dhaba Lane |
Dhaba Lane in Dubai is an amazing place to visit and experience an authentic Indian atmosphere. The cozy and lively atmosphere reminds you of the hustle and bustle of street food stalls, Dhabas of India.
The Diner offers delicious food such as Panipuri, South Indian favorite Mangalore Fish Curry, Norther Indian Butter Chicken, and Shrimp Biryani. All these dishes are delicious and take you on a ride across India.
If you want to enjoy an authentic Indian experience, then Dhaba Lane is the perfect spot.
10.

Trèsind Dubai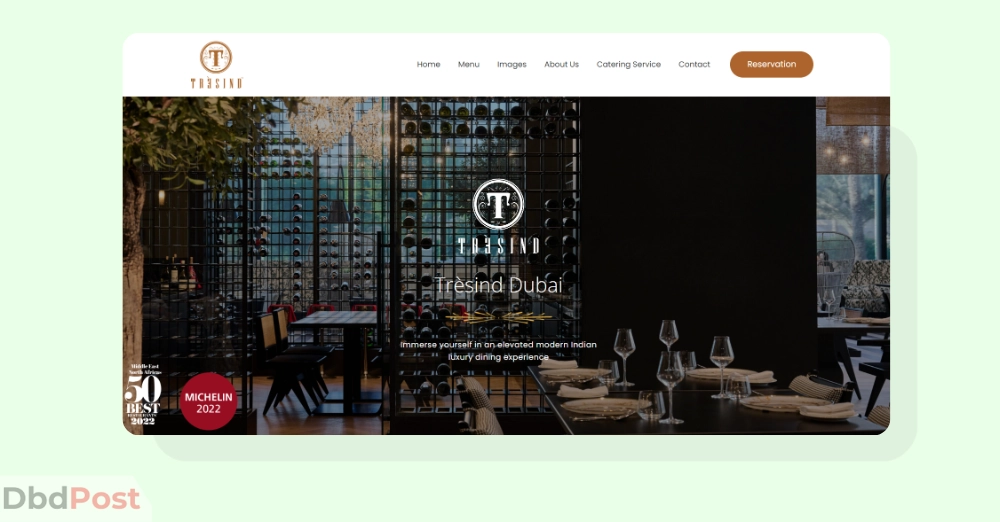 Trèsind Dubai is the best place for an Indian fine-dining experience. The main chef, Chef Himanshu Saini, takes traditional dishes from the sub-continent and presents them with a modernistic approach.
While every dish has Indian influences, each also highlights various regional culinary aspects. We recommend you try their lunch set menu. You can enjoy South Indian starters like Prawn balchao sambal and mini uttapam. The main course has favorites like butter chicken and Bengali kosha mangsho.
All these delicious dishes and Trèsind's amazing atmosphere make the spot a must-visit.
11.

Venus Restaurant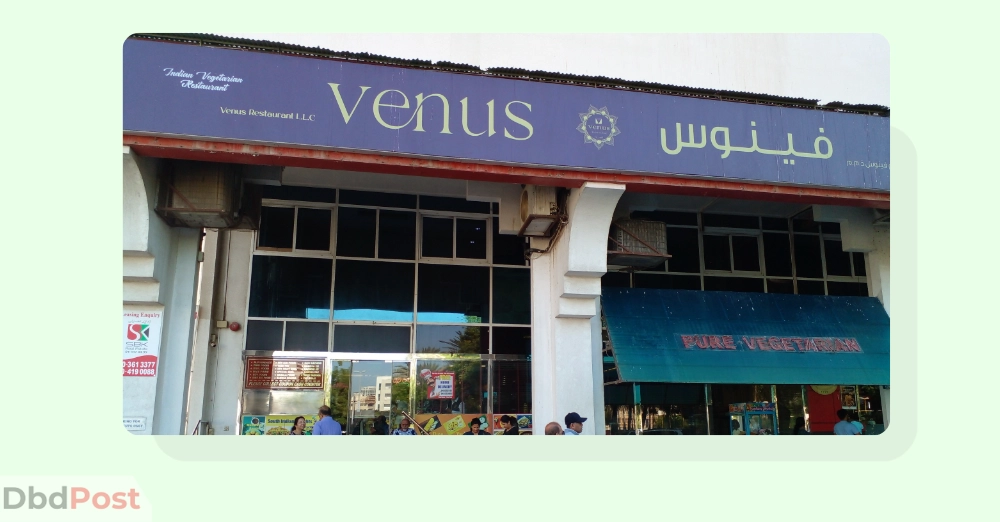 | | |
| --- | --- |
| Location | Street # 20B, Al Karama, Dubai |
| Hours | 7:00 AM – 11:30 PM (Sunday to Friday), 7:00 AM – 12:00 AM (Saturday) |
| Contact | +97143352113 |
| Average cost | AED 85 for 2 person |
| Map | Get direction |
Venus Restaurant is an absolute delight for all South Indian cuisine lovers. When you step into the restaurant, the atmosphere makes you feel like you are in Mangalore. You definitely have to try their amazing signature dishes, such as Mangalore Bonda and Dun.
If you feel like having classic south Indian food such as Idli and dosa, they also have a flavor pack and deliciousness there. As if that wasn't enough, they offer Unlimited south Indian Thali on days you are starving.
So go ahead, step inside the Venus Restaurant and explore the flavors in one of the best South Indian restaurant in Dubai.
How much does lunch at a good South Indian restaurant in Dubai cost?
South Indian food is generally considered budget-friendly; the same goes for the Dubai restaurants serving it. Lunch at a good South Indian restaurant in Dubai typically costs around 30-50 Dirhams per person. This would include a selection of dishes such as dosa, idli, sambar, and chutney.
Some diners may also offer a thali, which is a platter that includes a variety of different dishes. Many of these restaurants are small, family-run establishments popular with locals and expats alike. Hence, they offer food at a reasonable price.
It's worth noting that prices may vary depending on the location of the restaurant and its overall ambiance. For example, a restaurant in a posh area or a 5-star hotel may have slightly higher prices than a small restaurant in a less affluent neighborhood.
Related Info
FAQs
Is South Indian food available in Dubai?
Yes, South Indian food is available in Dubai.
There are many south Indian vegetarian restaurants in Dubai offering several southern foods for everyone. Around 40% of people living in UAE are Indians, and South Indian cuisine is a popular option among them. [1]MOEC, "Why UAE, https://www.moec.gov.ae/documents/20121/82728/Why+UAE.pdf"
Are there South Indian Non-Veg Restaurants?
Yes, there are South Indian Non-Veg Restaurants in Dubai.
There are many South Indian dishes beyond the classic vegetarian options. The cuisines from Kerala particularly have several non-veg options. 
What are the famous south Indian foods in Dubai?
Some of the most famous South Indian foods in Dubai include Dosa, Idli, and Uttapam, which are all made from fermented rice and lentils.
Additionally, Sambar and Rasam are popular soups, and Chutney and Appam are popular sides.
Where can I get the best south Indian dishes in Dubai?
Mamis Illam Pure Veg Restaurant is the best South Indian restaurant in Dubai. They offer authentic vegetarian South Indian food.
Final thoughts
With vast flavors to explore, the people on the island consider south Indian food an excellent option. From traditional street-style eateries to high-end modernist restaurants, Dubai has it all.
When looking for the best South Indian restaurant, you should consider its price, location, variety of dishes, and atmosphere. We hope this Dbd guide helped you find the top South Indian restaurant in Dubai.


Imran Hassan is an experienced Travel Specialist for UAE and the Middle East. He is based in Dubai and specializes in creating unique itineraries to ensure his customers have the best possible experience during their stay. From selecting the right hotel to recommending must-see attractions, Imran's expertise ensures that all vacations are unforgettable.