The best steakhouse in Dubai provides customers with some of the finest steak experiences. From luxurious restaurants with gold-plated steaks to affordable steakhouses in Dubai, there is something for everyone.
Dubai is known for its luxurious dining experiences, and its steakhouses are no exception. From high-end, fine dining establishments to more laid-back, casual restaurants, Dubai has a steakhouse to suit every taste and budget. Some of the best steakhouses in Dubai are Doors Freestyle Grill, The Meat Co., Hunter & Barrel Emirates Hills, and more.
Our team has researched and tasted the food to bring you this comprehensive guide to the top steakhouses in the city.
Similarly, we read online reviews, talked to locals and tourists, and personally visited the restaurants to assess the atmosphere, pricing, service, and location.
Based on these factors, we've compiled a list of the best steakhouses in Dubai that offer a truly exceptional dining experience.
11 best steakhouses in Dubai
Steakhouses are a popular dining choice in Dubai, offering a wide range of high-quality meats and luxurious atmospheres.
Whether you are a local looking for a new place to try or a visitor seeking the best places to eat in the city, there's something for everyone.
With so many options, it can take time to determine the best steak restaurant in Dubai.
1.

Doors Freestyle Grill – Steakhouse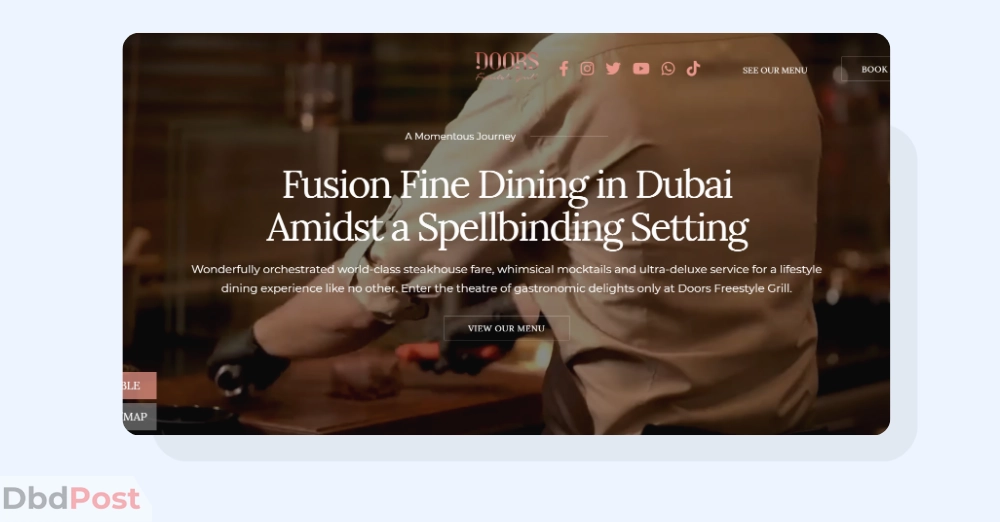 We recently visited Doors Freestyle Grill and were blown away by the delicious steak, seafood, grill fare, and specialty dishes. Created by world-renowned chefs, there was something to satisfy everyone's cravings.
The Beef Striploin Steak, Beef Rib Eye Steak, and Lamb Chops were all must-tries, and we were all satisfitied. The added bonus of being able to smoke Doors Shisha with our meal enhanced the experience.
Similarly, the restaurant's location, with its fantastic waterfront dining setting, felt like we were on vacation for dinner. The VVIP Private Majlis, Mixology Lab, Sheesha Lounge, and Outdoor Terrace all added to the fine dining experience. It made the restaurant an excellent choice for small parties or large corporate events.
2.

Hurricane's Grill Dubai Mall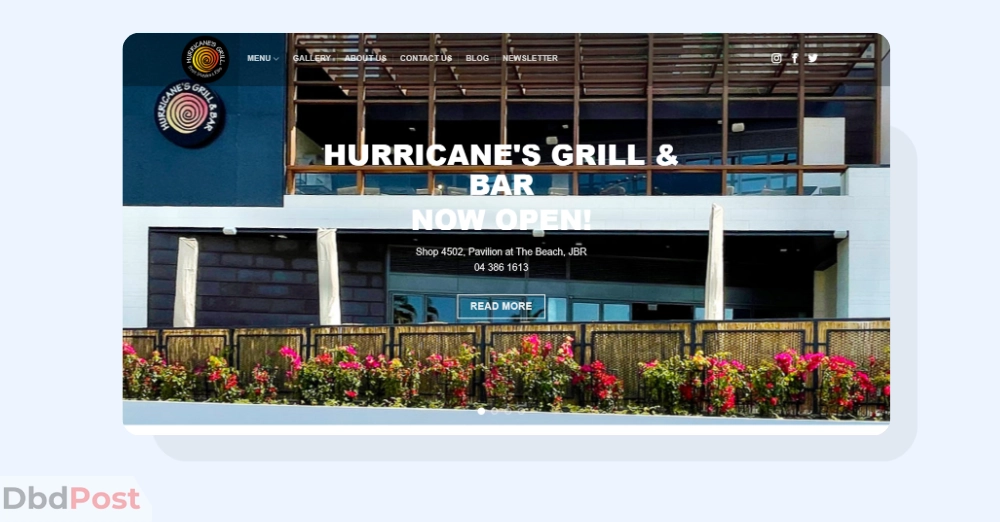 Hurricane's Grill, which started in Australia and is famous for its delicious steak, ribs, and burgers, did not disappoint. Combining South African, Portuguese, and modern Australian influences, the restaurant uses only the finest quality beef, lamb, poultry, and seafood and cooks everything perfectly.
The famous saucy burger, juicy beef ribs, and Prime Rib were all standout dishes, and the delicious sides and desserts completed the perfect Hurricane experience. While enjoying the amazing food, we could also feast on the majestic view of the Dubai Fountain.
3.

Fogo de Chão Brazilian Steakhouse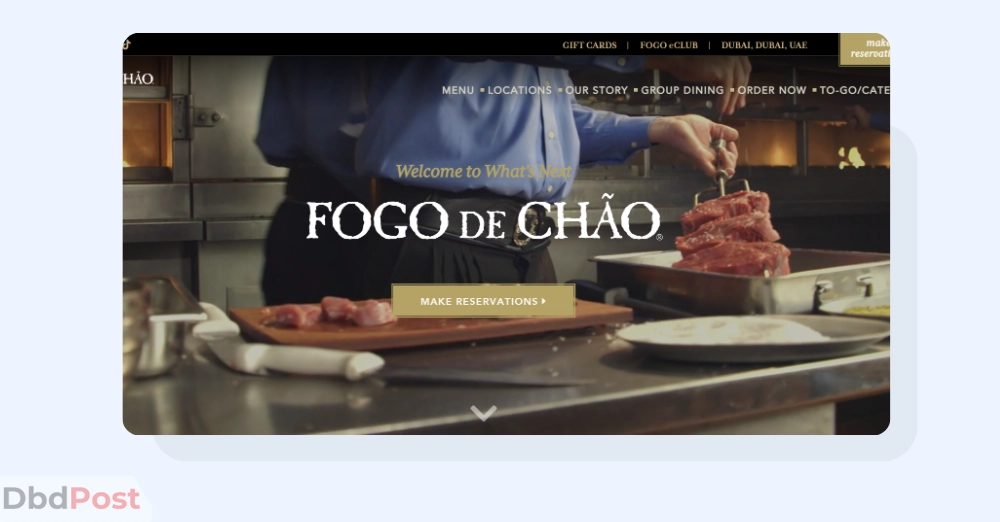 Fogo de Chão is a popular restaurant chain, with branches around the United States, Brazil, and other parts of the world including Dubai. They use centuries-old Southern Brazilian grilling techniques to cook amazing food for all taste buds.With an open kitchen, their customers can watch their dishes being prepared only feet away from them.
On top of that, some of their signature dishes include Picanha steak, Fraldinha, and Costela. Do not forget their delicious desserts like Papaya Cream and Molten Chocolate Cake. Moreover, Fogo de Chão promises a great dining experience in Dubai.
4.

The Meat Co.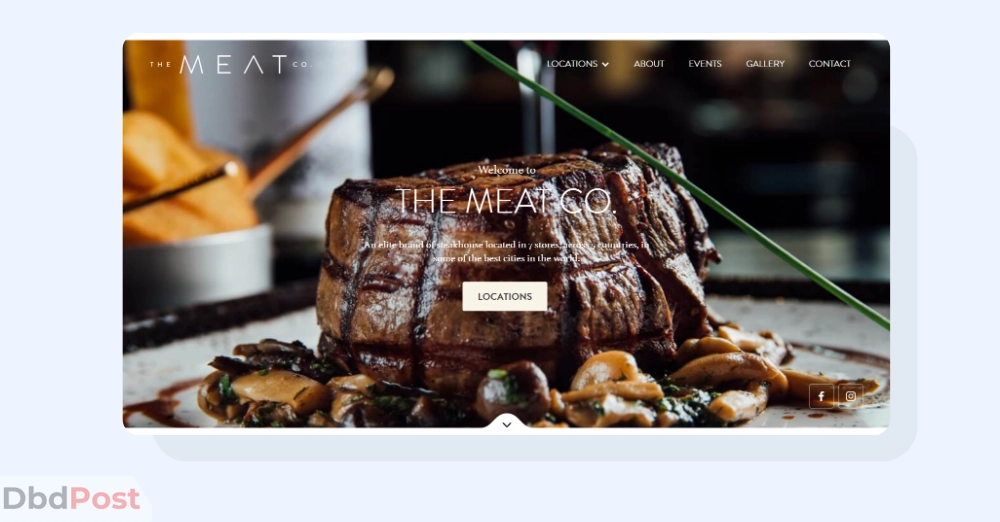 The Meat Co is a popular restaurant known for its innovative designs and decorations that reflect its African heritage with a mix of colors, textures, and special elements.
Diners are treated to views of landmarks like the Grand Mosque in Abu Dhabi, the Burj Al Arab, and the Burj Khalifa while enjoying delicious steaks that have been carefully chosen from around the world and aged for the perfect flavor.
In addition to the steak options, the menu includes seafood, a raw bar, and dishes influenced by South Africa. The fantastic hospitality at The Meat Co only adds to the overall dining experience.
5.

Seafire Steakhouse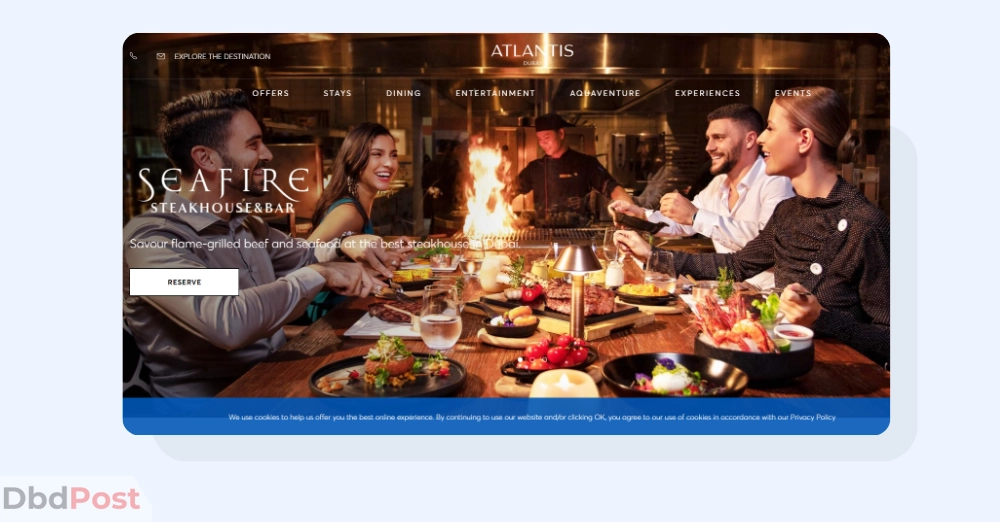 Seafire Steakhouse and Bar in Dubai is a favorite among diners for its mouthwatering steaks and seafood. The portions are generous, the meat is delicious, and the restaurant also has a huge wine cellar.
The beef used at Seafire is non-GMO Australian Angus that has been grain-fed for at least 200 days. Similarly, the menu includes wagyu from the Darling Downs region of Queensland, Australia, and the famous Hyogo prefecture in Japan.
Besides, this New York-style steakhouse has been awarded multiple times, including the 2020 BBC Good Food Magazine Awards for Meat Restaurant Dubai. It is clear that Seafire is the place to go for a fantastic steak experience.
6.

World Cut Steakhouse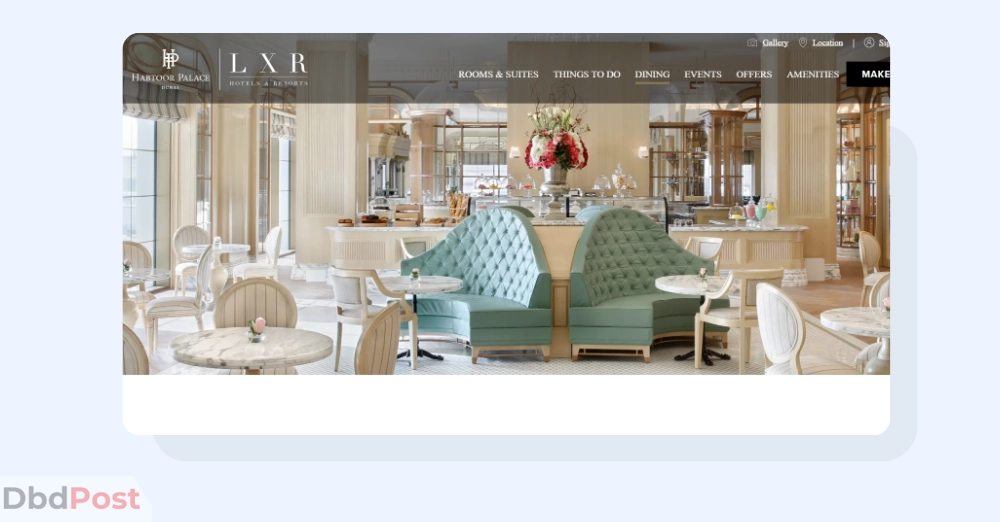 World Cut Steakhouse is the perfect place to go if you are craving classic American favorites with a modern twist. The restaurant is known for its world-class steaks and seafood, offering dishes like the Tomahawk cut, Wagyu beef carpaccio, and pan-grilled lobster.
All the dishes are made from premium quality meat and can be accompanied by a beverage from the restaurant's robust wine collection or a cocktail. With all of these great offerings available, it's no wonder that World Cut Steakhouse is known for serving up something extraordinary every time.
7.

Rhain Dubai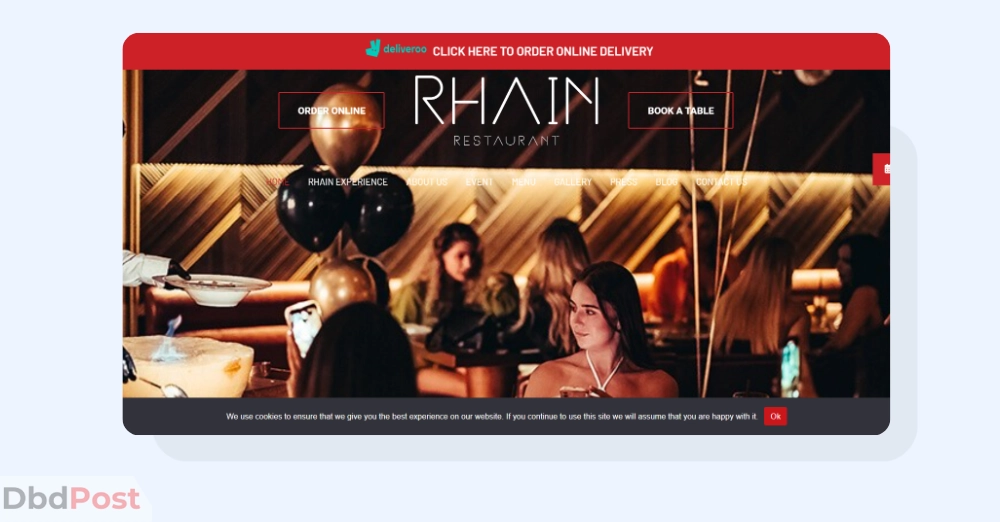 | | |
| --- | --- |
| Location | Sheikh Zayed Rd, Trade Centre, Trade Centre 1, DubaiSheikh Zayed Rd, Trade Centre, Trade Centre 1, Dubai |
| Hours | 7:00 PM – 2:00 AM |
| Contact | +97147181007 |
| Average cost | AED 660 |
| Map | Get direction |
| Website | Rhain Dubai |
Rhain Dubai promises a fine dining experience where you can enjoy high-quality prime meats cooked to perfection over an authentic charcoal grill. You are offered a fresh selection of seafood and signature dishes that guarantee an explosion of flavors.
To provide the ultimate food experience, the restaurant provides incredible live dinner shows every week to make your visit memorable. The highlight is the "J'adore" event on Thursdays, with performances by dancers and musicians and original music sets featuring popular DJs.
All this in a stylish and modern setting enables you to appreciate mouthwatering cuisine and lively entertainment at Rhain Dubai.
8.

Porterhouse Steaks & Grills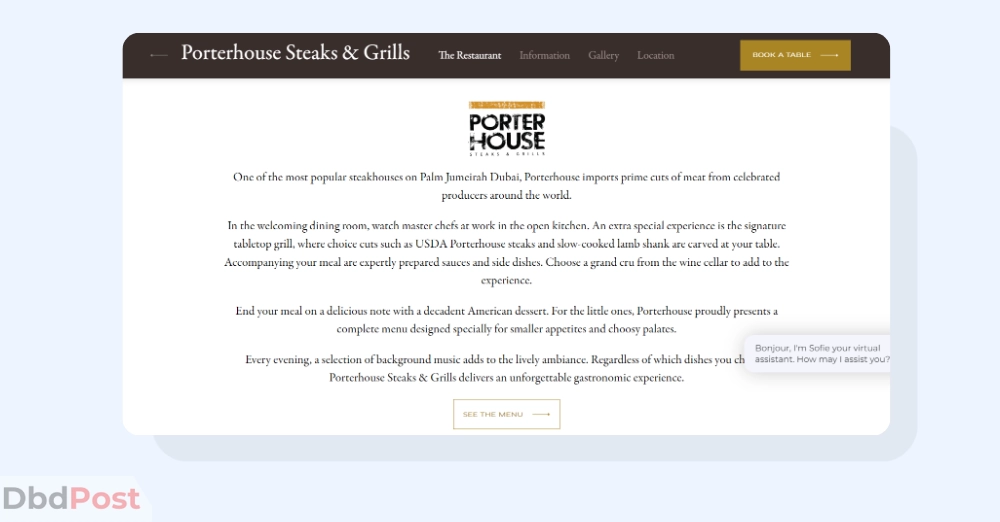 Porterhouse Steaks & Grills is a unique restaurant that stands out for its signature tabletop grill. They bring special ingredients from celebrated meat producers to provide their customers with fresh and delicious options. The open kitchen allows customers to watch as their meals are prepared right before their eyes.
The menu at Porterhouse Steaks & Grills features delicious entrees like USDA Porterhouse Steaks, slow-cooked lamb shank, and other signature dishes. There are also amazing dessert options available to satisfy your sweet cravings. The restaurant's atmosphere is nice and cozy, with soft background music playing as you enjoy your meal.
Overall, the service at Porterhouse Steaks & Grills is top-notch. The staffs are attentive and ensure that every aspect of your dining experience is enjoyable. Whether you are looking for a romantic dinner or a casual meal with friends, Porterhouse Steaks & Grills is an excellent choice.
9.

Hunter & Barrel Emirates Hills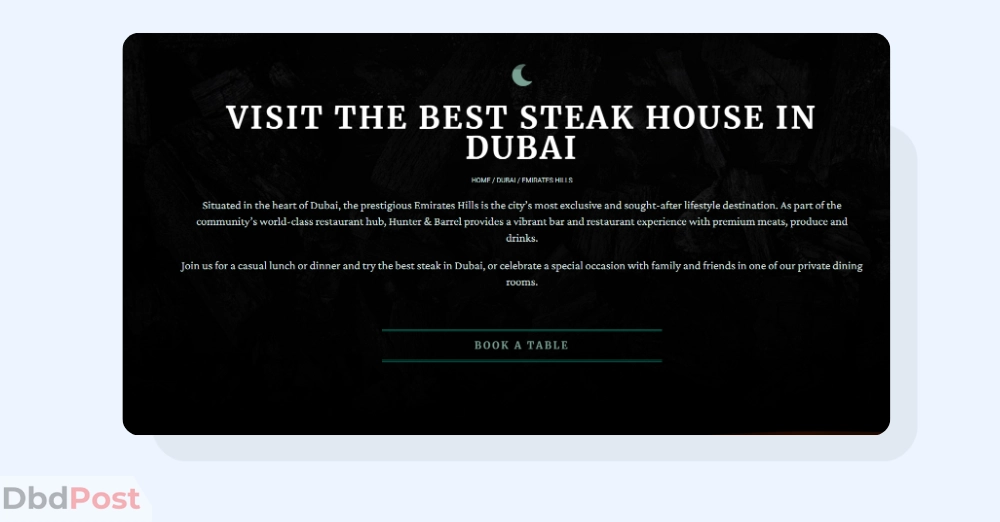 Hunter & Barrel is a bar and restaurant in Dubai that offers a unique and elegant dining experience. The restaurant serves premium meats, produce, and drinks cooked over an open coal grill for a unique flavor.
Diners can enjoy a variety of fresh steak, meat, poultry, and seafood options, including beef ribs, braised lamb shoulder, and charcoal-roasted chicken thigh. Moreover, the venue can accommodate up to 250 guests, making it suitable for weddings, birthdays, and engagement parties. Similarly, it has four private dining rooms that accommodate parties of 10.
10.

The Butcher Shop & Grill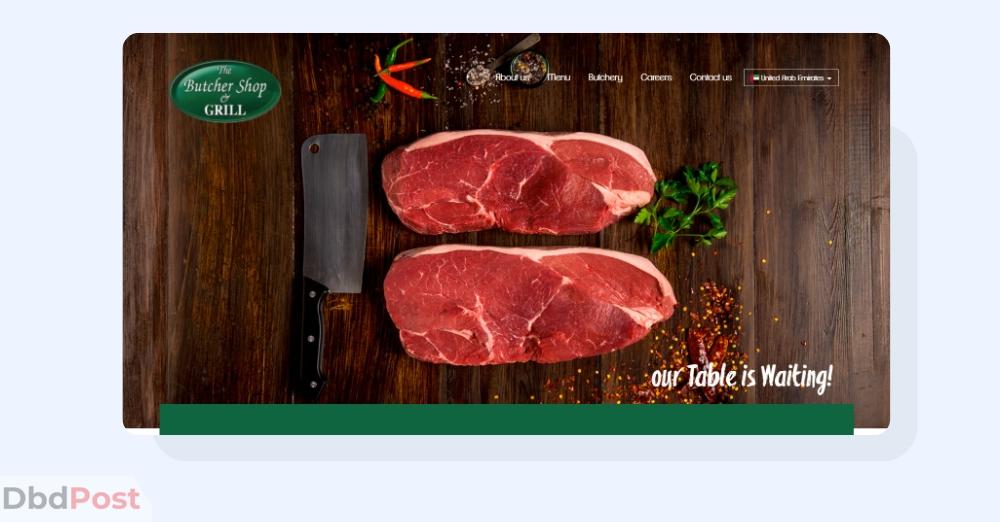 The Butcher Shop & Grill in Dubai is a popular restaurant known for its high-quality meat. The restaurant originated in Johannesburg and has since expanded to locations worldwide, including the UAE.
The meat is hung in carcasses for up to three days and then wet-aged in vacuum bags for an additional 21 days, resulting in excellent flavor and tenderness.
Furthermore, the restaurant offers a variety of steak options, including fillet, prime rib, rib eye from South Africa, and Tomahawks from Australia. But their signature dish is the South African beef ribs, slow-cooked over hot coals.
11.

Prime68 steakhouse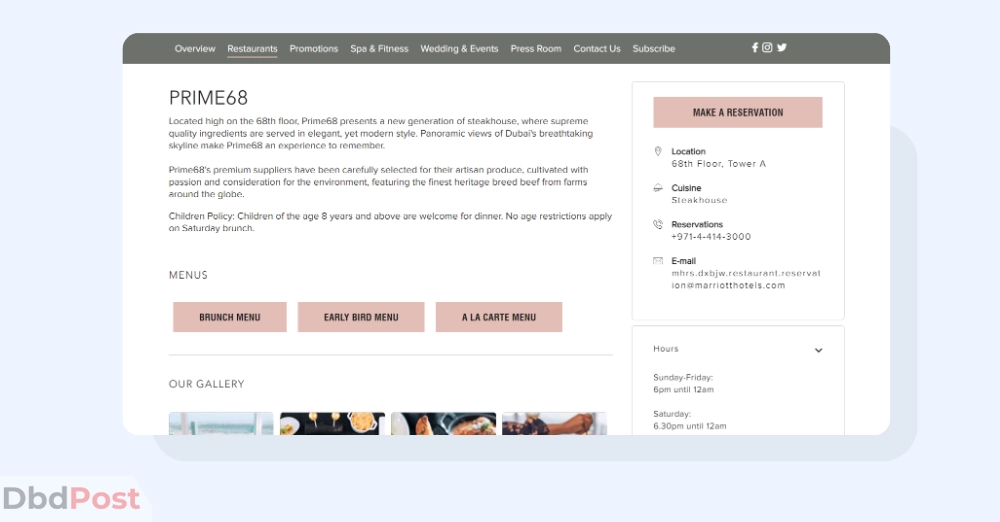 Prime68 is a steakhouse in Dubai that offers a memorable dining experience with stunning views of the city skyline. The restaurant serves top-quality ingredients, including Ranger's Valley Australian Black Angus steak, AAA Wagyu beef from the USA, and AACO Wagyu from Japan. Likewise, dessert options include chocolate cherry trifle and strawberry cheesecake.
The restaurant only works with suppliers who produce artisan produce and are focused on sustainability. With its delicious food, beautiful views, and commitment to the environment, Prime68 is an excellent place for a special occasion.
How much does a dinner at a good steakhouse in Dubai cost?
Dinner at a good steakhouse in Dubai can be a luxurious dining experience, but it can also come with a hefty price tag. The cost of a steak dinner in Dubai can vary depending on the restaurant, location, and type of steak. You can generally expect to pay anywhere from 100-400 AED per person for dinner for a high-quality steak in Dubai.
This price range does not include any additional drinks or appetizers that you might order. If you are looking for a truly indulgent dining experience, you can find a steakhouse that offers gold-plated steak.
While this type of steak is certainly a novelty, it can also come with a very high price tag, with some restaurants charging upwards of 1,000 AED or more for a single gold-plated steak.
Overall, a dinner at a good steakhouse in Dubai can be an unforgettable experience, but it is important to know the potential cost before making a reservation.
Related Info
---
FAQs
How much does a golden steak in Dubai cost?
A golden steak in Dubai can cost anywhere between 800 to 1200 Dirhams. Several best steak places in Dubai offer golden steak in the city.
Does a steak house put real gold on steaks?
Steakhouse put edible gold on steaks. Rhain Dubai offers 24K Edible gold steak for their customers. Additionally, UAE's food safety law prohibits establishments from misleading consumers by publishing a false description of food or using incorrect labels.
Which meat is commonly used to make steak in Dubai?
Beef is commonly used to make steak in Dubai. Lamb and Camel are also used to make steak, but they are rare.
Final thoughts
All in all, Dubai is home to some of the best steakhouses in UAE. From luxurious restaurants with gold-plated steaks to more affordable options, there is a wide range of options for every taste and budget. When finding the best steakhouse in Dubai, it's essential to consider factors like atmosphere, location, menu options, and price.
With our guide, we hope to have provided you with all the information you need to make an informed decision and enjoy a delicious and unforgettable steak experience in the Emirate. Whether you're seeking a special treat or a casual dinner, a steak in Dubai can be a truly memorable experience.


Adi Abbas is a travel enthusiast based in Dubai who has explored more than 15 countries in the Middle East and South Asia. He loves discovering different cultures, trying local food, and seeking out exciting things to do. His passion for travel has taken him to many places, where he's made unforgettable memories that will stay with him forever. Adi loves documenting his trips through photography and writing about his experiences.