If you have recently ordered any items from Shein, you might wonder how to track Shein order status. There are a few different methods to find out the status of your order.
One of the easiest ways to track the Shein package is visiting the ordered page on its website.
Your Shein order status updates regularly. So, if it says that your order has been shipped, you can be confident that it is on its way.
Another method to track your Shein package is through its app, which is also very convenient.
If you are still unsure how to track Shein order, keep reading. We will show you here exact steps.
Here is how to track Shein order
Once you have paid for the order, Shein will prepare and ship your item within 1 to 3 days. [1]Shein, "Shein Shipping Info, https://us.shein.com/Shipping-Info-a-280.html
You will receive a Shein tracking number when you get an item shipped. You can use this number to track the status of your package on the Shein website or a mobile app.
First, let's see how to track your package from its website.
Method 1:

Tracking Shein orders from the website

Track Shein order with the order number in simple and easy steps as mentioned below:

Step 1: Visit Shein's website

Check out the Shein official website (shein.com).

Step 2: Sign in to your account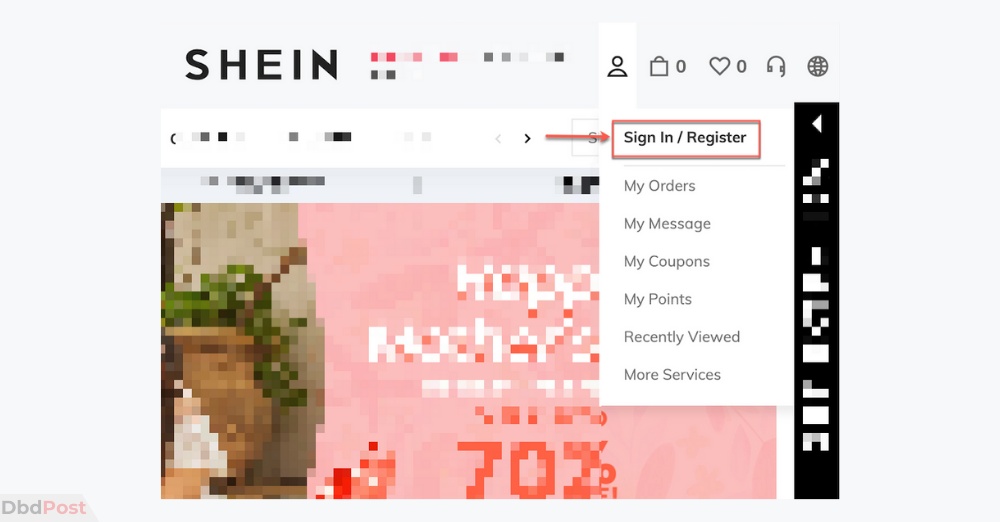 You need to log in with your email address and password to access the "My Account" section.
Step 3: Open "My Orders" list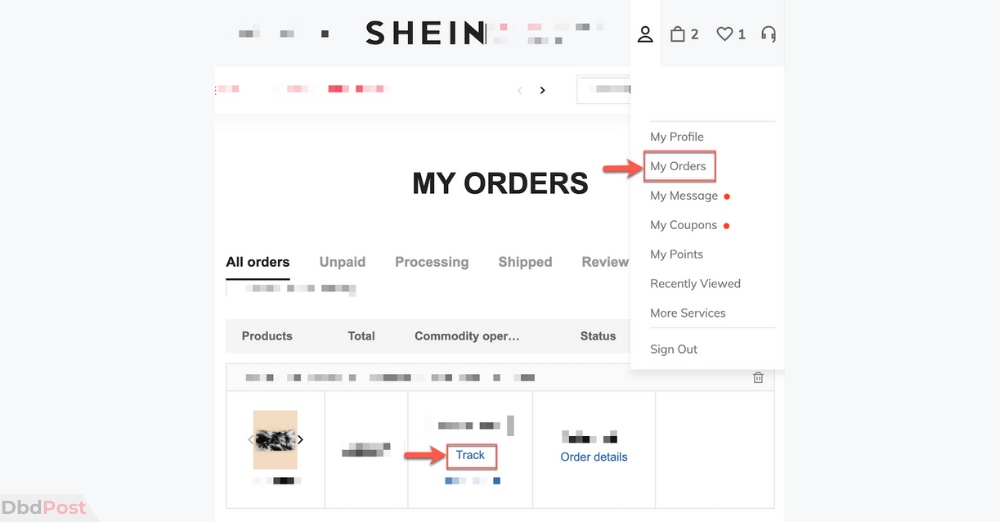 Click on "My Orders" in your account's "Account Dashboard" section to see the current status and past orders record.
Step 4: Select the "Track" option to track your order
Now you'll be able to view all your past orders. If your order has been "Shipped," go to the "Track" button to see whether it's still in transit or in its delivery stage. You'll also find your tracking number and link to the courier page.
Related info: Check out this – Shein reviews, where we have provided detailed insights about Shein.
Method 2:

Track Shein orders from the Shein app

Tracking Shein packages from a mobile phone is quite simple.

The Shein mobile app is available for download on Android and iPhone devices. This will let you know when your Shein order has been delivered.

Follow these steps to track Shein's order from mobile apps.

Step 1: Open the Shein app and select the "Me" option from the lower right corner of the home page.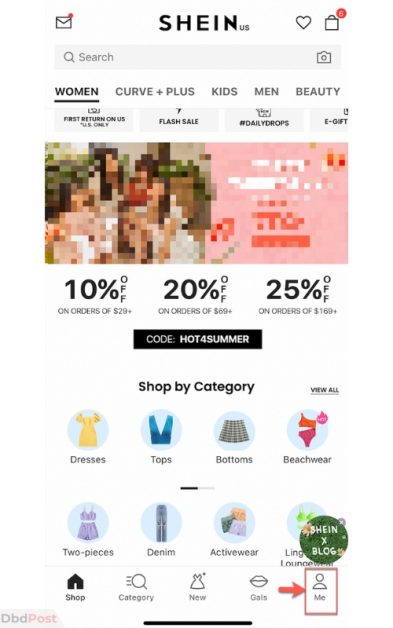 Step 2: Find the "My Orders" tab and click on "View All."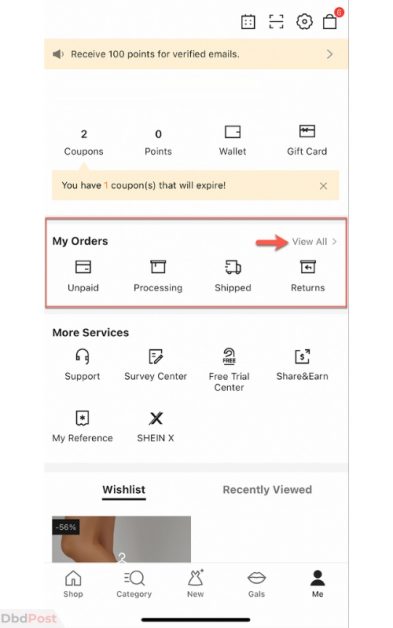 Step 3: Click the "Track" button, of which you want to know the order history.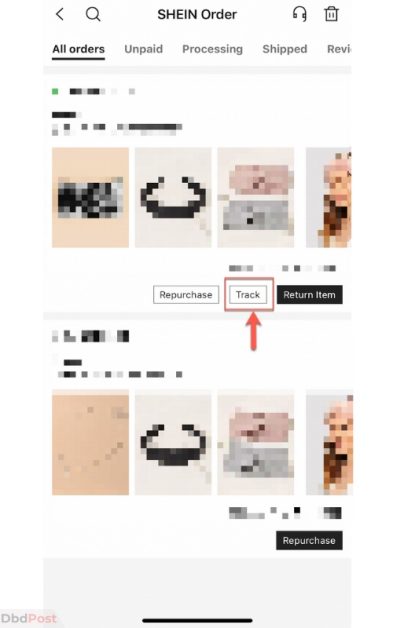 After the above steps in both the website and app, you will then be redirected to the "Follow-up" tab, where you can see step by step path of your purchased orders.
You can also copy the tracking number to check the order status from the delivery service provider.
If you are still having trouble tracking your Shein packages, we suggest you contact customer service.
Learn more: How to contact Shein customer service?
Various Shein order status & What do they mean?
If your package has not arrived within the estimated delivery time, you can check the Shein order status on their website. The following is a list of the statuses your Shein package goes through during its delivery time.
Order Submitted
The "Order submitted" status means that your payment has been processed, and your order is being prepared for shipping. Shein will also produce a track order number for each product in this stage. That will help Shein prepare everything so it can be picked up in a parcel.
Awaiting Shipping
"Awaiting Shipping" status means the packaging has been completed and just needs to pick up from the warehouse.
Package left warehouse
When the packages have entered the shipping system and are on the way to departure, the "Package left warehouse" status will be shown.
Flight departure
"Flight departure" status notifies you that your package has left the origin country of Hong Kong or China as
In transit
"In transit" indicates that your items are on the way to the destination country or have already passed through an intermediate country to avoid customs.
Customs cleared
You will receive a "Customs cleared" notification status when your package has cleared customs and is on its way to your home.
Arrived at courier facility
It means that it has arrived at the Shein delivery person, and in a few days, you should receive your parcel.
Package delivers
When your current status turns to "Package delivers," your Shein package is on its way to your home, and you will receive it in the next few days.
Delivered
When you see "Delivered" in your current status, your package is safe at home. You can check if everything is in place before you confirm delivery.
Once you receive your package, confirm your delivery, and earn some bonus points.
See also: Not satisfied with Shein, here is how to delete Shein's account
FAQs about Shein order tracking
Where to find Shein order tracking number?
You can find Shein tracking number in the "My orders" section. Go to the specific item and click on the "View details" button to get the tracking number.
Finally, clicking on the "track" button will display the current status of your delivery and the tracking number.
How to track Shein order without tracking number?
If you placed an order with Shein and did not receive a tracking number, there is still a way that you can track your order.
Step1: Visit the Shein website and log into your account.
Step 2: Go to the "My Orders" section and click on the "View Details" of the item you want to track.
Step 3: You should see a "Track" option, select this, and you will be able to track your order without a tracking number.
How accurate is Shein tracking?
Shein tracking is accurate. Once your order has been shipped, you will receive a tracking number and be able to track the progress of your shipment. Shein also provides updates on the status of your order, so you'll always know whether it has been shipped or is still in transit.
In addition, Shein's tracking system is updated in real-time, so you can always be sure that you're seeing the most up-to-date information.
Final thoughts
When it comes to tracking the Shein package, you should regularly check the Shein order status, and note any changes or updates.
It will allow you to stay on top of any delays or issues, ensuring that your purchase arrives on time and in good condition.
Now that you know how to track Shein order status, you can sit back and relax until shipping time completes and your package arrives.
If you found this Dbd guide informative, please share it with your friends and families.


Andy Cale is an experienced journalist who has been writing for over twelve years. He focuses on global news and events, particularly on current affairs. His pieces cover news stories, info guides, reviews, and opinions on various topics that are important to the world today.