Sometimes, a product doesn't fit right, or you might change your mind after purchasing from Shein. That's what the Shein return policy is for.
Shein provides the possibility to return products within 35 days after purchase. It usually takes 7 to 10 days for Shein to process your return.
According to Shein refund policy, you will get the refund back to the original payment source or your Shein wallet. The original shipping fee is non-refundable for return shipments.
In this Dbd guide, you will learn about Shein return policy and how to return or exchange any product you have purchased from the Shein clothing store.
Shein return policy – Quick review
| | |
| --- | --- |
| Return days limit | 35 days from ordering |
| Return shipping charge | Free for first return and charged $7.99 afterward |
| Refund/Exchange | Depending on the customer's choice |
| Receipt required | No |
| Refund time | Within 7 business days |
| Return method | Online or by mail |
| Non-returnable items | Bodysuits, Lingerie and Sleepwear, Swimwear, Jewelry, and Accessories |
How to return Shein clothes?
Shein provides two ways for customers to return items: a self-help return method or direct contact with customer care.
To start the return process by self-help, you do not need an order number. However, if you choose to return the items through customer care, you will need your order number.
For customer support, see this page for instructions on how to contact Shein's customer care.
Here is a self-help Shein return guide that you can follow to complete a return.
Step 1: Sign in to your Shein account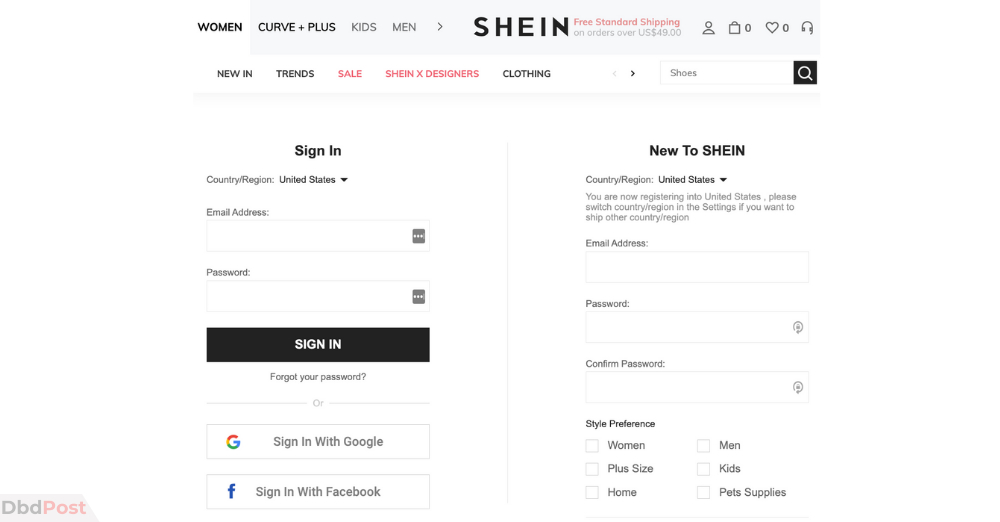 To begin your return, first you have to sign in to your Shein account.
Step 2: Click the "Return Item" button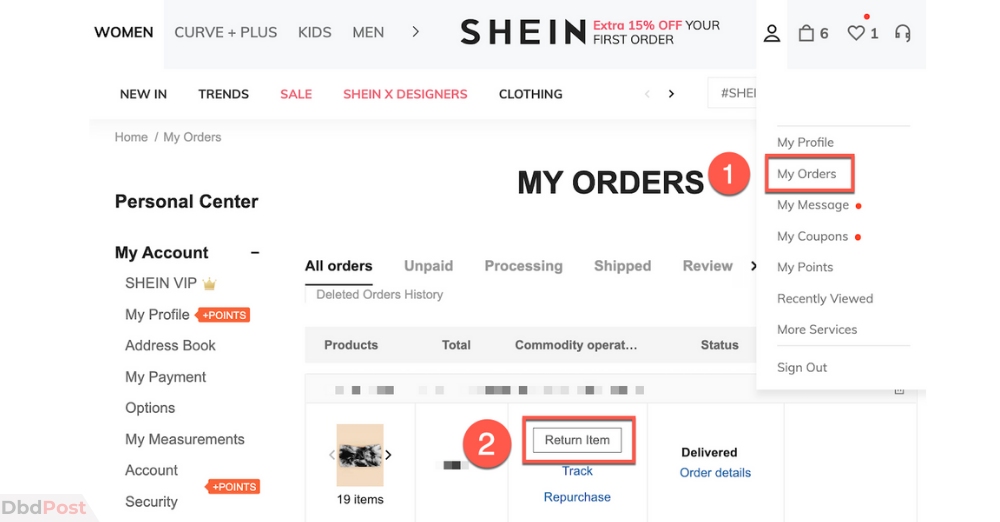 Navigate to "My orders" and click the "Return Item" button.
Step 3: Select a returnable item
Choose the item you would like to return. Mention why you want to return and click on the "Submit" button.
Step 4: Package up the item
Start packing up the returnable item with the original packaging.
Step 5: Attach the return label to the return package
You should receive a specific free return label from the "Return and Refund" section, print it out, and attach it to the return package.
Step 6: Select the mailing method
There are two ways to mail your package. You can send it yourself, or you can use the pickup service.
If you opt for the pickup service, the logistics company will contact you to pick up the doorstep. If you choose to send it yourself, take the sealed package to the nearby courier service and send it to the return address of the Shein center.
Step 7: Wait for your refund
Shein processes most refunds within 7 business days after they receive your package. Once they receive the returned package, they update the return status immediately and refund you.
You will need to pay for shipping if you are returning an item. Under Shein's return policy, it will deduct $7.99 from your refund amount. [1]Shein,"Shein return policy, https://www.shein.in/Return-Policy-a-281.html"
How to find Shein return label?
You should attach the shipping label on the outside of the package before returning your package. To download and print your return label, follow the steps below:
Step 1: In your Shein account, go to "My Order".
Step 2: Click on "Order Details".
Step 3: Click on the "Return and Refund" in the top right corner.
Step 4: Click "View" to download and print your return label.
Conditions for return or exchange Shein product
If you wish to return an item that falls into one of these conditions, Shein will not be able to process a return or exchange for you. So be careful and read all the criteria before shopping on Shein.
The conditions applied to the Shein policy are:
Must not be worn, damaged, or have tags removed: The Shein exchange policy requires that all items being returned or exchanged must be unworn, unwashed, and undamaged, with the original tags and hygiene stickers.
Item must be unused and original packaging: You can try them on, but they will not accept the items if you wear them out to dinner or work. You must return the item in its original packaging.
Notice about the non-returnable item: Certain types of items cannot be exchanged or refunded. These include bodysuits, jewelry, lingerie, underwear, beauty products, event or party supplies, DIY supplies, pet supplies, accessories, and non-shein items.
Exceeds return time limit: If you have not returned the product within 35 days of the purchase date, Shein may not accept your return. However, you may be able to appeal their decision. To do so, contact Shein's customer service and explain your situation.
Want to learn more about Shein?
We have tested more than 100 Shein items to see how they stand up in terms of quality, size, and customer service.
Check out this Shein reviews, where we have provided detailed insights about Shein.
Want to cancel your order?
If you do not know how to cancel an order on Shein, or if you have a problem canceling an order, please read this page. We have provided a step-by-step guide on how to cancel an order on Shein, as well as what to do if you can't cancel your order.
Shein order tracking
If you don't know how long Shein takes to ship at your place, follow this Dbd guide on – Shien shipping time, where you'll find everything about Shien shipping, time, and charges.
If you want to learn more about Shein order tracking, we have a detailed guide which you can find here – How to track Shein order.
FAQs about the return policy of shein
Does Shein have a return policy?
Yes, Shein offers a return policy. If you are not satisfied with your purchase, you can exchange or return your package.
What is Shein return policy?
According to Shein return policy, you can return the items within 35 days after the purchase date. The shipping is free on your first return for any order, and later on, you have to pay $7.99 as a shipping fee.
How many return days does Shein allow?
Shein allows returns within 35 days of purchase, provided that the items are in their original condition with all tags still attached.
This generous return policy gives customers peace of mind when shopping on Shein, as they know that they can easily make a return if something doesn't work out for them.
What is Shein holiday return policy?
The holiday return policy of Shein is slightly different than their standard return policy.
For example, they typically offer free returns on all orders during the holidays.
Additionally, they may extend their standard return period to allow for more time to make a return if needed.
Contact their customer service team to learn more about Shein's holiday return policy.
Does Shein do exchanges?
Yes, Shein does offer exchanges under certain conditions. Items that are eligible for exchange must be unworn, unaltered, and undamaged and be in their original packaging.
Additionally, certain types of items, such as those that have been customized or are non-returnable, cannot be exchanged.
How long does Shein take to refund?
In most cases, Shein's refunds are typically processed within 7 working days after the return is received by Shein. However, it is essential to keep in mind that this timeline can vary depending on several factors, such as the size and nature of the returned items.
Overall, Shein does its best to process refunds promptly and efficiently to minimize any inconvenience for its customers.
Can Shein product be changed without a receipt?
Yes, you can return Shein products without a receipt. Since Shein is an online store, you don't need a traditional receipt. You can start your return by logging in to your account.
Does Shein have free returns?
No, Shein does not have free returns for all items. Only free returns are applicable for the first return. However, customers will need to pay a $7.99 shipping fee for subsequent returns.
Do you get a free return on each order or only your first return in Shein?
Shein return policy states that customers get one free return per order. If a customer needs to make multiple returns, they will have to pay for each shipment fee.
Who pays the return shipping charge in Shein?
Shein will pay the return shipping charge for your first return. After that, you will need to pay the shipping fee.
However, we recommend double-checking their return policy on their website to be sure.
Will Shein let you keep items instead of returning them?
Yes, possibly. If your order meets a certain threshold, Shein will often tell you to keep the item and refunds you.
Final thoughts
When it comes to returning Shein items, you need to be aware return policy of Shein. Any item you wish to return must be in its original condition, with all tags and stickers intact.
Shein offers two options you can either exchange it for another product or request a refund.
So if you are unhappy with any of the products you have purchased from Shein, you can easily make a return or exchange.
We hope that this Dbd guide will provide helpful information about Shein return policy and Shein replacement policy. Please feel free to share this information with your friends and family.


Andy Cale is an experienced journalist who has been writing for over twelve years. He focuses on global news and events, particularly on current affairs. His pieces cover news stories, info guides, reviews, and opinions on various topics that are important to the world today.