Dubai is popular for its rich culinary empire with local to international dishes. Handpicking the best buffet Dubai restaurants among all can be a daunting task.
All-you-can-eat restaurants in Dubai offer Asian, Arabic, and Pakistani menus with several meal options. Some popular open buffet restaurants in Dubai are Sushi Nations, Al Ibrahimi Palace, and more.
This Dbd guide looked into factors like the items, menu variety, and branches. Besides personal visits, we also looked at customer reviews and reputed food blogs.
Furthermore, we interviewed buffet lovers, tourists, and locals for genuine feedback. Compiling all data, we prepared this comprehensive Dbd guide on the best buffet in Dubai.
11 best buffet restaurants in Dubai
To help you pick the best buffet restaurants in Dubai, we have compiled a list of 11 restaurants. So, go through them thoroughly to make the right choice.
1.

Sushi Nations: Sushi buffet in Dubai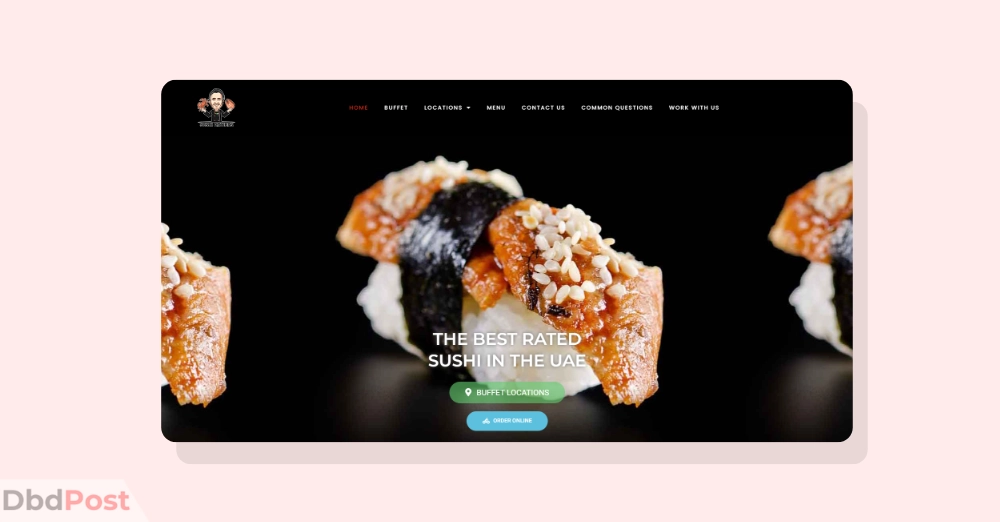 Sushi Nations is a restaurant in Dubai that offers an all-you-can-eat sushi buffet. You can enjoy unlimited sushi starting at just 79 Dirhams.
In addition to sushi, there are other items in the buffet, such as Maki rolls, salads, noodles, and more. Sushi Nations also offers online ordering through Talabat, Zomato, and Careem.
The restaurant received TripAdvisor's, "Travelers Choice award in 2022." This makes it a popular and reputable option for those seeking sushi in Dubai.
2.

LalQila Restaurant Dubai: Franchise buffet in Dubai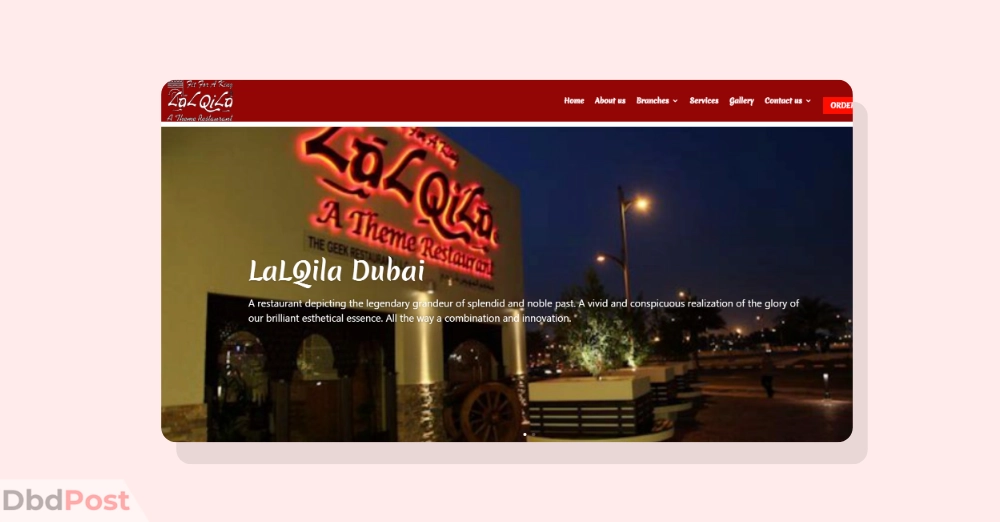 LalQila Restaurant, a popular buffet franchise, opened its doors in 2011 in Dubai, UAE, bringing with it the traditional tastes of Pakistan.
The restaurant offers various delectable dishes, such as Chowmein, Paneer Shashilk, and Chappli Kabab, leaving your taste buds tingling with pleasure.
With branches in both Abu Dhabi and Dubai, you can savor their dishes at your convenience.
If you're planning a business or event and need catering services, LalQila has covered you with its custom menus.
Moreover, the restaurant is certified by HACCP and ISO 22000 2005, ensuring that their food meets the highest quality and safety standards.
3.

Nayaab Haandi AlWasl: Pakistani buffet in Dubai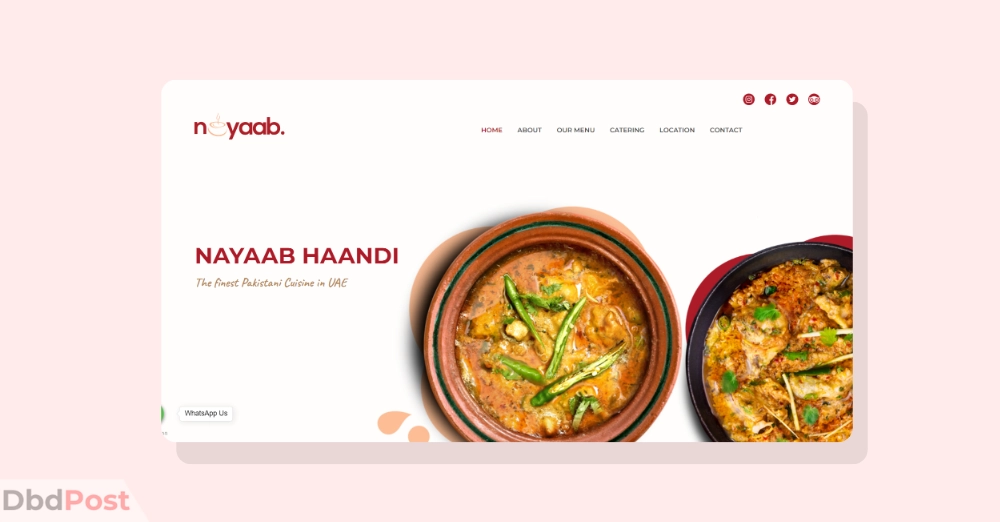 Nayaab Haandi is a Pakistani restaurant that offers the finest Haandi in Dubai. The restaurant was established in 2006 and served Pakistani and Mughlai cuisine.
It is located in 5 different locations in Dubai: Al Wasl Road, Al Nahda, Al Khan, Al Mujjarah, and Al Barsha.
Nayaab buffet features dishes like Peshawari Karahi, Bukhari rice, Afghani platter, biryani, and over 100 varieties.
Apart from mouth-watering buffets, they also provide catering services with a custom menu.
4.

Al Ibrahimi Palace Restaurant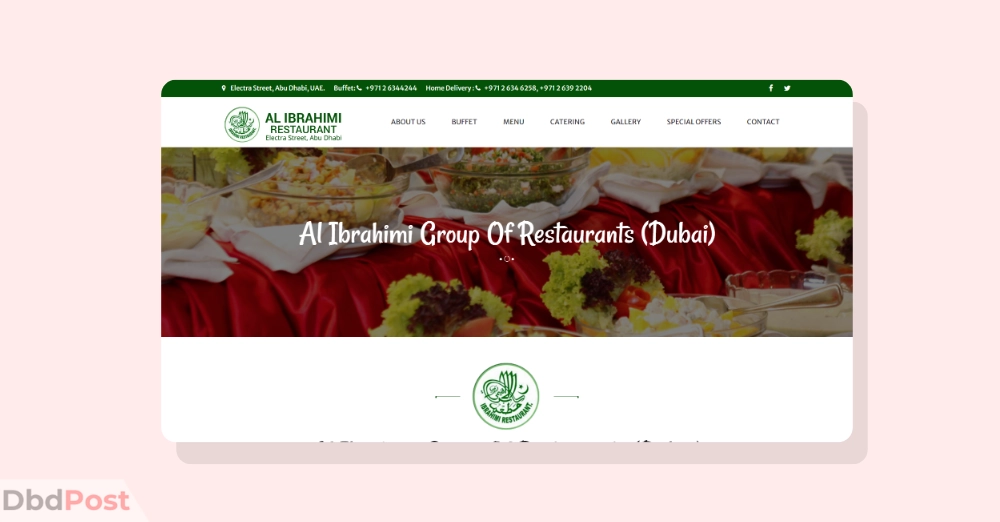 Al Ibrahimi Palace has been serving a delicious buffet menu to customers for over 30 years. It has a capacity of over 200 people, with a special family hall for those who prefer more privacy.
Al Ibrahimi serves a buffet with Pakistani, Arabic, Chinese, and BBQ dishes. Their menu offers a range of options, including veg, non-veg, soups, salads, and desserts.
In addition to its buffet, Al Ibrahimi Palace Restaurant also offers an a la Carte menu. They also provide catering services and have a banquet hall available for events.
5.

Kitchen6: Marriot hotel buffet restaurant
Kitchen6 is an award-winning international buffet restaurant located at the Marriot hotel. The restaurant serves various cuisines, including Asian, Middle Eastern, and European.
Kitchen6 has six interactive live-cooking stations where you can watch live cooking.
The restaurant offers a unique dining experience that caters to preferences and tastes.
6.

Barbeque Nation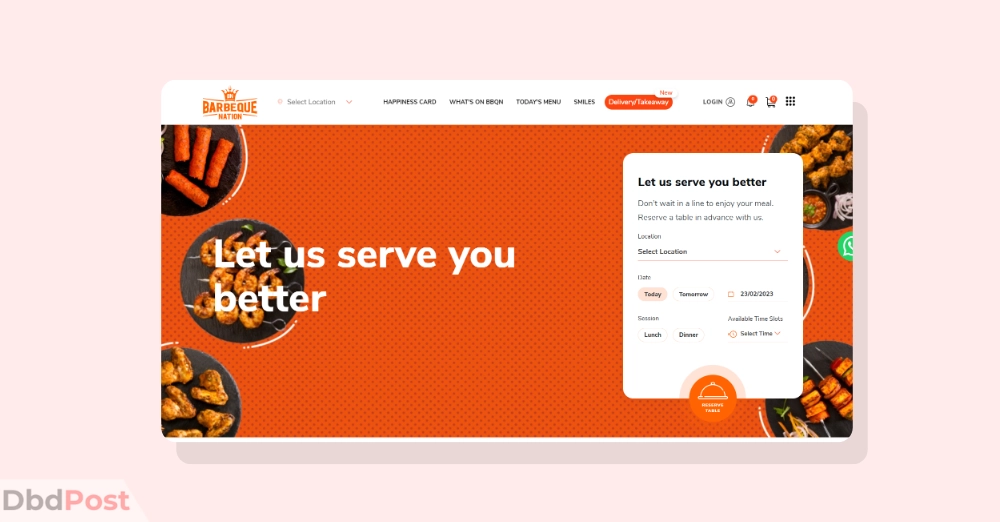 Barbeque Nation was founded in 2006 in India with the concept of 'all you can eat.'
They now operate over 200 outlets in India, UAE, Malaysia, and Oman. The restaurant offers at least five veg and non-veg appetizers and BBQ. [1]BBQ Nation, "About BBQ Nation, https://www.barbequenation.com/about-us#:~:text=One%20of%20the,outlet%20in%20Oman"
You can find the buffet restaurant in Abu Dhabi and Dubai. Barbeque Nation also offers discounts through their Happiness gift cards and loyalty rewards. You can earn and redeem Smile coins by becoming loyal customers.
7.

Bar.B.Q Tonight: Oldest BBQ buffet in Dubai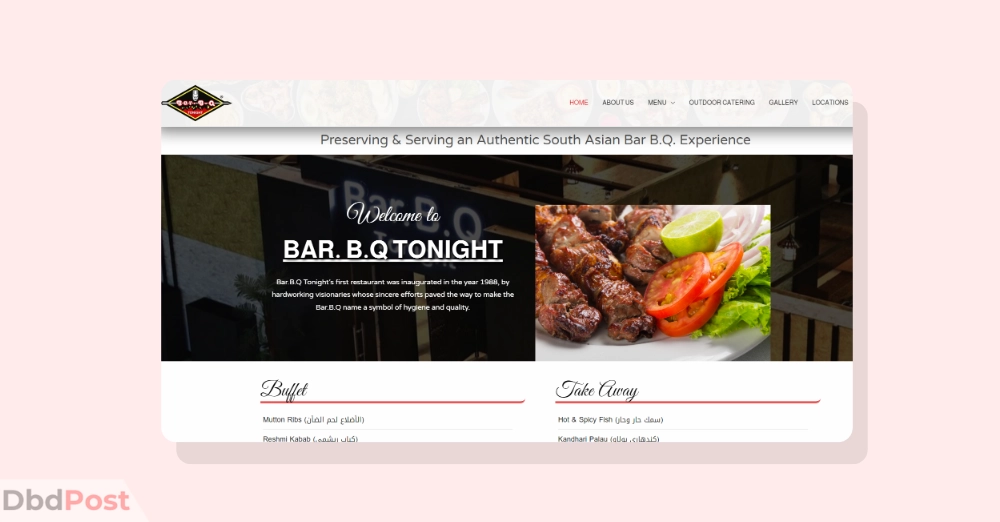 Bar.B.Q Tonight, a restaurant established in 1988, is one of the oldest BBQ restaurants in Dubai.
This restaurant has been serving authentic Pakistani dishes to its customers for years, and it continues to be a favorite amongst foodies.
The menu includes a variety of dishes such as mutton ribs, kabab, fish tikka, biryani, and more, which are sure to leave you craving more.
If you don't feel like dining out, you can enjoy their dishes in your home with their takeaway menu. Moreover, you can choose from their 3-course buffet meals that will satisfy you.
8.

Kaleidoscope: Premium buffet in Dubai
Located in the Atlantis hotel, Kaleidoscope is a premium buffet restaurant that offers many food options to satisfy every taste bud.
Their buffet menu includes a fusion of Asian, Arabic, and European cuisines, ranging from Indian curries to Italian pastries.
Aside from the food, you can also enjoy the beach club in the hotel and sip on refreshing drinks from the bar.
With themed nights like Italian nights, Arabian nights, and Indian nights, you can indulge in unique food experiences that will leave you wanting more.
9.

Karachi Grill Restaurant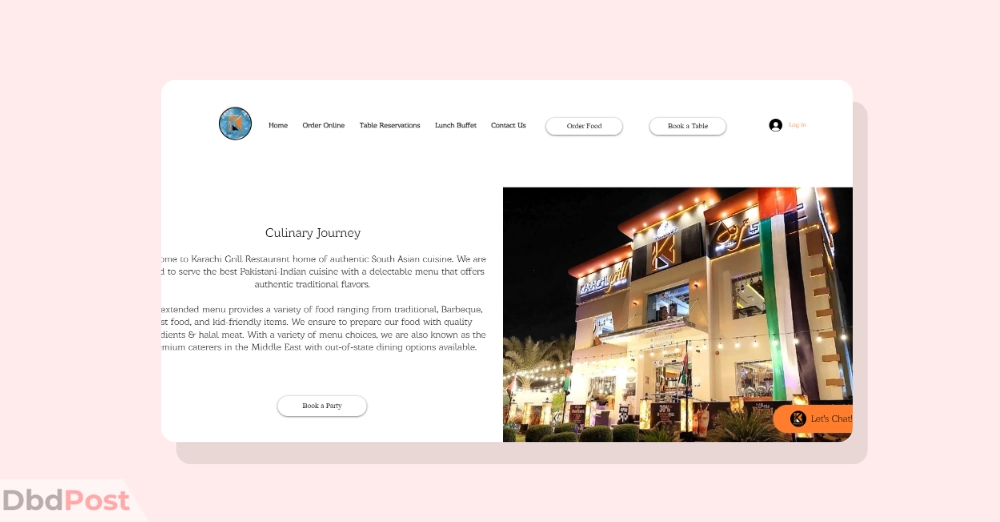 Karachi Grill Restaurant offers South Asian buffets in Dubai, United Arab Emirates.
You can expect Pakistani and Indian buffets with authentic flavors and halal meats.
Their varied menu includes combo meals like Royal, KG, and deluxe with kababs, handi, daal, and naans. Karachi's best sellers are chicken mix grill, Karachi grill, and Karachi karahi.
10.

Saffron Restaurant: Best lunch buffet in Dubai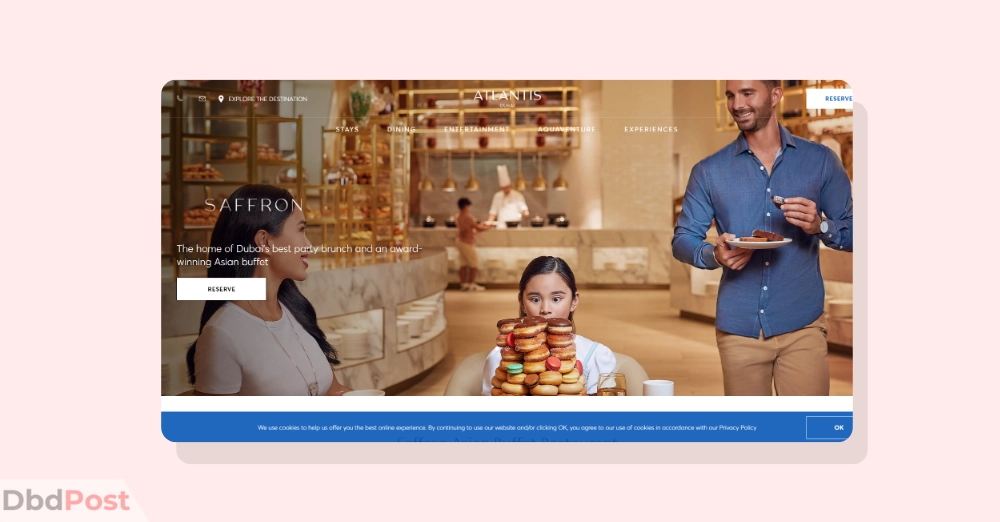 Saffron is one of the largest buffets in Dubai in the Atlantis hotel. You can enjoy over 220 dishes in the 20 live cooking stations. The restaurant offers Soth Asian and Indian buffet cuisines.[2]Atlantis, "About Saffron, https://www.atlantis.com/dubai/dining/saffron#:~:text=With%20more%20than,seafood%20buffet%20feasts."
Furthermore, there are themed buffets like Saturday brunch, continental cuisine breakfast buffets, and more.
You can enjoy crabs and lobster in the Seafood Tuesdays and spiceful tandoori in Indian Express.
11.

Danial Restaurant Dubai: Best-priced quality buffet restaurants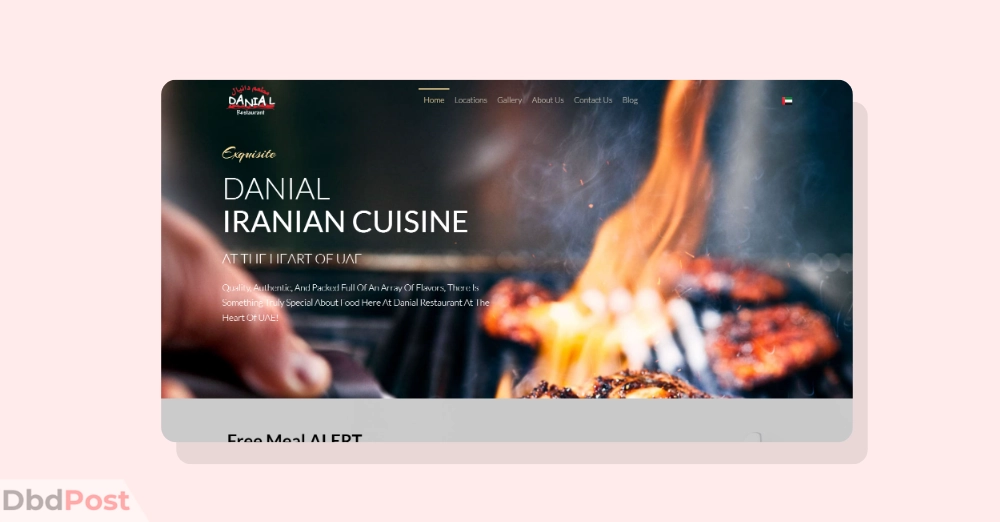 Danial Restaurant has been serving Iranian buffet meals in the Emirates since 1999.
The buffet is in Mazaya center, Crystal Plaza, and Black Square in Sheikh Khalifa's famous food street across Dubai. Some popular menu items are Fattoush, Gormeh, and Shirazi.
Danila also provides event catering services. You can order their food online via Careem, Zomato, and Talabat. Also, you can win a free family buffet meal weekly.
What is the average cost of a buffet meal in Dubai?
Buffet restaurants in Dubai offer various dishes from Arabian, Indian, and Pakistani cuisines. Also, you can find South Asian and European buffets in the premium range.
The average buffet meal cost in the Emirate is 100 Dirhams per couple. However, the cheapest buffet meals cost 50 AED per person, whereas premium buffets cost around 250.
The buffet restaurants separate the halal and non-halal meat sections in separate counters by 2 meters. [3]Dubai government, "Dubai Food code 2020, https://www.dm.gov.ae/wp-content/uploads/2020/11/Food-Code-2.0-Draft-Version-4.pdf"
Some popular buffet items in the Emirates are:
Biryani
On-table barbecue grills
Pakistani Karahi
Sushi
Salads
Naans
Lobster bisque soup
Related Stories
---
FAQs
Final thoughts
The Emirates buffet industry is rich and offers international and local menu items.
Choose from veg, non-veg, and multi-course amazing food with groups and families.
Considering numerous factors, we compiled this Dbd guide on the best buffet restaurants in Dubai.
Fresh food and unlimited serving are lucrative deals for many. So next time you visit one, enjoy the buffet deals.