Experience luxury by the waves at the top beach clubs in Dubai. These clubs feature various amenities, such as infinity pools and private cabanas, to keep the travelers entertained.
Escape to the stunning beach club Dubai, offering unforgettable experiences with unmatched views and luxurious amenities. They offer private cabanas, pool bars, to five-star restaurants perfect for special occasions. Find out about their impressive locations, entry fees, and how you can contact them to start planning your dream vacation today.
Choosing the best beach clubs in Dubai was difficult, but it certainly paid off. We looked at every factor, from accessibility to the quality of services offered, while conducting our research. Additionally, before deciding, we interviewed locals and visited all potential clubs.
After months of research and careful consideration, we determined the most exquisite Dubai beach clubs with our all-encompassing Dbd guide. We looked at each destination very carefully to find the best one.
16 top beach clubs in Dubai
The beaches in Dubai are known for their white sand and crystal-clear blue water, making them the perfect setting for swimming, sunbathing, and even surfing.
Some beach clubs in Dubai offer a wide range of amenities and activities, such as swimming pools, snacks and drinks, and various fun activities.
Likewise, many beach clubs also host special events, such as DJ parties, fireworks shows, and plenty of restaurants in the area for delicious meals.
If you're planning to visit Dubai, check out one of these amazing beach clubs.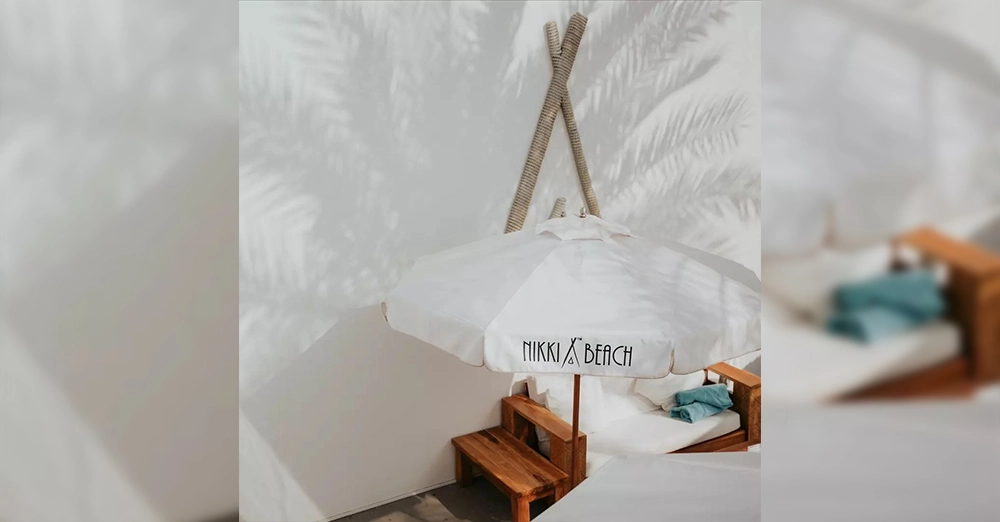 Located on the exclusive Pearl Jumeriah, Nikki Beach Restaurant & Beach Club Dubai is part of a franchise with 11 beach clubs worldwide. The club features 14,000 square meters of beachfront property to satisfy all your needs.
Guests can take in panoramic ocean views from the comfort of a giant cabana-style day bed, enjoying décor featuring heavily tribal influences.
The restaurant features authentic locally-sourced ingredients, fresh seafood, and exciting flavors with an Arabian twist.
Plus, you can sip on refreshing cocktails while enjoying entertainment during lavish parties at this beach club. Not to mention Special Ladies Tuesday and Sunday Brunch.
Similarly, private VIP events are available for up to 150 guests, while they can serve up to 1500 people across the property. You will indeed have an unforgettable time with Nikki Beach Restaurant & Beach Club Club Dubai. [1]Nikki beach, "Events, https://dubai-bc.nikkibeach.com/private-events/"
Book now: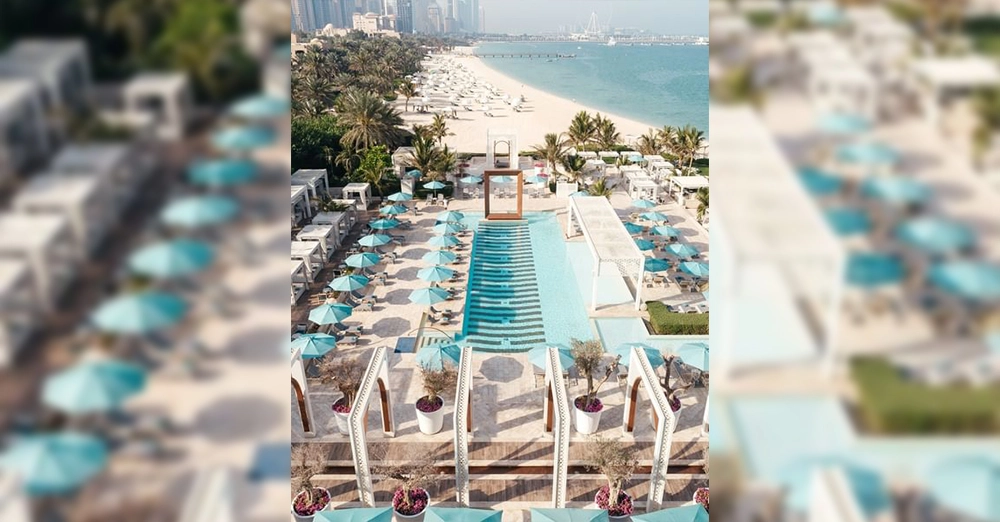 Drift Beach is a beachfront destination located in Palm Island Bay. It offers a variety of amenities, including an infinity pool with panoramic views of the bay and a restaurant featuring cuisine prepared by Chef de Cuisine Sylvain Noël using organic ingredients.
The club also has an innovative cocktail menu curated by mixologist Ruslan Svezhenko.
In addition to these amenities, Drift Beach hosts various recurring events such as live entertainment on Saturdays, Super SUP Fit classes on Tuesdays and Saturdays, Chic Wednesdays, and Ladies Who Drift on Tuesdays.
Besides, it also offers a romantic Pool & Beach Escape package from Monday through Thursday. Moreover, Drift Beach has received numerous awards and is a popular destination for those looking for a fun beach getaway.
Book now: DRIFT Beach Dubai – One&Only Royal Mirage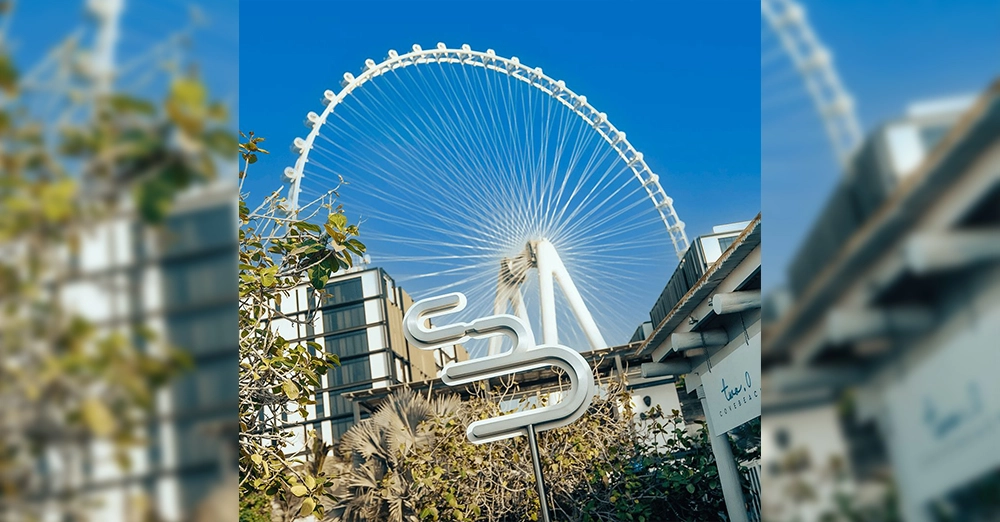 The Cove Beach Caesars Palace is a luxurious beachfront destination located in Dubai. It features three pools with stunning views, beautiful Mediterranean-inspired decor, and an attentive staff ready to cater to your every need.
You can order food from your daybed or cabana and choose from an all-day menu that includes salads, pizzas, and sushi rolls.
Besides, Cove Beach has partnered with Caesars Dubai and Uber to ensure a smooth and enjoyable guest experience.
Similarly, the club also offers a variety of fun events, such as Unplugged sessions, Garden of Cove, and Rose All Day. If you plan a special occasion, you can rent the dedicated Rose Lounge for a private experience.
Book now: Cove beach Caesars Palace
4.

Barasti beach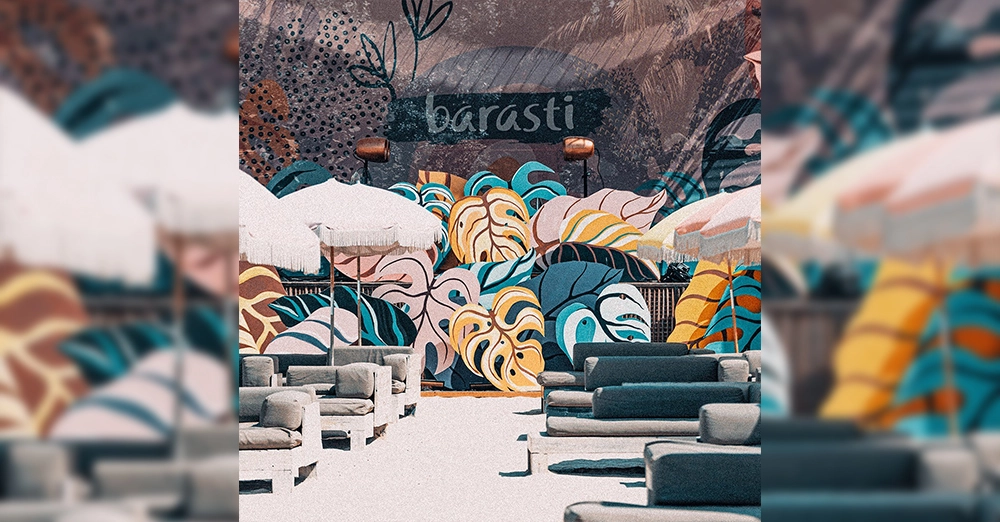 Barasti Beach is perfect for beach lovers, sports fans, and foodies. It's located at the luxurious and award-winning Le Royal Meridien resort.
You can splash around in one of their three swimming pools or try fun water sports. There's a fully equipped fitness center and a special kids club too.
Regarding food, you can choose from a bunch of different international, award-winning restaurants and bars.
The gorgeous landscaped poolside gardens can even accommodate groups as big as 1,500. So, visit Barasti Beach for all your beach-loving, sports-watching, and tasty eating needs. [2]Marriot, "Events, https://www.marriott.com/en-us/hotels/dxbbm-le-royal-meridien-beach-resort-and-spa/events/#:~:text=02-,Events,-For%20special%20events"
5.

WHITE beach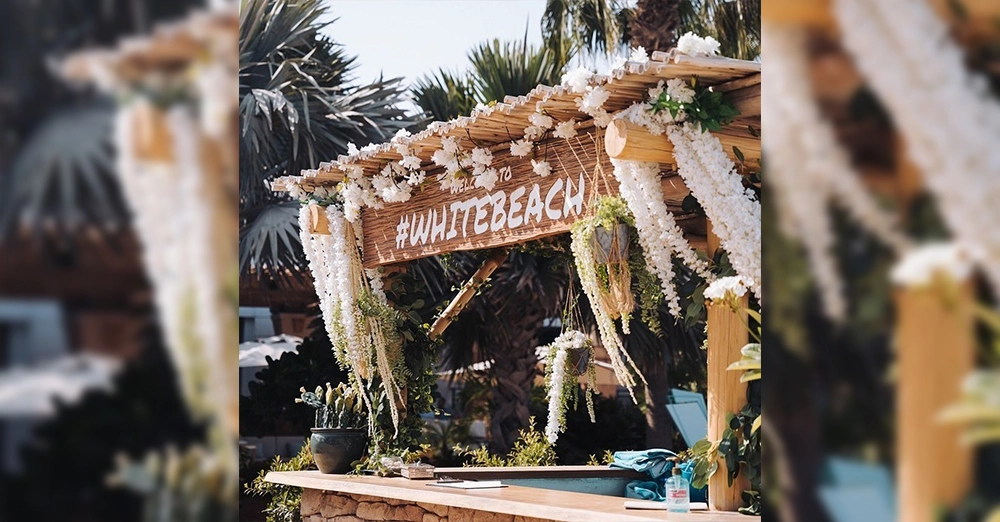 White Beach is a popular beach club in Dubai that offers a chic outdoor experience.
Its terrace restaurant serves high-quality meals in a comfortable and relaxed atmosphere, and plenty of pool cabanas and sunbeds are available for guests to relax and unwind.
In addition to the amenities at White Beach, there is also the option to visit Aquaventure Water Park. Similarly, it is one of the world's largest water parks with over 105 slides and attractions.
The club also offers special deals for ladies on Tuesdays, during Ladies' Day. Overall, White Beach is an excellent destination for making lasting memories. [3]Atlantis, "Waterpark, https://www.atlantis.com/dubai/atlantis-aquaventure#:~:text=Start%20exploring%20the,at%20Atlas%20Village."
6.

Riva beach club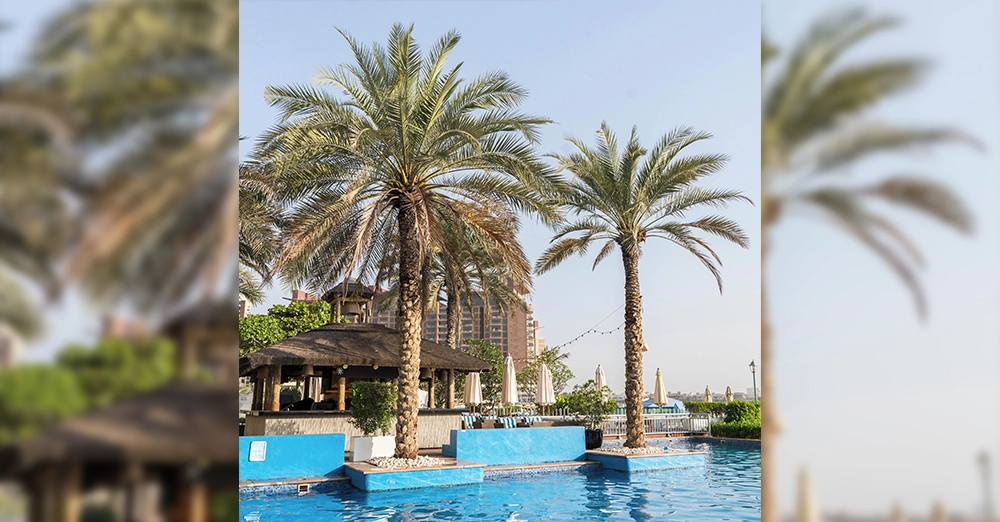 Our team recently visited the Riva beach club at Palm Jumeirah, and we were thoroughly impressed with everything it offered.
It was awarded the Traveler's Choice Best of 2021, and it's easy to see why. The club is located on a luxurious 300-meter private beach with breathtaking views of the Arabian Gulf.
In addition to the beach, there are also temperature-controlled pools and separate pools for kids.
The food at the award-winning restaurant was excellent, with a wide range of seafood, meat, pizzas, pasta, and Mediterranean dishes to choose from. They also have a selection of refreshing beverages available if you want to relax in the sun.
Overall, our team had a great time at the Riva beach club, and we highly recommend it to anyone visiting Dubai.
7.

Zero Gravity Dubai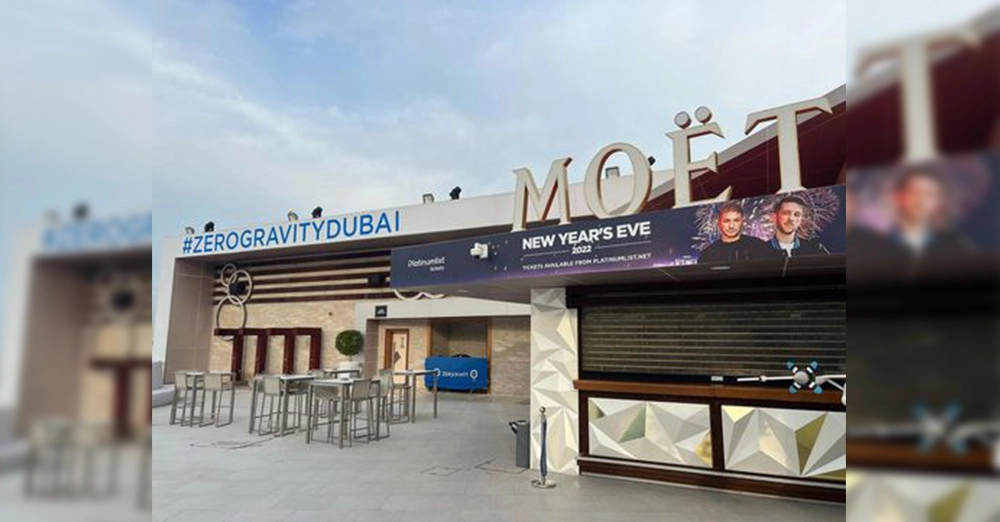 Spend the day in luxury at Zero Gravity's beach club in Dubai. Relax on one of their oversized day beds or loungers and dip in the mesmerizing glass-fronted infinity pool.
Refreshing rain showers, complete with changing rooms, are also available for visitors to take advantage of. It doesn't stop there, talented mixologists create unique drinks to sip while taking in the beauty of the sunset.
Not to mention Zero Gravity offers an extensive a la carte menu at its terrace, garden, beach, and poolside service bars.
If that's not enough, look forward to a sushi, salads lunch menu, and weekend exclusive brunches. With so much on offer, Zero Gravity has something for everyone.
8.

Soul beach club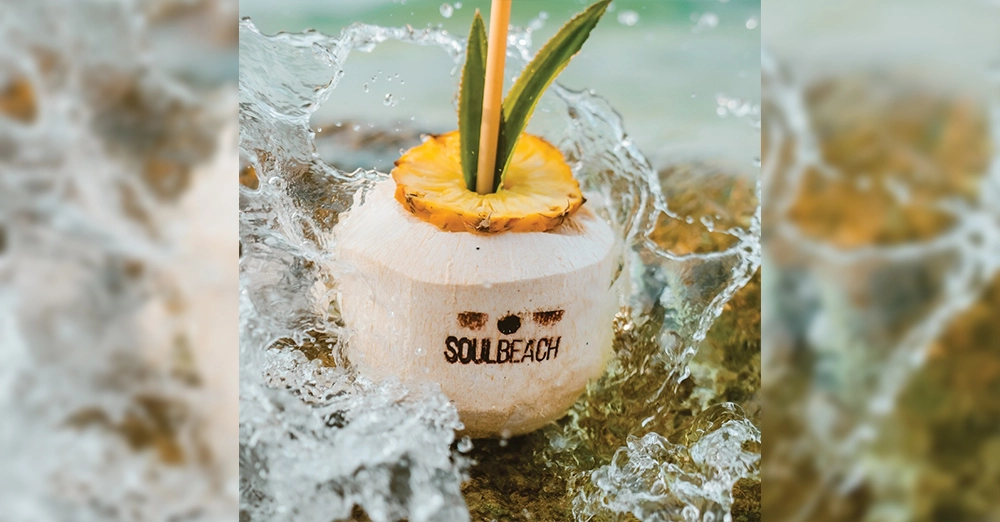 Soul beach club Dubai is an amazing place to spend a day in the sunshine. With luxurious sun beds and incredible infinity pools, you have all the space you need to soak up some rays.
You will also enjoy a delicious selection of Mediterranean dishes, like grilled meat and fresh seafood. To top it off, there is a pool bar with champagne, wine and beer, and delicious cocktails.
The best part is that this beach club can also be booked for private events and parties, with free parking and a lifeguard always available.
9.

Azure beach club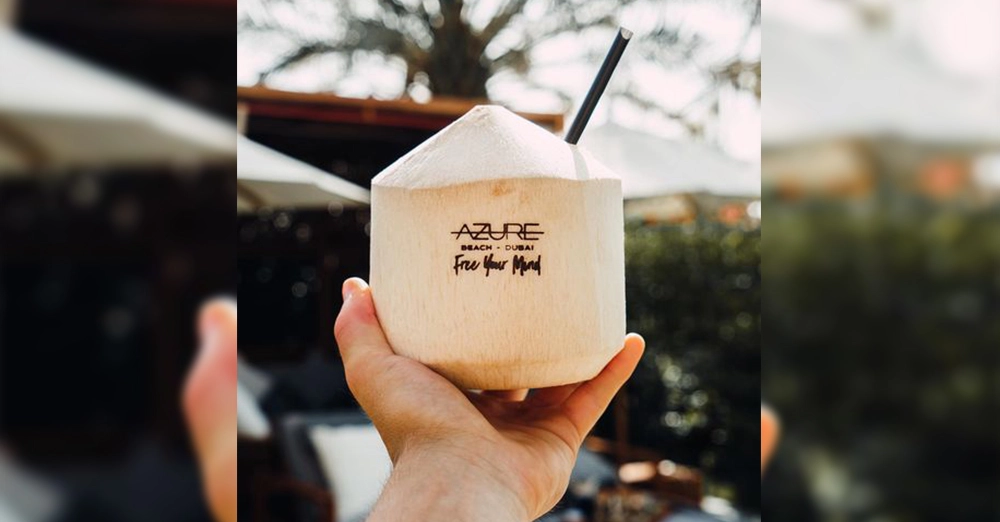 The Azure beach club is a popular destination in Dubai's Jumeirah Beach Residence (JBR) area. It boasts beautiful white sands, crystal clear waters, and views of the iconic The Eye in Jumeirah.
Guests can enjoy various food, cocktails, shisha, and other refreshments while relaxing at the beach or the infinity pool.
The club also offers private island beds with temperature-controlled waters and exclusive island cabanas that can accommodate groups of up to 12 or 6 people, depending on the size of the cabana.
In addition to its beach and pool amenities, Azure beach club has a 185 square meter space that can hold up to 150 guests for events such as cocktail parties, BBQs, and corporate dinners.
There is also a 500 sqm outdoor space available for larger events, such as weddings and award ceremonies, that can accommodate up to 500 people.
Overall, the Azure beach club is an ideal location for a day or night of relaxation and enjoyment.
10.

Bla Bla Dubai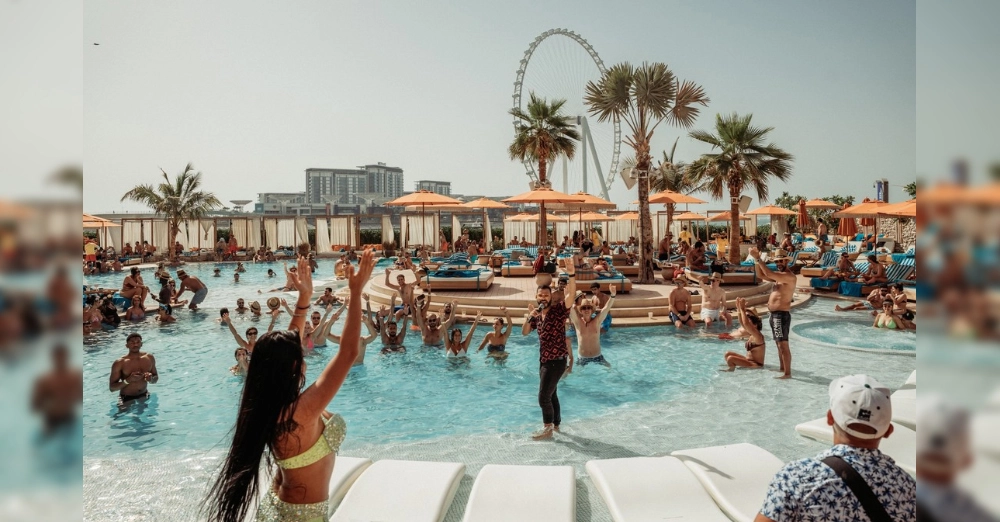 Bla Bla Dubai is a new beach club that opened in 2021 and offers a variety of amenities and entertainment options for guests. During the day, you can relax by the infinity or spa pools and enjoy dining options at the pool bar.
In the evening, you can party at The Tent with various events such as Saturday brunch and Ducking Fridays featuring guest DJs.
The beach club also provides towels, lockers, changing facilities, and showers to ensure you have everything you need for a fun and enjoyable experience.
Bla Bla Dubai is worth checking out if you are looking for a unique place to party and have fun this summer.
11.

San beach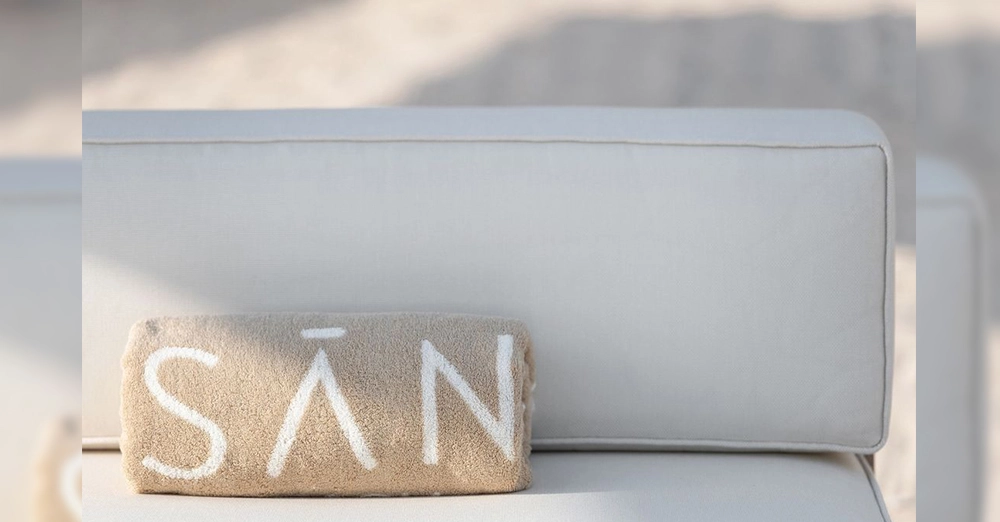 SĀN Beach is an amazing place to relax and have some fun! It's all about elemental rhythms and the topography of self and others.
And it's even more special because it was inspired by and named after Africa's first people. The atmosphere here sparkles with some amazing art, music, and performers so that you can enjoy life.
Plus, there are lots of choices to make your stay even nicer. You can lounge around on plush sunbeds, chill out in cozy sofas, unwind in private cabanas, or even treat yourself to a beach villa for a truly luxurious experience. SĀN Beach offers something for everybody.
12.

Andreea's beach club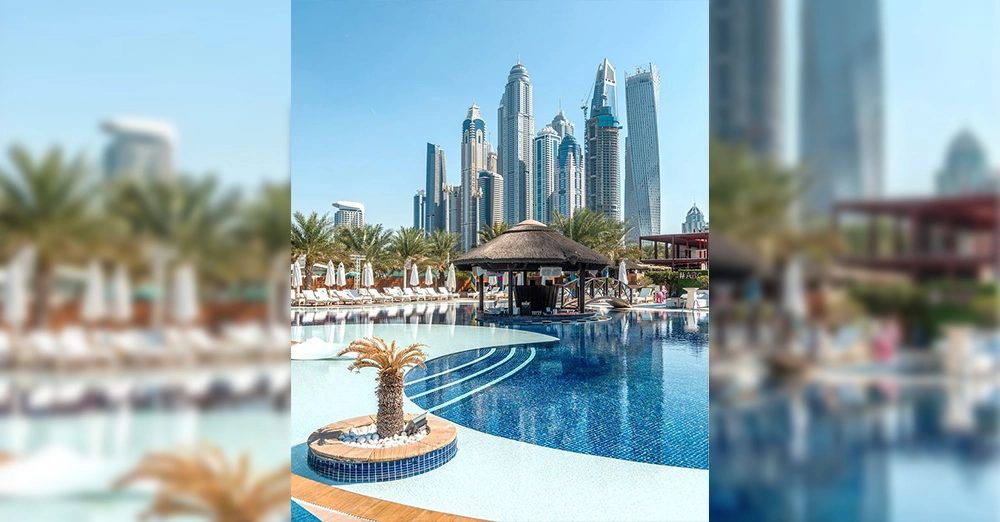 Andreea's beach club is the perfect oceanfront spot to soak up the sun! Located at the iconic Habtoor, it's full of fun and relaxation.
Take a dip in the super-sized swimming pool with a swim-up bar and in-water loungers. You can also relax poolside with whitewashed sunbeds, umbrellas, towels, and luxury-shaded cabanas.
There are delicious dishes to enjoy, along with Andreea's all-time favorites. For an even more lively atmosphere, check out their featured guest DJs. Best of all, they offer a complimentary club car service for easy access.
13.

Beach by FIVE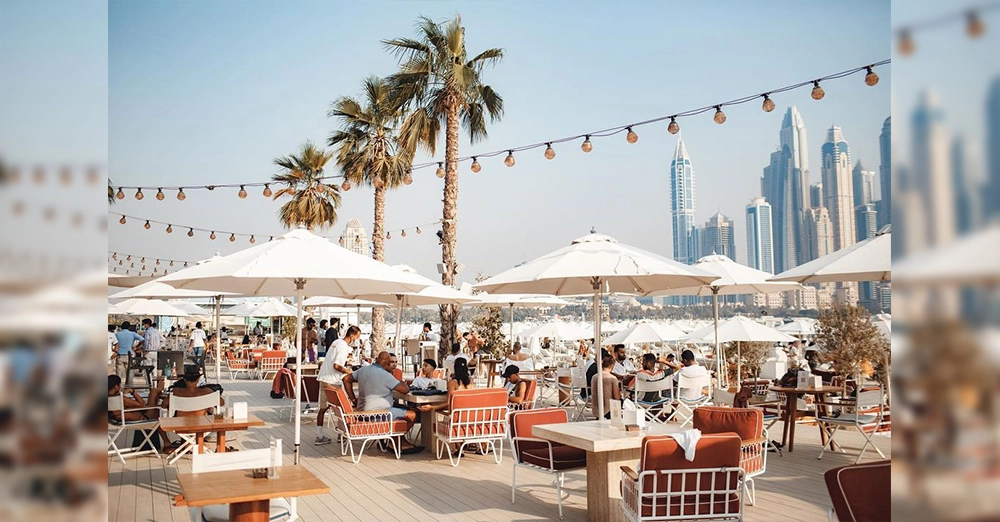 Beach by FIVE is a private beach in Dubai that offers stunning views of the Dubai Marina. It has 150 meters of beachfront with sun loungers, cabanas, and jacuzzis for guests to relax in and a glass-lined pool for cooling off.
The beach club also has a modern European tapas restaurant with signature cocktails and a luxe Nu Air shisha lounge.
World-renowned DJs provide entertainment while guests enjoy a Mediterranean menu with flavors from Spain, Greece, and Turkey, including hot and cold plates and delicious sushi.
Beach by FIVE has received the Best Beach and Pool Day Access award in Dubai at the Fact Spa & Wellness UAE Awards 2022. Overall, it is a luxurious and enjoyable beach destination in Dubai.
14.

Fluid beach club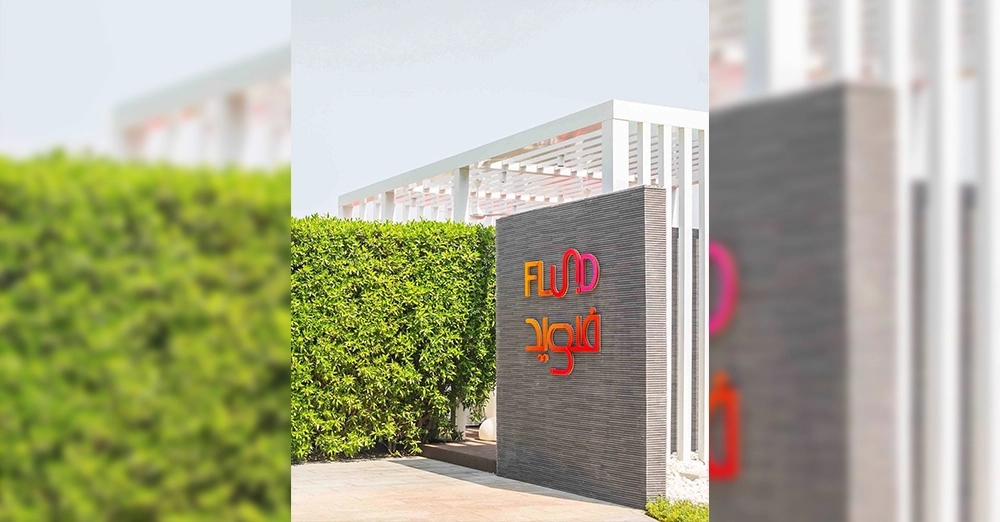 Fluid Beach Club is a large venue with a capacity for over 1000 people, spread out over 1624 square meters.
It features chic cabanas and offers light bites, sharing platters, and cocktails. The in-house DJ plays a variety of music to keep guests entertained.
In addition to its beach club amenities, Fluid has an indoor meeting room called Communic8 that can accommodate up to 60 people for corporate events.
The venue has a separate party space called Celebr8 next door for those looking for a more energetic party atmosphere. Overall, Fluid Beach Club is a great destination for a fun-filled night out.
15.

The Club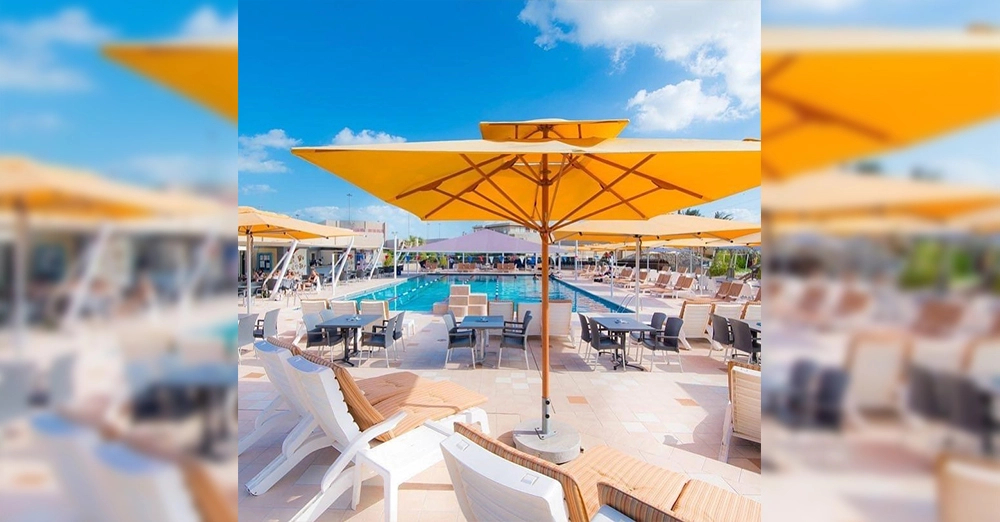 The Club at Palm West Beach is a beach destination that offers an unparalleled experience for its guests. The beach features crystal-clear swimming water and plenty of space to relax and catch some rays.
The beach club also has private pools and relaxing spaces available if you need a break from the sun.
The culinary experiences at the Club are made for particular customer and create unforgettable moments, and there are live DJ performances to add to the atmosphere.
In addition to the amenities at the Club, there are plenty of other beach clubs and dining options nearby to add variety to your visit. The Club at Palm West Beach offers a unique blend of design and nature in a serene setting that is sure to be memorable.
16.

Venus beach club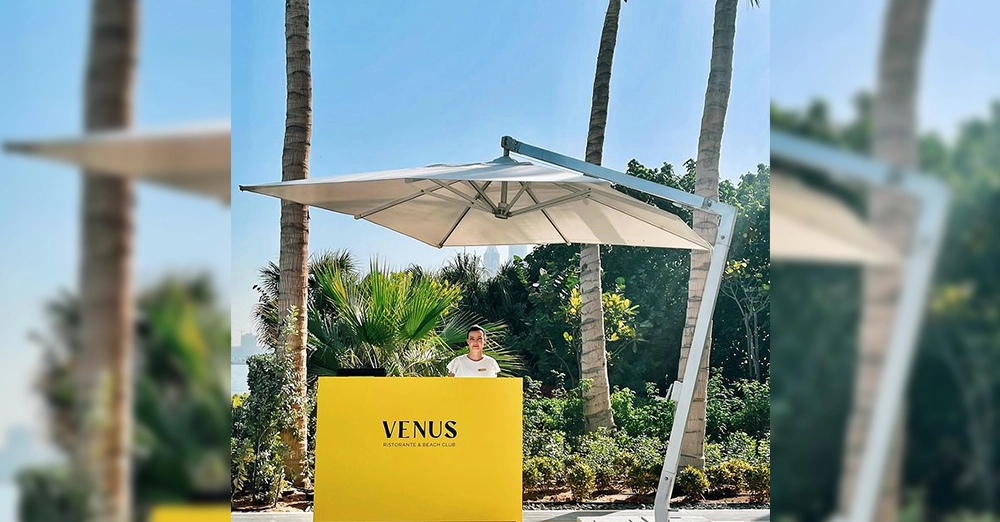 The Venus Beach Club is another destination for unlimited fun in an unmatched atmosphere.
It features 30 cabanas, five water pools, 500 meters of private beach, and various entertainment options like jet skiing and parasailing.
The club also has Italian cocktails and granitas to add a touch of sophistication to the beach experience. There is a nearby Empire Club for those with younger children to keep them entertained while adults can relax in one of the spas.
Overall, the Venus Beach Club is an excellent destination for a beach experience that is both fun and sophisticated.
How to choose the best beach clubs in Dubai?
When looking for the best beach club in Dubai, there are several factors to consider to ensure you have a fun and enjoyable experience. Here are a few things to keep in mind:
Accessibility
Look for a beach club that is easily accessible, with good transportation options and nearby parking. Consider the distance between your accommodation, nearby shopping malls, and water sports options.
Facilities
Look for beach clubs that offer a variety of activities, such as kayaking, snorkeling, and sports like volleyball and soccer. Beach clubs with beach chairs, umbrellas, and showers are also convenient.
Events
Dubai beach clubs often host exciting events, such as live music performances and traditional dances. Consider beach clubs that offer a variety of events to suit your interests.
Entrance fee
Check if there is an entry fee and if budget-friendly options are available. Some private beach clubs may only be open to guests of a particular hotel.
Food and beverages
Look for beach clubs with a wide range of high-quality food and beverages, including international dishes, cocktails, and beers. Celebrity chefs and excellent service are also great features to consider.
Security
Consider the security measures at the beach club, including access restrictions and identification requirements. Privacy policies should also be clear and easy to follow.
Considering these factors, you can find a beach club that offers a safe and enjoyable experience that caters to your specific interests and preferences.
Dubai government on beach revamping
The Dubai government is working hard to ensure a pleasant experience for the 13 million tourists that visited the Emirate in 2022. They're revamping public beaches by the Dubai municipality to ensure everyone can enjoy them.
The government of Dubai is focused on providing a pleasant experience for the millions of tourists who visit the Emirate each year. To that end, they are working on revamping and beautifying the public beaches in Dubai. [4]Dubai Tourism, "Tourism performance report, https://www.dubaitourism.gov.ae/en/research-and-insights/tourism-performance-report-nov-2022#:~:text=PERFORMANCE%20REPORTS,Jan%20%2D%20Nov%202022%2C … Continue reading
The project includes the development and beautification of Al Mamzar Corniche, Jumeirah 1, and Jumeirah 3 beaches, as well as the expansion of the Umm Suqeim I beach.
These efforts involve covering the beaches with beach sand and implementing breakwaters and other protective measures to protect the shores from strong waves. [5]Khaleej Times, "Dubai government on revamping beaches, … Continue reading
This will allow tourists to relax on the beach confidently and without worries. Overall, the government of Dubai is committed to ensuring that visitors to the Emirate have access to high-quality beaches and a pleasant experience.
Related Info
---
FAQs
Final thoughts
Dubai is renowned for its wide variety of beach clubs and resorts, offering something to suit every preference. With impressive amenities, luxury comforts, and exclusive services, it's no wonder the best beach clubs in Dubai attract many visitors.
From basking in the sunshine to ladies' night extravaganzas or family-friendly activities, there's something for everyone at these top-notch destinations. There are plenty of incredible Dubai beach clubs if you're looking for a romantic getaway with music and delectable cuisine.