BoxyCharm is a popular subscription service that delivers a selection of makeup and beauty products. However, over time you would want to terminate BoxyCharm account due to several reasons.
In this Dbd guide, we look into a step-by-step guide on how to cancel BoxyCharm. You can cancel BoxyCharm online and by email.
To create this Dbd guide, we conducted thorough research on the BoxyCharm website and consulted with customer service. We also reviewed customer feedback and experiences with canceling BoxyCharm membership.
How to cancel BoxyCharm subscription?
There are several methods available to cancel BoxyCharm. We'll look into them in detail.
Cancel BoxyCharm subscriptions online
Follow the steps mentioned below for the cancellation process of your BoxyCharm monthly subscription online: [1]Boxycharm, "Cancellation, https://help.ipsy.com/hc/en-us/articles/4405740810007-How-do-I-cancel-my-membership-#:~:text=To%20cancel%20your%20membership%3A"
Step 1: Go to the BoxyCharm (IPSY) website and log in to your online account.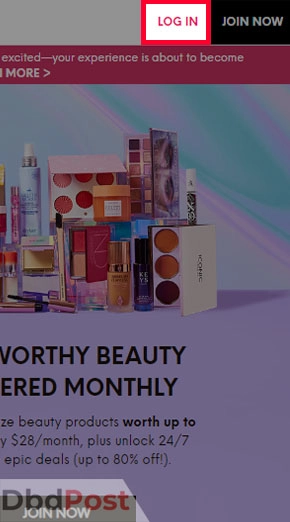 Step 2: Enter your username and password and click the "Login" button. You'll get the following screen after log in.
Step 3: Now, click "My Account" followed by "Account Overview" on the left-hand side of the screen.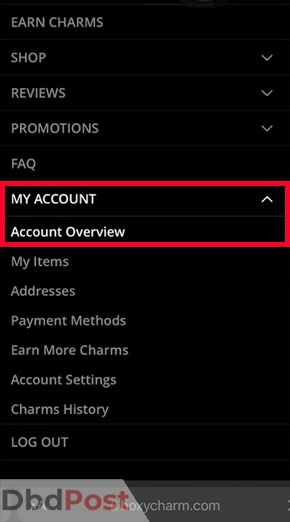 Step 4: Now, look for your subscription and click on it. Make sure you select subscriptions carefully in this section.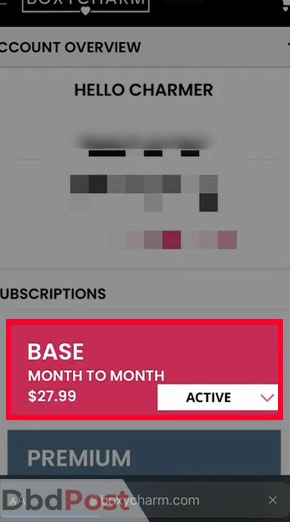 Step 5: Now, click on the "Cancel Subscription" button.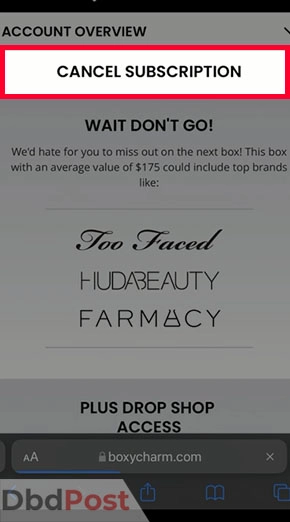 Step 6: Click on "Cancel Anyway"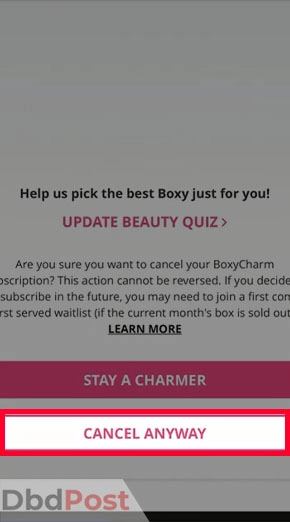 Step 7: Following this, specify the reasons for your account cancellation with your cancel note.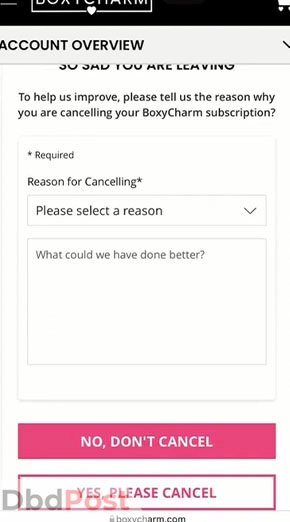 Step 8: BoxyCharm will email a link to confirm your online cancellation. Click on the link in the email to verify the process.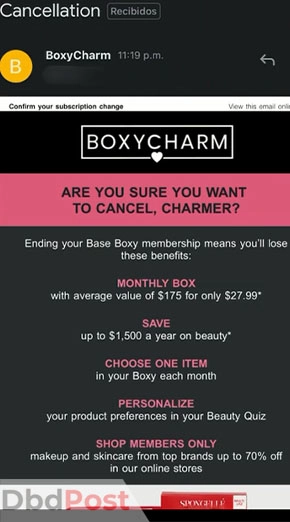 Check your account overview to confirm the membership cancellation. You will see the following message after the successful cancellation of BoxyCharm.
Cancelling BoxyCharm monthly membership via email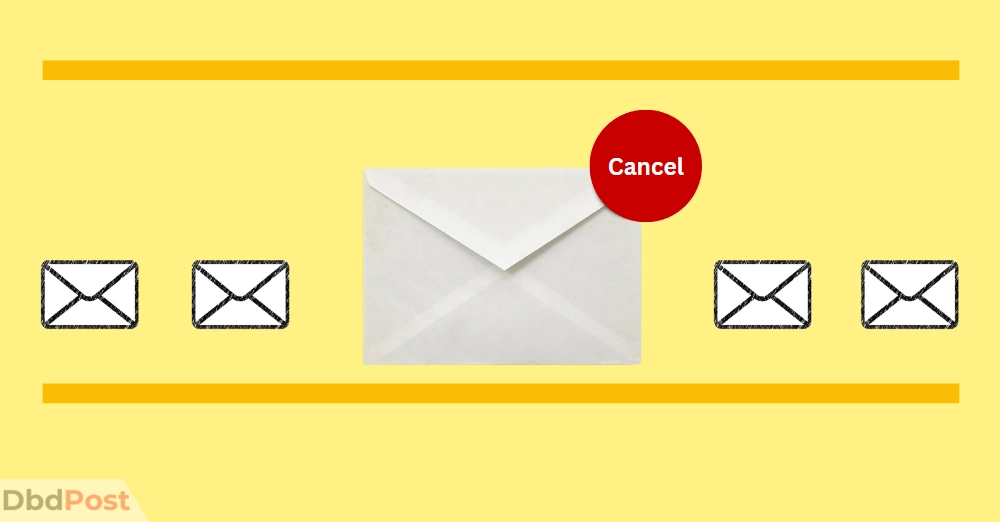 Here are the steps for canceling your BoxyCharm subscription via email:
Step 1. Open your email account and create a new message.
Step 2. In the subject line of the email, type "UNSUBSCRIBE."
Step 3. Now, in the body, write a request for cancellation. Include your full name, email address, and any other information.
Step 4. Send the email to info@boxycharm.com.
Note that it may take some time to receive a response from BoxyCharm. Also, they may need to verify your account information before processing the cancellation.
However, once you receive confirmation, be sure to double-check your account to ensure that you are no longer being charged.
Important considerations before canceling BoxyCharm subscription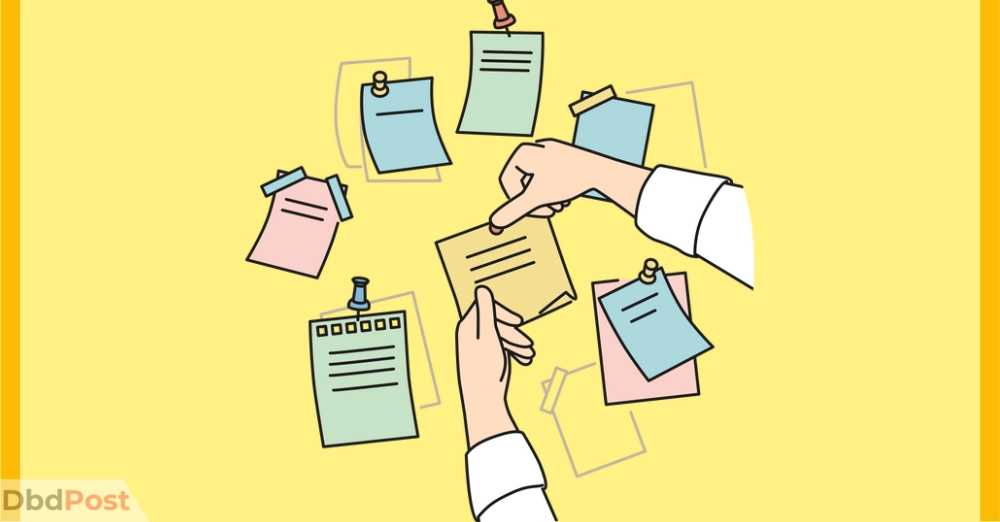 Some important considerations to keep in mind before canceling your BoxyCharm subscription are:
Reward points
BoxyCharm rewards its subscribers with Charm points for referring, reviewing, or purchasing. You can use these points to redeem free products or discounts on future orders.
However, if you cancel your subscription, you may lose any unused points. So, redeem before canceling your subscription to avoid losing them.
Referral credits
Your referral credits may be forfeited if you cancel your subscription. Use any outstanding referral credits or points before canceling your subscription.
Other subscription benefits
BoxyCharm subscribers receive benefits such as exclusive discounts, early access, and more. These benefits may no longer be available once you cancel your subscription.
Consider whether the benefits of the subscription are worth the cost before deciding to cancel.
Billing cycle
BoxyCharm operates on a monthly billing cycle. If you cancel your subscription in the middle of a billing cycle, you may still be charged for the remaining days.
Check your account details for information regarding the billing cycle and avoid automatically renewing of subscription.
Subscription renewal
If you decide to cancel your BoxyCharm subscription, remember that you can always resubscribe or enable automatic renewal.
However, you may not be eligible for the same promotions or offers you previously were eligible for immediately after auto-renewal.
Related Stories
---
FAQs
Can I cancel my BoxyCharm membership at any time?
Yes, you can cancel your BoxyCharm membership anytime without any notice period. Also, you can email info@boxycharm.com with the subject line "UNSUBSCRIBE."
Will I receive a refund if I cancel my BoxyCharm subscription?
No, BoxyCharm does not offer refunds during the termination process. However, you will continue to receive your monthly BoxyCharm box until the end of your current billing cycle.
Is there a fee for canceling BoxyCharm membership?
No, there is no fee for canceling a BoxyCharm membership according to their cancellation policy. However, if you cancel during a billing cycle, you may still be charged for the remaining subscription plans.
How long does it take for BoxyCharm to confirm the cancellation?
BoxyCharm typically confirms subscription cancellations within a few business days. You will receive an email confirmation once your Boxycharm subscription cancellation is complete.
Canceling your BoxyCharm subscription is a simple process you can achieve online or via email. We hope this Dbd guide on how to cancel BoxyCharm was helpful.


Andy Cale is an experienced journalist who has been writing for over twelve years. He focuses on global news and events, particularly on current affairs. His pieces cover news stories, info guides, reviews, and opinions on various topics that are important to the world today.