As one of the world's most prominent tourist destinations, Dubai offers fascinating experiences and activities. However, discovering an excellent Arabic massage centre in Dubai can be complicated due to the sheer number of available outlets.
Nevertheless, with this guide, you can find and enjoy the best Arabic massage centre in Dubai that provides an authentic and luxurious experience.
Dubai is home to a great number of spas offering Arabic massage. In addition, the best Arabic massage centres in Dubai include Stella Spa, Cora Spa Massage Centre, and Al Rashaqa Spa.
This guide includes a list of the best Arabic massage centres in Dubai. The article provides essential information such as service hours and locations. The guide also highlights some of the main benefits of an Arabic massage.
7 best Arabic massage centre in Dubai
A wide variety of options are available to consumers in Dubai regarding the best Arabic massage spa in Dubai. Because every centre provides its customers with a unique range of luxuries and services, resolving which one is the most superior in terms of overall quality can be challenging.
On the other hand, after much thought and research, we have come up with a list of the seven best Arabic spa centre in Dubai.
1.

Stella spa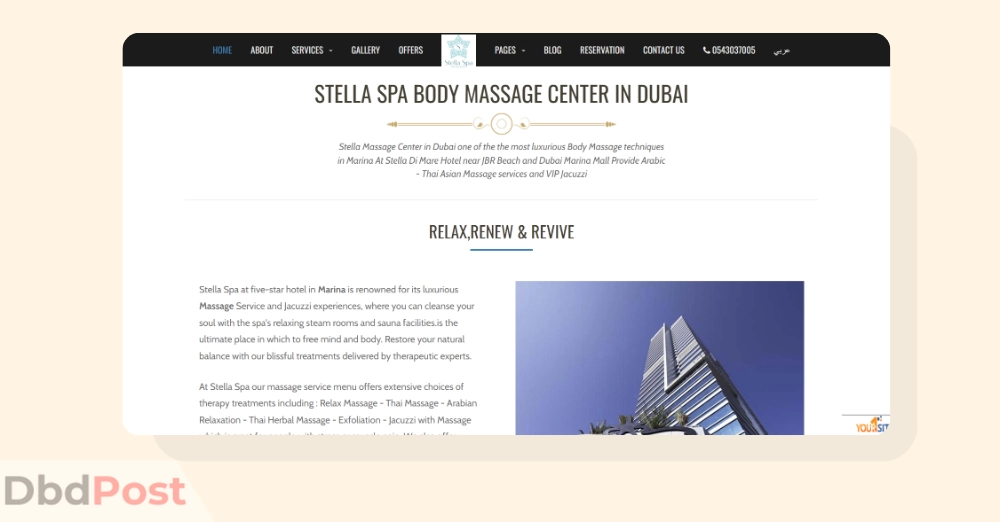 | | |
| --- | --- |
| Location | At Stella Di Mare Hotel Near Beach and Dubai Marina Mall, Al Mattla'ee St, Dubai |
| Hours | Sunday to Saturday (10:00 AM to 02:00 AM) |
| Contact | +971543037005 |
| Map | Get direction |
| Website | Stella Spa |
Stella Spa, located at the exquisite Five-star hotel in Marina, is essentially a luxurious oasis. They offer excellent Arabic Massage services and cater to other spa treatments like Hot Stone, Thai Herbal, and Hot Oil.
Furthermore, the modern facilities boast streamlined delights like a steam sauna and top-class Jacuzzi, which you can enjoy with friends or your loved one in their private VIP room.
Additionally, for Ladies and Gents seeking time out from their undoubtedly busy lives, there are dedicated rooms for Arabic massages designed to target muscle tension and promote relaxation.
2.

Cora spa massage center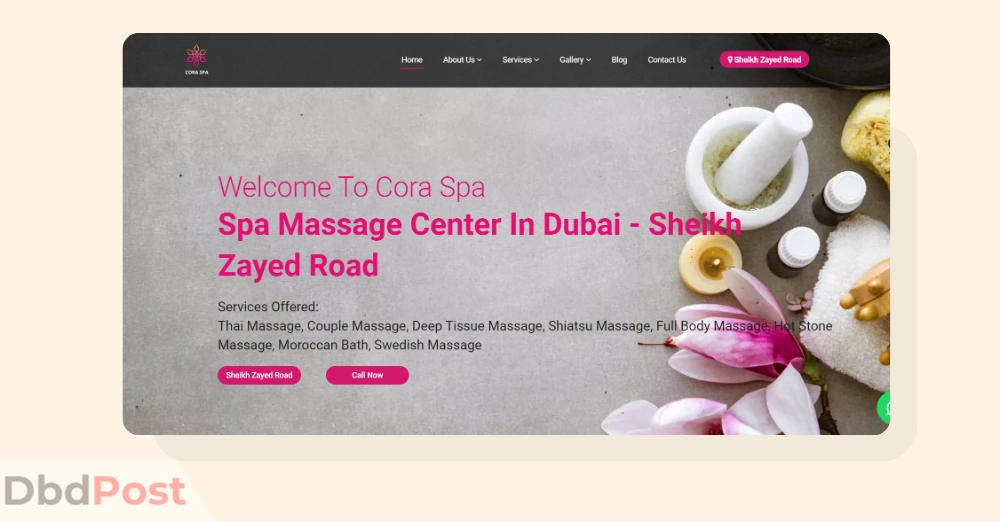 Cora spa is a renowned spa offering its customers exceptional massage therapies for many years, each providing an opportunity to relax and restore. With various techniques and treatments rooted in ancient Indian and Chinese healing traditions, clients can find their perfect match among the range of services.
Arabic massage in Dubai is amongst the most popular, as it helps to bring about a sense of well-being and tranquility. Other popular choices include Thai, Russian, deep tissue, hot stone, or full body massage, something to satisfy everyone's needs.
3.

Al Rashaqa spa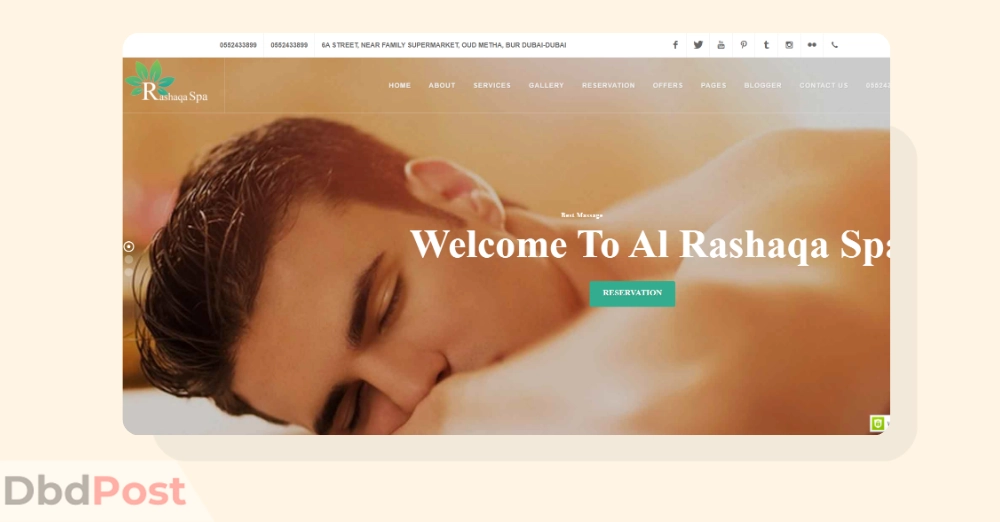 Al Rashaqa Spa is the perfect destination for anyone searching for a relaxing and soothing experience. Their massage includes traditional oil massage to specialty hot stone, deep tissue, four hands, aromatherapy, and even Moroccan baths.
Right now, this unique spa is giving visitors a chance to have an Arabic massage for only 170 AED. Whether you're looking for stress relief or something more specific like muscle pain treatment, Al Rashaqa Spa has something that fits everyone's needs. [1] Al Rashaqa Spa, "Service Offers, https://alrashaqa-spa.com/Massage-center-offers-deals.html#:~:text=Arabic%20Massage%20Offer,AED%20170%20AED"
4.

Magic spa massage center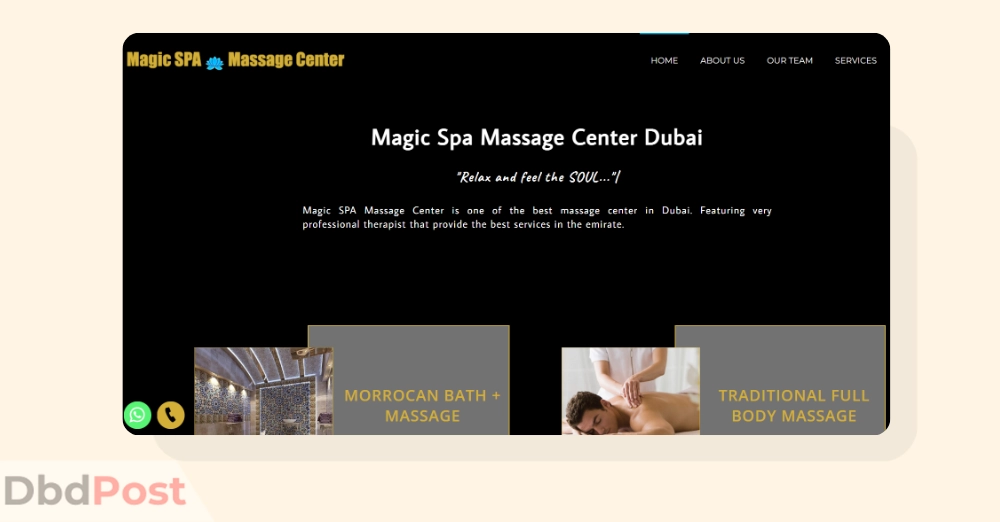 The Magic Spa Massage Centre is the perfect retreat for anyone needing a therapeutic Arabic massage experience. From Arabic and Swedish massages to deep tissue treatments, you can experience an expert massage's relaxing and invigorating effects.
Their experienced masseurs are committed to using high-quality essential oils and techniques that promise to improve your physical, mental, and emotional well-being.
Moreover, the centre has received much praise from customers who have come away feeling refreshed after their visit. The Magic Spa Massage Center should be at the top of your list when seeking quality service with excellent customer care.
5.

Sakura Arab spa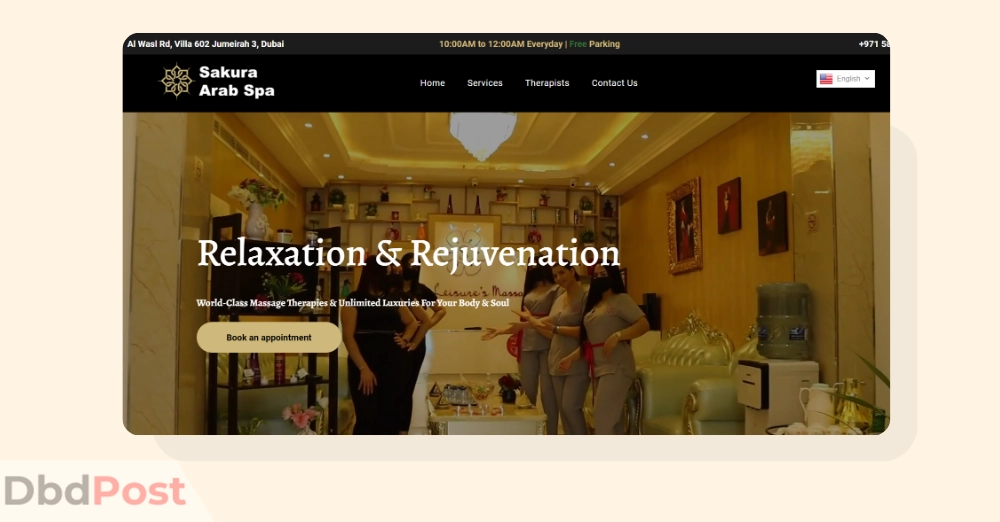 Sakura Arab Spa offers therapeutic treatments that relax and rejuvenate your mind, body, and soul. The spa offers a wide range of services, from massages and facials to body wraps and scrubs.
They also have a range of beauty treatments, such as hair removal and nail care. Some of the services offered at Sakura Arab spa include swedish massage, deep tissue Massage, hot stone massage, facial and scrub.
6.

Namm spa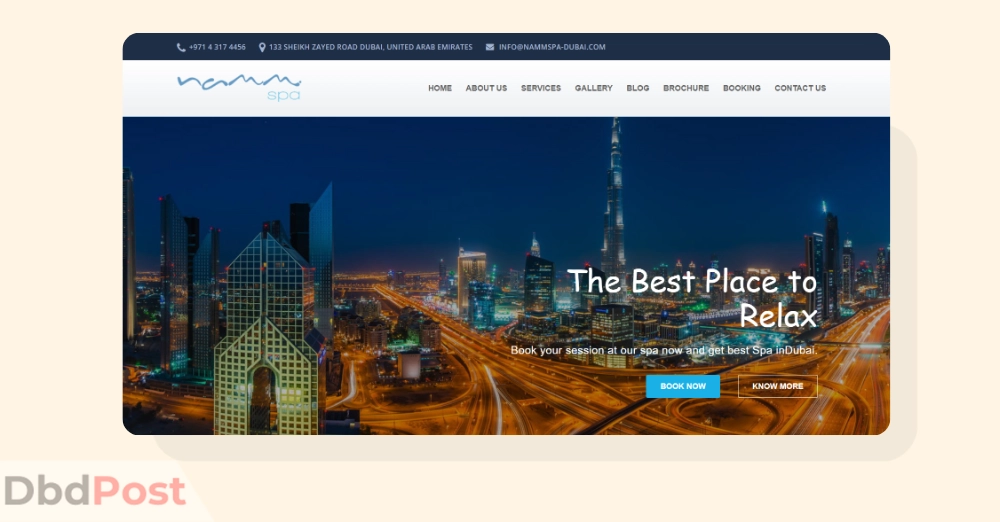 Namm Spa is a popular destination for those seeking rest and rejuvenation. Also known as the best Arabic massage spa in Dubai, the hospitality of the staff and the room's attractive design set it apart from the rest.
Similarly, their signature Arabic massage service is known for being deeply relaxing, helping to soothe both body and mind. Whether you're looking for an Arabic massage or a more specialized treatment like an invigorating foot scrub or refreshing facial care, Namm Spa has a perfect service.
7.

Arabian massage Centre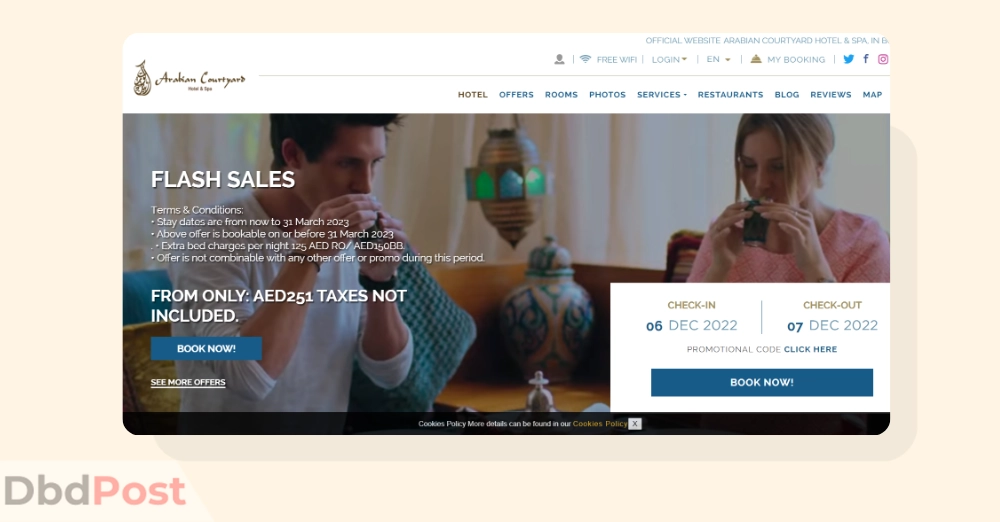 The Arabian Massage Centre, located within the 4-star Arabian Courtyard Hotel in Dubai, provides a luxurious experience that draws upon traditional Arabic massage techniques as its mainstay. Not only are these techniques reputed to improve circulation and ease muscle tension, but they can also significantly improve overall well-being.
For guests who prefer something more familiar or want to introduce variety into their experience, there's the option of Swedish, deep tissue, and aromatherapy massages. And, of course, visitors can further pamper themselves with the excellent facials, waxing, and manicures/pedicures on offer.
It adds to a holistic package that appeals to both seasoned spa-goers and newcomers.
What is the price of an Arabic massage in Dubai?
Arabic massage has remained a fixture in the spa industry for centuries, particularly in the Middle East and North Africa. No matter which type of Arabic massage is chosen – whether full-body or facial – all treatments come with an exciting combination of Eastern and Western relaxation methods.
The cost of these services can range depending on various factors, such as duration and treatment type. For instance, a one-hour full-body session is usually around 450 AED, while a 30-minute facial session may cost up to 490 AED.
Benefits of Arabic massage
Arabic massage is an ancient form of therapy that has many scientifically backed benefits, beginning with improving the quality of sleep.
Not only does this ritual help to regulate your circadian rhythm, allowing for more restful and deeper sleep, but it also reduces pains, aches, and muscular tension. A study found that soft, extended massage with specific oils can reduce pain and improve the quality of life for those suffering from low back pain. [2] Science Direct, "Arabic Massage, https://www.sciencedirect.com/science/article/abs/pii/S1360859221002448#:~:text=Apart%20from%20the,low%20back%20pain."
For those who suffer from stiffness or soreness, Arabic massage is an effective way of healing them through improved blood circulation and toxin release.
Related Info
---
FAQs
What can I expect from an Arabic massage in Dubai?
Arabic Massage therapy helps relieve muscle pain, lowers blood pressure, and calms the nervous system.
Is there any disadvantage of Arabic massage?
If you only have a limited amount of time, Arabic Massage therapy may not be the best type of massage for you. Depending on the masseuse and the style of massage, a session can last from 30 minutes to two hours.
Is Arabic massage beneficial to pregnant women?
No, an Arabic massage is not a good idea for pregnant women. Instead, they can go for a pregnancy, deep-tissue, Swedish, or Shiatsu massage. These massages are better choices for pregnant women than an Arabic massage.  
Which is the cheap Arabic massage centre in Dubai?
There are many Arabic spa centre in Dubai, but not all offer cheap services. The best option for those looking for an affordable Arabic massage is the Namm Spa. They offer Arabic massage at 450 AED for 60 min.
Final thoughts
Overall, if you decide to visit Dubai, discover the Arabic massage spa centers there. From traditional Moroccan or hammam treatments to luxury Arabic massages, including ritual baths and hot stone massages, these spa centers offer it all!
Whether you want to try something new or stick to your favorite treatments, Arabic massage centre in Dubai can provide a great experience and help you relax after an exciting stay in this beautiful country.


Arijit Negi is an expatriate living in Dubai for 18 years. He completed his degree in Master of Arts in Journalism from the University of Mumbai. Arijit focuses on providing helpful guides and information for ex-pats living in UAE and visitors to the UAE.