Getting a massage at the massage center in Ajman is the perfect way to relax and de-stress. Not only will you get the calming respite of a massage, but you'll also reap benefits such as improved circulation, relief from body pains, and release of tension.
Massage spa in Ajman, UAE helps you to unwind and relax. Nayana Spa, GOCO Spa Ajman, and The Spa at Ajman Hotel are Ajman's top massage centers and offer various massage services. Furthermore, many of these centers also offer facials, manicures, pedicures, and other beauty treatments.
In this Dbd guide, we have compiled a list of the best massage spas in Ajman, including location, service hours, and contacts. Now, without further delays, let's get started.
11 best massage center in Ajman
The city of Ajman offers many outstanding massage centers to meet the needs and expectations of all individuals. From Shiatsu massage to aromatherapy, people can choose various treatments that will help them relax and rejuvenate their spirits.
The list of massage centers in Ajman mentioned below provides incredible services like Swedish massage, deep tissue massage, and hot stone therapy. For extra pampering, some facilities also offer luxurious spa days with special scented oils and candles for maximum relaxation.
So, put these massage centers at the top of your list and check out one of these facilities for an unforgettable getaway.
1.

Nayana spa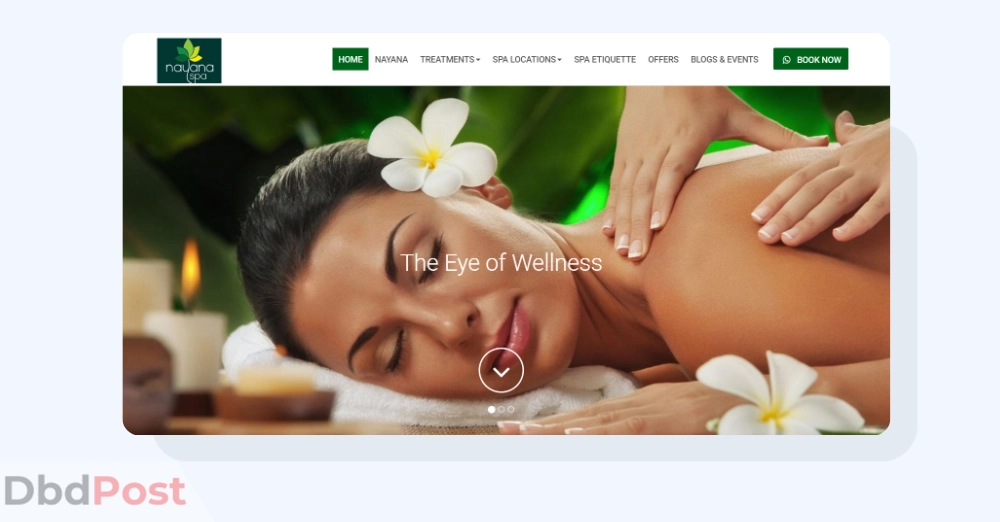 | | |
| --- | --- |
| Location | Ramada Hotel & Suites by Wyndham, Sheikh Khalifa Bin Zayed St Al Rashidiya 1 |
| Hours | Sunday to Saturday (12:00 PM – 12:00 AM) |
| Contact | +971556103072 |
| Map | Get direction |
| Website | Nayana Spa |
Nayana Spa opened its doors in 2012, and since then, it has served the people of Ajman with exceptional relaxation and rejuvenation services. Also, Nayana Spa has won numerous "Best Spa in Ajman" awards.
Similarly, the spa features many treatments, from traditional massages to more exotic therapies. For example, they offer Thai massage, Swedish massage, Balinese massage, and Moroccan baths.
Likewise, Nayana Spa also offers facial treatments, ayurvedic treatments, and body scrubs & wraps. If you want to visit Nayana Spa, you can make an appointment on their website or by phone.
2.

GOCO spa Ajman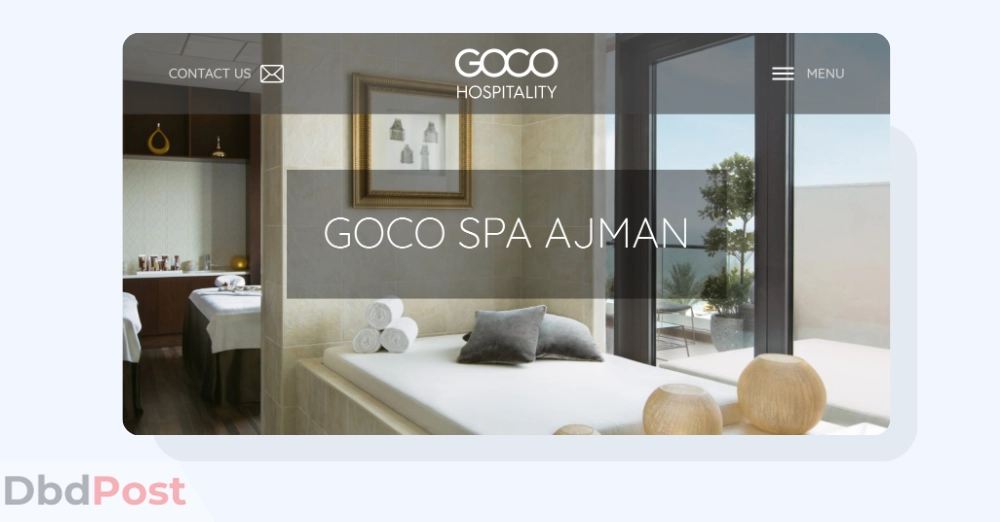 GOCO Spa Ajman is a luxurious massage center in Ajman. The spa opened in 2014 and offered world-class treatments. Similarly, GOCO Spa at Ajman UAE offers areas for men and women. There are different treatment areas, locker rooms, and relaxation spaces. The spa also has 13 private treatment rooms. Each room is large and has high-end amenities.
So far, GOCO spa has won more than 12 awards in various categories. Also, they provide services like gentlemen barber, beauty studio, tea lounge, hammam, steam sauna, and ice fountain. [1]GOCO, "Awards, https://www.gocohospitality.com/project/goco-spa-ajman/#:~:text=HOMMAGE%2C%20Paris-,AWARDS,-Haute%20Grandeur%20Global"
3.

The spa – Ajman hotel
Ajman hotel has a Spa service where the therapists take you on a journey of beauty and rejuvenation. The Spa uses HydraFacial MD products to help you fix the skin's energy and give it a bright glow.
Similarly, they offer various relaxing and refreshing body treatments, from classic to stone to traditional Balinese massage. Also, you must wear a facemask in the spa facility and during spa treatment, except for facial treatments.
4.

Shapes spa Ramada – Wyndham beach hotel Ajman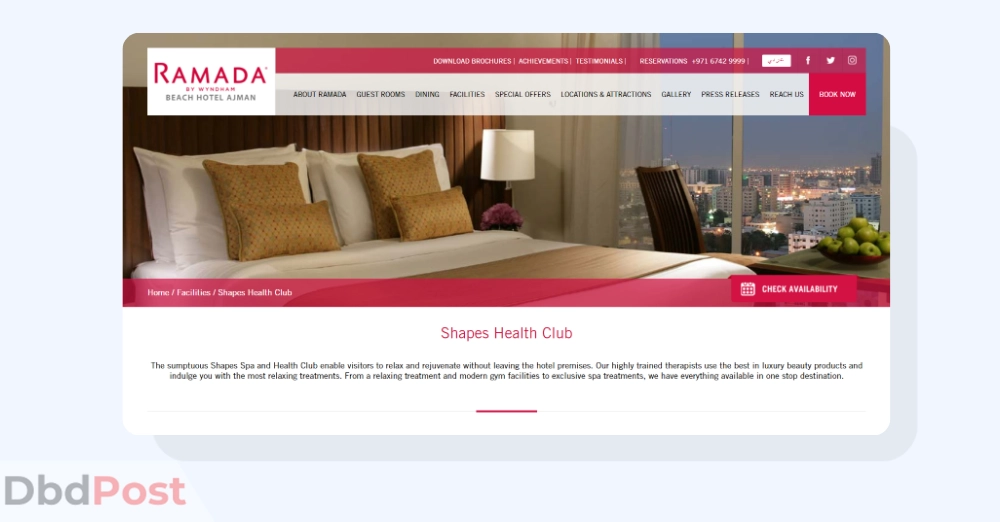 The Shapes Spa Ramada is a luxurious spa that offers various services and massage packages, including Balinese Massage. This type of massage is known for its relaxation and stress-relieving properties. Furthermore, therapists use premium products for massage and beauty services.
They have state-of-the-art gym facilities, a hair salon, and a nail salon. Also, the spa has a large pool area with a hot tub, sauna, and steam room.
5.

Alain hotel spa Ajman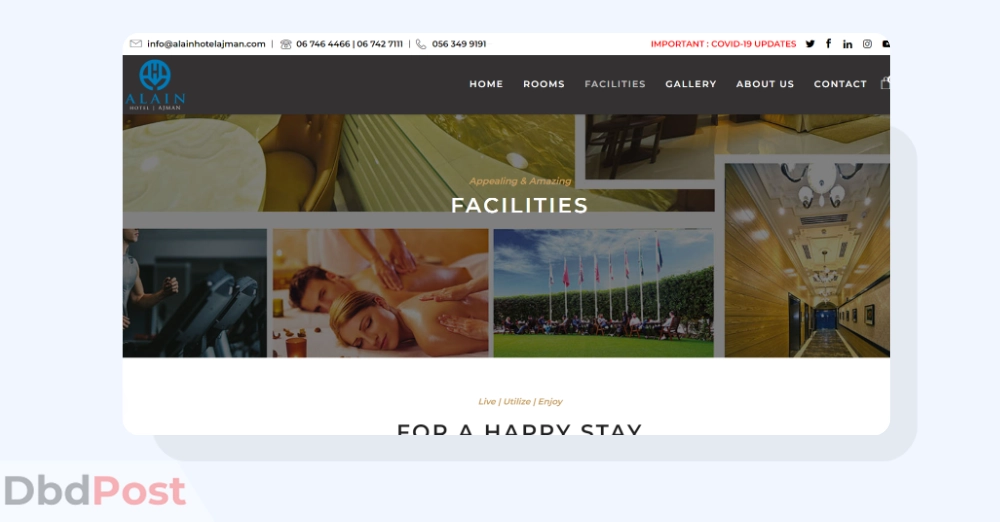 This Alain Hotel Spa offers spa services, sauna, and massage. This luxury massage spa can help you feel better when you are stressed. Also, these luxury services are available for both men and women.
The spa offers massages and treatments that are customized just for you. They also have a steam room and sauna. Similarly, there are two ways to book a massage service here. You can call them or book online.
6.

Zoya health & wellbeing resort – Adults only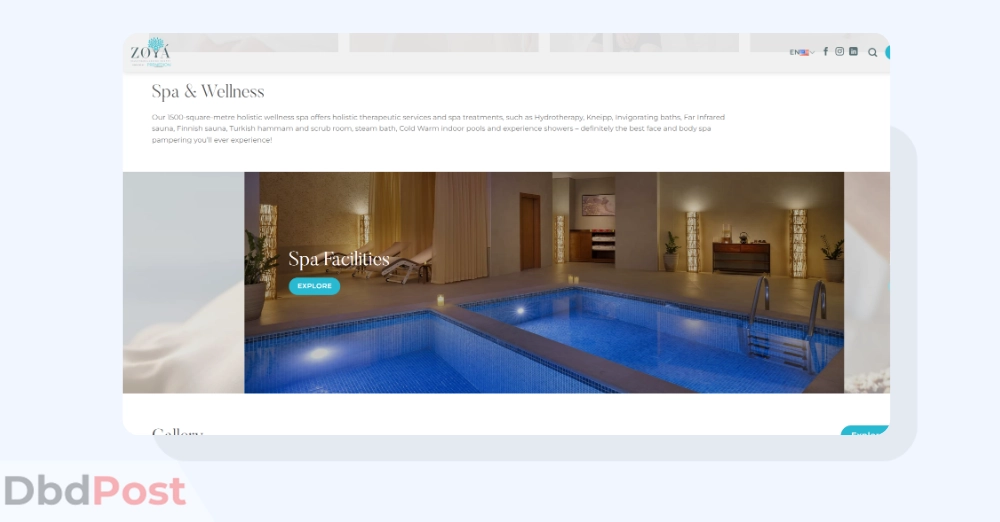 Zoya is a unique health and well-being resort that offers a wide range of services to help guests relax, rejuvenate and heal. The resort's wide facilities include a luxury spa, state-of-the-art fitness center, tennis courts, swimming pool, and a range of dining options.
Furthermore, their 1500-square-meter holistic wellness spa offers massage services and treatments like Hydrotherapy and an infrared sauna. Also, this spa is only for adults.
7.

Eminence spa Wyndham garden Ajman corniche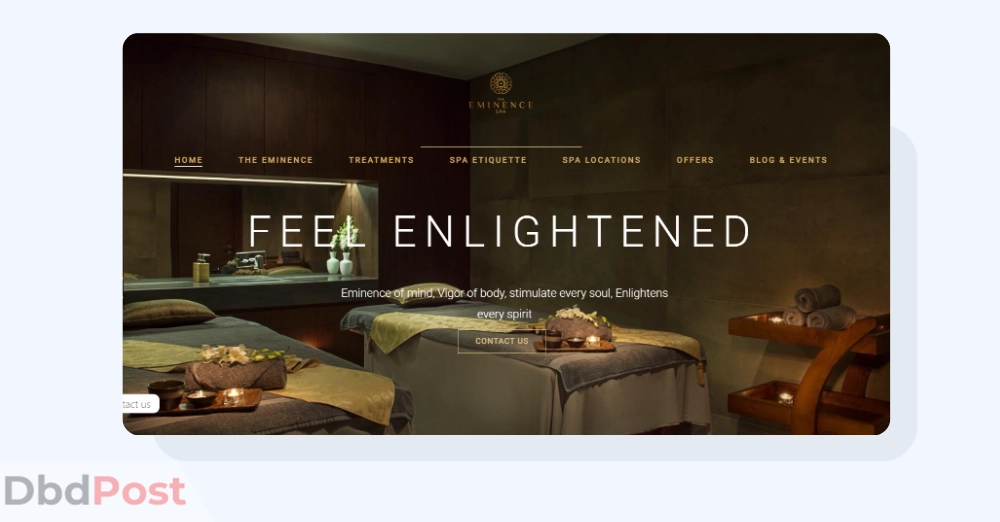 Eminence Spa offers a unique and luxurious spa experience in Ajman. Whether you're looking for a traditional massage or a modern therapy like reflexology, you will find it at Eminence Spa. Similarly, Eminence Spa provides massage services like detox massage, Lomi massage, sports massage, and soothing head massage.
Aside from massage services, they also provide body scrubs & wraps, facials, and hand and foot treatments. Also, the spa has won the 2018 "Spa of the Year " award in the Hospitality Group Awards and Middle East Hospitality Awards.
8.

Green massage spa relaxation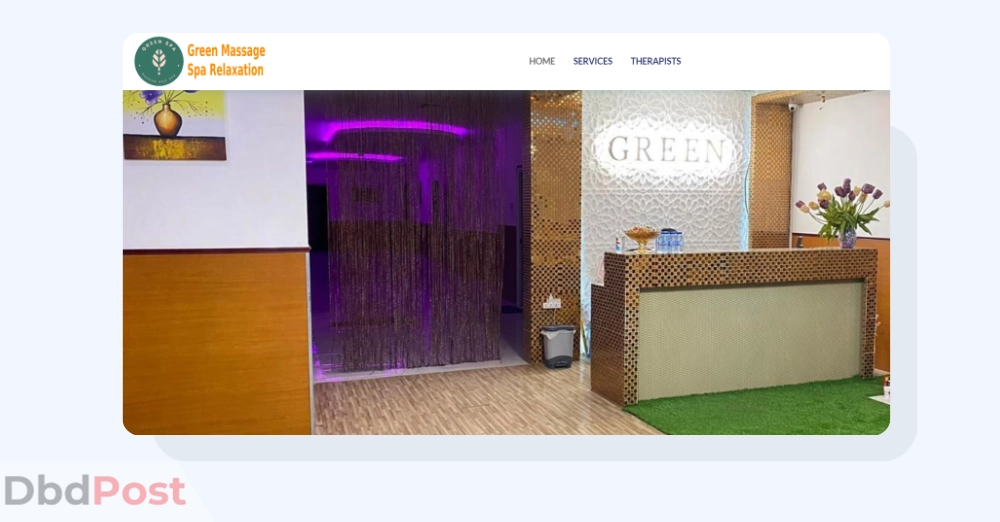 Green Massage Spa Relaxation is where you can get the massage of your choice. They offer massage services ranging from 100 AED for relaxation to 250 AED for Green Indian massage.
Furthermore, they offer high-quality services such as Thai massage, Arabic massage, Syria massage, Vietnamese massage, and more. They have trained therapists from India, Vietnam, Thailand, and Morocco.
9.

Excellent spa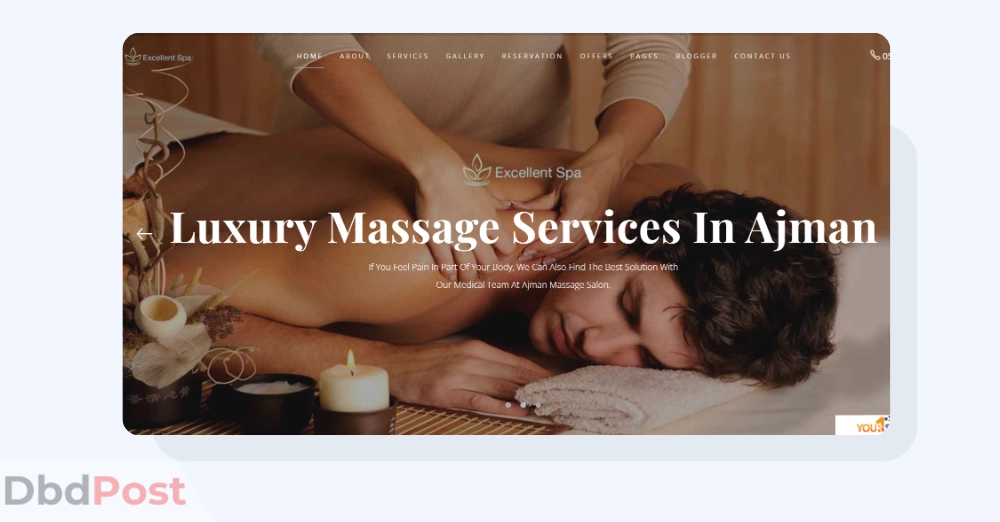 Excellent Spa is a great place to go if you're looking for an awesome massage center in Ajman. They offer many massage services to help you relax and feel better. Currently, they provide massage services like oil massage, hot stone massage, deep tissue massage, Moroccan bath, and full body massage in Ajman.
They also offer a great discount on massage services. You can get up to 10% off a full body, 15% off a couple, and 20% off massages on the weekend. Furthermore, you go with a friend, you'll get 30% off.
10.

Al Zahra spa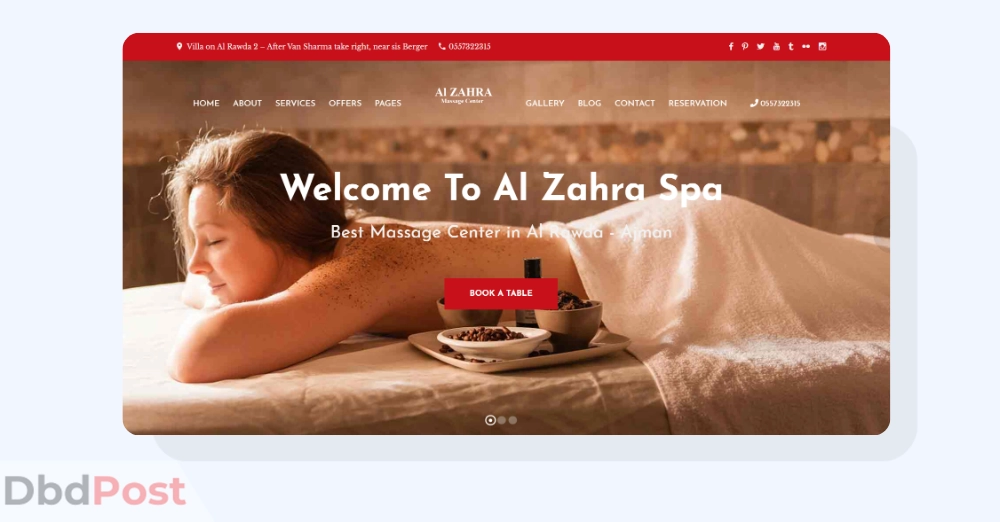 Al Zahra Spa is a full-service spa center in Ajman. They have therapists from Thailand, Vietnam, Korea, India, Arabic, and China with extensive training.
Al Zahra Spa also offers professional massage services such as therapeutic, full body, relaxation, and deep tissue massage. Furthermore, you can get Swedish, sports, foot, deep relaxation, Thai, and hot stone.
In addition, they offer discounts to their customers. This cheap spa in Ajman has offers on full body spa, Thai massage, referral massage, and a first-time massage.
11.

Chandini Rath spa – Cheap massage center in Ajman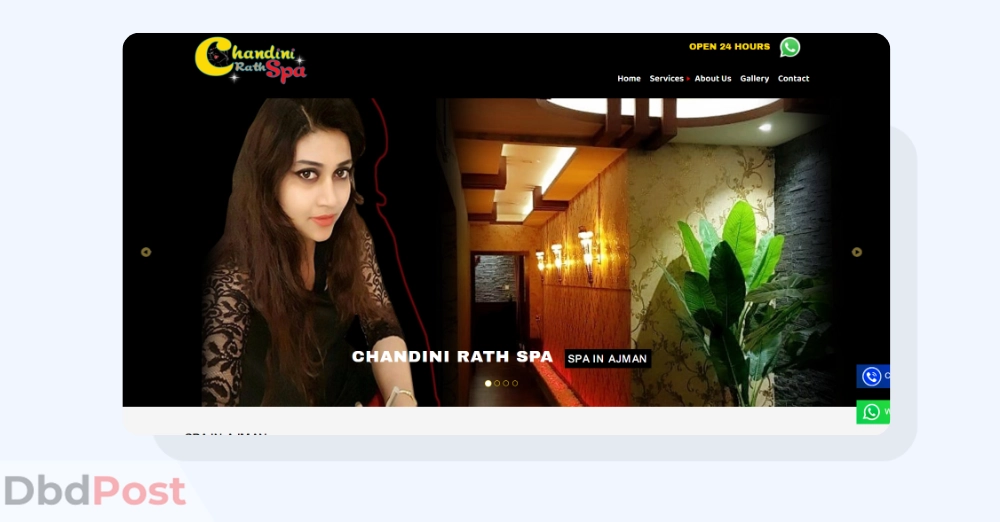 Chandini Rath Spa is a good place to get a cheap massage in Ajman. Also, the spa offers services from certified therapists from South Asian countries like Thailand. Furthermore, their affordable rates attract a lot of tourists and locals.
Also, they offer a wide range of massages, such as Kerala massage, Indian massage, Pakistani massage, Thai massage, etc. Similarly, if you want to book any of these massage services, you easily contact them via WhatsApp or make a quick call.
Cost of massage in Ajman
The massage cost in Ajman can vary depending on the type, duration, and location. For example, a basic Swedish massage will usually cost between AED 300 to AED 500.
The price will usually be higher if you want a specific massage, such as sports or Thai massage. Also, the length of the massage affects the price. In addition, the price will increase in premium laces like luxury hotels.
The location of the massage clinic can also affect the price. If you go to a spa or hotel, the price will usually be higher than if you go to a smaller massage clinic. You can generally expect to pay anywhere from AED 100 to AED 500 for a massage in Ajman.
Benefits of massage
Massage therapy is a popular and effective way to relieve stress, tension, and pain. There are many different types of massage, each with its benefits. For example, a Swedish massage is a gentle massage that uses long strokes and kneading to relax the body. Deep tissue massage is a more intense massage to release chronic muscle tension.
Thai massage combines pressure point therapy and stretching to improve flexibility and reduce stress. Shiatsu is a Japanese massage that uses pressure and finger strokes on the meridian points.
Now let's talk about some benefits you can get from massage center in Ajman: [2]mayoclinic.org, "Benefits of massage, … Continue reading
Decreasing stress and making you feel relaxed.
Decreasing pain and muscle soreness, and tension.
Enhancing blood circulation in your body.
Reducing heart rate and blood pressure.
Improves your immunity.
It helps to counter anxiety and insomnia.
Related Info
---
FAQs
What is the price of a massage in Ajman?
Prices of massage center in Ajman can vary depending on the type of massage and the place where it is done. For example, a basic Swedish massage at a spa may cost around AED 200, while a more luxurious hotel may charge closer to AED 400 for the same treatment.
What will happen at my first massage?
Before starting the massage, the therapist will ask questions about your health and how your body feels. The massage therapist will start with light pressure to help you relax. As you relax, they may use more pressure on specific areas that need attention. If you need to change something during your massage, always tell your massage therapist.
Are there side effects of massage?
Massage is generally safe, but there is always a small risk of something happening. After a strong deep-tissue massage, you might feel soreness and some pain.
Can I work out on the same day I get a massage?
Therapists often advise clients to take it easy for at least 24 hours after getting a massage. Working out right after a soft-tissue session can make you exhausted and lose the benefits.
What if I need to use the restroom during the massage?
Before your massage, it is best to use the restroom. Tell the therapist if you need to use the restroom during your massage. If it happens at a spa, you can usually walk out to the restroom in a robe.
Final thoughts
If you want to relax and feel pampered, visit one of the spa centers in Ajman on the list. You can easily find the best massage center in Ajman with the help of this Dbd guide.
Follow our guide for more information like this. Also, do not forget to share this guide with close ones so they quickly find the best massage spa in Ajman.


Arijit Negi is an expatriate living in Dubai for 18 years. He completed his degree in Master of Arts in Journalism from the University of Mumbai. Arijit focuses on providing helpful guides and information for ex-pats living in UAE and visitors to the UAE.