Kerala massage centre in Dubai uses methods to relieve body pains and aches over 2000 years. With its origins in Ayurveda, Kerala is known worldwide as the land of healing body treatments. relaxed and rejuvenated.
Kerala massage spa in Dubai can recharge your body after a single session. Some of the best places for a Kerala massage spa in Dubai include Kerala Ayurvedic Dubai, Sandhi Ayurveda Massage Center, and Ayurmana Ayurveda & Panchakarma Dubai.
This Dbd guide will introduce you to some of the best Kerala spa in Dubai. The guide includes contact details, locations, service hours, and prices of the best Kerala spa in Dubai.
11 best Kerala massage spa in Dubai
1.

Kerala Ayurvedic Dubai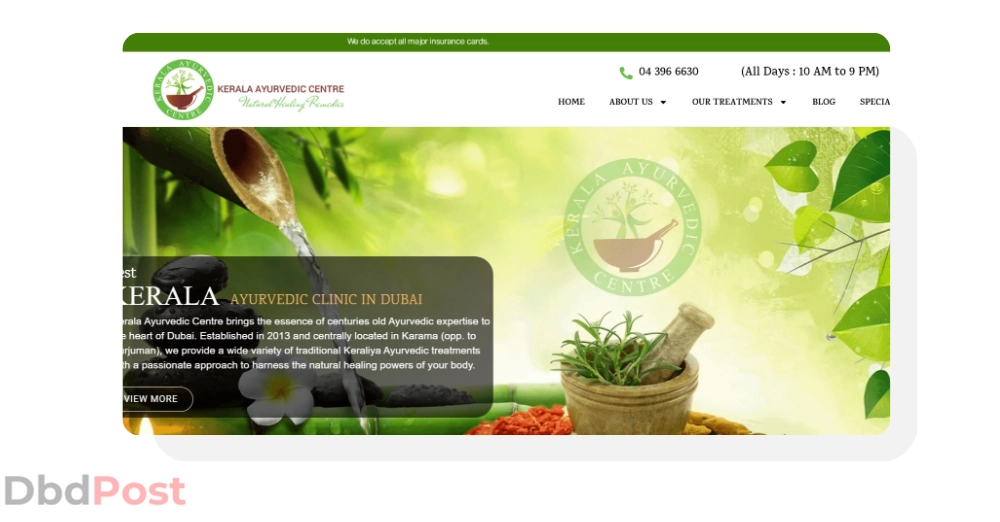 At the Kerala Ayurvedic centre, they use a variety of treatments to help your body find balance again. This can include massage, diet changes, and herbal medicine. Similarly, Kerala Ayurvedic provides services like Shirodhara/Tailadhara, Pizhichil and Takra Dhara.
The Kerala Ayurveda Centre is where people can go to get better if they have chronic health issues. They use traditional Ayurvedic methods and modern scientific advancements to help people heal. People can expect a holistic experience that uses natural methods instead of medication or surgery.
2.

Sandhi Ayurveda massage center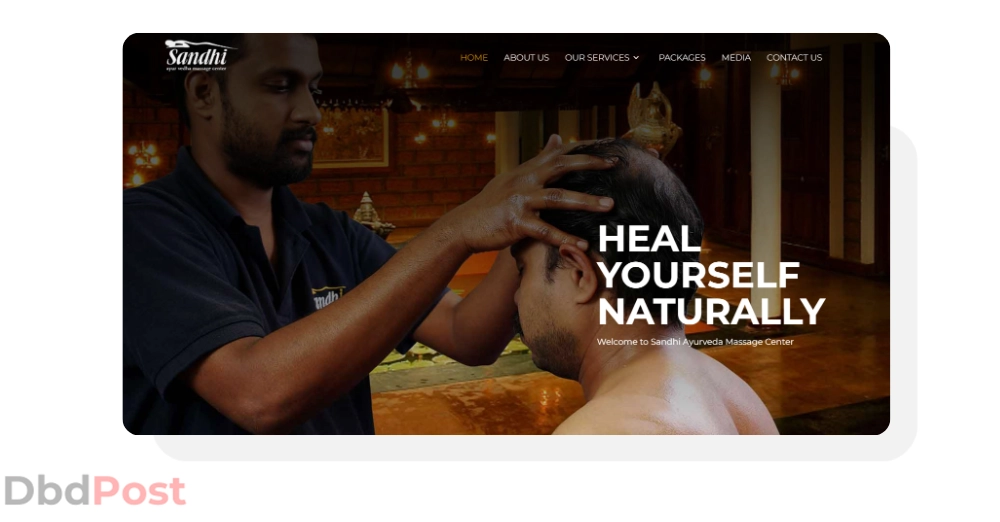 Sandhi offers various spa and wellness services to enhance your immunity. They offer a traditional Kizhi ayurvedic treatment massage and the more popular Indian oil Marma, and Kalari oils. They also offer services like steam bath therapy and aromatherapy, both ancient techniques that can help you feel better.
On top of that, regular users can get more from yearly subscription plans. The Golden Card package includes 20 body massages (1 hour each) over 1 year. You will also get a head massage, Kizhi, and herbal tea. The Diamond Card package includes all the same features as the Golden Card package, but with 20 body massages (1 hour each) over 2 years. [1]Sandhi Ayurveda, "Packages, https://www.sandhiayurvedha.com/#:~:text=Our%20Special%20Ayurveda%20Packages"
3.

Ayurmana Ayurveda & Panchakarma Dubai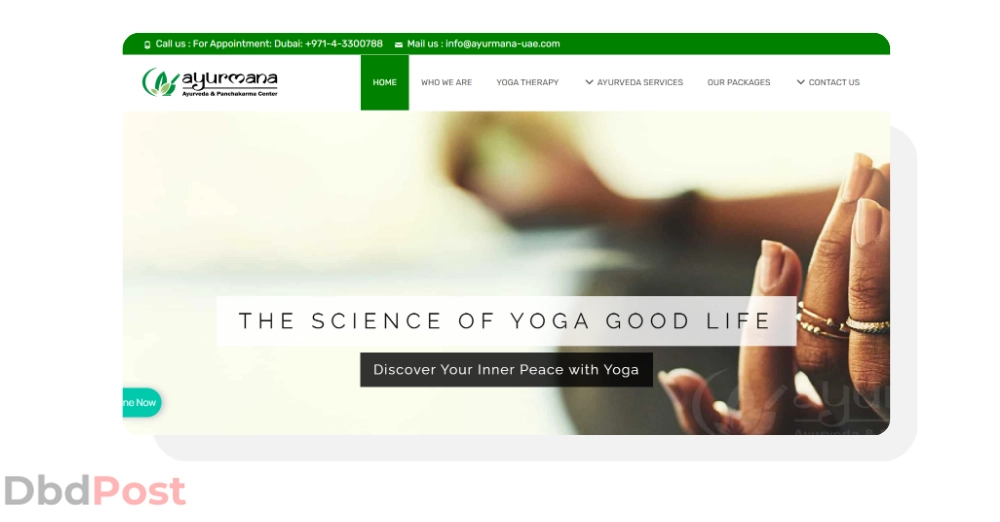 The Ayurmana Ayurveda & Panchakarma Centre is ideal for healing, repairing, and relaxing. They offer Kerala Massage, Ayurveda Panchakarma, and Homeopathy Treatments. Also, their well-designed packages use natural ways that are never painful.
With their rejuvenation treatments, you can strengthen the system and tone muscles to make you feel powerful again. The de-stress package helps to soothe aching muscles and tensed nerves, while their slimming treatment will help you achieve your weight goals. Whether it's healing or relaxation that you're looking for, Ayurmana has something for everyone.
4.

Ayurcare Ayurvedic wellness center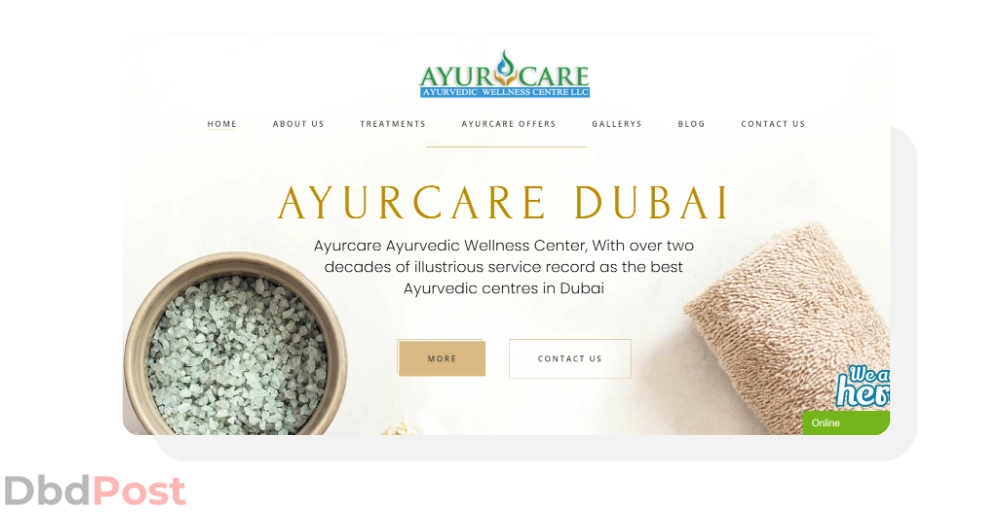 For over ten years, Ayurcare has been providing quality Kerala massages to customers. The company is known for their focus on customer satisfaction and the use of spices in oils that have curative and preventive properties.
Ayurcare's therapists offer a variety of therapies that can help you with beauty, degenerative diseases, skin care, weight loss, stress management, and more. You can choose from the many therapies they provide that are tailored to your individual needs.
5.

Ayurved Clinic FZ LLC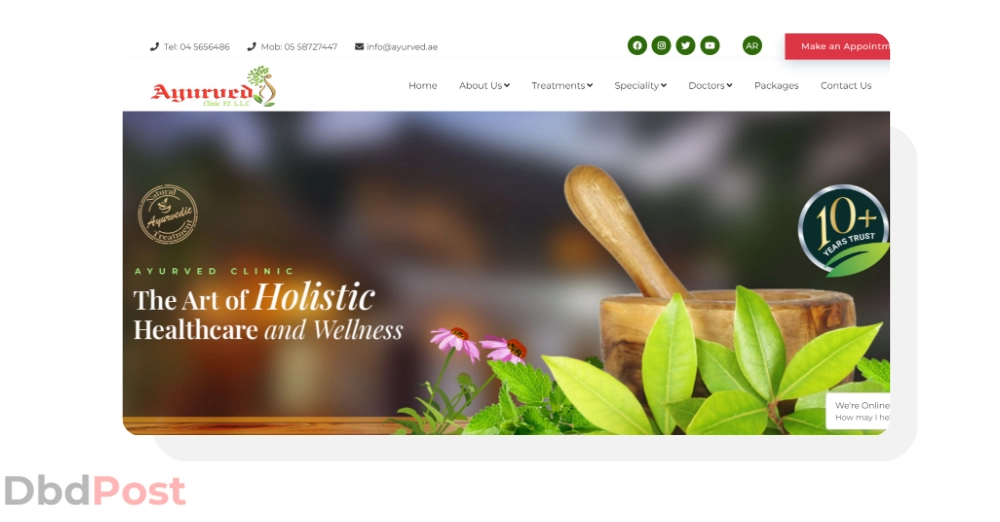 Ayurveda Clinic FZ LLC offers one of the best Kerala massage and other holistic traditional ayurvedic treatments. They have a lot of services, including ayurvedic consultations with some of the most experienced doctors in this field.
There are three types of memberships offered by the company. These are regular membership, premium membership, and royal membership. The royal membership offers additional benefits, such as free doctor consultations. Likewise, Ayurved clinic FZ LLC provides services like Abhyangam, Udwarthanam, Shirovasti, Pizhichil, steam therapy, Netra Tarpana, etc.
6.

Kottakkal Ayurvedic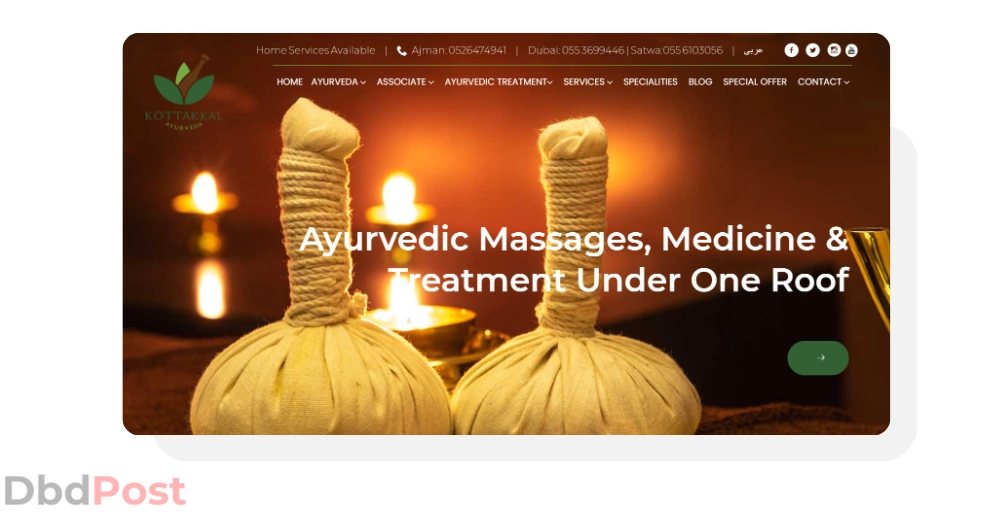 Kottakkal Ayurvedic Treatment Centre is a paradise for those looking to rejuvenate and relax. They aim to offer customers an enlightening experience for the mind, body, and soul. Every treatment is done with reverence and by the ancient traditions of Ayurveda.
Their signature treatments, such as Abhyanga, Elakizhi, Pizhichil, Sirodhara, Navarakkizhi, Nasya, and Kativasti, can relieve back pain and neck & shoulder pain. The medicines used at Kottakkal are freshly prepared from herbs sourced from various parts of India.
7.

Chandran Gurukkal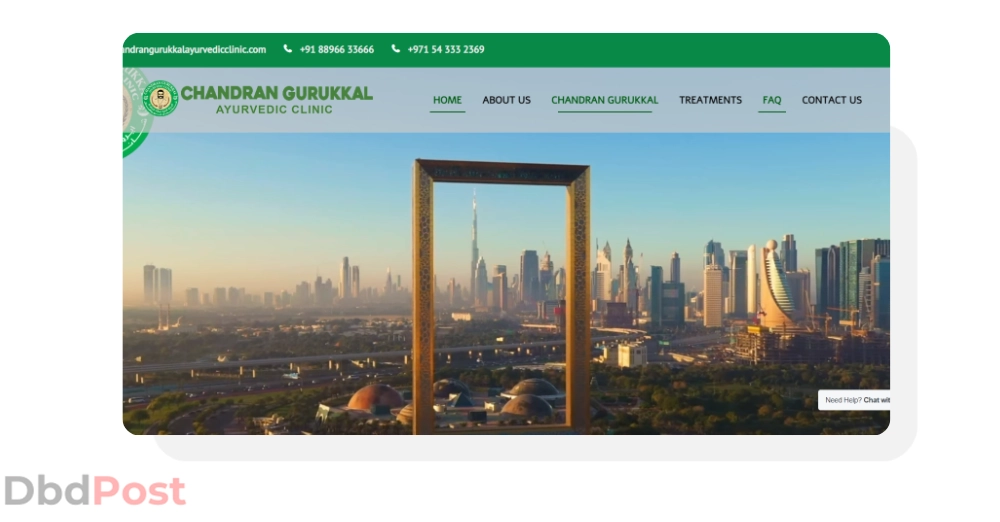 Chandran Gurukkal Ayurvedic Clinic (CGAC) offers affordable massages and therapies from Kerala to prevent illness and enhance immunity. They have centers in Al Karama, Al Qusais, and Bur Dubai and cater to patients of all ages.
The Chandran Gurukkal Ayurvedic Clinic has a good reputation and offers experienced doctors, therapists, and masseurs. They also have clean treatment rooms, which is essential for safety purposes. Not to mention, they offer a wide variety of services like Ayurveda Consultation, Wellness Treatment Body Analysis, Panchakarma Therapy, and more.
8.

Balance Wellbeing 360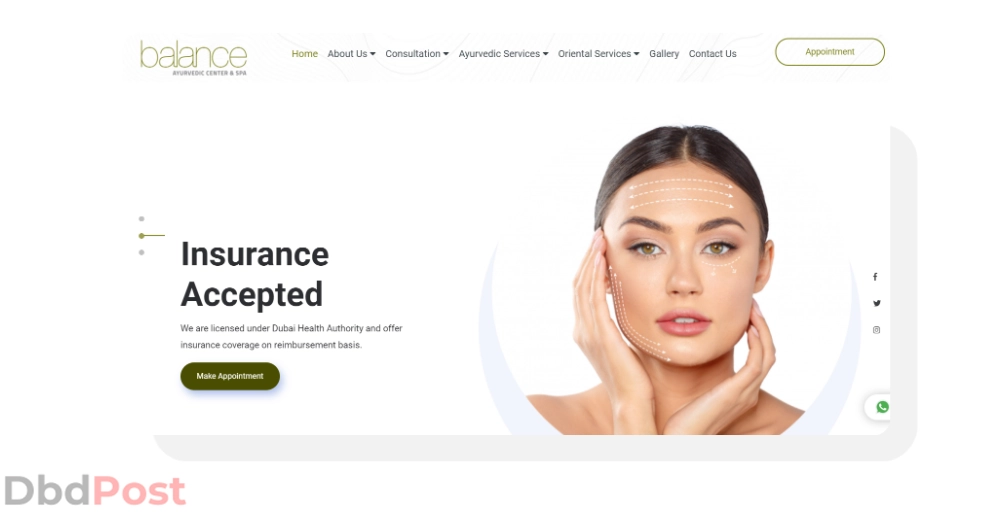 Balance Wellbeing 360 provides massages to benefit your entire body, not just address one specific area. Their Kerala and relaxation massages use Ayurveda to make you feel physically good and improve your emotional and mental wellbeing.
In addition, their Ayurvedic DHA licensed practitioner can help you with various wellness needs and relieve any ailments you might be experiencing. This could include treatments for weight loss, detoxification, pre-natal care, post-natal care, anti-aging care, diabetes care stress management, or spinal cord treatment Care might even be covered by some insurance policies.
9.

Cora spa and massage center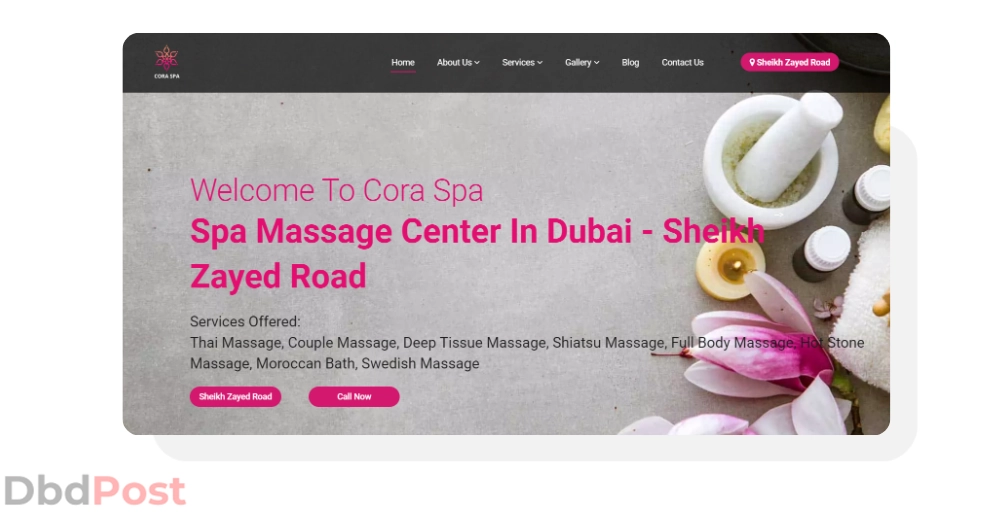 Cora Spa And Massage Center offers a variety of massages. There is the Kerala massage, which is an ancient Indian style based on the principles of Ayurveda. There is also Chinese massage, which uses the techniques of acupuncture.
They offer different types of massages like the VIP massage and the Thai herbal heat massage. They also have Russian massages, deep tissue massages, hot stone massages, full body massages, and foot reflexology.
11.

Corebiotics Ayurvedic wellness center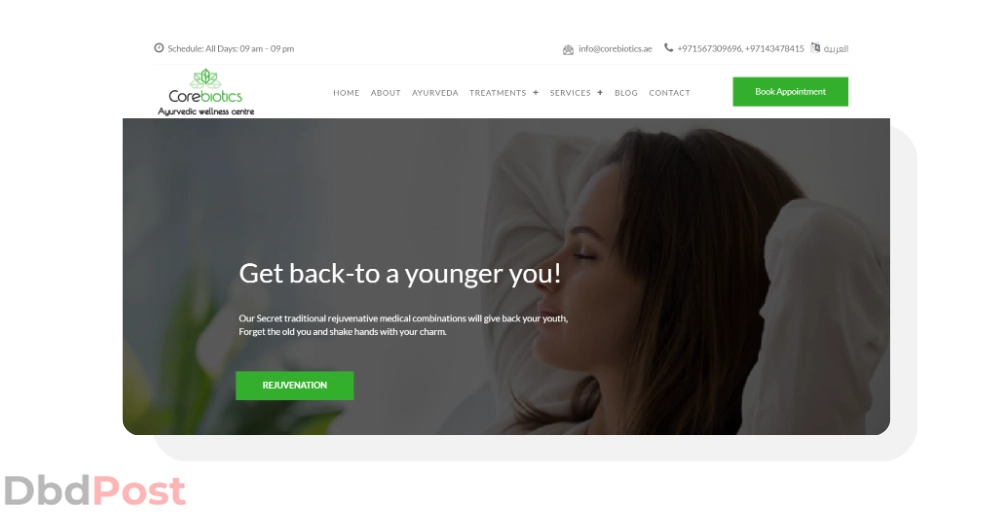 Corebiotics promises to give customers the best massage in Dubai. Their Kerala Massage is designed to promote good health and prevent illness through practices such as Abhyangam, meditation, yoga, and dietary changes.
Corebiotics Ayurvedic wellness centre offers various services for thyroid health, obesity prevention, scalp and hair care, eye health, neurological diseases, and muscle and bone strength. You can book an appointment with Corebiotic Ayurvedic through their website or by calling.
11.

Tantric Ayur spa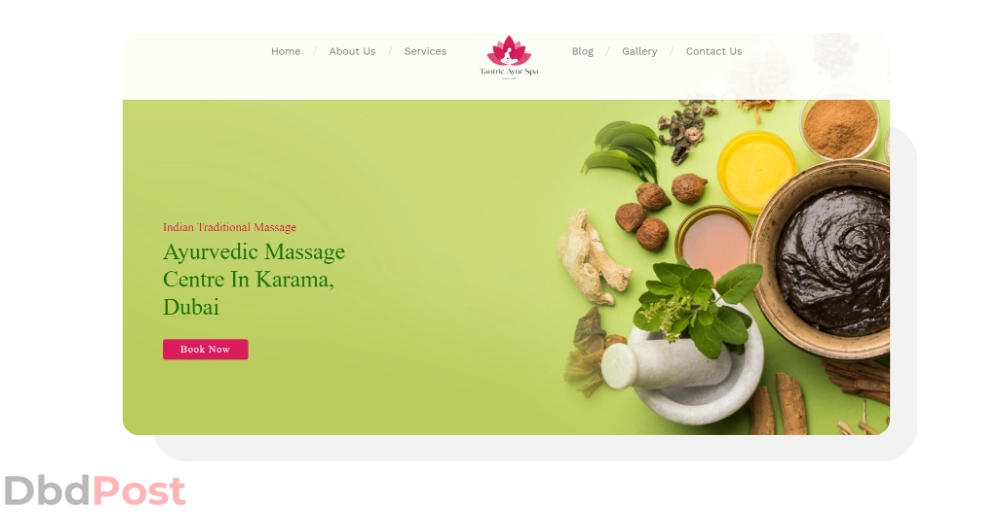 Tantric Ayur Care strives to provide one-of-a-kind spa treatments to de-stress and rejuvenate your body. Their Kerala massage is designed to help you release tension and encourage your body's natural relaxation process.
Some of the spa services they offer include a relaxation oil massage, foot massage, full body massage, and normal massage. Normal Massage is one of their more popular services because it helps to relax your muscles, improve blood circulation, and make you stronger so you can recover faster.
Cost of Kerala massage in Dubai
Kerela massage is a healing technique that originated in India and can be an incredibly relaxing and therapeutic experience. The cost of this type of massage varies depending on the city, the location, and the session duration.
The full-body massage is one of the most popular services that can be experienced when taking a traditional Kerala massage in Dubai. Typically lasting for an hour, the price ranges from 100 to 500 dirhams.
Despite the potential cost, these treatments are well worth it, given their remarkable results. The relaxation achieved during a massage can calm both body and mind while at the same time it can help ease pain and fatigue. With this type of healing therapy offered in Dubai, anyone looking to experience a rejuvenating session should consider exploring its traditional Kerala massage options.
Benefits of Kerala massage
The Kerala Abhyanga massage is a profoundly indulgent and therapeutic therapy commonly used for centuries in India. Drawing upon the principles of Ayurveda – an ancient holistic healing practice used in India – this massage is known to bring about total body well-being.
It involves applying warm oil over the whole body, including the scalp, feet, and all other parts. This ancient treatment has relaxing benefits that relieve stress, anxiety, and headaches, improve circulation, and remove toxins from the body.
Research studies have proved that it can aid with blood flow, reduce symptoms of aging, calm the mind and finally give peace to your soul. The best part is that all-natural ingredients are used without harmful chemicals giving you that ultimate peace of mind. [2] Health Line, "About Abhyanga, https://www.healthline.com/health/abhyanga-massage#benefits"
Related Info
---
FAQs
What can I expect from a Kerala massage in Dubai?
Kerala massage is a treatment that helps with digestive problems, anxiety, skin infections, and more. Similarly, Kerala massage balances the body's energies in a way that other medical treatments cannot.
Is Kerala massage beneficial to pregnant women?
Pregnant women should avoid having a Kerala massage, as it may harm the fetus during detoxification. However, certain special oils and pressure points can be safely used during pregnancy. It is recommended to consult a doctor before receiving this type of massage.
Is there any disadvantage of Kerala massage?
The ayurvedic Kerala massage is a safe and effective treatment that provides long-term benefits to the body and mind. This ancient practice balances energies within your being, leaving you feeling energized or calm all day long.
Which is the cheap Kerala massage centre in Dubai?
The price of Kerala massage places depends on the location and the services offered. Some places, like Tantric spa, have starting prices from just 125 AED.
What is the total duration of a Kerala massage?
Kerala massages are performed by expert therapists and vary in pressure based on age and medical condition. The average Kerala massage lasts 30-45 minutes.
Final thoughts
If you want to relax and feel pampered during your time in Dubai, be sure to go to one of the Kerala spa center in Dubai. This thousands of years old procedure has been tried and tested worldwide with positive feedback.
With this Dbd guide, you should be able to find the perfect Kerala massage centre in Dubai for your needs.


Arijit Negi is an expatriate living in Dubai for 18 years. He completed his degree in Master of Arts in Journalism from the University of Mumbai. Arijit focuses on providing helpful guides and information for ex-pats living in UAE and visitors to the UAE.