Russian massage is a widespread technique developed in the former Soviet Union. You can find many Russian massage centre in Dubai that offer an authentic and luxurious experience.
There's no better way to relax and rejuvenate yourself than by getting a Russian massage.
Many Russian massage centre in Dubai offers traditional classic Russian massage techniques. Some of the best Russian massage spas in Dubai are Luxury Spa, Ruspa, Armonia Spa, Beautiful UK massage centre, and more.
This guide will show you the best Russian spa in Dubai. Moreover, this guide includes contact information, location, service hours, and prices for each centre. Additionally, we have covered some of the benefits of Russian massage.
7 best Russian massage centres in Dubai
Russian massage parlors are a popular way to relax and revitalize the body. They are available in most major cities and provide a variety of services. If you want the best Russian spa in Dubai, these are the best places.
1.

Luxury Spa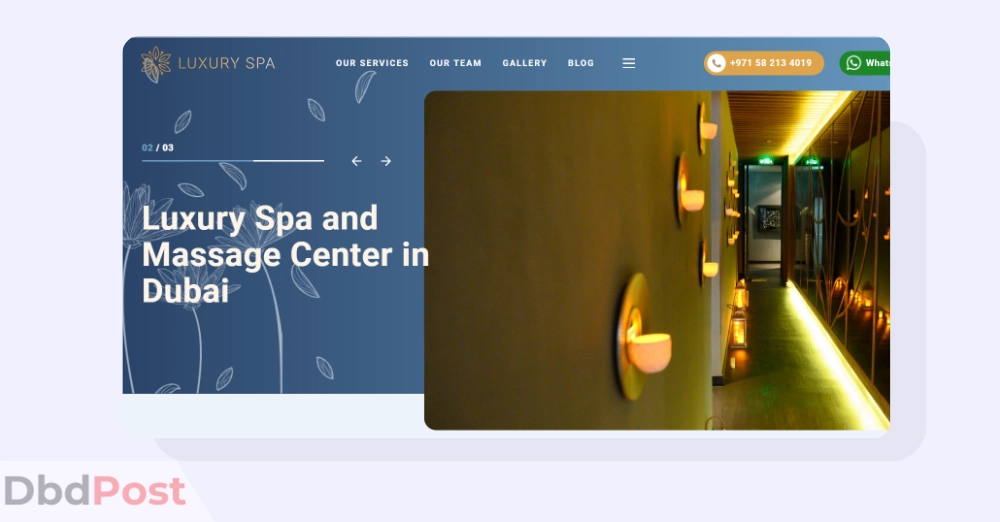 At Luxury Spa, they specialize in providing excellent, consistent Russian massage service to clients. Likewise, they provided services including Russian massage, Relaxation Aromatherapy Massage, Muscle Recovery Massage, Healing Hawaiian Massage, Revitalizing Hot Stone Massage, and Facial Massage.
Similarly, Luxury Spa allows customers to book appointments of various lengths. Customers can choose between 60 minutes or 90-minute massage sessions. [1] Luxury Spa, "Luxury Spa and Massage Center, https://www.luxuryspa.ae/#:~:text=At%20Luxury%20Spa,us%20on%20%2B971582134019."
2.

RuSpa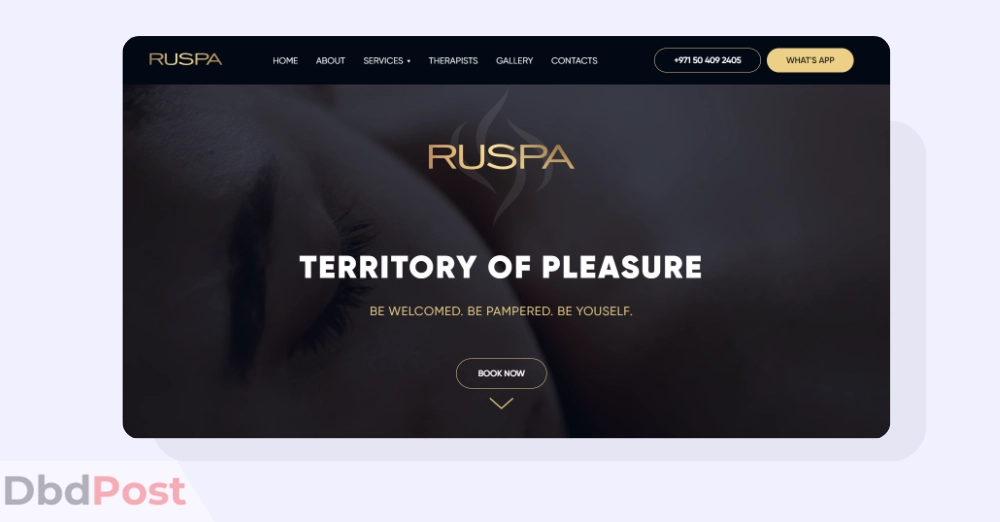 | | |
| --- | --- |
| Location | Courtyard By Marriott Dubai, Al Barsha Rd, Behind Mall Of Emirates, Dubai |
| Hours | Sunday to Saturday (10:00 am to 01:00 am) |
| Contact | +971504092405 |
| Map | Get direction |
| Website | RuSpa |
RuSpa is an excellent massage center that offers Russian massages. The staff is professional, experienced, and dedicated to providing their clients with the best possible experience. The centre is clean and has a relaxing environment, which makes it the perfect place to relax and chill.
Talking about RuSpa services, they offer a variety of massage treatments and spa packages. Some services include Revitalizing Hot Stone, Signature Bamboo Fusion, Muscle Recovery, Healing Hawaiian, Traditional Thai Stretching, and Moroccan Bath Treatment. [2] RuSpa, "About Us Spa, https://www.ruspa.site/#rec507268546:~:text=At%20RUSPA%2C%20we,50%2D409%2D2405."
Also, if you are looking for VIP treatment, RuSpa provides this facility. The RuSpa center has many facilities like private steam spaces for singles and couples.
3.

Armonia Spa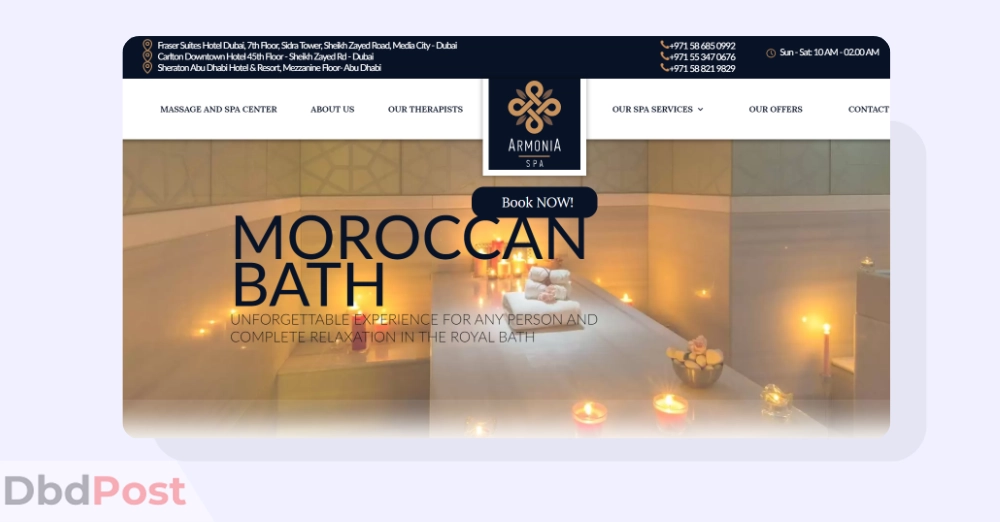 Armonia Spa centre is a haven of peace and relaxation. The massage therapists are experienced and skilled in relieving stress and tension. Similarly, Armonia spa has three branches located in convenient locations across Dubai.
Similarly, Armonia Spa is an excellent option if you're looking for a Russian massage in Dubai. Likewise, the massage oils and products used at Armonia are also of the highest quality. Moreover, not only they provide Russian massage, they also provide massage services like Lava Shells Relax, Bamboo, Shiatsu, Hot Stone, Deep Tissue, and Swedish Massage.
Furthermore, they offer a variety of discounts to their customers. For holders of Fazza cards, they offer a 20% discount on all types of massages. If you bring a friend, you can get a 50% discount on one-hour massages. [3] Armonia Spa, "Armonia Offers, https://armonia.ae/our-offers/#:~:text=HOLDERS%20OF%20FAZZA,and%20moroccan%20bath"
4.

Beautiful UK Massage Centre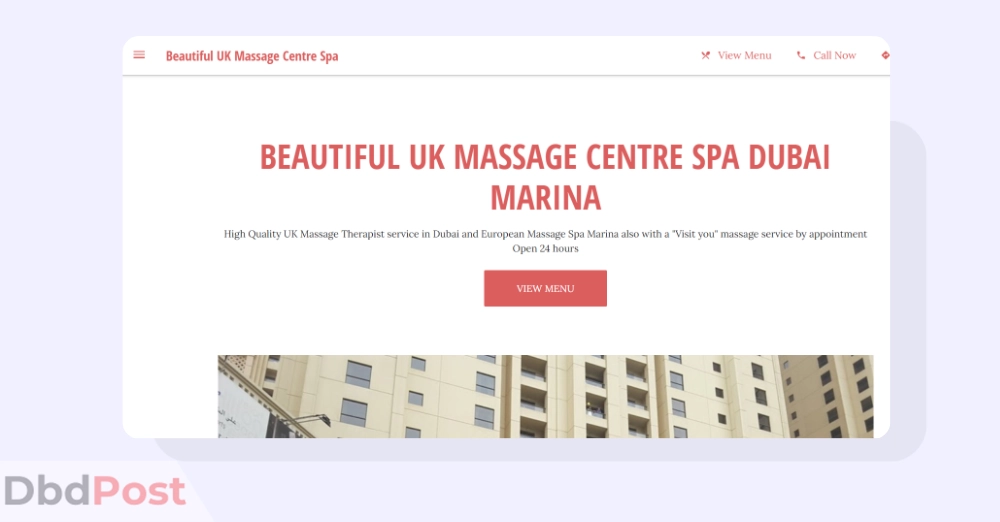 Beautiful Uk massage Centre is a well-established spa that has been providing quality Russian massage services for 14 years. Their team of European massage therapists is the most experienced and qualified. Similarly, the professional therapists at this massage centre hold diplomas in physiotherapy and other various massage related fields. [4] Beautiful UK Massage Center, "About Us, https://beautiful-uk-massage-dubai.business.site/#:~:text=LUXURY%20EUROPEAN%20MASSAGE%20DUBAI%20MARINA"
Besides Russian massage they also provide, Swedish massage, sports massage, white tantric massage, neo tantra massage, VIP tantra massage therapy, and more. Similarly, they provide personal care services like Aromatherapy treatment.
5.

Lavana Spa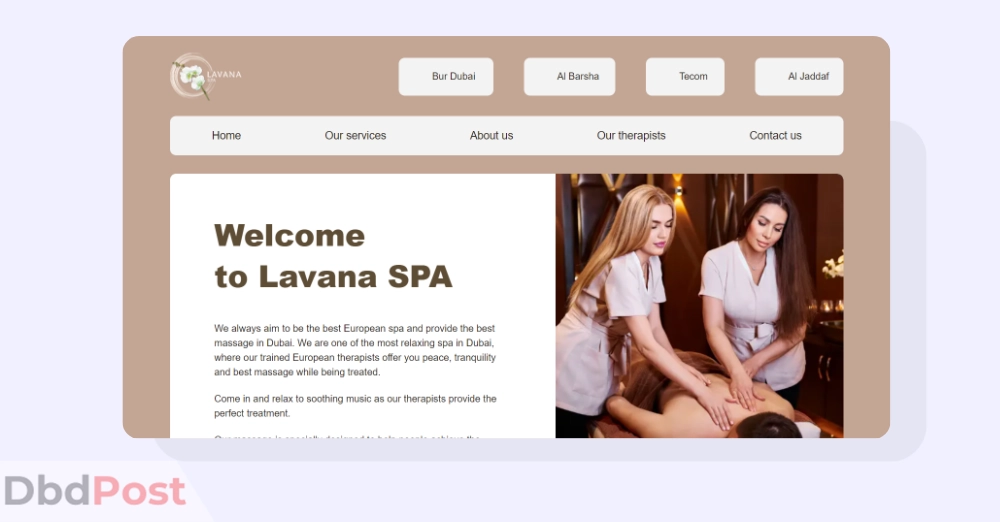 Lavana Spa is one of the best European spas in Dubai, offering various services to help you relax and feel your best. Similarly, their European therapists are from Russia, Ukraine, Poland, Switzerland, Bulgaria, and Romania. Also, this spa is the best European massage center in Dubai.
Besides Russian massage, they provide the other services like aromatherapy with body scrub, Royal hammam package, European aromatherapy, Swedish, deep muscle, Four hands, lava shell, Moroccan bath, and exfoliation body polish.
Moreover, there are four branches of Lavana across Dubai, in Bur Dubai, Al Barsha, Tecom, and Al Jaddaf, so you can easily find one near you. For booking, you can book directly with them through their WhatsApp number.
6.

Reflections Russian & European SPA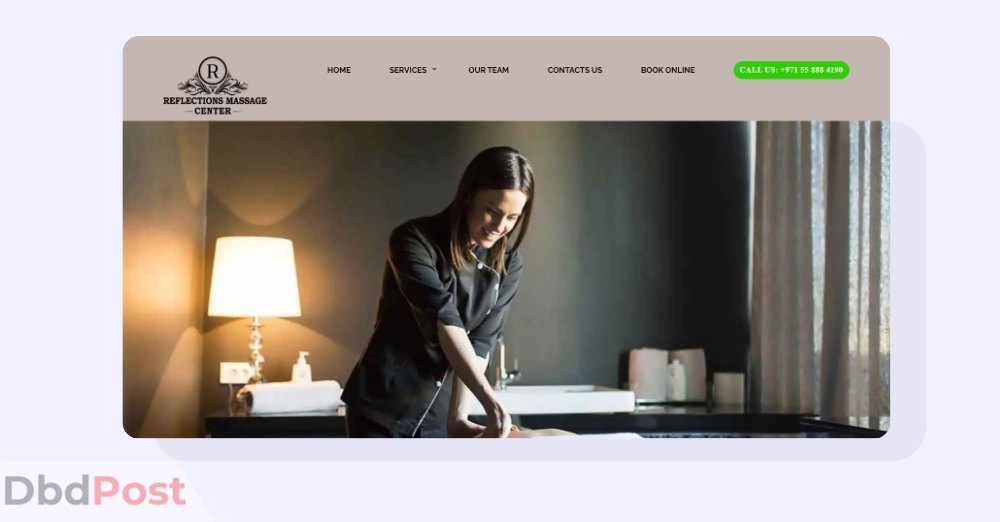 Reflections Russian & European SPA offers a unique and luxurious Russian massage experience for customers. The SPA has certified therapists trained in every Russian massage technique. Additionally, their team of therapists is friendly so that you can enjoy a good massage experience.
Similarly, this SPA provide other services like Relaxing massage, Swedish massage, deep tissue massage, sports massage, and aroma therapy massage. They also offer a hot stone lava shell, four hands relaxing massage, and a Moroccan bath.
7.

Serenity Spa Dubai DIFc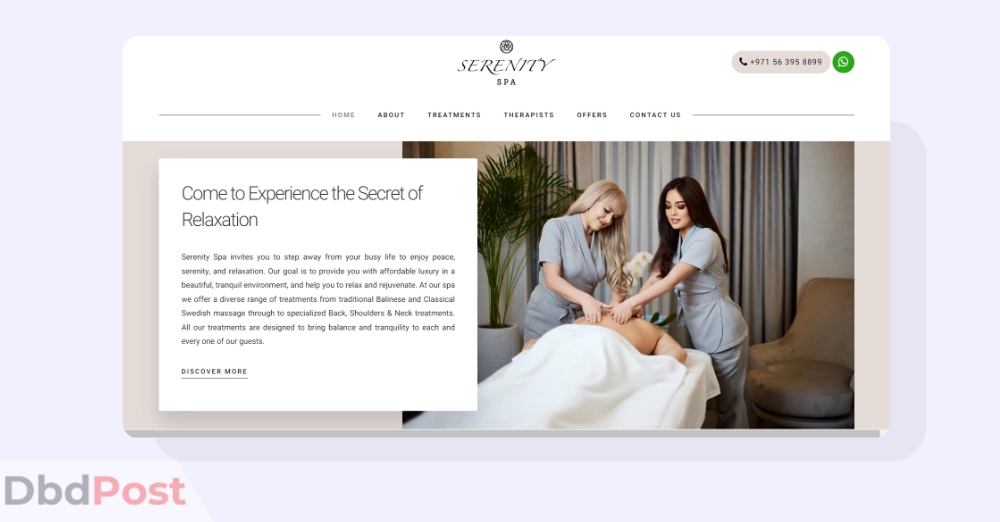 Serenity Spa Dubai DIFc provides high-quality Russian massage therapy wellness services. Similarly, the therapists are experienced and specialist in providing good Russian therapies.
Talking about the massage offers, the Russian Massage & Scrub Treatment of a 90-minute session costs 550 AED. Furthermore, if you book an appointment for a Swedish Massage Treatment between 10 am and 3 pm, you will get the treatment at a discounted price. [5]Serenity Spa, "Early Bird Offer, … Continue reading
What is the price of a Russian massage in Dubai?
The price of a Russian massage in Dubai can differ depending on the spa you visit. However, you can generally expect to pay around 500 dirhams for a 60-minute session.
A 60-minute session of Russian massage at Serenity Spa Dubai DIFc and Reflections Russian & European SPA costs AED 500. They will also offer you a discount, so checking their website before visiting the spa is better. Additionally, the lower price massage service can get you a bad massage experience, so choosing a good spa treatment center is better.
Benefits of Russian massage
Russian massages improve your circulation and reduce tension in your muscles by targeting different areas of the body. This can improve or affect a patient's ability, to breathe comfortably, digest, heal mental pain, and have physical relaxation. [6] Health Line, "Benefits of Russian massage, https://www.healthline.com/health/russian-massage#purpose"
However, many patients that go through therapy see an increase in range of motion and metabolism or a decrease in muscle tiredness. Also, Russian therapists are often used with other medical treatments to help people heal faster from different injuries and diseases.
Related Stories
---
FAQs
What can I expect from a Russian massage?
After a session of Russian massage, you will notice a decrease in the tension in your muscles. Also, you'll feel progress in circulation, increased range of motion and metabolism, and reduced muscle fatigue.
Is Russian massage beneficial to pregnant women?
Yes, Russian massage is beneficial to pregnant women. It helps to improve blood circulation. Also, Russian massage can help relieve stress and tension, which is often high during pregnancy.
Which is the cheap Russian massage centre in Dubai?
The price of a Russian massage is the same as most massage spas. However, the price of a massage spa can vary depending on where it is located and what amenities it offers. Some centers like Luxury Spa, and Ruspa may offer cheaper rates than others.
Is there any disadvantage of Russian massage?
If your therapist does the massage techniques incorrectly, it could cause many problems for your body. Therefore, you must choose a good, comfortable, experienced therapist for your Russian Massage session.
Final thoughts
Undoubtedly, the best Russian massage centre in Dubai offer some of the best massage therapies. Whether you're looking to relieve tension and stress or want to enjoy a relaxing and invigorating massage, these establishments will have something for you.
Moreover, you can receive exceptional service with a wide range of massage treatments and experienced and skilled therapists. So, if you're looking for the best Russian spa in Dubai, check out the ones mentioned above. You won't be disappointed.


Arijit Negi is an expatriate living in Dubai for 18 years. He completed his degree in Master of Arts in Journalism from the University of Mumbai. Arijit focuses on providing helpful guides and information for ex-pats living in UAE and visitors to the UAE.