Massage center in Business Bay can relieve your body after a long day. Also, finding one if you're new in the city is more challenging.
Choosing massage places in Business Bay, Dubai, requires numerous factors, including location, price, and massage type. However, with our list of the best massage center in Business Bay, you'll be able to find the ideal location.
We have compiled a list of the best massage spa in Dubai Business Bay in this Dbd guide. They provide a vast selection of massage and treatment options. Likewise, we have covered some of the best spa in Dubai Business Bay.
11 best massage centers in Business Bay
Now, let's look into the 11 best massage places in the Business Bay. These are top-rated and best-reviewed places with multiple massages and spa options.
1.

The Spa at Pullman Dubai Downtown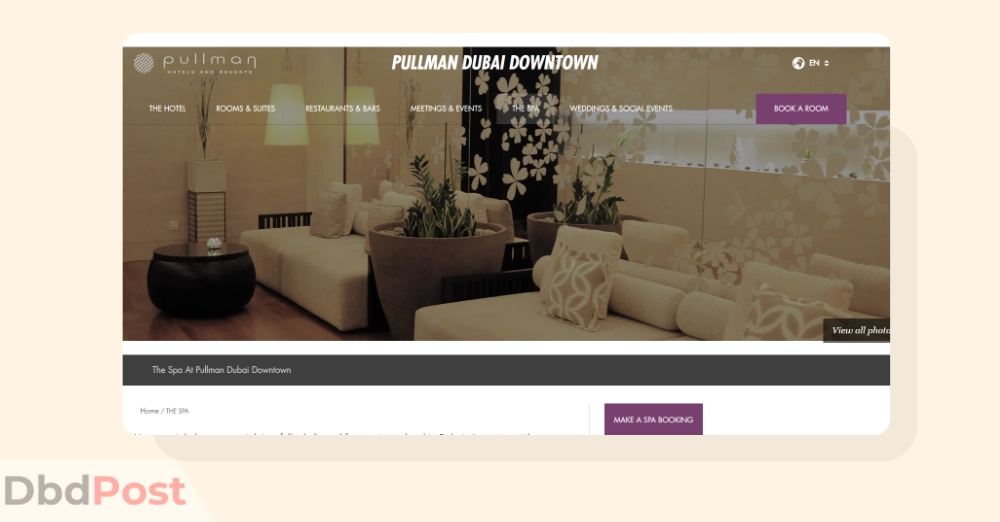 Situated in the heart of Dubai's Business Bay, the Spa at Pullman Downtown Dubai is the perfect destination for people looking to relax and rejuvenate. Offering a variety of luxurious spa treatments, massages, and relaxation experiences, the Spa has something for everyone. Guests can enjoy Balinese, European, Thai, Swedish, or other massage options.
In addition to massage treatments, the Spa offers a restaurant, bar, pool, and fitness center for a complete relaxation experience. With its convenient location and array of features, the Spa at Pullman Downtown Dubai is the perfect choice for your next spa trip.
2.

Softouch Spa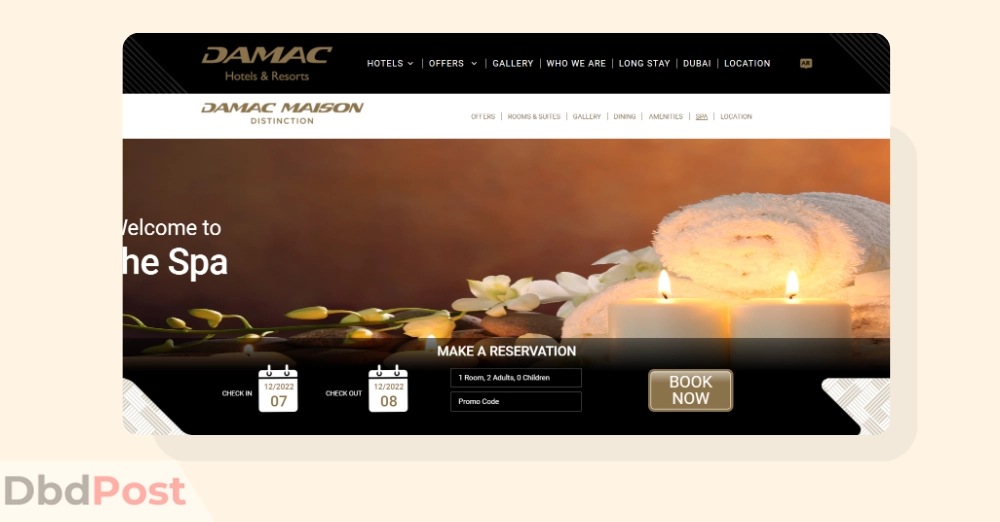 Softouch Spa is one of the best massage centre in Business Bay located in the heart of Dubai's Downtown district. The Spa offers customers a unique experience of relaxation and rejuvenation. With various treatments on offer, from classic Swedish to traditional Balinese massage.
Moreover, Softouch Spa is always open for you to come and relax, with beautiful views, luxurious pools, and a gym readily available. So, If you plan to visit the Soft touch Spa in Business Bay, check out their website for exclusive discounts.
3.

Kohibaa Beauty Salon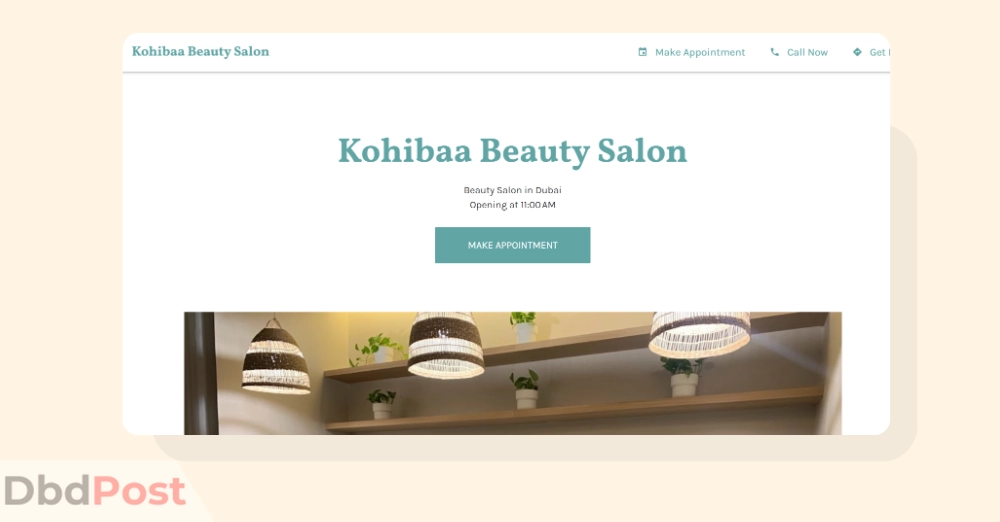 Kohibaa Beauty Salon is located in Arjan Dubai and offers professional services to its customers. They use high-quality products from Kevin Murphy, Casmara, and Dermalogica. The salon offers a variety of massages for women, including full body massages, sports massages, and deep tissue massages.
Additionally, Kohibaa beauty salon offers manicures, pedicures, polish changes, facial treatments, and hair treatments. Also, they provide home service, making it a one-stop shop for all beauty needs.
4.

Soni's Salon for Women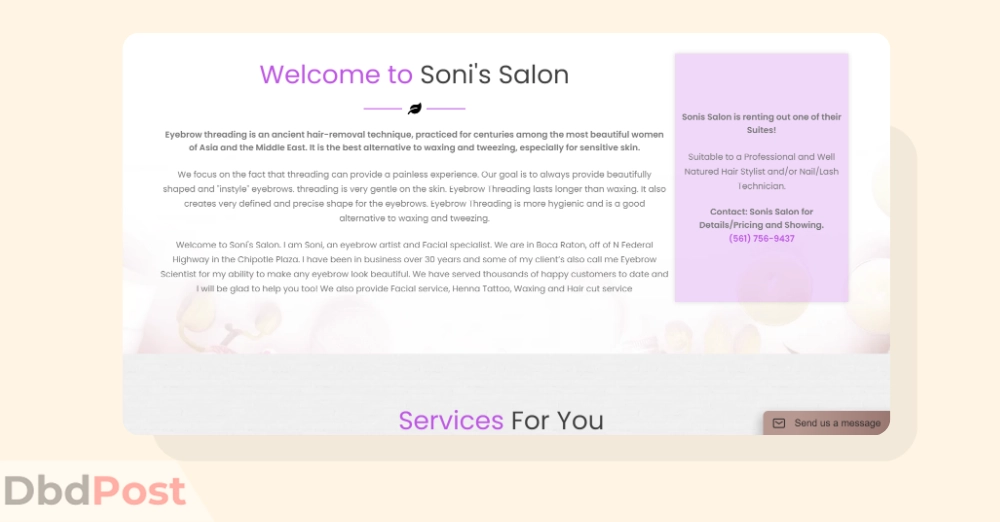 Women can relax and feel their best in this massage spa in Business Bay. The salon offers different services to help women look and feel good, including hair care, makeup for weddings, spas, and more. Each massage service lasts for 30 minutes.
Moreover, If you need a massage or a new hairstyle, look no further than Soni's Salon. To book an appointment with the salon, visit their website or call them. With a team of experienced professionals, Soni's Salon strives to provide the best experience for customers.
5.

The ZUU ladies lounge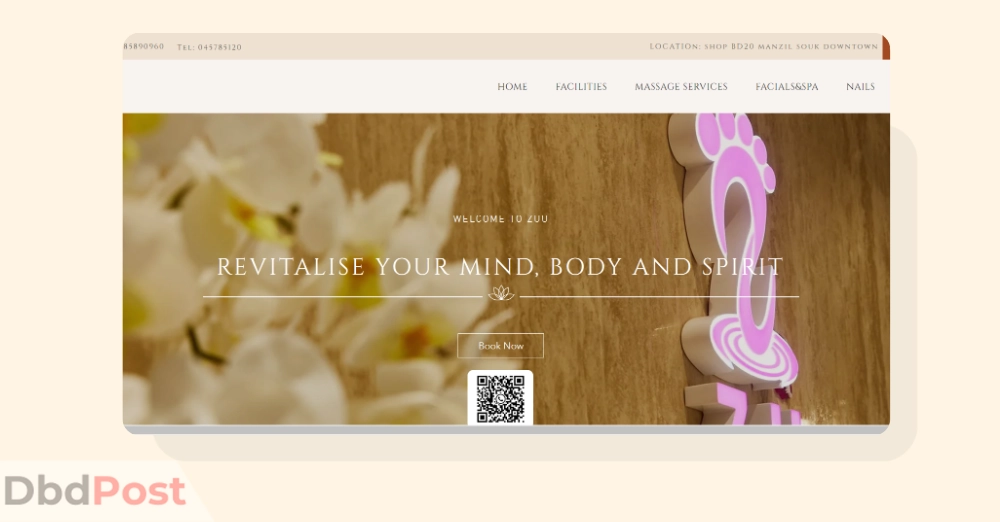 The ZUU Ladies Lounge is a perfect destination for those seeking a relaxing and refreshing massage experience. This lounge is located in the Manzil Souk Downtown by Vida Dubai and has elegant interiors and modern equipment.
Furthermore, they offer many massage services, such as Thai massage to Swedish body massages, foot massage, facial treatments, and nail work. Also, they offer exclusive massage services starting at AED 299 per session.
Moreover, these services are completed by experienced masseuses who guarantee the best massage experience that leaves you feeling invigorated. So if you want to book an appointment, check out The Zuu Ladies Lounge's website.
6.

MOE Therapy Center – Cheap massage center in Business Bay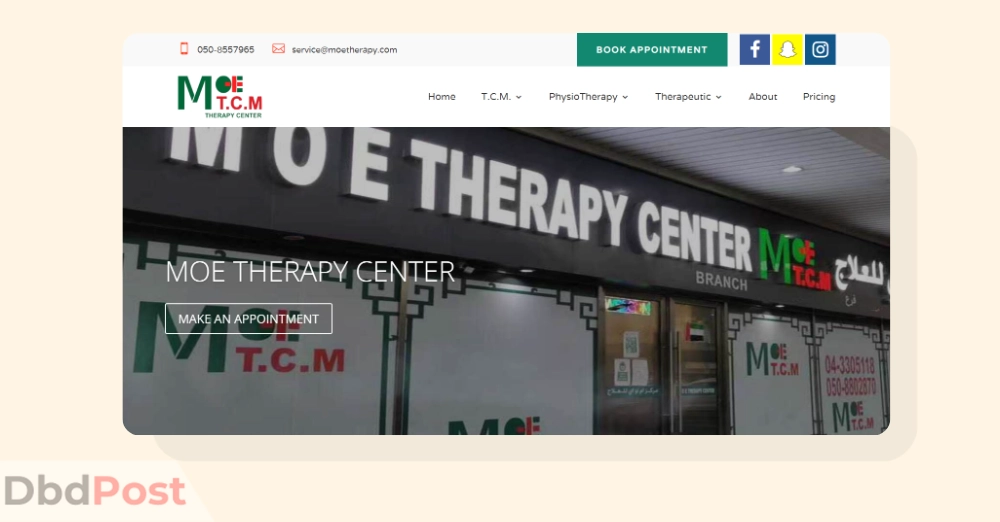 Moe Therapy Center has been providing quality care for patients for more than 6 years. They provide traditional Chinese therapy with reputed Ph.D. therapists with over 20 years of experience. [1]MOE therapy, "Therapists, https://moetherapy.com/#:~:text=DR.%20HOONIL%20BAE,Ultrasound"
Similarly, Moe Therapy Center offers a variety of treatments, such as physical therapy, Korean therapy, and aromatherapy. They also offer massage services, like sports therapy, full body massage, and foot reflexology. With experienced and licensed doctors, Moe Therapy Center aims to provide the best possible care for its clients.
7.

Spa Zen at Voco Dubai Hotel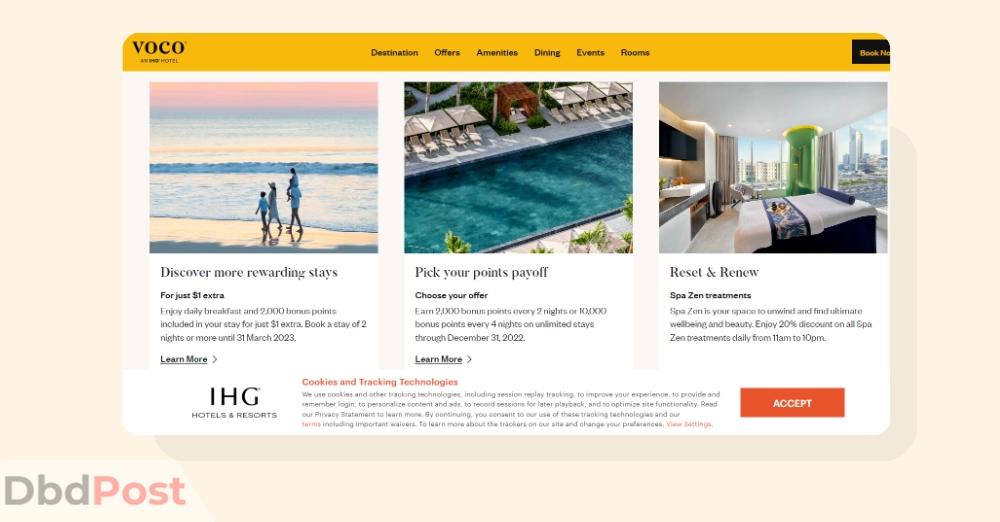 The Spa Zen is located on the 7th floor of the Voco Dubai hotel. It offers many treatments to help people rejuvenate their minds and body. These include different massages such as deep tissue, Swedish and Balinese massage.
In addition, they offer two special packages: the Gentleman's Package, which includes a facial and scalp massage. And the Teen Package, which helps promote clear skin and relaxation. There is also a Maternity Package for women that includes a foot massage, back massage, and gentle facial.
Moreover, customers can also access modern gym equipment or enjoy an outdoor pool if desired. All in all, the Spa Zen has something for everyone so that they can enjoy a peaceful experience.
8.

Saray Spa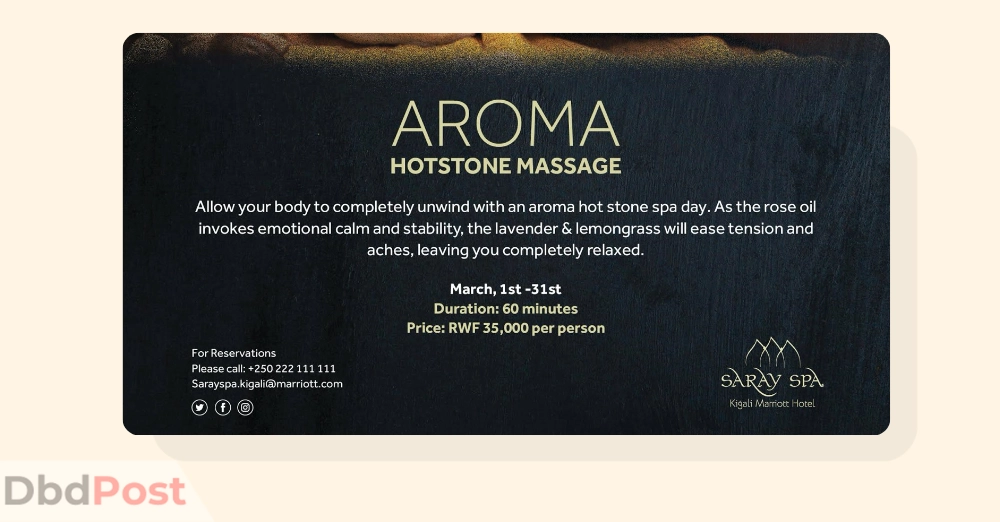 The Saray Spa at the JW Marriott Marquis Hotel is a great place to relax and refresh. Historic Caravanserais of the silk trade routes of old Dubai inspire the interiors of Saray spa. The spa uses ancient techniques and local ingredients to serve the customers.
Additionally, Saray Spa offers treatments from traditional massages to modern therapies such as body scrubs, facials, Moroccan bath, etc. Furthermore, they provide private men's and women's lounges with steam rooms.
9.

Hana VIP Massage – Good reviewed massage center in Business Bay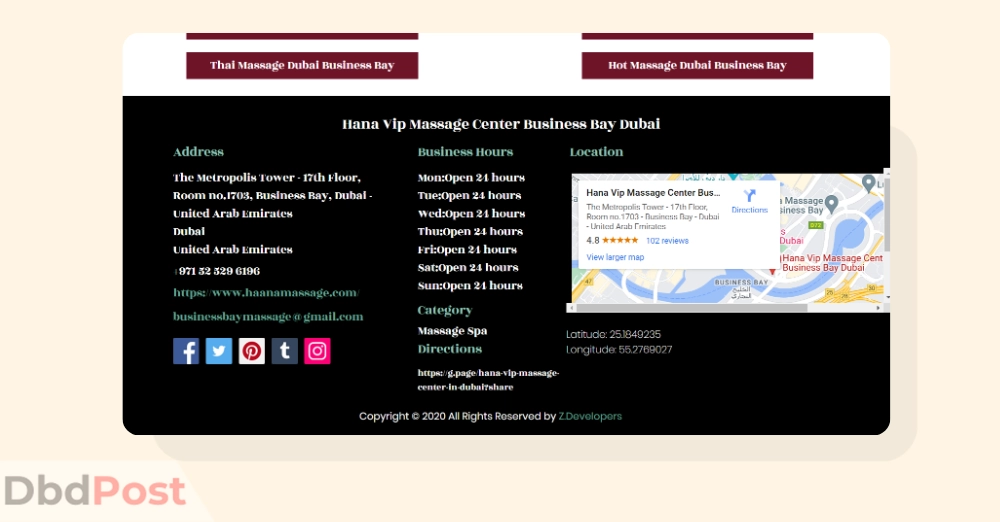 Hana VIP Massage Center uses the best-quality oils and beauty products to provide clients with an unforgettable massage experience. You can choose from a range of services such as Thai massage, Indian massage, four hands massage, Arabic massage, and more.
Additionally, Hana VIP massage center keeps its staff and premises clean and safe to provide clients with a comfortable environment. Hana VIP Massage Center provides excellent services for those looking for pampering from head to toe.
Furthermore, the spa provides tantra massage, which can be a thrilling experience for first-time users. With 24-hour service and special discounts, this is the perfect place for anyone looking to relax and rejuvenate their mind and body.
10.

Tina Moon Luxury Massage Center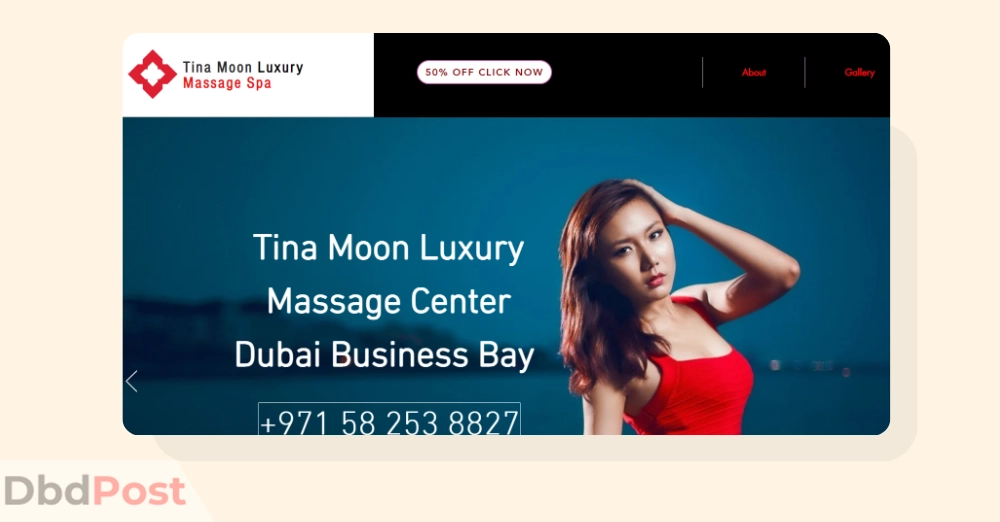 Tina Massage Center in Business Bay Dubai is renowned for its massage service. They have highly trained professional massage therapist who provides the most authentic massage experience.
Moreover, Tina massage center offers a wide range of massages, including Thai, Nuru, Arabic, and Russian. They have masseuses from all over the world, and the service is available 24 hours daily.
To make it easier for customers, they offer different packages for people who need long-term treatments or specific services. No matter your massage needs, they will provide you with quality massage services at a fair price. Make your booking today and let their team of experts help you relax in the comfort of their luxurious spa.
11.

La Perla Russian & European SPA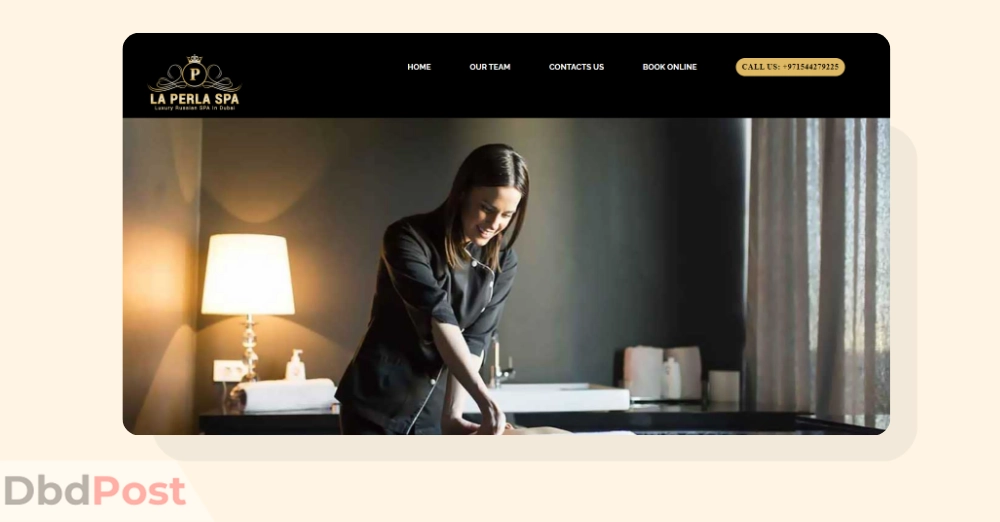 La Perla Russian & European SPA is located in the middle of Dubai. They have a team of certified Russian and European therapists for your services. It is an excellent place for people seeking a good massage service to rejuvenate themselves.
You can choose from Turkish baths, Hot stone massages, Aromatherapy, and more. If you want something unique, choose from the Royal Turkish Hammam with Coffee Body Scrub or the Gold Ritual Turkish Hammam. They will both leave you feeling refreshed and reinvigorated.
In addition, La Perla offers a variety of massages and facial treatments that are designed to meet the needs of all customers. Whether you are looking for a traditional massage or a modern facial treatment, La Perla has something for you.
Cost of massage in Business Bay
Getting a massage in the Business Bay is an incredibly convenient and rewarding experience. The cost of a massage in this area can vary depending on the type of treatment you're looking for, from muscle-relaxing treatments to more complex spa services. Also, the UAE government has guidelines that come to play on the cost of massage services.
The cost of a massage in the Business Bay can vary greatly depending on the type of massage and the spa or massage center you choose. For example, The ZUU Spa charges 299 AED for a one-hour Thai massage. Meanwhile, the MOE Therapy Center charges 210 AED for a one-hour Thai and 500 AED for a ball massage. [2]ZUU spa, "Services, https://www.zuuspa.com/service-price#:~:text=Authentic%20Thai%20Massage,AED%20299″
There are many reasonably priced massages available in the Business Bay. You can find a massage that is perfect for you and your budget. The quality of care and attention you will receive is excellent. You can relax and feel better when you get a massage in Business Bay.
Related Info
---
FAQs
Final thoughts
In conclusion, visiting a spa massage center in Business Bay is the perfect way to relax and feel pampered. There are plenty of options to choose from based on budget or premium services offered. With this Dbd guide, you should be able to quickly locate the top massage in Business Bay for your needs and get the most out of your experience.