The best engineering consultants in Dubai offer top-notch services for the success of your project. From architectural design to structural engineering, the firms provide it all.
Dubai is a hub for construction and infrastructure projects. Hence, it is a prime location for engineering consulting firms. Some of Dubai's best engineering consulting companies are WME Global, DAT Engineering, Archpix, and more.
Our team conducted extensive research, including on-site evaluations of various Dubai engineering consultancy. We analyzed factors like the companies' experience, feedback, portfolio, and services.
Our guide provides a comprehensive overview of the best engineering consultants in UAE.
11 top engineering consultants in Dubai
Dubai is a city that is known for its ambitious and iconic construction projects. Architectural and Engineering consultants in Dubai help build towering skyscrapers, infrastructure, and luxury resorts.
1.

Archpix Engineering Consultants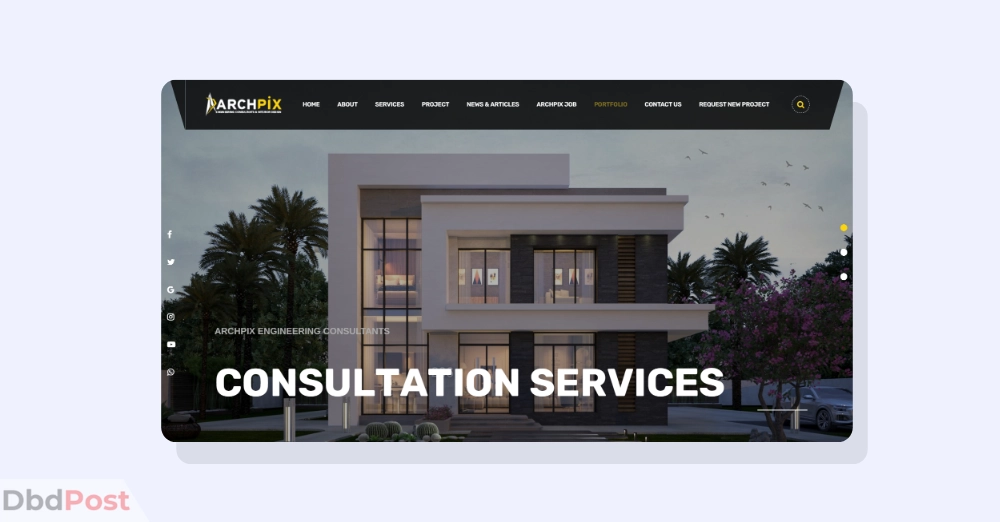 Archpix was created in 2017 to provide innovative architectural designs. They deliver high-quality and accurate services to their clients in Dubai and the MENA region.
With excellent client service, Archpix ensures customer satisfaction with its projects.
Moreover, Archpix provides consultation, helps executive projects, and hands over the best outcome.
With a highly qualified team and innovative approach, they make an excellent choice.
Projects
Archpix has completed over 210 projects in 5+ years. Some of their clients include Coup, Pixi, and Cheera.
Archpix has designed exterior architecture for commercial buildings, residential homes, and more. They have also designed interiors and landscapes for the kitchen, offices, and bathroom.
2.

WME Global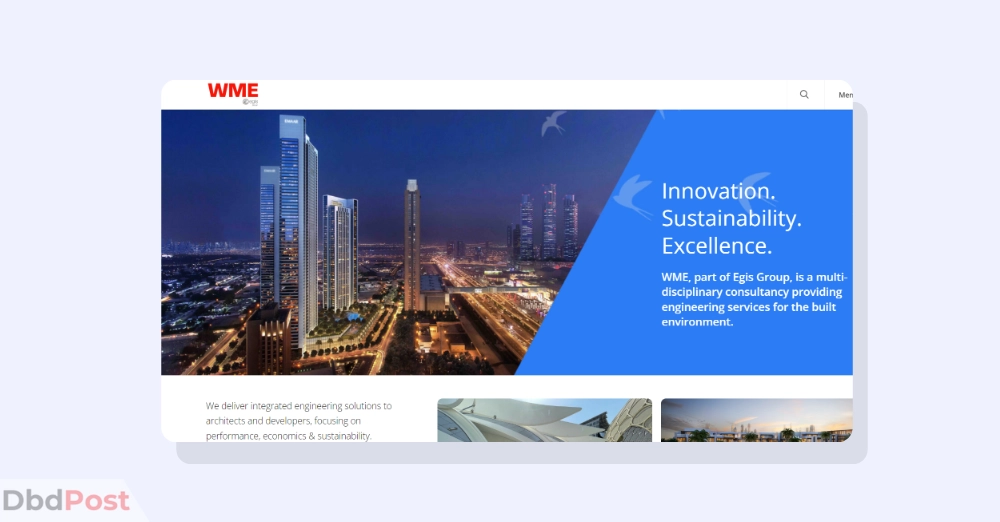 WME Global works with architects and developers to build incredible structures. They specialize in performance, economics, and sustainability.
Their goal is to create beautiful buildings with a low environmental footprint. For that, they work with experts in the facade, fire, building physics, and sustainability engineering.
Moreover, WME stands out by providing cost-effective designs and keeping sustainability at the center.
With WME's integrated services, you can have an amazing building without harming the environment.
Projects
WME Global has worked with several clients over the years. Some prominent clients are Emaar, Dubai Properties, Cheltenham College, and more.
Some of their notable projects include:
Full Engineering Design service for Cheltenham Muscat
Detailed design of Boulevard Point Fountain Views
Construction supervision services for the four plots of Dubai Parks Phase 1
3.

Golden Square Engineering Consultants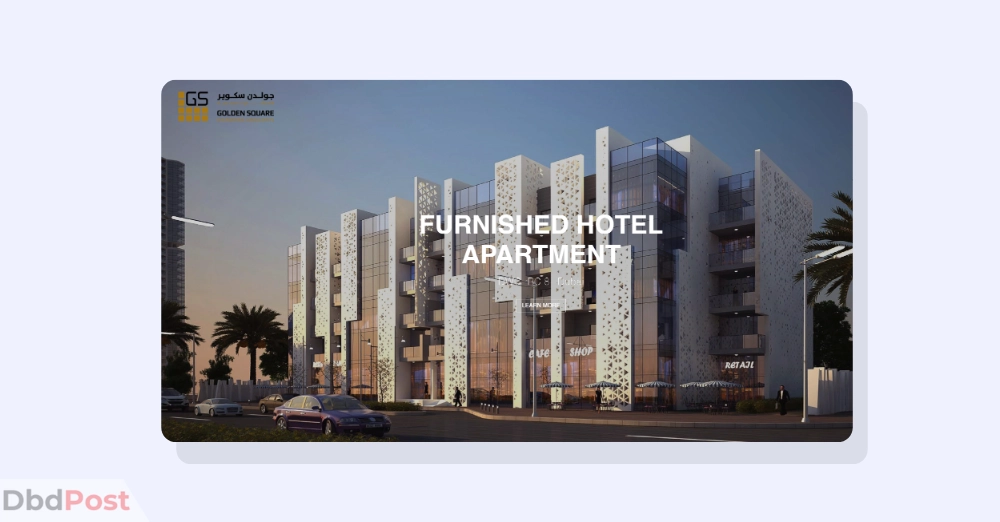 Golden Square is an ISO 9001:2015 certified company that provides engineering consultations. They deliver from concept to handover, respecting the value requirements of the client.
They adhere to the client's investment objectives and quality standards. In addition, the design solutions are sustainable for both the public and private sectors.
Moreover, Golden Square's policy ensures all activities follow applicable laws, rules, and regulations. Therefore, it is a guarantee that working with GS provides excellent results.
Projects
Golden Square has provided services to mosques, commercial buildings, hotels, and villas. They have worked with several clients on the process. Some of their clients include Nissan, Telal Hotel, and Al Dana Nursery.
Some of their notable projects are:
Full design and supervision of a Nursery at Al Quoz
Full engineering solutions for Crown Plaza Hotel
Design and execution for Al Rostamani Motors NISSAN
4.

Al Ajmi Engineering Consultants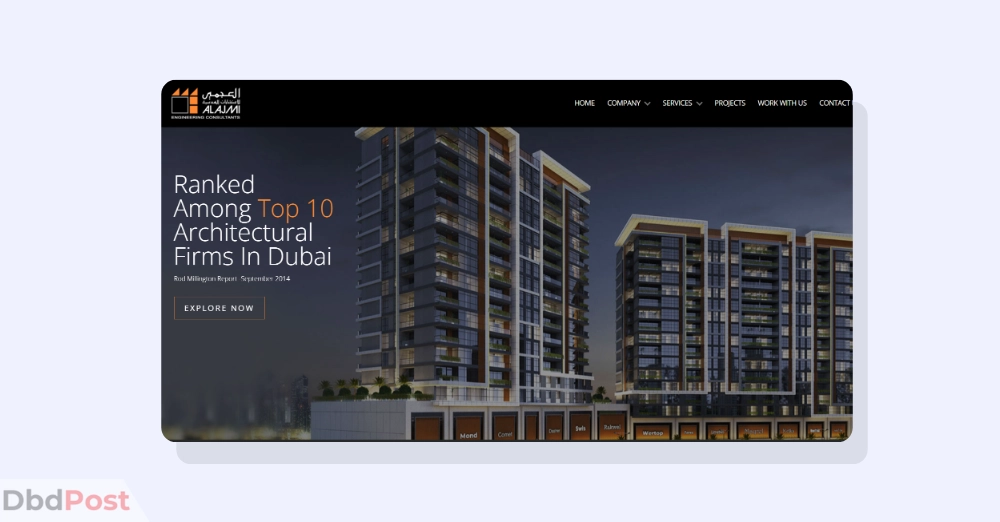 Al Ajmi Engineering Consultants provides architectural design and engineering services. They were founded in 1987 in Abu Dhabi, then expanded to Dubai in 1994.
Al Ajmi Engineers are licensed to make all kinds of designs for buildings. They help with urban development, banks, hotels, mosques, and residential houses.
Moreover, the company finishes projects on time with high workmanship within the given budget. The staff is also highly-qualified and stays up-to-date with the latest construction techniques.
Projects
Al Ajmi has undertaken several projects throughout its history. They have collaborated with different clients in constructing and designing several buildings.
Some of their notable projects are:
Basement + Ground + 7 Typical Floors + Roof, Hotel Building in Diera Islands, Dubai.
3 Basement + Ground + 14 Typical Floors, Hotel Building & Hotel Apartments in Al Barsha, Dubai.
Green House Farm – The Sustainable City Dubai in Al Wadi Al Safa 7, Dubai.
5.

Klick Engineering consultants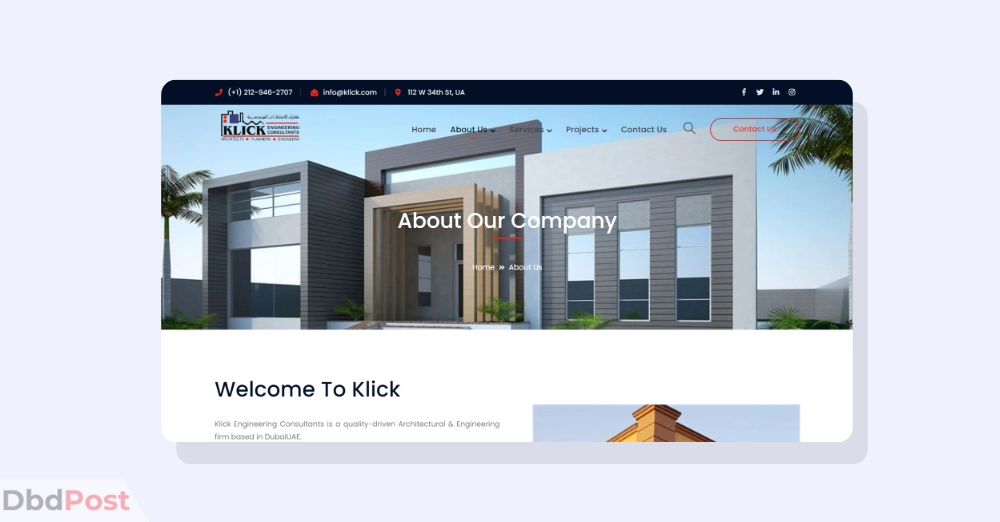 Klick Engineering Consultants has been setting standards in the engineering field in Dubai since 2007.
This quality-driven Architectural & Engineering firm has a diverse portfolio covering different developments. Moreover, their experienced team always combines their efforts to deliver outstanding results.
With an emphasis on professional commitment and client satisfaction, Klick Engineering Consultants stands out from the competition.
Projects
Klick has completed over 650 residential, commercial, industrial, and educational building projects.
They help design projects, supervise them, and improve execution. Their qualified and time-efficient supervision service support and enhance the project execution.
6.

Arkan Engineering Consultancy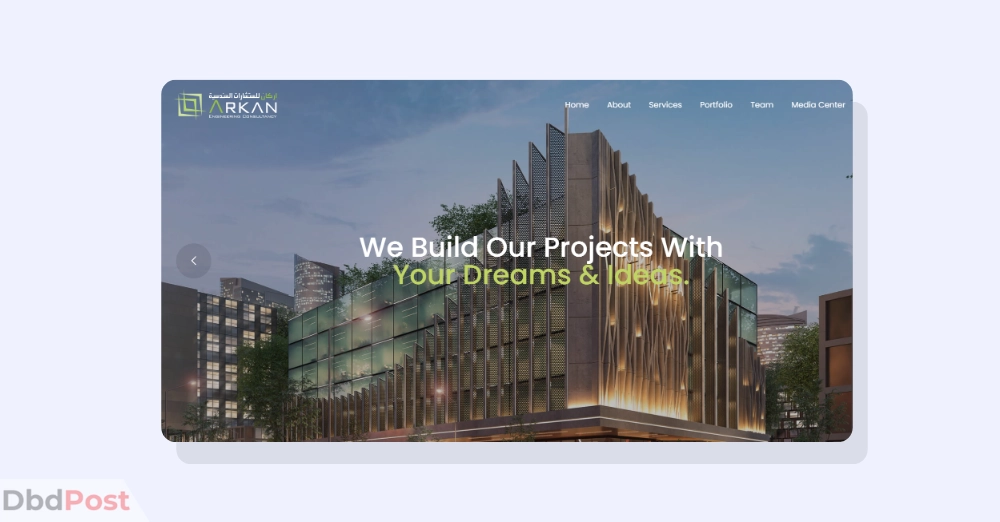 Arkan Engineering Consultancy provides sustainable and innovative engineering solutions for modern communities. They offer their clients Architectural, Civil, Structural, Interior Design, and Landscaping.
Arkan is perfect for a complete solution to all engineering and design needs. The engineering team revolutionizes design choices with their modern ideas and approaches.
Moreover, Arkan is certified by the ISO 9001:2015 certification, ensuring quality service.
Projects
Arkan has worked on several residential, commercial, government, and mosque projects. They specialize in architecture, interior design, structural design, and MEP solutions.
Your space will be alive with creative concepts and reflect your idea or brand identity. You can also trust their unmatched and robust structures to be secure and reliable.
7.

Aqleh Engineering Consultant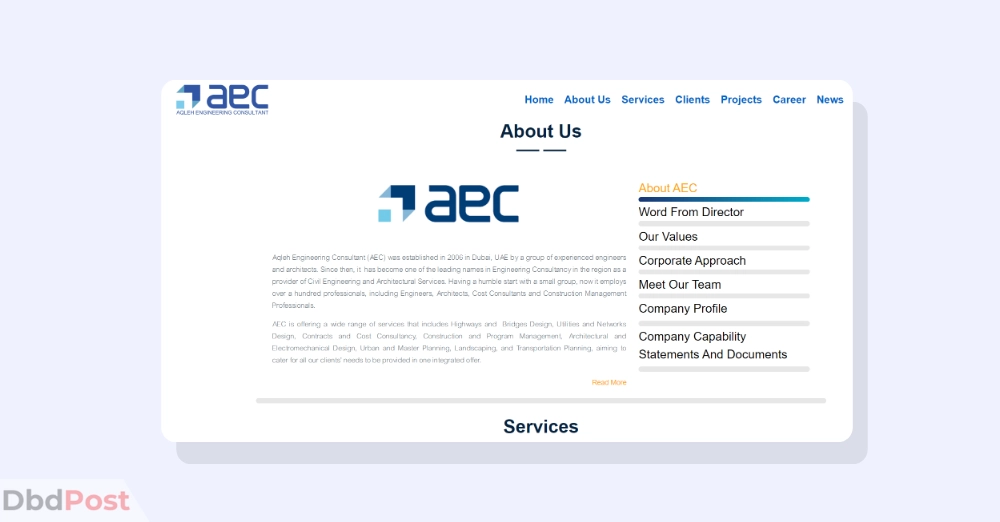 Aqleh Engineering Consultant(AEC) is ISO 9001:2015 certified company established in 2006. They have a team of highly experienced engineers and architects.
Further, they provide high and bridge design, utilities and networks design, and program management. They specialize in architectural and electromechanical design, urban planning, landscaping, and transportation planning.
With a wide variety of services, they are a one-stop-for-all company for your engineering needs. This ensures they can meet their client's needs with an integrated offer.
Projects
AEC has an impressive set of clientele. Their notable clients include RTA, Nakheel, Meydan, DMCC, and many more.
Their notable projects include:
Road Design for Etihad Rail – Stage 2, Package 2F2
Architecture, Structure, MEP & Construction supervision for Jumeirah Lake Towers
Roads & Utilities design for Grand Views 11
8.

Nad Al Shiba Engineering Consultants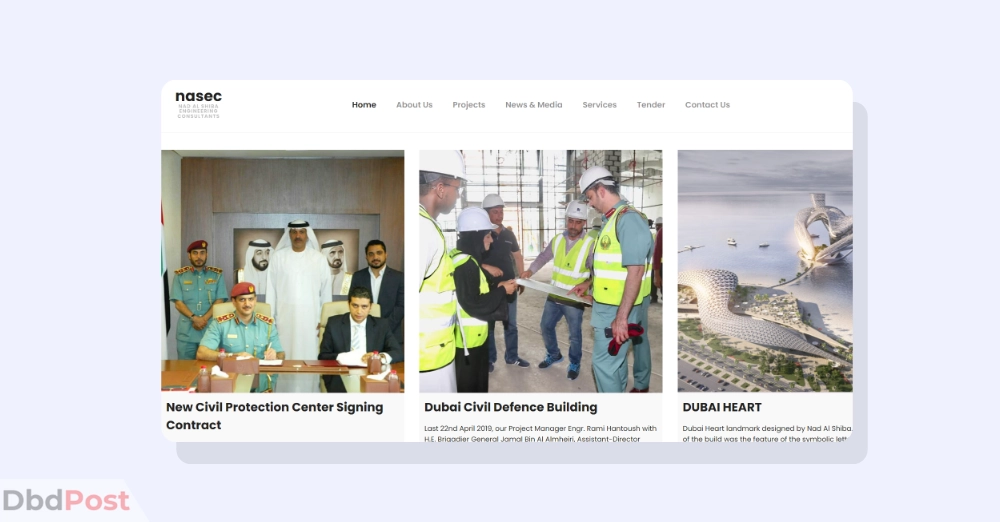 Nad Al Shiba Engineering Consultants provides architectural and engineering services to their customers.
Their services include architecture, planning, structural engineering, interior design, and sustainable design.
Moreover, they ensure their projects exceed expectations by using international best practices. Their deep knowledge of new technology and sustainability provides high-quality services.
Furthermore, they offer tailored services to suit all clients. This guarantees a result in a comfortable for both clients and providers.
Projects
Nad Al Shiba has worked with both private and public sectors. Some of their most notable projects include:
Complete engineering solutions for Sharjah Library.
Design and supervision of Dubai Prosecution building.
Interior design of Matar Almansoori.
9.

Al Gurg Consultants
Al Gurg is a civil engineering consultancy in Dubai that was started in 1969. They provide Engineering, Architectural Design, and Marine and Coastal Design services.
Moreover, they have worked on projects for governments and private developers around the region. And have been successful in their designs and supervision of construction.
With their engineer, consultants, and managers, Al Gurg provides the best quality services.
Projects
Al Gurg has collaborated with clients from both the private and public sectors. Some of their notable projects are:
Design and Supervision for Dubai Physiotherapy & Rehabilitation Center
Design & Supervision for Damac Lake View Tower
Design and Supervision for Ajman Academy
10.

DAT Engineering Consultancy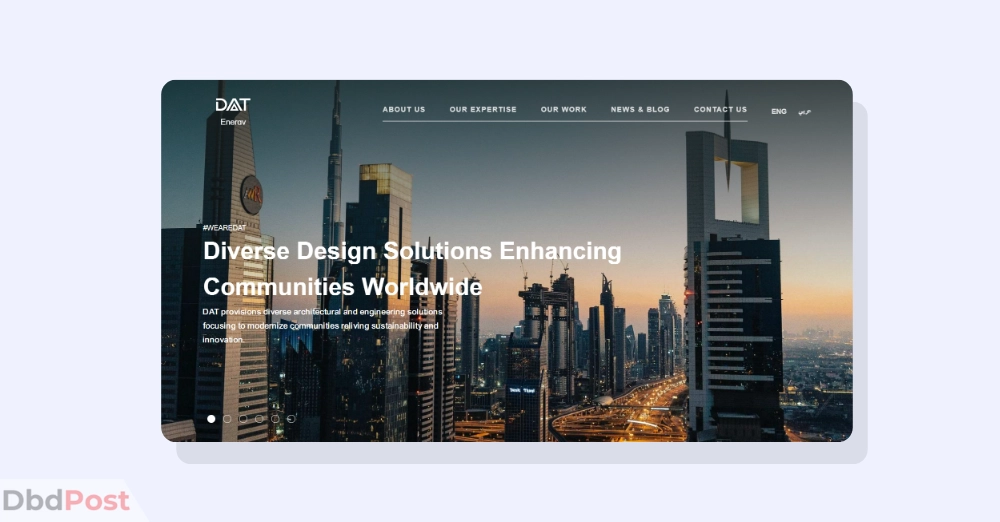 DAT Engineering Consultancy was founded in 2015. It provides innovative architectural and engineering design solutions.
With years of experience in strengthening their solution-making, they offer customers high-quality services.
Their services include Structural Engineering, MEP Engineering, and Construction Engineering.
Additionally, they also offer Project Management, AOR Services, Interior Design, and Villa Design.
DAT provides creative designs for big and small projects from planning to completion. Their dependable consulting engineer gives clients peace of mind about their projects.
Projects
DAT has undertaken projects for residential and commercial buildings, infrastructures, workplaces, and more. Some of their notable projects include:
Exterior and Interior design for Linear Modern Villa.
Design + BIM Specialist Consultant for Lara Residential Townhouse Communities
Full engineering work for Kaktus Sports Club
11.

Al Hilal Engineering Consultants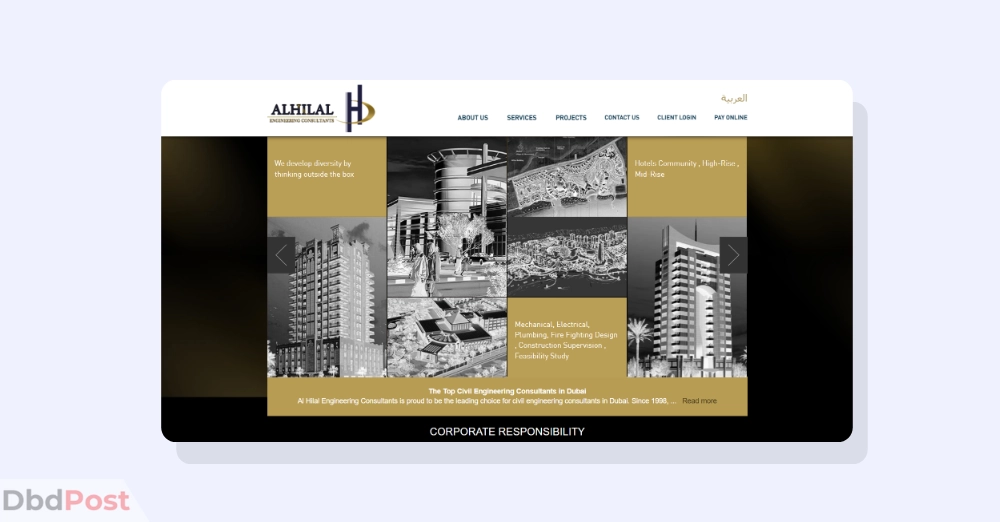 Al Hilal Engineering Consultants is an engineering company founded in 1998. They work on Architecture, Civil and Structural Engineering, Interior Design, and Urban Planning.
Moreover, Al Hilal takes on projects from small private to giant public projects. They work with the "Performance Above Expectations of the Industry" motto and provide high-quality service.
Furthermore, they focus on the safety and wellness of all their customers and their environment.
With excellent service, innovation, and sustainability, Al Hilal is a great choice.
Projects
Al Hilal has worked on several projects throughout its rich history. They have helped build shopping malls, commercial and residential buildings, and villas.
Some of their notable projects are:
Design and supervision of Railway station in Tajikestan
Full engineering solution to Green land villa complex
Design and supervision of G+M+3 Residential Building in Al Ras, Dubai.
Services offered by engineering consultants in Dubai
Engineering consultants in Dubai assist with project design, construction, and maintenance. Their services include civil engineering, architecture, project management, structural engineering, and MEP engineering.
Civil Engineering
Engineering consultants provide civil engineering services. They assist with infrastructure design, construction supervision, and site management.
Architecture
The companies also offer architecture services. They help with conceptual design, building codes, and project management.
Project management
Project management includes cost control, scheduling, procurement, and contract management.
MEP Engineering
The companies provide mechanical, electrical, plumbing, and firefighting system design, analysis, and supervision.
Structural Engineering
Structural engineering services include building and bridge design and analysis.
How we chose the best Dubai engineering consultants
Choosing the right engineering consultant for your project is crucial for its success. With so many options available in Dubai, finding the best fit for your specific needs can be challenging. Some of the factors we considered while choosing the best Dubai engineering consultants are:
Experience
We evaluated experience on projects and track record of delivering on time and within budget.
Client Reviews
We looked at client testimonials to understand how firms are perceived.
Evaluation of Services
We examined a range of services and areas of specialization for each firm.
Cost
We examined the cost of services to ensure affordability.
Staff and Resources
We evaluated the quality of staff and resources of each firm.
Related Stories
---
FAQs
Final thoughts
In conclusion, the best engineering consultants in Dubai provide ingredients for successful projects. From large-scale infrastructures to residential projects, there are firms for every need.
We hope our Dbd guide helped you find the best engineering firms in Dubai. Considering reviews, services, cost, and experience is important before choosing your firm.