Finding a cleaning company in Dubai is convenient for housekeeping chores. Hiring professional cleaners is a good way to ensure you and your family stay healthy.
With the city's constant growth and development, the demand for cleaning services has also increased. Cleaning companies in Dubai ensure that the city's buildings, offices, and public spaces remain clean and well-maintained. Some of the cleaning services companies in Dubai are The Healthy Home, Dubai Clean, Cleaning Company, and more.
Our Dbd team researched several different aspects of identifying cleaning companies in UAE. We researched the company's offerings, services, and prices in-depth.
In addition, we looked at the online reviews and ratings customers had left for the company. Furthermore, we looked to see if the local government had approved the business in Dubai.
After completing all these steps, we have compiled a list of the best cleaning services in Dubai.
12 best cleaning companies in Dubai
In Dubai, numerous cleaning businesses offer various reasonable services at pricing. These businesses offer house cleaning, deep cleaning, maintenance, technical services, and much more.
1.

The Healthy home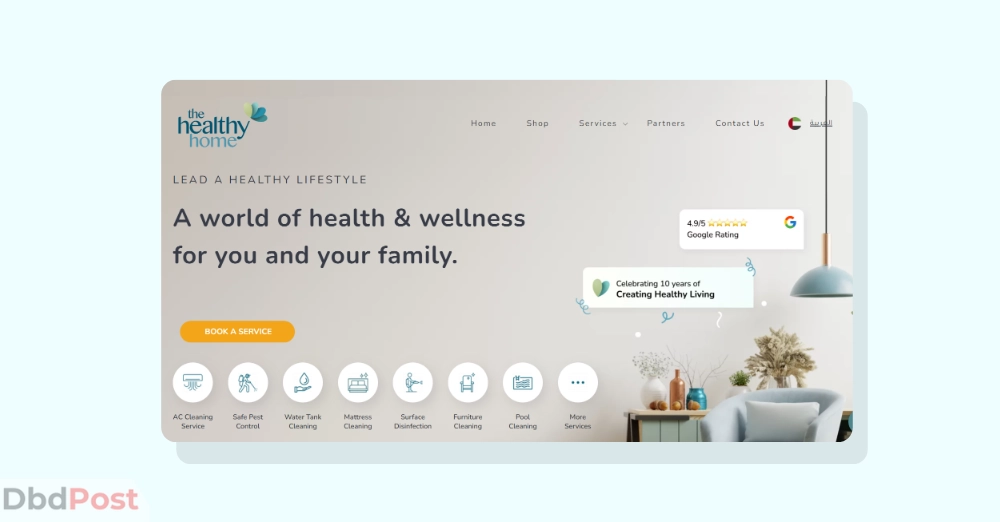 The Healthy Home has been around since 2013 to help families live healthier and happier lives.
With over 45,000 satisfied clients, this UAE-based company expanded swiftly to Saudi Arabia and Kuwait.
In addition, they prioritize making each location they clean favorable to health and well-being. The company's solutions will not cause any risk because they do not use chemicals.
With its priority on cleaning and excellent service, the Healthy Home is a perfect choice for your home.
2.

Cleaning Company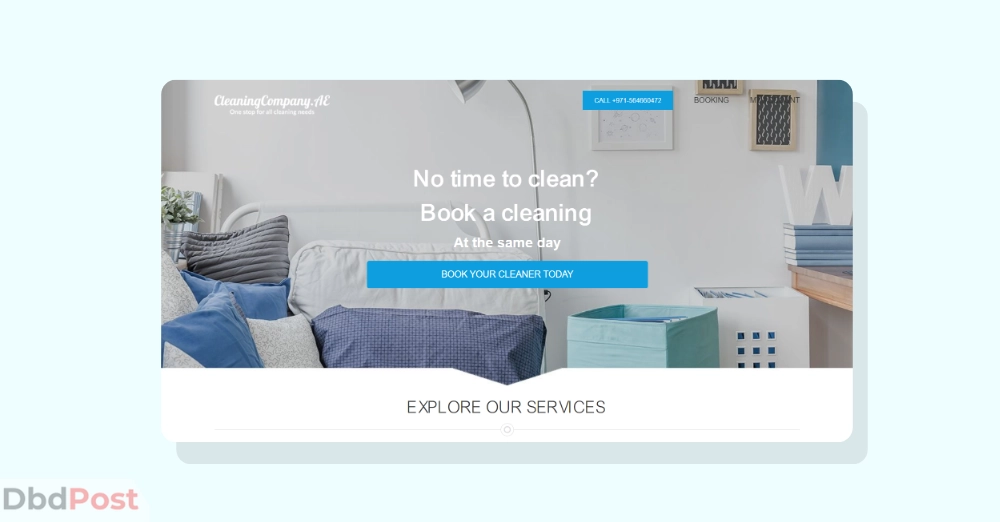 Cleaning Company is a top-level cleaning service provider in Dubai. It is recognized for its competitive and quality services at an affordable cost.
The company runs across numerous locations in Dubai, covering almost 60 different communities.
Additionally, customers can order services online or via phone. By filling out the form, you can save waiting times and get services faster.
With its 30-minute to 2 hours timeframe same-day for their services, they provide clean and quick service.
3.

Maid World Cleaning Services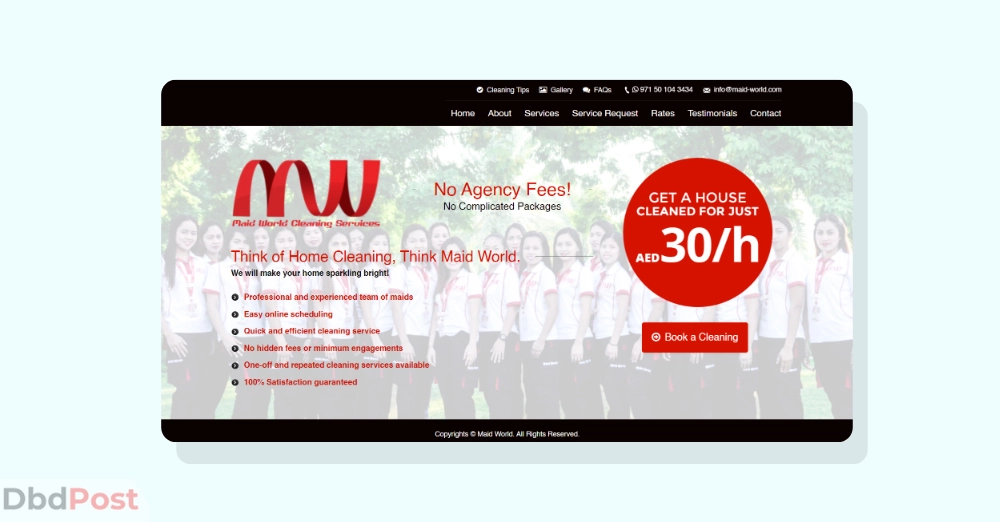 Maid World Cleaning Services is a recognized and registered firm that offers professional cleaning services in Dubai.
They make it easy for customers to book services online or via call. Their arrival time is about 60 minutes after the booking is made.
Additionally, the rates are highly competitive and vary depending on the type of equipment used and the duration of the service. Day shift cleaning services typically range from AED 15 – 40, while evening shifts are charged between AED 20 – 50.
They offer even more affordable rates from Saturday to Thursday than those provided on Fridays.
4.

Whitespot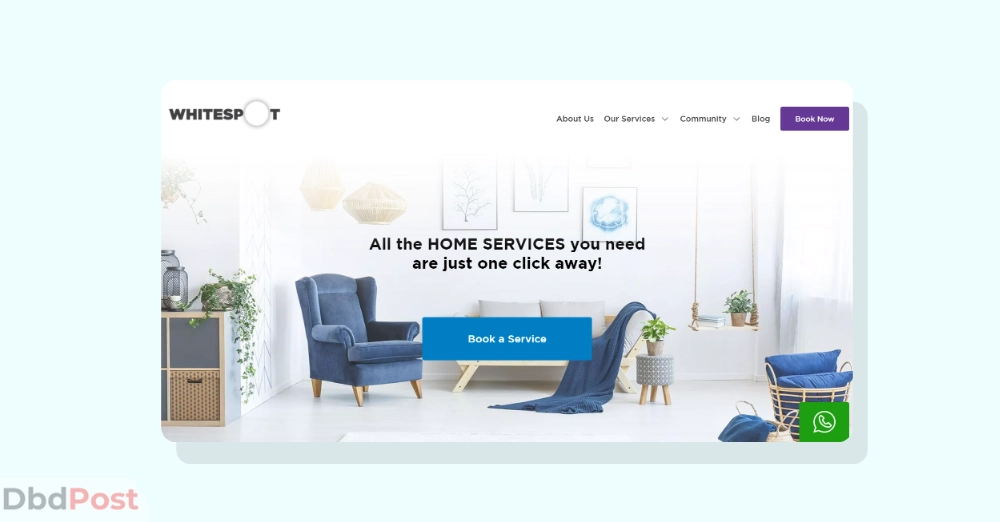 WhiteSpot is an exceptional and reliable house cleaning service available in Dubai. It offers personalized and high-quality services to meet the needs of its customers.
Additionally, this company is popular with clients like the DAMAC Group, Mira Communities, Sustainable City, Remraam, and others.
Moreover, it also provides hotel housekeeping, window cleaning, post-construction cleaning, and office cleaning and disinfection services.
5.

Spring Cleaning Services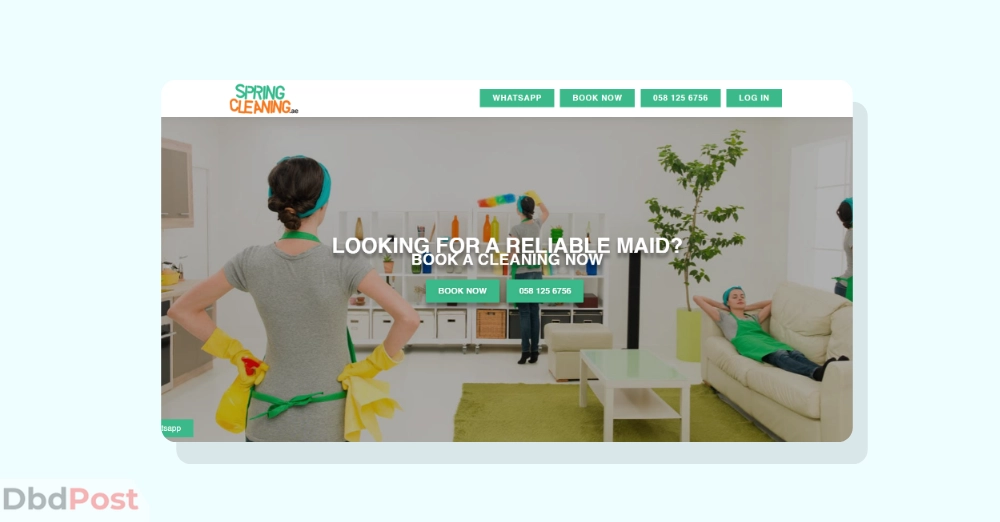 For over a decade, Spring Cleaning Services has been trusted by satisfied customers for its reliable, professional cleaning services. The company is operated and owned by British nationals.
Additionally, this company offers all necessary cleaning services at competitive prices. Deep cleaning starts from 60 AED/hour, while regular cleaning is available for 35 AED/hour.
Moreover, Spring Cleaning Services can arrange babysitting for as low as 40 AED per hour.
6.

Pro MaxCare Cleaning Services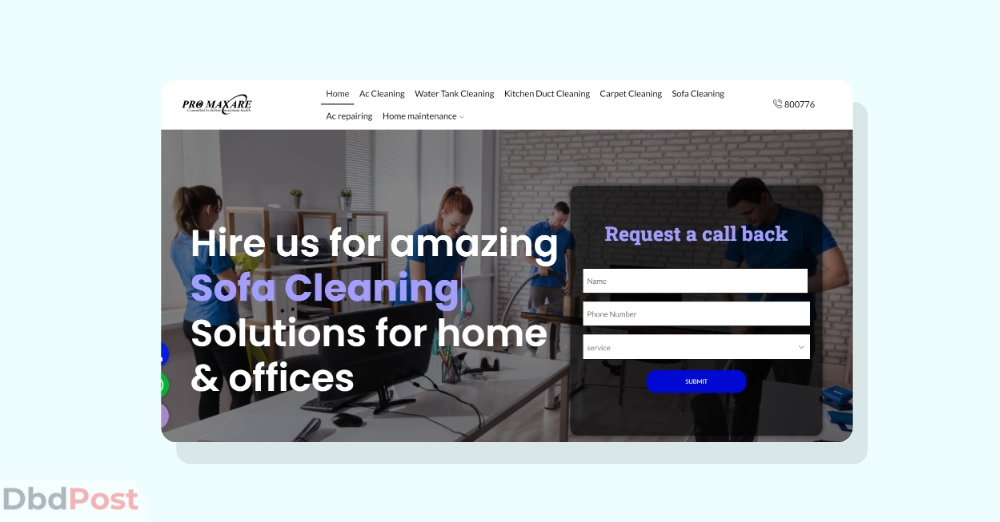 Pro MaxCare Cleaning Services is an ISO 9001:2015 certified company. It has provided premium quality services to clients in UAE for over 20 years.
The company provides services for various locations, including hospitals, schools, residential buildings, offices, and restaurants.
Pro MaxCare is one of the country's top air duct cleaning companies, offering premium services at affordable prices.
Their highly trained and knowledgeable professionals have years of expertise in providing top-notch hygiene solutions.
7.

Primo Maintenance Services LLC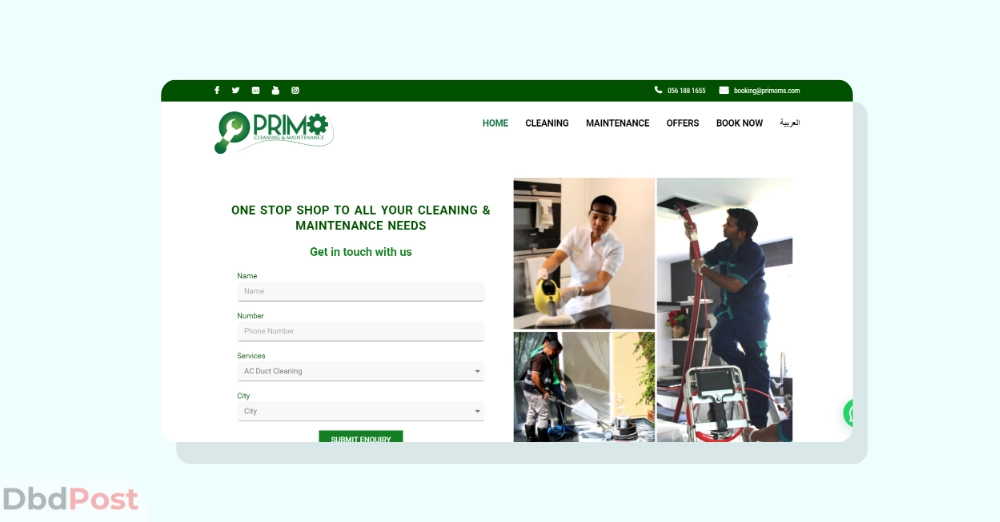 Primo Maintenance Services LLC is an extensive one-stop solution for maintenance and cleaning needs.
With more than 30 years of experience in this sector, their goal is to construct sustainable towns and societies.
Additionally, it offers trustworthy and high-quality maintenance services to clients searching for either regular or customized services.
Whether you need a cleaner service or plumbing and painting, Primo offers it all.
8.

Schon Cleaning Services LLC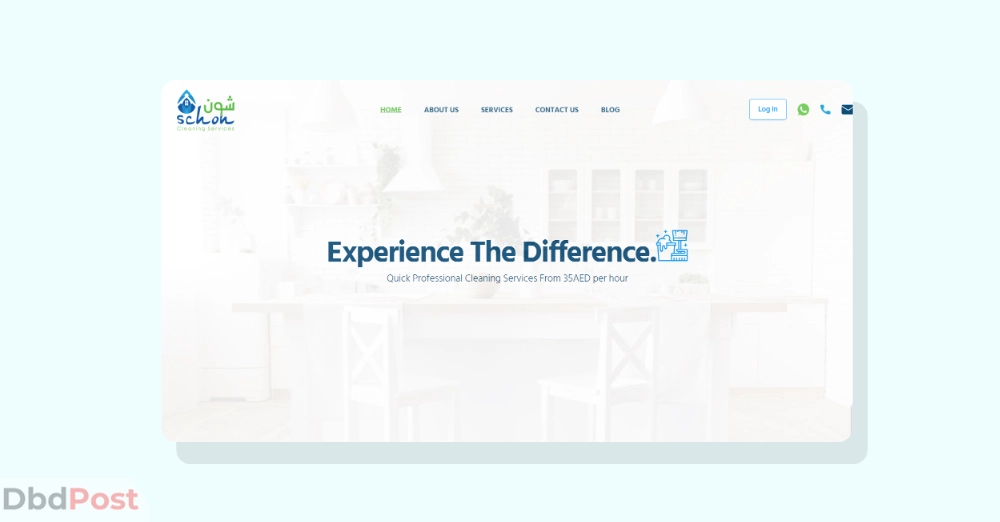 Schon Cleaning Services L.L.C.'s cleaning services are comprehensive, blending modern and traditional techniques for an efficient and professional finish every time.
With experienced housekeepers and qualified cleaning technicians, Schon can provide a reliable, quick, and professional service for just 35 AED/hrs.
Additionally, their approach is uniquely balanced. They combine the traditional method of utilizing microfiber mops and dusters with machines and innovative cleaning tools.
9.

Dubai clean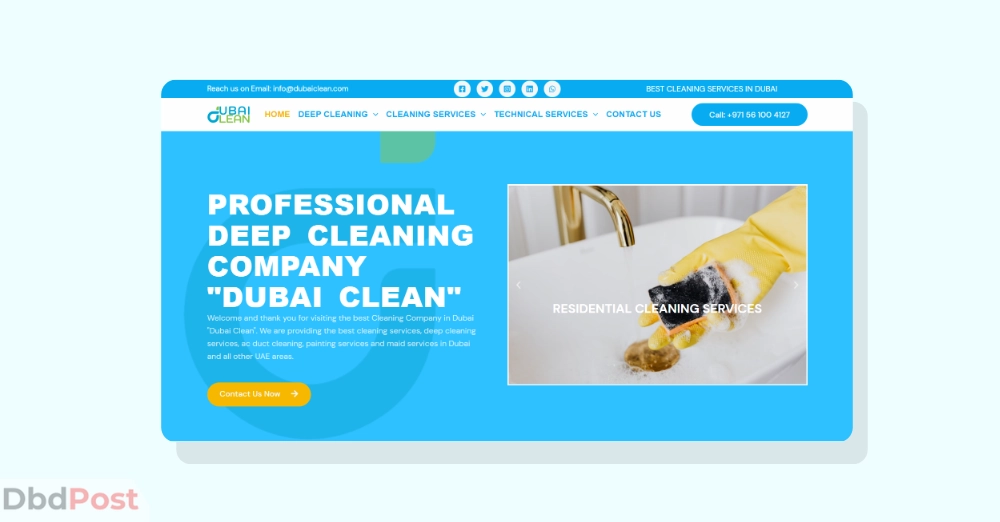 Dubai Clean is a professional cleaning service provider that delivers high-quality services in the United Arab Emirates.
It has the approval of the Dubai Municipality and Dubai government. It has a legitimate business license to conduct business in the area.
This reputable company also provides various services, including the best maid and wall painting services. Customers can be sure that they will get good help from this company.
10.

BusyBees Dubai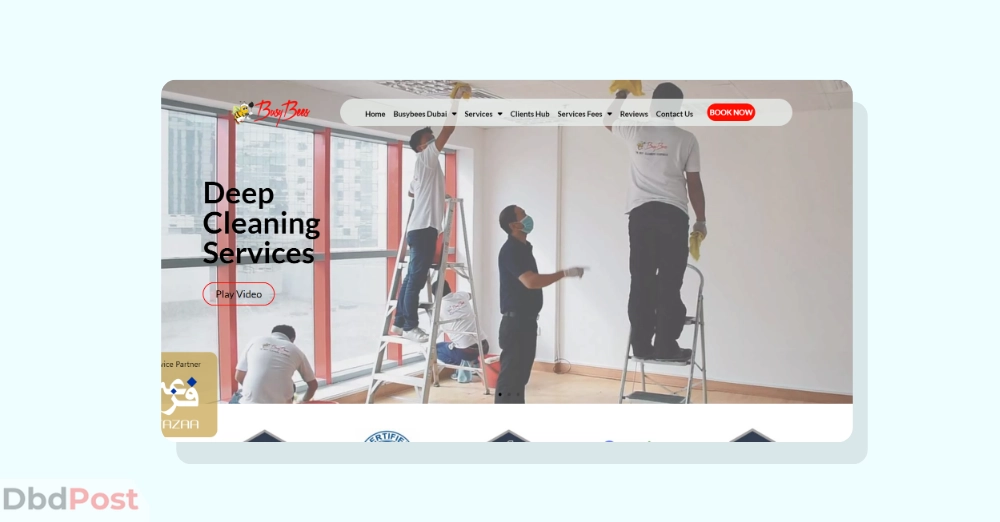 Busy Bee opened its doors in Dubai in 2008 and expanded to Egypt in 2013.
With over 22 services and 65 hard-working employees per franchise, they can meet the expectation of all kinds of customers.
Additionally, their highly trained staff uses only the best quality chemicals made in the US and advanced equipment made in Germany. As a result, they can deliver excellent service that produces remarkable results.
11.

Dubai Housekeeping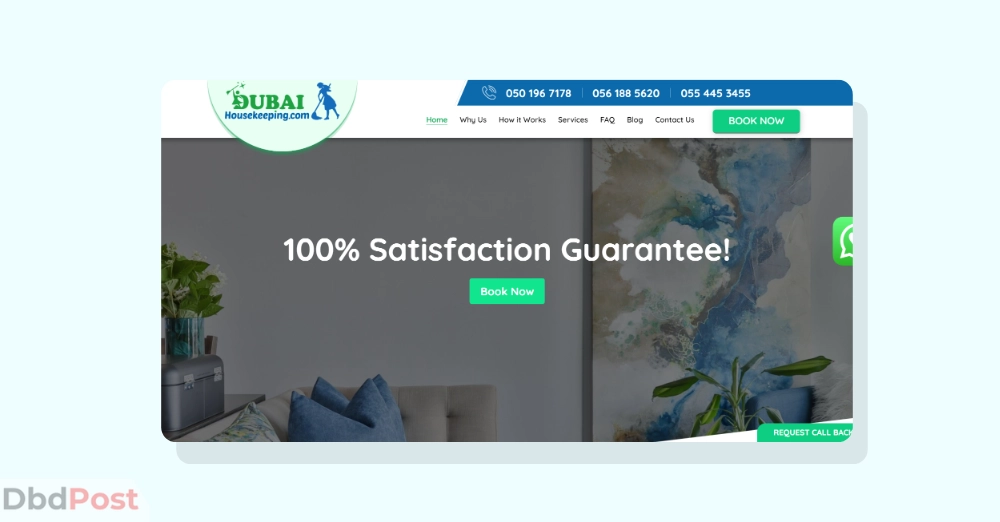 Dubai Housekeeping is the perfect choice for anyone who needs professional cleaners and maids to help with their home.
Their top-quality services give customers a more organized and less stressful home environment.
Additionally, their experienced team of cleaners and maids can be available anytime in all areas throughout Dubai.
Whether it is Arabian Ranches, MBR City, JBR, Palm Jumeirah, or Downtown, they provide excellent service regardless of location.
12.

Ready Maids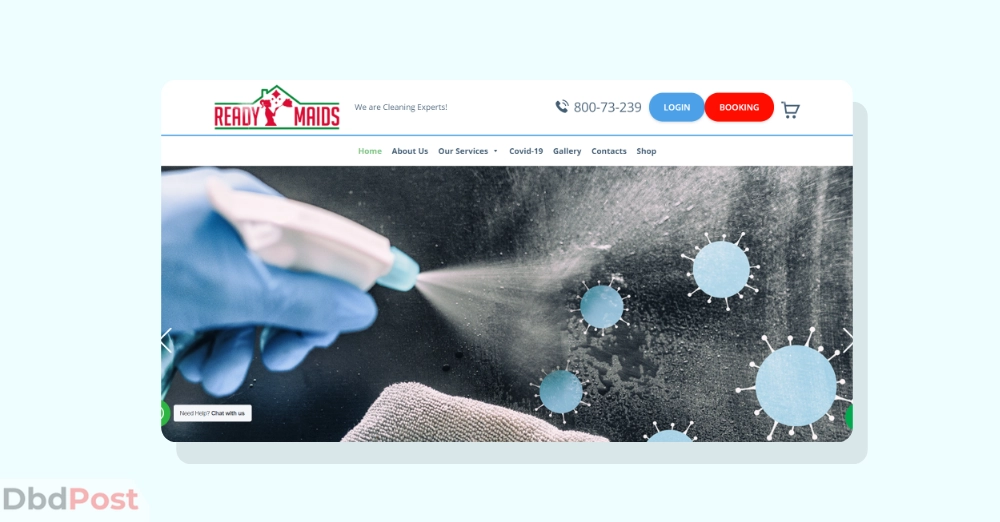 Ready Maids was established in 1999 and has become one of the most trusted in Dubai.
This innovative cleaning company allows you to easily book, manage and pay for cleaning services in one place.
Additionally, as approved by the Dubai Municipality, Ready Maids only uses eco-friendly products to align with its sustainability goals.
Its employees are fully trained and capable of meeting the high standards customers expect from their services.
How to find out if a cleaning company in Dubai is registered?
For cleaning homes, offices, and other spaces, one can hire a cleaning company. In Dubai, several companies provide cleaning services. So, finding a registered company that provides genuine services is essential.
You can visit the Dubai municipality website to find out if the Dubai cleaning companies are registered. You can simply search for the list of cleaning companies. Then you can find the pdf file containing all the cleaning companies verified by Dubai municipality.
After that, you can easily check if the company name you want to hire is registered.
Services offered by cleaning companies in Dubai
Many Dubai cleaning businesses provide various services, from basic cleaning and sanitation to more specialized cleaning. These companies use expert staff and cutting-edge equipment to guarantee flawless results and happy clients.
Here are some services offered by Dubai cleaning company:
Residential cleaning
It Includes cleaning services for homes, flats, and other residential properties. Services may include vacuuming sofas, carpets, and mattresses, mopping, dusting, deep cleaning and emptying trash bags, laundry, and more.
Commercial cleaning
Commercial cleaning includes cleaning services in schools, warehouses, offices, etc. The services include carpet cleaning, wet and dry mopping, window cleaning, tile cleaning, sweeping, etc.
Sanitization services
Due to covid, keeping places disinfected and sanitized is essential. This service helps to keep your place bacteria and germs-free. The cleaning company provides the solution approved by the Dubai municipality.
Things to consider while choosing a cleaning company in Dubai
When looking for the best cleaning company in Dubai, there are many different things to consider.
Reputation
A reputable company is more likely to deliver reliable and top-quality services. A good company consists of highly trained staff and equipment needed for completing the cleaning services.
Customer reviews
Before selecting a cleaning company, learn about it in detail. Customer reviews and ratings are valuable sources of knowledge that can assist in making a wise decision. When researching a cleaning company, reading through online customer feedback is important.
Services offered
When selecting a cleaning service, many cleaning companies in Dubai offer different services. To guarantee the best possible outcome, hiring a company specializing in the specific service type you need is important.
Budget
It's important to consider your budget while deciding on a cleaning service. Choosing a company that delivers high-quality services within your budget is essential, even if it's not the cheapest. Research other providers and read customer reviews to get the greatest value.
Related Stories
---
FAQs
Final thoughts
In conclusion, Dubai has many reliable and reputable cleaning companies that provide top-notch services. The cleaning company in Dubai guarantees top-notch service through its expertise, the newest technology available, and a commitment to customer satisfaction.
Additionally, cleaning services companies in Dubai often offer competitive pricing and flexible services that can be tailored to meet your specific needs. Therefore, hiring professional cleaning companies in UAE is the way to go.