Construction companies in Abu Dhabi have undertaken several projects throughout the region. They specialize in various aspects of the design and development of infrastructure.
The construction companies in Abu Dhabi are the backbone of the city's outstanding infrastructure. Some of the best construction companies in Abu Dhabi are National Petroleum, Target Engineering, and more.
We evaluated various factors to determine the best construction firms in Abu Dhabi. We look into the services offered by each firm, as well as their equipment and workforce.
In addition, we read customer feedback and reviews for further insight into their performance. After evaluating these aspects carefully, we compiled a list of the top-rated Abu Dhabi construction companies.
16 best construction companies in Abu Dhabi
Abu Dhabi is home to several highly respected construction companies. Most of them provide EPC services, Offshore, Onshore, Gas & oil services, and many more.
1.

National Petroleum Construction Company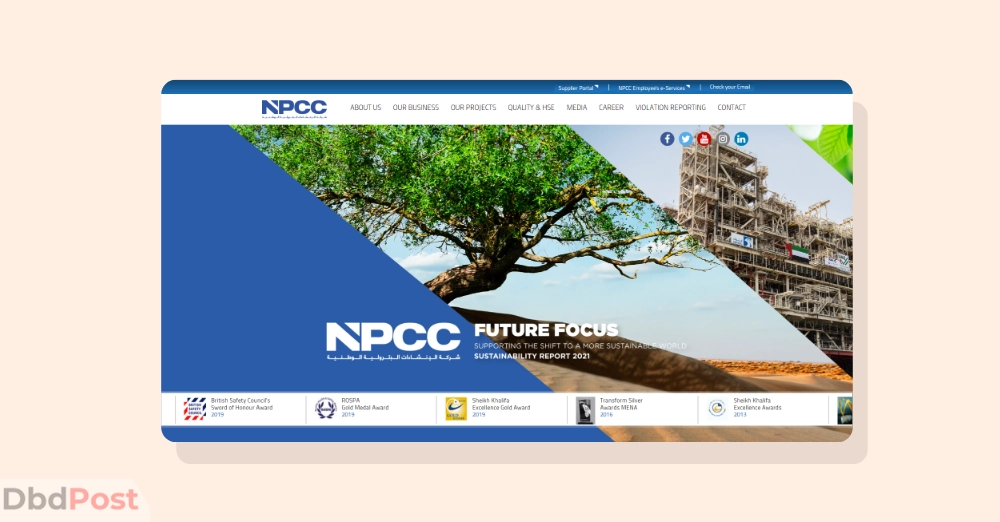 National Petroleum Construction Company, established in 1973, has become a world leader in engineering and construction. It has healthy connections with National Oil Companies (NOCs), Operating Companies (OPCOs), and International Oil Companies (IOCs).
Likewise, their impressive fleet of 22 offshore vessels has modern facilities capable of supporting shallow and deep water operations. This fleet also can lift structures weighing up to an amazing 4,200 Tons – making them well-equipped for any offshore project.
Projects
Onshore projects
Anticorrosion Coating on 6″ Line Pipes–Bu Hasa Facilities Development Project.
Major Overhaul of COS Tank No.12-Das Island – 2006
Installation of Waste Gas Handling Unit(WGHU) at NGTP, USSC – 2006.
AGD-II Pipeline Coating – 2006.
Construction Contract For New SPM Loading Facilities TB-3 Das Island – 2005.
Offshore projects
Saudi Aramco Awards 2 Contracts for 17 Offshore Jackets –2017
EPC Contract for Nasr Full Field Development Project Package 1 – 2014
ONGC awarded Ratna, R –Series Contract to NPCC – 2018
EPC Contract for Umm Lulu Full Field Development Project Package-1 – 2013
Integrated Gas Development Project – Habshan Platform (HAP)
2.

Galfar Engineering and Contracting WLL Emirates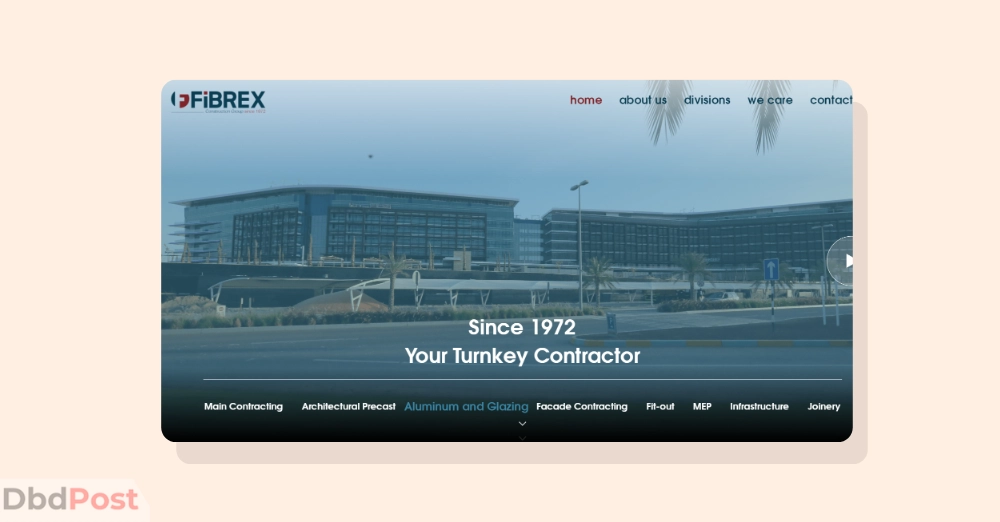 Likewise, the company has over 3000 well-trained personnel and 1000+ fleets, machinery, and equipment. This gives them the capability to handle complex EPC projects.
Furthermore, Galfar has built strong relationships with many major clients. Their clientele includes ADNOC, GASCO, Abu Dhabi Ports, Abu Dhabi airports, and Abu Dhabi city municipality.
Projects
Completed projects
EPC for Bu Hasa Shuaiba South Artificial (GAS) Lift Project phase 1
Thamama Zone B Project Phase 1
Bab Produced Water Re-Injection Project
Ongoing projects
Construction of Flowlines & Wellhead Tie-In Installations At ADCO's Fields
Construction Works for Haliba Wells Tie-ins for Main Body & Near Haliba Prospects
EPC for Tie-In Works at South East, Package D
EPC for Upgrading Buhasa Fire Fighting System and Potable Water Tanks for Buhasa Camp Accommodation
3.

Target Engineering Construction Company L.L.C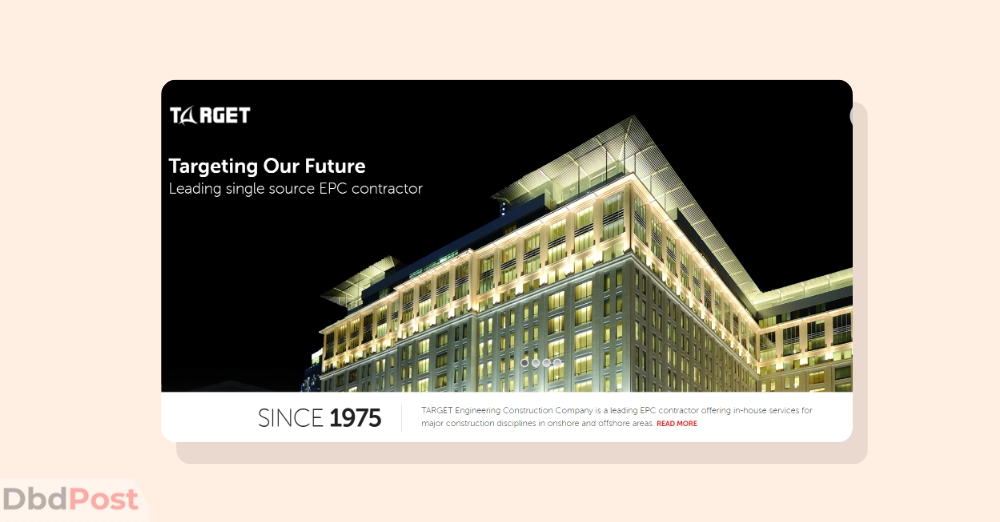 Their expertise lies in the Mechanical Oil and Gas Division, Civil Division, and Electrical Division.
Target has achieved great success in its field, establishing a strong customer base across major industries. Their impressive clientele includes Oil & Gas Sector companies, the Government sector, EPC contractors, and prominent property developers.
The company has over 11,000 employees and over 30 marine vessels, including dredgers, barges, performance boats, and other vessels. They also have fabrication services and state-of-the-art equipment in the PMV workshop.
Projects
Completed projects
EPC for Causeway Pipelines Project
Hail Surface Facilities Project
Ongoing projects
Downtown Dubai Development Forte (Plots D1-D2) -Phase 1
Replacement of Storage Tanks at Ras Tanura Refinery
4.

Al Geemi Contracting Co. L.L.C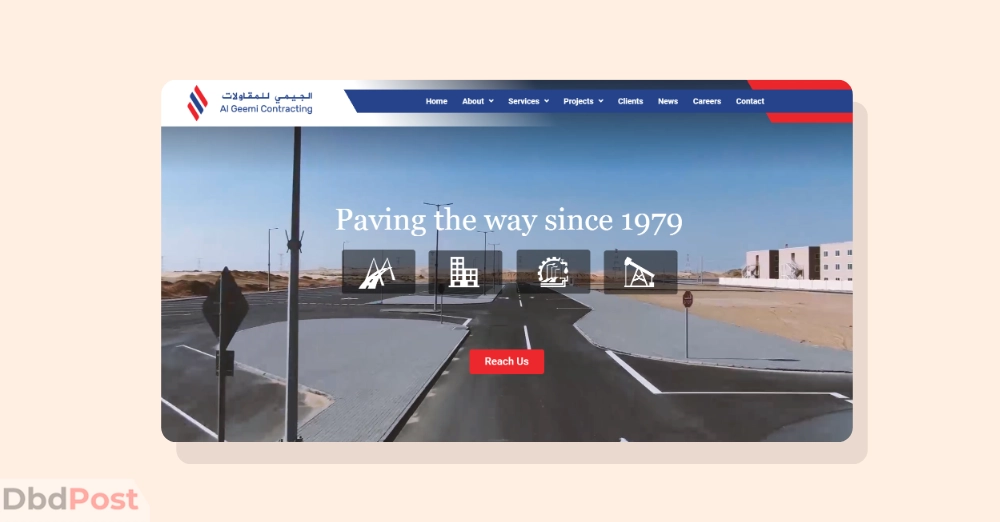 Al Geemi has been the UAE's leading General EPC Contractor since 1979.
The UAE government has placed Al Geemi under the "Special Category." This shows their superior services and extensive experience in Infrastructure, Buildings, and Electromechanical works.
Likewise, they have an impressive fleet of over 600 modern pieces of excellent machinery and plant. They have everything from mobile cranes, wheel loaders, and excavators to bulldozers, tower cranes, and beyond. They also have their own asphalt plants and 200 transport vehicles.
Projects
Completed projects
Road Works at Ghanada
Construction of Airfield for Abu Abyed Island
Ongoing projects
Zirku Airport Runway Strip Integrity
Baniyas Sectors WB2, WB3A, WB3C
5.

Control Contracting & Trading. (CCTC)
It is associated with renowned companies such as GEMS Engineering (Belgium), Expertise S.R.L. (Italy), and Gai Tronics (Italy).
Likewise, CCTC offers a lot of different industrial services and products. The company has a fabrication yard and extra facilities with stores, a workshop, and a jetty.
The company also has over 200 employees in CAD operations, engineering, safety, quality assurance, administration, and financials.
Projects
Offshore projects
Refurbishment of PGP Ventilation Room and HVAC Systems at GTP B10 & USEAP
EPC Work for the ZK Field WHTs Electrification
HVAC System on Technical Buildings Associated with ADMA-OPCO NASR Full Field Dev
Subcontract for Technical Rooms on the WHT's Associated with ADMA-OPCO NASR Full
Electro-Mechanical projects
EPC for New Fire Training Center Close to ASAB Plant
HVAC Works Associated with TAKREER Ruwais Refinery Expansion Project
Supply of Power Supply Skids for ADCO QUSAHWIRA Full Field Development 1.8 MMBOP
Subcontract of HVAC Works Associated with ADCO BAB Gas Compression Project
Ras Laffan Utilization Project – Qatar
Commercial Buildings projects
Sahil Accommodation Project for ADMA-OPCO on Das Island
Electrical, Mechanical & HVAC works related to NPCC facilities relocation at Mussafah
6.

Agility Engineering & Contracting Co LLC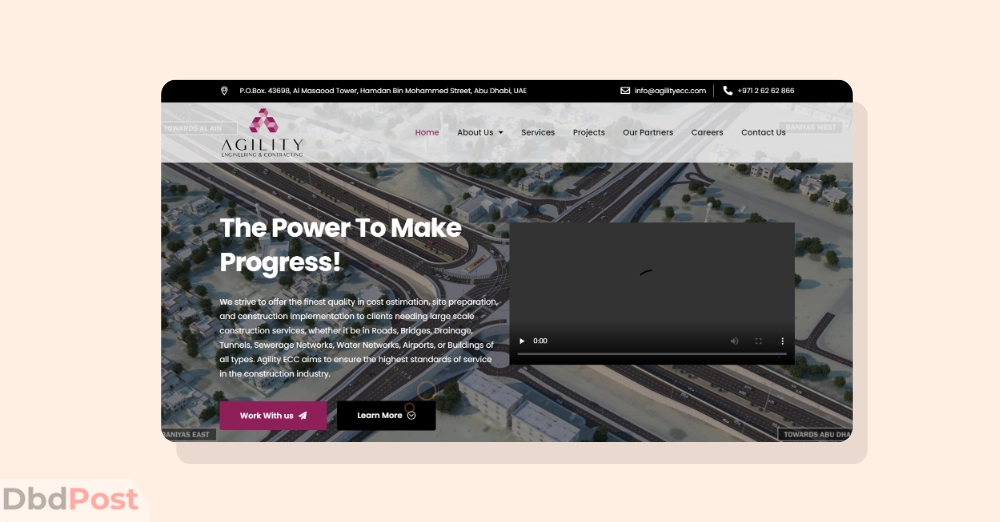 Agility Engineering & Contracting Co LLC is one of the UAE's leading Tunnels, bridges, and road construction companies.
This engineering company has successfully succeeded in the UAE by completing more than 4.4 billion AED in projects.
They specialize in the design, construction, and maintenance of the projects they undertake.
Projects
Mina Zayed Tunnel
Earthwork, lighting, and electrical distribution of Khalifa City
7.

AlNasr Contracting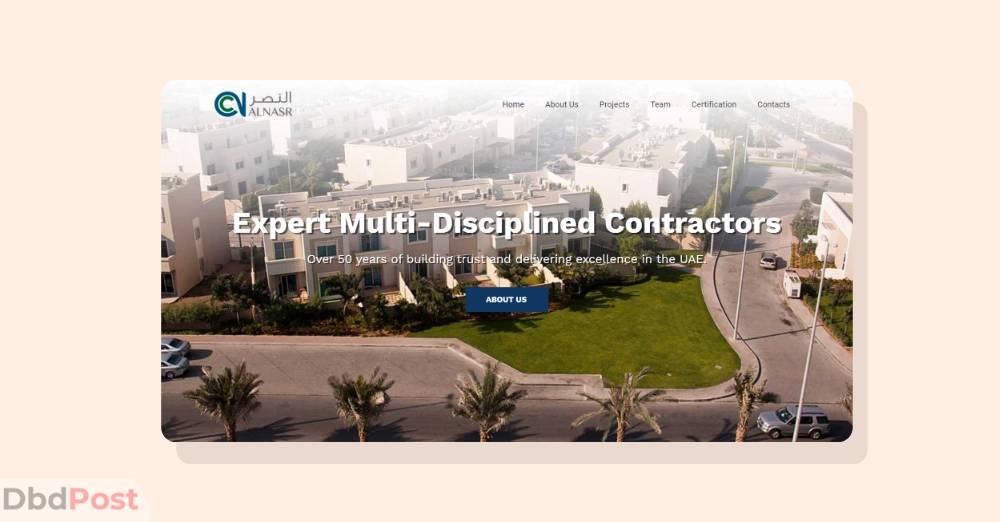 Likewise, AlNasr is a well-respected firm whose expertise and quality of work have earned them many esteemed clients. Some of their current high-profile clients include Dubai South, EMicool, Emaar, EGA, Electricity and Water Authority, ADNOC, NAKHEEL, and TDIC.
With its commitment to excellence and producing superior projects, AlNasr is a perfect choice.
Key Projects
Fewa171w Transmission Pipiline
Acid Flare Line and Flare Tip
North Al Maryah Island (NAMI) – Sports Hub
Khalifa Port- Etihad Rail
Kerosine Pipeline
Al Qaffay Island
8.

Royal International Construction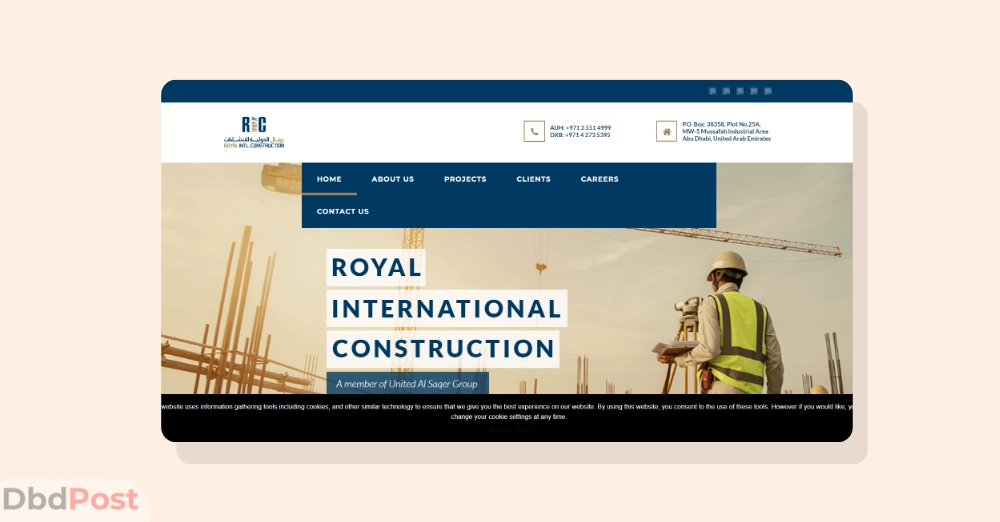 Established in 2008, Royal International Construction is one of the reputable Abu Dhabi construction companies.
Over the years, they have proudly carried out several projects with many reputed companies. These include Global catering services, Baniyas, TATA, Unites Alsaqer group, Abu Dhabi city municipality, and ADNIP.
Projects
Commercial & Residential Villa Complex project in Baniyas.
Finishing and fit-out work for Carrefour Hypermarket in Abu Dhabi.
Construction of LLH Hospital Building in Electra Street, Abu Dhabi.
9.

Al Firas General Contracting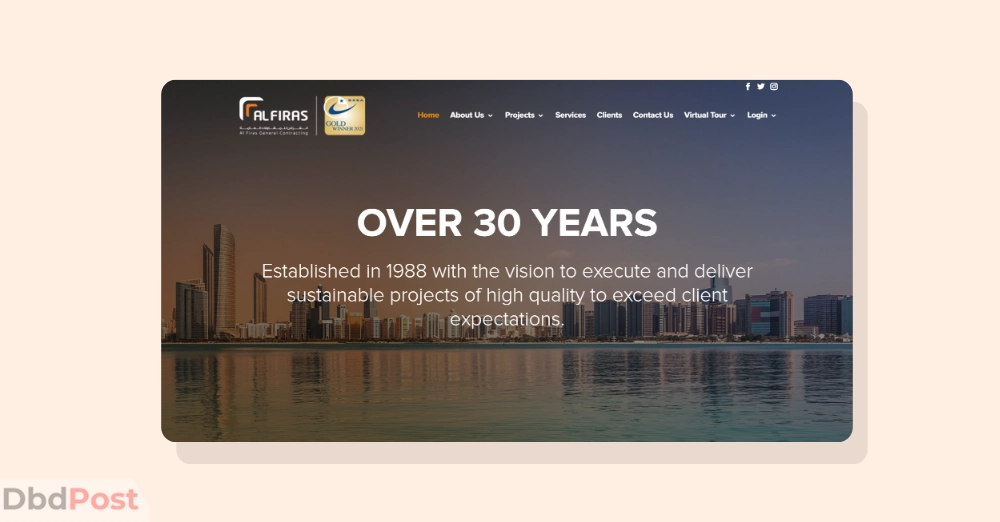 Since its founding in 1988, its vision has been to provide excellent performance and deliver projects of superior quality that exceed customer expectations.
Al Firas has diverse clients from many different sectors, including governmental, educational, oil and gas, military and private. These include the UAE Ministry of Finance, the General Authority of Islamic Affairs & Endowments, SEHA, and Musanada.
Projects
Ongoing projects
Offices Building Omeir Bin Yousef Group
Commercial Development – Mr. Hamdan Abdulla Khamis Ahmed Almehrzi
Link International Properties
Link International Properties
Completed projects
Residential Building RBW7-20 Mr. Abdulhamid Mohammed Saeed Al Ahmadi
Al Ghadeer Development – Mosque Design and Construction Works
Mosque in Mohammad Bin Zayed City
International Academic School
10.

Square General Contracting Company LLC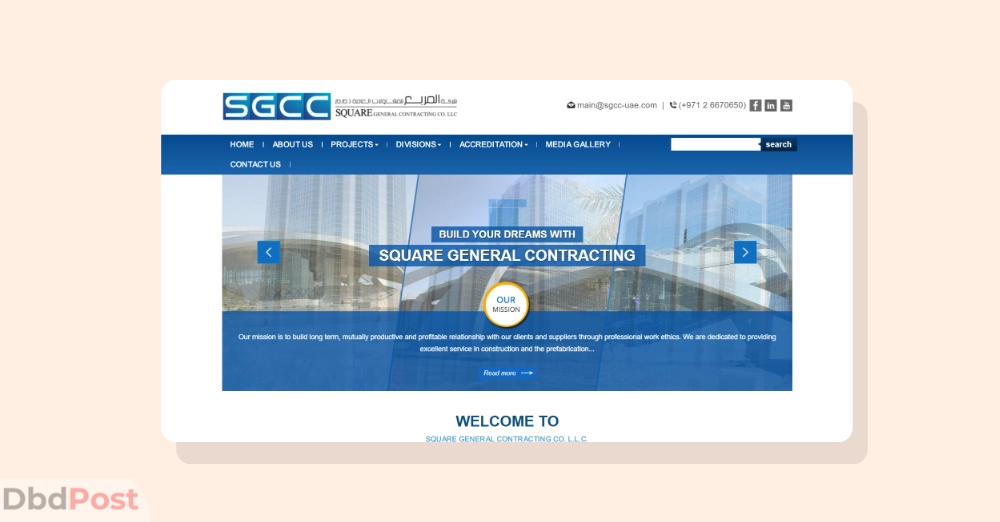 ZSquare General Contracting Company LLC was established in 1977 to provide services for smaller projects.
Over the years, the company has grown into a large-scale production facility capable of undertaking the most complex construction projects.
Their goal is to have a good relationship with their clients that lasts a long time. Team members work together to reach the goals of the organization.
Projects
Ongoing projects
Completion of Civil Works at Rufi Tower
Private Villa for H.E. Dr. Ahmed Mubarak Ali Rashed Almazrouie
Waterfront Towers Project
Construction, Completion, and Maintenance works of Khalidia Palace Hotel
Construct and Complete Deportation Prison Building / Al Sharjah
Completed projects
DMS 145212 – Construction of 133 Villas -Dubai
Construction of BAB Infrastructure Expansion
Construction, Completion, and Maintenance Works of the Residential/Commercial Building
CMW-12054-C001 UAE ARMED FORCES
T.V. Transmitting Stations in Habshan and JabelDhana
11.

Al Ahd General Contracting Co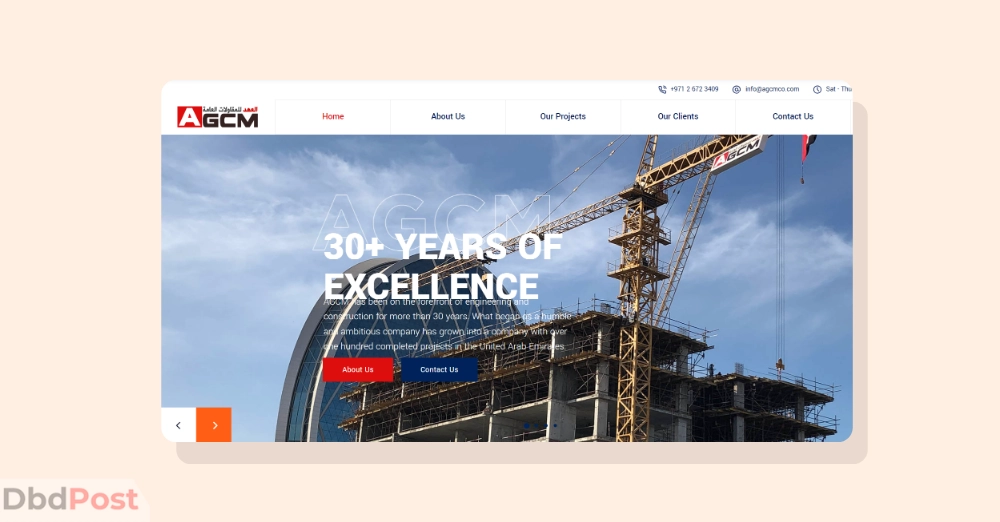 Al Ahd General Contracting LLC is a highly esteemed contractor. The Department of Economy & Planning in Abu Dhabi recognizes it as a first-grade construction company.
Established in 1986, they have built a solid reputation by consistently providing superior outcomes.
Additionally, they have an impressive track record of delivering projects on time and within budget while meeting the highest quality requirements.
Some of the most reputed companies this company has worked with are Abu Dhabi Ports, Abu Dhabi Media, ALDAR, Dubai Islamic Bank, First Abu Dhabi Bank, and MIRAL.
Projects
Commercial projects
Raha Beach Building
Suwaidi Tower
Dahak Building
Civic projects
Al Bahia School
Sudan Embassy
Marytr Ahmed Al Tunaiji Mosque
Industrial projects
Industrial Warehouse
Emirates Calcium Carbonate Factory
12.

HILALCO – Abu Dhabi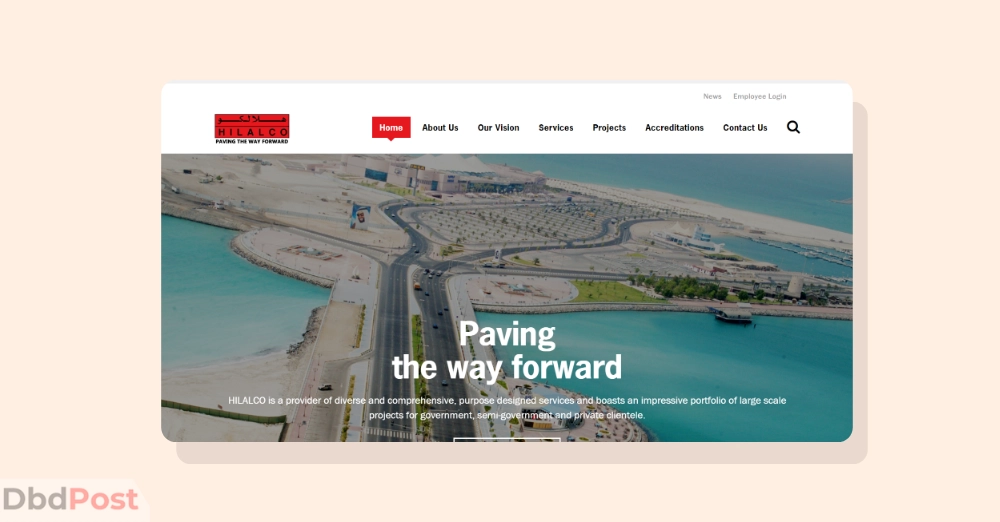 HILALCO is a renowned contractor in the region specializing in roads, infrastructure, and civil works. It uses the resources and expertise of its mother company, Wade Adams Gulf.
Additionally, HILALCO is a highly disciplined multinational company with a skilled and well-trained workforce.
In addition to its top-notch employees, the company also owns a lot of equipment. This includes 650 pieces of light equipment and 450 pieces of heavy equipment. This allows the company to work on different projects and tasks.
Projects
Mubadala Strata Infrastructure Phase 1 for Al Ain International Airport.
Earth Filling & Leveling at Shawamekh, Al Reef Hiliya and Al Falah.
Widening of Abu Dhabi – Dubai Road.
Al Falah Community Development Infrastructure Works.
Construction of Bridge at Officers City and between Two Bridges Cities
13.

Silver Coast Construction & Boring LLC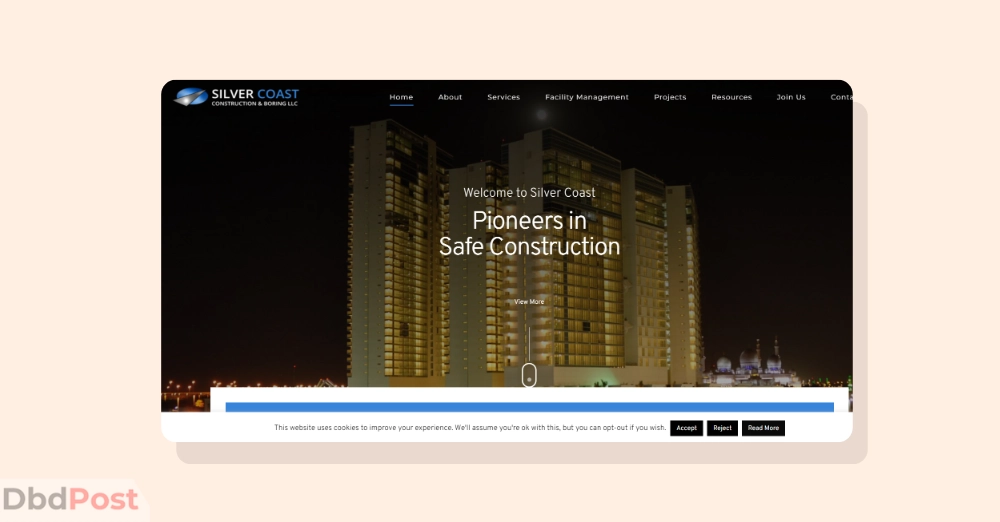 Silver Coast Construction & Boring LLC consistently upholds its reputation for providing top-notch services. This has enabled them to become one of the most reputable multi-disciplinary contractors in the UAE, recognized as a 'Special Grade' Contractor.
Similarly, Silver Coast has become increasingly successful due to its hardworking workforce. Furthermore, the company has an on-site professional maintenance team committed to quickly and competently fixing their equipment or vehicles onsite.
Projects
Ongoing projects
Construction of Majlis & Mosque
Construction of Gate, Ancillary Buildings & Landscaping
Construction of VVIP Majlis
Completed projects
JV with Malaysia's Sunway Construction
Construction of Accommodation Buildings
Construction of Accommodation & External Services
14.

General Construction Co W.L.L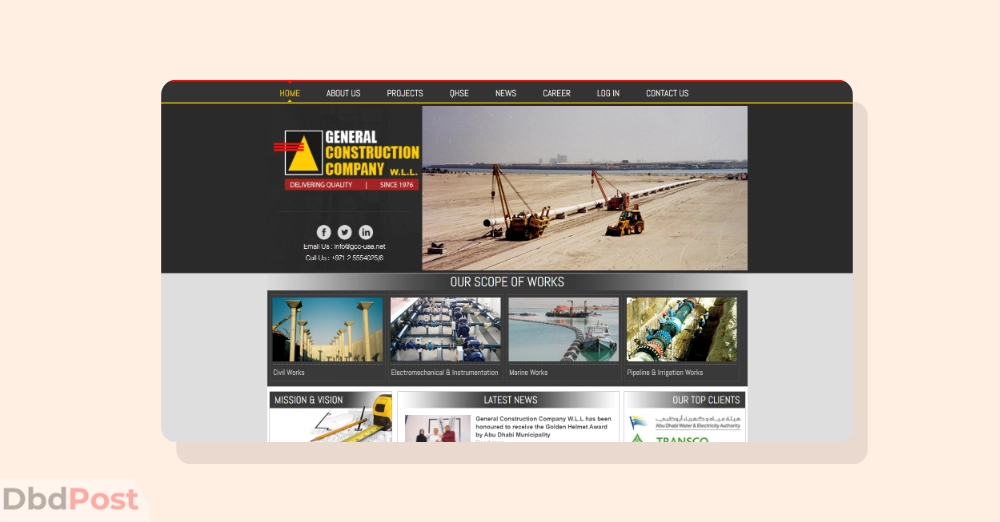 Since its establishment in 1976, General Construction Co W.L.L has been a reliable name in the construction industry. It is a part of the Al Rubaya Group of Companies.
It has worked on projects across different areas, such as water distribution networks, golf courses, housing complexes, and many more.
Additionally, GCC is an esteemed construction firm that has serviced multiple corporate clients in and around Abu Dhabi for many years. Their list of clients includes TRANSO, Abu Dhabi Water and Electricity Authority, Al Ain Distribution Company, and Abu Dhabi Municipality, among others.
Projects
Water Supply to Two Islands in the Hanjurah area.
Water Network Replacement and Modification in Al Ain
Construction of a Police Station at the Western Border
Water Supply To New Dhow Harbour & Market
220KV Grid Station Extension at Zakher, Ramah & Wathba
15.

Arabian Construction Company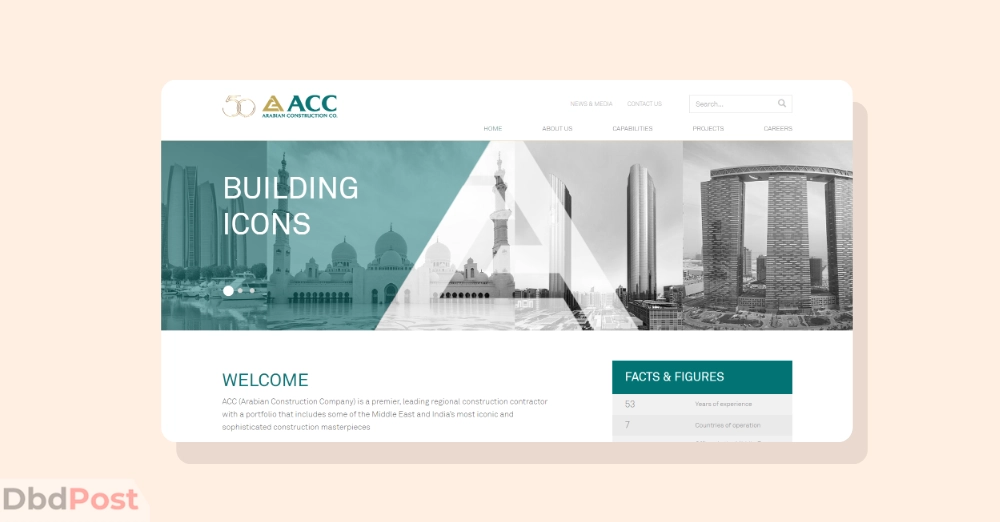 Their highly dedicated professional team has cultivated long-standing client relationships to provide unparalleled services.
Additionally, some of the most prestigious organizations in the industry have recognized them. For example, The Council on Tall Buildings and Urban Habitat ranked them 2nd in their '100 of the World's Tallest Buildings' Top Main Contractor category. [1]ACC, "Awards, https://accgroup.com/about-us/awards/"
Projects
Building projects
Ministerial City
Boulevard Point
Gate Towers
Oil & gas projects
Liwa Strategic Water Storage and Recovery System
Al Mirfa Desalination Plant
Taweelah A2 Desalination Plant
16.

Sweidi and Shams Contracting Company LLC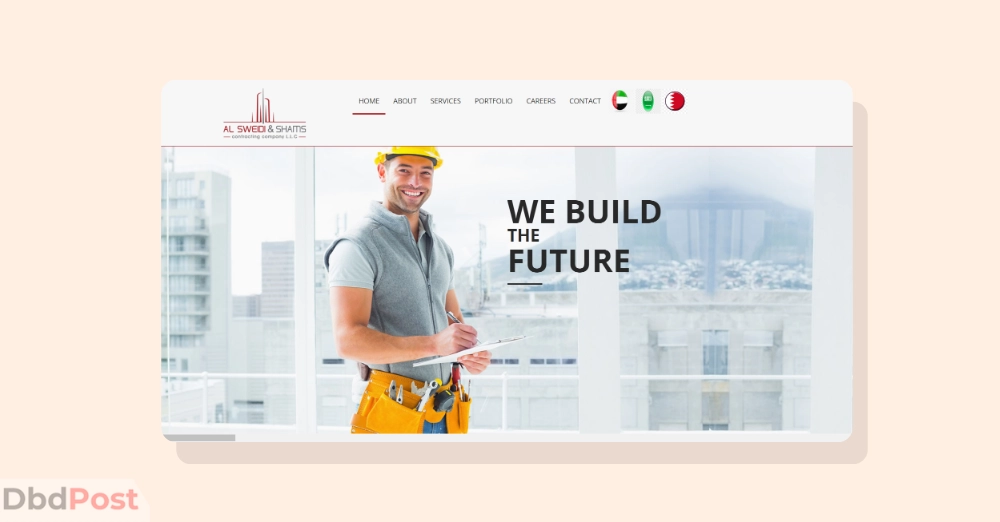 SASCO maintains close friendships with most of the region's largest contracting organizations. They frequently collaborate in several projects.
Due to their commitment to quality contracting and customer satisfaction, they are the perfect choice for your construction needs.
Projects
Industrial steel structural building
14 villa accommodations for the army
Things to consider while choosing construction companies in Abu Dhabi
When looking for a reputable construction business in Abu Dhabi, there are many different things to consider.
Here are a few things to keep in mind, including the following:
Customer Review: Choosing a company with a good reputation among its clients is important. Look for a company that has received positive reviews and ratings from previous customers. You can see the ratings and reviews in Google Maps.
Company size: The company's size is one factor that should be considered. A larger company has access to more resources and more years of experience. Still, a smaller company may be more flexible and able to offer more customized services.
Check for licensing and insurance: Ensure the Abu Dhabi construction companies you choose to have proper licensing and insurance before starting building projects. This will safeguard you from construction-related accidents and damage.
Cost: When it comes to the company's pricing, make sure that you compare and evaluate it against other companies to ensure competitive rates. However, be sure to ask about any hidden costs associated with the project.
Services: Think about all of the services that the company offers. Choose the one with services relevant to you.
How to apply to an Abu Dhabi construction company?
If you're interested in joining a particular construction company in Abu Dhabi, the best way is to review the company's website for any relevant information. Most organizations have a dedicated section on their site devoted to career opportunities. There, you can find out about the available position in the company and detailed information about the job.
By simply clicking on the job title, applicants can access a page outlining the qualifications needed for the position. This includes previous experience in a related field, position level, roles and responsibilities, and skills to help applicants decide if they meet the role's requirements.
After choosing the relevant job position, the application process begins with a thorough online form. It is highly recommended that applicants provide all relevant details to maximize their chances of success.
The form requests personal details such as name, contact information, nationality, and special skills. Forms can be different according to the company. It also asks for experience in a related field and previous job experience. Applicants must include an updated CV and a cover letter, if necessary, before submitting their application.
Related Stories
FAQs
Final thoughts
Construction firms in Abu Dhabi play a vital role in the development and growth of the city. They have a long track record of successful projects, offering their clients true value for money.
Additionally, with their talented workforce, modern equipment, and resources, they can deliver high-quality projects within the budget and in good time. Thus, you should always choose a company that is reliable and trustworthy.