Facility management companies in Dubai are quickly growing. The Emirate has everything from residential and commercial to asset acquisition and maintenance FM companies.
Dubai hosts many companies that maintain and manage facilities effectively. Some of the top facility management companies in UAE are EFS, Blue Diamond, Adama, and more. From international groups to local companies, each provides facility services to clients.
The Dbd team conducted research and analyzed many facility management services in Dubai. We examined factors like government compliance, reputation, reviews, and services offered.
Our guide looks at the most reliable facility management service company in Dubai.
12 best facility management companies in Dubai
Dubai's infrastructure benefits from the services of different facility management companies. Dubai's best facility management companies are known for their productivity, efficiency, and good service.
1.

EFS Facilities Management Services Group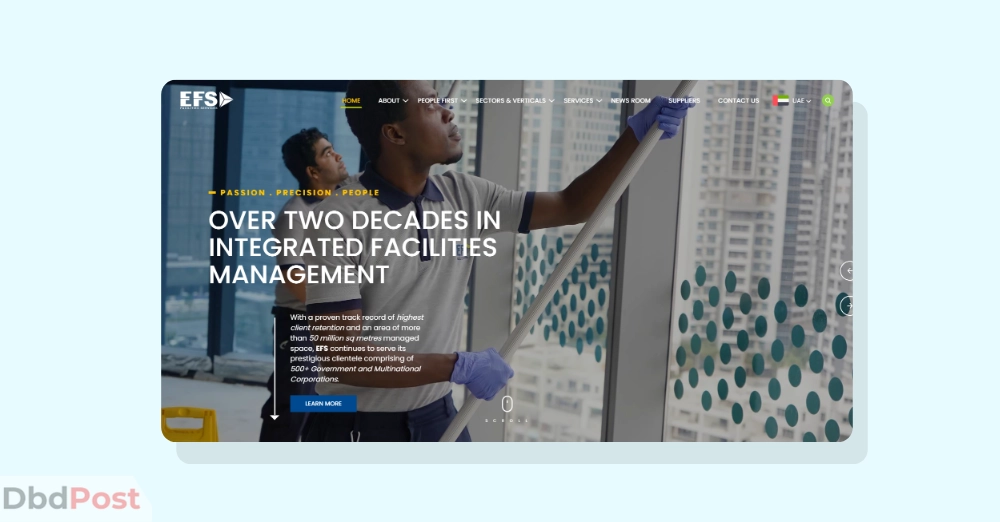 EFS started small but has grown to become a regional leader in facility management. They manage over 50 million sq meters of area with 28 companies.
Their hard work and dedication have achieved a 1.5 BN USD contract backlog. They also have an incredible client retention rate of nearly 100%.
EFS offers design and development, operational performance assessment, stabilization, and transformation services.
Furthermore, EFS has received numerous awards, is ISO approved, and is trusted by Fortune companies and government agencies.
Offered services
EFS's integrated facilities management solutions provide profitable outcomes for your business. Some of their services include:
Management of Third-Party Providers
Subcontractors Specialists
Quality Assurance
Call Center Management
Help-desk Management
Contracts Compliance
2.

Sun and Sand Facility Management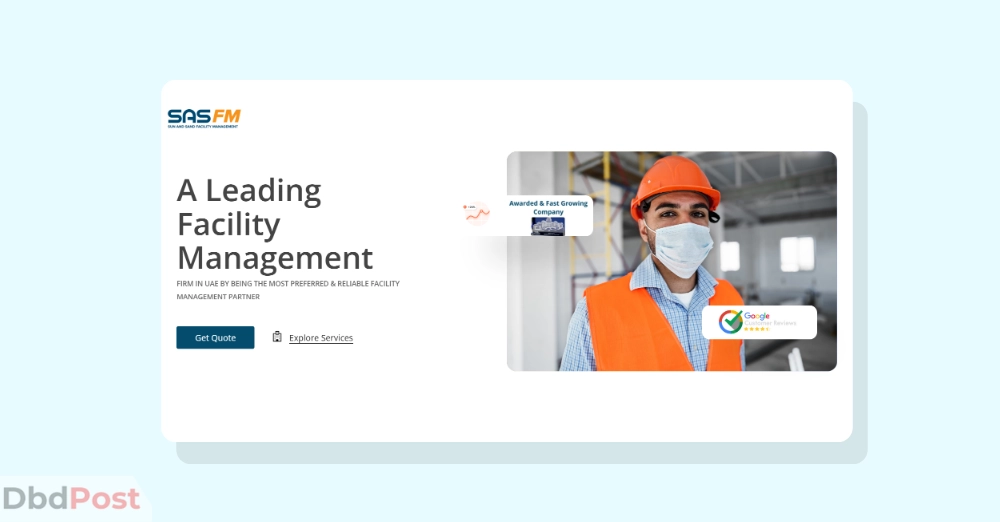 Sun and Sand Facility Management Services is a Dubai-based SASD Group of Companies subsidiary. This company is dedicated to delivering excellent facility management services at an affordable price.
Their offerings include cleaning, MEP, civil, and other maintenance services, all executed with cutting-edge technology and a focus on sustainability.
Sun and Sand have a proven track record of success across various building types, including offices, residential buildings, schools, and retail developments.
Besides, the team at Sun and Sand is committed to making long-term improvements that matter, not just delivering quick fixes.
This dedication to excellence is evident in their services' quality and commitment to their client's satisfaction.
Offered services
Sun and Sand offer an array of services to their clients. Some of them are:
Soft Services: They provide building cleaning, security, electrician, etc.
Hard Services: They offer MEP, HVAC, infrastructure, and civil works maintenance.
Facade Cleaning: They have the expertise to handle facades and windows.
Customer Support: They provide 24/7 customer support to their clients.
3.

Blue Diamond Facilities Management Services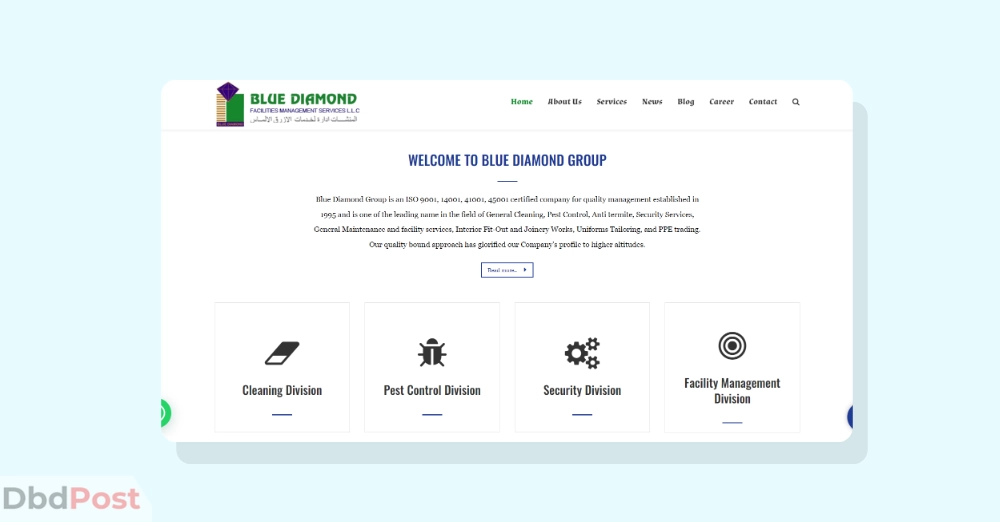 Founded in 1995, Blue Diamond Group is a company that prides itself on delivering specialized services with expertise, with the ultimate goal of making customers happy.
They hold certifications from ISO in 14001, 9001, and 45001, reflecting their commitment to quality management and the best practices in their field.
Blue Diamond Group offers various services, including General Cleaning, Security Services, and general maintenance.
Likewise, they provide reliable and efficient service with a diverse workforce of over 3000 employees from India, Pakistan, Nepal, Bangladesh, and the Philippines.
The well-being of their employees is a top priority, and they ensure that they are covered under workers' compensation and insurance.
Offered services
Blue diamond offers both hard and soft services to businesses.
Their hard services include:
General Maintenance & Integrated Facility Division
Contracting & Interior Fit-Out Division
Uniform Tailoring & Embroidery Division
Laundry Machinery Repairing & Fixing
Blue Diamond's soft services are:
Cleaning Division
Pest Control Division
Security Division
Landscaping Division
4.

Al Shirawi Facilities Management L.L.C.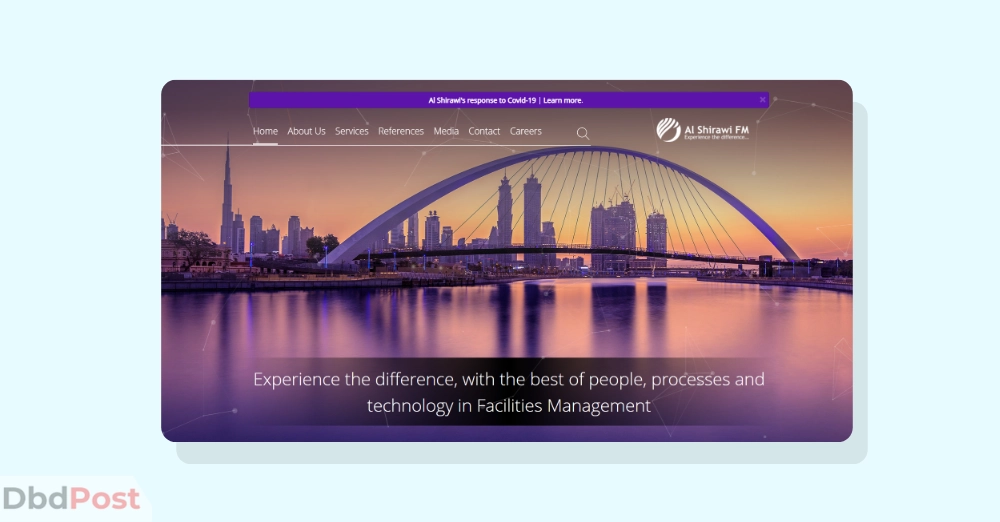 Al Shirawi FM is a great business that has grown for the past 50 years. They started as a mechanical contractor, but now they offer much more. Now, they are one of the leading facility management companies in UAE.
Their service portfolio includes projects in infrastructure, luxury property, industrial facilities, and more. Furthermore, they have 300+ live projects going on currently.
Al Shirawi FM is genuinely dedicated to providing the best customer-quality services.
Offered services
Al Shirawi's integrated facility management offers a total solution to their clients. The services they offer are:
Internal, external, and façade cleaning
Pest control
Waste management
Grounds & greenery upkeep
Maintenance of Mechanical, Electrical, and Plumbing (MEP)
5.

Adama Facility Management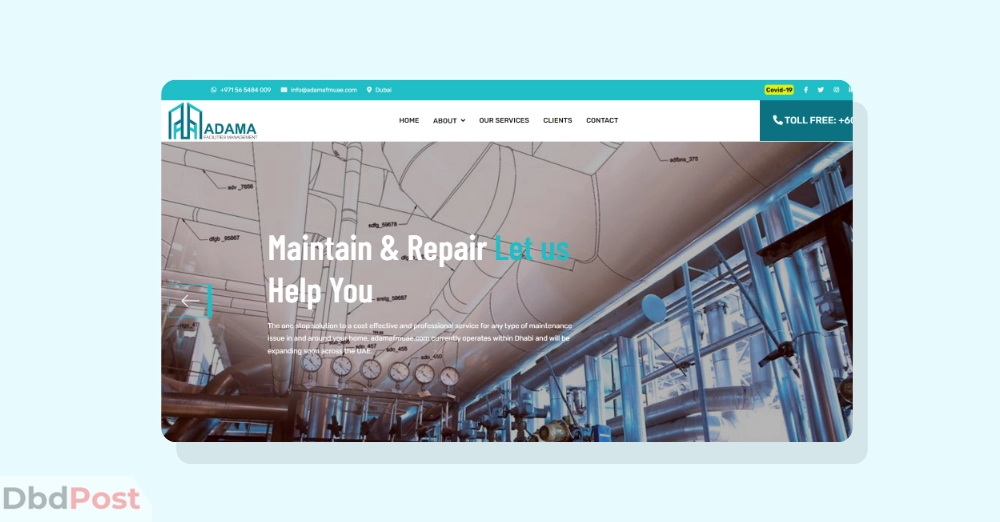 Adama Facility Management is a company that provides 5-star service to its clients. They understand the unique needs of their customers and the importance of delivering services in sensitive environments.
To ensure the best experience for their clients, Adama employs a team with the perfect skills and attitude who deliver quality service every time.
Adama offers a tailored approach to facility management, emphasizing excellence, integrity, and safety.
Their commitment to delivering the best possible service has made them a top choice among clients such as BK Gulf, NRG Group, Emirates NBD, and more.
It is no surprise that Adama is a go-to FM service choice in Dubai.
Offered services
Adama provides a total solution to the client's facility management needs. Some of their services include:
Property Management
MEP/Civil Services
Cleaning Services
Flooring
6.

Concordia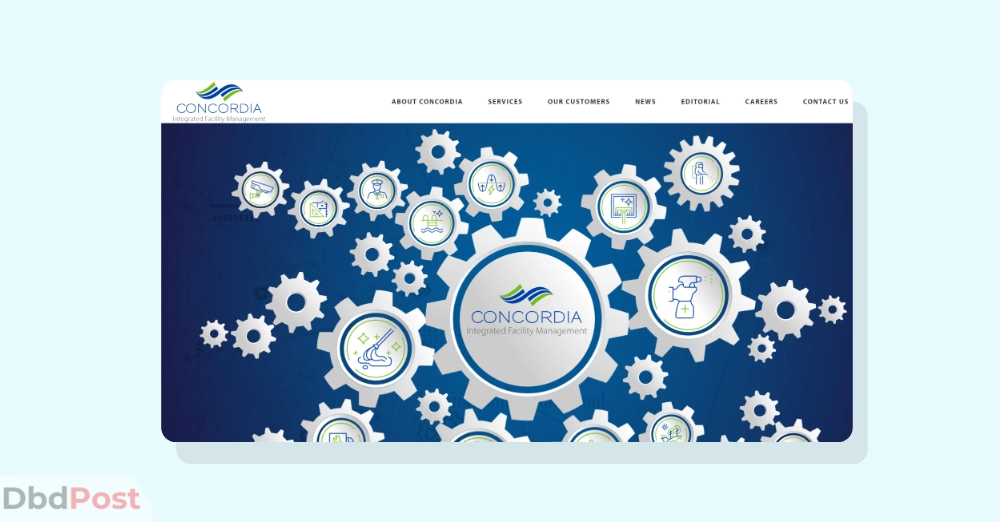 Concordia is a customer-focused integrated FM company in UAE. It places a significant emphasis on output, performance, and sustainability.
The company provides reliable services to the buildings while helping them reduce their energy consumption.
Concordia boasts a team of 1,700-plus members. It manages 253 million sq. ft. of both residential and commercial property.
Concordia is consistently considered the gold standard in the industry. They deliver high-performance solutions 24 hours a day, seven days a week, 365 days a year.
Offered services
Concordia has an impressive clientele. They have provided services to Emaar, DMCC, Nakheel, and more.
Some of the services Concordia offers are:
Soft Services like Window Cleaning, Pest Control, and Landscaping services
Hard Services like HVAC, MEP, and Coordination with Specialist Subcontractors
7.

Al Fajer Facilities Management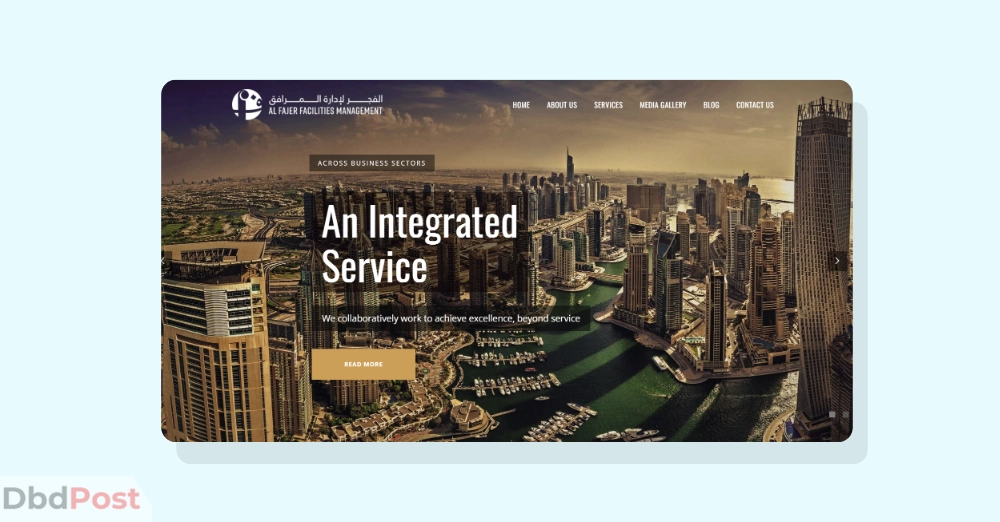 Al Fajer provides high-quality and reliable services in the regional FM industry. They integrate people, technology, and system to provide clients with efficient and dependable support systems.
Al Fajer has over 3000 employees from 22 countries. Their skilled human ensures dependable service to the customers.
They use modern technology and sustainability methods to furnish clients with practical solutions. The high ethical and professional standards make Al Fajer a top FM solutions company in Dubai.
Offered services
Al Fajer provides professional and reliable services to its clients. Some of their offered services are:
Cleaning
Security
Engineering
Textured paints
8.

UCWF Facilities Management Services LLC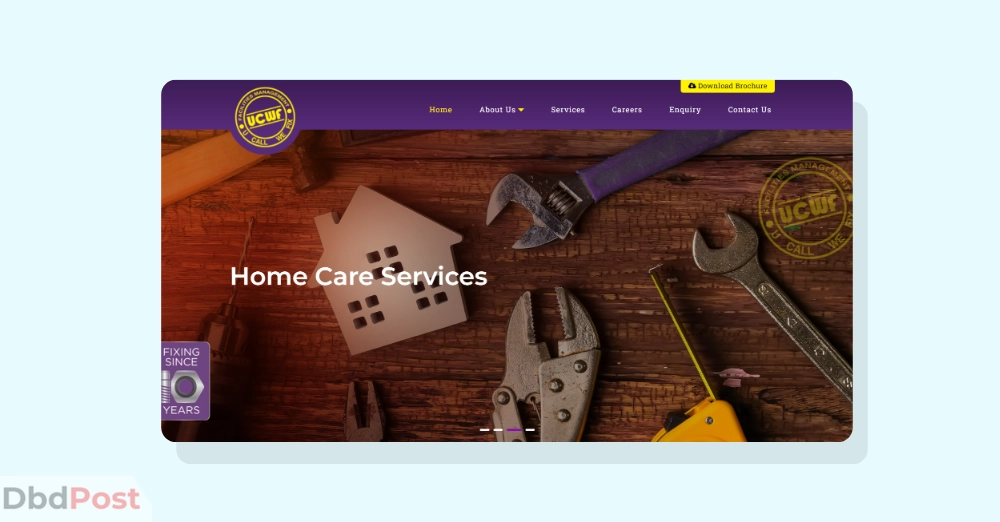 UCWF is an experienced one-stop solution for all your facility management needs. They boast a top-notch network of subcontractors, distributors, and people.
UCWF is committed to providing technical proficiency in both hard and soft services.
They also offer both on-site and mobile maintenance services. Their skilled workers and partners ensure high-quality service for everyone.
UCWF ensures the health and safety of the employees. Their efficiency and safety have made them a trusting partner for projects of any magnitude.
Offered services
UCWF offers a one-stop solution for a wide variety of facilities management needs. Some of their services include:
Engineering services
Soft services such as housekeeping and facade cleaning
Specialized services through subcontractors for elevators, gym equipment, and pest control
Security services
9.

Berkeley Services UAE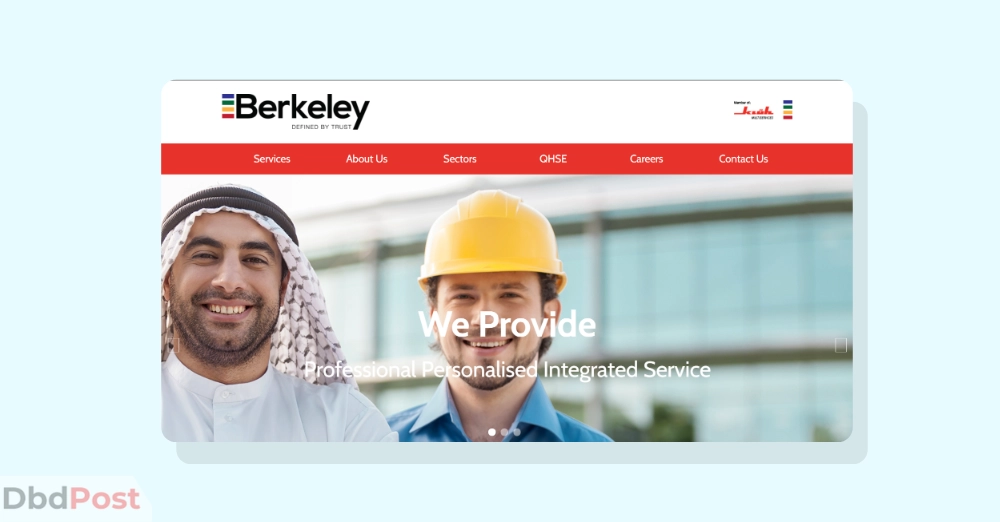 Established in 1984, Berkeley is part of the Klüh Group International Germany. It employs an impressive professional workforce of more than 7,000 people.
Berkeley offers services to many prominent clients both locally and internationally. It maintains a significant layout of properties.
Their performance has been accredited with ISO 9000 since 1995. The company upholds compliance with other standards like ISO 14001 and ISO 18001.
Similarly, they have over 1000 clients in their portfolio and over 2000 completed projects.
Berkeley takes pride in providing high-quality services consistent with global standards and best practices.
Offered services
Berkeley has undertaken numerous projects for over 1000 clients. Some of the services they provide are:
Cleaning
Maintenance
Security
Landscaping
Laundry
Support
10.

A TO Z Services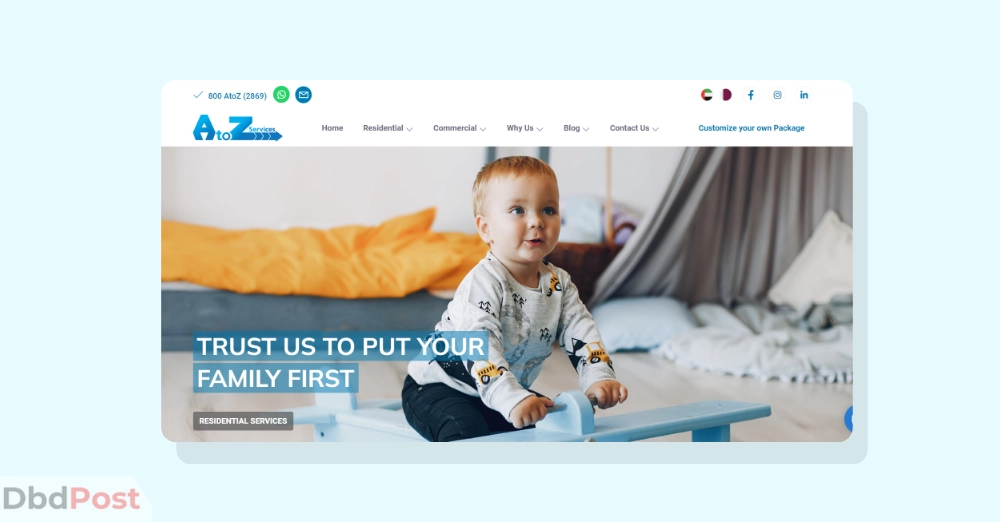 A to Z Services has provided premium facility management and cleaning services for 42 years and has established a substantial portfolio of customers across the Middle East.
The company operates offices in Lebanon, UAE, and Qatar, allowing them to serve clients in multiple locations effectively.
A to Z Services is known for its commitment to customer satisfaction, offering service guarantees and innovative solutions that cater to each client's unique needs.
The company prides itself on delivering VIP-level service characterized by safety, luxury, and innovation.
With a focus on prioritizing their client's needs, customers can rest assured that they will receive the highest quality of service from A to Z Services.
Offered services
A to Z Services has worked with several clients over the years. Their prominent clients include Talabat, Dubai Holding, IKEA, Bebe, and more.
This FM company in Dubai delivers high-quality home maintenance services to clients. Some of their services are:
Pest Control
Cleaning services, including drainage, water tank, and disinfection services
Plumbing services
Electrical services
11.

Reliance Facilities Management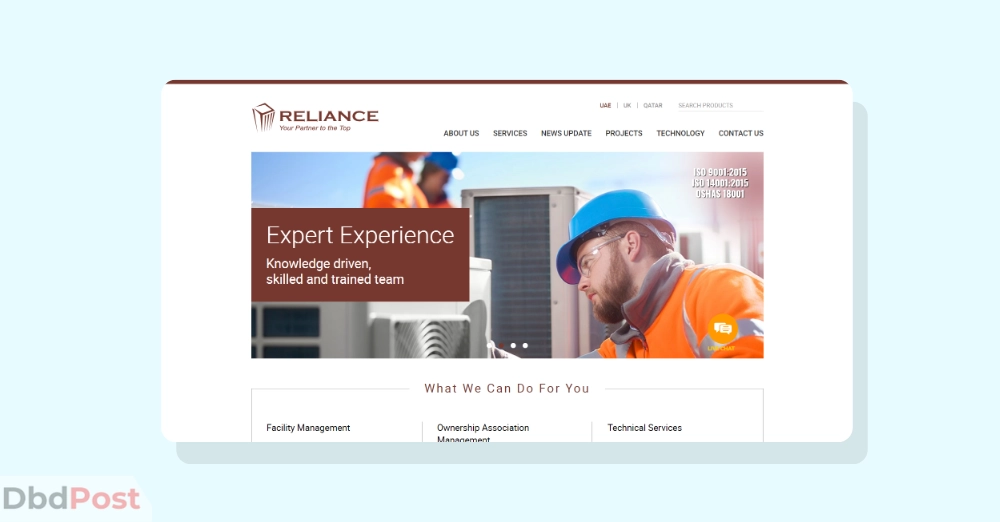 Reliance Facility Management is ISO 9001:2015 certified Facilities Management (FM) company. Their expertise includes FM operations, consulting, business training, and residential buildings.
Reliance Facility Management offers a comprehensive range of hard and soft services. Every service is tailored to individual needs, from risk management to administrative services.
Moreover, this company has built a solid reputation through consistent, high-quality service and customer loyalty.
Offered services
Reliance offers reliable facilities management services to its clients. They maintain global standards for all their offered services. Some of the services they provide are:
Hard Services such as MEP maintenance, Fire fighting, Building Fabric
Soft Services such as painting, refurbishment, facade cleaning, etc.
Facility Management consulting through design, construction, and completion.
Administrative services such as contract management, planning and budgeting, and more.
12.

Pure Way Facilities Management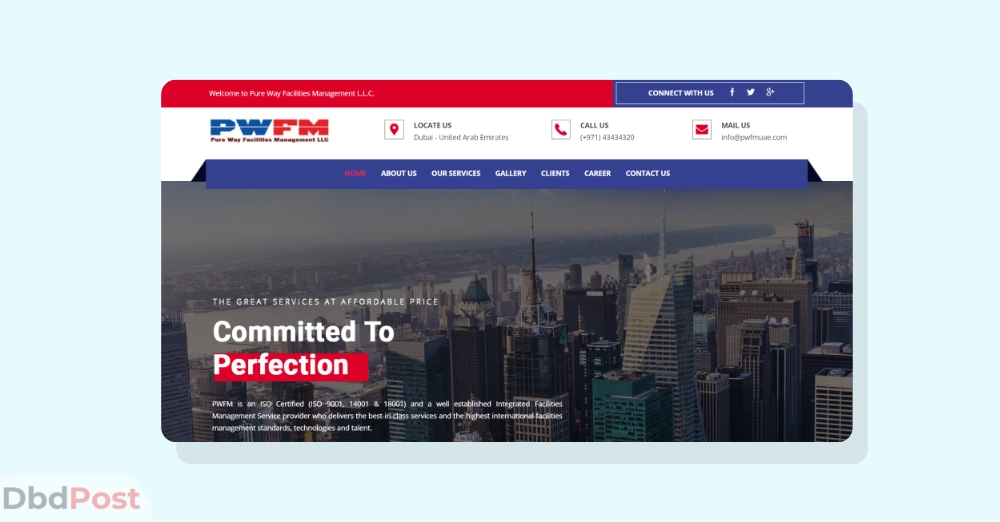 PWFM is ISO 9001, 14001 & 18001 certified facility management company. It provides Integrated Facilities Management Services to the private and public sectors.
The company's experienced technicians and engineers provide high-quality service to clients. They have worked with healthcare, recreational, educational, and governmental facilities.
Their high standards and quality mean PWFM is one of the best facility management companies in Dubai.
Offered services
Pure Way Facilities Management prides itself on offering affordable prices without compromising quality. They offer an integrated package in four core areas, including:
MEP – Engineering & Maintenance, including Mechanical, plumbing, and electrical services
Civil – Engineering & Maintenance, including tiling, painting, and waterproofing
Technical Services
Kitchen and Laundry
What is facilities management?
Facilities management is managing the services and processes required to maintain a building. It includes infrastructure maintenance and repair, cleaning, waste management, and recycling.
Effective facilities management can significantly impact the success and productivity of a building. Properly maintaining an infrastructure can improve its users' health, comfort, and morale, while poor maintenance can have the opposite effect.
Various facilities management companies, including those in Dubai, are part of the Middle East Facility Management Association (MEFMA) and International Facility Management Association (IFMA), both of which promote best practices and sustainability in the field.
Benefits of hiring a Dubai FM company
Good facilities management impacts the success and productivity of a company and individuals. Here are some of the key benefits of hiring a Dubai FM Company:
Cost Savings
Reduced labor costs
Lower maintenance and repair costs
Improved energy efficiency
Reduced need for in-house facilities management staff
Expertise and Experience
Access to a wide range of specialized skills and knowledge
Proven track record of success in facilities management
Experience working with a variety of building types and systems
Increased Efficiency and Productivity
Improved maintenance and repair response times
Enhanced safety and security for building occupants
Improved space utilization and management [1]ISO, "Facility Management,

https://www.iso.org/obp/ui/#iso:std:iso:tr:41013:ed-1:v1:en:~:text=%E2%80%94%20maintain%20regulatory%20compliance%20and%20provide%20safe%20workplaces%3B"
Improved Quality of Life
More time to focus on personal life and interests
A safer and more comfortable living or working environment
Access to a wider range of services and amenities
Peace of mind knowing that building management is in good hands [2]Prolog, "Benefits of FM, …

Continue reading
How we chose the best FM company?
We conducted a thorough evaluation to choose the best facilities management company in Dubai. We aimed to select a company that provides the best value for money.
In this process, we considered several factors, such as government compliance, reputation, services offered, and customer reviews.
We verified the government compliance of each company by checking if they had all the necessary licenses and permits to operate in Dubai and if they were following the regulations and standards set by the Dubai government.
For reputation, we researched each company through online sources and industry publications and considered their years of experience in Dubai.
In terms of services, we evaluated the range of services offered by each company, including cleaning, maintenance, security, and more.
We also looked at the quality of services provided and their level of customization.
Lastly, we gathered customer feedback and reviews from online sources and considered each company's overall rating and customer satisfaction levels.
Things to consider while choosing an FM company
A good FM company can significantly improve the productivity of your company.
Therefore, choosing the right FM company is a must. In this section, we will highlight factors that you should consider when making your choice:
Budget
Consider your overall budget and determine how much you are willing to spend on FM.
Make sure to compare prices between different companies to find the best value for your money.
Requirements
Identify your specific requirements and the services that you need.
Make sure that the company you choose can provide those services.
Quality of Work
Evaluate the quality of work provided by the company you are considering.
Ask for references and check their portfolio to understand their expertise level better.
Expertise
Make sure that the company you choose has a team of highly qualified and experienced professionals.
Consider the type of projects they have handled in the past.
Customer Service
Look at the level of customer service.
Ensure your chosen company is responsive and available to address any issues or concerns.
Related Stories
---
FAQs
Which is the best facility management company in Dubai?
Blue Diamond Facilities Management Services is the best facility management company in Dubai. They offer a wide range of services and have proven experience in the industry.
How to get a job in a Dubai facility service company?
It is possible to get a job in a Dubai facility service company. You can start by researching their services, target market, and job offerings.
Check the career section on their websites. Tailor your resume and cover letter to the specific company and position.
What services do facility management companies in Dubai provide?
Facility management companies in Dubai provide services to help maintain and manage facilities.
These services include maintenance, repair, cleaning, community management, and security.
Final thoughts
Regarding facility management companies in Dubai, the choices are endless. Each company offers excellent facility management and has its strength.
We hope our Dbd guide helped you find the best FM companies in Dubai.
It is important to consider factors like budget, reputation, expertise, and service before choosing your service provider.


Khalid Jama is a financial advisor based in Dubai. He has a decade of experience in the financial sector, specializing in asset portfolio management, investor relations, and taxation. His expertise in corporate finance and global investments have made him one of the most sought-after advisors in the Emirates. With knowledge, Khalid has helped his clients create long-term wealth through careful analysis and strategic planning.