UAE is renowned for its luxurious and innovative architecture, making it a perfect destination for interior fit out companies. These companies specialize in electrical, mechanical, decorating, and furnishing services, providing customized solutions.
Interior fit out companies in Dubai help beautify the interiors of your residential and commercial space. Some of the best interior fit out contracting companies in Dubai are Immersion Interior, Antonovich Group, and more.
Our team researched extensively to determine the best interior fit out companies in Dubai. We considered factors such as price, reputation, customer reviews, and portfolio.
We talked to the employees and the clients to determine their quality. The result is the list of the finest interior fit out contractors in Dubai.
11 Best interior fit-out companies in Dubai
There are several interior design and fit out companies in Dubai available for hire. This list of the best interior fit out companies in Dubai can help you create a functional and visually appealing environment.
1.

Immersion Interior Design LLC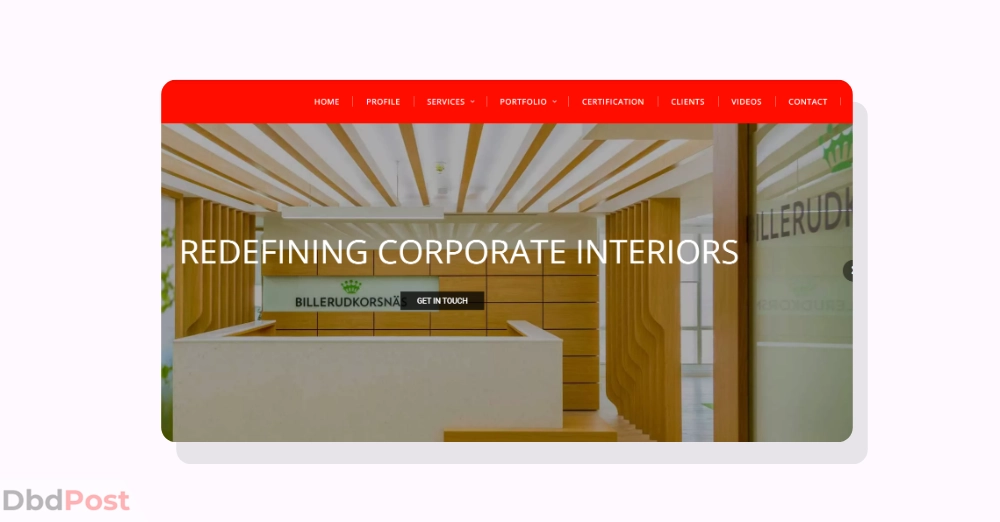 Immersion Interior Design has been offering different commercial interior fit outs solutions for over 25 years.
Over the years, they have collaborated with The Media Office, Oando, ABN – AMRO, CareFusion, RedTag, Air Liquide, mambo pizza, and Easy Globa.
Moreover, Immersion has ISO 9001 and 10002 certifications for its Quality Management System and Customer Satisfaction.
Furthermore, Immersion offers top-of-the-line services for commercial and office fit-out and turnkey solutions.
In addition, they stock a wide range of specialty products such as meeting pod telephone booths, adjustable height tables, smart glass suppliers, and artificial trees.
2.

Antonovich Group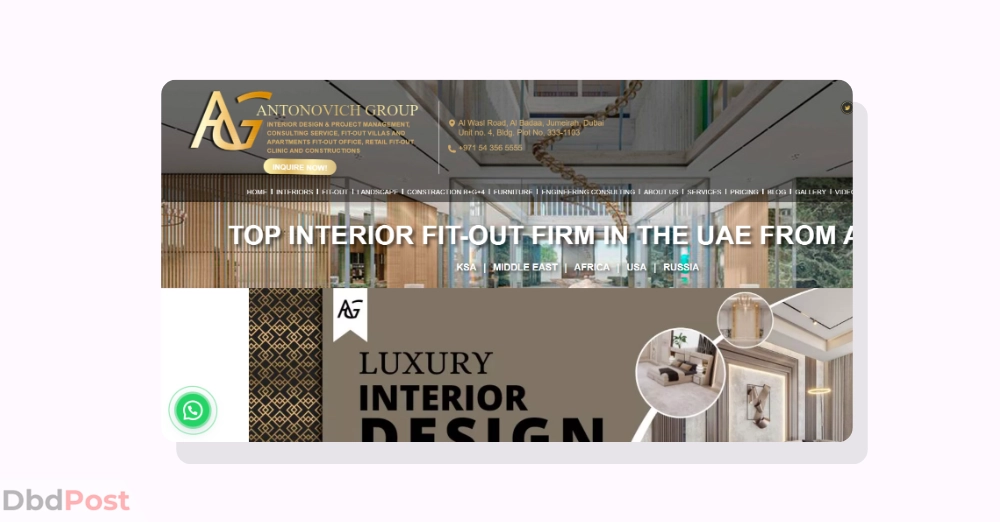 Luxury Antonovich Design is a fully integrated practice providing architectural, interior design, value engineering, and fit-out.
Moreover, highly qualified and experienced professionals provide exceptional project management services for prestigious construction projects.
Apart from their services, they also sell various European furniture and accessories.
From the office to the villa, their qualified teams can install marble and gypsum. Additionally, they also fix bathrooms and fixtures and provide metal works for the complete fit-out.
Their service also includes upgrading your home to upgrade to a smart house.
3.

The Fitout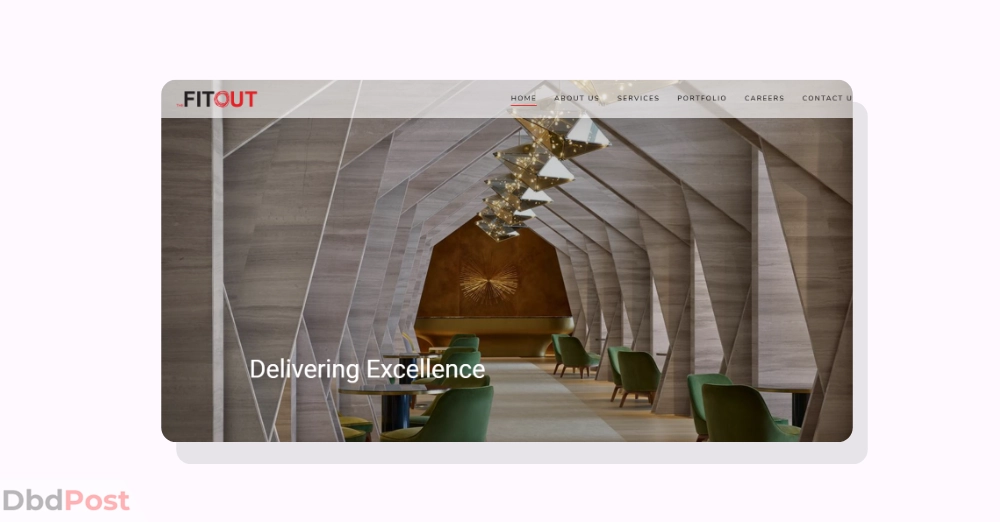 Fitout has benchmarked the industry with its high-end services and ISO 14001 certification.
Besides their certifications, they have worked with Abu Dhabi Commercial Bank, Crowne Plaza, The Address Hotel, Mall of the Emirates, and more.
This shows their undeniable reputation in the interior fit-out business.
The Fitout specializes in fit-out contracting works for residential, retail, and hospitality projects.
Besides that, they also make customized furniture such as doors, wardrobes, kitchens, vanity, and more.
4.

SLATE Interiors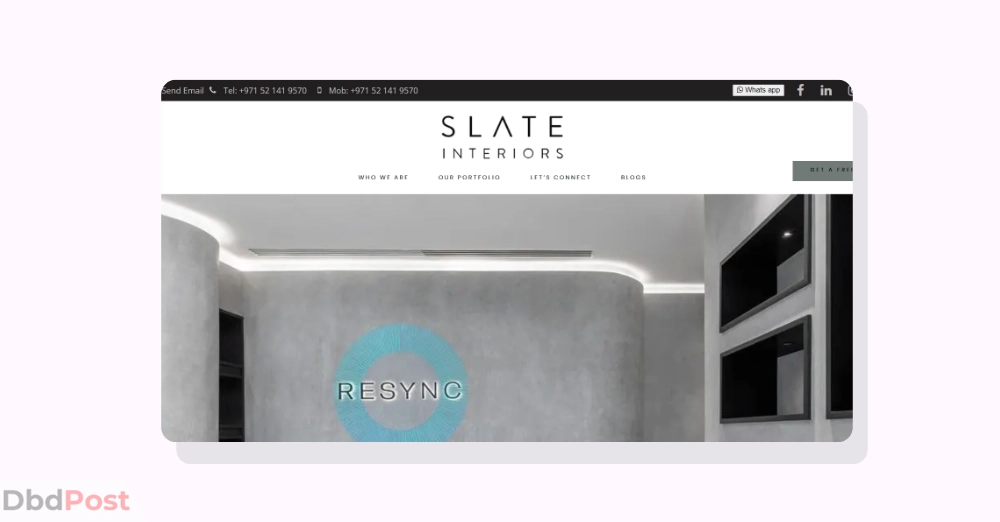 SLATE Interiors is a renowned interior design company in UAE that offers clients a wide range of design solutions with different budgets. They have extensive experience in restaurant fit-out, making them the go-to experts in the field.
Their exceptional work has been recognized through various awards. They were awarded with the Interior Fitout Company of the Year 2021 and the Slate Interiors MEA Market Award 2022.
With a team of highly skilled professionals, SLATE Interiors has become a preferred choice for clients. They focus on understanding their client's needs and work closely with them to bring their space ideas to life.
Moreover, Slates have provided fit out solutions for supermarkets, schools, clinics, offices, and gyms. Along with these services, they will upgrade your private space like a villa, house, or even apartment.
5.

Aujan Interiors LLC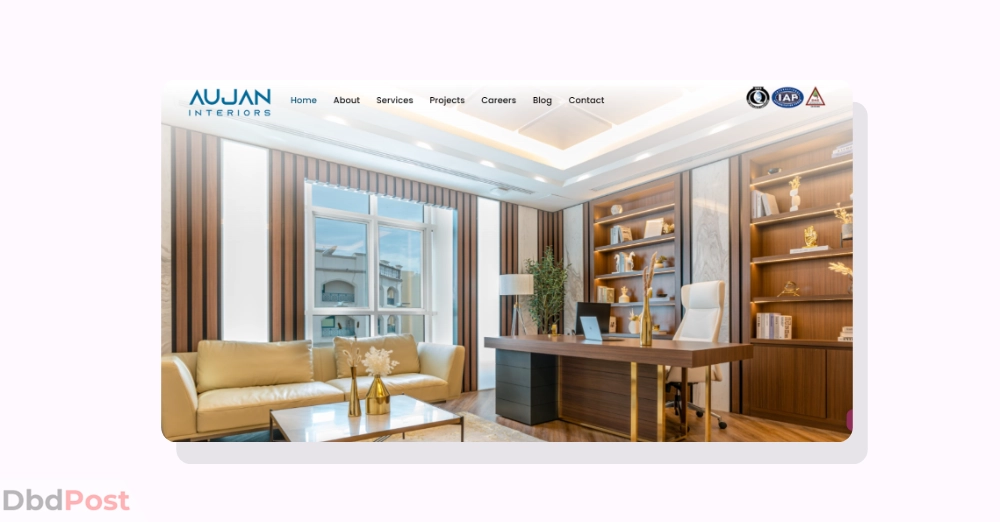 Aujan Interiors has established a strong reputation for its expertise in workplace design. It offers comprehensive services, from fit-outs and joinery to custom-made furniture.
Moreover, Aujan Interiors has ISO 9001, ISO:14001, and ISO: 18001 certifications.
Besides, Aujan Interiors has expanded to the food and beverages industry. They have proven their capabilities and demonstrated their ability to deliver exceptional results in this industry as well.
6.

Atech Interior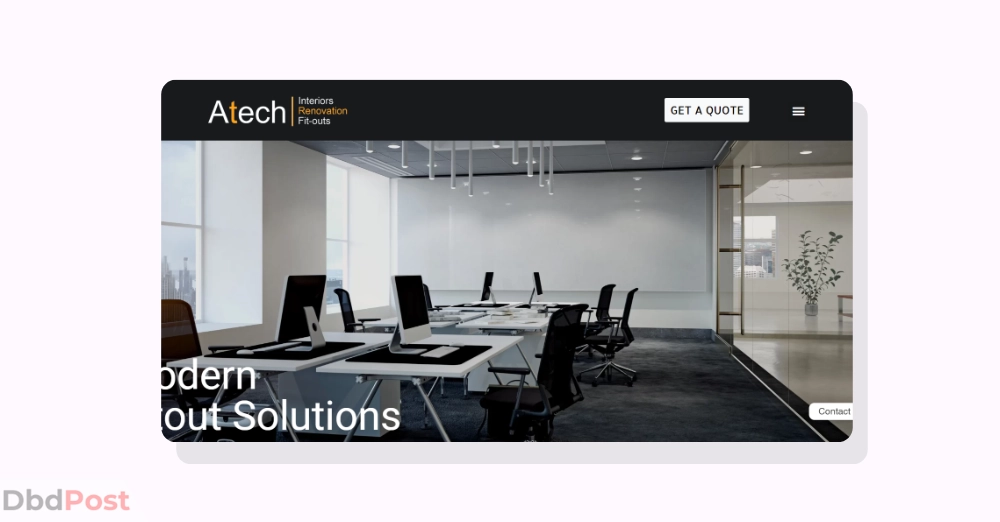 Atech Interior is a highly respected interior design firm in Dubai that takes a personalized and authentic approach to every project.
They have gained the approval and appreciation of various governmental organizations, including the Dubai Municipality and Dubai Development Authority. This is a testament to their high-quality work.
Moreover, Atech Interior offers a range of interior solutions. Some of them are commercial fit-outs, office renovations, AC installation and maintenance, villa renovations, and bathroom remodeling.
With their commitment to providing exceptional service and innovative designs, Atech Interior is a leading player in the interior design industry in Dubai.
7.

Fitout UAE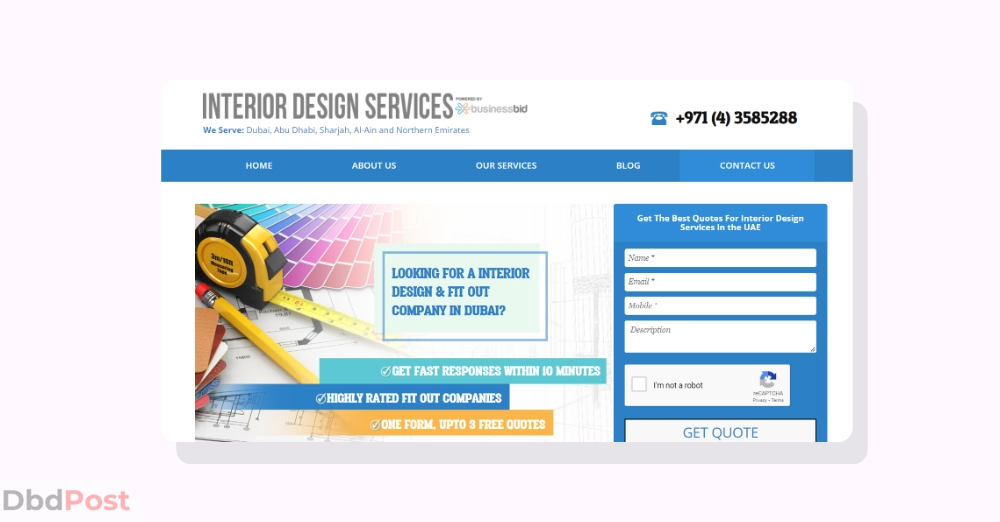 Fitout UAE offers affordable and creative design solutions that are sustainable and delivered on time.
The company's unique approach allows customers to set their budget for the project. This enables them to receive customized services that meet their specific needs and preferences.
In addition to interior design and fit-out services, Fitout UAE also offers project management, furniture sourcing, and fabric sourcing. They provide customers with a comprehensive solution for their interior design needs.
8.

A&T Group Interiors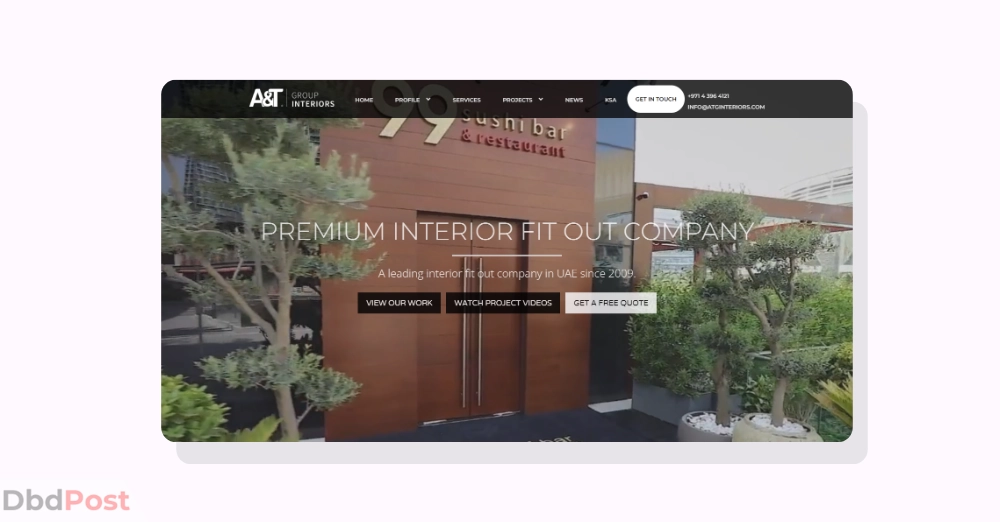 A&T Group Interiors is a well-known interior design firm in Dubai that takes a personalized and authentic approach to every project.
Their high-quality work has earned them the approval of important government organizations, including the Dubai Municipality and Dubai Development Authority.
A&T Group Interiors offers comprehensive services, including fit-outs, joinery, custom-made furniture, and specialized solutions.
Besides solutions for clients, A&T Group Interiors have expertise in designing for the food and beverage industry.
With their personalized approach and high-quality work, A&T Group Interiors continues to be a leading player in the interior design industry in Dubai.
9.

Falcon Interior Decoration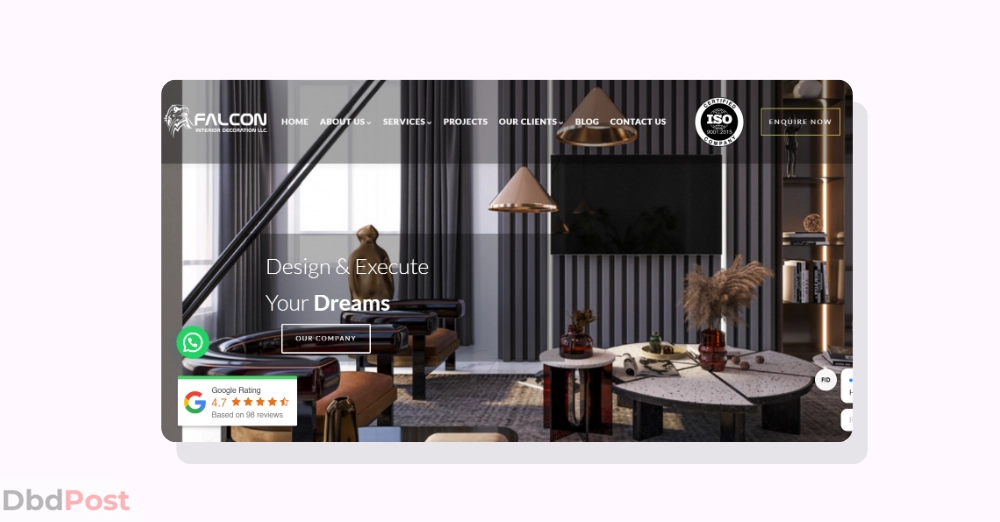 Falcon Interiors is a trusted provider of renovation and fit-out services.
Their experienced team works with top engineers, designers, and specialists to ensure that projects are completed to the highest standard.
Moreover, they offer a wide range of services, including decorating houses, salons, spas, offices, and private villas at a reasonable price.
For office fit-outs, Falcon Interior takes care of complete design solutions, including glass partitions, walls, flooring, and lighting.
10.

Judson Interior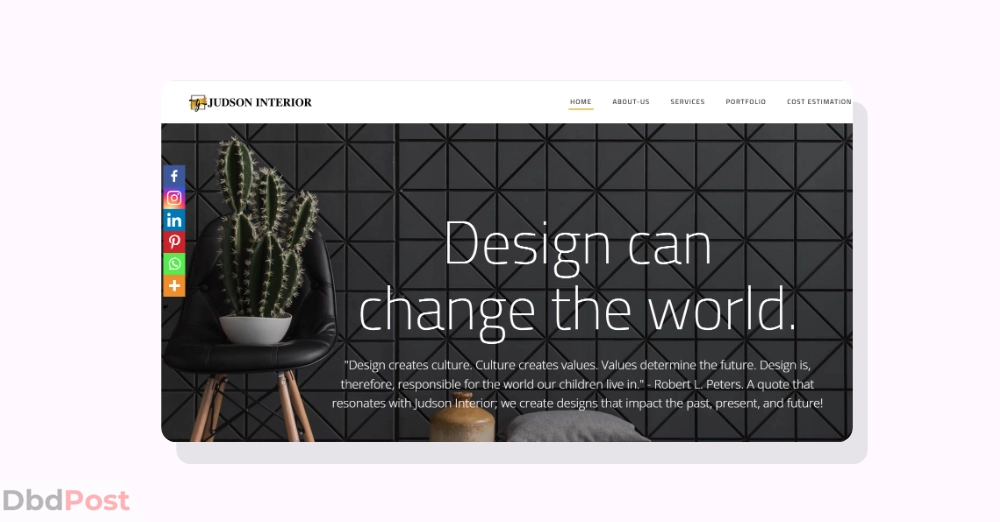 Judson Interior specializes in providing luxury and practical interior design solutions.
The company's impressive portfolio includes clients such as PACE Group, Habitat School, Trustworthy, Golf Asian English School, and more.
Moreover, Judson Interior offers comprehensive services, including fit-out and interior design solutions for residential villas, apartments, office spaces, schools, and restaurants.
11.

Apollo Interior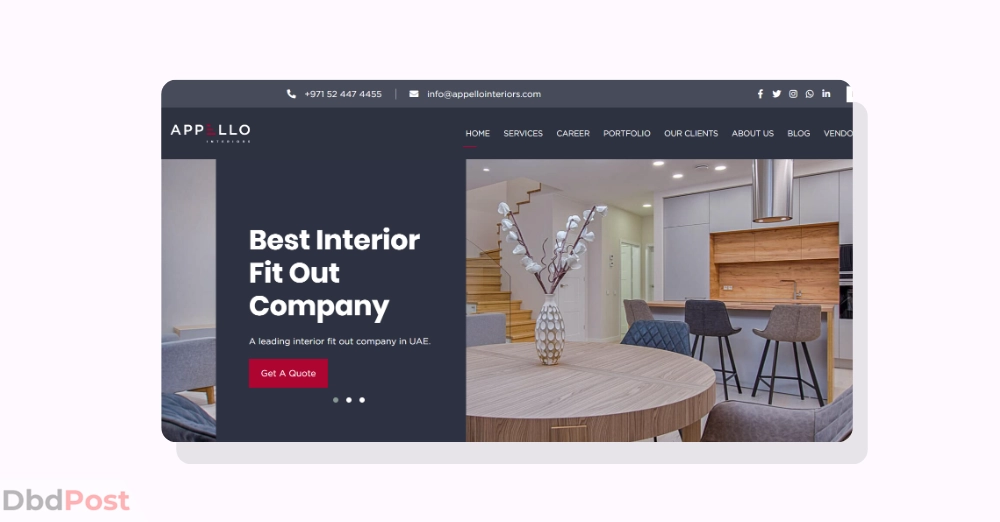 Apollo Interior is an interior design firm specializing in home and commercial interior design services.
Whether you want to update your living room or give your shop floor a new look, Apollo's team of friendly professionals can help you create the perfect space.
Moreover, their services include office fit-out solutions, joinery solutions, residential interior design, and apartment interior design.
With their expertise and attention to detail, Apollo Interior has established a reputation for providing high-quality interior design solutions.
Companies must meet specific qualifications to become fit-out contractors in the UAE.
Firstly, the company must possess a trading license from the Department of Economic Development, which permits them to conduct general maintenance activities.
Additionally, the company must have at least one certified Electrical Engineer and Mechanical Engineer. They also need electricians certified by the Dubai Electricity and Water Authority (DEWA) and have worked in Dubai for at least one year.
In addition to these qualifications, the company must have a safety officer approved by the Zoning Authority. This ensures the contractor adheres to all necessary safety measures and protocols while carrying out the fit-out work.
Meeting these requirements helps to ensure that the fit-out contractor is qualified and capable of carrying out the necessary work to the required standard. It also helps to ensure that the work is completed safely and efficiently. [1]Government of Dubai,"Fitout Contractors, https://dda.gov.ae/-/media/F2E733E0A6C34BF2818CD23C69E1696A.pdf"
Related Stories
---
FAQs
What is interior fit out service?
Fit-out is a process of making the interior space of a building suitable to use. Fit-out service includes basic construction works like setting up the door, window, ceiling, and flooring. 
Which is the best fit out company in Dubai?
Judson Interior is the best fit-out company in Dubai, with more than 30 years of design experience. They are one of the best fit-out companies that have designed high-end spaces at affordable cost in Dubai. Along with fit they also work on architectural design and interior design.
How to apply for a job in an interior fit out company?
Job vacancies for interior fit out companies are posted on their website or other online job portals. Apply for the job by sending your resume, applying via the portal, or through a recruitment agency.
However, if you are a foreigner, you need a work permit and a visa from the company. You should have permission from the Ministry of foreign affairs and the required qualification and prior job experience.
Final thoughts
All in all, the design of your space has a big impact on your lifestyle. Hiring professional fit out companies to upgrade the interior design of your space can transform your place into an appealing visual ambiance.
There are excellent interior fit out companies in Dubai to choose from. When picking a company, consider factors like services, design style, and reviews from local people.
Hiring fit out companies in Dubai can help you turn your dream interior design into a reality, whether it's for your home, office, or any other space.

Omar Saeed is a Senior Contributor at DbdPost based in Dubai. He earned his degree in Master of Media and Communication from the University of Wollongong in Dubai and covers news, info guides, reviews, and opinion pieces on various topics related to the UAE.