Oil and gas companies in the UAE have been at the forefront of the country's development. UAE's energy sector has played a vital role in the growth of its economy.
Fuel companies in UAE are known for their innovative practices, sustainable efforts, and significant contributions to the local and global economy. The top gas and oil companies in UAE include Abu Dhabi National Oil Company, Dubai Petroleum, and others.
We conducted extensive research to create this Dbd guide on the best oil and gas companies in UAE. We looked into verified sources to gather information on the companies' infrastructure and production capacity.
Additionally, we looked into the companies' partnerships and ties with international companies to give a comprehensive overview of the industry. All the research was carefully carried out to ensure the information presented is accurate and up-to-date.
14 top gas and oil companies in UAE
Our list of oil and gas companies in UAE comprises companies responsible for the country's oil and gas extraction and production projects. They provide vital services such as oil and gas drilling, exploration, refining, and storage.
1.

Abu Dhabi National Oil Company (ADNOC) – The largest oil and gas company in UAE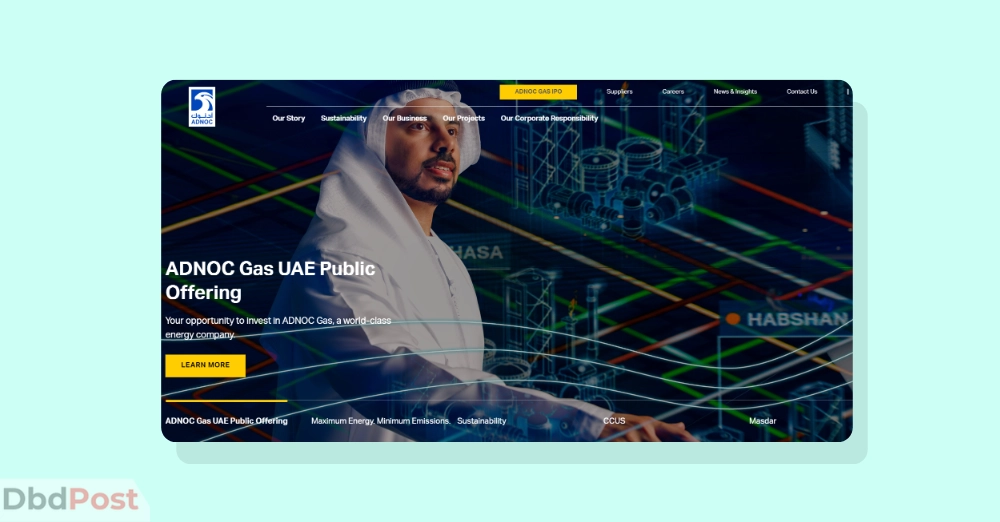 The Abu Dhabi National Oil Company (ADNOC) has come a long way since its founding in 1971. It is an eco-friendly and diversified energy group the Abu Dhabi Government owns.
ADNOC is committed to becoming one of the least carbon-intensive producers, allocating 15 billion USD. They plan to reduce their carbon intensity by 25% by 2030 and reach net zero by 2050.
Furthermore, ADNOC recently launched the Ghasha mega-project, one of the world's largest offshore sour gas development projects. They are also revolutionizing power generation with new waste heat recovery systems.
They carry out 3D seismic surveys to further push sustainability objectives to locate untapped energy sources. With many initiatives, ADNOC strives to achieve its sustainability goals.
2.

Emirates National Oil Company Limited (ENOC)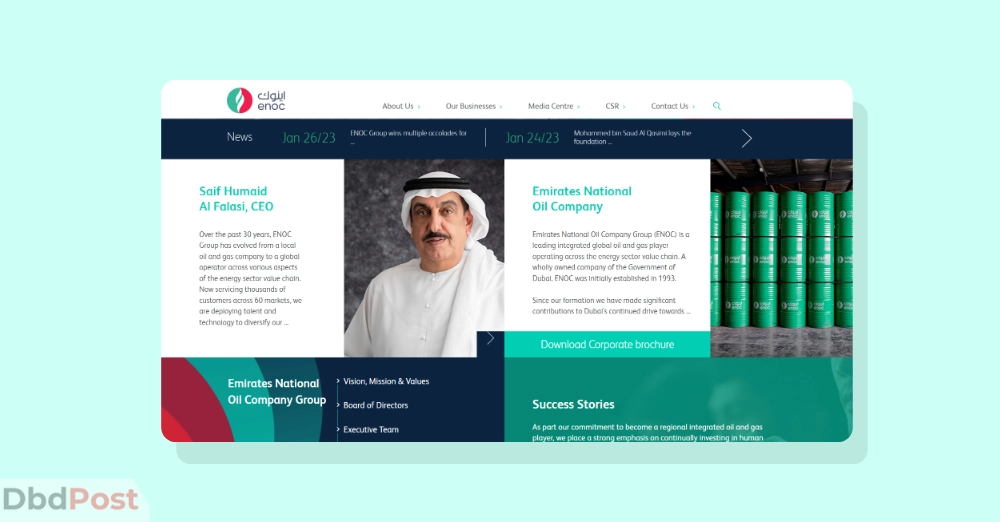 Emirates National Oil Company Limited (ENOC) is a remarkable success story. The company has evolved from a local oil and gas production to a global energy leader since 1993.
ENOC has branches in energy generation, transportation, and storage areas, such as refining, lubricant blending, storage, aviation, and retail.
Additionally, it has over 30 related subsidiaries that improve its capabilities. To top off its impressive reach within the energy industry, ENOC boasts an outstanding team of over 9,000 employees.
Moreover, Enoc boasts several awards for its commitment to safety and sustainability. They were awarded the British Safety Council's Sword of Honour Award in 2021.
This was followed by the Corporate Social Responsibility Award 2021 and the 2020 Energy Management Insight Award by Clean Energy Ministerial.
3.

Abu Dhabi National Energy Company PJSC (TAQA)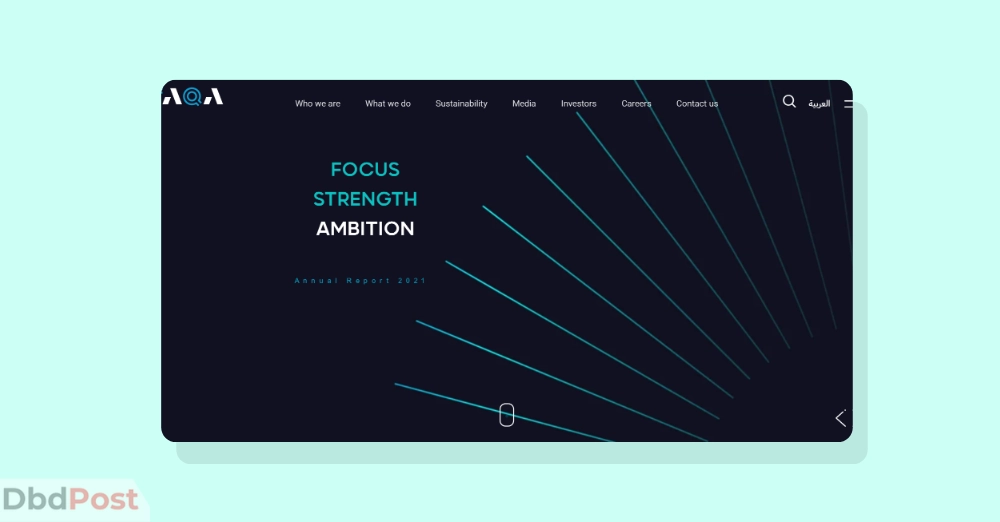 Abu Dhabi National Energy Company PJSC (TAQA) was established in 1998. Since then, it has grown to become one of the top 10 integrated utilities in the EMEA region. It has also been a publicly-listed company with the Abu Dhabi Securities Exchange (ADX) since 2005.
TAQA operates oil and gas operations in 11 countries across the globe. It possesses 13 operational power generation and water desalination plants.
TAQA also owns transmission and distribution networks and grids. They provide electricity to over a million individual end-user connections throughout the UAE.
TAQA does all this with its two distribution companies: Abu Dhabi Distribution Company (ADDC) and Al Ain Distribution Company (AADC). They also provide a wide range of energy services through its subsidiary Abu Dhabi Energy Services (ADES).
4.

Sharjah National Oil Corporation (SNOC)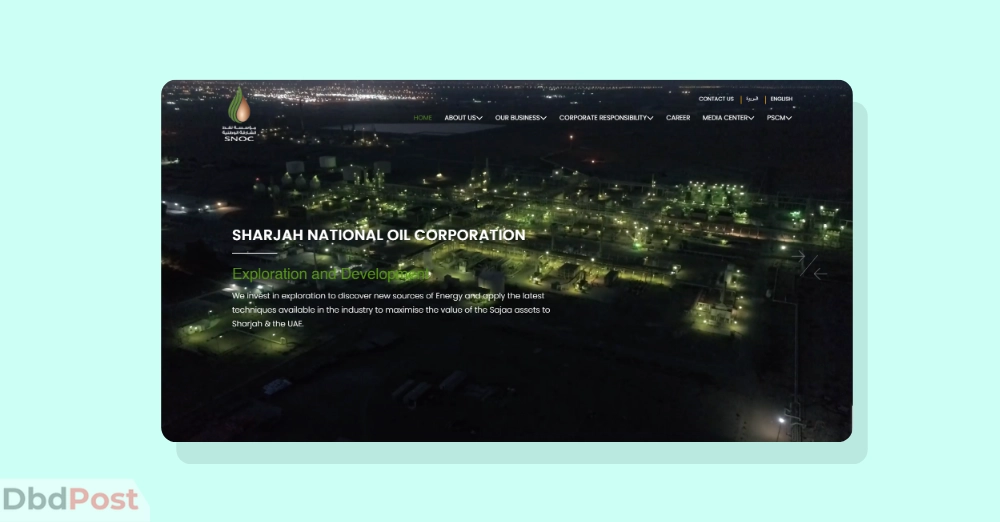 Sharjah National Oil Corporation (SNOC) was established in 2010 by Sharjah's Ruler, His Highness Dr. Sheikh Sultan Bin Mohammed Al Qasimi.
SNOC has three gas condensate fields and two export terminals located at Hamriyah. Their main objective is strategically focusing on production growth, aiming for an 11% rise by 2030.
As a whole, implementations and developments carried out by SNOC provide an edge in fulfilling Sharjah's future energy supply needs.
5.

Abu Dhabi Oil Co Ltd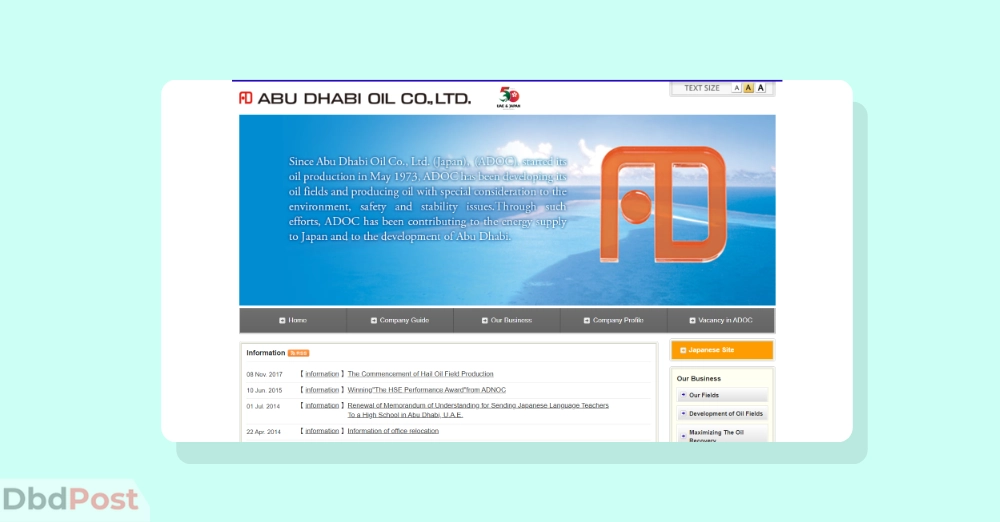 Abu Dhabi Oil Co. Ltd (Japan) was established on January 17, 1968, and has been a prominent Japanese oil company since then.
It started its productions with Mubaarraz Islands in June 1973, followed by the Umm Al-Anbar Oil Field in 1989 and Neewat Al-Ghalan Oil Field in 1995.
Since then, the company has strived to refine and export quality oil. It also has provided employment and has become the industry leader in the UAE and Japan.
With its technology and emphasis on sustainability, ADOC provides efficient production of natural resources to its customers worldwide.
6.

Dubai Petroleum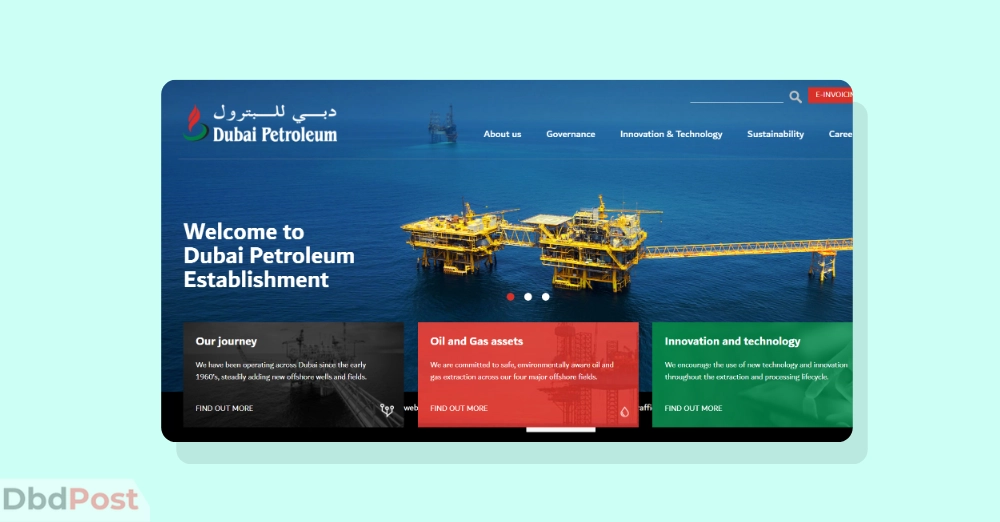 Dubai Petroleum has been a key player in the oil industry since it was established in 1969 by the Royal Decree of His highness.
In 2007, the company took over operations from CONOCO. It expanded existing projects and acquired its five major oilfields at Fateh, Rashid, Falah, Al Jalilah, and Aqam.
By fusing modern technology with rigorous safety standards, Dubai Petroleum aspires to find more efficient and sustainable fuel extraction methods.
The company hopes these new measures will also bolster stability and trust within the oil industry for many years.
7.

SERGAS Group – Natural gas companies in UAE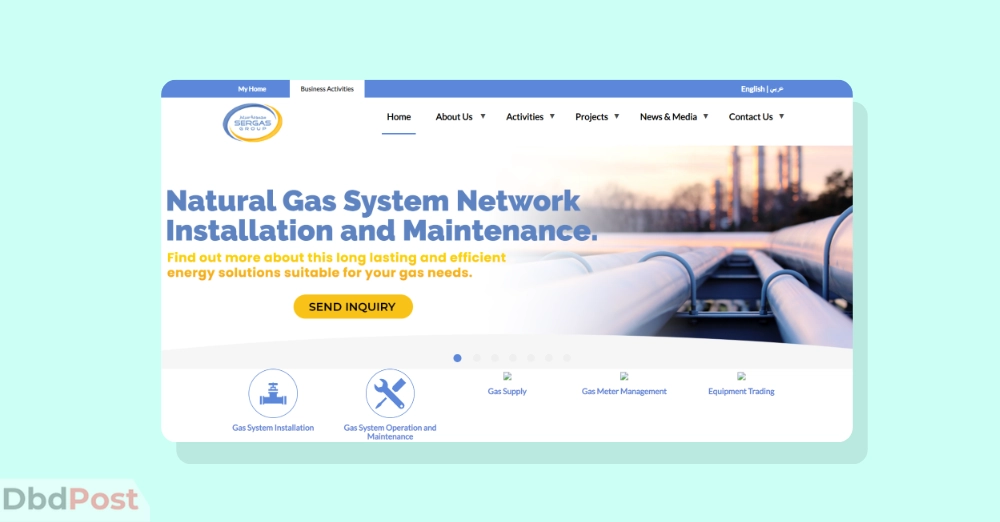 Founded in 1988, SERGAS Group is one of the Middle East's most reliable gas system solutions providers. SERGAS has provided customized solutions for over 2000 projects across GCC countries, specializing in LPG, SNG, NG, and Medical Gas services.
As a testament to its commitment to safety and quality standards, SERGAS has attained ISO 14001-2015, ISO 45001-2018, and ISO 9001-2015 certifications.
Today, SERGAS' vision is to be the leader in the gas industry by training personnel and implementing the latest technology to stay competitive.
With operations already extended to Oman and the Kingdom of Saudi Arabia, plans are also being made to enter other countries.
8.

Al Masaood Energy
Al Masaood Energy is a member of the Al Masaood Group, established in 1971. They are one of the first established oil and gas companies in UAE.
The energy company provides advanced energy services throughout the UAE, the Middle East, North Africa, the Eastern Mediterranean, and South Asia. They also have subsidiaries in Saudi Arabia, Kuwait, Oman, Algeria, Cyprus, and Pakistan.
Al Masaood is also a local distributor to major industry players within the oil sector. They have been working with clients such as ADNOC and ARAMCO.
Their years of experience have given them unrivaled expertise for top-tier services to meet their customer's needs.
9.

SPEC Oil & Gas FZCO- Multinational oil and gas companies in UAE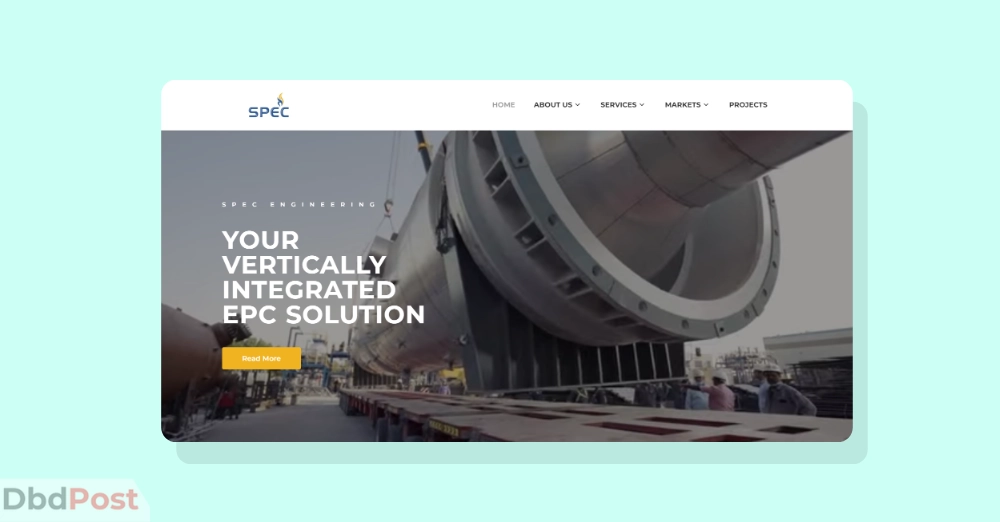 Since its establishment in 2000 in Texas, SPEC Oil & Gas FZCO has established a global footprint. The company expanded to UAE in 2008, strengthening its Engineering, Procurement, and Construction(EPC) capabilities in the Middle East.
This global EPC company is a premier solutions provider for the energy, oil and gas, new energies, and refineries & petrochemicals industries. SPEC offers comprehensive services from project feasibility studies to delivery of turn-key projects.
The company strives to become a global energy solution provider with its state-of-the-art infrastructure. Hence, the company has continued to build partnerships with reputable names such as DANA Gas, ExxonMobil, and Fox Oil.
10.

Marjan Industrial Development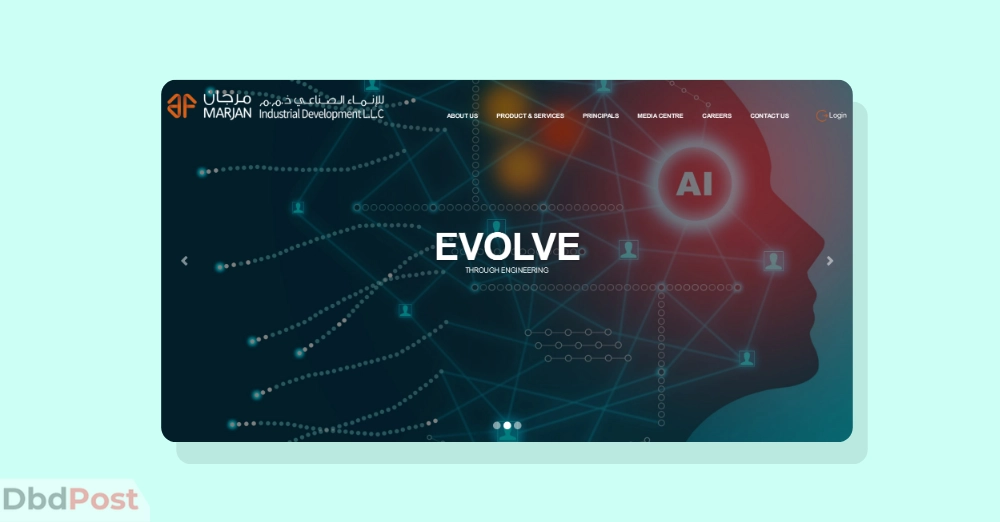 Marjan Industrial Development is the oil and gas arm of ALFAHIM Group. It was established in 1978 and is recognized as one of the pioneering Emirati establishments.
They have associations with overseas technical service providers and principal manufacturers. Marjan provides its customers with services like drilling equipment, mechanical equipment, pipeline infection, safety training, and more.
Their partner portfolio includes well-known international firms such as Absolute, Alderley, Brush, and PSS that have contributed to a high quality of service delivery. All this makes Marjan Industrial Development a key player in the oil and gas industry it operates in.
11.

Emarat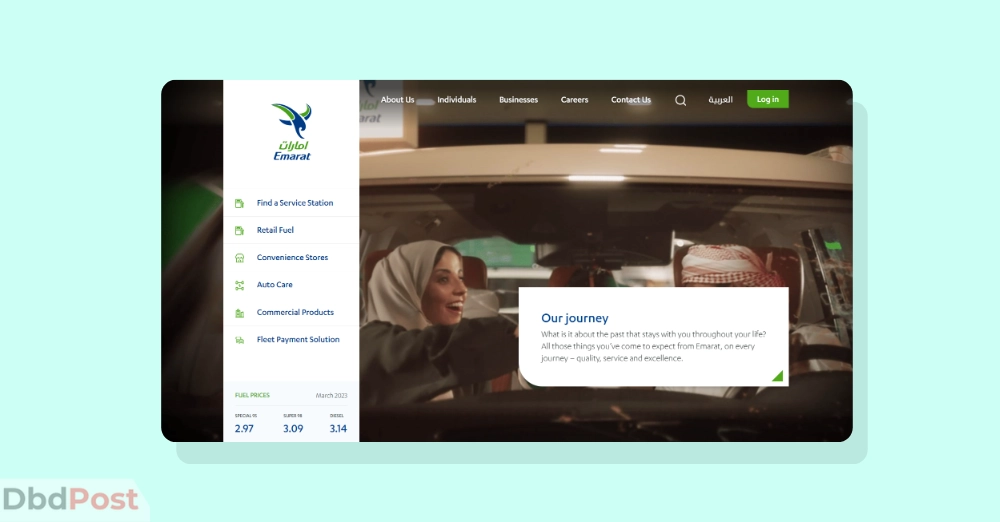 Established in 1981, Emarat is a multi-channel power and energy company.
Emarat meets the day-to-day petrol and LPG needs of millions of people. With 40 years of serving the UAE, Emarat pumps an impressive 86 million liters of fuel every month.
The company's reputation for providing great value and high quality has enabled a network across the Emirates. In addition, they have more than 100 service stations in Dubai and the Northern Emirates.
They distribute residential customers from their own LPG bottling plants situated in the Jebel Ali Free Zone and also from a distribution center in Al Qusais.
12.

Raven General Petroleum LLC Dubai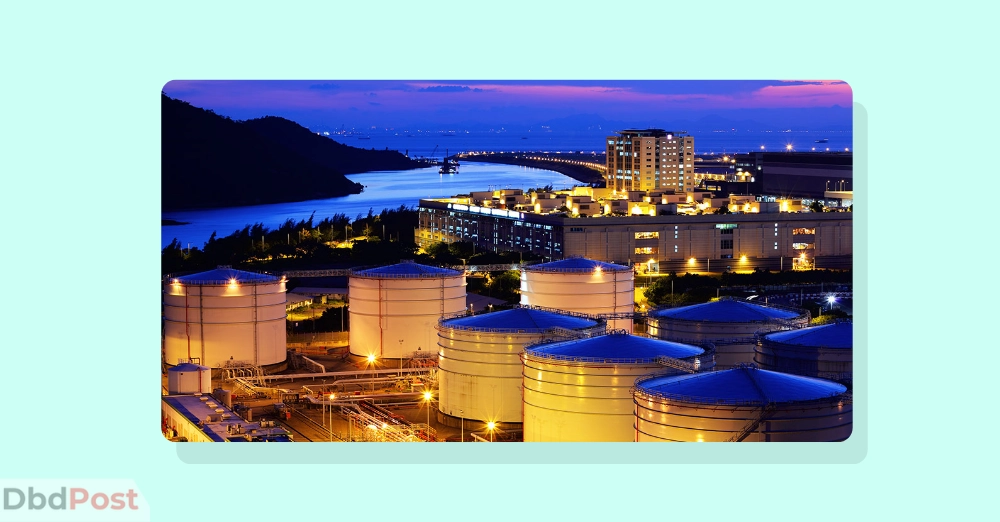 Raven General Petroleum LLC, based in Dubai, is a premier energy commodity trading company and part of the Raven Resources Group.
Raven specializes in producing and prospective properties in Asia, Africa, and The Middle East. They consistently trade 50 thousand tons of commodity and petroleum products monthly.
Raven's commercial activities include oil trading, shipping, and soft commodities. This company has established solid trading counterparty relationships across 60 countries worldwide.
Also, Raven's international connections have enabled them to foster 14 global locations with 100+ onshore and offshore operations with certified oil field equipment.
With Raven General Petroleum LLC at your service, you can rest assured that you're in good hands with the best quality services.
13.

NGC Energy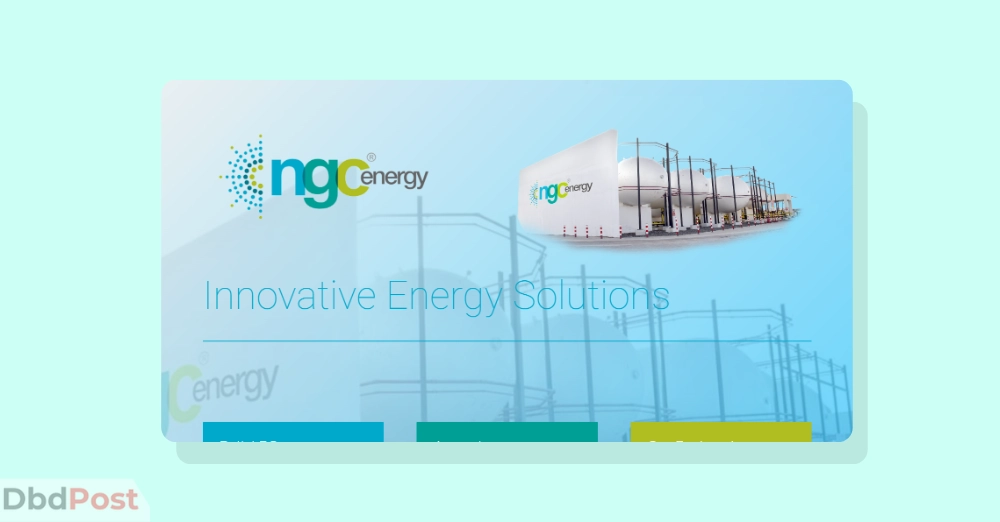 NGC Energy UAE is a National Gas Co (SAOG)-Oman subsidiary and has been at the forefront of the LPG marketing business. It is a Joint Stock Company committed to providing innovative solutions that benefit its customers and environment.
NGC Energy UAE is part of a larger group of companies operating in six countries, boasting years of experience delivering unparalleled quality and reliability.
As a leader in innovation, they continue to create powerful products that can bring life-enriching benefits.
14.

Central Gas Contracting LLC – Gas company in UAE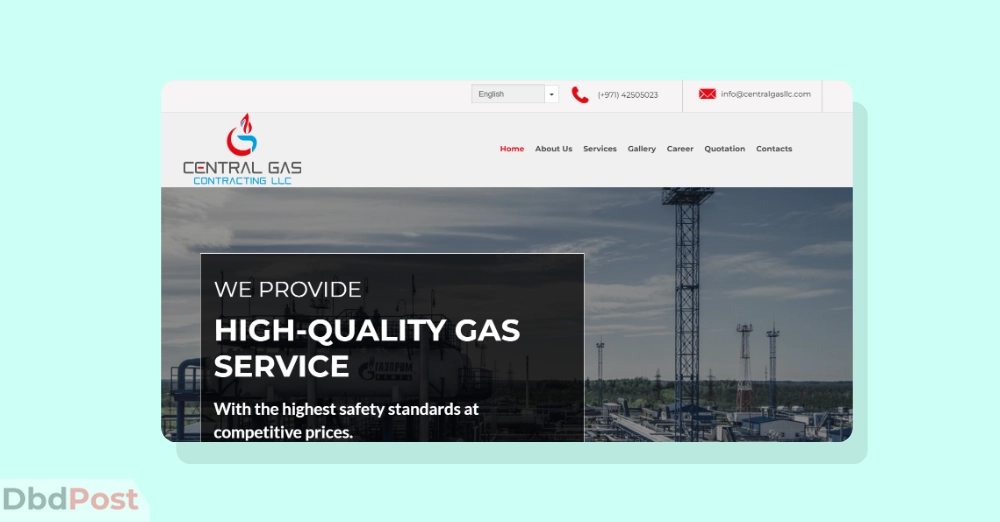 For the past decade, Central Gas Contracting LLC is recognized for central gas system installation and LPG/Propane supply within UAE.
To ensure the quality of their services, they have achieved the accreditation of ISO 9001:2008, ISO 14001:2004, and OHSAS 18001:2007 standards.
Their services encompass designing, supplying, installing, testing, and commissioning gas systems for residents, industries, schools, hospitals, and more. Safety is one of their top priorities, so they offer gas leak detection services, maintenance contracts, consultation, and training.
Oil and gas industry in UAE
The United Arab Emirates (UAE) is a significant player in the global oil and gas industry. It is among the world's ten largest oil producers and ranks sixth globally.
According to the U.S. Energy Information Agency, the UAE holds the seventh-largest proven natural gas reserves globally. This is equivalent to 97.8 billion barrels of oil annually and over 215 trillion cubic feet of gas reserve.
96% of the country's roughly 100 billion barrels of proven oil reserves were located in Abu Dhabi. [1]ITA, "UAE oil industry, https://www.trade.gov/country-commercial-guides/united-arab-emirates-oil-and-gas" The UAE produces an average of 3.2 million barrels of petroleum and liquids per day.
The oil and gas companies in UAE play a vital role in the country's economy, accounting for 30% of its GDP and 13% of its exports.
However, the UAE recognizes the need to transition to a more sustainable energy future and has prioritized it. The country was the first Arab state to set a "net-zero" emissions target. A commitment to reducing its carbon footprint with the use of renewable energy sources.
Related Stories:
---
FAQs
Final thoughts
The oil and gas industry in the UAE is a crucial component of the country's economy and plays a significant role in the global energy market.
The gas and oil company in UAE operating in this sector are well-established with infrastructure and technology to ensure efficient production and delivery of their products. The country's strategic location, favorable government policies, and partnerships with international companies attract investment in the oil and gas company in UAE.