Explore the region's finest veggie delights at some of the best vegetarian restaurants in Dubai. From high-end restaurants to casual eateries, there are plenty of options for vegetarians to enjoy delicious and satisfying meals.
Dubai is home to a diverse culinary scene and offers vegetarians a wide range of options. From classic Indian and Middle Eastern dishes to innovative international cuisine, these restaurants satisfy the craving for vegetarian food. Some of the top vegetarian restaurants in Dubai are Tum Tum Asia, Soulgreen Dubai, Rasoi Ghar Restaurant, and more.
Our Dbd guide provides an informative and comprehensive look at the best vegetarian restaurants in Dubai. We researched, visited, and evaluated the best veg restaurants in Dubai.
We looked into popular food blogs and online customer reviews in our research process. Also, we interviewed locals and tourists for honest feedback for our evaluation.
11 best vegetarian restaurants in Dubai
With an array of top restaurants offering plant-based options, Dubai is a vegetarian paradise.
From traditional Indian vegetarian restaurants serving up classic dishes to innovating new vegan eateries dishing out creative fares.
1.

Tum Tum Asia – Best Pan-Asian Vegetarian Restaurant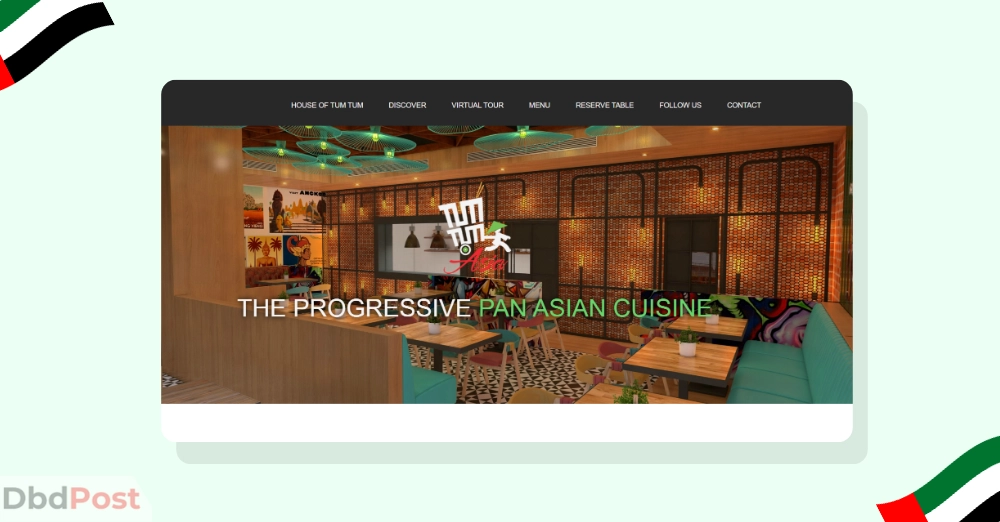 Tum Tum Asia is a fantastic restaurant that offers pan-Asian cuisine with a twist, everything is 100% vegetarian.
You can journey through the streets of China, India, Singapore, Thailand, Malaysia, and Japan without ever leaving your seat.
Chef Akshay Nayyar has crafted dishes that taste authentic to their original flavors. From Dim Sum and Satays to Kebabs and Sushi, their selection of street bites is very tasteful.
Don't forget to try out some of their refreshing fruit juice blends or Goti sodas.
Overall, Tum Tum Asia provides an exciting atmosphere where everyone can best vegetarian food in Dubai for an affordable price.
2.

Comptoir 102 Healthy Cafe and Concept Store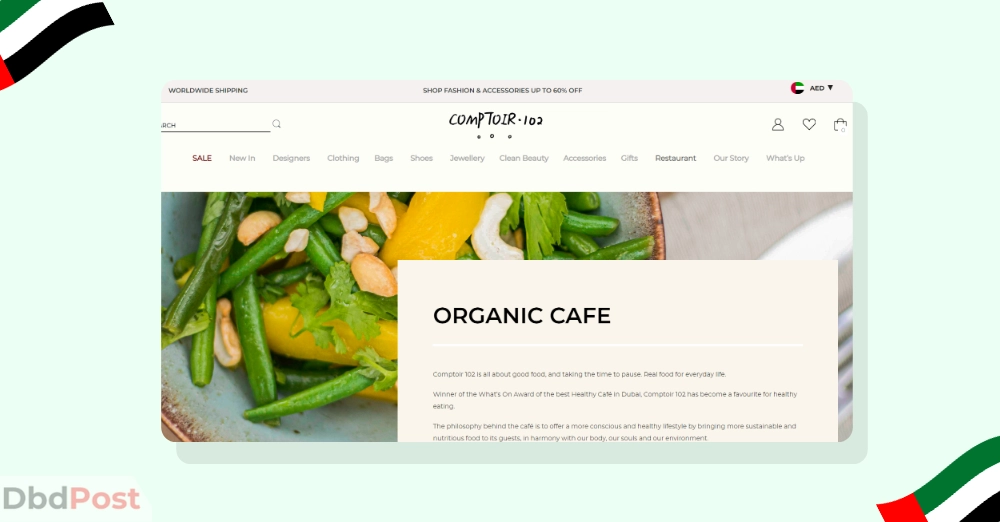 Comptoir 102 is about good food, pausing, and healthy lifestyles. This award-winning café offers organic, vegan, raw, and gluten-free food and amazing drinks.
Their Acai Bowl, Vegan Kale Caesar Salad with Avocado, Rainbow Pancake, and more are perfect for everyday life.
If you prefer something hot, their Chai Latte, Rose White tea, and Slim juice are super tasty.
You can eat in or have it delivered to your home, Comptoir 102 has got you covered. Visit this fantastic cafe today for a holistic, healthy experience.
3.

Rasoi Ghar Restaurant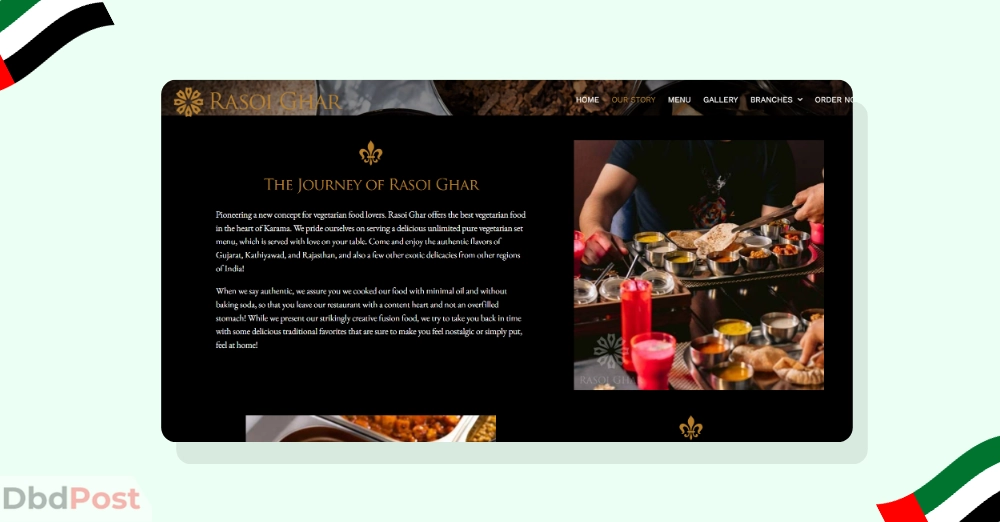 Rasoi Ghar is a top choice for delicious and nutritious vegetarian food. The restaurant features a diverse menu with minimal oil and no baking soda.
From the popular Aloo Patal Bhaaji to the tasty Sandwich Dhokla, Khichdi, and Jalebi, there is something for every taste preference.
You can experience the ultimate 3-course meal with the chef's Indian tadka.
If you're searching for a top-notch Indian vegetarian restaurant, Rasoi Ghar is the perfect place to fulfill your cravings.
4.

SpiceKlub – Best Indian Vegetarian Restaurant Dubai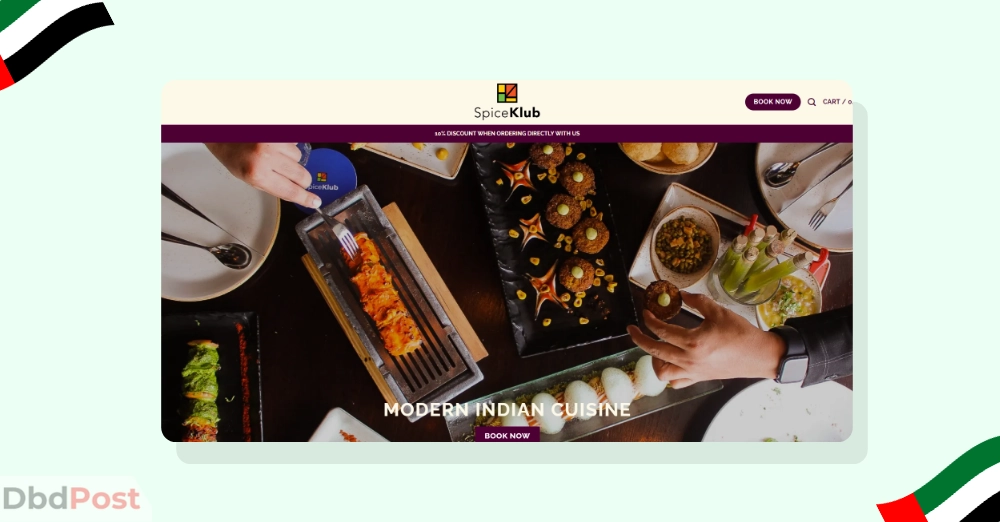 SpiceKlub is the ideal spot for those looking to enjoy Indian vegetarian bites. They offer a unique blend of traditional cooking techniques and ingredients with a contemporary twist.
Some standout dishes include Panipuri, Kebabs, the signature SpiceKlub Palak Chaat, Paneer Kadai, and Chole. Treat yourself to creamy cheesecakes, mango ice cream, or Kulfi for dessert.
The drink menu is just as noteworthy, with options such as margaritas and mango mojitos and fresh juices, tea, and mango lassi.
You will feel comfortable in the welcoming atmosphere and be greeted by friendly staff at SpiceKlub.
5.

Soulgreen Dubai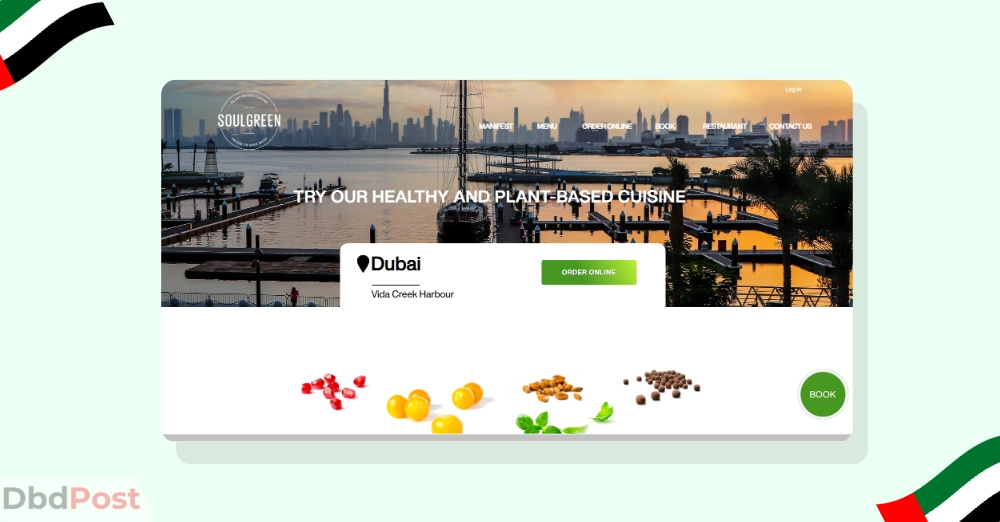 Soulgreen Dubai is one of the popular veg hotels that offers delectable dishes made from seasonal ingredients and focuses on preserving biodiversity.
They source from small-scale farming operations that share their values and avoid using processed foods.
Also, they use reusable and biodegradable containers for all their food to reduce waste and benefit the environment.
Some of the most sought-after items are Hummus, Crisps and Dips, Guacamole, and the Asian Bowl. Also, you can enjoy Italian Bowls, the Red Quinoa Burger, and Falafel Wrap.
Visit Soulgreen Dubai today to experience some delicious vegetarian offerings.
6.

Hari Prasad Pure Vegetarian Restaurant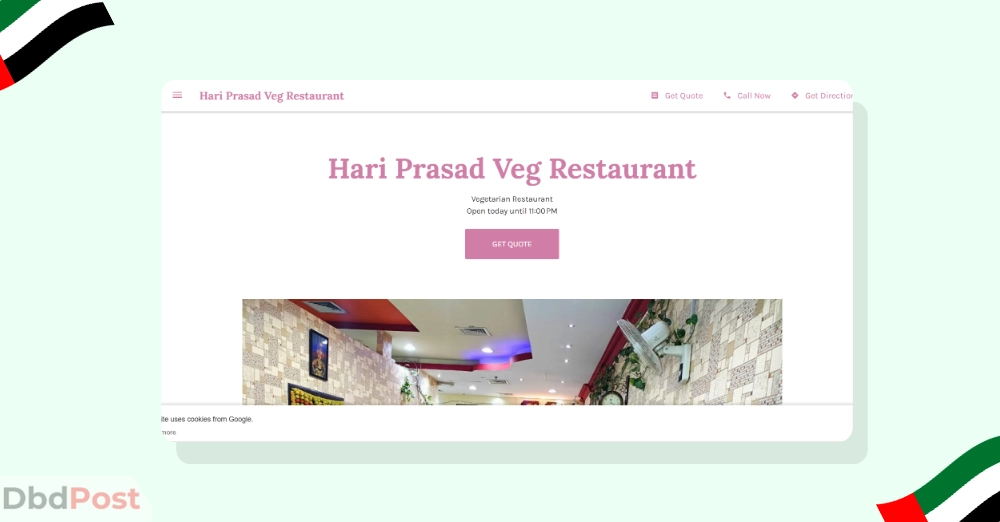 Hari Prasad is the perfect destination for those who enjoy authentic Indian and vegetarian cuisine.
They serve various dishes such as Idli, Masala Dosa, and Vada, as well as pancakes and biscuits. The Paneer Tikka Masala and Butter Naan are a must-try.
In terms of beverages, they have plenty of options, including coffee, Masala Chai, and lemonade.
The knowledgeable and friendly staff provide excellent service, making your experience at Hari Prasad even more enjoyable.
And to top it off, you'll be able to dine without breaking the bank, as the restaurant offers many affordable dishes.
Visit Hari Prasad Restaurant for a welcoming atmosphere, lovely decor, and delicious food.
7.

Maharaja Bhog Restaurant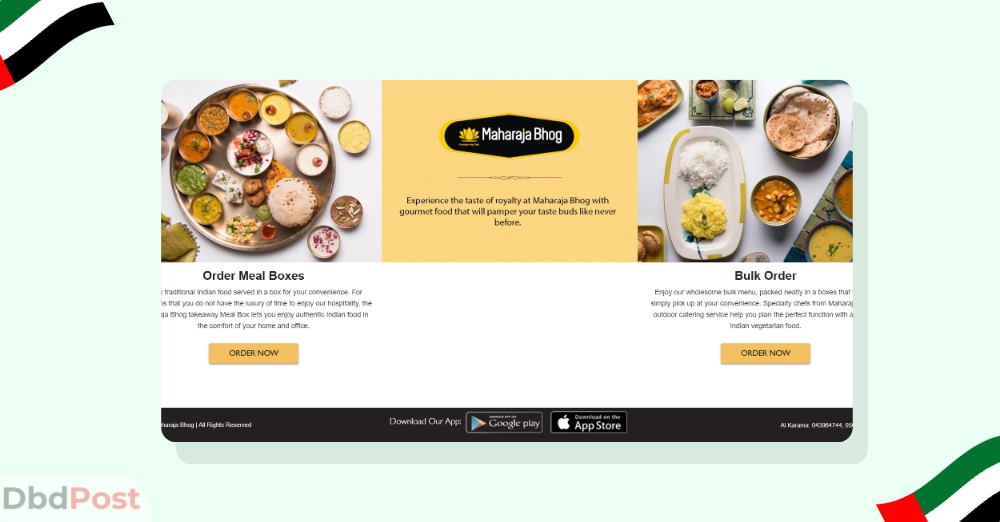 Maharaja Bhog Restaurant offers a unique Indian and Vegetarian dining experience. Enjoy their special dishes such as Masala Papad, Khichdi, and Dhokla.
The Potato and Punjabi recipes provide an authentic North Indian taste. Desserts like Kulfi, Pudding, and Jalebi are not to be missed.
The Mango Lassi is an excellent drink to accompany your meal. The staff at Maharaja Bhog is friendly and provides fast service, and the prices are affordable.
With a comfortable atmosphere, great service, and authentic food, Maharaja Bhog is a fantastic choice for everyone.
8.

Kamat Vegetarian Restaurant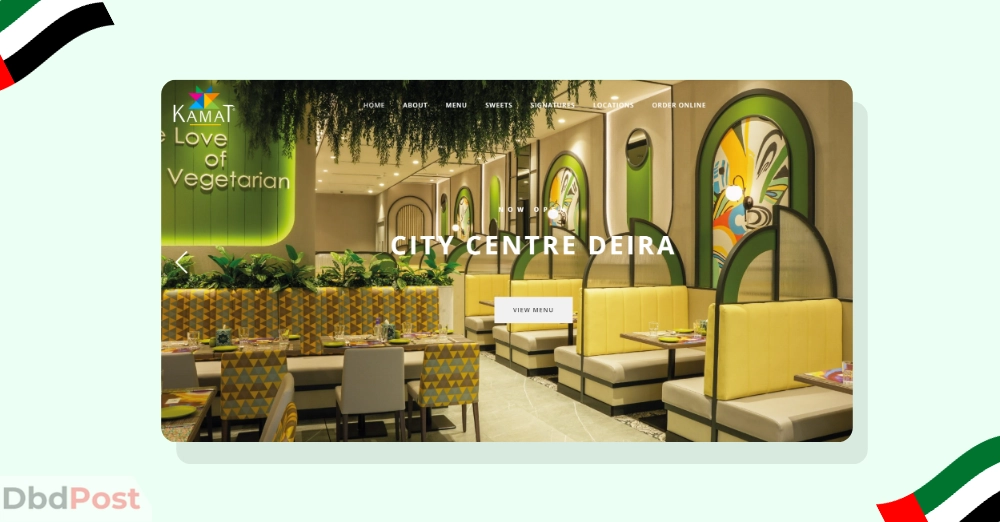 Established in 1992, Kamat opened to delight vegetarian food enthusiasts with excellent service and quality. Their commitment has not gone unnoticed, Kamat now operates seven branches across Dubai, Sharjah, and Abu Dhabi.
With this success, Kamat provides more than just award-winning veg food. You can find meals from all corners of India's subcontinent and a delicious selection of Chinese dishes.
Their menu features over 90 North Indian foods, over hundreds of South Indian varieties and Chinese treats.
Their signature Veg Thali, Veg. Manchurian and Bisi Bele Bhath are must-tries.
After nearly 30 years in business, Kamat continues to build strong connections with its loyal customers through its amazing food offerings.
9.

Sangeetha Vegetarian Restaurant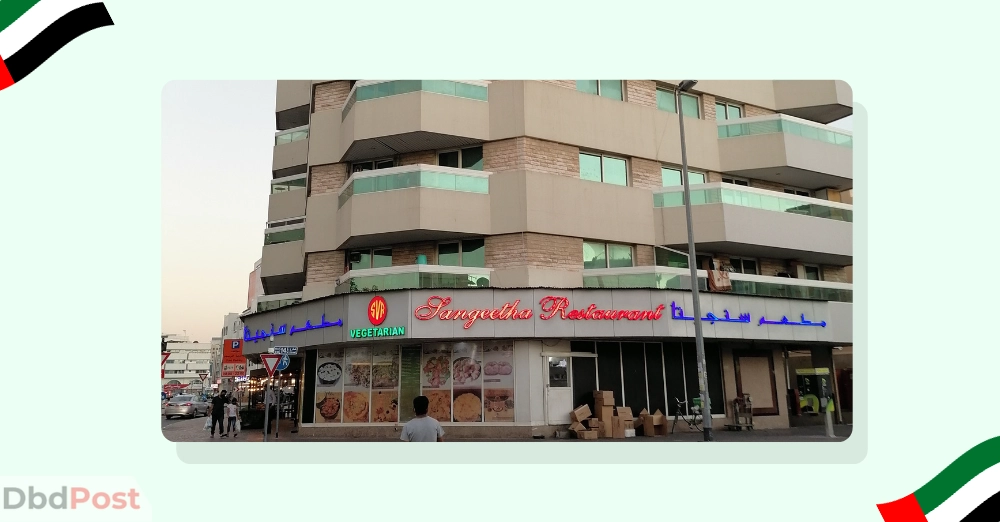 Visiting Sangeetha Vegetarian Restaurant is a delightful experience. The restaurant is conveniently located and easily accessible by any form of transportation.
Its specialities include Vada, Upma, and Sambar. The menu also features popular dishes like Butter Naan, Biryani, and Paneer Pulav. Accompany your meal with a cup of coffee, masala chai, or juice.
The staff are professional, friendly and works hard to provide you with an enjoyable experience.
With delicious food, friendly staff, and affordable prices, Sangeetha Vegetarian Restaurant is a top choice for vegetarian dining in Dubai.
10.

MyGovinda's Restaurant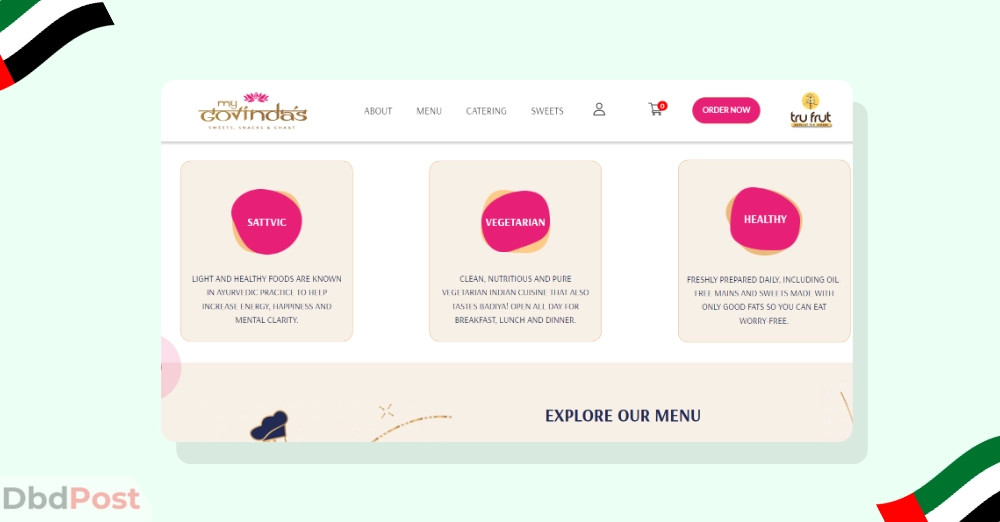 At MyGovinda's Restaurant, you can enjoy a feast of Indian Sattvic cuisine. With over two decades of serving fresh and healthy vegetarian and vegan dishes in Dubai, this eatery is renowned for its quality food.
The menu highlights include must-try dishes like Vada Pav, Idli Sambar, Masala Dosa, and Tomato Uttapam. They are made with the freshest ingredients and prepared without use of preservatives.
Experience a healthy meal for both the body and mind at MyGovinda's Restaurant, with its nutritious food, and relaxed atmosphere.
11.

Saravanaa Bhavan Karama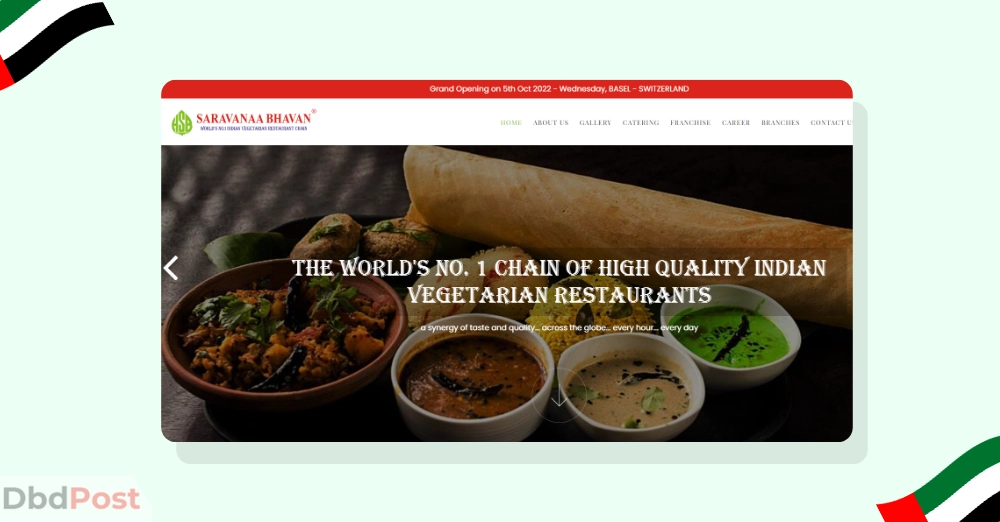 Saravanaa Bhavan is the ultimate South Indian vegetarian restaurant. With 81 outlets globally, Saravanaa Bhavan offers several plant-based dishes to customers.
With a menu filled with over 350 dishes, it's impossible not to find something to enjoy. Their unique dishes include Masala Dosa, Kerala Parotta, Appam, and Hot Idli.
What makes this a popular vegetarian destination is its highly hygienic conditions and clean environment.
With its great food, hygienic conditions, and buzzing atmosphere, Saravaana Bhavan takes you on a tour of South India.
How vegetarian-friendly is Dubai?
Dubai is a diverse city with a large ex-pat population, so it is relatively easy to find vegetarian and vegan-friendly restaurants.
Many Indian and Middle Eastern restaurants offer a variety of vegetarian dishes, such as falafel, hummus, and lentil soups.
However, it is essential to note that vegetarianism is not as common in Dubai as in other parts of the world. Many traditional dishes contain meat, and it can be challenging to find truly vegetarian options in local restaurants.
Many restaurants in Dubai offer specials or discounts for vegetarians, such as "Meatless Mondays" or "Vegetarian Wednesdays." [1] Khaleej Times, "UAE's first Meat Free Monday, https://www.khaleejtimes.com/uae/uaes-first-meat-free-monday-launched#:~:text=The%20initiative%20was,planet%27s%20own%20health." You can also find many restaurants have vegetarian sections in their regular menus.
While vegetarian-friendly restaurants may be limited in Dubai, they are still readily available in restaurants. Many international chain restaurants and Indian and Middle Eastern restaurants offer various vegetarian options.
Also, restaurants in Dubai also offer specials or discounts for vegetarians; some have dedicated vegetarian menus.
How much does a vegetarian meal cost in restaurants in Dubai?
The cost of a vegetarian meal can vary according to the location, the specific dish you ordered, and the quality of the ingredients.
The cost of a vegetarian meal in restaurants in Dubai can range from 20 AED for a basic falafel sandwich to 150 AED for a multi-course meal at a fine dining restaurant.
Many casual dining restaurants and fast food chains offer vegetarian options at a relatively low cost.
On the other hand, fine dining restaurants may charge more for their vegetarian dishes. For example, a multi-course vegetarian meal at a high-end restaurant may cost around 150 AED or more.
Related Stories
---
FAQs
Final thoughts
The best vegetarian restaurants in Dubai are an excellent choice for anyone exploring the city's fantastic culinary offerings.
From experimental flavor and a cozy cafe to a grand veg buffet and fine dining experience, there is something for everyone.
We hope that our guide helped you find some of the best veg restaurants in Dubai.
Don't miss out on these fantastic offerings, and visit one of the many Pure vegetarian restaurants in Dubai today.