Cheap flights from UAE to Pakistan can save you a lot if you plan to travel soon. They aren't easy to find, but you can do it with some effort.
There are several international airlines for you to choose from. Every week, you can find many flights to various cities in Pakistan.
It's never been easier to buy tickets, but increased demand has made them more expensive. Flights to Pakistan could be a significant financial issue on a tight budget.
This Dbd travel guide will let you know how to find cheap flights from UAE to Pakistan. Let's begin.
10 ways to find cheap flights from UAE to Pakistan
We have 10 tips for finding cheap deals on flights to Pakistan from Dubai and UAE.
Some of them are more technical, but we have explained them in a way that is easy to understand for everyone.
1.

Book a flight from UAE to Pakistan ahead of time

If you plan a trip to Pakistan, it's important to book your flight ahead of time. It will allow you to find the best possible deal on airfare and avoid the rush and stress of last-minute travel.

You need to make sure you have all of your travel documents before leaving for your trip. It includes your passport and any vaccinations or other medical requirements.

When it comes to finding cheap flights, timing is everything.

If you wait too long to book, you might miss out on the best deals.

The best time to book a flight is a few months in advance.

In addition, booking in advance also gives you a better chance of getting your preferred seat on the plane.

So if you are looking for the best deal on your flight from Dubai to Pakistan, be sure to book early.
2.

Fly from Dubai to Pakistan during off-peak times

If you are looking to save money on your next flight to Pakistan, consider flying during the off-peak season.

You can often get cheaper flights by flying during a less popular time. Of course, it's important to check the schedules of all the airlines serving Dubai to Pakistan before booking your flight.

Airlines typically charge more for tickets during peak travel periods when demand is high. So if you are willing to travel during less popular times, you may be able to snag a cheaper flight.

Keep in mind that off-peak times can vary depending on your destination. So it's always a good idea to check with your airline or travel agent before booking.

If you adjust your travel dates a little, flying during the off-peak season is a great way to save money on your trip.
3.

Be adjustable with your travel dates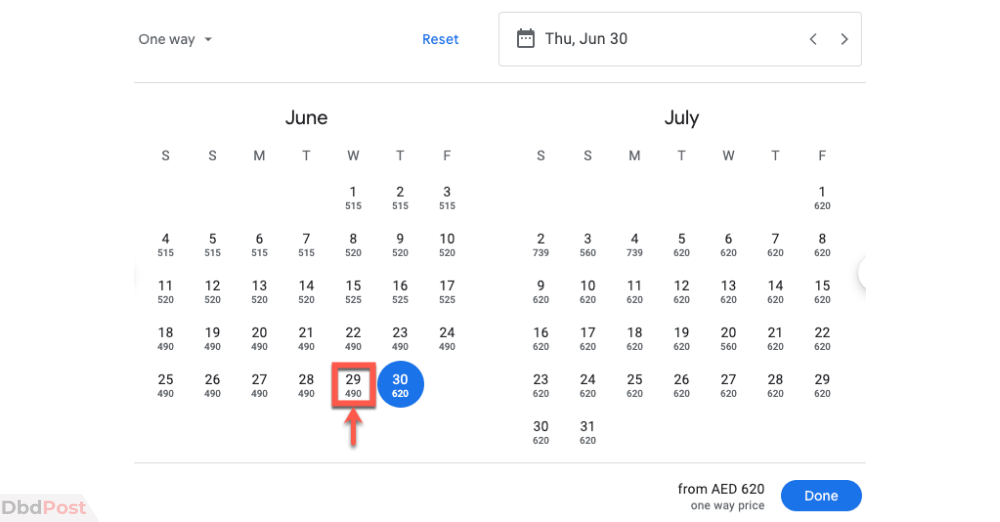 One of the best ways to get cheap tickets from Dubai to Pakistan is to be flexible with your travel dates. In other words, you should move your flight date to one that has the cheapest fare.
If you can get on a flight to Pakistan immediately, you may even be able to find last-minute deals that can save you a lot. Even if you have to plan your trip a few weeks in advance, you can still get significant savings by choosing lower fares dates.
So if you are willing to modify your travel schedule, you could save a lot of money on your flight tickets.
4.

Use incognito mode to search for cheap flights from UAE to Pakistan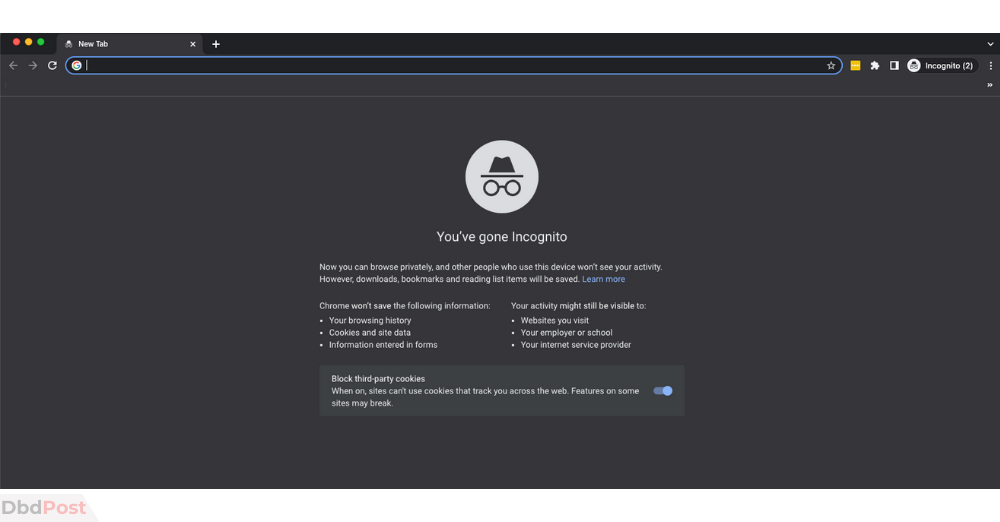 Using your browser's incognito mode helps you find cheap flights from Dubai to Pakistan.
This mode prevents your browser from storing cookies, which means that airlines and travel websites can't track your search history. As a result, you are less likely to see raised prices based on your previous searches.
To use incognito mode, right-click your browser's icon and click 'New incognito window' or 'New private window.' If you are on your phone, you may need to turn on incognito from settings. It will be different depending on which browser you're using.
Just open a new incognito window and proceed with your search as normal. You will receive unbiased and true results if you do it.
5.

Use multiple search engines to book cheap flights from UAE to Pakistan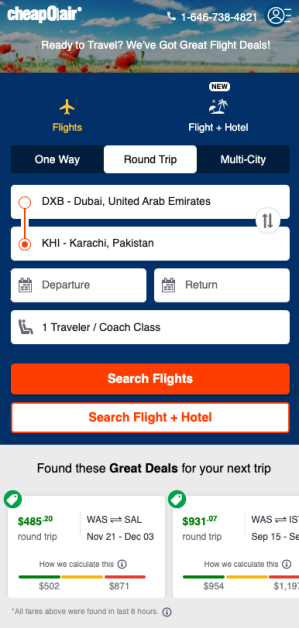 When booking a flight from the UAE to Pakistan, comparing prices across multiple flight search engines is important. It is because different engines often have different deals and discounts available.
Whichever engine you use, be sure to set your filters as necessary. It will help to make your search simpler and more efficient.
Once you have found a few cheap flights that fit your travel dates and itinerary, you can book directly with the airline or travel agent.
Here is a list of the best flight search engines:
Best over flight search engine for international travel
Customer support is great
Expansive search results
Advanced search options are available
It Shows the cheapest flights of the day on a calendar
Quickest search results display
Displays airlines that most other websites lack
Convenient ticket booking system
Best prices aggregator of multiple airlines
Highly useful search results
Amazing customer support
Displays real-time flight updates
Globally expansive flight search engine
Fast flight information retrieval
Cheap lesser-known airlines are also shown
You are more likely to find low-cost flights from Dubai to Pakistan by checking multiple search engines.
6.

If you travel frequently, use travel reward programs
Traveling can be expensive, but there are ways to offset the cost. You can take advantage of travel reward programs to do this.
Many airlines, hotels, and credit card companies offer programs that allow customers to earn points or miles. You can redeem these points for free or discounted travel.
For example, some airlines offer a certain number of points for every mile flown, which you can use for future flights.
And many credit card companies offer travel-related perks, such as free baggage check or priority boarding.
By taking advantage of these programs, travelers can save money and enjoy more affordable vacations.
We recommend these air mile credit cards if you are in Dubai and UAE:
Citibank – Emirates-Citibank Ultimate
Best overall credit card for UAE travelers
Obtain AED 800 bonus when you join
For every dollar spent, earn up to 1.25 Skywards Miles
Mashreq – Platinum Elite Credit Card
Get AED 1000 as a joining bonus
Get 5 Salam points for spending 1 AED
Free airport lounge access
Use it with over 300 Airlines
For every AED spent, get up to 2.25 EI SmartMiles
HSBC – Platinum Select Credit Card
1 air mile spending AED 4
Annual fees are not needed
7.

Book a flight from Dubai to Pakistan in budget airlines

Budget airlines are much cheaper to fly, but they may compromise on some services. It is generally not an issue for shorter flights, such as the United Arab Emirates to Pakistan, but it is something to be aware of.

Additionally, budget airlines typically have stricter baggage restrictions, so check those before booking. If you are looking for the cheapest possible option, then budget airlines are the way to go.

Some of the best budget airlines to get cheap air tickets from UAE to Pakistan are as follows:
Comparatively cheaper than other airlines to fly from Dubai to Bangladesh
Frequent flight schedules
Offers low-cost flight
Flight is Dhaka and many other airports in Bangladesh
It offers a low-cost flying experience
Variety of flight times
Inexpensive airline
You can find a flight to Bangladesh almost every day
8.

Mix and match airlines to find cheap flights from UAE to Pakistan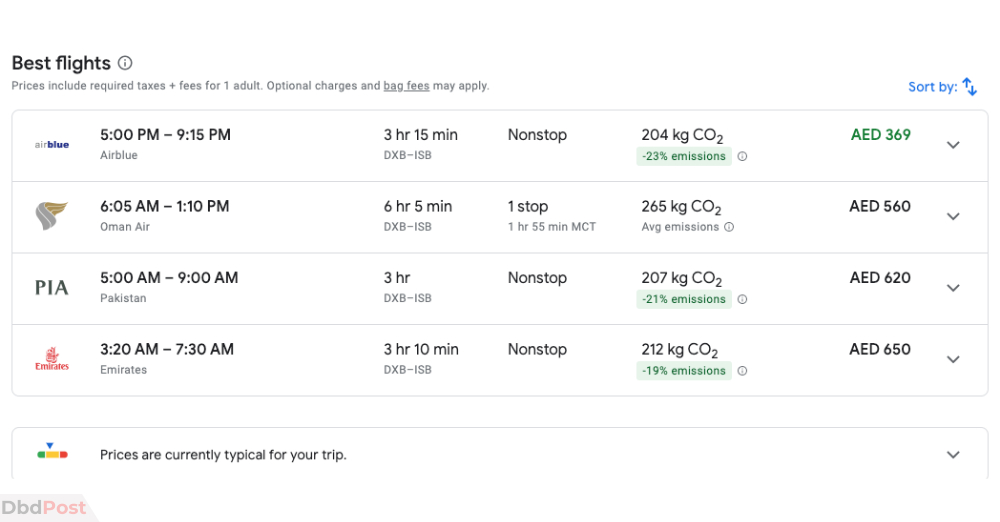 The shortest journeys are those that require no stops. However, if you are prepared to spend a little more time for a lower price, adding an extra stop to your journey may save you hundreds of Dirhams.
This method does not always work, but it does not hurt to check out. However, keep in mind that you may miss your second flight if your first flight is delayed.
The cost of a flight from Dubai to Lahore, for example, is AED 700. The flight from Dubai to Karachi costs AED 290, while the trip from Karachi to Lahore costs AED 200.
If you add an extra stop, you will pay only AED 490 rather than AED 700. You will save a few hundred AEDs in cash, which is valuable in Pakistan.
9.

Find the cheapest day to fly from UAE to Pakistan

Using Google flights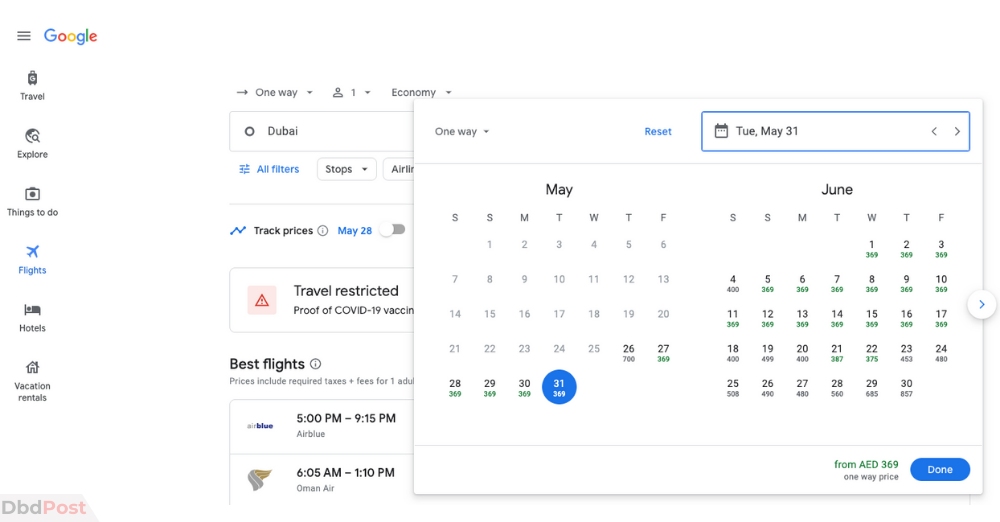 You can find the cheapest deals on every date by following these steps:
Go to the google flights website.
You will see a search field with labels "Where from?" and "Where to?". Above it, click on "Round-trip" and change it to "One-way." It doesn't show the cheapest flights if you choose the round trip option.
Enter Dubai and select the airport on the "Where from?" search field.
On the "Where to?" search field, enter an Indian city's name and select the airport.
Click on the calendar.
You will be able to see the cheapest deals on individual dates. If it is written in green, the price is below average.
Using Skyscanner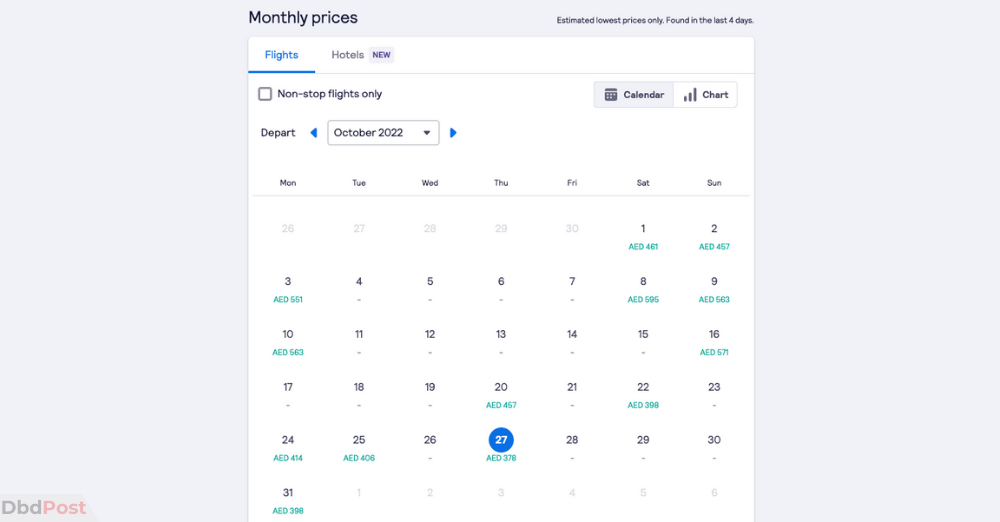 You can follow these steps to find the cheapest India flights on Skyscanner:
Go to skyscanner.net.
On its homepage, you'll see search fields with "From" and "To" labels.
Type Dubai on "From" and select an airport.
Type your Indian city's name on "To" and select an airport.
Click on the "Depart" box and select "Whole month." Then click on "Cheapest month."
Click the "Search Flight" button.
A calendar will appear, showing you the pricing for all days of that month.
10.

Look for pricing mistakes

When searching online, some people can get extremely cheap tickets. It's most likely a mistake if the advertised price is unusually low.

A digit may be missing when airlines are selling tickets online. A $580 ticket might be listed for just $58.

This blunder results from incorrect input, currency exchange mistakes, and other factors.

You will save a lot of money if you find a mistake like this.

However, these are difficult to find, and airlines generally correct them immediately. As a result, you must purchase these tickets immediately, or they will be taken by someone else.

To increase your chances of buying such affordable flights from Dubai to Pakistan, you can subscribe to the airfare to these websites:

Once you have signed up, make sure your notifications are enabled. You will be notified when a ticket costing significantly low appears online.

See also: Check out this Dbd travel guide on – cheap flights from Dubai to Bangladesh, if you are looking to travel to Bangladesh from Dubai.
Are cheap flight tickets from Dubai to Pakistan worth it?
Cheap tickets from UAE to Pakistan are entirely worth it if you have a limited budget. Fewer services are available than the premium airlines and better classes, but it isn't a significant compromise.
The flights between Dubai and Pakistan are only two to three hours long. That is a short time and not having some facilities will not affect you too much.
Flying on a budget airline will save you plenty of money if you travel frequently. It can be very beneficial in the long run, so you should think about it.
FAQs about cheap flights from UAE to Pakistan
Are flights operating from Dubai to Pakistan?
Yes, flights are currently operating from Dubai to Pakistan regularly. Multiple flights are operating at different times, so you will be able to catch one without hassle.
What is the cheapest month to fly from UAE to Pakistan?
The cheapest month to fly from Dubai to Pakistan is in October. Prices can be higher during other months due to increased demand.
How much does it cost to fly from Dubai to Pakistan?
It costs anywhere from AED 350 to over AED 8,000 to fly from UAE to Pakistan. The cost varies by class, but you should be able to get a flight for around AED 500 on a typical day.
What airlines fly to Pakistan from Dubai?
Multiple airlines fly to Pakistan from Dubai. Some of those airlines include Emirates, Flydubai, and Air Arabia.
How long does a flight from Dubai to Pakistan take?
A flight from Dubai to Pakistan takes anywhere from 2 hours 30 minutes to 3 hours. If you are taking an additional stop, it might take more time.
How many flights are there between Dubai and Pakistan?
There are usually around 4 flights per day from Dubai to Islamabad, Pakistan.
What is the cancellation fee when I cancel my flight from Dubai Intl. Airport (DXB) to Pakistan before it departs?
The cancellation fee depends on which airlines you have booked with. Canceling your flight a few hours before it departs will incur heavy fines.
Is emirates flying to Pakistan?
Yes, Emirates Airlines is flying to Pakistan at present. It has services in most major cities in Pakistan like Islamabad, Lahore, Karachi, Peshawar, etc.
Final thoughts
If you want to save money on airfare, you should look for cheap flights from UAE to Pakistan.
But finding cheap flights to Pakistan is not very easy.
Off-peak season is the best time to find cheap deals on flights to Pakistan from the United Arab Emirates.
So keep an adjustable trip schedule and be prepared to fly on short notice if you want the cheapest flight ticket.
By following these 10 tips, the cheapest flight to Pakistan will be within your reach!
We hope this Dbd travel guide answered your question on how to find cheap flights from UAE to Pakistan.
If you find this information helpful, share it with others who might be flying from Dubai and can benefit from the tips. We are thankful for your support.