Are you looking for an easy and affordable way to connect with friends and loved ones overseas? Look no further than the Rebtel app!
Rebtel is a VoIP (Voice over Internet Protocol) service that uses the internet to connect users worldwide. With Rebtel, you can make high-quality calls and send text messages to anyone, anywhere.
The most popular destinations on Rebtel are India, Nigeria, and Cuba.
Whether you're looking to download the Rebtel app and get started or just curious about how it works, this review has all the information you need.
Rebtel review: Quick summary
| | |
| --- | --- |
| Legit | Yes |
| Works on | Android and iOS |
| Free voice call | Available |
| Free texting | Available |
| Registration required | Yes |
| Payment required | Yes |
| Premium subscription | Available |
| Total downloads on the Google app store | 5,000,000+ |
| Released date: | 2006 |
| Available language | English, Arabic, French, German, Italian, Japanese, Polish, Portuguese, Romanian, Russian, Simplified Chinese, Spanish, Swedish, Turkish |
| Customer service | Available |
Pros and Cons of Rebtel
Pros:
Free calls for Rebtel users
Cheap call rates
No hidden fees
Easy to use
Free SMS
Available in many languages
Cheaper local numbers
Cons:
A limited number of supported countries
Reports of occasionally poor call quality
Features of Rebtel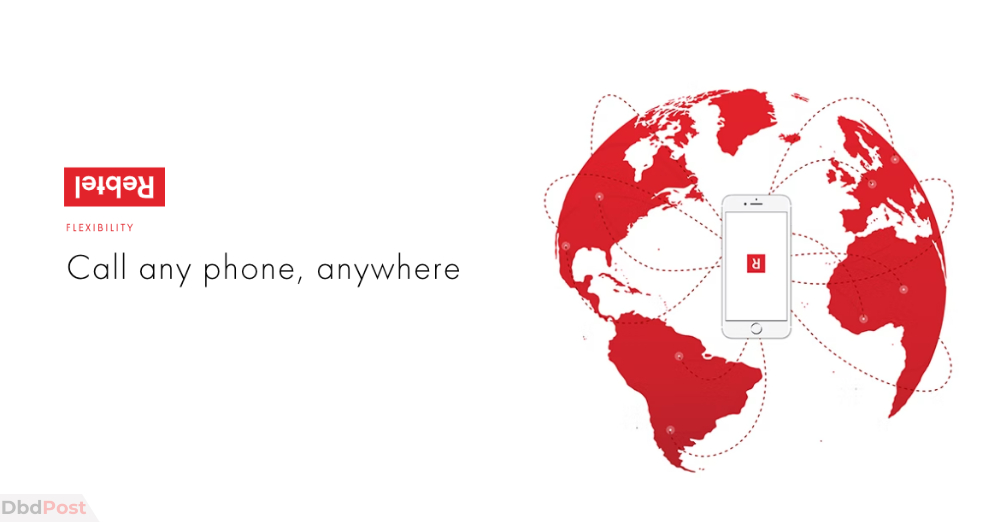 Various features make the Rebtel app so popular and helpful. These include:
Free calls: Rebtel allows you to make free calls overseas to the Rebtel users on both ends.
Cheap calls: Rebtel offers low-cost call rates to all your favorite international destinations. Even though it is not a completely free calling app for non-rebtel users, it is a cheaper alternative.
Mobile top-up: Rebtel also offers a convenient mobile top-up service, an easy and affordable way to add credit to your cell phone when you are overseas.
Group calls: The Rebtel app makes it easy to connect with large groups of people at once, whether they're all in one place or spread out across the globe.
Access Number: The Rebtel app provides you with local numbers to make calls even if you don't have an internet connection. [1] Rebtel, "Find Your Access Number, https://www.rebtel.com/en/access-numbers/"
Multiple countries: Rebtel currently supports calling to more than 50 countries worldwide.
Transfer credits: Through Rebtel, you can also buy and send credits to your loved ones in a different country.
Offline services: Through the access of the local phone lines, you can also use Rebtel to make international calls without an internet connection.
No hidden costs: One of the best things about using Rebtel is that there are no hidden fees or charges. The app is 100% free to use, and all you have to do is pay for any call credits you purchase.
Custom Plans: Rebtel also offers customized plans based on users' needs.
Free SMS: Free SMS is also available among uses where both of them have the Rebtel app.
Multiple devices: You can make calls through Rebtel on your mobile phone and landline.
The app has made quite a name for itself and has become one of the most popular VoIP services available with these features.
Related: Best Free Calling Apps in 2023
How to download the Rebtel app
The Rebtel app is available on both Android and iOS devices. To download the Rebtel app on your mobile phone, follow the following steps.
Step 1: The first step is to visit your mobile app store (Google Play or Apple App Store) and search for "Rebtel".
Step 2: Once you have found the app, tap on "Install" to begin the download process.
Step 3: Depending on your device and operating system, you may be prompted to enter a password or confirm the installation. Follow the prompts, and Rebtel will be downloaded in just a few moments.
That's it; the Rebtel app is ready to use! After downloading the app and setting up your Rebtel account, you can start making international calls and sending text messages immediately.
How to make international calls using Rebtel?
You have to follow these steps to make international calls through the Rebtel app.
Step 1: Open the Rebtel app and sign up for a Rebtel account.
Step 2: Choose a destination country and enter the phone number you want to call.
Step 3: Select the type of call and tap "Call."
Step 4: Enter access codes or PINs provided by your mobile carrier and press the call button.
Your call will connect, and you can start talking with your loved one on the other side of the world!
You can also use an existing contact on your mobile phone to make a call.
How to send a message on Rebtel?
To send a text message locally or internationally, just follow the following steps on the Rebtel app.
Step 1: Open the Rebtel app and sign in using your registered phone number and password.
Step 2: Tap on the "Compose" icon in the app's top-left corner.
Step 3: Type in the phone number you want to text, including the country code.
Step 4: Tap on the "Send" button to send your text.
That's it! Your text will be sent instantly to the recipient.
Free text messages through Rebtel are only possible if all the users involved have the Rebtel app.
Related: Best Free WiFi Calling Apps
How to cancel Rebtel subscription?
To cancel your Rebtel subscription, just follow these steps.
Step 1: Open the Rebtel app and sign in using your registered phone number and password.
Step 2: Tap on the "Settings" icon in the app's top-left corner.
Step 3: Scroll down and tap on "Cancel subscription".
Step 4: Enter the reason for canceling, then tap on "Cancel subscription" again.
Your subscription will be canceled immediately, and you will no longer be charged for Rebtel services.
Rebtel Call rates
Call rates often depend on the country that you are trying to call. Here are the call rates offered by Rebtel. The following is the pay-as-you-go rate for different countries.
| Country | Rate/min |
| --- | --- |
| India | 2.39¢ |
| Mexico | 9.9¢ |
| Brazil | 9.9¢ |
| Nigeria | 12.0¢ |
| China | 2.19¢ |
| United States | 1.5¢ |
| Canada | 1.5¢ |
| Cuba | 79.9¢ |
| UK | 2.0¢ |
| Pakistan | 12.9¢ |
| Australia | 16.0¢ |
While these are the pay-as-you-go rates offered through Rebtel, a subscription for a specific country is also available.
Furthermore, the Unlimited global option from Redtel makes international calling possible to more than 50 countries for $10/ month.
Rebtel alternatives
Apart from Rebtel, there are a few other cheap international calling and texting options. Some of these popular alternatives include:
Google Voice: You can make and receive cheap international calls through a virtual number with Google voice. Like Rebtel, Google Voice is also the best VoIP service that allows you to contact people on mobile and landlines.
TextFree: With TextFree, you can send and receive text messages without using data or phone plan minutes. It also offers free calling and messaging services available on Android, Mac, iOS, and Microsoft.
PopTox: PopTox is another easy-to-use VoIP online service that allows you to make calls for free or at a low price. PopTox can be used from browsers such as Google Chrome, Mozilla Firefox, Opera, etc.
Globphone: Globphone is a free calling website that offers free telecommunication services to make phone calls. It also offers free video chats and text messages.
Dingtone: With Dingtone you can also send free text messages and make free voice calls. It also allows you to make phone calls using Wi-Fi and a data connection.
FAQs
Is Rebtel legit?
Yes, Rebtel is completely legit. It is one of the most popular international calling apps.
Is Rebtel safe?
Yes, Rebtel is completely safe to use for people trying to access its services.
How to contact Rebtel customer service?
You can visit Rebtel's official contact page (rebtel.com/en/help/contact/), where you can contact the customer service through email, or you can also choose the chatting option.
Can you text with Rebtel?
Yes, you can send text messages with Rebtel. The app offers free text messaging between users who have the app installed.
Does Rebtel require internet?
No, Rebtel does not always require an internet connection. You can use the app to make calls even if you don't have an internet connection.
Does Rebtel use data?
Yes, Rebtel uses data when making calls or sending messages over the internet. However, if you have an active subscription, you can use the app to make calls without using data.
How to recharge Rebtel account?
There are a few ways to recharge your Rebtel account. You can do so through the app, online, or by purchasing a voucher from a local retailer.
Final thoughts
Rebtel is an excellent app for making quality international calls and sending messages.
The cheap rates, easy-to-use interface, and wide range of features make it one of the top apps for international communication.
If you travel or frequently communicate with people in other countries, we recommend trying out Rebtel.
If you like what you have learned through this review, don't forget to share it with friends and family who might find it helpful.


Driven to stay up-to-date with the latest technological advances, Harry Evans is an enthusiastic computer science B.Sc graduate and tech specialist with a wealth of experience in technical support, IT process analysis, and quantitative research. His expertise explores how various technology tools can effectively solve complex issues and create distinct solutions through data-driven processes. Additionally, he is passionate about educating others on the best ways to use these new technologies.