PopTox is a platform that allows you to make free VoIP online calls from your PC or smartphone to any mobile and landline phone. All you need is stable Wi-Fi or an internet connection, and you can use PopTox to call anywhere around the world.
You do not need to install any applications or plugins on your computer to use PopTox.
The only catch on PopTox free internet calls is that you can only make a limited number of calls per day, and there is a small fee for each call you make beyond that limit.
However, it is still one of the cheapest ways to make international calls, with rates significantly lower than those of traditional phone companies.
PopTox Review – Quick summary
| | |
| --- | --- |
| Legit | Yes |
| Free voice call | Available free for basic calls, with a small fee for calls beyond the daily limit |
| Works on | Standard web browsers like Opera, Google Chrome, Mozilla Firefox, UC Browser |
| Registration required | No |
| Call limit | Unspecified |
| Payment required | After the free PopTox call limit |
| Plan services | Available |
| Ease of use | Easy |
How to make free internet calls using PopTox?
Follow these steps to make free calls using PopTox: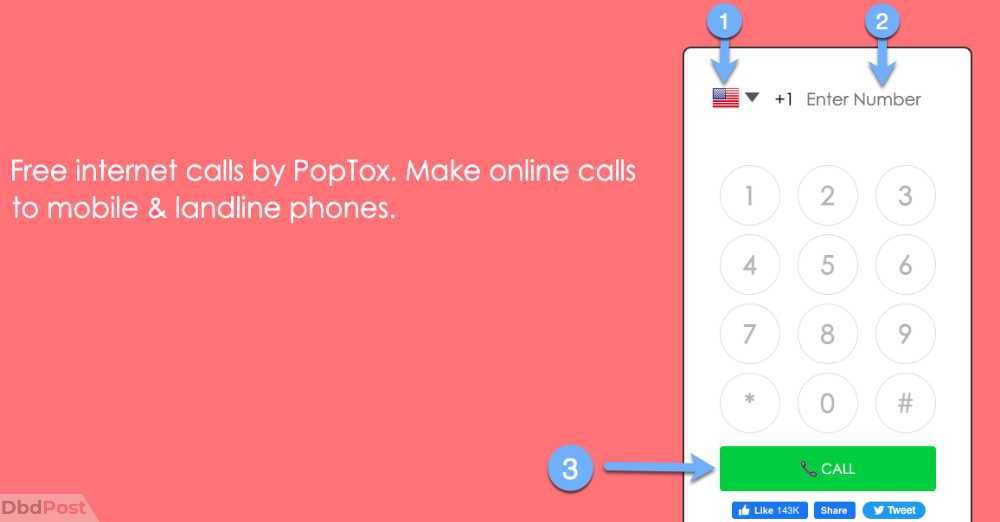 Step 1: Open your web browser and go to the official website of PopTox (poptox.com). You will see a dial pad on your screen after that.
Step 2: Select the country from the drop-down menu where you want to make the call.
Step 3: Enter the phone number.
Step 4: Click on the "Call" button.
Step 5: Allow it to access your mic. For this click on "Allow" to connect your call.
That's it! Keep in mind that PopTox allows only limited free calling minutes a day.
Related: Best Free Calling Apps for Unlimited Texts and Calls
PopTox pros and cons
Pros:
Free to use
Can be accessed through PC and smartphones
It offers high-quality calls and clear voice
Has a simple pricing plan
Allows you to make an unlimited number of calls
Privacy is highly focused
Cons:
It has a limited number of free calls per day. After the daily limit is reached, you are charged for each call.
PopTox premium plan services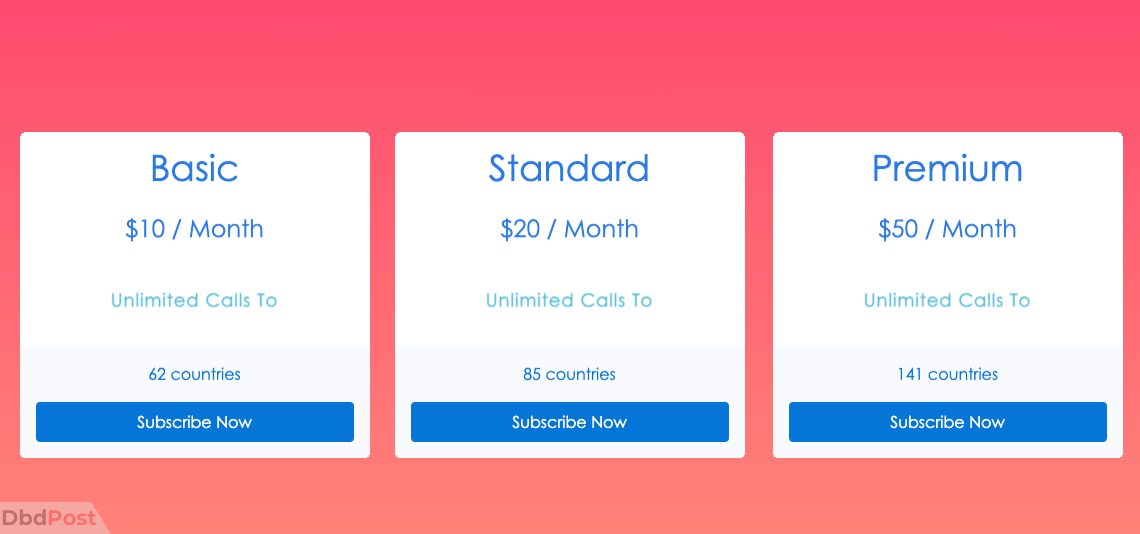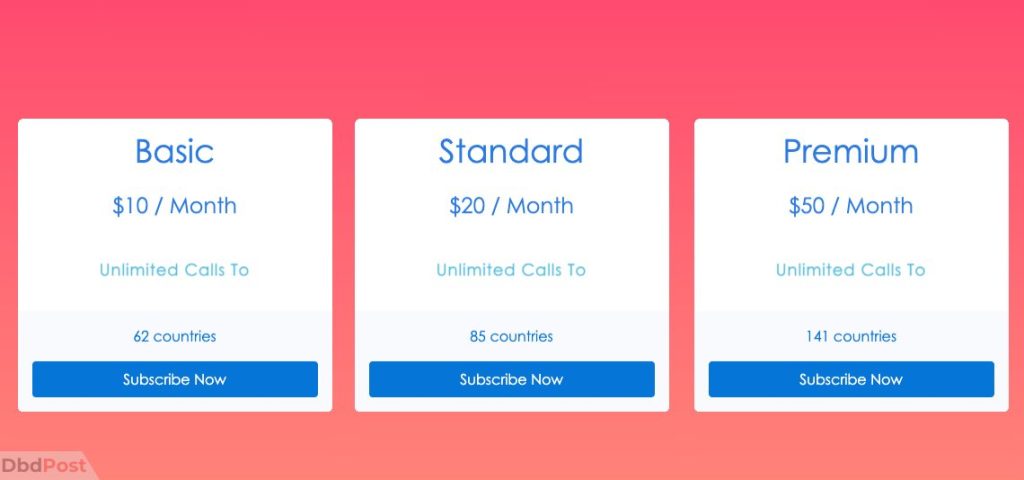 Basic plan: For unlimited calls, payment is required. Basic plans start at just $10 per month. On this plan, you can use PoptTox to make unlimited calls to 62 countries.[1]PopTox, "Enter your destination phone number to select a plan,https://www.poptox.com/" If you need to call a country that is not included in the basic plan, you can upgrade to the standard or premium plan.
Standard plan: The standard plan costs $20 per month and includes unlimited calls to 85 countries.
Premium plan: The premium plan costs $50 per month and includes unlimited calls to 141 countries.
PopTox accepts payments on all types of credit or debit cards. All payments are processed through a secure connection.
Related: 15+ Ways to Make Free International Calls in 2022
Benefits of PopTox premium service
High call quality
PopTox offers the best-in-class voice quality with low latency VoIP calls all over the world.
Simple pricing
You can use PopTox to make as many calls as possible in a basic monthly subscription. You are not charged for each call.
Easy refund policy
If for any reason you are not happy with the service, PopTox will refund your money. Just contact within seven days of your purchase; it will then process your refund within 3-5 days.
Zero hidden fees
It does not have any hidden fees. You are only charged for the calls you make beyond the daily PopTox call limit.
Privacy
PopTox is dedicated to giving you the most secure form of data encryption possible so that your conversations are private and safe. It does not store or retain any of your conversations or personal information.
Quick customer support
If you have any questions regarding PopTox online free call, you can contact or email at hello@poptox. Customer support will answer your quires within 2 hours.
How PopTox different from other free internet calling-based providers?
Unlike other free calling services, you are not required to download or sign up to use PopTox. It also does not require the receiver to have access to the platform.
It is easy to access and use. Just open your web browser and start making high-quality free calls to any landline or mobile phone.
Related: Best Free WiFi Calling Apps
PopTox app download
PopTox is a web-based VoIP platform that allows you to make free phone calls directly from your web browser on your PC or smartphone.
Thus, there is no official PopTox app available to download.
Best VPN for PopTox
The best VPN available to unblock PopTox in restricted countries is listed below.
PopTox alternatives
There are many ways to make free phone calls, but most require installing an app or plugin on your computer. There are some alternatives to websites like PopTox that don't need any registration are listed below.
Citrustel: Citrustel may be the best alternative to PopTox as it also offers free online calls. To make a call on Citrustel, you do not need to download any software or register, you just need an internet connection and your phone number.
Globfone: Global Communication Software is a free software for making phone calls and sending text messages, video chats, p2p file sharing, and free text on the internet. Globfone is also not required to be registered.
Call2friends: Call2friends offers a convenient and affordable way to make high-quality calls from any internet-connected device. It is cheaper than other VoIP providers and offers several features that make it an attractive option for making international calls.
Google Voice: Google voice is a perfect solution for you if you are looking for a real US number for your personal and business purposes.
FAQs about PopTox
How does PopTox works?
PopTox is a web-based platform that lets you make free calls to any mobile or landline phone using your internet connection. It works on VoIP technology that routes your call through the internet instead of a traditional phone line.
How to use PopTox?
To use PopTox to make a call, you need to have a stable internet connection, and you also need to enter the country code and the phone number you want to call. Once you hit the "Call" button, it will connect your call.
Is PopTox legit?
Yes, PopTox is a legit service that allows you to make free internet calls directly from your web browser on your smartphone or PC.
Is PopTox safe?
Yes, PopTox is a secure and safe method to communicate. There is no risk of data leak because you don't need to register for an account to access the service.
Is PopTox really free?
Yes, PopTox is a free calling service that allows you to make calls to any phone number. However, it has limitations on the duration and the number of calls you can make per day.
It will renew after 24 hours, but you can buy a package if you want to make unlimited calls.
Can PopTox be used in smartphones?
Yes, all you need to do is, open the chrome browser and visit their official website (poptox.com). Allow the permissions and you are ready to make free phone calls.
Can PopTox be traced?
Yes, you can be tracked using PopTox. Since it is used on the browser of your smartphone or computer it will collect your IP address.
Do you need to download PopTox app to make online free calls?
No, you don't need to download PopTox. It is a web browser-based platform to make free calls. There is no official app for it.
Is PopTox same as Viber and skype?
PopTox is not comparable to Viber or Skype.
Unlike Skype and other similar apps, it does not require the recipients to have the app installed on their phone to make free calls on mobile and landlines.
The receiver also does not need to have access to the internet.
Is PopTox anonymous?
Yes, every call on PopTox is anonymous. You do not need to sign up or provide any personal information to make a call.
All you need is the internet and you can make calls anonymously.
Is PopTox for Android and iOS available?
No, PopTox for iOS and Android is not available. Since it is web browser-based, it lets you make free phone calls using browsers on your mobile devices.
Is there any time limit for a PopTox call?
Yes, there is a time limit for a call. However, they have not mentioned the call limit on their website.
However, if you want to make unlimited calls, you have to purchase their premium subscription.
Final thoughts
By using PopTox, you can stay connected with your friends and family. If you're searching for a free calling service or with low rates, it is worth considering.
It's a good choice if you want to save money on your phone bill. Keep in mind that call duration is limited for free PopTox calls.
If you found this information helpful, please share it with your friends and family.


Driven to stay up-to-date with the latest technological advances, Harry Evans is an enthusiastic computer science B.Sc graduate and tech specialist with a wealth of experience in technical support, IT process analysis, and quantitative research. His expertise explores how various technology tools can effectively solve complex issues and create distinct solutions through data-driven processes. Additionally, he is passionate about educating others on the best ways to use these new technologies.