Google Voice is a VoIP service from Google that allows you to make calls from your web browser, smartphones, laptops, and tablets. It gives a phone number to make domestic and overseas calls, text messages, voicemails, text transcripts, and more.
You can use this number to call anyone in the world, and they will be able to reach you as long as you have an internet connection.
Users may merge many phone numbers into a single number provided by Google Voice.
It also provides call forwarding and voicemail transcription services, and call blocking features.
Google Voice quick summary
| | |
| --- | --- |
| Free | Yes |
| Paid version | Available |
| Business plan | Available |
| Business plan cost | Starts at $10 per month |
| Sign up | Required |
| Customer support | 24/7 support |
| Ease of use | Easy |
Pros and cons of Google Voice
Pros:
It allows for free texts and calls anywhere in the US or Canada
You can have multiple phone numbers directed to one phone

There are low overseas calls rates

Digital integration
Voicemail messages
There are no ads
Cons:
No emergency calls
No real support when things go wrong
Complicated multimedia messaging
Porting limitations
Related: Best Free Calling Apps for Unlimited Texts and Calls
Features of Google Voice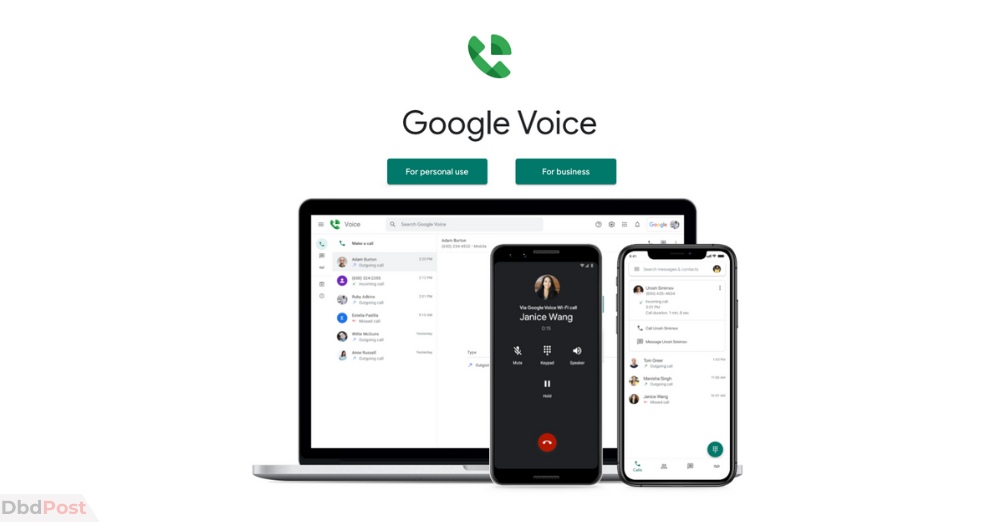 Make and receive calls from Gmail
You can use Google Voice to make and receive calls from your Gmail account. There's no need to sign in whenever you want to make a call. To make a call, click the "Call" button next to any contact and then enter your PIN when prompted.
You can use the service to call any number in the United States and Canada for free from your contacts, whether landline or cellphone.
You may use Google Voice even if you don't have access to a phone, and you can receive overseas calls from your computer inside Gmail and Google Hangouts.
Send and receive free unlimited texts
Google Voice is a Google program that provides several features to customers, including free texting. It generates the real US or Canadian phone number that may be used to text anyone, even if they don't have the app.
You can access your phone calls and send messages from any device if you need to.
International calls at low rates
Google Voice allows you to make and receive international calls for free or at a low rate, depending on who makes the call and where it originates.
International calls are possible from the United States, and Google charges calling to other countries.
Call purchases can be made through Google, and you can use the Google Voice website or mobile app to place your call.
Learn more: How to make international calls with Google Voice?
Forward all your calls to one number
If you have multiple phone numbers, you can use Google Voice to manage all of your calls in one place.
You can forward calls to any number you choose or set up rules so that certain calls go to different numbers at different times.
For example, you could forward all calls from your work number to your Google Voice number during work hours, and then have them forwarded to your home phone after work.
Manage voicemails
Google Voice users can listen to their voicemails as they are being delivered. This allows you to hear them as they come in, and manage them as needed.
Moreover, you can also transcribe voice messages into text, which can be helpful if someone prefers reading voicemails rather than hearing them.
Takes control of calls
You may also take control of Google Voice calls. You can tap the "add call" button while on a phone conversation to join another person in the discussion.
You may also put a caller on hold by pressing the "hold call" button.
Can record calls
You may record phone conversations with Google Voice. This is a useful feature for important phone conversations and interviews. They may be saved and retrieved at a later time.
You may start and stop recording using just a button, making it simple to record only the important parts. Once it's all set up, you'll be able to access your video recordings from any place with an internet connection.
Easily switch phones
You can easily switch phones during a call. Simply press the * key, and the other phones you've connected to your Google Voice will ring, and you can pick any of them up.
Related: How to Get a Google Voice Number?
How to set up Google Voice?
To set up Google Voice, follow the steps below:
Step 1: Go to the official website of Google Voice (voice.google.com) and sign in to the google account.
Step 2: If you do not have a Gmail account, create a new account and sign in. You can sign up on your iPhone or Android device also.
Step 4: Enter your area code or city.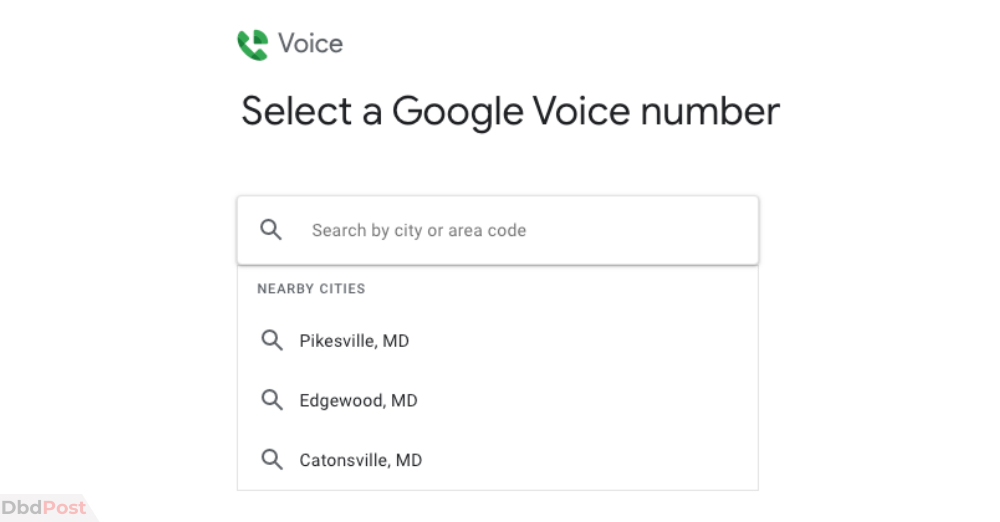 Step 5: In the drop-down menu, select a phone number.
Step 6: Verify the number you have selected.
Step 7: Enter a non-voice number, and you will get the verification code.
Step 8: Enter the code and verify again.
Step 9: If the non-voice number is already connected to another voice number, you have to claim it; click "Claim."
You'll be on Google Voice's home page to make and receive phone calls, send or receive text messages, and create voice mails.
How to use Google Voice calls?
To use a Google Voice call, you'll need to have a few things set up first:
First, make sure that you're logged in to your Google account and have a working internet connection.
Next, go to voice.google.com and click on the "Calls" tab.
In the "Phone number" field, enter the phone number you want to call.
Finally, hit the "Call" button to make a call. That's all there is to it!
Customize voicemail greetings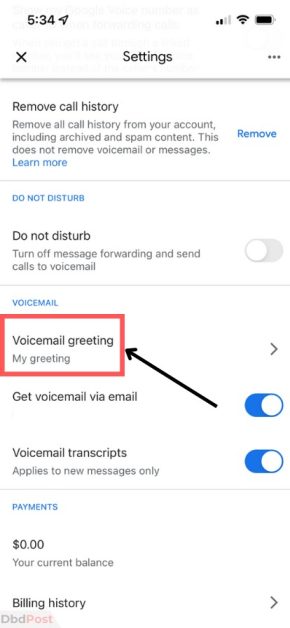 To customize your voicemail greetings on Google Voice using the apps, first, log in to your account at voice.google.com. Click on the "Settings" tab and then select "Voicemail greeting" from the menu.
Next, click on the "Record a greeting" button to record your new greeting. Once you're finished recording, click on the "Save" button to save your changes. Your new greeting will now be active.
Google Voice for business
Google Voice offers a business system and plans for phone service. It provides a single, permanent number for all of your employees, making it easy for customers to reach the right person.
Customer service: The customer service for Google Voice is excellent. The representatives are friendly and helpful, and they're available 24/7.
Transfer call: From your PC or mobile device, you can transfer all your calls to another number whenever and wherever they are needed.
Secure phone number: When an employee leaves your company, the business retains the phone number.
Set business hour: Within the organization, set up a menu system for direct calls to correct your organization's people.
Google Voice plan service


There is a paid version available in Google Voice for business. [1]Google Voice, "Google Voice plan, https://workspace.google.com/products/voice/ " The plan is as follows:
Starter plan: $10 per license per month
Standard plan: $20 per license per month
Premier plan: $30 per license per month
Google Voice app download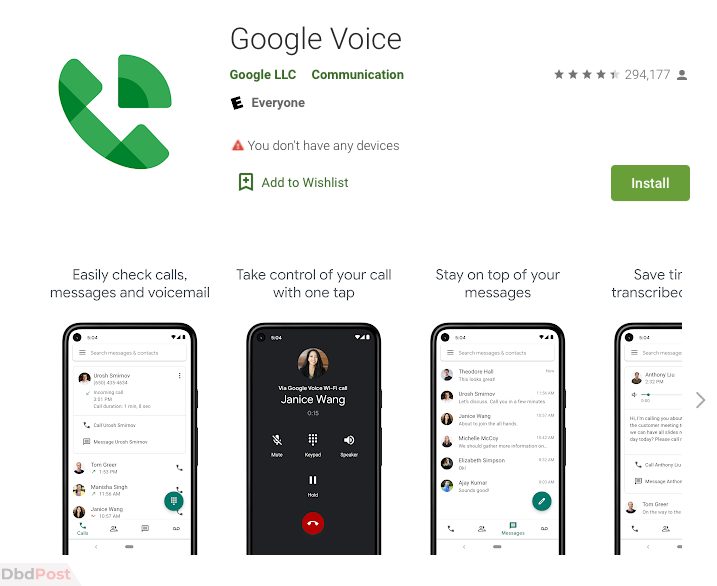 Google Voice app is free to download on iOS and Android devices. Simply search for it in the App Store or Google Play Store to download.
Once you have installed the app, you will need to create a Google account if you do not already have one. Once you have done so, you will be able to start using it.
Is Google Voice right for you?
It may be the right choice for you because of its very low-cost option for overseas call and business phone service. There are no contracts, and you only pay for what you use.
Recommended for:
Managing a phone system in small or large enterprises.
Easily collaborate with anyone inside or outside of your organization with features like call forwarding, voicemail, and online faxing.
Reducing the cost of running a business system for phone calls.
Integrating with other Google products like Gmail, Calendar, and Drive.
Not recommended for:
Just need a personal phone line.
Want a phone line with unlimited calling and texting plans.
Google Voice alternatives
There are a few alternatives to Google Voice that you can use for your business. Some of the best alternatives are as follows:
TextMe: TextMe may be the best alternative app for you. Users may send calls and text messages to any other multiple numbers in their area code for free with this app.
CitrusTel: This may be a viable option for those who need to make an emergency call but do not have access to regular phone conversations. Calls to landlines, cell phones, and even other VoIP phones are available through CitrusTel.
Globfone: Globfone offers both SMS and calls for free to users across the globe. This app also provides access to a wide range of numbers, allowing you to call almost anyone.
PopTox: PopTox allows to make free VoIP calls directly from a PC or smartphone to any mobile device and landline phone. All you need is a stable internet connection, and you can all go anywhere.
FAQs about Google Voice
Is Google Voice a free service?
Yes, Google Voice is a free calling service. You need a Gmail account, and you are all set.
Is Google Voice and Google fi the same?
No, Google Voice and Google fi are not the same. Google Voice is primarily a VoIP service, while Google Fi is a cellular service.
Google Voice can be used with any device, while Google Fi requires a Google Fi-compatible phone.
Google Fi provides the user with a real SIM card which allows for calling, texting, and data usage on the Fi network. At the same time, Google Voice provides you with a unique phone number but not a sim card.
Is Google Voice a good virtual phone provider?
Yes, Google Voice is an excellent free virtual phone service. You may have a business plan service and overseas calling at a significantly low cost with it.
What is a Google Voice verification code?
It is a code generated by Google to identify the user and verify that the number is valid. This code is used to verify your phone number when you set it up for the first time.
Can you text with Google Voice?
Yes, you can send and receive text messages with Google Voice. You can do this by opening the Google Voice app, tapping on the menu icon, and tapping on "SMS."
Final thoughts
Google Voice is an excellent option if you're looking for a US phone number at no cost for personal and business purposes. It is great for business with its many features like call forwarding, voicemail, voicemail transcription, and call-waiting.
We would recommend this to anyone in the market for a new business phone system or personal phone line. If you found this information helpful, please share it with your family and friends.


Andrew Chavez is a passionate technology researcher and MSc graduate from Texas A&M University. He has a broad range of knowledge on current tech developments, new discoveries in the field of high-tech and science, as well as software engineering proficiency. With an insatiable appetite for learning and discovering, Andrew strives to bridge the gap between academia and industry. His ambition drives him to make meaningful contributions to the tech world continuously.