TextMe is an app that lets you make free calls and send free texts to any phone in the US, Canada, and 40 other countries worldwide.
This app is a cross-platform messaging application that allows users to send pictures and voice and video messages to their friends. It will transform your iPod, iPad, or tablet into an actual phone by providing a free number.
TextMe also allows users to send their Dropbox photos and videos via SMS directly from the app.
There is more than this, and you may do more with the TextMe app. You can also get a free phone number in the TextMe app. So let's take a look at everything it has to offer.
TextMe app specifications
| | |
| --- | --- |
| Price | Free |
| Device supported | Android, iOS, and Kindle |
| Premium subscription | Available |
| Languages | English, French, German, Italian, Spanish |
| App Category | Social Networking |
| File size | 97MB for iOS, 103MB for Android |
| Ease of use | Easy |
Pros and cons of the TextMe app
There are some pros and cons of the TextMe free texting and calling app. Let's take a look at some of them:
Pros:
Free texting and calling.
Emergency call service in US locations.
Works on both Android and iOS devices.
A real phone number of the desired location is available.
Get multiple phone numbers, if required.
Access from your phone, tablet, and kindle.
Premium services are available.
Cons:
Not available in all countries.
Free SMS offered is limited.
The emergency call may not be supported in all countries.
Related: Free Calling Apps for Unlimited Texts and Calls
Features of TextMe
There are many useful features of the TextMe app. Some of them are as follows: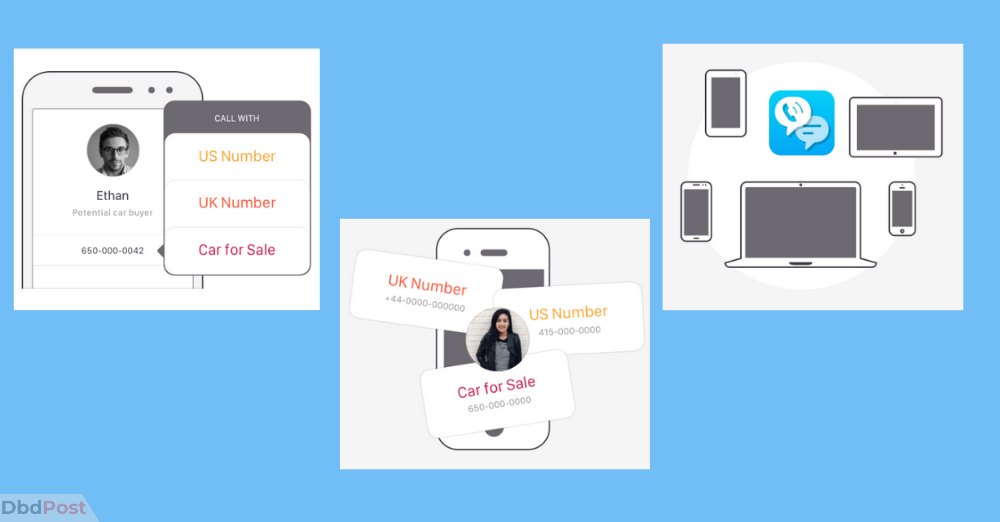 Unlimited free text and calls: It offers good quality voice and video communication and SMS services to any phone in the US, Canada, and other 40 countries worldwide.
Cross-platform support: It is available for Kindle, Android, and iOS devices.
Low-cost international texting and calling: It is available for in-app purchases and upgrades for international services. Premium subscription removes ads and provides additional features such as voicemail, custom number, etc.
Get an international number: You can choose your TextMe free number from the desired location.
Get a local number: If you want a local phone number for business or personal reasons, get one.
Turn your device into a phone: Since it provides you with an actual phone number, your devices with the app installed can be turned into phones.
Multiple phone numbers: Single user can get multiple numbers if required.
Voicemail services: Include voicemail service for full accessibility as your cell phone providers.
Call forwarding: This software will allow you to forward your call.
Group chat: Using this application, you will be able to connect with multiple people in a single thread.
Multimedia feature: You can send pictures, video, and voice messages using this app.
Secure texts: You can start texting messages with a privacy passcode lock.
Track your location: You can share your GPS location by sending a free text message SMS, or MMS using this app.
Related: Best Free International Calling Apps and Website
TextMe app download
TextMe is available on Android, iOS, and Kindle devices. You may use TextMe on your computer by signing in with your login credentials.
To get started with TextMe, first, download the app compatible with your device.
For Android users: Visit Google Play and type "TextMe".
For iOS devices: Go to Apple App Store and type "TextMe".
For Kindle: Visit the Amazon Kindle store and type "TextMe".
Once you've found the listing in your app store, download and install the app.
How to Setup the TextMe app?
After downloading TextMe app on your device, get ready to create an account.
Step 1: Open the app, it will ask permission to access your contact, microphone, and speaker on your device to function correctly.
Step 2: Click on the "Get Started" button and either log in with your email or connect via Facebook or Google.
Step 3: Click on "Create an account," You will then be prompted to select a new phone number.
Step 4: Tap on one of your choosing and click "Confirm."
Step 5: You'll then be prompted to enter your email, password, and the answer to two security questions.
Step 6: Click on "Register" to finalize your registration.
How to get TextMe free number?
It offers local and international numbers from 15 countries. Follow the easy three steps to get the one:
Step 1: To get a new number, tap "Me", then "My Numbers".
Step 2: Select Get a unique phone number and choose the country you want from the list.
Step 3: Once you have your number, you can start texting and calling.
How to block a number on TextMe?
Whether you're receiving spam texts or want to cut off communication with someone, it's easy to do on TextMe. Just follow these steps to block a number on Android and Kindle devices:
Step 1: Tap the conversation with the person you want to block.
Step 2: Tap the 3 vertical dots on the top right corner.
Step 3: Tap Block.
That's it! You won't receive any more messages from this person until you decide to unblock them.
You can also send the harassment number to abuse@textmeup.com and then they will take legal action. [1]TextMe,"TextMe for android and smartphone,http://go-text.me/"
Best free VPN for TextMe
The best free VPN available to unblock TextMe in restricted countries is listed below.
TextMe app alternatives
There are many other applications that offer the same features as TextMe. A few of these alternatives are:
FAQs
Is TextMe legit?
Yes, it is a legal and safe app. It offers free calls and text services in 40+ countries including UA and Canada. It also provides emergency call service in US locations.
Is TextMe safe?
Yes, it is committed to providing a safe and secure experience for all customers.
TextMe may require ID verification for specific phone numbers to comply with all relevant regulations. This process helps to ensure that TextMe is used by terms of service and protects customers' information.
Is TextMe free?
Yes, it is one of the best free calling apps to use, but there are some in-app purchases for additional features that TextMe offers. 
Is TextMe anonymous?
Yes, it is an anonymous app. Text Me is a free calling and messaging app that provides users with a virtual burner's phone number for anonymous texting and calls.
The app has been praised for its ability to allow users to remain anonymous in situations where they might not feel comfortable revealing their identity.
What is TextMe app used for?
TextMe allows free audio and video calls and sends free text messages to any phone. It also allows users to send pictures and voice and video messages to their friends.
Can someone call my TextMe number?
Yes, anyone can call your TextMe number if you give them your number or if they have your number saved in their contacts. If you don't want someone to be able to call you, you can block their number.
Can TextMe number be traced?
No, the TextMe free number cannot be tracked. TextMe does not disclose information about the identity of the person using the particular number, so there is no way to track a TextMe user's location or activity.
What permission is required to use the app?
TextMe may ask for your phone number, and email address to use the app. If you do not wish to provide the information you can skip some parts.
What does the TextMe app do?
HD voice and video communication: HD Voice and Video Calling are two of TextMe's most popular features. HD Voice is a next-generation calling technology that delivers crystal-clear call quality, while Video Calling lets you see your friends and family. 
Connect with Facebook friends: TextMe also offers several other features, such as Facebook Integration, which allows you to connect with your Facebook friends right from the app.
Can get multiple numbers: Use the number when you are out of the reach.
Can you use TextMe number for WhatsApp?
Yes, you can use its number to signup for WhatsApp. You can follow these easy steps to use TextMe free number for WhatsApp.
Step 1: Download the TextMe app to your device.
Step 2: Open and set up the app and note down your phone number.
Step 3: Open up Whatsapp and verify the number.
How to cancel a TextMe subscription?
To cancel the TextMe subscription, follow these easy steps.
Step 1: Go TextMe app.
Step 2: Sign in with the correct Google Account.
Step 3: Click on "My subscriptions" on the left sidebar. From there, select the TextMe subscription that you'd like to cancel.
Step 4: Click on "Manage".
Step 5: Click on "Cancel subscription" and then hit "Yes" on the confirmation pop-up.
How to delete TextMe account?
Deleting your TextMe account is a permanent process. Once you delete your account, you will no longer be able to use TextMe or access any of your account information. To delete your TextMe account:
Step 1: Tap the main menu in the upper left corner, then tap "My Account".
Step 2: Tap the three vertical dots in the upper right-hand corner.
Step 3: Chose to delete your account.
Step 4: You will be asked to confirm that you want to delete your account.
Step 5: Once you confirm that you want to delete your TextMe account, the process will begin and your account will be permanently deleted.
How to make a group chat in TextMe?
TextMe is a messaging app that allows you to create groups to stay connected with family and friends. To create a group:
Step 1: Tap the new message icon (+) to open TextMe's "New Message" window. 
Step 2: Type the usernames of the people you want to start a group chat on the "To" field.
Step 3: Write your message and click on the "Send" icon.
Step 4: Select "Send as a group chat" on the pop-up. 
Step 5: You will be asked to confirm that you want to create the group. After your confirmation, your group will be created.
Final thoughts
The TextMe app is a great alternative for you if you want to make free international calls while keeping your business and personal lines separate. The app is easy to use and offers a great way to stay connected with family and friends around the world.
We hope that this app assisted you in eliminating your regular phone expenses by offering the required services like a cell phone provider.
If you found this information informative, please share it with your family and friends. Also, follow our page for more content like this.


Driven to stay up-to-date with the latest technological advances, Harry Evans is an enthusiastic computer science B.Sc graduate and tech specialist with a wealth of experience in technical support, IT process analysis, and quantitative research. His expertise explores how various technology tools can effectively solve complex issues and create distinct solutions through data-driven processes. Additionally, he is passionate about educating others on the best ways to use these new technologies.