If you are looking for a way to make free calls to all mobile or landline, CitrusTel is a great option. It is a web-based VoIP service that does not require you to download any apps.
To use CitrusTel, you'll need a current web browser and access to the internet. More than 2000 telecommunication services worldwide collaborate with CitrusTel to offer high-quality phone conversations for free.
CitrusTel may be a great option for those who need to make an urgent call but do not have access to a regular phone line. It offers to make calls to landlines, mobiles, and even other VoIP phones.
CitrusTel review – Quick summary
| | |
| --- | --- |
| App & Extension | Fully web-based |
| Access on | PC, Mac, or smartphone |
| Tracking by | IP address |
| Charges | Free |
| Registration required | No |
| Country supported | More than 150 countries |
| Services | VoIP calls only |
| Call limit | Unspecified |
CitrusTel pros and cons
Pros:
The service is free to use.
Quick to connect phone calls.
There is no need to download any software or applications.
Customer service is available at all times.
The service can be accessed from any web browser.
Cons:
The service is currently available only on Google Chrome and Opera web browsers.
You will need a fast and stable internet connection to use without issues.
Caller ID is not provided with the service.
Related: Best Free Calling Apps in 2022
CitrusTel full specifications
Legit: Yes, the website is legitimate and safe to use, and it is not a scam.
Free voice call: It is a revolutionary new service that offers free online calls to all mobile and landline phones.
Quick connectivity: It may link a phone conversation in a matter of seconds. Simply click on the call button and quickly you may establish a connection.
Start instantly: To start making calls with CitrusTel, all you have to do is enter the phone number using the dial pad on this page and click on the call button.
Customer support: It is a cloud-based phone service that offers 24/7 customer support. Response email-based queries within one hour.
Instant upgrade: It does not require you to download any new software or plugins to upgrade, and you can always check for new features by refreshing your web browser.
Always online: It is a free online phone service that lets you call your loved ones no matter where you are.
CitrusTel Call limit: CitrusTel has not mentioned clearly on its website any specific call limit. Depending upon your destination, the call limit may vary.
Related: Best Free International Calling Apps and Website
Steps to make CitrusTel free call online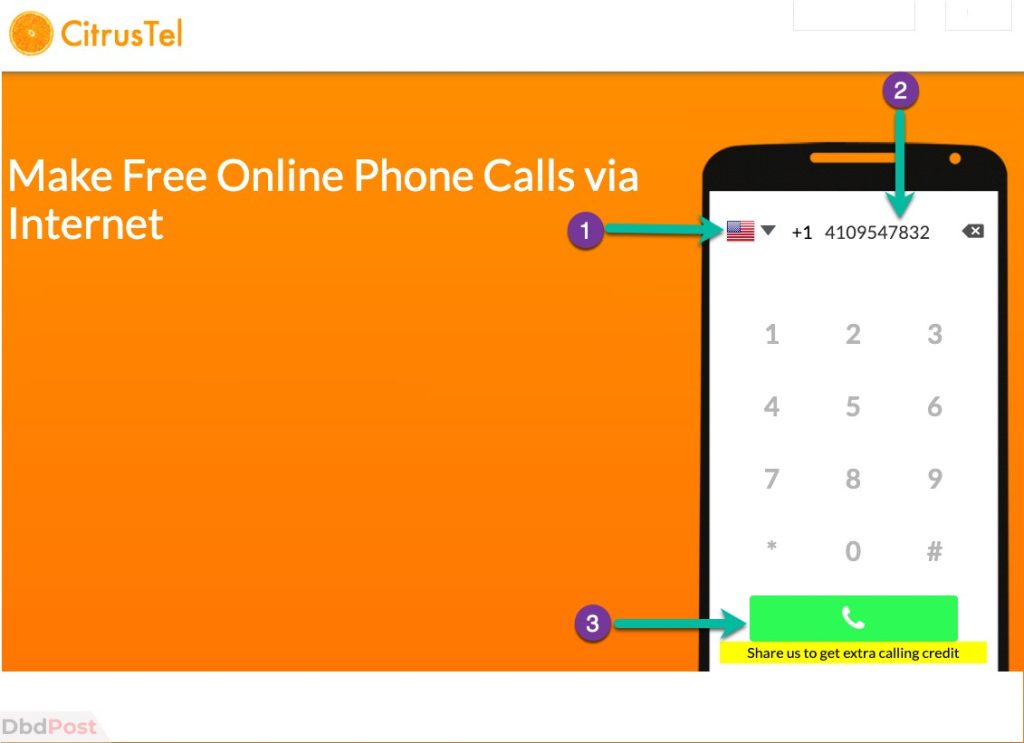 CitrusTel offers free online calls to any country with the best voice quality. It is the perfect way to stay connected with family and friends worldwide.
To make a free CitrusTel calls, simply follow these simple steps:
Step 1: Open Chrome or Opera web browser from your device and go to its official website (citrustel.com).
Step 2: Select the country from the drop-down menu.
Step 3: Enter the 10-digit mobile number in the international dialing format you want to make a call.
Step 4: Click on a "Call" button on the dial pad and allow access to the microphone and speakers.
Step 5: When you press the call button, it will ensure that your call is connected in less than two seconds. Connect with your loved ones for free.
How is CitrusTel different from other apps that also offer free VoIP calls?
CitrusTel is unique in that it does not require the person you're calling to be using the app to have a conversation – they don't need CitrusTel or access to the internet to pick up your call.
Other communication platforms like Skype and Viber only offer free calls between application users. As you know, if you have to make a Skype call or Viber call to a landline or mobile, you need to purchase credits.
So, due to this flexibility, it is one of the best free international calling web-based platforms.
CitrusTel app download
Citrustel does not offer any downloadable app for any platform (Android, iOS, Windows, and Mac).
The company has opted to go with a web-based approach that does not require any software or application download. This makes it easier for users as they do not need to go through the hassle of downloading and installing an app.
All CitrusTel calls can be made only using modern web browsers like Google Chrome and Opera.
CitrusTel alternatives
If you are looking for an alternative to CitrusTel, a few other free calling websites options are available. Here are a few of them:
Globfone: It's a free VoIP software that makes free phone calls, SMS, video chats, peer-to-peer file sharing, and more. It also needs no registration.
PopTox: With PopTox, you may use the internet or wifi to connect to any mobile or landline phone and make free online VoIP calls. There is no need for registration or payment, and the service is entirely web browser-based.
Call2friends: Using this free calling app, you may make high-quality, low-cost, or no-cost international calls to any mobile or landline phone number.
Ievaphone: It is a free online call from a web browser to any mobile or landline phone.
FAQs
Is CitrusTel legit?
Yes, the website is genuine and not a scam. However, they have not clearly mentioned their call limit.
Is CitrusTel safe?
Yes, CitrusTel is a safe website to use in terms of safety and security. It also has a strict privacy policy that prohibits sharing personal information with third parties.
Overall, it is a safe and reliable way to make VoIP calls. It uses the latest encryption technology to ensure that your conversations are private and secure and does not record any phone calls.
Is CitrusTel free?
Yes, CitrusTel offers completely free local and international calls via the internet straight from a web browser. 
Can CitrusTel VOIP calling app be downloaded from the app store?
No, it does not offer any Android or iOS-based native apps. Citrustel is a browser-based VoIP application and does not require any app download.
Can you use CitrusTel to make free calls online without registration?
Yes, you don't need to register for free online conversations to use CitrusTel. It never encourages you to sign up before allowing you to begin calling.
Does CitrusTel offer any subscription-based or monthly VoIP calling plans?
CitrusTel is a VoIP service provider that only offers pay-as-you-go plans. This implies that users are charged for each call they make based on the destination and length of the conversation.
CitrusTel accepts payments via PayPal, Credit Card, Debit Card, and Bitcoins and in more than 20 different currencies. [1]CitrusTel, CitrusTel free online calling, https://www.citrustel.com/"
Final thoughts
Overall, Citrustel is an excellent way to make VoIP-free calls. It is safe, reliable, and offers a wide variety of features that make it a great choice for any user.
Whether you're calling across the country or the world, CitrusTel may be the perfect solution for your calling needs.
If you found the post informative, share it with your friends and families.


Driven to stay up-to-date with the latest technological advances, Harry Evans is an enthusiastic computer science B.Sc graduate and tech specialist with a wealth of experience in technical support, IT process analysis, and quantitative research. His expertise explores how various technology tools can effectively solve complex issues and create distinct solutions through data-driven processes. Additionally, he is passionate about educating others on the best ways to use these new technologies.