Making cheap calls to national and international destinations has never been easier before with the VoipBuster app. It is a VoIP app that you can install on your mobile phone or PC to make cheap calls
It is for people who travel to many different countries and want to stay in touch with their families and friends.
The VoipBuster app is not completely free, but it is a cheaper alternative than other ways to make international calls.
In this VoipBuster comprehensive review, we will show you how to use the app and what are its main features, and many more.
VoipBuster app review – Quick Summary
| | |
| --- | --- |
| Free version | Available |
| Access on | Android, iOS, and Windows |
| Key features | Cheap rates on national and international calls |
| App Category | Social Networking |
| Number of downloads in Google Play | 100,000 + |
| Developer | Finarea |
| Released date | May 2, 2011 |
| Current version | 8.36 for Android devices and 3.0.30 for iOS devices |
| Download size | 13 Mb for Android devices and 53.6 Mb for iOS devices |
| Required minimum software | 5.0 and later for Android and iOS 10.0 and later for iOS devices. |
What is VoipBuster and what is it used for?
VoipBuster is a calling platform that lets you communicate with other people using the latest technology. You can register for free.
It uses VoIP technology to let you make high-quality calls for free or at low rates. This app allows you to make both local and long-distance calls.
It is available on the web browser and as an application that you can download on your mobile phone.
So if you want to make low-cost or free international calls, download VoipBuster today and start saving.
It has fairly low rates for calls to various popular destinations which helps you to save money on your phone bills.
Features of VoipBuster
It offers tons of features that you can take advantage of. Let's take a look at some of the key features:
Free calls: Through VoipBuster you will be able to make free calls to more than 33 nations.
Make cheap and easy calls: It also provides phone calls for countries that aren't on the list of free calls for a relatively low price. You can use this call for both personal or work purposes.
Local access number: It gives you a local number that gets you cheaper rates than an international number.
SMS – It lets you send SMS to existing mobile numbers from your PC at the lowest rates possible. SMS through VoipBuster can include more than one receiver.
Phone to Phone: Make calls from the VoipBuster app to any mobile number.
PC to PC: You can use the VoipBuster on the web browser to make free calls from computer to computer calls.
Credit top-up – It also allows you to top up the credit of your friends and families that might be living in a different country.
Unlimited calls: It lets you make unlimited calls to any country for an affordable monthly subscription. You can also make unlimited free calls if both caller and receiver are online.
Related: Unlimited Free Calls and Text App
How to make VoipBuster free calls?
There are various ways in which you are able to make free calls with VoipBuster.
You can make free calls from VoipBuster on its web browser. This will allow you to call people from one PC to another.
Through buying credit, it also offers 'Freedays'. Here you can call various popular destinations based on selected countries for 120 days. Freedays are also available for registered users at different times.
VoipBuster also offers its registered users 300 minutes of free calling time. If you use more than 300 minutes, it will start charging you.
Furthermore, its website also offers a free trial call which is completely free to the destination of your choice. Here you do not even have to register an account but it is only available in selected countries for a limited time.
To use these features, you have to sign up for a VoipBuster account and log in on your devices.
VoipBuster call rates – Is VoipBuster really free?
Its service is not completely free. It may charge you different rates depending on the country you are calling.
You can use features like credits and 'Freedays' to make free calls on the website or app.
Is VoipBuster's free calling app right for you?
Recommended for:
It is recommended for people who travel often to different countries.
It is also recommended for people trying to reach out to their loved ones who may be living in a different country.
If you need to call people in different countries for work, it is a good option.
Not recommended for:
It is not recommended for people that are looking to make free calls to different countries all the time.
It is also not recommended for people who are looking for free texting options.
How to download VoipBuster app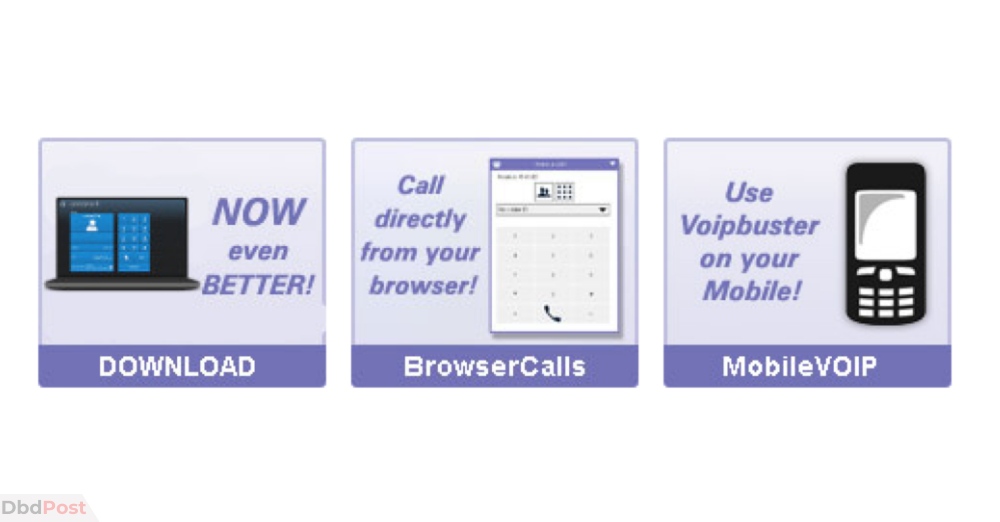 VoipBuster is available on various platforms. Depending on which platform, you are trying to download the process may be different.
How to download VoipBuster app from a web browser
To download through a web browser you need to follow the following instructions.
Step 1: Go to the VoipBuster official website (voipbuster.com) and click on the "Download" link at the top menu.
Step 2: Click the download or the get button to start the download for your PC. You can choose to download Windows, Mac, or VoipBuster for Mobile on this webpage.
With this, you are now able to call different locations around the world at an affordable rate.
How to download VoipBuster App through Google play store or Appstore
You can also download the VoipBuster app called MobileVoip on your smartphone.
Step1: Go to App Store/Google Playstore on your mobile device.
Step 2: On the search section, type 'MobileVoip' and search for the app and click on the MobileVoip app icon.
Step 3: Click on the download button and your download will start.
Once the download is complete, your VoipBuster app will be ready for you to use. You can start calling once you fill in the login details or if you need to sign up for the account.
VoipBuster alternatives
There are many different options for making affordable calls abroad. If VoipBuster is not the right option for you, there are many other free-calling websites that you can choose from.
TextFree App: The TextFree App is like VoipBuster, but it offers free calls to the US, Canada, and Mexico even if the receiver does not have the same app. It also provides cheap rates for its user to call different countries around the world.
Talkatone: Talkatone is another way to make phone calls. You can call people for free, or you can buy things in the app to make your calls better. Like to VoipBuster, Talkatone is also available on both Android and iOS devices.
Google Voice: Google voice is another alternative that you can use to make calls and text people online at a very affordable rate. It also has features such as voicemails and text transcripts.
Ievaphone: A VoIP-based website that can act as an alternative to VoipBuster and allows you to make calls to over 200 different countries. All calls made through iEvaphone are completely free online calls to designated countries.
PopTox: If you want to use your PC or smartphone call any landline or mobile device through an online connection, PopTox is also another option for you. It also offers subscription plans to its user that is at an affordable rate.
FAQs about VoipBuster app
Is VoipBuster legit?
Yes, VoipBuster is a 100% legit option to make calls online.
Is VoipBuster safe?
Yes, VoipBuster is safe to use for anyone and in different countries.
Can I forward my calls to other VoipBuster users?
No, you cannot forward my calls to another VoipBuster user.
Can I send text messages with VoipBuster?
Yes, You can send the messages but this feature is only available through SMS to a mobile device. You can also send SMS to more than one receiver through VoipBuster.
What language does VoipBuster support?
The VoipBuster app supports the English language. The VoipBuster website is available in six different languages: English, German, Dutch, Spanish, Portuguese, and French.
Final thoughts
VoipBuster is a great option for low-cost abroad calling. If you travel often or looking to reach out to your loved one who may be living far away then this app is the right choice for you!​
It is also an available option if you are looking for cheaper alternatives to lessen the burden on your phone bill.
If you like what you have read so in this VoipBuster review, please feel free to share this with your family and friends.


Driven to stay up-to-date with the latest technological advances, Harry Evans is an enthusiastic computer science B.Sc graduate and tech specialist with a wealth of experience in technical support, IT process analysis, and quantitative research. His expertise explores how various technology tools can effectively solve complex issues and create distinct solutions through data-driven processes. Additionally, he is passionate about educating others on the best ways to use these new technologies.