Talkatone app will allow you to make calls and send texts over a Wi-Fi or data connection without a single penny. If you are looking for some alternatives to your smartphone's conventional phone and messaging app, then it is one of the best options for you.
The great thing about Talkatone is that it will also give you a free phone number so people can call you back on your number.
You can send texts and images to anybody anytime with the Talkatone app.
It's ideal for low-cost international communications, making it an excellent choice for travelers.
There is more than this that you can do with it. In this Talkatone review, we will dive deeper into it and find out all its features and benefits.
Talkatone app review – Quick summary
| | |
| --- | --- |
| Free version | Available |
| Access on | Android and iOS |
| In-app purchases | Starting from $0.99 |
| App category | Social networking |
| Key features | Second phone number |
| Number of downloads in Google Play | 10,000,000+ |
| Current version | 6.5.10 |
| Download size | 25MB for android devices and 50.4 MB for iOS |
| Required minimum software | 4.4 and up for android devices and requires 12.0 or later for iOS |
What is Talkatone used for?
Talkatone free calls and texts app is used to send and receive calls and texts over a data connection. This app uses your device's internet connection to make calls, so it doesn't matter where you are. You can use this app to make calls anywhere in the world.
Besides that, this app is used to have a second phone number. This app will provide you with a temporary or a virtual free phone number using which people can call you back on your Talkatone line.
You can also use this app to make calls to the US and Canada without charge.
Related: Best Free Calling Apps – Unlimited Calls & Text
Features of the Talkatone app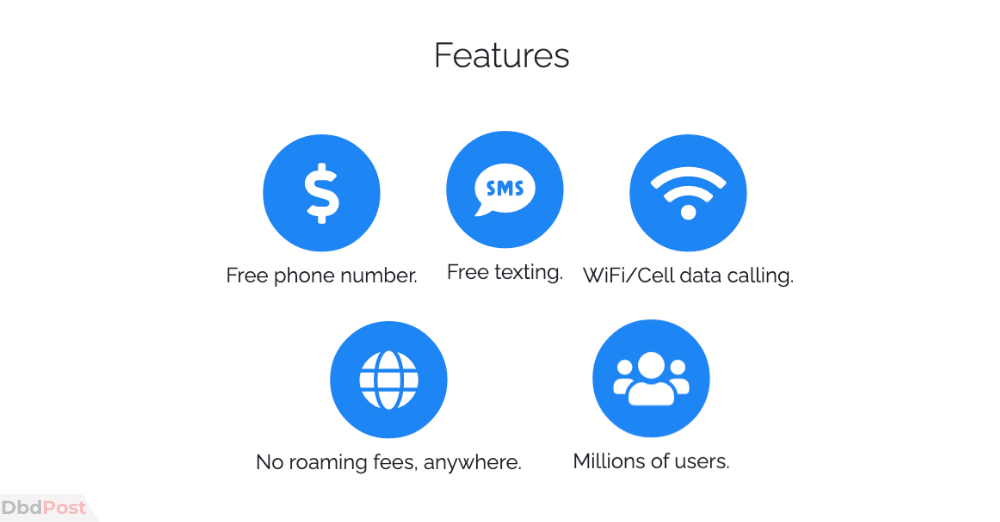 Freephone number: It gives you a free US/Canada phone number you can use for texting and calling, just like a regular cellphone plan.
Free calls: With it, you can make free voice calls nationwide and worldwide without spending a penny with just internet access.
Free texting: This app also offers free SMS and picture messages to anyone, even if they don't have the app. Users can send individual or group messages, with no limit on how many people can be included in a group.
Free international calls: You can make international phone calls over Wi-Fi for no cost using it. This can be a great option when traveling, as it allows you to stay in touch with family and friends without incurring roaming charges.
High call audio quality: Even if you do not have a strong internet connection, this app provides high-quality voice communication.
No roaming fees: It allows you to communicate to people both at home and abroad over Wi-Fi without incurring expensive roaming expenses.
See Also: Best Free Calling Websites
Talkatone pros and cons
Pros:
Free to download and easy to use
Provides free calling and texting
Provides US-based phone number
High-quality voice communication
Options for international calling
Cons:
How does Talkatone work?
After downloading and installing it on your phone, you'll first need to create an account with Talkatone, which will require your email address.
Once registration is completed, the app will provide you with a US-based phone number. You can use this number to make calls and send messages to anyone.
Is Talkatone's voice quality good?
Talkatone has improved its voice quality in its latest version by adding better redundancy and enhanced sound compression. This results in clearer call quality, even in areas with poor cell reception.
Talkatone cost – Is Talkatone really free?
Yes, Talkatone is a free app. You can send messages and make phone calls to anyone in the world.
But there are some limitations.
You will receive only 60 minutes of free talk time to mobile and landlines every month. If you want to make unlimited calls, you need to buy credits starting at $0.99.
Is the Talkatone app right for you?
It is not the best option for all, but it is an excellent app for those who frequently travel or live in areas with poor cell reception.
Recommended for:
Wants to save money on their phone bill
Frequent international callers
People with limited minutes on their cell phone plan
Not recommended for:
Talkatone is not recommended for people who:
Do not have a strong data connection
Unlimited free international calls
How to download Talkatone?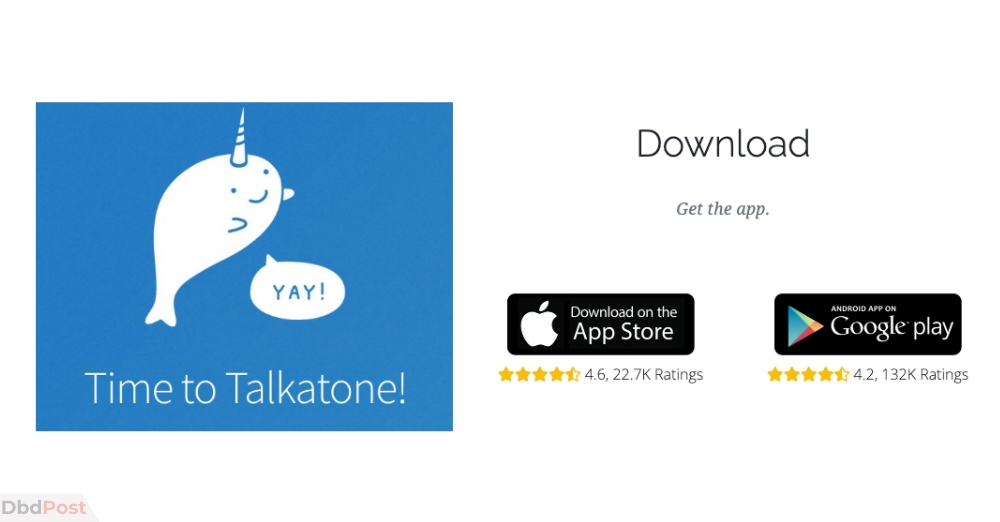 To download Talkatone, go to the Google Play Store for Android and the App Store for iOS users and search for "Talkatone" in the search bar. Then, select "Install" or "Get" next to the Talkatone app and wait for it to download.
As of now, it is not available for PC and Mac, but we hope they will soon come up with a desktop version.
How to cancel the Talkatone account?
You can cancel the Talkatone account via email or phone app.
To cancel the account via email, follow the following steps:
Step 1: Sign in to the email account that is linked to the one you wish to remove.
Step 2: Click "Compose" and write an email requesting account deletion.
Step 3: In a subject section, type "Request to delete my account."
Step 4: Finally, send the email to privacy-talkatone@ooma.com.
You can cancel your account from your installed app by following these steps:
Step 1: Open your Talkatone app.
Step 2: Click on "Menu."
Step 4: Go to "Setting."
Step 5: Scroll down and tab "Close account."
Step 6: Read the pop-up on the screen and tap "Confirm."
Once you have confirmed it, your account will be permanently deleted.
Best Talkatone app alternatives
There are some alternatives to Talkatone that you might want to consider. Check the following apps.
Google Voice: The Google Voice allows you a free phone number for making calls, sending texts, and getting voicemail. It is a cost-effective VoIP solution for personal or business use.
TextMe : TexMe offers unlimited text and calls to U.S. and Canada. With TextMe you also can send pictures and voice and video messages to your friends. If you want to know more about TextMe, click here.
TextFree: TextFree offers unlimited text messaging, SMS, and MMS picture messages. Like Talkatone, you can also pick a real U.S. phone number entirely free. You can explore more on TextFree here.
Dingtone: Dingtone allows you to make unlimited domestic and international phone calls and SMS for nominal fees or free from your mobile phone or computer to any phone number or landline phone. To know more about Dingtone, click here.
Poptox: Poptox can be used from any standard browser. It lets you make free VoIP calls from your smartphones or PC using WiFi or the internet. You can explore more on Poptox here.
Citrustel: Citrustel is a VoIP-based web browser that offers online calls to all mobile and landlines phones. It does not require downloading any app. Click here to know more about Citrustel.
FAQs about Talkatone app
Is Talkatone legit?
Yes, It is legit. You can trust the app.
Is Talkatone safe?
Yes, It is a safe and secure app. It's been downloaded by millions of people across the world, and it has a high rating on Google Play and App Store.
Is Talkatone free calling?
Yes, it is. However Talkatone free calling app has some limitations. You will get 60 minutes free each month for calling landlines and international numbers. After the free minutes, you will need to purchase or pay for credits.
Does Talkatone have unlimited calls?
Yes, you may use Talkatone to make unlimited calls for a monthly subscription. But, you will get only 60 minutes of free talk time in the free version.
Does Talkatone work in UK?
Yes, It works perfectly fine in the UK. As of now, it is available in more than 15 countries, including the US, Canada, Australia, UK, Germany, and more. [1]Talkatone, "Talkatone available countries, https://talkatone.zendesk.com/hc/en-us/articles/360038143271-Which-countries-can-I-download-Talkatone-in-"
Does Talkatone work on PC?
There are no official apps for Talkatone on PC, so it is not possible to use this app on PC.
Does Talkatone work without Wi-Fi?
Yes, Talkatone can work without Wi-Fi but does require a cellular data connection.
Does the Talkatone number expire?
No, your Talkatone phone number will not expire. You can continue to use it as long as you like. There are no monthly or yearly fees associated with your number.
How to delete contacts in Talkatone?
To delete contacts in Talkatone, open the "Menu" then "Contacts." Select the contacts you wish to delete and tap on the edit button in the top right corner. Tap on "Delete" bottom, then confirm by tapping "Delete again."
Can I use Talkatone for WhatsApp?
Yes, you can use Talkatone for WhatsApp. You can use the numbers to send and receive WhatsApp messages and make phone calls on WhatsApp.
Is Talkatone traceable?
No, it is not traceable. However, we recommend you not use Talkatone for any illegal or criminal activities.
Is Talkatone anonymous?
No, Talkatone is not anonymous; the receiver will be able to see your number when you call them.
Final thoughts
Talkatone app is a great way to stay connected with friends and family worldwide.
Free calls, free texting, and the feature of having a second phone number for free are fantastic services.
The only thing we didn't like is that there are no anonymous calls or texts and that the app is not available in all countries over the world.
Besides that, Talkatone is a great app, and we recommend it to everyone.
Please pass this Talkatone review along to your friends if you found it helpful.


Driven to stay up-to-date with the latest technological advances, Harry Evans is an enthusiastic computer science B.Sc graduate and tech specialist with a wealth of experience in technical support, IT process analysis, and quantitative research. His expertise explores how various technology tools can effectively solve complex issues and create distinct solutions through data-driven processes. Additionally, he is passionate about educating others on the best ways to use these new technologies.