Whether you're planning a business trip or searching for a place to learn to drive, Al Nahda metro station can be the most convenient transportation option.
Al Nahda metro station is close to Al Bustan Centre and many driving institutes in the Al Qusais area. The metro station is on the green line of the Dubai metro system. And it is on the fare zone 5.
This Dbd guide provides comprehensive information about the Nahda Metro Station, making it an excellent resource for planning your itinerary. You will find all the details, such as its exact location, what times the metro is open and more. Not only that, but also you can learn about attractions in and around this metro station.
Overview of Al Nahda metro station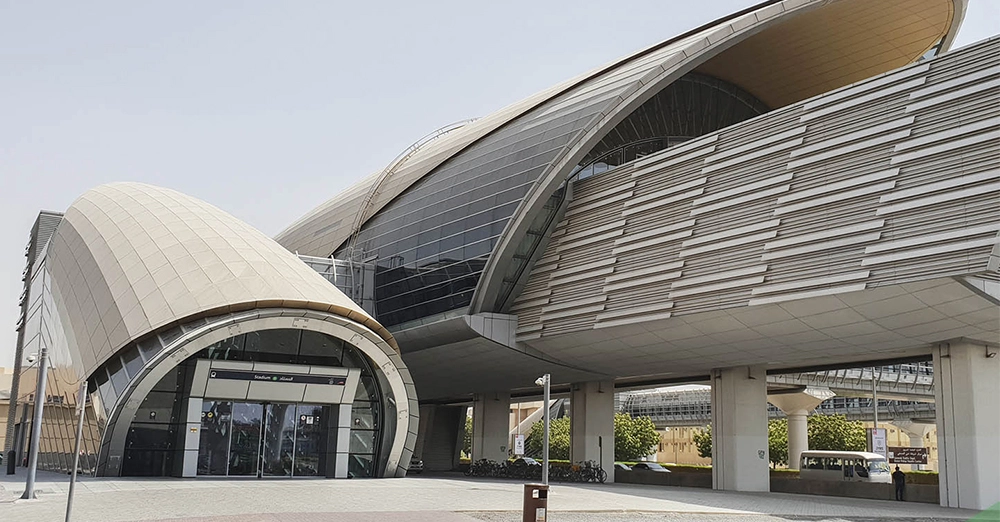 Al Nahda Metro Station has been a staple of the Dubai Metro network since its September 2011 opening. Its inside sets it apart from other stations; the entire environment is dedicated to a water theme. From the delightful murals and sculptures of fish to the blue tiled floor and walls, passengers benefit from a serene ambience while they wait for their ride. [1]Khaleej Times, " Metro mania, … Continue reading
| | |
| --- | --- |
| Location | Al Qusais 1, Dubai, United Arab Emirates |
| Line | Green line |
| Station Code | G14 |
| Fare zone | 5 |
| Preceding station | Dubai Airport free zone metro station |
| Following station | Stadium metro station |
| Transfer station | No |
| Dubai Tram connection | No |
| Previous name | NA |
Location of Al Nahda metro station
Al Nahda Station can be easily reached by the F21 bus, which starts from the metro station and continues through to the Al Quasus Industrial area. It is an ideal transit point for those travelling around the district due to its convenient location, close to many schools, Al Noor Mosque, and Emirates Driving Institute.
Furthermore, commuters can quickly get off at their desired location with frequent stops along its route. Perfect for students who need to save time getting to school each day, Al Nahda Station serves as an important hub in the district that enables mobility and ease of travelling around this area.
Location: Al Qusais 1, Dubai, United Arab Emirates
Al Nahda metro station schematic map
The schematic map shows how this station connects to other stations. This makes it easy for commuters to learn how to get around the city. In addition, the map highlights other stations located on the green line.
Here is the Al Nahda metro station map: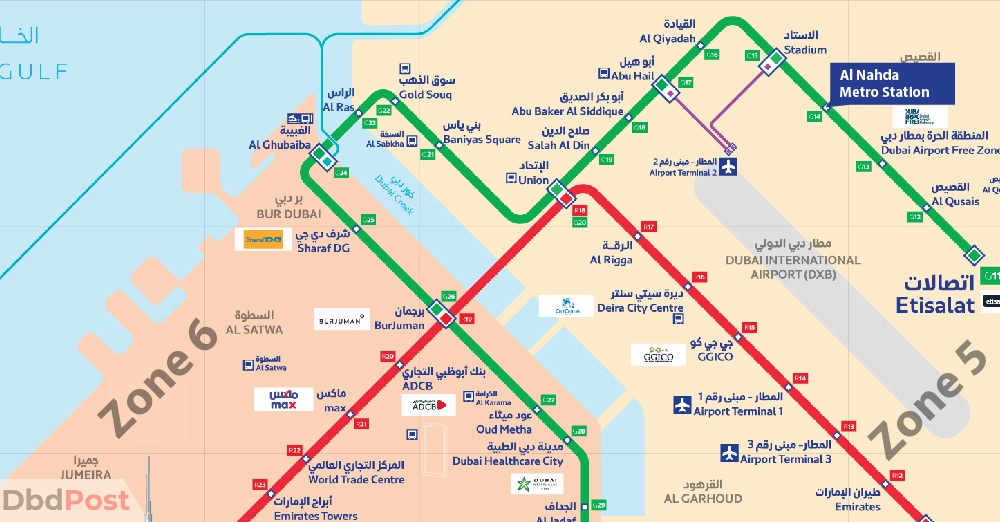 Al Nahda metro station timings
RTA operates Al Nahda station and runs on the same schedule as all other metro stations in Dubai. However, it may be subject to changes during holidays and special occasions.
Moreover, applications such as RTA Dubai and S'hail can give you a detailed timetable with accurate, up-to-date information about trains heading in each direction. This way, you can be sure of when the train will come and feel more comfortable during your travels.
Below is the timetable for this metro station: [2] Government of Dubai, "Metro station opening hour, https://www.rta.ae/wps/portal/rta/ae/public-transport/timetable#DubaiMetro:~:text=Metro%20stations%20opening%20hours(for%20All%20lines)"
| Days | Time |
| --- | --- |
| Monday to Thursday | 05:00 AM – 12:00 AM (Midnight) |
| Friday | 05:00 AM – 01:00 AM (Next day) |
| Saturday | 05:00 AM – 12:00 AM (Midnight) |
| Sunday | 08:00 AM -12:00 AM (Midnight) |
Services and facilities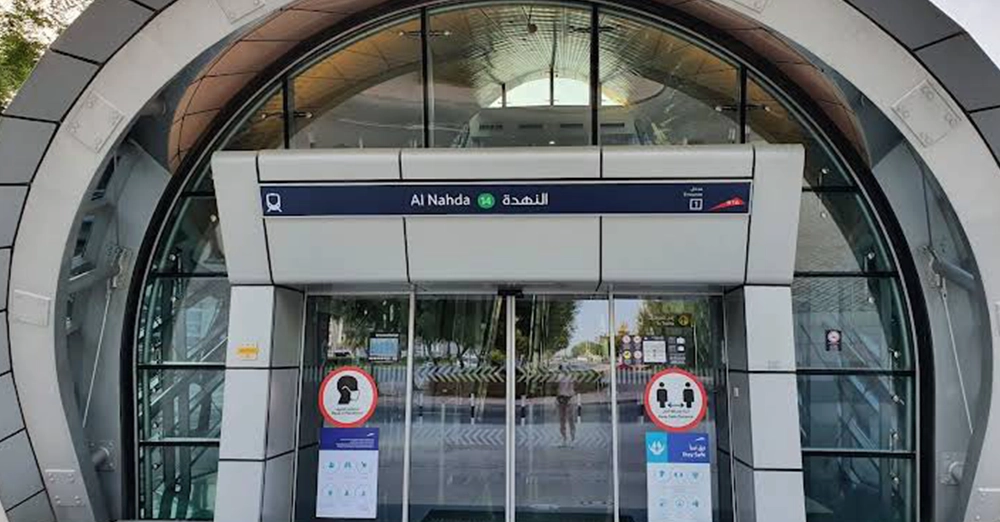 Al Nahda Metro Station is renowned for its outstanding services and amenities. Everything at the station is kept impeccably clean, starting with a spotless restroom available to all travelers.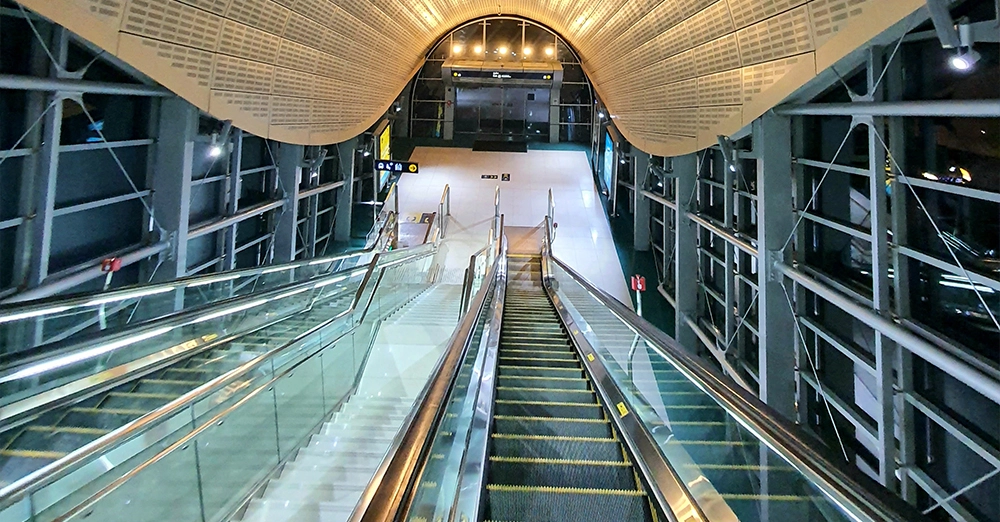 Buying tickets is simple, too: use the helpful staff at the ticket office or the ticket machine for convenience. Regarding accessibility, Al Nahda has lifts, escalators, and a paid parking area for easy access.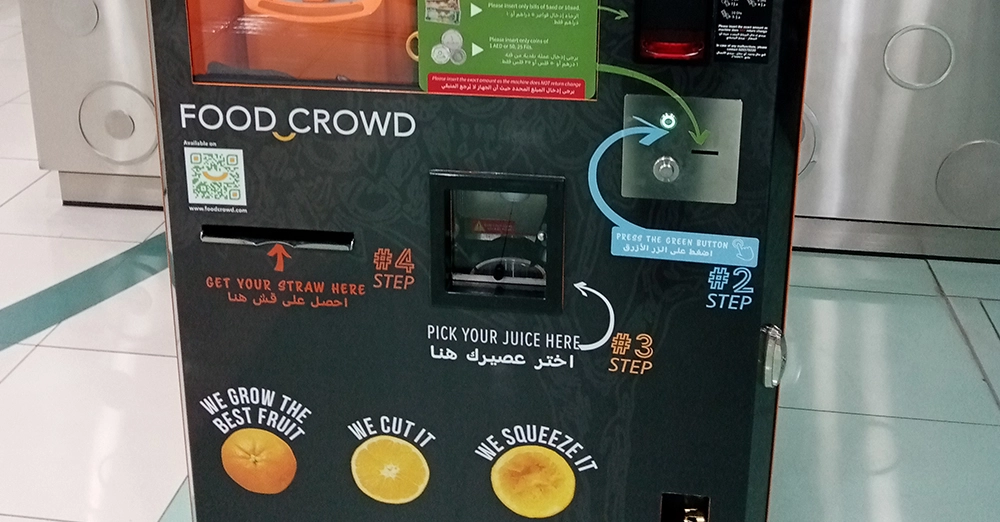 Moreover, travelers can stay connected with free public Wi-Fi and those who need refreshments can head to one of the convenience stores or try out a delicious juice from the juice machine. In short, this station has thought of everything you need – making any journey an enjoyable experience.
Attractions near Al Nahda metro station
The Al Nahda Metro Station, located in Dubai, offers a convenient destination for its visitors. Despite the limited tourist activity nearby, one will still find plenty to explore and activities to try.
Hayat Al Madina, Union Coop and AL Tawar Health Centre are all within walking distance from the metro station, making it easy for travelers to access necessities beyond just transportation.
Additionally, banks such as ADCB-Al Bustan Branch and Abu Dhabi Islamic Bank-Al Qusais are conveniently located within steps of the metro station. With these services situated close by, anyone visiting the area can undoubtedly find something enjoyable while waiting or relaxing.
Here are some places you can visit near this station:
1.

Al Qusais community park

Al Qusais Community Park is the perfect outing for those looking to spend a day surrounded by nature and enjoy outdoor fun. The park is located 7 minutes from Al Nahda metro station and is open 24 hours daily.

In addition, the park has a football court and running track for adults who don't want to miss out on their exercise routine. This is an excellent spot for kids to have fun. They can swing, play on the sea saw, and more.
2.

Al Fareej Restaurant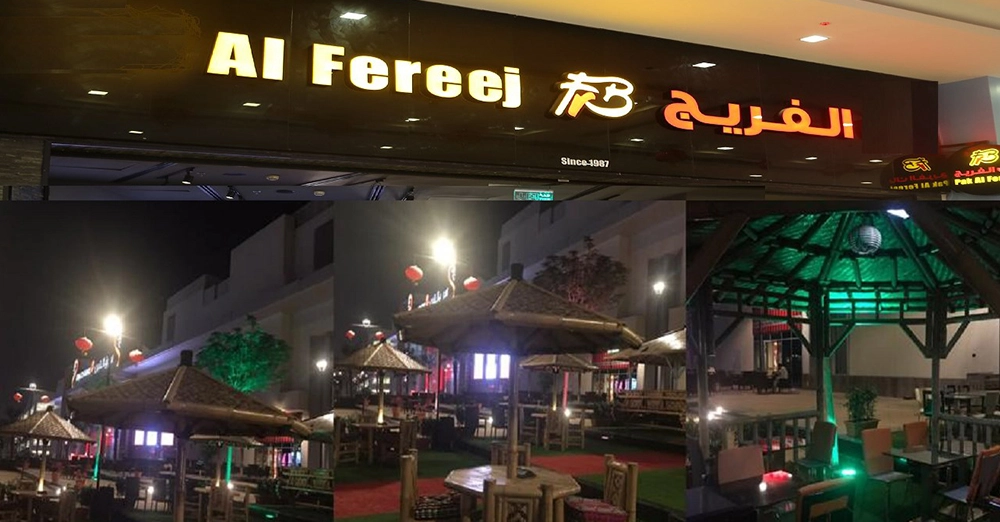 Al Fareej Restaurant is a hidden gem in the UAE, serving delicious Iranian & Emirati cuisine since 1987. It has a reputation for being one of the best Iranian kebab restaurants in the region. [3]Al Fareej, "About us, https://alfareejrestaurant.com/about-us/#:~:text=Alfareej%20Restaurant-,Our%20Delicious%20Story,-Al%20Fareej%20Group"
With 18 branches across the UAE, they serve their special Kebabs and seafood dishes. Additionally, you can get free delivery of their food so you can enjoy it in your own home.
3.

Union Coop – Al Twar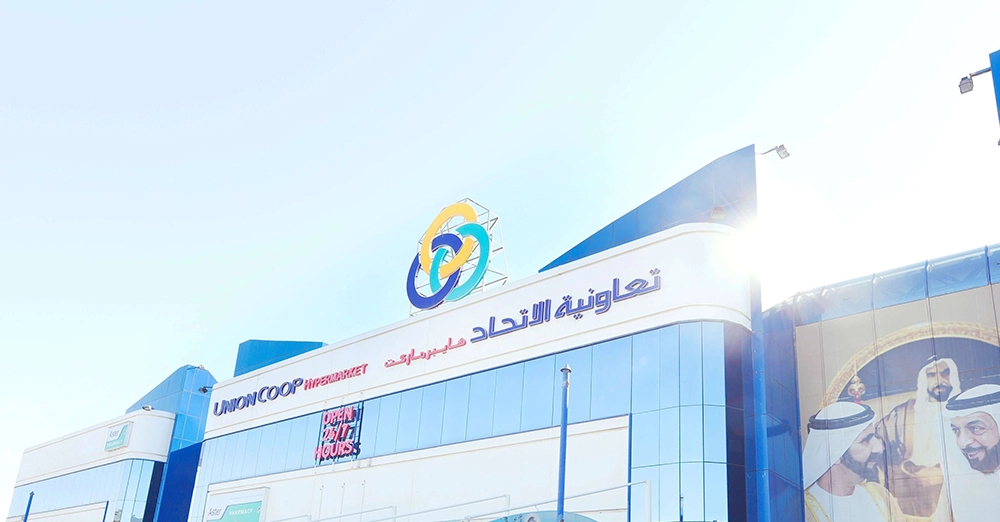 Union Coop, opened in 1988, is a premier hypermarket that serves the residential areas of Al Qusais and Al Twar. This branch has parking space for up to 207 cars, making it easy for customers to commute. Plus, there is also the facility of laundry and a car wash.
The ground floor contains various shops, such as a perfume shop, ATMs, telecommunication services, and a pharmacy. Apart from these conveniences, it also offers a variety of food choices in its restaurants, money-exchange services, and fashion outlets under one roof. [4] Union coop, "Al Twar branch, https://corporate.unioncoop.ae/en/branches/al-twar/#:~:text=(%207%20)-,AL%20TWAR,-Opened%20in%20the"
Related Stories
---
FAQs
How far is Al Nahda from the metro station?
Al Nahda is 3.3 km from the Al Nahda metro station. You can take a bus or a taxi to get there. The bus takes around 20-30 minutes, depending on the bus route. If you take a taxi, it will only take 10 minutes to get there.
Which bus station is near the Al Nahda station?
The nearest bus stations to Al Nahda station are Al Nahda metro bus stop 1 & 2, Sheikh Rashid colony 1, and Twar, Union cooperative society. These bus stations are within walking distance from this metro station.  
Which is the nearest metro station to Al Nahda?
The two closest metro stations to Al Nahda station are the Stadium metro station and Dubai Airport free zone metro station. You can reach either of these metro stations from Al Nahda within 3 minutes by taking the metro.
How to reach the Dubai Mall from the Al Nahda metro?
You can go to Dubai mall by taking any RTA bus route or a taxi from AL Nahda station. You can also take the green line metro to Union metro station and then transfer to the red line metro to Burj khalifa Dubai mall metro station.
Which bus line stops near the Al Nahda metro station?
The bus lines near Al Nahda station are 13, 13A, 17, 19, 20, 22, 31, 43, 64, F21, and C18. These bus routes serve various parts of Dubai.
How far is the airport from the Al Nahda station?
The Dubai International airport is about 6.8 kilometers away if you take Al Nahda Street/D93 and Beirut Street/D62. The journey will take only 10 minutes by taxi. Alternatively, you can take any bus route from the nearest bus station.
Final thoughts
The location of Al Nahda metro station in Dubai makes it an ideal starting point for any journey. The station is conveniently situated between Al Quasis and Al Treas and lies close to the Dubai International Airport, several driving centres, and the Union Coop hypermarket.
On top of that, there are numerous benefits to using this metro stop – from clean washrooms to Wi-Fi, lifts, a ticket machine and more. There is even a paid parking facility outside the station!
These amenities make New Nahda an excellent choice for Dubai residents and visitors who intend to travel around the city.


Imran Hassan is an experienced Travel Specialist for UAE and the Middle East. He is based in Dubai and specializes in creating unique itineraries to ensure his customers have the best possible experience during their stay. From selecting the right hotel to recommending must-see attractions, Imran's expertise ensures that all vacations are unforgettable.