Red line metro stations can be the perfect mode of transportation if you want to explore Dubai's business and industrial area. It also connects many shopping and historical destinations, making it an ideal choice for visitors.
Dubai Metro Red Line is a vital public transit system in Dubai that contains 35 metro stations starting from Al Rashidiya to Jebel Ali. The red line serves famous landmarks and beaches like Burj Khalifa, Dubai Frame, Kite beach, Jumeirah beach, and more. These metro stations are divided into five distinct fare zones.
This guide will provide information on the red line metro of Dubai, including the operating hours of stations and a list of stations. Plus the schematic and interactive maps are also included in this guide.
Overview of Red line metro stations
The Red Line Metro is one of the incredible engineering in modern transportation and is the world's most extended automated rail network.
Although RTA partially opened this impressive project on September 9, 2009, many commuters had to wait until April 25, 2010, before RTA opened other stations, and they could use the entire line.
More recently, Route 2020 has been the major red-line expansion since 2021, with a total length of 15 kilometers.
Divided between 11.8 kilometers of elevated track and 3.2 kilometers underground, 270,000 riders are anticipated to use this route daily to get between residential and commercial districts quickly and conveniently via its seven stops along the line.
| | |
| --- | --- |
| Owned by | RTA Dubai |
| Opened | September 9, 2009 |
| Number of Stations | 35 |
| Type | Rapid Transit |
| Daily ridership | 243,000 |
| Line length | 67 kilometers |
| Operating speed | 95 km/hrs |
See also: Interactive Dubai Map
Dubai Red line metro stations schematic map
Dubai's Red line metro schematic map is an invaluable resource for anyone looking to get around town quickly and conveniently.
This map includes all the metro stations on the red line and those on the branch line.
Furthermore, each station with its fare zone is displayed on the map.
So that passengers can pay their fares based on which zone they are traveling to or from. Plus, the map includes tram stations connecting to the metro system, offering the locals more options to travel around their city.
Check the Red line metro station map: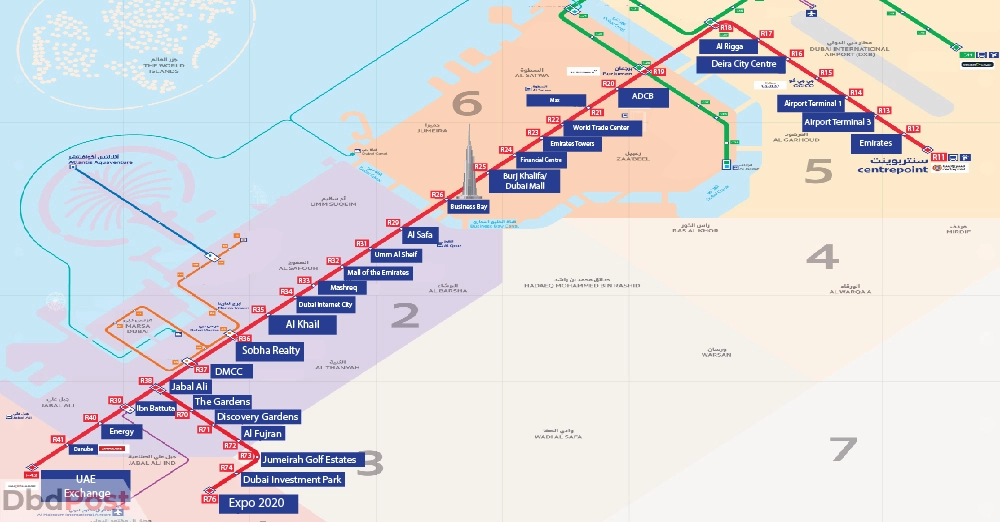 Dubai Red line metro stations with the interactive map
An interactive map of the Dubai red line metro stations is a great asset for anyone who struggles with navigation.
It shows the precise locations of all stops and their fare zones. It's easy to use and can help you quickly find your destination. Users can also view tram stops along the route, which means navigating Dubai's public transport system will be easy.
Similarly, the table shows all the red line stations, their fare zones, and locations, so you'll have no trouble checking out what routes to take. So grab a copy of this useful Metro map and traverse Dubai's public transportation system easily.
List of Branch line stations
The red line of the Dubai metro is an extensive transport route connecting many city areas. Along the main road, five branch lines run from Jabal Ali station to the UAE Exchange metro station, allowing commuters to reach even more destinations.
If you are traveling down one of these five stations and would like to join up with the main line of the red line metro, your journey will require a transfer at Jabal Ali station. This is easy to do since it's well-equipped with plenty of access for further transport, making commuting around Dubai easy.
Following is a complete list of stations on the branch line:
| Station | Station Number | Fare zone | Location |
| --- | --- | --- | --- |
| Jabal Ali | R38 | 2 | Jebel Ali |
| Ibn Battuta | R39 | 2 | Jebel Ali |
| Energy | R40 | 2 | Jebel Ali |
| Danube | R41 | 1 | Danube – Mina Jebel Ali |
| UAE Exchange | R42 | 1 | Sheikh Zayed Road |
Red line metro stations timings
Dubai metro is one of the most efficient and reliable transportation networks, allowing frequent travelers to get around the city quickly. The red and green lines offer convenient access to many different areas for commuters day and night.
As such, people need to be familiar with the metro timing schedules. Depending on which line they need to use, their journey time could vary during public holidays or even between different days of the week.
Fortunately, users can always count on a metro train arriving every 3 minutes during peak hours and 5 minutes at other times. Plus, with convenient trips available in both directions throughout the day, the Dubai metro provides individuals with an efficient way of getting around.
Checkout the detailed timetable of the red line metro: [1] Government of Dubai, "Metro station opening hour, https://www.rta.ae/wps/portal/rta/ae/public-transport/timetable#DubaiMetro:~:text=Metro%20stations%20opening%20hours(for%20All%20lines)"
| Days | Time |
| --- | --- |
| Monday to Thursday | 05:00 AM – 12:00 AM (Midnight) |
| Friday | 05:00 AM – 1:00 AM (Next day) |
| Saturday | 05:00 AM – 12:00 AM (Midnight) |
| Sunday | 08:00 AM -12:00 AM (Midnight) |
Noteworthy stations in Redline
With Union and Burjuman metro stations becoming the busiest stations on the red and green lines, it's no surprise to see a staggering 6.2 million riders using them by June 2022. Much of Union Station's popularity can be attributed to its 5.3 million riders.
But that doesn't mean other stations should be ignored. Al Rigga station was the busiest along the red line with 4.7 million commuters, followed closely by 4.6 million by Mall of Emirates and then at 4.3 million by Burj Khalifa/Dubai Mall.
Also, for those looking to ride with greater convenience, Centerpoint and Jabal Ali on the red line offer park-and-ride options along with Etisalat station on the green line provides a similar service.
Related Stories
---
FAQs
How many stations are there on the Dubai metro red line?
There are 35 metro stations on the Dubai metro red line, including branch lines.
What is the Red line metro in Dubai?
The Red line metro is a fast-moving transit system that traverses from Al Rashidiya to Jebel Ali, running in Sheikh Zayed Road for most of the route.
What are the services provided in the Red line metro?
The red line station provides convenience stores, ticket vending machines, lifts and escalators, Wi-Fi, waiting areas, and an information desk to help passengers.
Final thoughts
The Red line metro stations are one of Dubai's most efficient public transportation systems. With easy accessibility and affordable prices, it's no wonder that millions have chosen to use this transportation option.
No matter where you're headed within Dubai city limits, there's no doubt you'll find a metro stop along the Red Line that's suitable for your journey. Many people prefer this efficient transportation over other options because connecting to all major areas in town is easy.
So, plan your trip and take advantage of one of the most effective transportation systems in the world.


Arijit Negi is an expatriate living in Dubai for 18 years. He completed his degree in Master of Arts in Journalism from the University of Mumbai. Arijit focuses on providing helpful guides and information for ex-pats living in UAE and visitors to the UAE.